An ePub reader is an ebook that is also a short term form of electronic publication. An ePub is compatible with different electronic gadgets such as phones, tablets, computers, laptops, and more.
As of 2016, ePub readers have become a global phenomenon, with many readers preferring ebook readers over hard copy reading books.
An ePub reader uses the file extension .epub. There are several ePub readers in the market nowadays. Out of them, we have selected the best ePub reader for you all.
Authors nowadays opt to publish their books in a hardcover format and release them in ebook versions. Some of the writers are also adding videos or attaching a DVD link to the online versions.
In the past five years, most of the best selling novels had online releases and were read more in gadgets than physically. But ebooks have not yet taken over publishing houses.
Although sales of books have dropped considerably, some avid readers still choose paperbacks rather than reading devices. Ebooks contain audio and video links too. This makes the reading experience wider and more informative.
Although there are many electronic gadgets nowadays that allow digital reading, it is not necessary that one has to spend thousands of dollars on a device. Reading ebooks on a laptop or computer is equally mesmerizing and enjoyable.
Windows machines such as asL Lenovo Yoga, which acts both as a laptop and a tablet, serve the purpose of ebook reading full-fledged. There are some ePub readers available for Windows, but not all have the same construction.
Best ePub Reader For Windows 10: Our Picks 👌
1. Calibre
Calibre (Download Here) is the oldest and best ePub reader for Windows. The app has several features that allow several functions at a time.
Some highly handy features of the app include downloading ePub, downloading book covers, transferring books from one device to another, downloading data, and more.
One can not only read books but magazines, comics, and more in the Calibre app. Furthermore, the app checks out different sites and displays books in all kinds of languages and genres. In case you're looking for the ideal ePub reader, Calibre is the one.
Platforms supporting the app: Windows 8, Windows 8.1, Windows 10, Windows Vista, And Windows 7.
2. EpubReader
The EpubReader (Download Here) is a beautifully designed ebook reader with some extraordinary features; the setup of the reader is beautifully designed and is very user-friendly.
The EpubReader is considered one of the best ePub readers because it includes books that support all formats. Ebook formats that the reader supports are EPUB, HTMLZ, AZW, MOBI, and more.
The best part of the ebook is that it allows the readers to view all the books in a single library. This will help you organize all the books accordingly and let you read in your own time. Furthermore, on a Windows PC, the reader allows you to download books from private sources and track the reading process.
Platforms supporting the app: Windows 7, Windows 8, Windows 10, and  AC Os version 10.8
3. Neat Reader
The Neat Reader (Download Here) is a compelling ePub reader. It falls into the list of one of the best ePub readers because of its world-class reading experience. The Neat Reader allows its readers to use the same software on all platforms and ensures data syncing efficiently.
The syncing process in Neat Reader is hassle-free and does require a lot of time either. The best part of the software is that the software works on android as well as iOS devices.
The inky thing one has to do is buy a premium feature in case he or she has an extensive collection of reading books. The premium feature offers cloud storage of 10 GB and also cross-device synchronization.
Platforms supported: Windows 7, Windows 8, android mobiles, iOS mobiles, and gadgets
4. Kobo
Kobo (Download Here) is very similar to Kindle. It not only allows reading but also purchases books from its store itself. The only difference between Kobo and Kindle is that Kindle doesn't support Epub formats. Kobo supports both EPub and EPub 3 formats and versions.
The app brings along with its different features such as search, bookmarks, theme making, reading progress tracking, and much more.
But despite all these features, the biggest beneficial reason to use Kibo is that it allows readers to choose from a wide range of options and buy books for free or at an affordable price. The books include comics, magazines from all over the world, and children's books too.
5. Nook
A book lover is sure to have heard about the book shop Barnes and Noble. They are the largest booksellers in the whole full world. Although Barnes and Noble is an offline book selling store, it decided to launch its very own online bookselling service known as the Nook (Download Here).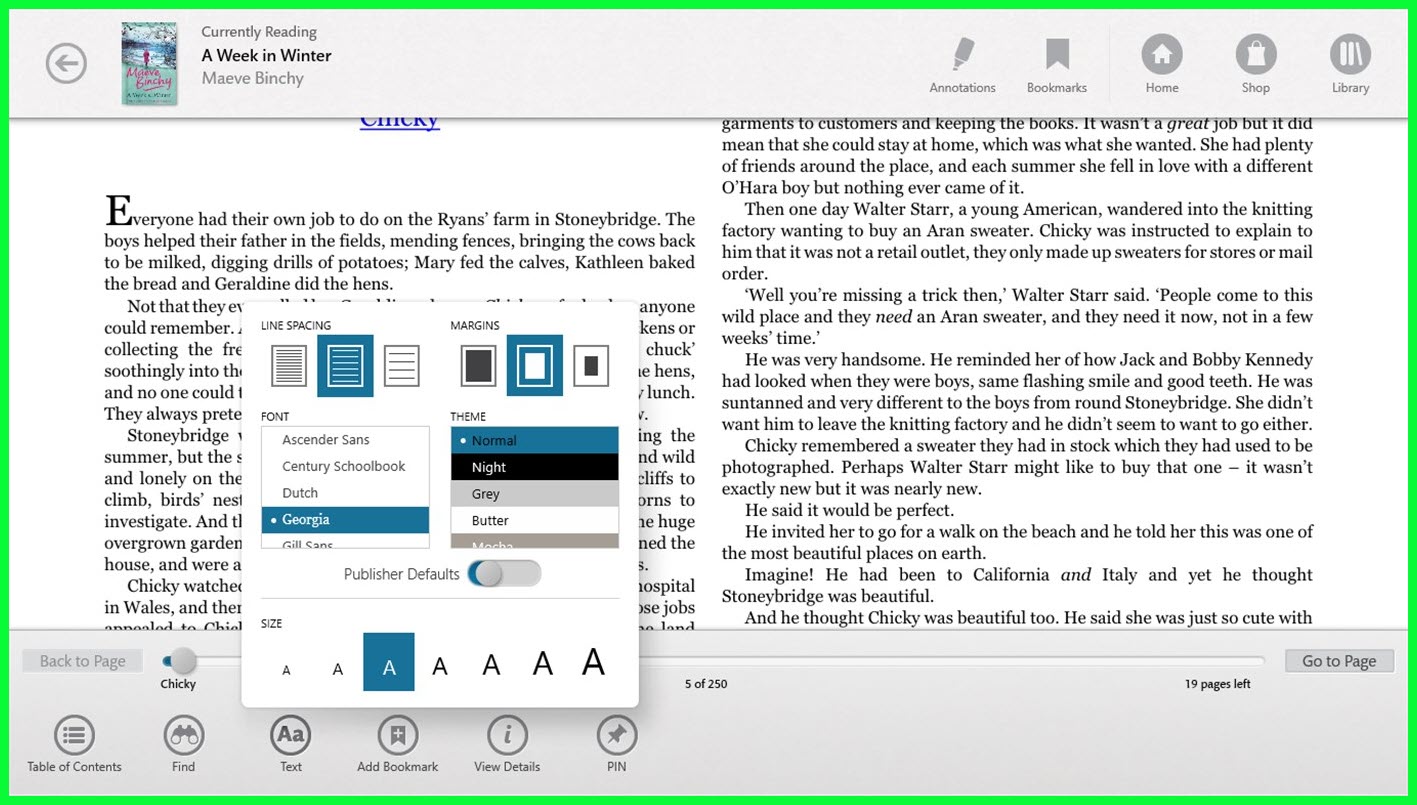 Before the Nook, Amazon had previously set up a similar service in ties with the Kindle. Similar to Kobo, with Nook, you can buy books at their official store and also read them at the same time.
With Nook, you get a 14 day trial period during which you can choose from a few books or news magazines. Once the trial session ends, you can subscribe to books and magazines of your choice.
Another advantage of the online service is that one can experience reading with different fonts, themes, line spacing, characters, and online syncing of different devices.
The platform supporting Nook: All the Windows versions from Windows 8 to Windows 10 support Nook.
6. Freda
One of the best ePub readers available for free on the Windows platform is Freda (Download Here). Software that falls into the best ePub reader category, Freda lets you read over 50,000 books from the public domain, feed books, and several other online platforms.
There are different formats that are supported by the software too. Freda lets you customize fonts, bookmarks, colors, bullet points, and more. It will feel like you are reading your very own book.
Owing to its best ePub reader title, Freda also lets you download the books and read them while connectivity is off. You can also pin the page you were reading or bookmark it. The software looks like a simple Windows 10 app and stands out in the world of online reading. Feed your hunger for reading through Freda.
Platform support: Windows 10, Windows 8.1, Windows 8
7. Bibliovore
Yet another best ePub reader. Bibliovore (Download Here) is a free reader for any Windows machine. One can easily download the app from the play store or Windows App Store.
Many people have said to love this software since it organizes the books with ease and puts them into their respective genres and subjects. Similar to other ePub readers, Bibliovore also lets you change fonts, reading modes, day and night features, and much more.
Moreover, despite being free, the software allows you to sync your data across several devices using OneDrive. You can download books from Gutenberg and other ebook online platforms.
Platforms supporting Bibliovore: Windows 8 and all the later versions.
You may like to read our guide on Best Sites To Check
Teacher Ratings
And Reviews.
8. Cover
The Cover – Comic reader (Download Here) is best for reading comic books and comic magazines. This app is highly recommended in countries such as France and the USA. It is probably the best ePub reader that is in an app format.
One can access different ebooks free of cost and without any restrictions. But to remove ads, you have to go to app purchases. If you select the app in the purchase option, you will not only be able to enjoy an ad-free reading experience but also sync all your devices like phones and tablets.
Dropbox and OneDrive offer additional storage that makes the reading seamless and vast. The pages of the book can be customized according to will by changing the colors, background fonts, text size, and font style too. If you're an avid comic reader, then the Cover app is your perfect reading partner.
Platforms supporting the app: Windows 8 to Windows 10, all android supported mobile phones.
9. FBreader
FBreaded (Download Here) is an open-source ebook reader that supports ePub files along with HTML, Doc, MOBI, RTF, and more. In addition to running on Windows devices, ePub also runs on many other methods such as Nokia phones, Mac OS, Linux, and more.
Special features of the reader include library building, full-screen mode, text to speech conversion, hyperlink addition, and image input as well.
As mentioned above, the platforms supporting the FBreader are Windows 7, 8, and the latest version, Linux, OS X, and Android mobile phones.
10. Icecream EPub Reader
In a long list that mentions the nearest of different ePub readers, the Icecream EPub Reader (Download Here) has slowly crept onto becoming the best ePub reader in recent times. The Icecream app is an app studio that has developed some fantastic apps for windows over the course of time.
It is their ePub reader that has caught everyone's attention. The ePub reader comes with a variety of features such as full-screen reading, easy mechanics, user-friendly, multiple language support, and so much more.
Although its name suggests only ePub, the reader supports all kinds of reading formats. Other significant and popular ebook formats that the reader supports are Mobi, FB2. Windows users highly recommend this reader.
Platforms supported: Windows 7, Windows 8, Windows Vista, and also Windows 10.
11. Adobe Digital Editions
Many publishers use Adobe Digital Editions (Download Here) to proofread their books on a Windows device. The adobe digital editions open the book in the most suitable format across different laptops, PCs, and mobile devices.
One can read online content as well as download books and read them in offline mode. Another feature that the Adobe Digital Edition presents to you is that you can sync the book in all of your connected devices.
Special features of the reader include bookmarking, text highlighting, adding notes, and font style change. You can create a bookshelf that will contain all your favorite books, and you can organize the books based on author names, genre, or even titles. Customizing your bookshelf is a fun feature of the adobe digital editions.
Platforms supported: Windows 7, Windows 8, 8.1, and android mobile. Adobe Digital Editions support math formulas, quizzes, and image resizing too.
The adobe digital edition is available across major online stores such as the App Store and google's play store.
12. Bookviser
Bookviser (Download Here) aims at giving its reading experience that is very similar to reading books physically. It does so by presenting the book in an original format. The interface is created in such a manner that you can read the book as a simple ebook or as a proper hardcover book.
Similar to Freda, Bookviser lets you download the books from linking catalogs such as Feedbooks and Smashwords. More of the ePub reader comprises features such as supporting a dictionary, theme making, customized bookmarking, and much more.
Bookviser is supported on all Windows platforms starting from Windows 8.
13. Readium
Readium (Download Here) is an open-source ePub reader that will fulfill all your web reading wishes. In case you don't want to install any app on your device, then Readium is the app to look into.
Readium is a browser extension that lets you read books online. It is a great way to read books without downloading any other app on your device. The readium extension will work on any browser without creating any trouble.
Best EPub Readers For Android Devices
1. Aldiko Book Reader
For Android, Aldiko Book reader is the best ePub reader. It is a simple app that supports EPUB and PDF readers both. The app has a clean interface and customized options for both phones and tablets.
The free version of the app comes with ads, and the paid version comes with additional features and no ads.
2. Amazon Kindle
Amazon Kindle is the most popular ebook reader available for android. It has a cross-device syncing mechanism along with a large collection and library of free books.
In addition to the free books, one can even purchase books from Kindle's online store. There are some ads featured in the app, but most are nonsense free. In addition to online downloading of books, there is also offline downloading permissible in the device.
3. Google Play Books
Google play books are a competition to ebook reader apps and software such as Amazon Kindle And Nook. Google play books have a wide collection of magazines, ebooks, comics, and more. Several ebook formats are supported in the play books store.
You can also access from any device without any suitable internet connection. Storage options are also high in the device. Although the app is free, one has to buy the books before you can read them.
4. Moon+ Reader
Moon+ Reader includes formats such as EPUB, PDF, and MOBI. Additional features that the app includes are gesture controls, auto-scrolling, and also cross-device syncing.
Similar to other android reading apps, the Moon+ Reader also has an app free version for which one has to pay a nominal fee. You can sync the app through Dropbox.
Click here to view and download the app.
5. Pocketbook
Pocketbook is one of the oldest and best ePub readers available for Android. Through this app, you can lock the screen, rotate its orientation, or even buggier texts.
PocketBook Reader application. One of the best e-book reader app. Read without ads and with comfort
In comparison to its contemporary apps, the Pocketbook has a wide variety of free books, and they are easily available. There is no doubt that this ePub reader falls into the category of est ePub readers. You can also arrange your books into folders based on the author's name, genre, or even titles.
6. ReadEra
ReadEra is a reading app that has become a favorite to everyone's surprise. It has support for all modes of reading formats such as PDF, WORD, EPUB, MOBI, and more. There are split-screen modes also where you can view multiple windows at a time.
Although the split-screen mode is supported, it is advised to view the app from a tablet or a computer. As in now, the app is completely free, along with the books available. It will be a great app to download.
Download ReadEra on google play here.
7. Foxit PDF reader
A popular PDF reader app, Foxit brings with it a. Retain mixture of creativity and reading. The app supports all kinds of PDF features that include form filling, PDF privacy, additional features, and also has video and audio compatibility.
How to keep working on PDF documents while you are on the go
In addition to android, Foxit is also available on Windows, iOS, Mac, and Linux. Being available in all the big five makes it a favorite for all. Also, the reader has widespread reach because of its ability to connect with all the devices simultaneously.
To download on google play, click here.
ePub vs. PDF: The Debate
Many have been debating about the benefits of ePub reading as well as PDF reading. Some prefer the former, while some still opt for the PDF reading. Both ePub and PDF have a few specific things in common. They are:
Access across different platforms: Flexibility is never an issue for either of the formats. Both digital readings are available in various sizes.
Security measures: In a PDF, you can contact your security by putting in passwords. At the same time, in ePub readers, the books are kept under digital rights protection that protects your work and system from all kinds of malware. Both if the platforms are secure in their very own way.
Now coming to differences, it is the reading experience that is the major difference in PDF reading and ePub reading formats. Ebooks are flexible in cooperating with the readers' choices. But a PDF presents itself exactly in the way it is.
A PDF is viewed in a manner that is exact to that of the original content. Readers having small devices can face this challenge. ePub was made, keeping the mobile readers in mind.
This is known as reflow ability. If you are reading a PDF, then you would constantly have to zoom in or crop out to read the book. But an ebook will adjust itself automatically to fit the screen.
The text will also adjust itself around the images present on a page. Best ePub reader software and apps such as Kindle and Nook have implemented these functions.
Other key differences are:-
Editing:- PDF not only serves the purpose of reading but also editing, highlighting, and sharing with people. Ebooks, on the other hand, are meant only for reading. But yes, it is true that the reading experience in an ebook is more advanced and flourished than that of a PDF.
Popularity:- It is still known without a shadow of a doubt that PDF is still more popular than ebooks.
Outreach:- The outreach of an ePub Reader is much more than that of a PDF. In an ePub Reader, in addition to reading books and downloading them, you can also buy books from their respective online stores.PDF reading, on the other hand, is much restricted. It only allows you to read the book that you have inserted into your device.
Formatting:- PDF's often have trouble adjusting to the compatibility of a device. Its code is hard to decode often due to the complexity. Epubs, on the other hand, have primarily only two languages. This is much more compatible with different software.
What Are The Advantages Of ebooks?
As soon as you enter the title, the book that you want is shown, and it can be downloaded almost immediately. The speed is very high.
A number of books can be carried on a single device. This is a very suitable option for people who are always on the run. While traveling, it is not possible to carry books with you. A single device that contains all your books is a much more efficient option.
Ebooks are much more interactive. Readers can not only take notes but also search and gain extra information through various hyperlinks.
The ebooks are used friendly not only for normal readers but also for the visually implored. The lighting and font size can all be altered based on the requirement.
Additional features available on ebooks are personalized dictionaries, text search, and note-making.
Ebooks are environmentally friendly too since they save trees by not using paper.
The software is usually free, and one only has to pay for books. Reducing the cost, even more, is an option that makers are looking into.
What Are The Disadvantages Of ebooks?
Although most of the latest books now have an ebook version, it is sometimes difficult to find books from a few years back online.
Ebooks cannot be printed out. One can only read it on a gadget.
Most of the ebooks are Windows-friendly, but some are not at all Mac-friendly. This makes reading restricted to only some readers.
How Well Will E-books Fare In The Future?
Experts have said that the ebook market has been growing considerably, and it is expected that the concept of electronic publication will keep growing over the next decade.
But it is expected to take another 4-5 years before the concept of online reading takes over paper reading. Although the younger generation is all up for ebook reading, the generation preceding them still believe in hardcover reading.
Bookstore owners have said there had not been any considerable dip in the sale of published books. The technology head of Microsoft has also been heard saying that people are interested in the concept as long as it is free.
More than buying books and reading them, people are interested in books that are available for free. With the development of technology in the coming years, online reading and ebook reading will keep growing and flourishing.
The most significant benefit of an ePub Reader is that the ebooks change format according to the device they are in.
Whether it is an android mobile phone or a tablet, the ePub reader will change its format and display it correctly in all gadgets. The text will fit in the device perfectly without causing any glitches.
Just as ebooks have advantages, there are certain limitations too. Some ebooks readers or ePub readers do not have the necessary tools to change the fonts, illustrations, or designs of the book.
But in the last few years, there have been new ePub readers in the system that fulfill all the necessary needs of the readers. An ePub Reader is considered to be the best ePub reader once it becomes user-friendly and comes with special features.
You can now shift your reading habits easily from a paperback to an ebook. Download or install the best epub reader now.