We all know how immensely huge the agricultural industry is. With the advancement of technology, farming has taken a new course with better facilities and a lot more using some high-tech agricultural software. Well, if you are looking to know more, you can check out the list of best farming apps.
Everyone has access to a smartphone these days, whether a business person or a farmer on the field. You can do loads of things if the technology is used correctly.
You may find multiple kinds of apps that have been very useful for farmers in their everyday activities. For example, you can track and keep a note of your livestock and about each farmer through such apps.
Some apps can track the present weather and what's about to come next so that the farmers are prepared earlier.
All of the above are simple ideas adopted with the brilliant use of technology. More is about to come, and the increase in smartphone users in such a sector will pave the way.
The agricultural sector is as important as any other, and we must educate ourselves about farming apps.
Best Farming Apps – Our Top Pick👌
1. FarmLogs
Well, FarmLogs is a superb App when it comes to providing everything that a farmer might need to manage their farm digitally.
Thousands of farmers worldwide are using this farm management app to get the maximum benefit they can on their field.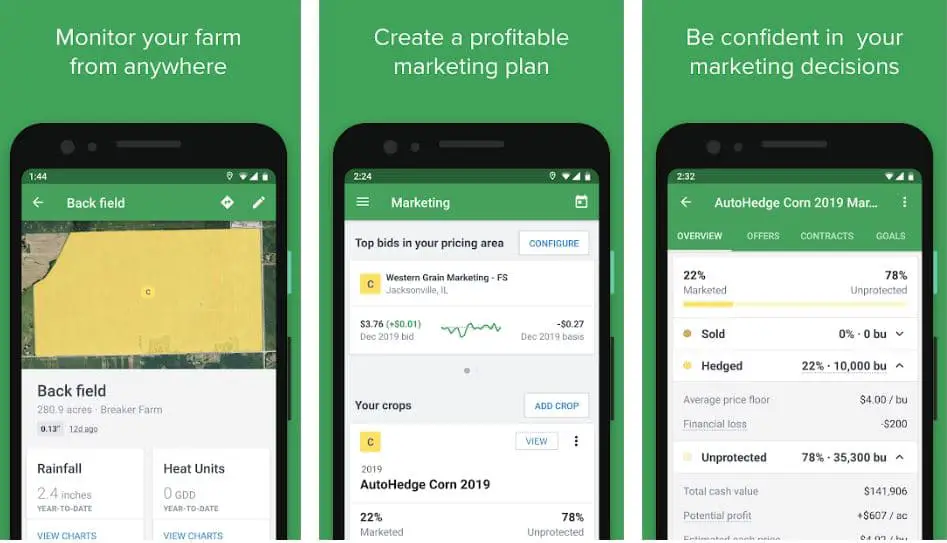 It helps farmers keep their farms' records, monitor field, and crop conditions, and analyze their farm's financial performance.
In the long run, this will be the most useful to the farmers since it will help them keep track of their finances to make the necessary changes to cut down cost and increase profitability.
You can use the app from anywhere and no longer have to be on the field to get the data. It also has a special section where you can keep track of the marketing section and make bids.
The most interesting aspect is that you can get alerts on your smartphone when it's raining and record heat accumulation. With this, you can compare the data of the last 10-year average and make smarter decisions.
To add more to this, we loved the entire design of the app. Everything is perfectly laid out and user-friendly as well. It has the technology that uses GPS to map fields and provide directions to your location.
Moreover, just fill up all the data about your crops and needs, showing you the best and nearest store where you can get the best price for your crop. Furthermore, it keeps all your data organized and up-to-date so that you do not miss out on anything.
Pros:-
Simple and easy to use the app

Keeps all the data organized

Monitor field and crops condition

It can be used anywhere

View in-season satellite images
Cons:-
Lags a bit

The Premium version is expensive
Platform Availability
Android (Download Here), iOS (Download Here)
2. NOAA Weather Radar Live & Alerts
NOAA is a weather app; as indicated, it is one of the best farming apps we have come across and very important to every farmer.
The best part about the entire app was its highly interactive map with every bit of information that you would need for your crops and what's next to come.
AMDU 26NOAA Weather Radar Live Android 16x9 3
The app gives out severe weather warnings no matter whichever region you live in so that you can act accordingly on how you can protect your cops.
The app works to provide real-time updates on the weather. It gives accurate information such as precipitation, humidity, current temperature, pressure changes, and a lot more that can benefit the farmers in the field.
If you are not interested in the updates, you can choose to customize your weather report and receive as limited info as you would want entirely.
Even if you are not using your smartphone, the app will immediately alert you with notifications in case of any weather emergency. Apart from this, you get the opportunity to move from multiple maps and watch over the different weather conditions in other parts of the world.
These alerts and features are available worldwide; anyone gets to download them for personal use to keep themselves updated.
You can download it from the store for free, use the premium version for more features, and get rid of ads. The design is pretty good, and you can easily navigate it.
Pros:-
24×7 weather forecast alerts

Easy locations search

Easy to navigate the app

Accurate information on everything

Alert notification during an emergency
Cons:-
Subscription is expensive

The free version has too many ads
Platform Availability
Android (Download Here), iOS (Download Here)
3. Agrivi
Agrivi is another farm management app that helps farmers take care of their activities and make the necessary decisions worldwide. Every farmer has to look over many things rather than just the crops.
It includes livestock, crop prices, machines, weather, etc. This farm management software will provide better insights into their current production and help them to improve productivity and increase profitability.
Such apps have been provided with databases and knowledge about agricultural practices such that these data can help farmers make better production decisions and increase productivity after that. It is simple to use and much faster than most of the apps on the market.
Fill up all your data needed on the app and make for better planning, monitoring, and tracking of every farm activity, which earlier may have been left unchecked.
One of the major aspects that every farmer needs is financial analysis, and Agirvi keeps your expenses in check to take control of them.
You may not need any separate app for weather forecasting since this app gives a 7-day forecast which is very accurate. Also, you can check the 3-year weather history and compare accordingly, including the feature of smart disease risk detection alarms.
As we spoke, the app had been provided with a detailed analysis of every aspect of about 60 crops for accurate planning.
Pros:-
Very knowledgeable app

Simple yet fast in execution

Have a huge database for smarter decision

Provides accurate weather forecasting too

Good for farm management entirely
Cons:-
Only free trial available

Error while loading data
Platform Availability
Android (Download Here), iOS (Download Here), Windows (Download Here), Mac(Download Here), and Linux (Download Here)
FiledBee is a tractor navigation app that uses GPS technology to get accurate results as required. Often, farmers lose track of their tractors on the field, so they may have to start all over again.
FieldBee tractor GPS app - Start your precision farming
But using this app, you can keep track of all your tracks with a click on your smartphone. It has been in the market for five years and has benefited thousands of farmers worldwide.
Apart from simply the app, a lot is going on in engineering the associated devices. Now, attach the RTK GNSS manual guide to the tractors and track them by providing them with proper instructions.
You can also buy an auto-steer that is cruelly used by farmers in their tractors so that you simply have to set up the parallel line on the field that the tractors would move into.
This has a lot more accuracy and precision as compared to manual instructions. The app gives out functions such as you can navigate, making notes, and recording your work.
With the help of the autosteer system, you can even make the tractors work at night time with the highest precision so that you are always a step ahead in your work.
In the free format, you get everything you want from the app. Moving to a premium version only makes sense if you are willing to spend any money.
Pros:-
The app is very intuitive and useful

GPS tracking works perfectly well

It saves money and time

Very easy to use

Helps to increase overall productivity
Cons:-
Limited features in the free version

Login issues
Platform Availability
Android (Download Here)
5. Farm Dog
Farm Dog is known to be one of the best apps for farming and has been very popular since it was launched. This app makes it easier for every farmer to keep track of their field and all the activities associated with it.
It saves you tons of time and money and allows you to share your field observations easily. Some of the major features you can achieve through this app make it a remarkable find.
You can view the field weather report to take necessary actions before any emergency occurs. While using the app on the smartphone, you can easily capture images of the field, tale observations, etc., made possible with GPS technology.
It plays a major role in the entire process or says every process. Since many farmers are working with others, keeping track of them while in the field becomes important. This app helps you track your scout path in the field; you need not be near it.
As we had mentioned, with an accurate observation from the field, you can send all the reports directly through the app, saving a lot of time for you.
The best part of this app is that the free version is sufficient for your entire team. You can look for a professional package. You can try out their trial version and choose for yourself whichever suits you.
Below is the summary of the main Pros and Cons of the Farm Dog app that makes it add to the Best free Farming Apps list.
Pros:-
Easy to use and navigate

Creates reports and observations pretty easily

GPS technology is the key here

The free version is perfect to start with

Get accurate weather info
Cons:-
Platform Availability
Android (Download Here), iOS (Download Here), Web
At the time of our research on Best Farming Apps You Should Know, we found a video about "18 AWESOME HACKS TO GROW YOUR PLANTS," which is worth watching. 🤴😎
18 AWESOME HACKS TO GROW YOUR OWN PLANTS
6. Farm At Hand
Farm At Hand is a unique app built by farmers for their fellow farmers worldwide. Yet another farm management app is free of cost and available to everyone looking to manage their farming activities best.
Farm at Hand - Make Farm Management Easier
All your data and activities are directly stored in the cloud, and you can access them anywhere, anytime in the world. Moreover, it is platform-independent, meaning you can download it on Android or iOS or even operate it from your desktop.
Everything has been taken care of in this app, from seeds to machines to weather, and you need not look for anything else.
To start with, the design or the interface is highly intuitive, and you will love using it entirely and all its features. All the activities on the field, such as sowing the seeds, spraying, observations, harvesting the crops, tracking, and scheduling any activity, have been recorded and taken care of with this single app on your smartphone.
After this, you can even track and keep details of the buyer, such as the contracts and the deliveries. Apart from the field activities, you can track the equipment, and the fleet, keep logs, etc.
Another important aspect of this free app is that it is safe and secure. No one can access your data without your permitting yourself.
If you want, share access with your other team members as well. Everyone looks for free benefits, and there isn't anything more beneficial than this app since it has all the features.
Pros:-
Great web interface and design

Platform independent

Free of cost

Easy to use and intuitive

Cloud-based farm app
Cons:-
The support system isn't the best

Lags sometimes
Platform Availability
Android (Download Here), iOS (Download Here), Web
7. AgriWebb
Agriwebb is a cloud-based farm management software designed to help farmers take their businesses to the digital world with better decision-making capabilities.
This app is not only here to help you with your on-field activities but also provides you with Livestock management, task management, farm mapping, real-time data, and a lot more.
Not only can you access all the data on your smartphone while online, but everything is available offline, too, if you have no connectivity.
All the records you create are saved in your device apart from the cloud so that you can access them anytime from anywhere in the world. Moreover, the app syncs your data every 30 minutes but will need an internet connection.
It is available for both Android as well as iOS devices. Using the Map, you can track your Livestock and field.
You can also create your map on the app itself rather than going for any other separate app that may cost you extra money. AgriWebb uses Google maps to create clear images of the field on your smartphone, so you need to keep your GPS on at all times.
With the help of this mobile app, you can assign tasks to your employees or partners. Whether a broken fence or anything has gone wrong on the field, you can create an alert on the app and forward it to other employees.
All the tasks are visible on the map so that you can track them too easily. This entire process will save time and money and increase productivity.
Below is the summary of the main Pros and Cons of the AgriWebb app that makes it add to the Best Farming Apps list.
Pros:-
Very simple to use and navigate

Perfect for carrying on work offline

Manage farm visually using GPS

Create tasks easily

Real-time stock level update
Cons:-
Expensive

Issues with lagging at times
Platform Availability
Android (Download Here), iOS (Download Here)
8. Cropio
Cropio is a satellite field management software that helps farmers remotely manage crops or agricultural land. You can easily get real-time updates on the condition of the crops, vegetation, problem areas, if any, and the weather forecast.
This app is also used by agricultural companies that need to manage huge sections of land and sources.
Once you have fed your data to the app, you can get access to information on your field every day, satellite images, the status of agricultural works, current weather data, field status reports, etc.
All the data is synced to the cloud, and you can access it while offline to make better decisions and plan without interference or delay.
With the help of the images and data, you can get a report from the app so that it can be shared with your patterns involved with you or for any other purposes.
It's free of cost, available to remote parts of the world, and easy to use. Some of the features you will notice on the app include real-time vegetation monitoring.
Also, with the integration of Google maps and GPS monitoring systems, you can get a better view of the field and even learn more about the weather. Any sort of weather emergency will be alerted by the app on your smartphone so that you are prepared.
You can save a good amount of money and increase productivity overall. In fact, with a huge amount of data on the app store by various organizations, you can compare past years' data and make an informed decision on the field.
Below is the summary of the main Pros and Cons of the Cropio app that makes it add to the Best Farming Apps for android list.
Pros:-
Works well and provides frequent updates

Customer support is amazing

Reports available on the data

It helps to minimize risks and uncertainties.

Simplicity and ease of use
Cons:-
Too many functions for a small app

language availability is limited
Platform Availability
Android (Download Here), iOS (Download Here), and Web
9. Agrimap
Agrimap is our final product on the list here, but one of the best farming apps that you simply cannot choose to ignore. It has made managing the farm easier than before with the perfect technology.
All the data is stored in the cloud, and you can easily access it without any internet connection. Make sure to sync all the data once you are back with the connectivity on the cloud to save it.
Agrimap has made keeping your farm record much easier with a few simple clicks. Similar to what we have seen in the other apps, you can create tasks based on the analysis of the file and send it to the respective people directly from the app.
Furthermore, once the tasks are done, you will be notified and can keep it as a part of the record in the cloud to use it for future reference.
Making plans using all the data on the app is super quick and very valuable. There is nothing that you cannot achieve now. Such plans are not only based on your analysis, but with the help of historical events, you can make better decisions. 
As you know, you can easily bring the entire team on the app and share all the info so that everyone is updated similarly.
As a manager, you can also set up the privacy settings so that only limited data is available to other employers and you need not share confidential data. You may not have seen the search option in other apps. Using this, you can easily search for any aspect of your farm on the map.
Below is the summary of the main Pros and Cons of the Agrimap app that makes it add to the Best Farming Apps list.
Pros:-
Simple yet dynamic interface

Interactive farm map

Easy for farmers to use

Color coding paddock is a great feature

Customer service is top-notch
Cons:-
It can be a little expensive for some

Not available for iOS devices
Platform Availability
Android (Download Here) and Web
📗FAQ
What app do farmers use?
Hundreds of apps are available on the app store and on the web for farmers. Among them, some of the best ones are AgWorld, ClimateApp, etc.
These apps will help in farm management used by farmers worldwide. They can keep track of the inventory, crops, climate, pests, and more. 
How is GPS used in agriculture?
Monitoring the soil and the crops is one of the most important aspects for farmers. With the help of GPS, farmers can navigate to locations to collect soil samples.
All these collected data are then further used to map the infestations on the field and take proper measures for it. 
What is the best farming technology?
With the introduction of technology into farming, the production and the safekeeping of crops have increased on a massive scale.
Some of the best farming technology you can find are GIS-based agriculture, where GPS or satellites collect data on soil, climate, weather, etc. Another one is the use of data for crop monitoring which is done with the help of apps and software. 
What is the smart farming system?
Smart Farming uses advanced or future technology such as IoT, Big data, AI, etc., to enable efficient crop monitoring, tracking, automation, operations, and other aspects of farming. 
Is farming profitable?
Yes, Farming is highly profitable if you are dedicated to making the best use of your land. Well, it surely isn't something that can instantly get you money since growing crops and farming takes time.
You need to have a piece of land to start with, and as you proceed further, you will learn how to make farming profitable. 
Final Verdict on farming apps
Here we are with the nine best farming apps you cannot move past without getting to know more about. We did our best so that you can get the best apps for your farm management. These apps are perfect for all activities on and off the field.
It includes apps that give you a detailed insight into weather forecasting, livestock management, taking reports, scheduling tasks, etc. We have tried to mention as much info as possible, but make sure you go through each app.
Some are free, while some may not be. So, if you are okay with spending some money, then there is no limit to all the premium subscriptions you can use in the best manner; we love all the apps and have used them thoroughly to give you detailed info.
If you have been using any other app, do let us know in the comment section below so that we can update ourselves and benefit others too.