Do you love learning about new Pokemon? Well, some of us enjoy learning about new Pokemon and their exciting abilities. Be it for a game, animated series, or just research, it is always good to learn about some new Pokemon.
Fire Type Pokemon are considered one of the most vital types possessing great attacking abilities. If you want to add some great names to your list, then stay tuned with our list of Best Fire Type Pokemon of all Generations.  
Best Fire Type Pokemon of All Generations 👌👌
1. Ho-oh
If you are a Pokemon fan, then you must know about the legendary Pokemon Ho-oh. It has been around since the first time Pokemon aired on TV. Ho-oh is dual type pokemon being both Flying and Fire Type pokemon.
Being a legendary pokemon, we couldn't find any data on its evolution. People often mention this Pokemon as the legendary duo with a pokemon named Lugia, which is known as the "guardian of the seas," and Ho-oh is known as the "guardian of the skies."
It is also among the three legendary beasts. Undoubtedly Ho-oh is the best Fire Type pokemon and deserves the top spot on our list. It has also been the game mascot for several of the Pokemon games. 
Legends say Ho-oh can even bring the dead to life and possesses mythical powers. No other pokemon can use its former special move, Sacred fire, and to this day, Ho-oh is the only Pokemon that can use this ability.
It has long beings that often appear in different colors. The color of its wings depends upon how the sunlight falls on its wings. And depending on that, it can give all the colors of the rainbow.
It is often said that Ho-oh lives under the rainbow. To see this legendary Pokemon brings happiness and joy. Although it very rarely appears in the skies. Ho-oh flies through the world in search of a good trainer. 
Ho-Oh and Lugia EXPLAINED!
2. Blacephalon
Blacephalon is a Ghost and Fire Type pokemon that first appeared in Generation VII. We do not know anything about its evolution, but it is one of the legendary ultra beasts. The code name for Blacephalon is UB Burst.
Its body structure is similar to that of a human being. Its key body feature is its head. It can use its head to attack its opponents since it is not attached to its neck.
Other of its body parts are of different colors. There are tiny sparks on its head, which are mostly tiny dots of blue and pink. 
Its mood change can also change the shape and color of the stars and the color of sparks on its head. It is one of a kind ultra beast that seems unbeatable. Blacephalon also can regenerate its head if blown up and can also move it around freely.
This Pokemon likes to play around with its prey before blowing up its head without any warning. Its other ability is to gain energy from its opponent's vitality. Mind blown is its special or signature move that is only limited to this Pokemon. 
3. Reshiram
When it comes to widely popular legendary Pokemon, Reshiram is surely among one of them. This Dragon/ Fire Type pokemon first graced us with its appearance in Generation V. It has also been the game mascot of the famous Pokemon game called Pokemon Black.
Resiram is also an esteemed member of the legendary trio named Tao and mainly appears in the Unova region.  
It can also become White Kyurem by fusing with Kyurem. At first glance, it looks like a very fierce pokemon. Its tail resembles jet engines and correctly so, as it uses it to fly at high speeds in the sky.  
Reshiram's tail can also throw fire burning everything around. It can use its tail to change the weather and the atmosphere. Bolt strikes can ignite its tail generator that can further power up its flare.
Reshiram is an admirer of truth and always supports it, as shown in the Unova mythology. Legends also say that Reshiram has previously burned down entire kingdoms that were consumed by greed. It is one of the best Fire Type Pokemon in the Pokemon Universe. 
4. Volcanion
Volcanion is vibrant looking mythical Pokemon possessing immense, powerful abilities and stats. It is a dual-type Water/Fire Type pokemon that made its debut in Generation VI.
Volcanion is one of those rare Pokemon whose information was leaked before the reveal. It has two big cannons that form a ring around its neck. Bright blue lights on these cannons make them look even more dangerous.
It is capable of making steam inside its body and releasing it through its arms. The stream is released with very high pressure that can also destroy mountains.  
Anime depicts that Volcanion will ultimately run out of water. Once out of the water, it cannot use any of its water type moves unless it refills its water source. Also, the color of its cannons changes from blue to red. Volcanion is known to live for several centuries.
Its signature or special move is a steam eruption, which is quite powerful. Volcanion also appears in the Volcanion and the Mechanical Marvel. It is immune to water attacks and weak towards Ground, Rock, and Electric attacks.     
5. Moltres
Moltres is another Flying/Fire Type pokemon first appearing in Generation I. Similar to Ho-oh, it is also a legendary Pokemon. We do not know any of its evolution information currently, but it has one other form in Galar called Galarian Moltres.
The crown Tundra introduced us to this new form of Moltres in which it becomes a Flying/Dark Type pokemon.
It is one of the esteemed members of the group Legendary birds of Kanto. It is capable of releasing sinister energy from its body that renders other Pokemon scared. They do not approach Moltres because of this energy. 
Moreover, with just the flip of its wings, it can release flames destroying any of its foes. It can heal itself by dipping in the magma of a volcano. Moltres is a migratory bird that travels south in the spring and can also bring spring early to the place it travels.
Some stories suggest Moltres helping people who were lost in the mountains. It rarely appears in the sky. Its dark form can release energy from its wings that inflict severe fatigue on the mind and body of its opponent. Undoubtedly it is one of the best fire type pokemon on this list. 
How GOOD was Moltres ACTUALLY? - History of Moltres in Competitive Pokemon (Gens 1-6)
6. Heatran
Heatran is another legendary pokemon on this list. It first appears in Generation IV as a Steel/Fire Type Pokemon. Due to it being one of the rarest Pokemon, we do not have any data on its evolution.
It has four legs with grey and orange dots on its body. The legs of this Pokemon contain metal rings, and all of its feet have claws.
The face of Heatran is covered with an iron mask. It keeps its eyes open during its sleep, and upon opening its mouth, you can always see an orange glow inside. 
Furthermore, its body temperature is very high, which results in the melting of certain parts of its body. Its blood boils like magma, and the body has the strength of steel.
It usually lives around a volcanic crater and is responsible for causing the eruption. Throughout the series, Heatran is also the force guardian.
Its claws are so strong that it can dig through stone walls and use them to climb ceilings or hang on them. Magma storm is one of its key abilities that can easily defeat most of its foes. 
7. Entei
Entei is another legendary Fire Type pokemon that is powerful beyond measure. Since its first appearance in Generation II, it has become quite the fan favorite. Entei is one of the three legendary beasts alongside others like Suicune and Raikou.
Legends say that after the burning of the Brass Tower, Ho-oh revived Entei. It represents the fire burning the brass tower. Entei has a massive body and walks on four legs. Its entire body is covered with fur and with an appearance similar to a lion.  
The front paws of this Pokemon contain sharp claws that are its powerful weapon in battles. Its body also contains a six-headed star adding to its glorious appearance worthy of a legendary beast.
The red eyes of Entei can easily scare away any pokemon in its path. Usually, you will have a high chance of finding this Pokemon around a new volcano.
There goes a saying that Entei's roar is a sign of a volcano erupting somewhere in the world. It can travel on land at very high speeds. If you are looking for one of the best Fire Type pokemon, then Entei must be on your list.    
8. Blaziken
If you have watched the animated Pokemon series, then you must be familiar with Blaziken. Its fierce battle with Charizard is still famous to this day. Blaziken is both Fighting/Fire Type pokemon that first appears in Generation III.
Combusken evolves into Blaziken, and it can further develop into Torchic, its final form. It also has a Mega form known as Mega Blazikan that looks even scarier than the normal Blaziken.
Its leg muscles are super strong that also strengthens its lower body, giving it swift movements. The lower body strength also helps it jump or kick with high force. Its wrists and feet can spout flames giving it a force look on the battlefield. 
The signature move of Blaziken is Blaze Kick, and it also practices a form of martial arts. This fighting type pokemon is one of the most dangerous fighters on the battlefield. The intensity of its flames increases as it faces a formidable opponent.
Its feathers can shed and grow back within a few years, giving it a fresh new look every time. You can mainly find this Pokemon in its natural habitat, Grasslands.
As Mega Blazikan, it becomes far stronger. The flame intensity also increases, and it can kick with much higher force. It is one of the best Fire Type Pokemon of all Generations. 
At the time of our research on the Top Best Fire Type Pokemon of All Generations, we found a video about "What Pokemon Are You, Based On Your Zodiac Sign?" which is worth watching. 😎🤴
9. Infernape
Infernape is one hell of a Fire Type Pokemon that you would not want to miss on. It is a dual-type pokemon quite popular in the Pokemon Universe since its first appearance in Generation IV.
Monferno evolves into Infernape, which can further evolve into its final form called Chimchar. It is a good-looking two-legged Pokemon with good overall stats all around.
Infernape's body is mainly red in color with furs of white surrounding its chest. Its body has gold markings all around, which makes it look cool. 
One of the main features of its body is the flame spouting from its head. You will rarely see this flame go out. Also, it has blues eyes with a glare in them. Infernape is one of the quickest Pokemon around.
On top of its fast movements, Infernape practices martial arts in which it utilizes all of its limbs to defeat the opponent. It unloads a barrage of punches and kicks on its opponent, rendering them helpless during a battle. 
10. Charizard
We all have fallen in love with Charizard at least once as Pokemon fans. Charizard gained most of its fandom from the Pokemon TV series. Kids and adults worldwide loved this amazing Pokemon.
They would enjoy him on the side of Ash as Ash's pokemon Charizard has shown some of its powerful abilities and extreme resilience. If there were one Pokemon we had to choose back in the day aside from Pikachu, it would be Charizard.
It is a Flying/Fire Type pokemon with a body resembling that of a dragon. Its feet and wrists have claws on them that it often utilizes to attack its opponent. 
Charizard is the final form of little Charmander, which first evolves into Charmelion before evolving into its final form. It has two different Mega forms as well that look badass.
Charizard has short skinny arms that use to make a grip on its opponent and fly in the air to perform one of its signature moves called seismic toss.
It can fly very high and has several powerful Fire attacks that can quickly defeat an opponent with ease. Charizard is one of the most popular and best Fire Type Pokemon of all seasons. 
11. Cinderace
Cinderace is a great Fire Type pokemon from generation VIII. The robot evolves into Cinderace, and it can further evolve into Scorbunny. In The Isle of Armor, it has a Gigantamax form as well known as Gigantamax Cinderace.
It can juggle pebbles on its feet that can further transform into a burning soccer ball to attack its opponents. Its scorching ball can render any foe defenseless.
Cinderace possesses both great defensive and offensive abilities. It can get easily excited and may also showboat in the toughest of battles. 
12. Talonflame 
Talonflame is Pokemon that looks like a bird appearing in Generation VI. It is a dual-type pokemon being both Flying and Fire-type. It evolves from Fletchinder and can further evolve into Fletchling.
Talonflame flies through skies using its Talons for hunting and attacking its prey. It can take some deep dives and kick its foe to render them helpless.
The diving speed of this Pokemon can be very fast. Talonflame possesses fireproof wings that come in handy in making outfits for firefighters. The feathers of this Pokemon have gaps containing embers. It showers this ember on enemies as an attack.  
13. Flareon
Flareon is a cute-looking pokemon that evolves from Eevee. It is the final form among the several other forms of Eevee. This Pokemon is mostly red-orange, with yellow fur covering its tail, neck, and head.
It sheds the fur on its neck if it feels it has a high body temperature. It can also store air in its lungs and heat it, releasing as burning fire on its opponents. The main food of Flareon is roasted berries. It loves to live in populated areas rather than wildlife.  
14. Arcanine
Arcanine has a body structure similar to that of a dog. We first saw this Pokemon in Generation I. Growlithe evolves to become Arcanine under the influence of Firestone.
It is a loyal and extremely brave pokemon. Arcanine has great speeds on the ground and can run several thousand miles continuously.
Its signature move is also called Extreme Speed. Fans and people in the pokemon Universe admire this Pokemon for its speed, beauty, and loyalty.
It's a burning flame inside its body that acts as the source of power. Similar to Flareon, it also loves to live among humans rather than wildlife. 
15. Volcarona
Generation V introduced us to one of the best Fire Type Pokemon called Volcarona. Larvesta evolves after leveling up to become Volcarona. It can turn any battlefield into a sea of fire using the scale on its wings.
These scales are burning hot and scorch anything in their path. Its flames can act as the flame of the sun during the night.
Some legends often say that Volcarona took birth from a raging cocoon to save other Pokemon and people from cold climates. People also feared this Pokemon as the rage of the sun in the past. At one time, it was even worshipped by some people.
16. Primal Groudon
Primal Groudon is a legendary Fire Type Pokemon that possesses immense overall stats. It can expand continents and is a Ground/Fire Type pokemon. Its rival duo is called Kyogre, which can expand the oceans.
They are bound to battle each other every time they meet, and their fight is nothing sort of a natural calamity for the surrounding Pokemon and humans. It can also summon volcanic eruptions and even bring forth droughts.
Primal Groudon lives around magma chambers and capable of evaporating entire water bodies. Certainly, Groudon is one of the best Fire Type Pokemon around.   
17. Ninetales
As the name suggests, this Pokemon has nine tails and looks beautiful. It has been around since Generation I and is the evolved form of Vulpix. This Ice/Fire Type pokemon is undoubtedly one of the best around.
It possesses high intelligence and is capable of understanding human speech. It can curse those people or Pokemon who don't treat it well enough and hold a grudge for a long time.
Its tails store energy, which allows it to live a very long life. Ninetales also possesses various mystical powers such as hypnosis and mind control. It lives around grasslands and is also capable of swimming in the water.   
18. Delphox
Delphox is a Psychic and Fire Type Pokemon that first appeared in Generation VI. It has two other forms named Braixen(from which it evolves) and Fennekin(its final form). You will usually notice a stick in its hands that works like a magic wand.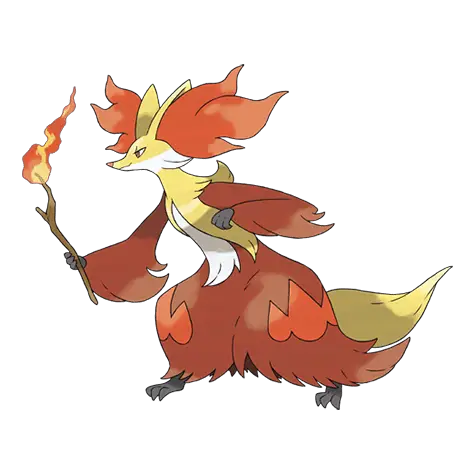 When it uses the wand, the tip lights up with fire. It can focus its mind to an extent where it can also see the future. Its psychic powers are alone enough to defeat the most potent foes, whereas its signature ability is also quite remarkable.
The signature ability is known as Mystical Fire. It is one of the best Fire Type Pokemon of all Generations.
19. Magmortar
At first glance, anyone can tell the Magmortar is a Fire Type pokemon. Its appearance is quite vibrant and fierce for its foes. It evolves from Magmar and can further evolve into Magby.
Magmortar has launchers as its hands that can fire fireballs at great speeds destroying its opponents. It also has claws in its hand that can be used to hunt and defeat its enemies.
Its fireballs are so that they can melt even the toughest of foes. Magmortar can further increase the intensity of the fire by increasing its inner body temperature.
20. Rapidash
Rapidash is a great Fire Type Pokemon that has an uncanny resemblance to a pony. Its head, neck, tail, and all four legs have burning fire on them. It is very agile and fast when it comes to movements during a battle.
Its incredible acceleration can win it races against any other pokemon. The flame of Rapidash also increases with speed. It is a brave pokemon with powerful psychic abilities.
Summary
If you love learning about new Pokemon or are just interested in their abilities, this article would have helped you gain some great knowledge of the Pokemon Universe.
We have thoroughly researched to bring you this awesome list of the best Fire Type Pokemon of all generations. You will also find some great legendary Fire-type Pokemon to add to your list.