Are you seeking to become a 3D visualization expert? But you simply turn your back because of the cost of learning drills a hole in your pocket? 🤔
When you've just set a wet foot in the industry you are not sure about the software options since you're just an amateur when it comes to exploring robust libraries.
Well, you don't have to store the out-of-the-box ideas in your creative mind anymore, simply draft a blueprint and construct your 3D models with some of the best free 3D modeling software.
3D modeling has changed the way we project our designs in today's world. "Picture conveys a thousand words", this phrase is very true when it comes to designing 3D models. With some of the best software, you can create innovative and customized designs more realistically.
3D modeling can play a very vital role in improving your business and cater to some of the best career opportunities in the coming future. We provide you with the best hand-crafted list of the best free 3D modeling software to turn your dream into a reality and give you the clarity to choose the best free 3D modeling software.
Best Free 3D Modeling Software: Our Top Picks 👌
1. Blender 3D
Blender 3D is the best viable alternative for the paid modeling software packed with impressive features for your dream project.
The 3D creation suite is best suited for modeling, simulation, rendering, rigging, animation, compositing, motion tracking, and even video editing.
The platform caters you an array of advanced modeling tools for editing your models with ease. The optimized platform is free and offers custom tools to promise you the best 3D modeling experience ever.
The public project is an industrious result made possible by studios, professionals, artists, scientists, animators, VFX experts, and game artists from across the globe. Blender has the best built-in path-tracer engine for realistic rendering.
Cycles Rendering Engine offers real-time viewport review and supports HDR lighting. The software includes several modeling tools including, textured brushes, python scripting, sculpting tools and brushes, 3D printing, and masking.
First Steps - Blender 2.80 Fundamentals
Pros:-
 

Free and an open-source

 

Keyboard shortcuts are pre-programmed to save your time

 

Offers skin modifier feature for realistic designs

 

User-friendly and smooth functioning
Cons:-
 

Cluttered menu and toolbar can be difficult to use

 

Takes time to get a hang of a few customized tools
There is a reason why the software is trusted by scores of people and downloaded by millions. It is your time to experience the best software for 3D modeling.
2. SketchUp
SketchUp started as a crazy experiment and blossomed into widely-used software all across the globe. The flexible 3D modeling software is best suited for you and your dream project.
The software can be used to sketch virtual neighborhoods, build a bookshelf, or even renovate kitchen space. The software allows you to not only store your innovative creation with yourself but share it with the public by uploading your project on the 3D Warehouse Website.
You can even check out the other designs shared by users on the same platform. Google SketchUp is best suited for both amateur and experts. You can use it for fun and commercial purposes as well.
The robust interface is all about constructing tiny scale models for giving shape to your raw model. The platform has several guidelines to help you with your segments and shapes.
The toolbar contains several icons to help you with building 3D models. The compact technical set-up caters you enough space for drawing and showcasing your creative side.
The software promises you detailing your models with great precision by catering to the best tools. However, the platform is free of cost only for 30 days. If you feel this is the best pick go for it, else switch to some other software from the list.
Pros:-
 

Flexible interface

 

Instant learning curve

 

Stunning modeling tools

 

User-friendly
Cons:-
 

Windows only

 

Complex functioning for newbies
The pros of the software are more than the cons, it seems like it is the perfect pick to give your dreams a perfect shape.
3. 3D Crafter
3D crafter (Download Here) is advanced software designed for artistic individuals as well as top-level engineers. The modeling and animation tools are a little difficult to operate.
The software caters to a free workspace for building, extruding, and modeling your work in the best possible way with a wide range of tools. You can easily drag and drop according to your convenience.
The platform is flooded with several tools with specified icons, however, it can be very baffling to remember, which icon does what. With experience, you can have a great hold of the software.
Experience is the key here. If you are a beginner and are not well aware of basic tools such as crease, equalize, or even lathe then you might have a hard time.
Instead, go for software like Blender, which is extremely user-friendly. To deal with your frustration, the software is loaded with easy tutorials to make your work easier.
The tutorial section has videos for beginners as well as professionals. You can click on the best video as per your experience and convenience.
Below is the summary of the main Pros and Cons of the 3D crafter that makes it add to the free 3d modeling software for 3d printing list.
Pros:-
 

Easy tutorials to start with

 

The best cross-platform

 

Extensible and easy to use

 

One-time payment
Cons:-
 

Non-intuitive tools

 

Menus are poorly developed
How much you like the software will depend on how much effort you take to learn about the tools and features. Yes, it is hard to learn with this platform, but not impossible.
4. Sculptris
The software (Visit Here) completely focuses on digital sculpting; it is the ideal platform for using advanced features and introducing amazing models to the digital world.
Even the ones with zero experience can learn to work on this platform and create some of the best basic models. The unique tools provided by the platform allow you to take your artistic design to some other level.
Use the handy brush strokes, sculpting tools, mesh geometry, and redefine your model in the best creative way possible.
The software has been designed especially for beginners who want to be a part of the 3D designing world. The platform caters to user-friendly options and is worth a try.
There is a wide range of tools, which you can use to carve your perfect visualized model. You can even explore the texture options to create more realistic designs.
Below is the summary of the main Pros and Cons of Sculptris that makes it add to the free 3d modeling software for beginners list.
Pros:-
Easy to use especially for beginners

Creation of intricate designs

Entry-level platform

Streamline geometry
Cons:-
Does not have the traditional tools

Takes time to figure out and explore all the tools  
5. LeoCAD
Were you addicted to the LEGO bricks as a child? LeoCAD (Download Here) is the best pick for you since it allows you to create virtual models using LEGO just like you did when you were a toddler.
The software has a base plate in the center of the screen and you can easily drag and drop the LEGO bricks, which are placed on the right-hand side panel. The variety of LEGOs will drive you crazy as you won't be able to decide which one to pick.
For every type of brick, there is a keyword associated. With ease, you can drop the bricks in the center of your working space and move them as you like. You can move the brick up, down, rotate it, or move it sideways.
The software is available for the following Operating Systems: Linux, Windows, and Mac. There is a timeline, which tracks your work progress. This can be used to make instructions clearer.
The software is compatible with LDraw Standard, which will allow you to share your models with other users and download the other models from the internet.
In no small measure, the software is user-friendly, and even though it has certain flaws you can create some of the best LEGO models.
Below is the summary of the main Pros and Cons of the LeoCAD that makes it add to the Best Free 3D Modeling Software list.
Pros:-
 

User friendly

 

Unique features

 

Advanced techniques

 

Compatible with tools
Cons:-
 

Takes time to learn the application

 

Super-advanced tools are difficult to deal with
The free software does amazing wonders if you learn and achieve grip over the advanced tools. In the very beginning, it might seem difficult to handle, however, the results are very promising.
6. Tinkercad
Tinkercad (Download Here) is one of the best tools for 3D printing and designing. The software is very intuitive and user-friendly. You can easily stretch, copy, paste, reshape, and group the shapes as per your choice.
The software is mainly for the newbies who have just begun to weave their models of the best 3D modeling software. Tinkercad allows you to build some basic models without any sculpting or animating features.
The software is very user-friendly and can be used to train beginners. The platform also provides projects to the users so that it boosts the learning experience. In no time you will be able to form complex shapes.
It is the best and most suitable program for all the beginners out there who want to be introduced to CAD programs in the simplest manner.
The handy tools make working on the models easier and deliver the best user experience so that you are comfortable with the idea of using advanced software with advanced tools.
The workspace of the platform can seem a little bit tricky to use however, once you become habitual you will fall in love with designing.
Below is the summary of the main Pros and Cons of the Tinkercad that makes it add to the free 3d modeling software online list.
Pros:-
 

Easy to use

 

Access to solid 3D files

 

Several tones of 3D modeling

 

User-friendly Coding features
Cons:-
 

Works only if the connectivity is strong

 

Only for beginners
If you are an expert, this software is not recommended for you, however, if you are just exploring your options and trying 3D modeling software for fun then this is the best pick for you.
7. Open SCAD
The powerful software (Download Here) is very easy to learn and helps you to build shapes very quickly. The platform supports both 2D and 3d modeling to create easy and complex shapes, which are best, suited to the users. You can try the drop-down menus, sliders, and elements to know more about the software.
In no time, you will get used to it and use it based on your preferences for designing and modeling. The language design of the software is however very inconsistent and it seems as if some major designing tools from the platform are missing.
If you are an expert, you will realize the difference between this platform and the others in no time. The software does not even have tutorials to help beginners with some of the advanced features and probably this is the worst feature of the software.
One cannot learn if taught well. The error messages, which are bombarded on the screen are not so informative and will make you wonder what exactly it means. The language could have been better and simpler for a user-friendly experience.
At times, the software has complex issues with which only the experts can deal. With little knowledge you definitely cannot resort to this software, thus keep simpler options open if you are a beginner.
The interface of the platform seems to be very old and could use some designers to attract more users. The building process on the platform is very exciting if you are into mathematics and programming.
However, the preview screen could have been much better. If a few parameters of the platform are changed then it can become the most used 3D modeling software.
Below is the summary of the main Pros and Cons of the Openscad that makes it add to the Best Free 3D Modeling Software list.
Pros:–
 

Very simple for coding

 

User-friendly drawing tools

 

Does not stutter

 

Interface is super-intuitive
Cons:-
 

Takes time to install

 

Very complex and crashes at times
Go for this platform if you are into both programming and software. The advanced tools will help you to develop your dream project.
8. VUE Pioneer
VUE Pioneer (Download Here) is an advanced platform for average users and easily allows you to mold, shape, and construct easy shapes. You can even construct terrain models with extreme complexity.
The flexible technology helps you to construct detailed models with great precision and gives a tinge of realism to your project. The Plant Editor tool of the software allows you to customize different kinds of plants and green vegetation.
You can easily create your plant species and animate the same to make your model look even more realistic. You can even control the shape of clouds and create your beautiful sky with cloud layers and develop realistic cloudscapes.
There are several lighting options in the software to create some amazing indoor and outdoor light models. You can use soft shadows and lenses for creating a stunning project.
Below is the summary of the main Pros and Cons of the Openscad that makes it add to the Best Free 3D Modeling Software list.
Pros:-
 

Create best-animated models

 

User friendly

 

Advanced options

 

Best software for professionals
Cons:-
 

Difficult for beginners

 

Requires time for construction
The software is best suited for the professionals who deal with modeling and animations in day to day lives. However, if you are a beginner do not go with this software. It might just make your learning process even more complex.
9. Vectary
This software (Download Here) is the easiest designing and modeling tool and allows you to create graphic designs very easily. This software is best suited for beginners.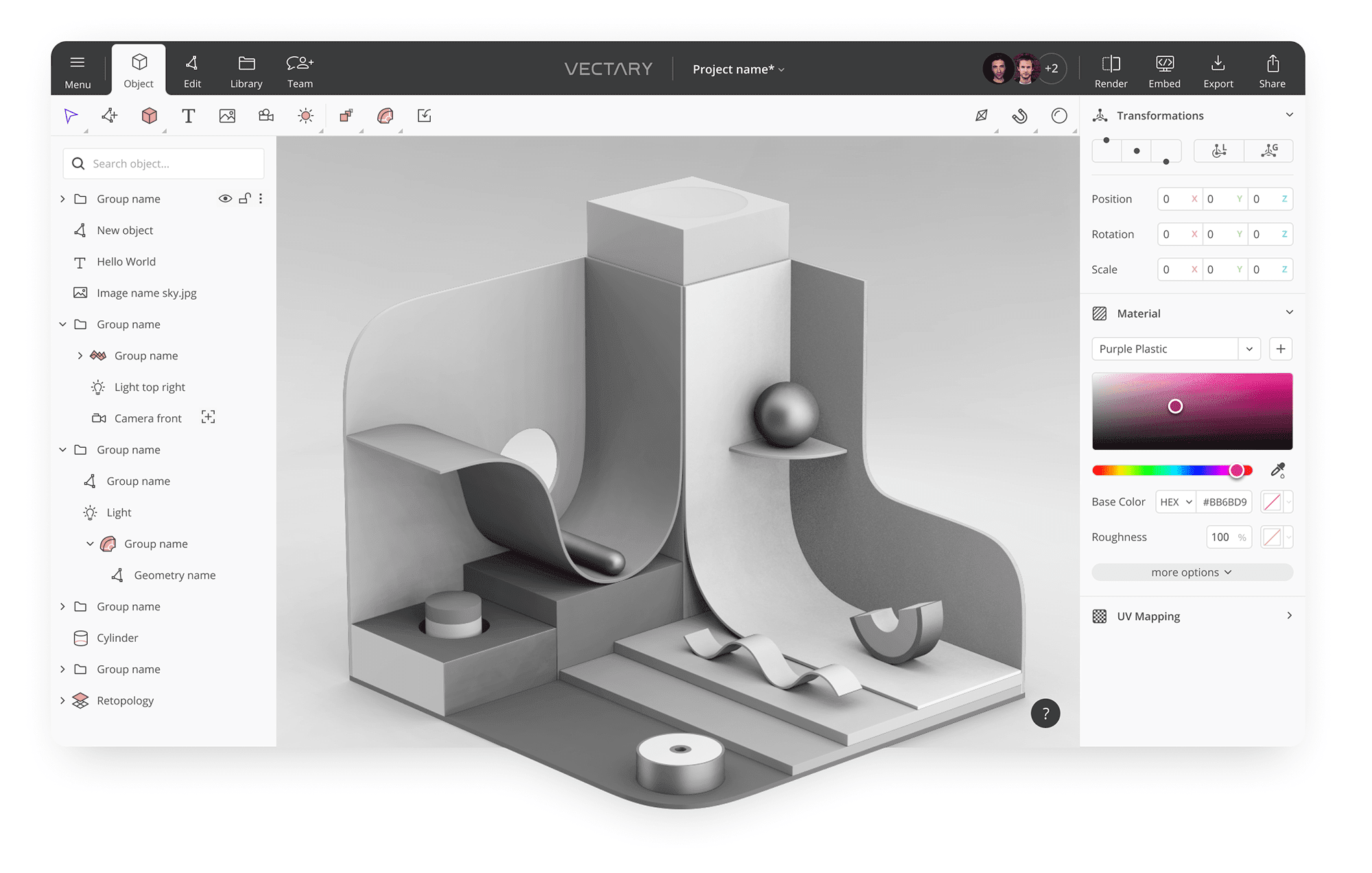 Anyone who is very interested in 2D and 3D modeling can opt for this user-friendly software to design novel ideas and concepts. The interface of the platform is very easy and you can easily pick from the extensive library of 3D objects.
You can even share the tools for a better user experience. The free version has a limited number of options for beginners whereas the paid version has many more advanced features for modeling and designing. If you want access to the advanced tools then you will have to pay $12 every month.
Below is the summary of the main Pros and Cons of the vectary that makes it add to the Best Free 3D Modeling Software list.
Pros:-
 

User-friendly

 

Best pick for the beginners

 

Can design both 2D and 3D models

 

The best platform to learn 3D modeling and designing
Cons:-
 

Advanced features come only with the paid version

 

Beginners require some external help
If you are a beginner with little experience then choose this software without any hesitation since it delivers some of the best and user-friendly tools for learning the same.
📗 FAQS on the best free 3d modeling software
Below are a couple of queries on the best free 3d modeling software that everyone is expecting to answer and I did include the same for my readers.
(Q) How do you learn to create some of the best 3D models?
There are different tools for beginners and advanced users. Since it is difficult for beginners to understand how the software works; there are several tutorials to support the same.
If you spend a lot of time learning about the software then you can easily create some of the stunning designs too. There is even a YouTube channel, which provides tutorials for beginners and advanced learners. Explore your options, explore the tools!
(Q) Are the 3D modeling tools user-friendly?
Yes, the 3D modeling tools are extremely user-friendly especially and can be used to create some of the best designs and models.
(Q) What are the most prevalent 3D modeling services?
There is a huge demand for 3D modeling professionals in the architectural and industrial sectors. Even game developing companies require 3D modeling services to deliver the best products and services to gamers.
These days, even 3D interior and exterior modeling have a great demand for professionals, who can work for them and are paid well too. Kitchen appliance modeling and furniture modeling also require professionals.
Apart from this, there is industrial machinery modeling, mechanical modeling, product modeling, and medical equipment modeling.
(Q) Why is 3D modeling so relevant?
3D modeling is relevant because artists can create designs that resemble real-life objects. The software supporting 3D modeling is widely used in the field of engineering, architecture, and the entertainment industry. 3D characters are also used in films for giving special effects, in-game development, and advertisements.
Conclusion
We have come to an end of the handcrafted list of 3D modeling software and you must have come across software having both pros and cons. 3D Modeling Software is used by scores of people; it is the advancement of technology that makes all of the software highly valued.
We highly recommend you Blender 3D and Google SketchUp since both of them have had the best reviews until now. You can go through the pros and cons and decide which works best for you.
However, you don't need to have the same perspective as us; we have provided you with both pros and cons to suit your interest and preference. The different software has different tools and techniques which might attract you and suit you best for your designs and models.
Go as per your taste and select the best software for 3D modeling. All the software which has been mentioned in the list have been used all across the globe by users and trusted by millions.
Make sure that you read the pros and cons of the software mentioned and then decide which is the perfect pick for you. The choice may vary from beginners to advanced users and that is completely okay. Go with whatever you are comfortable with.
We encourage our readers to take time and research the software, which suits them best to avoid future problems. In the end, it is you who has to deal with the advanced options.
If you are a beginner, do not worry for we have mentioned the basic software suited in your best interest. The user-friendly tools will help you to start your journey with 3D modeling and designing.
Some software is built for beginners and there is a wide range of tutorials catered to make your experience much easier.
Please let us know if we were able to cater to your needs and can come up with better content to help you and your highly-valued dreams.
We would love to hear your response in the comments section, so feel free to come up with anything you feel.
Was this hand-crafted list of reviews helpful and did it make your selection process easier?
Are you a beginner or a professional?
If you are an expert, what is the software that you found the best?
Let us and the other users know too.