File Explorer isn't the only way to manage your files. There are now some awesome apps are also available in Windows Store that makes you File manager easily. Since the
Creators Update, Windows 10 has included a hidden app version of File Explorer.
You can unlock it by right-clicking your Desktop and selecting New, then Shortcut. In the
Create Shortcut window, type:
explorer shell:AppsFolder\c5e2524a-ea46-4f67-841f6a9465d9d515_cw5n1h2txyewy!App
and press Enter. Name your shortcut, click Finish, then double-click it to open
the File Explorer app. Its bit bare but is ad-free and will match Windows 10's dark or light theme.
Here are Top Best Free Windows 10 File Manager Apps
Metro Commander
Metro Commander stands out from the crowd by offering a very useful dual-pane interface, even in its free version. It's a Universal Windows Platform app (UWP), so it works on Xbox One and Windows Mobile, too.
The dual-pane view takes a bit of getting used to at first, but it's essentially just two columns of files, each representing their own directory. To choose which directories are shown, click the heading at the top of a column to highlight it, then click one of the icons
on the left – Navigation, Recent or Browse – to select the location you want to display.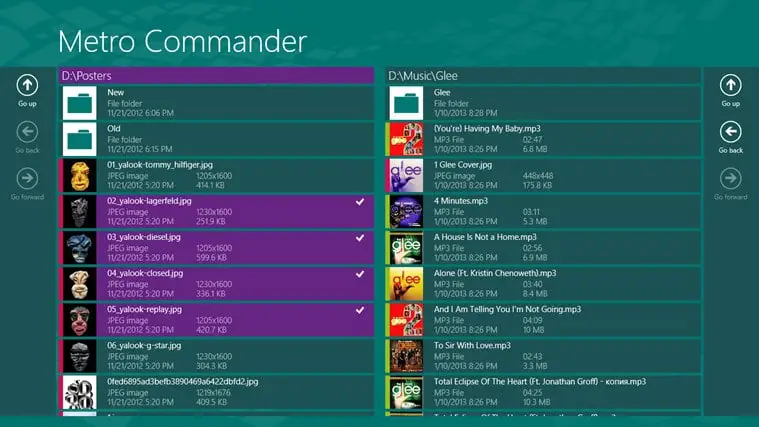 'Recent' lists recently visited locations and 'Browse' opens a standard File Explorer window for you to find the directory you want. 'Navigation', which lets you choose one of your favorite directories, initially only displays a handful of default locations – including
your Music, Pictures, and Videos folders – but it's easy to add more by clicking
the '+' button and choose a folder.
You can drag and drop between panes, and a strip of icons along the top of the
window lets you access further tools for copying, pasting, renaming and so on.
Metro Commander also supports OneDrive (without you having to pay extra), offers a wide range of keyboard shortcuts (click the '?' an icon for a handy list) and has its own built-in file viewer that supports useful features, such as Rotate, and Slideshow and 'Cast to Device' for photo files.
How it can be improved:-
Some of the adverts displayed in the bottom-right corner of the window can be intrusive. Getting rid of them permanently costs £3.09, while various other similarly priced in-app purchases unlock other features, such as alternate themes, MKV support and built-in file compression tools. Sadly, Dropbox support is one of the paid-for extras.
Alternatively, you could consider opting for the Pro version (£6.19 from within the
free version), which unlocks all the app's advanced features.
OUR VERDICT
Unwanted advertising intrusions aside, Metro Commander is a smart-looking file-management tool that offers a good, workable range of features in its free incarnation, including a very useful dual-pane view.
Outstanding Notification Apps For Android
Unlike some of the other free Explorer replacements in the Windows Store, File Browser doesn't hassle you relentlessly with adverts. By default, it provides shortcuts to your Windows Libraries and Homegroup locations, and you can also add a shortcut to any folder or drive by clicking Favorites, then Add and selecting the location required.
Single-clicking a file reveals a wealth of options along the bottom of the window, including sharing, copying, pasting, renaming and pinning items to Start. Further options–including the 'Copy to' and 'Move to' commands–can be found by right-clicking an item.
A modest yet useful selection of customisation options is provided in the Preferences menu: you can choose to show or hide file extensions; recycle or delete files permanently, and opt to have a confirmation message appear before you can delete anything.
A handful of color themes is also available.
How it can be improved:-
Frustratingly, the app's support for tabbed browsing is locked to an in-app purchase. Tabs appear at the top, but clicking the '+' sign to open a new one prompts you to cough up £1.19 for the Pro version of File Browser. Admittedly, this is a relatively small price to pay,
but the Pro version doesn't unlock any other notable extras beyond a Dark theme option in Preferences.
OUR VERDICT
File Browser isn't exactly overburdened with features, but it looks good and does its job well. The lack of adverts in the free version is refreshing, too.
Top 8 Best Photo Editing Apps for Android
3.Files&Folders Lite
Files&Folders Lite is made by Finebits, the same developer of Metro Commander, and shares a number of Metro Commander's useful tools, including a built-in file viewer and OneDrive support.
The key difference is that Files&Folders Lite sticks to a traditional single-pane view. Click Navigation (your favorite directories), Recent (recently visited directories) or Browse (which opens a standard File Explorer window) on the left, then select the location you want to display in the main area of the app window. Back, forward and up arrows
let you navigate, while right-clicking files and folders provide access to commands–Copy, Cut, Rename, Delete, and so on – as well as a handy 'Share to' option. Further tools, including a pin to Start' option, are in the top toolbar.
Files&Folders Lite also lets you customise its appearance. Click Personalization, then scroll to select one of the predefined backgrounds or click the '+' sign to browse for an image of
your own choosing.
How it can be improved:
Files&Folders Lite also shares some of Metro Commander's flaws, including its distracting ads and expensive advanced features (the Pro version costs £6.19). And, without its stablemate's dual-pane view, navigation is more awkward.
Top 5 Reminder Apps for Android
BEST OF THE REST
My Explorer
My Explorer feels like an old-school Windows 8 app and could do with a bit of a refresh,
but it does a basic job reasonably well. You can add your own favorite locations
(up to 999 of them) and right-clicking files reveals management options along the bottom of the screen.
Customisation options are limited to choosing Light or Dark themes and the type of folder icon used, but at least there are no annoying adverts to contend with.
Hamstrung by an unattractive interface and navigation that's clearly been designed
for touch controls (single-clicking opens files by default), Aerize Explorer does have a few benefits, including badges showing the number of items contained in each folder.
Sadly, many tools and options, such as file compression, require £1.89 for the Pro version. Also, you need to pay further £3.89 to permanently disable the ads.
Hope my article "Best Free Windows 10 File Manager Apps" helps you to find Best Free Windows 10 File Manager Apps. If you have any query, feel free to comment.