Those who have a Chromebook are akin to the problem that it is not as diverse as a regular PC. Chromebook focuses on cloud processing and storage thus they don't have sufficient hardware to handle the heavy-duty process.
And the major victim of this problem is the games. Chrome's web store doesn't have a wide variety of options when it comes to any type of games, be it an RPG or a small puzzle game.
We have selected some of our favorite games that can perform well with browsers guaranteeing a smooth and relaxing game time.
Best Games To Play On Your Chromebook
1. Agar.io (Free)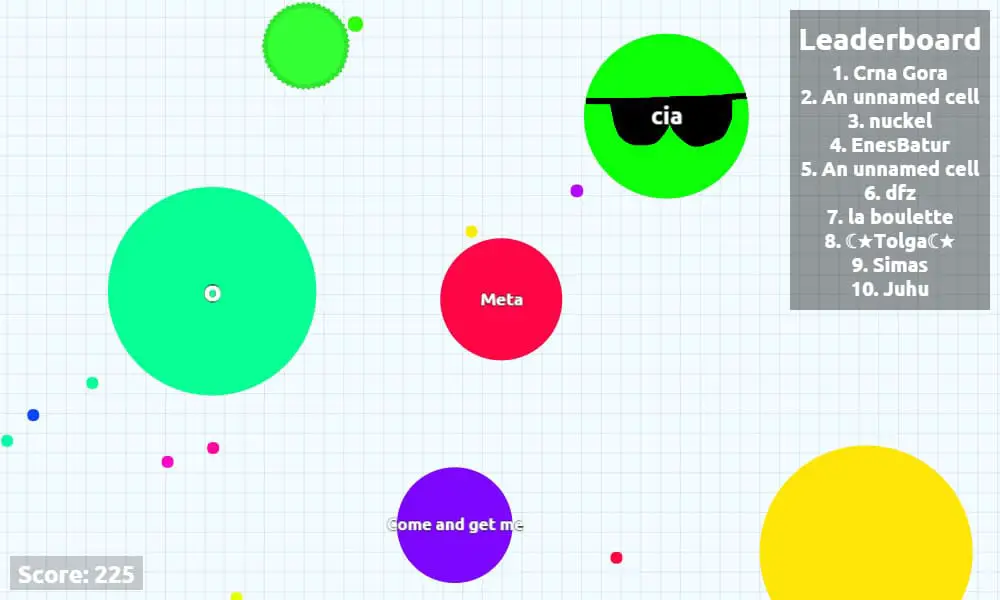 Agar.io is easy to play the multiplayer game. In this game, you are a small blob and you have to move around consuming smaller blobs and avoid being consumed by other bigger blobs.
Despite being a fairly simple game some unique features like joining a room with friends, using text/pictures to customize your blob etc easily get you hooked on it. (Featured in House of Cards)
(https://chrome.google.com/webstore/detail/agar-tool/kpcgganbophfghaiobjencikdlfmlnlk)
Note:- I have written a post for people looking for Best Android Puzzle Games for Your Android Phone?, do read it If you are interested.
2. Web Quake (Free)
Web Quake, which was one of the first true 3D first-person shooter game that was loved by people in 1996 is on the Web Store. Its is a fanmade version has all the features for which it was liked including multiplayer. Running around in dark corridors and decimating grunts has never been more fun.
(https://chrome.google.com/webstore/detail/web-quake/ibkbfanmkmadbbgggonficloplenbefh?hl=en)
App of the Week: Match candy combos
3. Dominus (Free Demo)
If you have spent any time playing Clash Of Clans, you are sure to love this game. Dominus is a real-time strategic war game which is set in a magical medieval time.
In this game, you try to expand your domain by either playing as an overlord and managing warfare or playing hand-to-hand battle with soldiers.
It is a quite ast game hosting 30 types of monsters, more than 55 spells and so much more.
(https://chrome.google.com/webstore/detail/dominus/pbnhiikmohpnlplijjljcamfnkllinic)
4. Crimson: Steam Pirates (Free)
If you want a game with the perfect combination of strategy, action, and teamwork this is the one for you.
In this game, you have control over a ship and you explore the vast seas looking for treasures while setting trap for your enemies, preparing for battles and fighting enemies. It has both single player and multiplayer options.
(https://chrome.google.com/webstore/detail/crimson-steam-pirates/glfbkgkceahodalogdpenjoekbacjfcj)
5. Save the day (Free)
If you want to relax and play some old-school arcade game this one is worth trying. In this game you control a helicopter avoiding fires, completing challenges, rescuing survivors in between flames. The difficulty level of the game is just right to give you the best experience.
(https://chrome.google.com/webstore/detail/save-the-day/enmmbcfhecnpnnifkdkocjabgkjpcicl?hl=en)
6. Polycraft
Polycraft is a game that takes elements like Minecraft and adds some unique and fun elements to it. Here you craft and gather items and build a defense against a few creatures all over the world.
(https://chrome.google.com/webstore/detail/polycraft/eopfmbpfhhfnklgmjpoehcjaajhpbhbl?hl=en)
At the time of our research on "Best Games To Play On Your Chromebook", we found a video about "15 Ways to Search Google 96% of People Don't Know About" which is worth watching.
7. Tetris Offline
You surely have heard about this tile-matching puzzle game where you create order out of chaos by matching the shapes of the tiles. The game is simple enough that there is almost no learning curve but appealing enough that you will get be playing it often.
https://chrome.google.com/webstore/detail/tetris-offline/manhdpconjhpdhonpifbjmfjmolnoojm?hl=en()
Chromebook games like Minecraft:-
Minecraft is a free alternative to Minecraft for Chromebook. Minecraft is an open world game that has no specific goals for the player to accomplish, allowing players a large amount of freedom in choosing how to play the game. The core gameplay revolves around breaking and placing blocks.
The game world is composed of rough 3D objects, mainly cubes, arranged in a fixed grid pattern and representing different materials, such as dirt, stone, various ores, water, lava, tree trunks, etc.
Collect resources and build huge cities right inside your browser window.
Start building and show the world your constructions. Block Craft is a free game for the whole family: from kids, boys and girls, to adults.
While Chromebook isn't anywhere near to gaming machines on performance, but with more and more apps being available on the browser and ability to use android apps and games, which is still in beta, it's going to get better. How are proud Chromebook gamer you? Let us know in the comments.