Those who have a Chromebook are akin to the problem that it is not as diverse as a regular PC. Chromebook focuses on cloud processing and storage thus they don't have sufficient hardware to handle the heavy-duty process.
And the major victim of this problem is the games. Chrome's web store doesn't have a wide variety of options when it comes to any type of games, be it an RPG or a small puzzle game.
We have selected some of our favorite games that can perform well with browsers guaranteeing a smooth and relaxing game time.
Best Games To Play On Your Chromebook
1. Agar.io (Free)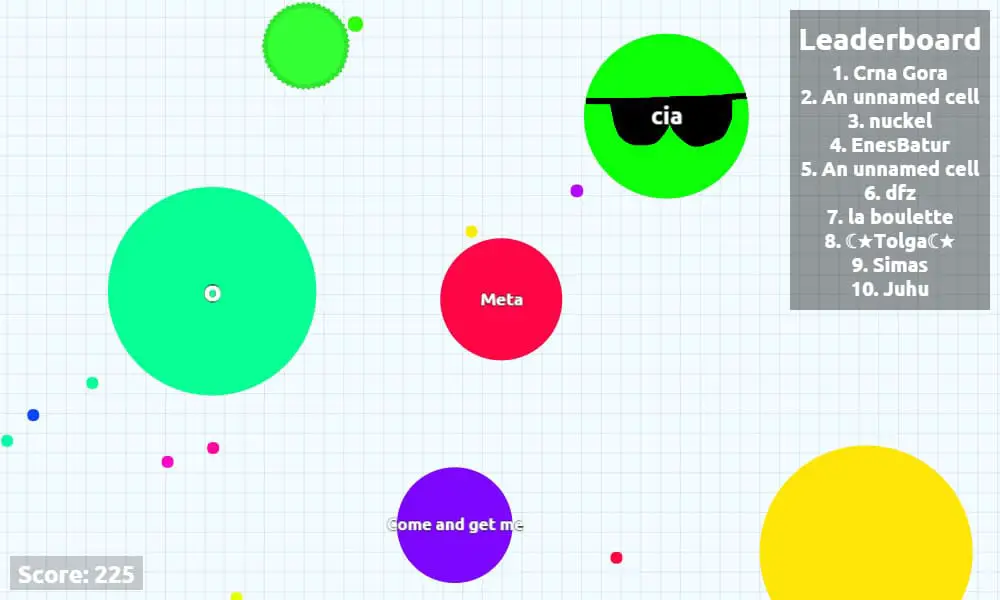 Agar.io is easy to play multiplayer fun games to play. In this game, you are a small blob and you have to move around consuming smaller blobs and avoid being consumed by other bigger blobs.
Despite being a fairly simple game some unique features like joining a room with friends, using text/pictures to customize your blob, etc easily get you hooked on it. (Featured in House of Cards)
Note:- I have written a post for people looking for Best Android Puzzle Games for Your Android Phone?, do read it If you are interested.
2. Web Quake (Free)
Web Quake, which was one of the first true 3D first-person shooter game that was loved by people in 1996 is on the Web Store. Its is a fanmade version has all the features for which it was liked including multiplayer. Running around in dark corridors and decimating grunts has never been more fun.
3. Dominus (Free Demo)
If you have spent any time playing Clash Of Clans, you are sure to love this game. Dominus is a real-time strategic war game that is set in a magical medieval time.
In this game, you try to expand your domain by either playing as an overlord and managing warfare or playing hand-to-hand battle with soldiers.
It is a quite ast game hosting 30 types of monsters, more than 55 spells and so much more.
4. Crimson: Steam Pirates (Free)
If you want a game with the perfect combination of strategy, action, and teamwork this is the one for you.
In this game, you have control over a ship and you explore the vast seas looking for treasures while setting trap for your enemies, preparing for battles and fighting enemies. It has both single-player and multiplayer options.
5. Save the day (Free)
If you want to relax and play some old-school arcade game this one is worth trying. In this game you control a helicopter avoiding fires, completing challenges, rescuing survivors in between flames. The difficulty level of the game is just right to give you the best experience.
6. Polycraft
Polycraft is a game that takes elements like Minecraft and adds some unique and fun elements to it. Here you craft and gather items and build a defense against a few creatures all over the world.
At the time of our research on "play on your school chromebook", we found a video about "15 Ways to Search Google 96% of People Don't Know About" which is worth watching.
15 Ways to Search Google 96% of People Don't Know About
7. Tetris Offline
You surely have heard about this tile-matching puzzle game where you create order out of chaos by matching the shapes of the tiles. The game is simple enough that there is almost no learning curve but appealing enough that you will get be playing it often.
Chromebook games like Minecraft:-
Minecraft is a free alternative to Minecraft for Chromebooks. Minecraft is an open-world game that has no specific goals for the player to accomplish, allowing players a large amount of freedom in choosing how to play the game. The core gameplay revolves around breaking and placing blocks.
The game world is composed of rough 3D objects, mainly cubes, arranged in a fixed grid pattern and representing different materials, such as dirt, stone, various ores, water, lava, tree trunks, etc.
Collect resources and build huge cities right inside your browser window.
Start building and show the world your constructions. Block Craft is a free game for the whole family: from kids, boys and girls, to adults.
10. Basket & Ball
If you love to play basketball on the court, Basket & Ball is a must-have game to play on your Chromebook. The game is set on a basketball court, and you can easily control the ball using your keyboard or touch. 
You aim to lead the basketball into the basket-like what you do during a real basketball game. Players can dribble the ball using the space or jump button. You need to make sure not to get hit by obstacles on the court or scattered objects. 
Few of them are fires, spikes, and the flames can be put out using water. You can then hit the spring or trampoline and get away from the enemies that come in different shapes and sizes to attack you. 
Basket & Ball App Store Preview
Players can turn the basketball into stone and then be able to roll it on the fire or spikes using the stone bonus. Before we forget, the audio quality in the game was fantastic and will keep you going all the way. 
You will love the 80 levels in the game. Every three levels see a new challenge in store for the players. The player has three shots to hit one of the scores. You can control the basketball with a joystick or adjust the strength and the direction of the ball. 
This is similar to what you generally do in Angry Birds. When you can catch a star and deliver it into the basket, you end the level. The more stars you are able to catch during your shoot, the quicker you stand to win the level. 
11. Cut The Rope
Cut The Rope is a beautiful game that was launched on the iPhone several years ago. Today, you can play it on your Chromebook. The game is very addictive, and naysayers have fallen prey to the game instantly. 
Players need to cut the rope. As simple and mundane as it sounds, you will be taken aback by the sheer puzzles that the game provides you with. The moment you cut the rope, you are awarded candy with your friend, Om Nom. 
You will need to feed the little monster that seems to appear all over the place. The initial levels are straightforward, and then on, the fun begins. The game was a hassle to play on the iPhone; thankfully, you will be using your Chromebook here. 
So, the need to worry about your fingers aching or stressed out after playing the game is not there. We liked the steady progress that the game made as it proceeded. You can find several challenges and blowers that come with bubbles or candies for you to catch and to float. 
The game is engaging, and you may want to give it a try. If you were not convinced, then you will be surprised to know the game has several awards on its name. Few of them are Apple Design Award, a BAFTA Award, Pocket Gamer Award, and the GDC Award.
12. Spelunky
Spelunky is a gamer's ultimate find. If you ask any gamer the game they found challenging, then it would be this fantastic game. It comes with all the elements to make it one crazy game that players don't seem to have enough about. 
It is a mine shaft crawler that carries unexpected events and situations that you might find weird at times. The idea of the game is to steal the treasure without anybody knowing it. Sadly, there are plenty of enemies waiting ahead to make your journey quite miserable. 
You find yourself wading into mines that have spiders, bats, traps, and magic tricks that thankfully help you see gems behind the rocks. We were highly impressed with the game's design with the pools, frogs, and plants that can eat humans. 
Once you begin playing the game and are completely immersed in it, you find yourself walking, talking, laughing, and whining about how your day went. We felt that the snake pits were the most dangerous part of the game. 
It comes buried with snakes and some not pleasant items you would want to find. Overall, this is a game that is both exciting and fun-filled, to say the least. You will find yourself having intense fun and excitement throughout. 
13. Tank Riders
Tank Riders is a must-have game for those of you who like to ride tanks on the screen. Yes, it is not a graphic-centric game, but we felt that the designers had done an exceptional job. The top-down 3D tank driving game gives you close to 25 levels. 
Each of them comes with its own set of obstacles and challenges. Besides, you also can make use of the five tutorial levels. You can utilize them for gathering items or getting the map for the next mission. 
Though it sounds pretty simple, you will be stunned by the heavy artillery fire that is waiting for your way. The enemy tanks come with powerful weapons whose strong walls contain some personal items, which can help you. 
Levels also have barriers that do not need you to move in to be killed. The shots ring around you loud. We felt that the controls on the Chromebook were slightly annoying to shoot and kill your enemies. 
Because it had to be done fast, the story is different if you play using a joystick. Besides, it does not come with a multi-player version. Otherwise, this is a fantastic game to download and play on your Chromebook. 
As you progress and move through the levels as they come, the world around you begins to change. It comes with colors, graphics, and mostly quick action. We loved the remarkable manner in which the game presents itself to you. 
14. Hill Climb Racing 2 Game Online
Hill Climb Racing 2 Game Online is another fun-filled game. This is not a simple driving game that you usually do as the player drives along the country roads with beautiful scenes. When you are riding along, you will come across rivers and trees. 
The aim of the racing game online is that you have to drive quickly as gravity controls you. If gravity gets the better of you, then it will be challenging to control the car. Your car will be moving up most of the time, and you will lose your direction at one point. 
You will see that the cars that are present in the game come with different features. Hence, you will want to make sure that the car you choose can help you win the race.
Besides, it would help if you reached high positions by collecting the bonus that comes your way.
We did not feel uncomfortable when playing the game because it is quite easy. When you become used to the surroundings, you can casually control your car. As a player, control of the car is vital. 
We also felt that the game was simple to play with the mouse and the W-A-S-D keys. Winning or losing the game does not matter because you feel relaxed once you are racing on your Chromebook. 
You will want to control your car when climbing the hills carefully, raise money through tricks, and make sure that you earn a bonus. On the whole, it was a fun game to play and came with complete excitement.  
Conclusion on Games to play on Chromebook
While Chromebook isn't anywhere near to gaming machines on performance, but with more and more apps being available on the browser and the ability to use android apps and games, which is still in beta, it's going to get better. How are proud Chromebook gamers you? Let us know in the comments.