Are you curious about the Best Gaming Chair Under 200 $ to Buy in 2022? You can easily Find out in this definitive list with our detailed review.
Without any further delay, let's find out. 🐱‍🚀
Playing games for long hours requires you to sit in the same position on a chair. Thus, it is quite sensible to spend a considerable amount of $200 on buying a good quality chair which will make you comfortable and let you sit without any body aches for long hours.
Several gaming chairs are available for $200 with some unusual features, which help minimize some common complaints when people keep playing games for a long time.
Some of them are carpal tunnel syndrome, neck stiffness, and back pain. Bucket seats, dedicated neck and lumbar pillows, adjustable armrests, and a few chairs are also available with footrests at this price.
The different types of Budget Gaming Chairs are Explained.
A list of the different gaming chairs available in the market has been given below, and every model will cost you around $200 or less.
Rocker Game Chairs:-
Ricker Game chairs have been designed to make gamers comfortable and are nearer to the floor when compared to traditional chairs.
They have padded backs, headrests, chair arms, and a scooped L-shape to sit. Expensive ones also have subwoofers and speakers, padded vibration for the underside and back, wireless receivers, and RCA inputs.
This kind of chair serves the purpose of providing temporary relief and enhances the experience of gamers. However, it is not a good choice for gaming in the long run.
Since it has a scooped sitting arrangement, it fails to promote a neutral and straight spine, which adds additional tension to the shoulders and spine. Users also cannot place their legs on the floor while sitting on this chair, resulting in stiff knees and hips after prolonged sitting. 
Pedestal Gaming Chairs:-
The Pedestal Chair is an advanced version of the Rocker Chair. It is relatively closer to the floor and has normal padding to make it comfortable for the users.
Nevertheless, it is slightly raised from the group and has a good headrest and armrest. It also has the rock and rotates options around the raised pedestal. Its structure is much better than that of the Rocker chair concerning spinal neutrality.
Its armrests relax the upper body, prevent rounding of the shoulders, and relieve the upper back and neck from unwanted tension.
The major drawback of the Pedestal chair is that it does not let the knees and hips become flexible because the user's feet will not be touching the ground.
They face constant flexion making the leg stiff and a painful chore to play games. These chairs are best for gaming or living room while hosting a get-together for friends.
PC Gaming Chairs:-
Pc Gaming Chairs are different from the above chairs as they are at a height from the floors suitable for PCs that are generally set up on a table or desk.
They provide the user with optimal positioning by sitting higher up, placing the feet firmly on the floor, and alleviating all the tension from the gamer's knees and hips.
They have good-quality padding, armrests, and headrests to provide the players with a maximum level of comfort while playing.
They are similar to office chairs and have identical swivel settings. However, they have a bucket-style seating arrangement for enhancing comfort during prolonged sitting.
They are the best choice for people who love playing games for long hours, as their cushions are detachable and have built-in lumbar support. They allow the user to lean back at 180 degrees angle to release the pressure on their spinal cord during prolonged seating. 
Bean Bag Gaming Chairs:-
Bean bags are a very common option and are placed very close to the ground providing no back support to the users.
They usually have no advantages for gamers compared to other chairs, like speakers, detachable cushions, lumbar support, RCA inputs, armrests, and headrests.
They have a good level of padding and are comfortable for gamers in this respect. They have very little weight and are affordable and flexible, making them the most suitable choice for gamers of young age.
Ergonomically speaking, it is not a good option for many as it provides less or no support, cannot straighten the back, and the feet also cannot be placed flat on the ground.
Individuals suffering from severe to mild back problems cannot sit on a bean bag and play games for long hours.
Memory Foam Gaming Chairs:-
Bean bags are generally chosen for their feel, design, and look, but individuals looking for greater support can opt for Memory Foam Gaming Chairs.
These chairs are suitable for every body shape and size because they contours with the type of body sitting on it offering the right level of support to every part that requires it.
Its excellent features offer great neck, back, and lumbar support to safeguard the user's muscles and joints while playing games.
However, there are no additional features in the chair to enhance the players' gaming experience. It does not have additional padding, armrests, headrests, or electronic add-ons like vibration, subwoofers, speakers, or RCA inputs.
It is also unsuitable for individuals suffering from taught hips as the feet lay very close to the ground. It will hurt the hips, enhancing the gamer's irritability after prolonged playing.
This is a guide where we have handpicked a few of the best gaming chairs falling under $200 for better health and gaming comfort, even without paying too much for a chair.
Best Gaming Chair Under 200 $ – Our Top Picks

1. RESPAWN-110 Racing Style Chair
The RESPAWN-110 Gaming chair is a bit costly but very comfortable, and it is committed to providing support to its customers at an economical price all their lives.
Most gaming chairs have plastic armrests, but this chair has padded and longer armrests that cushion the elbows quite well and give a substantial look to the chair.
Reviews indicate that users love how their armrests can shift back when the chair is reclining. This way, they can be used conveniently, irrespective of the gamers' position.
Sometimes with a proper armrest, the legs might feel uncomfortable, but this chair has a solution for this; its extendable footrest keeps the feet completely relaxed.
As per users, it is easy to slide it out and hold the feet correctly. Console and PC gamers love this chair as it lets them sit back and relax before entering the battlefield.
The major drawback of buying economical gaming chairs is their wear and tear after a few years. However, with this chair, this worry is resolved because every chair has a Limited Lifetime Warranty.
Most users received the replacement parts or changed their parts whenever the original orders faced issues.
Nevertheless, every individual indeed has a different perspective concerning cushioning firmness. For some, the padding given in this chair was stiff. Thus, individuals who prefer plushy and very soft chairs can look for other options.
Pros:-
Padded and extendable armrests

Extendable footrests for elevating painful feet

Limited Lifetime Warranty for dysfunction and breakdown cases
Cons:-
The price is higher when compared to other chairs mentioned in the Best Gaming Chair Under 200 $ list above.

Not suitable for the ones looking for soft chairs
Best Gaming Chair Under $150 - Respawn RSP-110
2. E-Win 400lb Gaming Chair
This chair is suitable for heavy-body gamers and offers them a huge backrest and extra-wide seating arrangement. Most gaming seats are clumsy, which is why this is a good alternative.
The chair can bear a weight of more than 400 pounds on its 21.7 inches wide seat. The seat is equipped with gentle wings for holding the gamer's body in place while shifting from left to right or vice versa while playing games.
The seat has high-density padding foam for dealing with compression. One of the owners had a height of 6.3 inches and a weight of 350 lbs and confirmed that this was his most comfortable chair.
This chair is equally wide and tall, with its back having a height of 33.9 inches and the entire chair height of 54.1 inches. Most of the people who use this chair have a height of 6 feet and were happy to have a chair designed mainly for them.
Another outstanding feature of the chair is its higher reclining function. It is possible to lock its backrest somewhere between 85 degrees and 155 degrees. Thus, E-Win saves your back when you are napping, reading, chilling, or gaming.
The major drawback of the chair is that it is uncomfortable for people with a short height because the seat is almost 20 inches above the ground. So, you must use a footrest if you find that your feet are dangling in the air.
Below are some of the Pros and Cons of the E-Win 400lb Gaming Chair that earned it a spot in our list of Best Gaming Chair Under 200 $.
Pros:-
Extremely wide seat for fitting larger gamers

Tall back for accommodating taller gamers

Can recline between 85- 155 degrees
Cons:-
3.

Uomax Gaming Chair
UOMAX, as the name suggests, is a good gaming chair for individuals with a large body build. It has a tall back of 32 inches, and a 21 inches wide seat saves the gamers from getting cramped.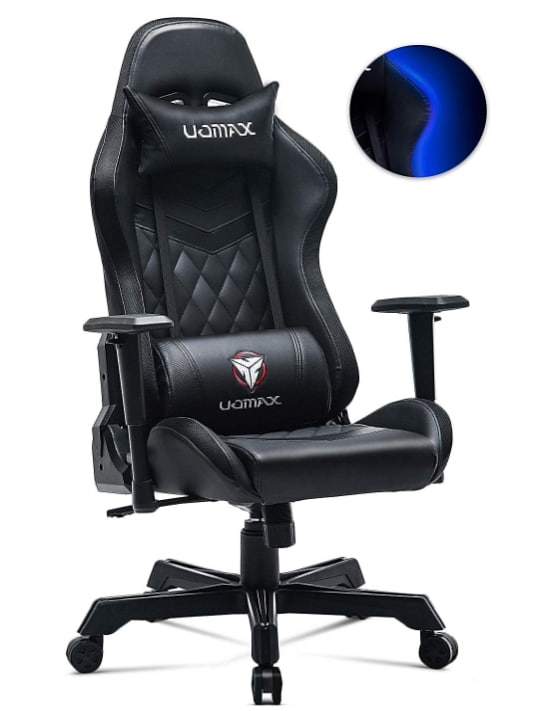 Most of the gaming chairs have winged seats for cushioning gamers while they sway from right to left but this may not be preferred by users who have a huge bodies.
Its seat comprises molded cold foam covered with upholstery made of polyurethane leather, and robust stitching is a plus point. This kind of foam controls temperature and provides good breathing.
The seat is covered with a foam of a thick density of 4.8 inches which is good for accommodating abnormally heavy body users.
Non-ergonomic chairs have an unmovable and straight back which can be discomforting for the ones who need to sit for long hours.
UOMAX Gaming Chair, on the other hand, offers its users a rocking function permitting the chair as you move, providing greater comfort.
The chair can be reclined to 180 degrees while taking a break from gaming. It has a footrest that can be pulled out, allowing users to take a nap in the right position.
The other ergonomic features this chair offers are two lower back and head pillows. The pillow near the lower back has an in-built vibration feature that is USB powered.
Below are some of the Pros and Cons of the Uomax Gaming Chair that earned it a spot in our list of Best Gaming Chair Under 200 $.
Pros:-
Wingless seat and tall backrest for accommodating heavy gamers

A 4.8-inch seat with high-density foaming for minimizing sagging

Reclining and rocking back

A lumbar pillow with a USB port
Cons:-
Improper assembly instructions

Some users found an odd smell in some of the newly bought chairs
At the time of our research on "Best Gaming Chair Under 200 $", we found a video about "What If You Woke Up in the Game, You Last Played" worth watching. 🐱‍💻
What If You Woke Up in the Game You Last Played
4.

OFM

Essentials Racing Style Leather Gaming Chair
The Essentials Gaming Chair is for those bored with the common racing and aggressively designed gaming chairs.
It has a compact and non-discrete design which makes the users comfortable and will suit any office or room even while you are not playing games.
Its comfort level and quality have been impressive for most owners at such an economical price. The seat has Soft Thread upholstery made of leather, a softer and premium version of the PU leather seats.
It is good to touch, giving a sense of sophistication to the surroundings in which it is placed.
However, the chair lacks multiple features like the others on the list. For instance, you can only tilt the backrest by applying some force, and it cannot be reclined. Its armrests cannot be adjusted as per the height but can be flipped for storage options.
This chair is a very good option if you need comfortable chairs to sit and play or work on your computer. The chair is affordable and offers a warranty to its users. Essentials are the right option if you want something comfortable and simple.
Below are some of the Pros and Cons of the OFM Essentials Racing Style Leather Gaming Chair that earned it a spot in our list of Best Gaming Chair Under 200 $ to get in 2022.
Pros:-
Quite affordable than other chairs

Comfortable seating

Armrests that can be folded 

Lifetime warranty for its frame and 36 months warranty for its parts
Cons:-
The seat can only be reclined with force and cannot be locked

Some chairs have issues with quality control
5. E-WIN Gaming Chair
This chair is like a common racing-style chair manufactured from good materials. Much research has been done on its design, and its back can cradle the user's spine just like a baby and keep them seated comfortably for long hours.
Its seat pads are made of a cold-cure high-tech sponge, making the cushion highly elastic and maintaining a constant temperature to provide the gamer with great comfort. Per the chair reviews, the chair turned out to be much more comfortable than the DXRacer chair.
Its back is similar to a racing chair and has been designed to support the neck and shoulders. Users got great relief from their back problems while they sat on this chair.
Its neck and lumbar pillows are highly adjustable and of top quality. It has a bigger and flatters lumbar pillow supporting the lower back region. 
Below are some of the Pros and Cons of the E-WIN Gaming Chair that earned it a spot in our list of Best Gaming Chair Under 200 $.
Pros:-
Its sponge has a temperature control feature, which minimizes sweating

Ergonomically designed back cradles the spine of the gamer

Adjustable neck and lumbar pillows which provide additional ergonomic support
Cons:-
The price is higher than other types of chairs

It is not suitable for users having a height of more than 5'11"
6. Cyrola Large Gaming Chair
Large people prefer the Cyrola Gaming Chair willing for ergonomic support. This chair is 53.5 inches and can weigh up to 350 pounds.
Individuals who weighed more than 300 pounds found the chair comfortable and sturdy after prolonged seating.
The seat cushion is padded and thick with a high-density sponge, which prevents gamers from shrinking within the seat after a few hours.
The chair can be reclined to 180 degrees for those willing to lie down. It has an in-built footrest which makes napping easier for gamers.
It has adjustable neck and lumbar pillows and is a very sturdy option for people having a large build-up and who are willing to buy a chair within a limited budget. 
Below are some of the Pros and Cons of the Cyrola Large Gaming Chair that earned it a spot in our list of Best Gaming Chair Under 200 $.
Pros:-
It has a huge capacity and can bear more than 350 pounds of weight

Its thick cushions do not allow the gamer to shrink into the seat

Users can recline at a 180-degree angle for a quick nap 

It has an in-built footrest identical to some of the chairs mentioned above
Cons:-
The seat and back both do not provide adequate ventilation

Some chairs reported quality control problems
7. Ficmax Ergonomic Gaming Chair
The list of chairs comes to an end with Ficmax Ergonomic Gaming Chair. It is a very sleek-looking chair with exceptional features at a reasonable price.
The chair has a telescopic footrest and a neck pillow that can be adjusted. Thus, this chair aims at keeping the user comfortable and supported.
The chair has a special lumbar support pillow because it is not a normal pillow but has a vibrating massage option with two different settings.
Some users have reported that its massage function was fun and acted as a plus point while assessing the chair.
The chair had a padded cushion as the seat was made up of high-density foam and had a thickness of about 4.8 inches. The cushion has been reviewed by users as comfortable, an exceptional feature in a budget chair, and amazing for gamers to sit on.
Its after-sales support is exceptional, and they return the money or replaces the product within 30 days of purchase; it offers 12 monthly warranty for parts and a lifetime warranty for its frame. Reviews suggest its customer support is helpful and responsive to problem-solving.
As per some of the reviews, the chair seemed squeaky sometimes, which can be rectified using WD-40 between the seat's underside and the gas cylinder.
Below are some of the Pros and Cons of the Ficmax Gaming Chair that earned it a spot in our list of Best Gaming Chair Under 200 $.
Pros:-
Its lumbar support has a massaging feature with two settings for vibrating the lower back.

The cushions are too thick to support longer gaming sessions

After-sales support is excellent concerning repairs and related issues
Cons:-
The chair is squeaky at times

Its reclining angle gets stuck at times
Picking a Best Gaming Chair Under 200 $ in 2022
A PC gaming chair concerning ergonomics and budget is quite a good option compared to other gaming chair types available in the market.
The Best Gaming Chair Under 200 $ list of chairs given above cost around $200, and some of the chairs cost around $100 for people concerned about the budget.
At this price, users can get a good gaming chair with an adjustable seating height, 3D or 2D armrests, lumbar and neck support for supporting the gamer's body, and a tall back.
Before buying a chair, you must ensure that the chair is the best for your size and has all the required features. For budget-conscious individuals, you must not feel worried before checking out chairs manufactured by common brands.
It is not a sensible option to pay huge amounts just for a popular brand name when something similar is available for a reduced price. You must always check out the reviews and return and warranty policies if you feel that the chair that has been chosen for you is not what you had expected it to be.
You must be eager to value your comfort and health when purchasing an ergonomic gaming chair. You must consider buying a gaming chair if you have to work on a computer for long hours.
There are several reasons for the popularity of ergonomic chairs in today's modern world, and investing in a chair like this can save your back in the long run. This guide will be quite helpful for you, so get started and study the chairs!