Before the proliferation of the internet and the readily available gaming content online through websites such as Youtube and even social media platforms, there was a time when the only place to get your video game tricks, hints, and guides was through forums.
Forums were the social media of the day and the place where you got all your latest insights into the gaming world. You could chat with like-minded people about your favorite game and make friends.
Usually, these forums were connected to large corporate news outlets such as IGN, with notable smaller ones scattered about across the internet. Although fewer people use forums, they are still popular amongst gamers.
Not a lot has changed with forums; they remain some of the best places to meet fellow gamers and express love for video games.
Best Gaming Forums – Our Top Pick👌👌
Serebii

IGN

Reddit

Resetera 

Nintendo Life Forums

Eurogamer Forums

Steam Forums

NeoGaf

Gamespot Forums 

GameFAQs

PC Gamer Forums

Ubisoft Forums

Minecraft Forums 
1. Serebii – Top Gaming Forums
Serebii is well known across the internet for being the one-stop shop for Pokémon-related news, information, and fandom.
The main Serebii website covers all the news from Pokémon, including deep dives on newly released games, the latest information regarding the Trading Card Game, and everything else under the Pokémon sun.
Serebii is run by long-time Pokémon fan Joe Merrik and is one of the internet's most well-known Pokémon fandom websites.
The site gets thousands of views every day, bringing in fans from across the globe.
Serebii also has an extensive database of Pokémon information, going back decades, with every game in the series covered from top to bottom by the site.
It is also one of the few places where Pokémon news leaks due to its affinity with Coro Coro magazine. Thus, it is the go-to place for everything to do with Pokémon.
The site also has extensive gaming forums, with its Serebii forums having robust usage and active membership. The Serebii forums are jam-packed with an avid user base of Pokémon fans, sharing tips, tricks, and knowledge about the Pokémon games, such as how to shiny hunt and even speculate about future games.
Thus, Serebii's forums are your online Pokedex. You don't need guidebooks or Youtube videos to tell you about Pokémon; you need these forums.
If you want to learn more about Pokémon or have jumped into Pokémon for the first time, then this is the website for you.
It is the perfect place to understand more about the world's most popular entertainment franchise.
With the release of the latest games, Pokémon Brilliant Diamond and Shining Pearl, there is no better place to catch up on your latest Pokémon news than with Serebii.
2. IGN
IGN is the most popular gaming news outlet on the planet; the popular website was founded in the late '90s by video game mogul Peer Schieder and other leaders in gaming, transforming gaming journalism.
IGN is well known for its top-notch game writing, with some of the best games writers working for the company.
The site is also known for its quality video production and distinguished podcasts, such as Games Scoop and Nintendo Voice Chat.
Over the years, IGN gradually expanded from traditional games journalism to other forms of journalism in line with the industry.
As Youtube began to hit the mainstream, IGN was one of the first gaming outlets to jump on the platform, with the team focused on making some of its editorial content video-based.
Likewise, IGN was one of the first websites in video game journalism to adopt the ever-popular podcast and utilize high-value production elements through daytime chat shows like Up at Noon.
IGN has thus built a vibrant and active community through these endeavors, with gamers heavily inspired by the company.
Likewise, IGN has also seen its fair share of gaming personalities, with Kinda Funny's Greg Miller and Tim Gettys having roles at the company.
In terms of its forums, IGN is one of the best places to interact with gamers and players online, with the forums having a huge user base and active membership.
IGN's forums are ancient, far back before platforms like Youtube and other channels took ownership of the gaming scene.
IGN's forums were one of the best places to interact with others and get help with the latest games you are playing. 
3. Reddit – Best Gaming Forums For Quality Gaming Discussion
A list of forums of any kind would not be complete without including Reddit. Reddit is, without question, the biggest forum on the internet.
Reddit is a US-based discussion-led website that lets you chat with like-minded people about pretty much anything.
If you have a question, Reddit has the answer, including anything about gaming.
The platform allows you to post content and share your latest and greatest gaming clips alongside tips, tricks, and deep-dive discussions into all of the latest games.
Although Reddit is not just used for gaming talk, the website is an effective alternative to mainstream forums such as IGN.
Bots effectively manage the forums, sifting out all of the internet's bad parts and bringing the honest discussion to the palm of your hands.
You can join main Reddit pages about specific elements of the gaming industry or join subreddits to learn about the latest in gaming.
Thus, much like other forums on this list, Reddit has a wealth of gaming knowledge due to its huge community and engagement.
Likewise, the platform's Karma system has ensured. Reddit stays fresh and vibrant by removing toxic users. 
4. Resetera – video gaming forums
The Resetera forums are also some of the best on the web. The forum is divided into several parts and split into classic gaming forums, gaming hangouts where you can promote your gaming communities, and trending threads, which highlight the latest trends on the platforms.
Resetera is one of the most premium places you can get gaming content. Besides the larger outlets such as IGN and Reddit, Resetera has a lot smaller and more dedicated fan base.
The forums are packed with avid gamers full of knowledge about the latest games.
Similarly, the Resetera forums are also full of other content, with users creating threads about different forms of entertainment, such as films.
If you want somewhere slightly less mainstream to get your gaming content, the Resetera forums are the place for you.
5. Nintendo Life Forums – Gaming Forums For Nintendo Games
The Nintendo Life forums are your one-stop shop for all your Nintendo news.
The forums are dedicated to Nintendo news, covering the latest information about the Nintendo Switch, the Nintendo 3DS, Nintendo announcements, and off-topic conversations.
The forums are a direct spin-off of the classic Nintendo Life website that prominently covers Nintendo news. Nintendo Life is highly popular amongst gamers being one of the main places they get their Nintendo news.
Its forums provide a more in-depth dive into the world of Nintendo, with members creating threads and discussing the latest Nintendo news. Unlike other outlets like IGN that cover various topics in their forums, Nintendo Life settles for one, Nintendo.
Thus, it provides a more minimalistic experience focused on Nintendo. As a result, it can be argued to be a better quality forum in Nintendo conversations than others on this list.
Over the last few years, with the release of the Nintendo Switch, the Nintendo Life Forums have exploded with popularity and membership due to the hype surrounding the Nintendo Switch.
As the Nintendo Switch sells record numbers, this forum will only become more popular. For all of your Nintendo-related discussions, Nintendo Life is the perfect forum.
6. Eurogamer Forums – online gaming forums
Eurogamer, like IGN, is one of the biggest news outlets in the world in terms of games journalism. Eurogamer was founded by John Bye and Patrick Stokes in 1999 in the UK, making it one of the older websites on this list.
After 1999, the website rapidly expanded into Europe and countries such as Spain and Italy. Eurogamer is famed for its excellent journalism and breaking news coverage of the gaming industry.
It is also well known for its forums, with the Eurogamer forums featuring insightful and unique member-based discussions about games and other forms of entertainment.
Like other large gaming sites such as IGN, Eurogamer has managed to draw in and capture a huge active membership of its forums due to its large size.
Its focus on purely gaming-related content has helped attract gamers from across the globe to talk and chat in its forums.
Like IGN, the website's forums offer various threads and posts about gaming. Thus, you will never run out of things to talk about if you join this forum.
7. Steam Forums
Steam is the biggest PC gaming marketplace on the web. The popular online store has all the greatest games on PC, and you can chat with friends through its Steam forums/ Steam Community.
Steam Community is a set of online platforms connected to its online storefront.
The forums are similar to others on this list, with threads about different games, users asking specific questions about certain titles, and of course, all of the latest speculation about the next big thing in gaming.
Unlike other forums on this list, the Steam Community forums also have Steam-specific discussions about the Steam platform.
Steam Communities has useful information on how to navigate Steam, answering questions regarding the store.
Thus, these steam forums can give you advice to navigate the store effectively and help solve any issues.
Likewise, users also use the Steam Forums to discuss the latest games and what games should come to the platform next. As a result, Steam Communities is a melting pot for those who love Steam and one of the best.
8. NeoGaf
This best gaming forums list wouldn't be complete without mentioning NeoGaf. NeoGaf is an online forum that focuses on video games.
Unlike other forums on this list which are a spin-off and sub-shoot from an existing website, NeoGaf is a forum at its heart for gamers.
Neogaf was founded in 1999 by Jim Cordeiram, originally called The Gaming Age Forums. In 2006 Gaming Age Forums changed its name to Neogaf.
Throughout the years, NeoGaf has been immensely popular amongst gamers for discussing the latest information about video games and the industry.
Still, it has not been without its problems, with the forums receiving widespread criticism due to poor accountability. Likewise, the NeoGaf forums have been involved in other scandals.
Unlike other platforms on this list, NeoGaf has poor responsibility compared to others, and despite its improvement, it still has a long way to go. Thus, although it is one of the most popular sites, it needs much improvement.
9. Gamespot Forums 
The Gamespot forums are similar to the IGN and Eurogamer forums in that they offer in-depth discussion across various gaming-related topics.
Much like sites like IGN, Gamespot has been around for decades, with the popular site being founded in 1996 by Pete Deemer, Vince Broady, and Jon Epstein.
Over the years, Gamespot has been nominated for multiple awards and has seen around sixty million users annually. Similarly, like IGN, Gamespot has had notable staff members like Jeff Gerstmann, the founder of Giant Bomb, and Lucy James.
Gamespot helped to revolutionize gaming journalism with the platforms gradual adoption of video and social media platforms. Gamespot also introduced its Gamespot Forums with its platform, covering the latest gaming news.
Gamespot's forums also have a large user base similar to IGN and Eurogamer, with a huge active following because of the site's prestige in video game journalism.
Thus, although the site is a great forum to get involved in for game coverage, it offers little knowledge and is largely the same as IGN and Eurogamer.
Nevertheless, it is still a great forum to sign up to. The threads and discussion pieces are chock-a-block with like-minded gamers and enthusiasts of the medium. 
10. GameFAQs
GameFAQs is another popular forum and the oldest website on this list. GameFAQs was founded in 1995 by Jeff Veasey and, after critical acclaim, has risen to be one of the most well-trusted and well-documented forums on the internet.
GameFAQs is a video game database with the latest reviews about games, cheats, and images. Likewise, the website has an active community that talks about specific games and gaming.
On GameFAQs, you can find the answer to pretty much any gaming-related question due to its friendly and active community.
Likewise, GameFAQs forums are also insightful, with users diving deep into games and providing interesting discussions.
GameFAQs has proven over the years that it can last the test of time in the gaming space, with GameFAQ's gaming coverage covering nearly thirty years. Thus, it is well respected in the industry as a premium source for gaming-related facts and news.
Although it may seem outdated to many compared to IGN and other online platforms, GameFAQs is still one of the all-time great forums.
It might be a relic, but it is a relic competing with the very best in gaming. 
While exploring the Best Gaming Forums For quality Gaming Content and Discussion for you, I found an awesome video on "What Happens If You Spend 100 Hours Playing Video Games," which is worth watching.😎 😍
What Happens If You Spend 100 Hours Playing Video Games
11. PC Gamer Forums 
Although some sites such as Gamespot, Reddit, and IGN cover PC content in their forums, the PC Gamer forums cover PC software and hardware in minute detail.
The PC Gamer forums are well known for their user-based coverage of the latest PC gaming.
The forums consist of PC troubleshooting threads, discussions regarding PC monitors and accessories, and conversations about the best games on PC.
PC gamer was founded in 1993 in the United Kingdom and focused purely on PC games. Over the years, PC Gamer found popularity amongst PC enthusiasts, with the site later expanding to territories overseas, such as in the US.
Alongside its PC games coverage, PC Gamer later introduced the PC Gamer forums, allowing their readers to talk and discuss PC gaming and the latest edition of the PC Gamer magazine.
PC Gamer was online and magazine-based, with its forums as a supplement to its website and magazine. Thus, PC Gamer was largely ahead of its time in terms of its platforms and gaming coverage.
If you are looking for a place to talk with fellow gamers about PC games, hardware, and accessories, then the PC Gamer forum is perfect for you. 
12. Ubisoft Forums
The Ubisoft Forums are great for one thing, chatting about Ubisoft games. The famous video game publisher introduced the Ubisoft Forums to create discussion around their latest games.
You can chat on the forums and ask questions about the best Ubisoft-published games, such as Assassins Creed, Riders Republic, and the Far Cry series.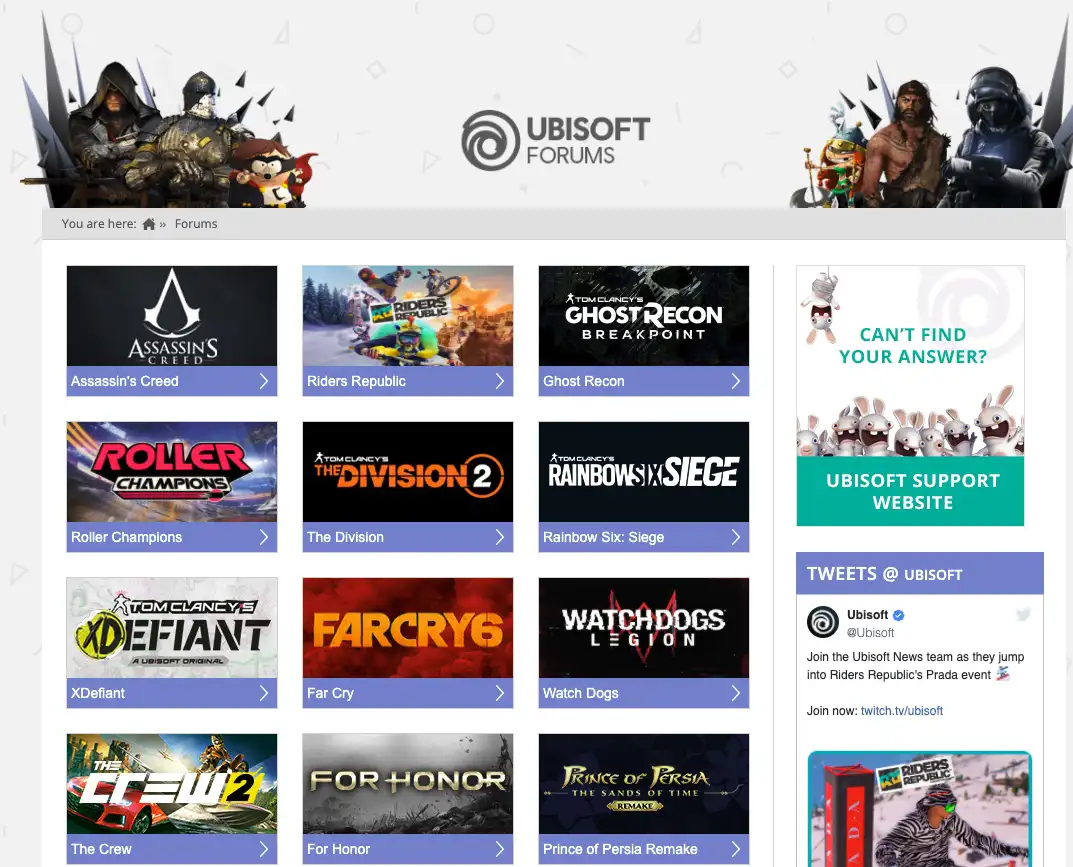 Thus, instead of going to traditional forums, you can chat about Ubisoft games through their online platforms. Ubisoft developed its forums to help build an ecosystem around the Ubisoft brand and platform to retain player bases.
Such initiatives include Ubisoft Connect and an online platform that connects all your Ubisoft games under one unified account.
We also see other publishers like EA try to build their communities by releasing EA Play, a monthly subscription service for the best EA games.
Thus, large video game publishers are jumping on the bandwagon to build gaming ecosystems; forums are just one way to do this. Ubisoft has tried to develop its forums through Ubisoft Forums. Thus, Ubisoft should be commended for attempting to grow its audience.
13. Minecraft Forums 
As you can guess, Minecraft Forums are online forums focused on Minecraft. Due to Minecraft's sheer size and popularity and its functionality in mods, updates, and patches, Minecraft is the perfect game for an online forum.
The Minecraft Forums serve the game expertly. The Minecraft forums are active and provide everything you need to start your journey into Minecraft. Need help crafting a certain weapon? The Minecraft forums have got you covered.
Need to enchant your gear or enter the Netherworld? The forums have also got your back. Thus, the Minecraft forums are the perfect supplementary tool to a game so loved by many.
It is, in effect, an online database and user manual for the game. Due to Minecraft's vibrant and active community, the game is continually evolving.
The Minecraft forums are the perfect place to catch up on and learn about all the latest developments in the Minecraft world. If you want to become an expert in Minecraft, you have to check out these forums. It is packed with knowledgeable gamers.
✅FAQ
What are the best gaming communities?
Online gaming communities are quite active and seek active participants in their groups. If you are looking for an active gaming community, you can join Minecraft, Indie Tales, Metafy, and Legionfarm.
There are also gaming communities on Reddit like r/gaming, r/GirlGamers, and r/GamingLeaksAndRumours.
What is the biggest gaming community?
Currently, Reddit has the biggest and the most active online gaming community. The Reddit community is lively and consists of all games.
You can find a large hub of things related to games, and you can also find news about new launches. You can join the active Minecraft community if Reddit is not your thing.
How do I post on Gamer forum PC?
You need to create a forum account and sign in. Leave a comment on the thread regarding your gaming strategies after creating a new username.
How do you find game communities?
You can use smartphone apps to find active gaming communities according to your interest. Apps like WeGamers, UNBLND, GamerLink, GameTree, and Plink can help you find gaming friends for active communication.
What is the most popular gaming forum?
Some popular gaming forums are Steam Discussions, Game FAQs, IGN Boards, GameSpot Boards, r/gaming, NeoGAF, Reset Era, and Giant Bomb. You can join these forums to discuss heartily with other gaming enthusiasts.
How do I start a forum post?
You need to go to forums and click on the Forums tool. Choose the type of forum you want and select your desired topic. Start a new conversation after entering the message.
If you want to add images or videos, click "add attachments." Click on Post to start your forum post.
What age are most gamers?
A survey by the Entertainment Software Association (ESA) in 2020 revealed that the average age of a gamer in the US was 35 and that the average age of a regular game buyer (defined as someone who buys at least one game per year) was 43.
What city has the most gamers?
Cities like Tokyo, Seoul, and San Francisco are known for their technology industries and may have more gamers.
How do I meet other gamers?
Online gaming communities, Local gaming events, LAN parties, and Gaming clubs or groups are the ways to meet other gamers, both online and offline.
Is there a dating app for gamers?
Some popular dating apps for gamers include LFGdating, GamerDating, and Match Geeks.
Who is the god of gaming?
Shigeru Miyamoto, John Carmack, Mark Zuckerberg, Hideo Kojima, and Gabe Newell have significantly impacted the gaming industry and are widely recognized as important figures in the gaming world.
Who is the first YouTuber gamer?
Fred Fuchs (also known as "PhysicsFred"), who started uploading Minecraft videos to YouTube in 2009, and SkyDoesMinecraft, another well-known Minecraft YouTuber, both became well-known early on for their gaming content.
PewDiePie (real name: Felix Kjellberg), who started uploading Let's Play videos (films in which the author plays and comments on a game) in 2010, is another early gaming YouTuber. Since then, he has become one of the most well-known and prosperous YouTubers.
Final Thoughts
Overall, this article has outlined the 13 best gaming forums on the internet. As shown by the article, there are several great forums focused on gaming, all coming in different shapes and sizes.
IGN and Eurogamer have forums attached to their main website that offer extensive forums, ranging from more generalistic discussion to more game-orientated discussion.
In contrast, smaller sites like Nintendo Life have a more minimalistic approach to forums, with their set of forums focusing purely on Nintendo. Likewise, this article has shown us the wide-ranging accountability of different sites, with Reddit having decent responsibility, using bots and admins.
In contrast, other forums like NeoGaf have poor accountability with poor user guidelines and a lack of bots and monitoring. In the future, it will be interesting to see how discussions evolve.
With the emergence of the Metaverse and the increased interconnectivity between communities, forums may not have a place in the gaming ecosystem.
We are already seeing traditional forums getting replaced by social media platforms and other media like Youtube. Thus, there may not be a space for forums when everything goes fully online.