This is the ultimate buyer's guide to the best gas grills under 300 $ in 2021. 🤴
Let me clear one thing:
All the gas grills under 300 $ lists are based on the size of the grill, Heating power capacity, Portability, and durability.
Without any further ado, Let's dive right in. 🎭
Experts say outdoor recreational activities and events, have a way of positively impacting a person's mind and overall productivity levels. Many people also think that the outdoor barbecues in the house backyard are not in any way a bad idea.
In fact, it is likely that those evening grills on the patio- at the end of a tiring day, is just the thing that is needed to revive your body again.
Hence, all of these and more point to a reason why you shouldn't hold back on getting a gas grill for your home.
Asides from these, gas grills are an essential tool for your outdoor occasions, picnics, and main get together. The convenience you get from using them is remarkable, and they ensure that the food taste is preserved, and also hygienic for consumption.
This is unlike the use of wood and charcoal-fueled grills- which are characterized by a lesser efficiency, and which also leave the food exposed to hazardous smoke.
The invention of the gas grill is the reason why everyone can now enjoy the weekend hangout on the summer beach, without someone having to sacrifice his/her fun time- just to tend the charcoal or lighted wood fire. Using the gas grill allows you to regulate the fire, as well as have enough of it to cook the food.
However, there are other things to consider, and someone may readily point out the high costs of acquiring a good functioning gas grill.
Now, although some gas grills cost quite a lot of money, you mustn't have to break the bank before you're able to acquire a good gas grill with very useful features for your grilling tendencies.
There are now a good number of gas grills that go for $300 or less, on the market. However, it is important to carefully select the options with the most fascinating features that would serve you well.
Best Gas Grills Under 300 $: Our Top Pick 👌👌
The below list is arranged in no particular order, together with their features and function tendencies.
1. Char-Broil Performance 475 Four Burner Grill
Over the years, the Char-Broil grill manufacturers have shown great expertise and dedication to this line of cooking innovation. Consequently, the company's products have continued to top the markets, and this particular product is another reason why the trends may not change.
Firstly, the Char-Broil performance 475 comes with a classic design that yet carries every touch of ingenuity and style. Its cooking power is a solid 36,000 BTU for the four burners, while an additional side burner outputs an extra cooking power of about 10,000 BTUs.
The primary cooking space is 475 sq. space, with specific dimensions showing a cooking area depth of 18.5 inches, and a width measuring about 25.6 inches.
This provided cooking area allows sufficient space for any volume of cooking that you may want to carry out and is estimated to be enough space for up to 20 burgers fixed in all at the same time.
In order to prevent the sticking of food to the cast iron grates, the cooking area comes covered with porcelain materials. This consequently serves as an anti-rust measure, while enhancing the ease of cleaning on the implement.
The burner structures and heat tents are made of durable stainless steel, that is able to withstand and distribute heat accordingly. There is a two-door provision that secures the cabinet enclosure. The cabinet is fit for storing utensils, or even propane gas.
Below are some of the Pros and Cons of The Char-Broil Performance 475 Four Burner Grill that earned it a spot in our list of Best Gas Grills Under 300 $ to get in 2021.
Pros:-
Burner provides ample cooking space area, hence allowing users to cook more at the same time.
The cooking space is well structured to facilitate proper heat distribution- which is essential for ensuring that every part of the food gets well cooked.
The gris pans are easy to remove, hence allowing easy cleaning of the cooking area
The grill comes with an electric ignition framework
The pricing in comparison with its features provides great value for your money
Cons:-
Once chipped, the porcelain coatings may begin to affect rust on the cooking area.
Char Broil Performance 475 4 Burner Cabinet Gas Grill Review
Note:-
I have written a post for people looking for the
best vacuum for stairs
to buy?, do read it If you are interested.
2. Weber Q2220 LP Gas Grill
This Weber™ product is particularly interesting because of its portability, and high cooking performance. It is the perfect grilling option for an immediate nuclear family picnic, or for a couple on an outdoor amusement.
Asides from its impressive working tendencies, the grill comes with an aesthetic build that is befitting of any outdoor purpose.
Notable features on the grill are two large handles for ensuring proper grip of the cooking implement, while there are also the ergonomic side handles that extend to the base of the grill main top structure. Other observable features are the control knobs, porcelain-coated cast-iron cooking grate structures, a lid opening, amongst others.
The Weber Q2220 has a heating capacity of up to 12,000 BTUs, with a cooking area dimension of about 280 square inches. The fire on the grill is ignited using an electronic ignition knob, while it also makes use of a single AAA battery.
Note that the grill has an inbuilt thermometer on the lid, as well as a cast aluminum structure that helps to concentrate and distribute cooking heat throughout the cooking area.
Asides from this, there is a glass-reinforced nylon frame that helps perform similar purposes, hence enhancing the efficiency of the grill.
If you're looking for that relatively portable grill- that is yet efficient for grill cooking, then you may wish to consider the Weber Q2220 which makes it perfectly fit in our best gas grills under 300 $ list.
Below are some of the Pros and Cons of The Weber Q2220 LP Gas Grill that earned it a spot in our list of Best Gas Grills Under 300 $ to get in 2021.
Pros:-
The construction is made in such a way that facilitates easy transport and movement of the grill.
It has an apt structural design that ensures the concentration of cooking heat, as well as its proper distribution of the same within the cooking area.
The side shelves are Foldable, hence allowing for easy storage of the grill.
The grill comes with a reasonable amount of useful accessories that anybody would find useful
Compatible for use with both the small, as well as large propane tanks.
Cons:-
A grill is reasonably heavy and is not so easy for movement from place to place.
Check Price on Amazon
Note:-
I have written a post for people looking for the
Best Cordless Jigsaw
to buy?, do read it If you are interested.
3. Dyna- Glo Black and Stainless Premium Grill
The Dyna- Glo Black and Stainless premium grill is another product with great use features and recommendations on the market. The product has a top-notch design together with apt use features- which guarantees the best of grilled foods for the users.
One of the immediate features of interest that are likely to attract a potential user to the product, is its small compact size which makes it easy to fit into even just a small space.
The more important thing about this model, however, is the fact it carries out one of the best grills and is definitely a product that guarantees optimum output for the user.
Note that, the product comes with a heat power capacity of about 30,000 BTUs. This cooking power is implemented by the two P-shaped burner structures- each of which is made with high-function stainless steel.
The product comes with a relatively spacious cooking area totally about 467 sq. inches. Of this, an estimated 350 sq. inches is assigned as the primary cooking space, while the remaining 117 sq. inches is designed to serve as the additional secondary cooking provision.
All of the product's features are added, so as to facilitate ease of use on the grill, as well as storage convenience. For instance, the side tables are suitably collapsible to ensure that more space is provided when the compact grill is not in use.
Below are some of the Pros and Cons of The Dyna- Glo Black and Stainless Premium Grill that earned it a spot in our list of Best Gas Grills Under 300 $ to get in 2021.
Pros:-
The grill provides good cooking qualities and is able to grill food in no time.
Its side tables provide an increased workspace area, which can also be folded up when not in use- to free up more space.
There is a lower cabinet structure that provides space for storage of utensils or the propane gas tank.
The grill comes with an indicator thermometer
The grill component parts are made of materials that confer them with some adequate levels of durability.
Cons:-
Some users think the product would have turned out even better if it had come with added useful features.
Dyna-Glo Dual Zone Charcoal Grill First Impressions Review
4. Fuego™ Element F21C Carbon Steel Gas Grill
This is one of the most unique gas grills, that you can get for a price lower than $300. The product comes in a slender elongate design, hence freeing up more space in which you can put other things to stay.
The product is distinctly remarkable, partly because of its ability to increase temperatures for up to a maximum of 650F- a temperature that it can attain in a time spate of just five minutes or a little more.
The cooking heat power display is put at about 21,000 BTUs, which is implemented by the single super performance burner. The burner cooking area is a cast iron cooking grate, which has a porcelain overlaying cast.
The cooking area space has a dimension of about 346 square inches and is hinted to be an ideal grill for the smaller-sized family.
The Fuego Element F21C is also remarkable for its efficient heat distribution framework, within the burner and grilling compartment. The burner is a concentric dual-ring structure that is indicated for facilitating both low heat cooking, as well as intense heat cooking- as required by the user.
Other accompanying features on the grill, are a thermometer and a heat reflection facility, an electronic push-button for ignition, a storage compartment with a hinged access door, etcetera.
The product has a solid base attachment and castor wheels that enable an easy movement of the grill from one place to the other which makes it perfectly fit in our best gas grills under 300 $ list.
Below are some of the Pros and Cons of The Fuego™ Element F21C Carbon Steel Gas Grill that earned it a spot in our list of Best Gas Grills Under 300 $ to get in 2021.
Pros:-
The grill has an impressive ability to build up heat in a relatively less time frame.
The product's design is great, with every sense of positive compactness and space-saving tendencies.
Its wheel features allow for easy transport movement of the grill from place to place
The product comes with a push-button electronic infrastructure
Cons:-
There are a number of openings on the lid, which may expose the grilling food or the grill elements to rain. This tendency tends to subtly limit its use to an indoor setting.
Check Price on Amazon
5. Weber Spirit ll E- 310 Gas Grill
The Weber Spirit ll E310 gas grill is summarized to follow an operational framework that incorporates quality grilling output for all time, as well as long-lasting durability of the product.
This machine is interestingly apt, considering its added function frameworks that are aimed at providing only the best for users.
With this product, users are assured of getting not only a good grill- for every time they grill, but also the fact that the machine is designed to assist the user with its cleaning and maintenance.
Some of the accompanying features on the grill, are its infinity ignition, as well as the apt function burner tubes that are well designed to ensure that all grilled food is evenly cooked.
An important feature of this grill product that may interest certain users are the flavorizer bars. These function additions provide that classic wood and charcoal smoky taste, to your grills.
The grill inbuilt cleaning framework is remarkable as it channels down drippings from the grilled food, down to the grease management system- which is close to the grill base. The grease management system comprises of a removable drip tray, which can be cleaned and replaced each time.
The porcelain layered grates are designed to allow users to implement different grilling requirements for every separate food that they want to grill. For instance, there is a side of the grate that is ideally meant for grilling delicate foods like fish.
However, while this section of the grill may be fine for delicate food, it would not turn out best for other types of food requiring more heat.
Below are some of the Pros and Cons of The Weber Spirit ll E- 310 Gas Grill that earned it a spot in our list of Best Gas Grills Under 300 $ to get in 2021.
Pros:-
The product comes with Foldable side tables, as well as integrated side hooks for holding materials.
The grill features are easy to use, with consideration for ease of cleaning after every grill.
Offer up to 30,000 BTUs cooking power, which is impressive for a grill in its category.
Flavorizer bars allow the addition of the classic smoky taste, in a hygienic way.
A large cooking area totaling about 424 square inches, plus an additional 105 sq. inches dedicated for food warming purposes.
Cons:-
Rust on the grill may start to occur once the porcelain is chipped.
Weber Spirit II E-310 Review (New Grill Model)
6. Royal Gourmet GG2102 Gas Grill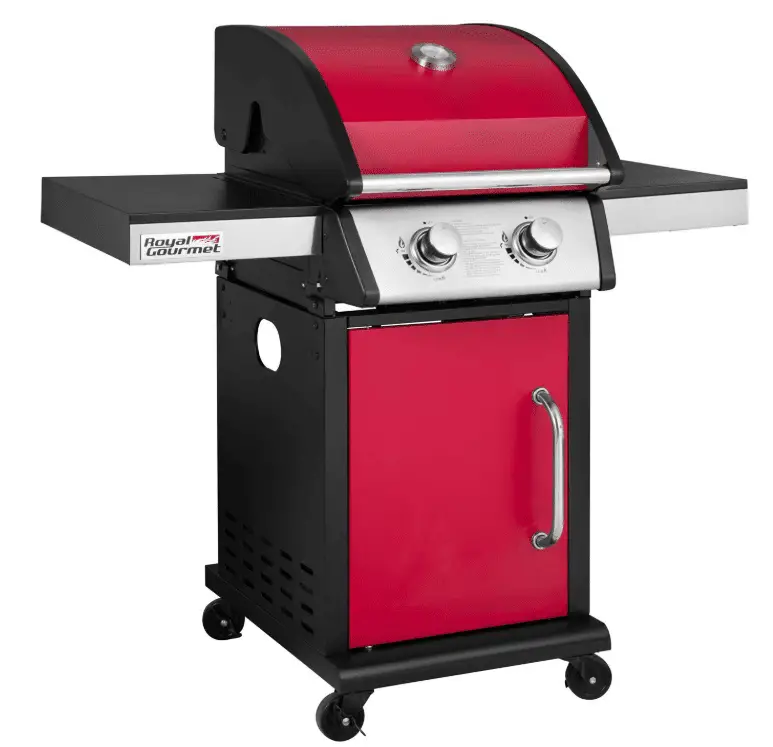 The Royal Gourmet GG2102 gas grill is another top-ranking propane gas grill,  that sells for a price below $300. In fact, this product is still one of the cheapest, and yet does not lag behind in terms of possessing great use features which are the delight of users.
This grill is the perfect option for your outdoor cooking, as its every design was made to suit such purposes- from start to finish. Hence, you may use it for cooking food for an extended number of persons on an outdoor picnic or get-together event.
It comes with two separate burners each of which displays a heating power of up to 12,000 BTUs (24,000 BTUs in total), and a total of about 405 square inches of cooking area.
The cooking area has a primary dimension of 300 sq. inch, while the remaining 105 sq. inch is rather designed to serve as a food warming rack.
Notable features on the grill are two side tables that provide cooking space and convenience for the user, a cabinet cart with a handle- for storage, as well as a general simple but appealing appearance.
The castor wheels aid the movement of the grill, making it possible to easily change its position when needed which makes it perfectly fit in our best gas grills under 300 $  list.
Below are some of the Pros and Cons of The Royal Gourmet GG2102 Gas Grill that earned it a spot in our list of Best Gas Grills Under 300 $ to get in 2021.
Pros:-
Great product with great grilling performance.
Comes with an electronic ignition system that facilitates easy use of the grill
Storage cabinets for storing the propane gas after use, or for storing up other utensils.
This product's portability is indisputable- thanks to its compact design and caster wheels.
Cleaning and maintenance are made easy with the provision of a removable drip collection tray.
Cons:-
The product is relatively heavy
Check Price on Amazon
7. Master Cook Outdoor Propane Grills
The Master Cook outdoor propane gas grills are fascinating gas grill structures, that aptly confirm the fact that you don't need to have a huge budget on grills- before you're able to personally grill every food as you desire.
This grill is a piece of good equipment to grace your backyard patio, with a guarantee that you'll find its use to be of the most important significance. The design is just appropriate, with a framework that seeks to provide essential durability for the product.
It is a four-burner grill, with a heating power of 36,000 BTUs on the main burners, and a 12,000 BTU power burner on the side of the overall grill.
This rates the product amongst the best in this category, since it is able to carry out virtually all grilling purposes and on a reasonable scale. The total cooking area is an impressive 518 square inches, which is divided into primary and secondary cooking areas.
Other vintage features of the product are its quality component materials and its portability structures.
There are two pairs of caster wheels at the base for moving the grill, while the double-doored cabinet is quite reasonable for storage purposes. There is an inbuilt thermometer on the product and the piezo ignition system.
Below are some of the Pros and Cons of The Master Cook Outdoor Propane Grills that earned it a spot in our list of Best Gas Grills Under 300 $ to get in 2021.
Pros:-
Fit for relatively larger grilling purposes- thanks to the high heating power and the large cooking area.
There is adequate storage space at the cabinet, hence making your picnic more convenient when you do the packing.
Great product design and aesthetic presentation.
The grill is quite easy to assemble
Temperature gauge allows proper cooking control
Cons:-
There is no drip tray or any real stricture that facilitates easy cleaning of the grill.
Check Price on Amazon
Best Gas Grills Under 300 $: What To Consider
Asides from the fact that we now know how possible it is to get a high functioning gas grill for less than $300, it is also important to consider a number of factors that should essentially influence the intending buyer's particular model or brand choice.
This is germane, so as to ensure that only the best grills that suit your own individual grilling preferences and tendencies, is what you're eventually buying.
The following are some of the ideal factors to consider before finally paying the salesman:
Consider the size of the grill:-
The size of the grill you'll be buying is one of the first things that you should put into consideration, before checking at the store. This is because you need to compare the size of your new barbeque producer, with the available space that you have to spare.
If you don't have pretty much space, then you should just streamline the options to grills with a smaller build, that can fit in well into the space provision you have.
Another thing with the size is how it relates to your own grilling tendencies. If you're sure to carry out grilling activities often and on a large scale, then you may necessarily need to plan for a big grill machine.
However, this may not be necessary if you would be grilling for your family of four members, or just once in a while.
Usually, the size of the grill is made to correspond with the capacities and operation tendencies of the grill. Hence, larger grills may come with higher specifications, while the smaller sized ones would come with lower specifications.
Note, however, that this trend is not in any way a standard, and it is still possible to find small sized grills with very high powerful specifications too.
Heating power capacity:-
The heating power capacity of the grill determines how much grilling you can carry out- to a large extent. Hence, high grilling tendencies may require a correspondingly high power grill.
Usually, a larger grilling surface area should basically have a larger grilling power. For instance, a 650 square cooking area, should not be relegated to having only 12,000 BTU total power.
Note that grilling powers are measured in BTU, hence you should check the BTU specifications for each of the grilling machine options that you're considering. There is a list of grilling machines below $300, whose healing power is well commendable.
The BTU power is one of the foremost qualities that should be checked in any grilling machine, hence if the grilling device is not working as you like it, then it may be that the BTU standard does not qualify for the type of grilling activities that you're carrying out.
However, you don't necessarily need to spend more on getting grills with a higher BTU, if your grilling tendencies does not require such provisions.
Portability and durability of the gas grill:-
Portability traits of the grill are particularly important if you're intending to use the grill more for extended outdoor purposes. Hence, it is not in any way advisable not to put this factor into consideration- when shopping for a grill that would be used for outdoor events like picnics at different locations.
Additionally, commercial rent outlets too must make sure to get only portable grills, since their business involves moving the machines every now and then.
Note that portability may have some kind of direct effect on the durability of the grill since heavy grills are likely to get damaged from their inconvenient movement from place to place. Heavy grills are ideally meant to remain in a place- where they are used when needed, while the lighter ones can be moved about from location to location.
In addition, durability traits may also be influenced by the type of production materials and designs implemented by the manufacturers. It is important to always go for the products that have been aptly designed, and with the best materials.
This guarantees you a longer lifespan for the product than another which although good in function, does not have sufficient durability tendencies.
Another way to ensure your grill's durability is to make sure that adequate cleaning and maintenance practices are also put to bear. Some of the differences that you should also look out for, is the manufacturer's provision to ease cleaning of the machine.
While some products come with waste management frameworks, others are poor in this regard. Hence, you should be looking out for features like removable drip trays, easy to clean inner porcelain layering, or removable cooking grates.
Conclusion
Good grill products below $300 have paved the way for more people to enjoy the benefits of using the machines. You could be enjoying your grill for below $300 for years unending if you carefully consider the factors that should guide your buying choice.
This is because while one individual may require that portability traits come in preference to grilling power, another user may require that the grilling power takes utmost importance over everything else. Hence, all factors should be carefully considered and based on the user's preferences only.