This is a complete buyer's guide to Best Guitars Under 500 $ in 2022. 🤴
The best part?
We bought the 13 Guitars Under 500 $ available in the current market and reviewed them based on the Body format of the guitar, the guitar's neck design, guitar component tonewoods, and pick-up types.
And, finally, came to 7 Of The Best Guitars Under 500 $ to our readers. 📗
So without further ado, Let's dive right in. 🎭
Guitars are one of the loveliest musical instruments of all time. They are the most popular stringed instrument on the market. You would find a greater percentage of stringed instrumentalists learning to play the guitar before any other instrument in the category.
Aside from this, guitars have become a favorite for musicians because the instruments can produce top melodies alone without needing a complementing instrument.
Hence, they allow the user to produce great music which listeners can listen to and appreciate.
You may hear music makers say guitarists are never going to be out of vogue as far as contemporary music is concerned. So, you, too, should probably go on to take that step by attending the guitar training classes closest to you.
Now, guitar enthusiasts may sometimes come up with excuses for how expensive it is to own a guitar. This is why several intending learners have failed to proceed with their guitar tutorials.
After all, it is said that the best way to practice and hone your playing skills is to always practice on your own. Nowadays, many stringed instrument producers have come up with different models and types of guitars.
Hence, giving more people access to their choice of guitars, depending on what specifications they require. This advantage does not only apply to first-time guitar beginners but also intermediate and professional users.
Thus, there are now almost no reasons why a guitarist should not ideally have an instrument that would provide easy access whenever they need to practice.
A reasonable array of the best guitars under $500 would provide you with at least the basic functions needed in a guitar instrument.
However, it is important to pay attention to the product reviews and specifications to make the best choice from quite a vast range of guitar options.
Asides from the quality and specification aspects, you should remember that guitars work on different function designs. Thus, these things need to be carefully considered in every product that an intending user wants to buy.
Below is a review of some of the best guitars under $500, their product specifications and traits, and the pros and cons.
The reviewed products have been listed in no particular order of market choice or relevance, but what's certain is that they all qualify to be on this list.
Best Guitars Under 500 $ – Our Top Pick👌👌
1. ESP LTD EC256FM Electric Guitar
The ESP EC256FM guitar is one guitar that comes with the best features that you'll like. It is a full-function top-notch electric guitar with apt functions that qualify it as one of the best guitars you'll find in the market.
This guitar is particularly important because it provides major performance functions- like the ones anyone would expect to find on the pricier models.
Many users who have had to compare this product with other supposed higher models have seemingly made remarks favoring the EC256FM, over the others.
Firstly, the product's classic but solid shape makes it suitable for whatever convenience you're looking for. The body is made of high-quality processed mahogany wood, as well as some input of rosewood on the fingerboard.
Enjoy the music as you play, courtesy of the guitar's three pieces thin neck- that has an appropriate facilitating U shape. With the guitar's 24.75 inches scale length, there are no worries for you- as you strum through the frets.
Note that this guitar comes with 22 extra-jumbo frets, and this is part of what contributes to its seeming bulky weight.
Also, the product has a flamed maple head, while the mahogany wooded body is pivotal to the high-quality sounds you'll get on the guitar. The total dimension of the EC256FM measures 9 × 20 × 47 inches, while the regular color is cobalt black.
When anyone mentions the best guitars under $500, then the ESP EC256FM electric guitar should be one of the honorable mentions. At a price of about $430, the buyer also gets full accompanying accessories on the product and a quality structured conveyor bag.
Pros:-
The thin, sleek neck structure makes the guitar easy to handle and strum
Electric guitar with great overall performance; fit to compete with higher-priced products
Mahogany and rosewoods are perfect materials to facilitate the durability of the guitar
The guitar is built to come with a flamed maple head component.
Great electric guitar option for all categories of possible users- beginner, intermediate or professional.
It comes with a carefully added body contour that facilitates easy use
Cons:-
If you're particularly concerned about owning a lightweight product, you may not have necessarily found that in the EC256FM.
The guitar has a bit of inconsistency with the pickup and bridge sounds.
Note:-
I have written a post for people looking for the 
Best Chromatic Harmonica
to buy?, do read it If you are interested.
2. Donner DAG-1C Beginner Acoustic Guitar
This is another quality stringed instrument selling for below $500. The Donner DAG 1C acoustic guitar has features that suggest its significance for the guitar beginner.
However, it would also serve as a good option for intermediate players, while professionals could make do with it- one way or the other.
The product has had several good reviews on trader stores, with most users feeling satisfied with the product's overall sound performance. Another thing users think is great about this product is its beautiful shiny wooden structure, which is also appropriately light-weighted.
One feature of this product's component that helps optimize sound output is the guitar's smooth satin finish on all sides.
Now, it may interest you that this guitar is a 41 inches full-size cutaway guitar, hewn basically out of topmost quality African mahogany wood. Asides from the mahogany main body, however, the top parts are differently made from spruce.
On the Donner DAG 1C, you'll have access to a guitar with 20 frets made of brass, with tuning knobs made out of quality die-cast steel. Note that the neck is C-shaped, while the instrument comes with dot position inlays.
One advantage of buying and using this guitar is that every one of its components is built to last- with undeniably durable and quality materials, which makes it perfectly fit in our best guitars under 500 $ list.
Pros:-
A great acoustic guitar with the best sound quality and pitch
Mahogany and spruce built structure facilitates the top-notch sounds, as well as the tendency of the guitar to last for years
The neck is aptly built to aid easy user grip and strumming activities.
Suitable for playing all music genres without the least playing hitch
The accompanying satin finish facilitates proper resonance, directly impacting the sound output obtained.
Cons:-
The features on the guitar are quite simple, making it suitable mostly for the beginner
Check Price on Amazon
3. Yamaha Revstar RS420 FRD Electric Guitar
If you've been a music fan for many years, then you'll remember that the Yamaha company is not just one of the best makers of bikes but also a top-notch musical instrument maker. Consequently, you can rely on the company's products to provide the best in whatever they've made.
The Revstar RS420 does not hold back on this antecedent trademark quality, as it comes with carefully implemented designs and functions that suggest the manufacturer's level of dexterity.
Firstly, you'll be fascinated by the guitar's aesthetic appeal- typical of higher-priced products. If you've not been told that the product was just some $500, you'll have had reason to assume that it was sold for prices starting from a thousand bucks.
Features of the guitar include its 24.75 inches scale body, made from a combination of nato and maple wood, at a different part. While the mainframe body is composed of nato wood, the top parts are carved out of maple wood.
On the other hand, the neck is one of the slimmest that you'll find on the list of the best guitars under $500. This structure makes strumming the easiest while conferring the product with appropriate sophisticated looks.
The fretboard, made of rosewood, is nicely divided into easy-to-use 22 frets. Although the product is closer to $500, it is still comparatively inexpensive on the general market- primarily considering its features and functions.
Other impressive guitar features are its V magnetic alnico hum breakers and their unprecedented effects on facilitating the best of guitar sounds.
Pros:-
Top-notch design and aesthetic appeal; this guitar is pukka in terms of these.
The sound outputs are one of the best that you can get for a product in the best guitars under $500 category.
Slim neck structure with an easy-to-use fretboard division
The product has a careful customer body structure that facilitates easy carriage and use
The coil splitting is implemented via a dry switch
The overall product design is aptly stylish and appealing
Cons:-
It is relatively heavier than some other products
Yamaha Revstar RS420 Electric Guitar
At the time of our research on Best Guitars Under 500 $, we found a video about "10 hacks all guitarists should know!" which is worth watching. 🤴🏆
10 hacks all guitarists should know!
4. Gretsch G5022CE Rancher Electric Guitar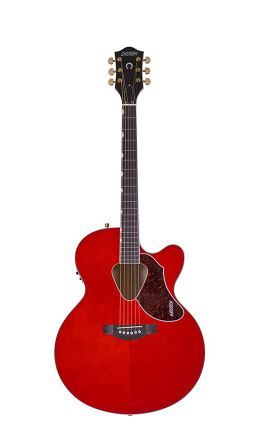 This is another guitar that sells for below $500, which you wouldn't just resist without putting it into consideration. The red-colored guitar comes with a hero design, which makes it the pride of every owner.
You'll joyfully want to take your G5022CE rancher anywhere because it depicts a good class and presents you as a guitarist with the right choice since.
The makers had put in so much carefulness in churning out a relatively inexpensive and simple yet sophisticated product in functional capabilities.
If you're buying this product, you're definitely in for a superb guitar strumming experience, which you'll only get on a few other products.
The body and neck are one of the best structures you can find, with an almost 100% quality output in terms of hardware, sound output richness, overall prestige, and value.
Now, the G5022CE rancher is a spruce wooded guitar, with some maple wood inputs here and there- on the sides. However- just like many other products in the best guitars under 500 $ category, the neck is made of rosewood.
Another reason why some people would naturally flock to the guitar is its obvious classic build structure. All components, such as the pickguard, soundhole, and other essentials, have an input touch of the classical but in a modern tuned standard.
Note that the product comes with a 21-fret division on the rosewood fretboard, while some of the hardware has been gold-colored.
This is one product that does not slack in terms of its sound outputs, and if you know that a high-sounding electric guitar is essential for your functions, then you may look the way of the Gretsch G5022CE rancher.
Below are some of the Pros and Cons of the Gretsch G5022CE that earned it a spot in our list of Best Guitars Under 500 $ to get in 2022.
Pros:-
Great classic designs with a solid wooden build
A combination of wood types at different guitar parts facilitates the quality of sound outputs.
Relatively lighter electric guitar, compared to other products of the same category.
It comes with an apt 21 frets on the rosewood fingerboard
The pickup is impressively active enough
Cons:-
Some users may consider this product too broad on the body, and hence uneasy to handle
Check Price on Amazon
5. Washburn Festival EA15 Mini Cutaway Acoustic Guitar
This basic spruce-made acoustic guitar has everything you need in a guitar. Whether you wish to use it at an open-air music show or within a small gathering of your friends and faithful, the Washburn Festival EA15 would do just fine to bring you the required output deliveries.
The product is simple, with no unnecessary features or components that could add to its weight or make it look less attractive. The 48 × 8 × 19 inches product comes with about three wood inputs to form a high-sounding acoustic material.
The top is made of quality maple, with the sides and back made of catalpa wood, while there is bracing of spruce on the other edges and ends. This guitar is one of the few products that go well for use by all categories of users.
Hence, it is a good guitar to start your guitar lessons for the first time and a valid option for intermediate guitarists who need to hone their skills fast.
On the other hand, professional guitarists would out that the guitar structure is an advantage for them- since it is appropriately carved to enable a user to use it conveniently for several hours.
Specifications on the guitar show a product that aims at meeting the needs and requirements of users with modest budgets- and without making them lose out on basic relevant features.
The Washburn Festival EA15 guitar has a 25.5 scale body and a two-way truss mahogany neck. The product has its tuners made of chrome die-cast, while the weight is just a little over 6.5 pounds.
Below are some of the Pros and Cons of the Washburn Festival EA15 Mini Cutaway Acoustic Guitar that earned it a spot in our list of Best Guitars Under 500 $ to get in 2022.
Pros:-
This product is very light, as compared to other products. Its portability makes it a good product choice for users on the good, or travelers who'll love to play whether they are.
The sounds are substantially good, giving you a good run for your money
Suitable for use by all categories of users. Hence, you may buy the guitar when you're just a beginner and still, make good use of it when you become a professional
The strings are made of light phosphorus bronze materials
The guitar comes with durable components and hardware all around.
Cons:-
The guitar is too simple in design and function.
6. Squier Contemporary Lefty HH Guitar
The Squier Lefty HH finds a place within the list when considering the best guitars under $500- that comes with a combination of both top component infrastructures and functions.
This guitar is well accepted- not because of its beautiful looks alone, but because of its ability to produce music of all genres and high sound outputs.
This is one of the guitars that has been able to provide useful features that make us believe that you don't necessarily need to budget up to a thousand bucks before you can get something quality and of top standards in a guitar.
The Lefty HH combines good-sounding vibes via an impressive stylish structure. There are no reasons to doubt that this product would remain one of the best guitars under 500 $ list.
The C-shape-necked guitar has a relatively sleek structure, making it the easiest to handle, while the main body is not unnecessarily too large.
The fretboard has an average radius of about 12 inches and jumbo-sized frets. Now, the bridge of this guitar is a two-point tremolo synchronized at distinct block saddles.
This product is adequate but not too sophisticated to serve the needs of its users. Although beginners would find it useful for their beginner practices, the guitar would most likely be highly important to professionals.
Below are some of the Pros and Cons of the Squier Contemporary Lefty HH Guitar that earned it a spot in our list of Best Guitars Under 500 $.
Pros:-
The guitar has an ingenious design with ease-of-use tendencies
Thin-sized neck for facilitating user ease of handling and strumming along the fretboard.
Powerful function ceramic pickups for enhanced sound outputs.
Two-point tremolo bridged synchronized with saddle blocks
Durable and highly functional hardware components
Cons:-
Sound inconsistencies may occur occasionally.
Check Price on Amazon
7. Ovation CE48-RR Celebrity Elite Acoustic
The ovation CE48 elite acoustic/electric guitar deserves all the accolades for its stylish design and performance. This 18 × 6 × 44 inches guitar has all it takes to compete with products selling for up to $1000.
One thing that particularly impresses on users is the guitar's caped top- which confers some cool style on the product build. You would also love to handle this guitar because of its ease of use and good responses.
The product comes with a multi-soundhole, which prompts optimum sound quality for all time. The body back is made of record, while the top part is carved out of spruce. The fretboard is well pruned to size, such that it fits the preference for the everyday user.
Other pronounced features on the guitar are its shallow cutaway body and the scalloped quartersawn X bracing pattern.
Below are some of the Pros and Cons of the Ovation CE48-RR Acoustic that earned it a spot in our list of Best Guitars Under 500 $.
Pros:-
The great aesthetic presentation of the product- especially on the mainframe guitar.
Good enough sound presentation- thanks to the inputs from the natural-sounding material wood components.
It plays every music type well, hence making it suitable for all-purpose
Useful for all categories of guitar users
Aptly designed fretboard to facilitate easy use for professionals, as well as quick learning for beginners.
Cons:-
It may require real maintenance to ensure its durability.
Check Price on Amazon
Best Guitars Under 500 $: What To Consider
Before buying a guitar that sells for less than $500, it is important to determine some factors and understand how they should affect your individual specific choice of product.
Following these factors as a guide is the ideal way to go about sourcing products. The advantage of this is that the user is most likely to finally pick the product with the greatest features that fit the intending user's specifications.
Below are some of the factors that you should essentially consider before buying from the best guitars under $500:
Body format of the guitar of your choice
Not all the guitars you see essentially have the same body format types. While it is common to find acoustic guitars with a hollow body type, most electric guitars come with a solid-filled body type. However, there are still other guitars- which may be acoustic or electric non-acoustic, that would come in semi-solid body formats.
Your choice of guitar body type should be determined by your playing activities- especially such factors as your adopted music genres.
While hollow guitars produce the right sounds, resonance, and effects for some genres, they would not be the best option for another genre that does not need a resonating guitar output.
The neck design on any guitar model is one important feature that mustn't be undermined. This is where the bulk of the guitar-use activities take place.
For instance, you make the chords and determine the sounds that emanate from the guitar neck. The neck also extends onto the headstock- where the tone tuners are located.
Now, the neck's shape impacts the user's ability to maneuver the tones from the fretboard. The neck of any product you're adopting for your use should provide the essential convenience you need for using the guitar.
Usually, most people require a guitar with a smaller neck size, but this factor depends on the size of your own hands. You'll need to buy a guitar with a broader neck if you have a larger hand size.
The guitar's component tonewoods
The woods out of which each guitar has been made have an impact on the sounds or tones that are being produced each time the guitar is strummed.
Hence, if you're buying any product, It must be that which has been made from the best wood combinations- to produce the best tones.
The woods on a guitar affect the sounds via the resonance that plays on them, especially how long they allow these characteristics to last on them. The best wood types are mahogany, maple, rosewood, and nato.
However, you're likely to find each of the best guitars under $50o, combining wood types and not just one wood throughout.
For instance, you may find a product having maple on the body, mahogany on the back and side, etcetera. This purpose is to find that wood combination that would give out the best of sounds on the product.
The guitar's pick-up types.
As far as sound output type on a guitar is concerned, this is the most important influencer of it. The pickups on a guitar consist of coiled wires wound around magnetic structures.
These same provisions produce sounds by following on the signals from the strummed strings and based on the sounds that are produced in its attached coils.
For instance, the humbucker is one of the best choices to choose from, while several single-coiled pickups too, would do just right.
The best guitars under $500 are a great solution to the quality of guitar sound and performance utilization. However, we emphasize that the intending user must be able to carefully decide what the best products truly are and what peculiar features should be present before they go for that product.