Gaming is one of the fastest genres to pick up people's interest. You can search on YouTube and find a bunch of people playing games. Well, this certainly generates interest in many people to try gaming.
There is a long list of categories of games you will find. There are online games like PUBG and Fortnite; then you have indie games that are all about the story and are pretty interesting.
If you are trying your hands on multiple gaming, then Gundam is something you should include. The games in this genre are pretty action-packed and thrilling. If you love weapons and ammunition and want to play games that have war, then Gundam games will be your favorite.
Here we have a list of the best Gundam games that you should try. They have excellent thrilling stories with powerful villains and bosses that will give you tough challenges. We can bet that putting down the remote back can be difficult once you start playing this.
Gundam is a significant genre and usually has different stories. Graphics are no doubt an important part. Here we list these gun dam games that will make your gaming session more enjoyable.
Some games have some unique and interesting twists to them. Try one, or try whatever fits.
Best Gundam Games – Our Top List👌👌
1. Gundam Side Story 0079: Rise from Ashes
Gundam side story 0079 has to top the list because of its thrilling storylines and game design. The game's users are astonished by the game and its enjoyment.
If you like wars and weapons, then this is paradise. This video game was designed by Bandai and released by Dreamcast, and we can truly see their genius work with the graphics.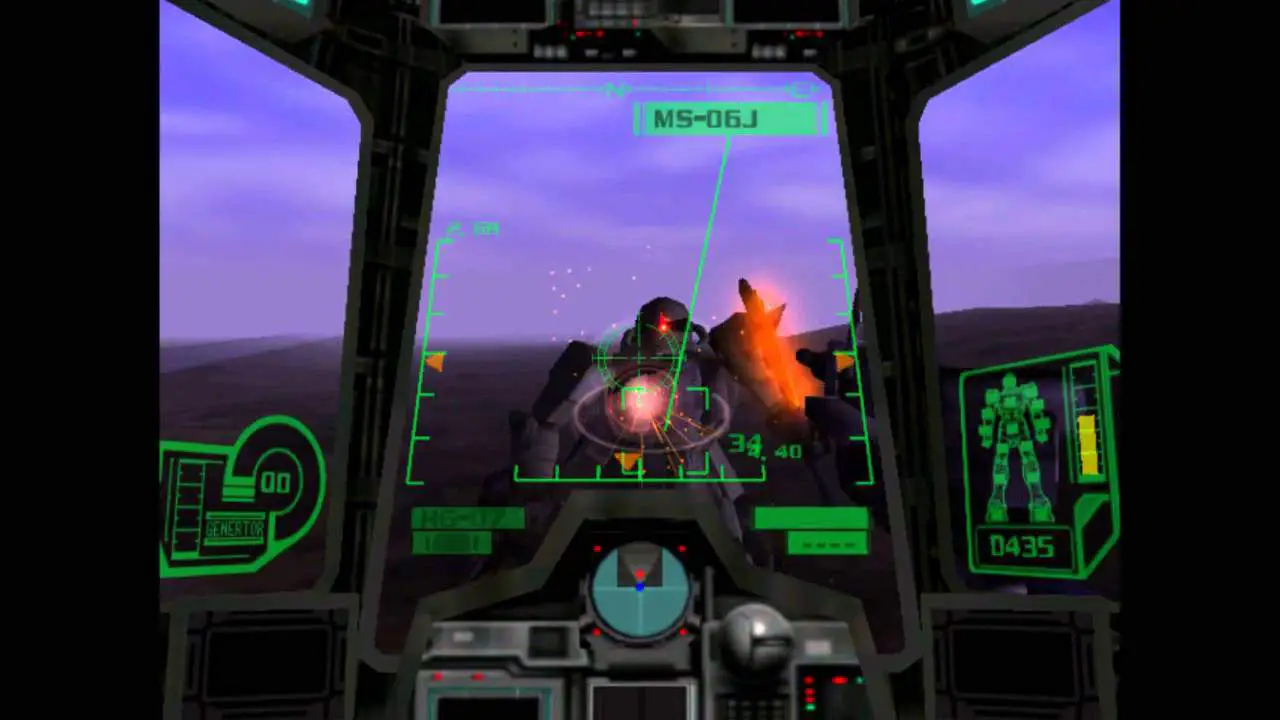 So the whole game is based on the war between the zeons and the white dingo squad, often called RGM-79 GMs.
The game has a total of nine levels which are set in Australia. So you will be the main character, Lt. Rayer, who his team members will support to clear these stages. 
So throughout the game, as a protector of the earth, you must fight against the sons planning to Astaroth. This biological weapon will accelerate the growth of plants and turn the earth into a deadly dense forest that will remove mankind. 
Throughout the game, you are in charge and direct your team through various missions. Collect guns and weapons and strategies on how to fight against the enemy. One of the key highlights of the game is the mobile suits. These are the primary source from which you will derive the power to kill your enemy.
In different stages, you will be provided with different mobile suits. At starting, you have to choose between the standard RGM 79 GM, which has the basic weapons and functions, or you can go for a heavier mobile suit that has a cannon attached to it, which is called the RGC-80 GM cannon.
Gundam Side Story 0079: Rise from the Ashes ... (Dreamcast) 60fps Gameplay
After a few missions, as the enemies start growing stronger, you will be given a third suit that is more powerful which has dual cannons on the shoulder and deadly machine guns.
There are several customizable cheats that you can use to get a more powerful weapon and defeat the zeons in their target.
It is undoubtedly one of the famous games as it is challenging and will get you hooked on it. We bet you will enjoy your time and would not like to stop playing until you have cleared all nine levels.
2. Mobile Suit Gundam SEED: Battle Assault
Mobile Suit Gundam SEED battle assault, well, just like its name, is filled with powerpack action and weapons. There is a popular anime by the same name, and the game is excellent.
There are great characters and a good storyline, which will peak your interest in what is next. The challenges and troubles in the game will keep you on your toes, looking out for enemies as they could attack from anywhere.
The game is published by one of the pros in this industry, Bandai games. This has some amazing graphics, and you will feel immersed in the game in no time.
The game's design is pretty much as simple as the previous types of Gundam battle games. If you have played some of those, you will find this game easy to start.
At first, you will be asked to select a character out of male or female. A friend will accompany you.
Both of you will become a part of the events named 71 C.E. and 73 C.E. you can choose to be natural, that is, a normal-born human being or a coordinator developed from genetic enhancements. You would be grouped in either ZAFT or EAF faction based on your selection.
But these factions are just for the beginning; as you clear levels, you will be given options. Coming to the weapons to find ammunition, there are orange supply containers you need to find out with the help of the map.
(Gameboy Advance) Mobile Suit Gundam Seed Battle Assault Part 1 (Strike Gundam)
Along with it, if you are lucky enough, you will find a drop or a destroyed warship. So the weapons have nothing to do with the points you earned.
You will be provided with new missions as you finish the missions successfully. You will be given the option to shift to a third faction at a point in time.
The mission of each faction is separate and unique. You will unlock various challenges and weapons and rise above them in stages. 
3. Gundam Assault survive
Gundam Assault Survival is third on the list, but that does not mean that it is any lesser than the above games. You get a lot of things to try on, and you will not get bored of the game because it has so many options.
Gundam assault survival is pretty different from the other usual games as it does not belong to the universal century timeline. one of the highlights of this game is that you can make it super personalized.
While choosing a character, you can select facial features, dress, abilities, gender, and many more. The game also has a set of questionnaires whose answers will decide what your character will be like.
There are multiple options for a character, such as natural, new type, coordinator, cyber new-type, Gundam Meister, or you can even become a special technician.
As you improve with the levels, you will be allowed to play by the side of any factions. You can complete the missions and gain more power. Some units in the game can be used by specific types only.
Operators here can be toggled per permission rather than the timeline, as they are faction free.
Mission areas can be assessed by special lock-on command. Your squad can help the other forces in their missions.
You need to be their backup in a particular mission, as everything around you is real. If you miss the chance to help them to get out of trouble, they all might vanish.
[PSP] Gundam Assault Survive - 00 Mission Gameplay
As a squad leader, you get a lot of power. You can give orders to your team members and inspect the various aspects of your team. You can even review a sight or a particular mission and strategies accordingly.
You will get a drop or a particular sight to guard for the resupply. If left unguarded, the armor could be destroyed by the enemies. You can strategies with your team and command them to protect the resupply.
You will get points that will turn into currencies. You can use these currencies to buy various stuff such as development plans, newly developed sublight systems, character pilots, etc.
If you want to develop a new plan, you might get certain conditions to fulfill, such as playing specific missions or meeting the condition of a development plan.
4. Gundam: True Odyssey
Gundam True Odyssey is one of the great Gundam games with an excellent story and overall engagement. This game is pretty popular amongst people and has impressive striking graphics.
Just like the above, this game has strong weapons and armor. We can bet you will like the game as you start playing it.
The game's story is that after the great fall, an apocalypse that destroyed human civilization, humans began to rebuild society in its best way. Humans are trying their best to once again give a foundation to humanity.
Two orphans, Tristan and frizzy, are best friends and share the same orphanage. But to end all the happiness, enemies plant mobile suits which blast and kill people living In the orphanage. Bot, the best friend Tristan, and frizzy are now full of rage and seek revenge for their loss.
Tristan and frizzy will start their journey by collecting weapons and the support of their allies. There is a secret conspiracy that will be revealed later in the game. The whole blast was a deed of the main villain, Vlardi earth, whose dream is to rule over the world.
MS Saga: A New Dawn Walkthrough Gameplay Part 1 No Commentary (PS2) [Gundam RPG]
The key highlight of the game is that you can create your own powerful customized mobile suits. You can use Mecha designs for the same, giving you several options to create a tough mobile suit.
You must finish the game, for which you need to sort out which part and pilot combination will work great together.
You can keep your weapons held in hand or mounted. Moreover, you can swap the design or components of your mobile suit. You can change the color and add more functions to it.
5. SD Gundam G Generation Wars 
SD Gundam G Generation war is for gamers that love winning a battle. It is one of the most loved games because it is simple yet challenging. You will never get bored because you have thousands of options.
The game is filled with thrill, and you will surely get an adrenaline rush while surviving in-game filled with strong enemies and deadly weapons.
The game is designed to be played from a 2.5D point of view. There are 50 battles, and you can select from a wide choice of 700 mobile suits and units to vanish your enemies.
As you level up, the enemies become more powerful, and you must choose your weapons and mobile suits accordingly.
One of the best things about the mobile suits in this game is that you can easily swap them with others. You can choose one or create a powerful mobile suit for yourself. Undoubtedly the game will keep you hooked to the screen.
Killing the enemies and protecting the world is the game's main objective, but it is not as easy as it sounds. You will be needed to improve your skills for big bosses continuously. 
6. Mobile Suit Gundam: Gundam vs Gundam next
Mobile Suit Gundam: Gundam vs Gundam Next is a sequel to Gundam vs series. The series has been superhit due to its amazing performance amongst the players. The features and the ammunition were solid.
You can do many exciting things, and there are many challenges. This is one of the Gundam games appreciated mainly for its dramatic background music and visuals. It gives a whole immersive feeling to the player.
Like the previous one, this Gundam game has some great mobile suits and units you can customize per your needs. But one of the different features of this game from previous games of this series is the background.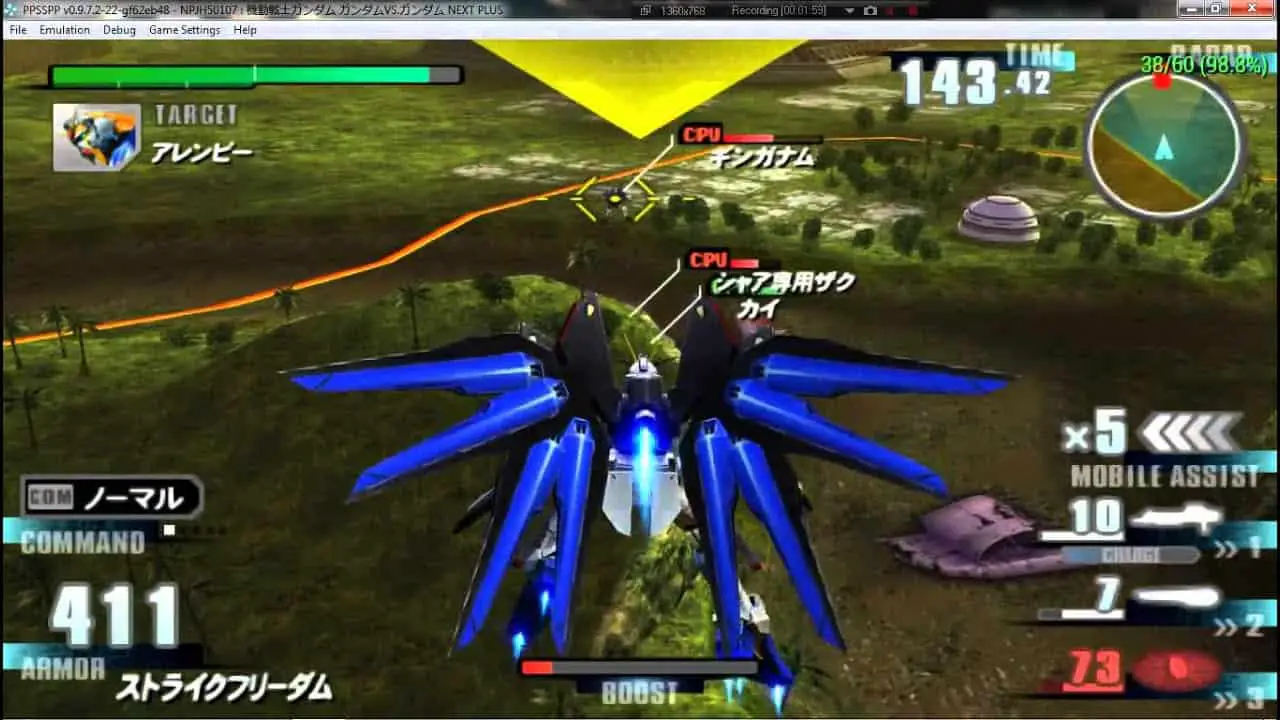 While the previous series was placed in a general universe, such as the cosmic era or universal century, this one is taking part in the 2030 world.
The different heroes from various Gundam series have defeated the devil Gundam who has merged the game world. A few new features make this new sequel more exciting. You can use the next dash, which cancels out moves instantly and even boosts players.
The features are almost the same as the previous ones, so if you have played them, you will not face much trouble getting the hang of this one. One thing to note is the G-crossover has been removed.
You must take care of the manual blocking in this sequence, as automatic blocking has been removed. While playing the game's background music will make your experience much better.
7. Shin Kido Senki Gundam Wing: Endless Duel
People say that one should never judge a book by its cover, but the title is enough to give you an idea about how cool this game is.
Shin Kido Senki Gundam Wing: Endless Duel will give you a classic-style Japanese fighter feeling. And I said classic because the game is the oldest on the list. But it is no less than any new games out there.
This has been the first Gundam game for many Gundam game players. It has exciting features and moves that make you feel pretty cool. The game is challenging, but you will get addicted to how good it feels after defeating the enemies.
The game also features playing it with your friends through multiplayer mode. You can do a battle fight and flex your mobile suit pilot.
To break from monotony, the game has three modes; the first one is multiplayer, which is explained above, and the second one is the story mode. We know that the story and background play a crucial role in games.
It helps you connect and better understand what you will be doing. The game's story mode is primarily appreciated, and we can bet that you will fall in love with this—story mode. You are a participant in a battle. Gradually you have to defeat others to make your way above. 
Coming to the last mode is the trial mode. You must improve your skills and sharpen your moves to win the story mode.
In trial mode, you can indulge in endless and unlimited battles. You can learn new moves from the opponents you face. The opponents in this mode will be like the one-story mode.
8. Kidou Senshi Gundam Seed: Rengou vs Z.A.F.T.
Just by the name, you can pretty much know how thrilling the Kidou Senshi Gundam Seed is. The game is filled with action, thrill, and adventure.
You will find it hard to get over the joy of this game. The game gives you a different experience, from graphics to background sounds.
In this game, which is a part of the seed branch of the Gundam series, you will be controlling the mobile in a third-person POV as three groups are included in the fighting.
The game has two modes in which you can play. These are arcade and free mode. You will face many challenges in the arcade mode, also called the main mode.
There will be all sorts of enemies with ammunition and weapons that are extremely powerful. You must defeat them all and play like a devil leaving no enemy. The arcade mode will give you an almost kill-or-die experience and is ruthless.
Now another mode is the free mode. This mode is a multiplayer mode in which you can join your friends. You can either battle with your friend or team up against your enemies to vanish them forever.
The game is undoubtedly one of the most entertaining and thrilling options. If you believe you are a pro-Gundam gamer, you should probably check this out because you might doubt your skills after this.
9. Gundam Breaker 3
Gundam Breaker 3 is hands-down one of the best on the list, and you will only agree if you play it and experience it yourself.
Finding someone who has tried this and not loved it is hard. The game is challenging, but if you love to conquer tough things, this will keep you hooked for long hours.
You will never get bored of the battles and weapons this game offers. Gundam breaker is a sequel to Gundam breaker 2, largely because of its popularity and demand.
This sequel no doubt does justice to the previous parts of this series. You can play this on your PS4, and you will have goosebumps from the excellent graphics and visuals that are put into it.
This part is almost similar to the previous Gundam breaker 2. If you have played Gundam breaker two, you will find it easy to understand the game and get used to its gameplay. One thing to note about the feature is that optional equipment has been dropped in this one as people complained about it last.
You will find a new burst type in Gundam breaker with different abilities. In this part, if your opponent has half stamina or is half torn, you can kill the enemy instantly with just one blow.
The game has famous missions such as core assault, monolith demolition, and team deathmatch. Along with these, you can also set the difficulty level of your game from casual, standard, or hardcore. 
Once you are done with the story level, you will unlock the extreme difficulty. After that, you will have excess MG and a few new units.
You will also get a new type of difficulty unlocked. There are two new modes: bounty hunter mode and challenger mode. 
📚FAQ
What are the best Gundam Games?
It have good popularity among anime fans.
Some of the Best Gundam games available to play are Gundam Evolution, Gundam battle: Gunpla welfare, Dynasty Warriors: Gundam, Gundam Versus, Mobile Suit Gundam Battle Operation 2, SD Gundam battle alliance, Mobile suit Gundam crossfire, Gundam- Battle Assault 2, Gundam Battle operation next, Super robot wars, Mobile suit Gundam: Battle fortress and many more such games.
Who would win, Gundam or Transformers?
Gundam would win the one-on-one battle. Most Gundams are far taller than other Transformers, and as RX-78-2 noted, they are also faster. Moreover, the weapons have much greater destructive power.
A beam saber would destroy Optimus' heat sword. So it can be safely said the Gundam will win any fight with the Transformer. 
Is Gundam evolution coming to PC?
Yes, Gundam evolution is coming to PC. The release dates for the PC and console versions are September 22 (September 21 in North America) and December 1, respectively (November 30th in North America).
The PlayStation 4, PlayStation 5, Xbox One, Xbox Series X, and Xbox Series S are supported consoles. 
What is Gundams in SD Gundam Battle Alliance?
The challenging content of SD Gundam Battle Alliance requires teams of three players to enter missions.
Players must upgrade powerful mobile suits to prevail in the game to have any chance. The game has three classes of Gundam: All-arounder, Infighter, and Sharpshooter.  
Will SD Gundam Battle Alliance have Crossplay?
Xbox One and Xbox Series S/X versions of SD Gundam Battle Alliance also allow cross-play. However, if you own a PlayStation version of the game, you won't be able to play with a friend who owns an Xbox or Switch version. 
How many suits are there in SD Gundam Battle Alliance?
Battle Alliance features over 60 playable mobile suits that you can unlock by completing different missions and acquiring blueprints, just like any good Gundam game has. 
Conclusion
So here is our list of the best Gundam games. We have kept in mind to provide you with the maximum variety so that you don't get bored with similar options.
The games have different stories and gameplay. Each one of them has some great graphics and music. We hope that this list helped you find a Gundam game to try.