This buyer's guide will reveal the Best Headphones For ASMR With Flawless Sound in 2022. 😎
And this is important:
We didn't just add the Headphones based on our personal opinion.
We bought the 15 Headphones For ASMR available in the current market and came to the best 7 for our readers. 📗
So without further ado, let's explore this awesome buyer's guide. 🤴
The ASMR audio and visual technologies are ingenious discoveries or innovations of contemporary times.
Active users of this auditory experience derive the desired effects only when the right twists and elements are coupled in one framework piece. As it stands, one of the essential tools required by ASMR users is these ASMR-inclined headphones.
Headphones for ASMR may be a little different from the regular, as they are specially built to aptly deliver the sound triggers that keep you relaxed for as long as you're using them- at the least.
One of the most observed traits of ASMR headphone use is that people often fall asleep before they know it.
Probably, this is an intended purpose of the effect sometimes, so criteria for review of the best headphones for ASMR would include their ability and tendency to promptly put the user off anxiety and tension to a state of calm- which may be characterized by sleep.
However, note that there are different best level effects for different people, and while you may have attained that ASMR relaxed level from a certain amount of inputs, another person may just still need to push it on a little more.
This is why they sometimes say that not everybody hits that excitement and euphoria from the same ASMR music effects or delivery headphones.
Another way to simplify this is that individual people would have different headphone preferences based on the manufacturer's specifications. This is why a review of the best headphones for ASMR is very good.
Below are some of the best ASMR headphones, their character descriptions, the pros and cons, and the distinguishing factors that have placed them on the favorites list or the ideally patronized markets.
Best Headphones For ASMR – Our Top Pick👌
1. Creative Aurvana Live ASMR Headphones
The Creative Aurvana Live is one of the most sought-after ASMR headphones on the market. It comes with impressive, impressive, high-quality specifications that guarantee the user a good shot for their money.
The product has been designed to create the best of sounds, with all the ASMR effects coming original and intact to your listening pleasure. Another reason headphone is a first choice category is their reasonable durability and lightweight traits.
Its revolutionary sound acoustic tuning and the neodymium magnet driver technology facilitate the dissemination of all the effects contained in an ASMR audio material, with none of the whisperings, scratching, etcetera being left unaccounted for.
If you want to feel like you're actually on stage, just as in your favorite live performance, Creative Aurvana Live may be your best shot at achieving this.
This is the opportunity you've been waiting for, to enjoy your everyday music- with all the producer's effects and sound fully delivered.
Creative Aurvana Live comes with an expandable and retractable soft padded headband and soft padded earpads of leatherette material.
These features confer convenience and long hours of comfort to the user, with music at its best in your ears. Every other feature was carefully added to fit in, just in line with the use requirements of most potential/prospective users.
Pros:-
The headphones are comparatively lightweight for convenient mobility yet befitting in every way.
The product's sound-optimizing framework is top-notch and can reduce internal sound and volume distortions.
A softly padded headband and ear pads allow comfortable use of the device for longer hours without the materials creating contours or causing pain to the user.
The oxygen-free copper provision and the gold-plated headphone plugs are infrastructures for delivering original sound products.
Cons:-
Considering the over-the-ear headphone format, it is not ideal for use when sleeping.
Check Price on Amazon
Creative Aurvana Live Review - Best Budget Biodynamic
2. AcousticSleep SleepPhones Wireless Headphones
As far as ASMR adoptable headphones are concerned, this is one of the best that truly deserves all the accolades.
The reason for this is not far-fetched, as the AcousticSleep headphones are multifunctional and have many ingenious features that the user would find exciting.
For instance, the fact that you can wear these headphones for all times and purposes- even when you go to sleep- is a major plus- a reason to find more people considering this headphone option.
With the Acoustic Sleep wireless design, the user can have the headphone wrapped around the head in a band-like manner, hence making the headphones stay on with the least difficulty throughout the period of use.
Aside from these, another sign of this headphone design is that it brings the ASMR effects to you without the slightest difficulty.
Some users say it is the best antidote for breaking off insomnia since it stimulates their ASMR responses within minutes of use. This is true, even when you're in the noisiest location, which is why it qualifies well as a sleep headphone.
This also means that it serves well in blocking out noise and helping you focus more on a particular thing you're doing. The headphone area's components leadless electronics arrangement, with the best ability for achieving sound optimization and directional control.
Acoustic Sleep is wireless with a Bluetooth infrastructure that aids convenient device use. The Bluetooth battery is designed to last an average of ten hours, with a full charge time placed at about three hours.
All functioning components of the headphone are hidden in a fabric design that soothes the skin well.
Pros:-
The headphone can be easily transported and used anywhere with minimal discomfort for the user.
Its Bluetooth provision makes it even more convenient to use, especially for people on the go- maybe on travels, the workplace, or some other activities where corded headphones are not ideal.
They come in different sizes and colors, allowing you to choose the option that suits you more.
Fabric design is of two types: soft fleece fabric and moisture-wicking fabric.
Headphones are safe for use as they do not release harmful RF emissions.
Cons:-
Headphone fabric may get dirty after consistent use, and cleaning must be carefully done; otherwise inner component of the headphones may easily get damaged.
Check Price on Amazon
3. Sennheiser HD598 Cs Closed Back Headphone
This Sennheiser headphone is indisputably classy and aesthetically appealing. It is one of the relatively recent and most important products of the Sennheiser brand.
This brand, whose activities in the audio headphone sector span over fifty years, incorporates features based on observed needs and uses the requirements of headphone users from overtime.
Hence, the HD598 carries every touch of perfection and has been able to find a place amongst the top ranks comfortably.
According to most reviews coming on the product, most users have had a great experience using it, with a rising number of market choices for the product.
The Sennheiser HD598 is made of high-quality body materials, which indicates its high durability and possible lifespan.
They come with ingeniously engineered transducers that effectively use aluminum voice coils to deliver high-quality dynamics and sounds with relatively less distortion.
They are made to cover the ear well, with a good sound concentration that facilitates a pleasurable listening session for the user. The device comes with two connection cables that can be plugged in and detached from the headphones.
The cable is made to serve different purposes. Thus, the 3m cable with a 6.3mm jack is designed as a module for the entertainment system at home, while the 1.2m cable with the 3.3mm jack is attachable to mobile phones and is useful for making and receiving calls.
Note that the device works on an ergonomic acoustic refinement framework that aptly directs music to your ears- making you get that in-room experience as if it was live musicals.
This headphone considers ASMR effects by ensuring that every element of the ASMR audio material as produced is what is amplified out for the user's listening.
Now, if you desire high-quality build headphones with comfortable leatherette ear pads and a comfy head bar, then the Sennheiser HD598 may be the option you're looking for.
Pros:-
The headphone prides itself as an ingenious product borne out of years of company experience and carefully built considering the average market member's needs.
Dual cable provisions that allow a user to switch between use options- whether they wish to connect it to a home entertainment system or to use it with their laptops and phones
Good pricing for a headphone of its standard and market category
Ergonomic acoustic refinement makes music worth listening to on the Sennheiser HD598
Cons:-
A headphone is not ideal as a sleeping phone since it covers all of the ears
The cable attachments could be a disadvantage as they may hinder user movements.
Check Price on Amazon
AMAZING! : Sennheiser HD 598 Cs REVIEW!
Note:-
I have written a post for people looking for the best
headphones for drummers
, do read it If you are interested.
4. MAXROCK (TM) Unique Total Soft Silicon Sleeping Headphones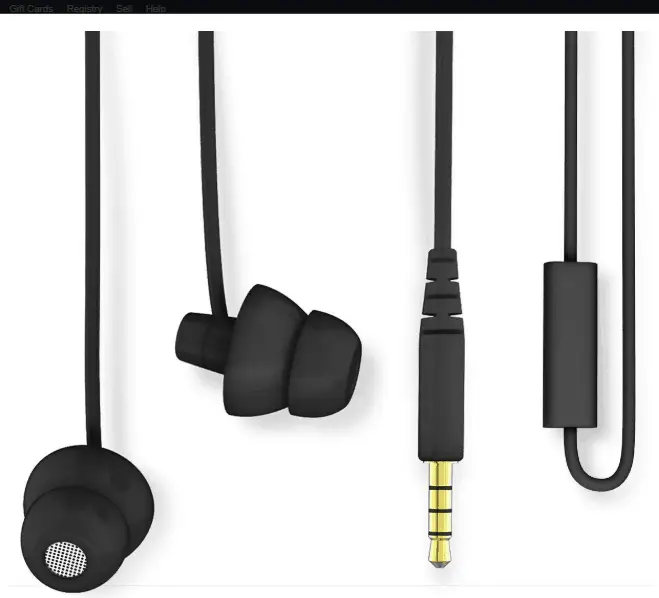 The MAXROCK (TM) Unique Total Soft Silicon Sleeping Headphones is a beautifully designed headphone with Mic for cellphones, tablets, and a 3.5mm Jack Plug. It comes in 5 different colors, out of which you can make your choices.
This product offers a super comfortable silicone material that makes it very easy to use. It also comes with an ErgoFit Design, making it very attractive and durable.
If you are interested in a headphone that offers great sound optimization, you are in the right hand with this product as it comes with a 6mm drive through a 5-micron composite diaphragm. You also get a tri-band equilibrium and a high-frequency resolution.
The Bass is as strong as you can, and you will surely enjoy a clear and distinct treble at every use. This ASMR headphone is easy to use and wear, and you can be sure of a product that blocks out every noise around you when put to use.
The headphone also offers enough compatibility as it can work perfectly with all 3.5mm jack plugs, including Apple iPhones, iPads, iPods, Samsung Galaxy Notes, Game Console, MP3 and MP4 music players, HTC, Laptops, tablets, and more.
It also offers a lot of multifunctional buttons that make it very easy to use, including; answer or reject calls, play, pause, skip, etc. The product comes in with a weight of 3.2 ounces which is light enough for use.
Below are some of the Pros and Cons of the MAXROCK (TM) that earned it a spot in our list of best asmr headphones for sleep.
Pros:-
It offers a lot of flexibility and compatibility that allows the user to connect it with a wide range of phones and devices and still function optimally.
It offers a lot of comfortability with the ErgoFit design it comes with.
You can wear these headphones and sleep off since it doesn't cover the whole ear.
You get quality sound optimization that creates the best listening experience at all times.
It comes with mostly positive reviews from users, which points to a great product.
At just about $12, it is quite affordable and makes a great value for your money, putting it in our best headphones for ASMR list.
Cons:-
You may want to exercise a lot of care with the buds as they could be very sensitive and susceptible to damage if not properly taken care of.
Check Price on Amazon
5. Audio Technica ATH-M50x Professional 
Suppose you are looking for a product designed to impress and offer top-notch quality that would enhance a great listening experience. In that case, you must consider these headphones from Audio Technica.
It is highly recommended, and we are happy to recommend it to our readers. This product pays tribute to the quality headphones of the past, and it has been refurbished to meet the current trend while still featuring all of the admirable qualities of the classical times.
You get a 90 days warranty by investing in this product, and you can get a refund or a new product within those periods if you think this product hasn't given you what it promised (but we highly doubt you would have any reason to do that).
This product comes in a lightweight 2.2 pounds despite its sturdy looks, which makes it very easy to wear.
The interior is properly cushioned, and this would ensure a comfortable feeling every time you wear it. You can use this product with phones of different makes and models and connect it with your laptop for the ultimate audio experience.
The product comes with a 1/4 inch adapter housed in a beautiful yet solid carrying pouch.
Below are some of the Pros and Cons of the Audio Technica ATH-M50x that earned it a spot in our Best Headphones For ASMR list.
Pros:-
This refurbished classic headphone from the Audio Technica brand comes with many advantages to the users. They include:
It is designed to be tough and durable.
It can function with phones of different sizes and models and your personal computer.
It is enhanced to give out the best audio experience at every use.
It comes with a cushioned interior which makes it very comfortable to wear.
At just 2.2 pounds, it is lightweight and doesn't create a burden when worn.
Cons:-
Some folks have complained about the 9-monthly warranty as not good enough, especially for a refurbished product like this.
For $108.75, the headphone is expensive and not affordable to everyone.
Check Price on Amazon
Audio Technica ATH-M50X Review!
6. Bluetooth Sleep Eye Mask – Best wireless headphones for asmr
The Bluetooth Eye Mask Wireless Headphone is a tastefully designed headphone that offers many trendy features that would make it desirable to everyone who loves the quality.
It is mainly used as a sleep mask and a cover for the ear. Many of us are finding it hard to get enough sleep these days, but with this product, you can rest assured of getting enough sleep at all times without much hassle.
This product is powered by a high-performance 200mAh battery, ensuring that your hearing and vision are amply protected from every kind of disturbance throughout the night.
Ideally, 2 hours of charging time would provide a playtime that would last up to 8 hours, enough to take you through the night. It also comes with a Bluetooth enhancement, allowing you to enjoy a wireless connection on a 4.2 stereo sound with thin speakers and have a swell time when required.
This headphone comes with a very comfortable interior which offers a lot of softness and comfort in every use. The inbuilt speakers are adjustable, and you can decide whether to move them close to your ears or away as the situation demands.
This product is very lightweight and can be used anywhere when desired. You must also know that this headphone is washable after use.
Below are some of the Pros and Cons of the Bluetooth Sleep Eye Mask that earned it a spot in our list of Best Headphones For ASMR.
Pros:-
With the Bluetooth Eye Mask Wireless Headphones, you are afforded a lot of pros. Some of them are as follows;
It offers a wide range of uses as you can call, listen to music and use it as a mic, and the protection it offers to your hearing and visual senses.
It is designed with an interior that is soft and comfortable for all times.
It comes with a high-powered battery that keeps you protected throughout the night.
With the Bluetooth function, you are afforded the chance to listen to a variety of music from virtually all sources.
It can be used in virtually all places and is also washable.
Cons:-
The charging port could be easily broken, so you might want to be very careful with it.
Sometimes it might be hard to know if the power is off.
Check Price on Amazon
Note:-
I have written a post for people looking for the
best headsets under 100
USD to buy, do read it If you are interested.
At the time of our research on "best headphones for listening to asmr," we found a video about "What is ASMR?" worth watching.
What is ASMR? | Mashable Explains
7. SNOHE Bluetooth Headphones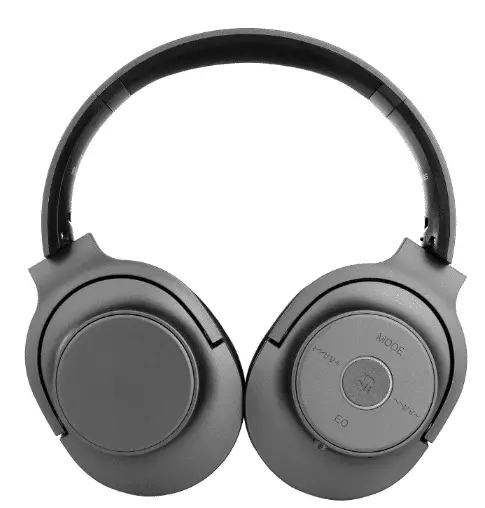 The SNOHE Bluetooth Headphones are another great option that everyone who values a great product at a very affordable price must consider investing in. This gray-colored over-ear headphone comes with a wireless headset that can be connected through Bluetooth.
It is rechargeable, and it comes with a highly functional battery that would give you 7-15 hours of playtime from just 1.5 hours of charging time.
With this headphone, you would get an audio experience of the highest quality as it comes with high fidelity (HiFi) stereo performance.
The Bluetooth function is designed with an industry-leading CSR 4.1 chip which enhances the headphone to give a clear and crisp sound at all times.
With the SNOHE Bluetooth Headphones, you don't need to worry about the surrounding noises anywhere you might be as it is powered with a noise-canceling technology that ensures that all surrounding noises are blocked and canceled out just for you to have the best listening experience at all times without any form of distraction.
This headphone comes with many control features that allow you to control it and decide what you want to listen to and at what volume to listen to.
For instance, you are afforded the chance to adjust the volume, change tracks, play, pause, pick calls, and a lot of other things all on the go.
Below are some of the Pros and Cons of the SNOHE Bluetooth Headphones that earned them a spot in our list of Best Headphones For ASMR.
Pros:-
The SNOHE Bluetooth Headphones have many major benefits for every user. Some of them are:
It comes with a noise-blocking technology that ensures you have the utmost concentration and no form of distraction when putting it to use.
At just about $20, it is not too expensive and makes a great value for money by its amazing features.
It comes with an industry-leading Bluetooth CSR 4.1chip that always ensures crisp and clear sound quality.
It has a battery that can last as long as 15 hours from just 1.5 hours of charging time.
It comes with high fidelity (HiFi) stereo performance, giving rise to the best quality audio at all times.
It comes in about four colors from which intending buyers could make their choices.
Cons:-
There are only a few cons with the SNOHE Bluetooth Headphones. They include:
At a weight of 10.6 ounces, it is not considered one of the lightest headphones on the market.
Going by its over-ear feature, sleeping with headphones on would be nearly impossible.
Check Price on Amazon
Note:-
I have written a post for people looking for the best
earbuds for small ears
?, do read it If you are interested.
📗Best Headphones for ASMR: What To Consider
When you are looking towards buying a headphone, there are some basic things you must look out for to get the best deal. Some of them include:
🤴Buyers' Reviews:-
You must check out what the buyers are saying about a particular headphone before buying it.
What is the audio experience like? Was it exactly like it was said? These are some of the questions you must ask and try to get answers to by reading the buyers' reviews before making your buying decision.
Note:- I have written a post for people looking for the Best Bass Headphones To Buy, do read it If you are interested.
🧩Brand Credibility:-
You should also consider the credibility of the brand that you are buying from. You must understand that all brands are different, and some are better than others.
You should look at the track records of the brand you intend to buy your headphones from and discover what they have done in the past. Have they manufactured some critically acclaimed headphones in the past?
What has been their performance in the last two years or so? These and some other questions would guide you on whether to buy from such a brand or not.
🎎Safety Measures:-
Certain safety measures must be put in place when manufacturing a headphone. Headphones can have a very damaging effect on the ear if not used properly, and some features should protect your hearing in each headphone.
If your manufacturer does not have these measures in place, you should think twice before buying from them, as you may be putting your hearing senses at a huge risk.
Precautions When Using Headphones
There are some precautions you must take when using headphones to avoid damaging your hearing senses. They include:
Always listen at the recommended decibel level to protect your eardrums.
You should avoid the overuse of headphones as they damage your health.
When you are around people, bring the headphone balance to the barest minimum.
When you are on the road, ensure you bring down the headphone volume, and you should watch out for vehicles at all times.
📗FAQ's on Best Headphones For ASMR
Below are a few queries on Best Headphones For ASMR that everyone is expecting to answer, and I did include the same for my readers.
Do you use headphones for Asmr?
It's most effective if you wear headphones while you listen to allow the sound to really get into your ears as intended.
Can Asmr be dangerous?
There has been no evidence or study to prove that this sensation is harmful to the body in any way.
What does Asmr feel like?
ASMR is best described as a physical sensation of tingling that usually begins in the scalp and moves down through the spine and sometimes to the limbs.
Is Asmr good for your brain?
ASMR Could Have Health Benefits Beyond The Brain Tingles, Study Suggests.
Is Asmr hypnosis?
ASMR and hypnosis have a lot of similarities.
Final Notes on best headphones for sleeping asmr list
Undoubtedly, the headphones outlined here are some of the best available in the market, and you would not regret investing in any of them.
However, it is important that you also play your role by maintaining the headphones at all times to keep them working at the optimal level, as even the best products would not function well without proper maintenance.