Choosing the Best Headsets For PUBG can be very confusing, right? 🤔 Yes!
Don't Worry
We got you covered in this buyer's guide. 😎
Elevate your PUBG experience with the best headsets on the market. Our top choices offer superior sound quality, comfort, and durability for long gaming sessions.
So if you're ready, this guide is for you only. Choose one of our top picks for the ultimate gaming experience.
Let's dive right in. 📗
Playing your favorite PUBG games without a proper headset that can make you hear where the shots and footsteps are coming from might be very disheartening.
Chances are you have gotten so addicted to the game that you cannot do without it, and you so wish to get the perfect headset that can make you get the slightest sound while playing without any surrounding noise.
Various headsets are meant for gaming, but they might not be too great as they offer inferior sounds compared to quality headsets.
The PUBG game has become popular and more people are downloading the games. The game has so improved that they have a website where players can report issues, and you have an excellent player base to compete with. 
However, playing the game means you must strive to win the game and have the right headsets because sound is very important when playing any game.
That is why you need to have the best headsets, probably the ones with a microphone.
Now you might wonder which headsets are best for your favorite PUBG games. There's no doubt that there are a lot of headsets on the market, and you might be confused about which one to get while thinking about which one to get, you need to consider the audio sound and the fitting.
Hence, below is a shortlist of the best headsets you can purchase, and it has all the features you will love.
Best Headsets For PUBG To Up Your Game👌
1. SteelSeries Arctis Pro
Are you searching for the ultimate gaming headset for PUBG? Look no further than the SteelSeries Arctis Pro + GameDAC.
In addition to being approved for Hi-Res Audio, it has a dedicated DAC and amplifier for excellent sound quality. It's also a top performer and a conversation piece because of its modern white style.
A premium gaming headset built for the best audio quality is the SteelSeries Arctis Pro + GameDAC.
It has a dedicated Digital-to-Analog Converter (DAC) and amplifier that enable it to create Hi-Res Audio at up to 40,000 Hz, which is more than twice as high as most regular headsets.
The Arctis Pro + GameDAC is not only distinguished by its exceptional audio quality but also by its lightweight comfort, self-adjusting headband, and sports-mesh ear cushions.
A retractable, noise-canceling microphone is included for crystal-clear in-game communication, and it works with both PC and console (PS5, PS4).
Overall, it's a premium headset that excels at PUBG and other intense video games.
Features:-
Certified Hi-Res Audio: The headset can create audio at a frequency of up to 40,000 Hz for enhanced sound quality thanks to a dedicated DAC and amplifier.
Both PCs and consoles are compatible with the Arctis Pro + GameDAC (PS5, PS4).
Comfortable design: The headset has a self-adjusting headband and permeable, sports-mesh ear cushions for a snug, lightweight fit.
Noise-canceling microphone: The retractable noise-canceling microphone ensures crystal-clear in-game communication by reducing background noise.
Adaptability: The headset comes with a digital audio control box (GameDAC) that makes it simple to adjust audio settings such as volume, chat mix, and EQ.
Durability: The Arctis Pro + GameDAC has a sturdy steel and aluminum structure, making it made to last.
Overall, the SteelSeries Arctis Pro + GameDAC is a premium headset with many features ideal for competitive players searching for the finest audio performance in PUBG and other games of skill.
Check Price on Amazon
2. SteelSeries Arctis Nova Pro
The SteelSeries Arctis Nova Pro Wireless Multi-System Gaming Headset is one of the best headsets for PUBG, and here's why:
The premium Hi-Fi drivers are first and foremost known for their excellent audio output, which immerses you in the game's aural environment and enables you to recognize key audio cues like footsteps and gunfire.
Additionally, the active noise cancellation technology eliminates distractions so that you can focus solely on the game.
With the ClearCast Gen 2 Mic and Infinity Power System, your teammates will always be able to hear you clearly during a game.
But it's not only for PUBG; this headset is multi-system, so it works with PCs, PS5, PS4, Switch, and even mobile devices.
The SteelSeries Arctis Nova Pro is a top-tier headset that is ideal for playing PUBG and any other game you choose to play.
Features:-
Superior audio quality with premium Hi-Fi drivers
Blocking distractions with active noise cancellation
Long-lasting battery thanks to Infinity Power System
clear communication using the ClearCast Gen 2 Microphone
Multi-system compatibility: compatible with mobile devices, PS5, PS4, and PC
Wireless connectivity
On-ear controls provide easy access to the volume and mic.
adjustable headband and ear cups, lightweight and cozy construction
steel-reinforced headband, and robust structure
The SteelSeries Arctis Nova Pro is a great gaming option, whether you're playing PUBG or any other game.
Check Price on Amazon
3. ASTRO Gaming A50
The ASTRO Gaming A50 Wireless Headset + Base Station Gen 4 is one of the best headsets you can get for playing PUBG.
You'll be able to hear every gunshot and footstep with exceptional clarity thanks to its cutting-edge wireless technology, giving you a competitive advantage in the game.
The PS5, PS4, PC, and Mac are just a few of the many devices with which the A50 is compatible, giving it a flexible option for all your gaming requirements. Additionally, the modern black and silver appearance gives your setup a little bit of elegance.
The ASTRO Gaming A50 is a premium headset that will improve your PUBG playing.
Features:-
Wireless connectivity: The A50 can connect to your device wirelessly without the use of any cords or cables, allowing you to walk around and immerse yourself in the game.
Support for Dolby Atmos: The A50 can utilize Dolby Atmos, a surround sound technology that offers a genuinely immersive audio experience. The ability to hear sounds from all directions will help you detect foes and foresee their activities.
Cozy Design: The A50 is cozy and light, with well-padded ear cups and a headband that can be adjusted to fit your head properly. This guarantees you won't experience discomfort while using the headset for extended gaming sessions.
High-quality detachable microphone: The A50 has a high-quality detachable microphone that enables clear communication with your team members. When not in use, the microphone can be removed with ease.
Options for customization: The ASTRO Command Center software with the A50 allows you to alter several settings, including the equalizer and audio profiles. This allows you to customize the soundtrack to your tastes, which makes it even better for PUBG.
Check Price on Amazon
4. SteelSeries Arctis 7 – Best wireless headphones for pubg
Steelseries is a company that manufactures gaming accessories based in Denmark. They are well known for their sleek and beautiful designs of the Arctis 7 headset.
Their headset is well patterned with Velcro straps built into the headband. This feature isn't for fancy, it is made so your headsets can fit properly, and you can adjust it to fit into your ears and your head properly.
The headset is wireless and comes in two colors, which are white and black.
The Headsets are wireless, and they come with two lithium batteries. Although they are quite weighty, it is certainly not weighty enough to give you neck cramps. 
Specifications:-
It works on PS4, PC, Nintendo, Xbox, and mobiles like android and ios.

It weighs 0.78 lbs. / 354.36 grams

It also has two lithium batteries.
Features:-
It has a clear cast microphone that gives you clarity, and the mic is detachable.

Their sound is amazing. This makes the headsets outstanding, and its software makes it easier for you to equalize and set up your profiles. All of the sounds around its channel are crystal clear and fully actualized.

It also comes with a DTS headphone with 7.1 surround sound, but only used on pc.

The battery life can last you a whole day, which is more important.

It comes with a 3.5 mm wired input.
These headsets are great for mid-range headphones, providing users with a premium sound experience. And if you love the PUBG games.
These are perfect for lovers of games. However, it is one of the best and most popular PUBG headsets because you get no distractions and noise. All your attention will be focused on the game.
Check Price on Amazon
5. HyperX Cloud II
If you are searching for a super headset that will never disappoint you, then the hyperx is just the right headset for you. This headset is impressive for your favorite PUBG, and its sound is the best.
It makes a loud and clear sound, but don't be afraid; it's not too loud to destroy your eardrums. It is very light and comfortable and comes with foam ear pads.
These pairs of headsets can be very useful and impressive to you, especially when you want a great gaming experience.
Features:-
It comes with memory foam earpads that don't allow the headsets to hurt your ears.

Using the microphone through the inline card will give you a virtual noise cancellation that will prompt your recording to come out clear.

Its frame is aluminum.

It also comes with an audio sound card 

The headset also comes with various accessories like a sound card cable, carry bag, extra ear pads, an adapter, and an aux cable.

It comes with a detachable microphone and also

Lastly, it is very comfortable to use.
The headsets have many great features worth every penny you spend on them. Due to the closed-cup design, you can get amazing sounds and noise cancellations.
While talking to your teammates, the headset ensures that it doesn't echo and that no other background noise will distract you.
No one wants to get distracted while talking to their teammates or allow your teammate to keep wondering what you said due to poor mic reception.
This headset is amazing; the sound is booming, and your teammates can hear you clearly while talking.
Check Price on Amazon
HyperX Cloud II Headset Review in 2019 Detailed & Honest. Still Worth It?
6. Sennheiser game zero – Best headphones for pubg mobile 2023
For an addicted game lover looking for a quality headset from which he can get great sound while playing their favorite game, your search has finally ended.
The Sennheiser is your go-to headset anytime and any day and her known for emanating great sounds. The German-based company that has existed since the mid-1940s has never let its users down, rather, they keep upgrading and making their sounds richer.
Most people already know that the Sennheiser headset has great sounds, but let's look at some of its features.
Features:-
it has an extraordinary mic recording and a wonderful chat quality that makes it great

it comes with comfortable ear cups.

It has a closed-back design.

Its microphone is noise-isolating.

The sound and audio quality are overwhelming.

Its microphone comes with a great recording and chats quality.

The headset also comes with a detachable cable.
The Sennheiser headset cannot let you down, no matter the circumstances. It lets you hear your teammates well as long as they have a good headset.
You can also speak to them through your headset, and you will be heard. The headset might look light, but it is weighty and bulky, and like you know, Sennheiser's product, this one is not an exception; it is worth every penny you spend on it.
Check Price on Amazon
Sennheiser Game Zero REVIEW! BEST GAMING HEADSET?
7. Logitech G933 Artemis Spectrum
Logitech is aware of people's demand for quality gaming headsets. Since they are already known for producing gaming mice and keyboards, they decided to include headsets that can be used while playing their favorite game.
And they poured all of their products into the Artemis headset. The headset has about five keys you can use to assign macro keys for the in-game commands. Although the headset is bulky and heavy, it still meets what you want. 
Features:-
It's got great and exceptional sound quality.

The headset is wireless, yet it performs significantly

It is comfortable and easy to use.

It comes with 7.1 Dolby that is surrounded by 7.1 DTS, which you can practically switch from,

It comes with a 24GHZ wireless connection

Its battery life can last up to 12 hours

Its audio mixing is a result of various source

It comes with an RCB light.
The headset is not so pricey but gives you the sound you want. It can be adjusted the way you want it.
Using the Logitech along with its other accessories, you are sure to enjoy gaming with it. And the lightning that comes with it gives you a wonderful sight to behold.
Check Price on Amazon
8. Corsair Void Pro RGB – Best headphones for pubg mobile iPhone
Here comes another amazing headset for your PUBG games. Although it is well known for its mice and keyboards that are also used for gaming, its headset, though not common, looks very stunning.
It comes with a sharp-edge ear cup, and its backlight makes it more beautiful. But it has a long range that might not be useful, except if you are so addicted to gaming that you would want to go with it to the toilet. 
Below are some of the Corsair Void Pro RGB – Black features that earned it a spot in our Best Headsets For PUBG.
Features:-
It comes with an about 40ft wireless range.

Its unidirectional mic makes your game auto-mute by merely lifting it.

Its neodymium speaker drivers are 50mm

Its battery life lasts up to 16hours, which means you can have 16hours of non-stop entertainment.

It has a virtual 7.1 surround sound which means its sound is above average.

You can tweak and customize the headset using its corsair's CUE

It has a great mic quality that allows you to hear properly and be well heard.

Lastly, its sound is exceptional.
The corsair pro RGB is well priced and produces an overwhelming sound you cannot resist. It is very comfortable, lightweight, and easy to use. Its inner ear cup is soft, so it doesn't hurt you no matter how long you wear it.
The headset gives you noise cancellation, which means even if you are in a noisy background, you can still hear properly, and your recording will be crystal clear. 
Check Price on Amazon
9. Audio – Technica ATH – M50x
Audio – technical are manufacturers of one of the best headsets that are well known, and their ATH – M50x gaming headset is no different. Gaming lovers love the headset, and it is top on their list.
The headset doesn't support gaming alone; you can also use it to listen to music and answer calls because its sound quality is a bang, and you will enjoy every bit of your PUBG while using the headset.
Features:-
The headset comes with some necessary accessories that it's a must for you to take advantage of.

Its sound clarity is exceptional, and its bass is accurate

It has a circumaural design contour around the ears that blocks out every other noise distraction
The headset sits comfortably on your head and gives you quality sounds while using it with your PUBG, you will get completely out of this world, and the only thing that will matter to you will be your game.
It isolates you from your surrounding noise and makes you addicted to gaming. When it comes to the looks of the headset and its design and body build, it is amazingly attractive.
Its earcaps are 45mm wide drivers and have a long-lasting quality experience. The headset is affordable, compared to its features, and is of a great standard.
Check Price on Amazon
10. ASTRO Gaming A50
Another well-known headset maker in the world is known to have high quality. Their gaming headset might be a little on the high side, but it will give you what you want.
The A50 wireless headset comes with a 5GHz wireless transmitter that gives you the best sound and makes the gaming experience beautiful.
Most devices come with 2.5GHz, but its 5GHz will surely take you to another level of gaming excitement. It has 7.1 surround sound, and its battery life promises to give you 15 long hours of non-stop fun.
Below are some of the features of the ASTRO Gaming A50 that earned it a spot in our list of Best Headsets For PUBG.
Features:-
Its premium design is excellent and with great quality 

For the price, it gives you a great gaming experience

It comes with a flawless microphone quality

You can wear it for as long as you want without feeling heavyweight over your head because it is comfortable and light-weighted.

It comes with several modification options for your comfort.
The A50 gaming headset is one of the best headsets for gaming because of its great sound quality and flawless microphone.
It makes talking with your teammates while on the game quite interesting because they will hear you clearly, and you won't have to bother about side distractions. Although the headset isn't compatible with your smartphones, you can enjoy using it on your PC.
What's more enjoyable than playing your favorite PUBG on a widescreen and clearly getting every move and shot? Although it's a bit on the high side, you will have an amazing gaming experience using the device.
Check Price on Amazon
11. Turtle Beach Elite Atlas Pro
You must be very excited about this one; it happens to be one of the best headsets for PUBG.
It is so comfortable that you can use it for long hours without getting hurt, and its built-in microphone provides very clear audio while chatting with your squad.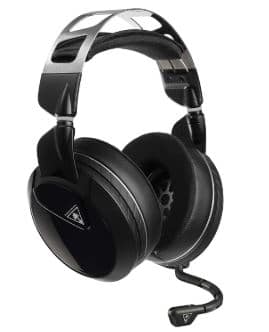 When it comes to its looks, it is premium and of a great standard. The best part of this headset is that it works both on your smartphone and your PC.
So you can carry your PUBG anywhere with you, as long as you can play it on your mobile phone. The headset is also easy to carry around because it is not bulky and won't give your neck cramps.
Features:-
It has a very wonderful body built, and its finishing is great

It gives you an amazing sound quality experience

It might not be pricey, but it is worth every penny you spend on it.

You can use the headset on any platform.

The headset might not be perfect for listening to music, but it is great for your favorite PUBG
If you check the reviews of the turtle beach headset on Amazon, you will be shocked at how many ratings the headset has from customers who have used it. So its features are not overrated; it is exactly what you get by purchasing the turtle beach headset.
It offers one of the most important qualities that a gaming headset requires: extreme bass and an impressive sound that makes your PUBG experience more exciting.
Check Price on Amazon
12. Logitech Prodigy G231 – Best headphones for pubg mobile under 1000
Here comes another Logitech headset that is perfect for your PUBG. This G231 comes with an extremely low price but still offers you the best gaming experience.
Most people might want to overlook its very low price, but then again, you don't need to judge it by its pricing; rather, try and see how magnificent it will sound while playing your PUBG.
Below are some of the features of the Logitech Prodigy G231 that earned it a spot in our Best Headsets For PUBG.
Features:-
It has a unique design and great built quality make the headset attractive.

It gives you an awesome and great sound compared to the price.

3.5 mm splitter

It can be used on various platform

Easy and very comfortable to use.
This is perfect for you if you have a low budget and still want to use the best headset for your PUBG. For the price, it has awesome features that make it worth more than what you will spend purchasing it.
It also comes with a crystal clear microphone that allows your squad to hear you audibly, making chatting while on the game even more interesting.
Although it has limited customization options, it delivers great performance and a quality sound experience that you will love.
Never underestimate the power of a low-priced headset because it still gives you the great sound experience you desire.
Check Price on Amazon
13. Sennheiser HD 558
The Sennheiser HD558 is also one of the best picks for headsets for PUBG. It delivers an amazing sound and guarantees great comfort while using the headset. You can use it for long hours and not get aching ears.
It might be a little pricey, but be sure that it provides you with the best quality you desire and is worth every penny you spend on it.
Below are some of the features of the Sennheiser HD 558 that earned it a spot in our list of Best Headsets For PUBG.
Features:-
It comes with razor's surround software.

The headset comes with an inline microphone and a short cable that makes chatting with your PUBG squad crystal clear.

Its battery life provides long hours of usage for you

It comes with amazing sound quality
The Sennheiser headset products come in different make, but they are great at various prices. They have almost the same features even if the prices are different.
And with its razor's surround software, you don't need the virtual surround, which makes this headset among the best. 
Check Price on Amazon
14. HyperX Cloud Revolver S
This is another one of the new HyperX products on the market. This particular make isn't well known yet, but it is still among your best PUBG headsets.
It is new but comes with great sounds and its own virtual surround sound drivers when enabled; there is no doubt that you can clearly hear where sounds are coming from easily and then have the edge over your competitors.
Below are some of the HyperX Cloud Revolver S features that earned it a spot on our Best Headsets For PUBG.
Features:-
The sound quality of the hyperx is great and with a resounding bass that makes your PUBG fun.

It comes with two USB cables. One is long with a USB connector and an inline control, while the other is short. 

The virtual surround sounds can be enabled or disabled anytime using the inline control.

The microphone is removable, and you can also mute it anytime

The volume and sounds  from the microphone are adjustable
Purchasing the hyperx revolver comes without regrets because it has great features like every other headset. Although, it is unique and serves the purpose of why it is made.
The new headset has a long battery life, ensuring several hours of non-stop entertainment. It is very comfortable and easy to use.
Check Price on Amazon
📗FAQ📗
Which headphone is best for PUBG?
The Logitech G533 Wireless Gaming Headset, the HyperX Cloud II, and the SteelSeries Arctis 7 are popular headphones for PUBG.
Is PUBG better with headphones?
Using headphones while playing PUBG can undoubtedly enhance your experience.
The following are some advantages of using headphones:-
Better audio: High-quality headphones make hearing footsteps, gunshots, and other sounds in games easier. Your improved ability to track down adversaries may give you a competitive advantage.
Immersion: Headphones can increase your sense of immersion in a game by providing detailed, rich audio. This can enhance your enjoyment of the game and increase your immersion in the action.
Communication:– A headset with a microphone can help you and your teammates speak more quickly if you're playing PUBG as a team. This can be helpful if you're playing on a console and don't have access to a separate microphone.
What headset is best for FPS?
Some popular headsets for playing FPS games include the SteelSeries Arctis 7, the HyperX Cloud II, and the Logitech G533 Wireless Gaming Headset.
What headset do top gamers use?
The gamer's personal choices determine this. The HyperX Cloud II, SteelSeries Arctis 7, and Logitech G533 Wireless Gaming Headset are popular among professional gamers and streamers.
Is 7.1 surround sound good for PUBG?
Yes, 7.1 surround sound can be very beneficial for PUBG as it allows you to accurately locate the direction of sounds in the game.
This can give you a tactical advantage by making it easier to find other players, footsteps, and gunfire. The immersive nature of the game can also be improved by using 7.1 surround sound.
It's important to remember that 7.1 surround sound is not necessary to play PUBG, and many players can have a good time using a stereo headset.
Whether you believe the additional advantages of 7.1 surround sound are worthwhile depends largely on personal preference.
Is PUBG good for brain?
Some evidence suggests that video games can have certain cognitive benefits, such as improving problem-solving skills, spatial awareness, and reaction time.
However, it's crucial to remember that playing video games has both positive and bad impacts on the brain, so it's vital to exercise restraint and balance.
It's crucial to ensure that gaming does not interfere with other crucial elements of your life because playing video games excessively can cause issues like sleep deprivation, poor academic performance, and social isolation. This goes for PUBG, as well as any other game.
Who is the best PUBG streamer?
Some popular PUBG streamers include Shroud, Ninja, and Tfue. Due to their game expertise and endearing personality, these broadcasters have amassed a sizable fan base.
What FPS do pro gamers use?
Since they can offer a smoother, more responsive gaming experience, many professional gamers do favor higher frame rates.
Professional gamers may utilize displays with refresh rates of 144 Hz or even higher, which enable them to play games at higher frame rates.
It's important to remember that certain games could be harder on a computer's hardware and might not be able to attain high frame rates, even with a high refresh rate monitor.
Do pro gamers use surround sound?
Yes, many professional gamers do use surround sound as it can provide a more immersive and realistic gaming experience.
A three-dimensional sound field is produced by using numerous audio channels to create surround sound, making it easier for players to detect sounds in the game environment and respond to them more quickly.
Utilizing speakers or headphones with several audio channels enables the creation of surround sound.
While some seasoned players favor more affordable solutions, some employ premium surround sound systems, or headphones made just for gaming.
Conclusion on the best headsets for pubg list
Choosing the best and perfect PUBG headset can be very confusing, right? Yes! We know and understand that feeling of frustration. We've made a list of wonderful headsets you can choose from.
All the headsets mentioned above are amazing and unique in their special way, but they all give you quality sound and a great gaming experience.
They all come with various prices that fit into any budget, so you don't have to worry about your low budget.
So if you are planning to get a new headset that can make your PUBG a success, pick one of the best listed above, and you will never regret it.