We all are fans of Internet Relay Chat (IRC) – One of the leading text-based platforms designed for communication. IRC has a big reputation for being the oldest, the most clouded, and of course, a very reliable option in the online chatting world.
What makes IRC one of the best is its extraordinary features i.e., scriptable, loggable, and more importantly, available for no cost!  
However, if you are a newbie, you may find it very challenging to understand the basic concept of IRC. The initial learning curve may be proved as a very steep ride.
The good news is, that you don't have to rely on a particular option for interacting with the IRC chat room. Even in this era dominated by social media, you can find numerous IRC clients for different platforms.
To make things very easy for you, I have come up with the 13 best IRC clients available for Windows, Mac, as well as Linux. Let's find out more about them in detail.  
Best IRC Clients – Our Top Pick👌👌
1. WeeChat

 
WeeChat is undoubtedly holding the top place as a powerful IRC client with some excellent features. The best part about the extensible chat client is, that it's available for almost all the known operating systems including Windows, Linux, as well as Mac OS.
It doesn't matter, which OS you are using, if you are looking for a reliable IRC client, you should definitely give WeeChat a try. The "feather-light" client is one of the easiest to use and can even be extended according to your requirements.  
There are multiple plugins and scripts already available for WeeChat. And its core features are definitely something you should have a look at.
Various supported plugins and scripts provide much-needed power to the IRC client. And you always have the option of loading or unloading both scripts and plugins almost dynamically in real-time.   
Features of WeeChat:-
Available for almost all the operating systems including Windows, Linux, Mac, Unix, etc.

 

Easily extensible with JavaScript, C, Python, Lua, Scheme, and Perl, etc. 

 

Fully translated and documented in multiple languages 

 

A free, active project with a massive community of scripts 

 

A lightweight core with optional multiple plugins 

 
Availability:-

Windows, Linux, Mac OS, and more
How To Use IRC With WeeChat
2. Pidgin – Best irc clients for windows
Pidgin is another powerful and very reliable platform that allows you to log in to multiple accounts on multiple chat networks at the same time. You can't only set up an IRC channel with the platform, but can also be involved in chatting with one of your friends simultaneously.  
The IRC client is available for all the leading operating systems including Windows, Linux, and other operating systems based on UNIX. And if you are a macOS user, you can surely try Adium from the same developers.
The Pidgin IRC client is also compatible with chat networks including Bonjour, GroupWise Messenger, SIMPLE, Lotus Sametime, and more.  
So, with Pidgin, you are not only limited to chatting on IRC! And the platform is surely not about secure, real-time chatting – it's also packed with modern features like file transfers, buddy icons, typing notifications, custom smileys, and away messages, etc.
And the functionality of the platform can be easily enhanced further with a wide range of plugins too.  
Features of Pidgin:-
Very simple and easy to use 

 

Not a platform for only simple, secure messaging 

 

Supports a wide range of chat networks 

 

Functionality can easily be enhanced with various plugins 

 

Can easily be translated into different languages 

 
Availability:-

Windows, macOS, Linux, and more
3. HexChat  

 
HexChat is also a free, one of the best IRC clients with easy-to-use, cross-platform operation, and customizable features. If you are concerned about certain legal things, the platform is perfectly legal, as it's an open-source platform.
HexChat was previously known as XChat-WDK which was a great successor of the popular IRC client – freakschat.
If you are looking for a very simple, legal, and highly efficient client, you should certainly try the HexChat platform. Thanks to a simple, beautiful, and minimal dual-column user interface, I can promise that you are in for a great chatting experience with HexChat.
Whenever you are connected to a legal server, you have to use the Server menu option and retrieve the long list of channels, and can connect to them.  
What more? The HexChat client also allows you access to the list of active users. You can also trigger various individual operations like checking user info, transferring files, and more.   
Features of HexChat:-
Simple, easy to use, and customizable user interface 

 

Allows you to operate across platforms

 

Highly scriptable with Perl, Python, and Lua 

 

Actively developed and fully open-source 

 

Supports SASL, DCC, Proxies, Spellcheck, and more 

 
Availability:-

Windows, Linux, and macOS
4. Quassel IRC  
"Chat Comfortably Everywhere" is the philosophy behind the development of Quassel IRC clients. And the philosophy does meet the opportunity.
The popular chatting platform gives you an excellent, pleasurable, comfortable, and secure chatting experience on all the major known platforms, including macOS, Windows, Linux, and even Android smartphones!  
The modern, distributed, and cross-platform IRC client is based on the Qt4 framework and is a lot more than just simple screen chatting, thanks to being graphical.
The platform makes communication with your peers enjoyable, easy, as well as secure. There is a central core that permanently stays online and allows one or multiple clients can easily attach or detach from the platform.  
The Quassel IRC platform is very close to WeeChat in terms of features and performance but is a lot better than so-called average BNCs. When you try to re-attach any of your clients, the platform will instantly start the session from where you left previously.
In addition, the Quassel IRC can easily be used as a traditional client, offering you both core functionality and client in a single library.  
Features of Quassel IRC:-
Simple, easy-to, and secure chatting platform 

 

Based on the powerful Qt framework 

 

Provides both core and client functionality at the same time 

 

Third-party mobile clients also available for Android 

 

Allows you to arrange your GUI the way you want 
Availability:-

Windows, Linux, macOS, and Android
How to Setup Quassel Remote Core for IRC
5. mIRC

– open source IRC clients
mIRC is undoubtedly one of the best IRC clients, especially for those who want a client specially designed to run on Windows.
It is packed with various useful features and is so simple to use. All you have to do is to feed the client with some basic details, and of course the server information, and you are more than ready to work with mIRC.  
It also offers you an option of connecting with a lot of random global IRC servers, of course, those are preconfigured with mIRC.
You also get features like multiple configurable lists of buddies, smooth connections to multiple servers, customizable notification sounds, simultaneous and secure file transfer, and more.
And the best part besides these excellent features is, it also offers you a very powerful scripting language designed for accurate and automatic tasking.  
The scripting language also plays an important role in network communications and playing exciting games. It has been around for more than two decades and is only improving with constant updates.
Thanks to a very clean and practical user interface, you are in for a decent user experience while chatting through mIRC.  
Features of mIRC:-
Allows you to chat, communicate, play, and even share 

 

Both one-to-one, as well as multi-user options, are easily available 

 

Very clean, simple, and practical user interface 

 

Powerful scripting language for multiple automatic tasks 

 

Constant improvement with regular updates 
Availability:-

Windows
6. IceChat – free IRC clients
The developers of IceChat name it as "The Chat Cool People Use", and I can tell you that they have plenty of different reasons for that. One of the most popular IRC clients is extremely capable as far as performing different tasks is concerned.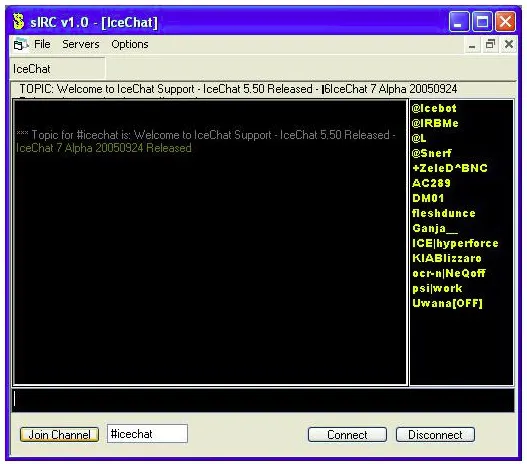 It allows you to chat securely without wasting a second, and starting with the IceChat client is as simple and easy as it gets! All you have to do is to enter the nickname, choose an IRC server according to your choice, and you are ready to talk to anyone on the same server.  
You also get a lot of pre-configured global servers for connection. And the option of configuring the custom server settings makes IceChat stand out among its competitors.
And guess what? The IRC client is available free of cost! So, if you are looking for a reliable and secure client, you should go for IceChat at least once, especially if you are new to the IRC world. The power of customization you get with this particular client is something to be discussed.
You can tweak everything in the client, including background colors, chat fonts, nickname lists, global application themes, and a lot more! Plus, with IceChat, you also get to enjoy features like custom notifications, multiple server & channel support, and even VBS-based scripting!  
Features of IceChat:-
User-friendly, simple, and smooth program 

 

Allows you to connect with multiple channels and servers at the same time 

 

Configurable custom server settings 

 

VBS based scripting with custom notifications 

 

Also enables you to run Google searches, Twitter feeds, and more 
Availability:-

Windows
7. Textual  
Textual has a reputation for being one of the best IRC clients for macOS. It allows you to interact with IRC chat rooms without any problem.
As the platform is only and solely designed for macOS, you don't have to think much about compatibility. And you know what? You can download it easily from the app store itself! So, the legality of the program is also out of the equation!  
The perfectly-designed multi-column user interface of the IRC client makes it one of the best among its competitors. Thanks to both light and dark variants, I can assure you of a pure delight if you are aiming to use it on Retina devices.  
The Textual IRC client is packed with some extraordinary features and is more than suitable for everyone interested in IRC – from the very beginners to the seasoned users.  
Basic options like a notification center, a number of keyboard shortcuts, native full-screen support, etc. are already there to make it a more than handy IRC client.
The lightweight yet supremely powerful program is more than ready to be used on IPv6. Textual also helps you with some other features like iCloud synchronization, full-text formatting, compatibility with IRCv3 specifications, etc.  
Features of Textual:-
Native notification center with native full-screen support 

 

Multiple keyboard shortcuts for ease of use 

 

Client-side certificate authentication 

 

Full-text formatting with iCloud synchronization 

 

Auto-completion of nick-name commands 
Availability:-

macOS
8. XChat Azure 
XChat Azure is another excellent, one of the most powerful, easy-to-use, simple, and full of features IRC client applications curated for macOS.
The application helps you with a very easy way of connecting via powerful and secure IRC networks. It's surely a high-quality application and you should give it a try if you are a macOS user and you are interested in IRC chatting.  
It's free to use and fully loaded with great features. You can easily get connected with IRC servers as well as channels so that you can have private and general convos easily with complete security.
Additionally, you get a lot of other goodies with the program! Robust SSL support, secure and fast file transfer, and dozens of keyboard shortcuts – everything you expect from a leading IRC client is there in XChat Azure. The source code of the open-source application is expertly and securely hosted by GitHub.  
Whether you are interested in talking publicly or you are more into one-on-one conversations, XChat Azure is more than handy for you.
And there is a very unique feature you won't usually find in other IRC clients – the XChat Azure application enables you to encrypt your messages – and if you want, the receiver can easily decrypt the messages with a unique and secure passcode.   
Features of XChat Azure:-
Supports basic and understandable scripting 

 

Encrypted messaging system secured with a unique passcode 

 

Also allows you to share files securely 

 

Real-time, integrated spell-checker for accurate chatting 

 

More than handy for both private as well as general conversations 
Availability

– macOS
9. Colloquy 
Here is another very popular IRC chat client beautifully designed for macOS. The free, open-source application supports a wide range of features and is more than just suitable for advanced IRC users.
Colloquy (Get Here) supports Mirc colors and file transfer and is also easily supported via AppleScript. If you are using macOS X, Colloquy is undoubtedly an excellent platform for communicating over the IRC network.
You get some decent features like IRC commands, nicknames, auto-completion of nicknames, as well as emoticons with Colloquy.  
If you are always concerned about the arrangement of all your chats, Colloquy is going to be the solution for you. It easily organizes all your chats in one place and makes it really easy for you to manage them.
If you want to use some specific words or nicknames during the chat, you have the power of configuration as well. The IRC client automatically highlights the specific words and nicknames while mentioning them. It supports all the common IRC commands with excellent accuracy.  
Features of Colloquy:-
Supports iOS multitasking as well as most of the popular retina devices 

 

Nickname and emoticon completion popups for convenience 

 

Visual display of the user information for all the users 

 

Supports landscape mode without any problem 

 

Searchable room member list right from the chatroom 
Availability:-

macOS
10. Lime Chat 
If you are in search of a fast, secure, and reliable IRC client, then I am sure your search ends here with Lime Chat.
The client is perfectly written on the popular RubyCocoa framework and allows you to seamlessly connect to more than one server without much fuss, and that too, with completely secure SSL encryption.
The Lime Chat client remains active for as long as 10 minutes in the background and allows you to minimize it while multitasking without thinking about losing the connection.  
Thanks to a lightweight, user-friendly, and performance-enhanced user interface, you can easily navigate through different channels and messages simply by using the mouse pointer even with multiple buttons on the keyboard.
The client also helps you with real-time notification for massages, even when you are active on a different channel. Since the app is also powered by auto-lock, you can surely take a coffee break without any sort of fear.  
Features of Lime Chat:-

 
Automatically converts the URL into clickable links 

 

Comfortable operations thanks to the rich keyboard shortcuts 

 

Fast, secure, and stable 

 

Multiple servers in a single-window

 

Supports auto authentication for Nickserv, SSL & SASL 
Availability:-

macOS and Windows
11. Konversation  
Konversation is a very productive and one of the best IRC clients from the KDE platform and is designed specifically for Linux.
The IRC client is packed with an on-screen display feature that easily generates overlay messages whenever someone mentions your nickname.
This special feature allows you to keep multitasking without any disturbance. In addition to a simple and powerful user interface, Konversation is also packed with a wide range of insurmountable features.  
The URL catcher in the platform allows you to easily access any website only with one click. The channel bookmarker feature in the platform enables you to add special characters without any kind of elaborate typing.
If you like using certain commands very frequently, you can easily get rid of repetitive typing thanks to the "Quick Buttons" feature. Overall, the Konversation client is packed with a lot of amazing features and can be more than enough for Linux users.  
Features of Konversation:-
Attractive OSD display with simple and professional user interface 

 

A very effective built-in URL catcher with channel bookmarker 

 

Supports multiple platforms including Linux, Windows, and FreeBSD 

 

DDC support for sending and receiving files 

 

Supports per channel encoding 

 
Availability:-

Linux, Windows, and FreeBSD
12. ERC 

 
ERC is another wonderful IRC client with a special feature of Emacs text editor. Thanks to this unique feature, you can easily modify and customize the chats not only according to your style and requirements.
If you are interested in programming, you are going to love the client's capability of easily creating functions and commands. ERC is already packed with a lot of functions you usually look for in the leading IRC clients.  
You get in-built support for multiple channels, keyword, and nickname highlighting, one-on-one private messaging, etc. with ERC. ErcAutoQuery in the platform allows you to automatically start the queries whenever you revive a new private message.
And if you want to ignore some nicks and notices, you can check out the ErcIgnoring feature. RET ERC modules are there for enabling or disabling modules with the help of M-x customization.  
Features of ERC:-
Supports multiple channels and servers 

 

Allows you to quickly join any channel with an auto-join feature 

 

Automatically converts URLs into clickable buttons 

 

Highlights special characters and emoticons 

 

Timestamps for future reference 

 
Availability:-

Linux
13. IRCCloud: IRC Client for Android – A Bonus
Thankfully, IRC is not only available for computer brainiacs! If you want to use it on your Android smartphone, IRCCloud is one of the best IRC clients.
It's a very basic client designed for Android and is more than suitable for newbies who are taking baby steps in programming or the Internet Relay Chat system.
The app allows you to stay online even if you don't have a stable internet connection. The client keeps running in the background and allows you to continue from where you left with a stable connection.  
You don't even have to worry about losing your chat history because the app automatically syncs all your data to the cloud.
If you are wondering that the app comes with limited features being an Android platform, here is the good news for you! It doesn't! You can't only get notifications, can also share and receive files and apply all types of customizations with utmost ease.  
Features of IRCCloud:-
Allows you to stay connected even with an unstable connection 

 

Automatically syncs all your chat history 

 

Quickly get notifications for private messages and mentions 

 

Attach any type of file and share with utmost ease 

 

Simple, clean, and powerful user interface 
Availability:-

Android
📗FAQ
What is the best IRC client for Windows 10?
mIRC is undeniably the best IRC client for Windows 10, and it's designed perfectly for chatting, communicating, playing, and sharing. It also allows you one to one add multi user options in a very practical, simple, and clean user interface.
Is IRC still used 2022?
Yes, IIRC is still rocking 32 years later! It has been allowing people from across the world to share historic news, find a lot of find a lot of exciting topics and subjects, and discuss literally everything with like-minded people in real time. Even today, there are more than 2000 IRC servers along with nearly 500 IRC networks successfully operating around the world.
What programs use IRC?
There are numerous amazing IRC clients still available. For example, mIRC, WeeChat, Pidgin, and LimeChat etc.
Is there still mIRC?
It is not only there, but has become one of the favorite options for those who always look for reliable IRC clients.
What has replaced IRC?
There hasn't been any replacement for IRC till date. However, there are various clients you can explore that are offering decent IRC experience.
Is Whatsapp an IRC?
Internet relay chat was introduced in 1988 to allow people message in real time over the Internet. While so many other options have become more common and popular since then, programs like WhatsApp primarily function in developer communities.
Is IRC illegal?
No, not all of it is legal. Based on the keywords monitored by various safety websites, more than 90% of IRC traffic of more than 60 channels is illegal.
Is discord just IRC?
According to Jamie Zawinski, Discord is an IRC with pictures. However after some detailed the studies, experts have found that it is actually not an IRC. Instead, it is way worse ask compared to the overall concept of IRC. The most annoying thing, it pretends to be IRC without such features.
Are IRC channels safe?
If you are good enough at ensuring your security, IIRC is save overall. The encryption is not mandated by IRC, it is not even enabled by default in most of the cases, you still have the option of enforcing encrypted client-server or server-server connections on your own IRC server.
How do IRC channels work?
It is a one stop destination of multiple interconnected servers. And, it provides a massive platform for group communications, via named channels, and even through personal communications. IRC channels can easily converse with other users already connected to any server in any IRC client network.
How do I join IRC channels?
After downloading an IRC client of your choice, you will get all the information related to joining IRC channels without much problem.
Conclusion 

 
I hope that you have liked my work of listing the best IRC clients available for different platforms. Depending on your operating system and device, you can try any of them.
But here is a useful suggestion for you – spend enough time learning about the client and try performing simple and relatively small operations. You will find these IRC clients very useful especially if you are a newbie in programming or Internet Relay Chat.
If you have already used any of these clients, do let us know your experience. And if you think a decent client is missing from the list, don't forget to mention it in the comments box below.