Very recently, I was asked by an architect friend of mine looking to get a laptop my opinion on the best laptop for architecture students to buy. 🤔
These kinds of questions bring out the geek in me. I think I went on for the next one-hour explaining and breaking it down to the tiniest details.
This question has prompted me to give details in this post for anyone in his shoes searching for the best laptops for architects in 2022.
Laptops for architecture are very specific. They must be purchased with ARCHICAD, Revit, Vectorworks, SketchUp, V-Ray, Studio Max, and 2d or 3D modeling applications in mind.
Hence the foremost question to put one on the right track will be if these laptops have the right specifications to optimally run these applications.
If the answer is yes, you have got a winner. If not one must reconsider and opt for a different laptop.
In making my shortlist, I have duly considered the specs and features of the laptops. This has left me with a minimum specification to use as a standard for every laptop in this review.
An Intel i5 processor
8 GB of RAM
At least 2 Gigabytes of GPU VRAM
A full HD screen of minimum of 15 inches' size
A 512 GB of storage space minimum
Best Laptop For Architecture Students: Our Picks
Please take note that this list is in no particular other.
1. Lenovo Thinkpad P50
This pricey laptop is an important addition to the list. The Lenovo Thinkpad P50 laptop comes with an Intel Xeon E3-1505M v5 processor that is, quad-core.
No doubt this is a guarantee for super-fast processing. This quad-core processor has the capacity to deliver at a maximum processing speed of up to 3.70 GHz.
With this kind of processing power, running architectural software with ease is a given, even more so due to the support of dedicated Nvidia Quadro M2000M.
Other than great processing capabilities, the Lenovo Thinkpad P50 comes with a whopping 16GB DDR4 RAM. Its storage is 256 GB SSD; outputting data super rapidly.
It comes with a 15.6 inches Full HD display and offers a 1920×1080 pixel resolution. One great feature of this pricey item is the backlighting of the keyboard. This guarantees that even in the darkest places, your laptop use is not inhibited.
This great device has support for multiple connectivities including:-
Thunderbolt 3 Type-C port
RJ-45
HDMI port
Mini display port
Four USB3.0 ports.
One last feature that is noteworthy is the long hours of battery life. This could span an incredible 13.2 hours. you definitely would not be in a hurry to always charge this Lenovo laptop which makes it the Best laptop for architecture students lists.
Below are some of the Pros and Cons of the Lenovo Thinkpad P50 that earned it a spot in our list of Best Laptop For Architecture Students to get in 2022.
Pros:-
Great processing power
Large Memory – 16 GB RAM
Large full HD Display
Additional security with a fingerprint scanner
Cons:-
Extremely pricey and may not be easily obtainable by a student
Check Price on Amazon
ThinkPad P50 Long Term Re-review!
Note:-
I have written a post for people looking for the
best laptop for revit
, do read it If you are interested.
2. Microsoft Surface Book 2
The Microsoft Surface Book 2 is a strong contender for the Microsoft surface book laptop for architecture list.
This great piece of computing power runs on an impressive Intel i7 processor. It also always will come with the latest Windows 10 OS.
A great selling point of this computer is its high-quality display. It has a PixelSense touchscreen coupled with a 3260 x 216-pixel resolution. With this computer, it is hard to ask for more.
Powered by an NVIDIA graphics card, it obviously has a very high graphics capability. The 16 GB RAM makes multitasking a pleasurable experience. Just like there could be more asked of this system, it comes with huge storage of 1TB SSD.
The best way to describe its design is sleek and minimalist. The display of 15 inches, offers users a great experience. This guarantees consumers excellent visuals, wider viewing angles, and more accurate color reproduction.
This allows you to produce better-looking designs because of the accurate colors. Talking of sleek, this beauty comes with a detachable screen giving one the added feature of converting it to a tab. The external ports help for connection.
Below are some of the Pros and Cons of the Microsoft Surface Book 2 that earned it a spot in our list of Best Laptop For Architecture Students to get in 2022.
Pros:-
It can be used as a tablet
It has large onboard storage
It comes with several ports
Cons:-
It comes with a small screen – 13.5″
It is un the upper side of a budget
Check Price on Amazon
Here's Why The Surface Book 2 Is Worth $3000
3. Dell Inspiron 7567
This is another great laptop worthy of this list. With an Intel Core i7 processor, it is almost beastly. It comes with an NVIDIA GeForce GPU; making sure one enjoys a lag-free use of highly CPU-intensive tasks such as those from architectural apps.
Some of its IO units include a built-in card reader as well as a DVD drive which provides better access to architectural modules from different file transfer devices.
The screen produces a great display that has a resolution of 1920 x 1080 pixels. Also one must note that this laptop comes with an in-plane switching technology which allows for better sharpness, wider angled view as well as a more accurate color reproduction
Its high storage space and capable GPU means one can use highly intensive architectural tasks such as 3d modeling and design rendering in confidence that the Dell Inspiron 7567 can handle them seamlessly.
A feature to note is the heat management of this device. In my educated view, it is excellent. This is because of its thermal cooling system embedded in its board.
External features of the laptop include:-
Three USB ports
A jack for Ethernet connection
A slot for SD cards
HDMI outlet
A microphone and headset port.
Below are some of the Pros and Cons of the Dell Inspiron 7567 that earned it a spot in our list of Best Laptop For Architecture Students to get in 2022.
Pros:-
The great and efficient processor
Large storage
Several connection ports
High-quality display
A great thermal cooling system
Cons:-
Battery life can be better
Check Price on Amazon
Dell Inspiron 7567 Review - $800 GTX 1050 Gaming Laptop!
At the time of our research on "Best Laptop For Architecture Students", we found a video about "How to Survive First Year Architecture School" which is worth watching. 🔎
How to Survive First Year Architecture School - Time Management
4. Lenovo ThinkPad P51
The feature that puts this laptop on its own league is the scratch-proof matte body finish. This simply implies that it can withstand the usual drops or scratches from various materials; something unavoidable with device use.
This is not just the only external security, it is equipped with a magnesium alloy body below.
Its Kaby Lake i7 processor working under the hood is fast and efficient. One definitely should expect to be able to work without lags especially when performing tasks like editing designs. Of course, the rendering of designs will be extra fast as well.
This beauty is equipped with a high-speed 1 TB SSD. One could store about anything needed in this super-fast storage.
This Lenovo is also great for connectivity. It comes with four external ports, thereby giving you the capability of connecting up to 4 monitors; this is simply a wow.
This laptop is great for CPU-intensive tasks, thanks to its reliable NVIDIA GPU. Thanks to its easily capable SD card reader, you can transfer files at a speed of 200 MB per second.
One can transfer files at a rate of 867 MB per second thanks to its wireless module. Many laptop users will understand this is super fast.
With all the above-mentioned features, it may be easy to forget some lesser but great features of this Lenovo system. Features such as a 720p webcam, fingerprint reader, dual-band WIFI, and a water-resistant touchpad make it the best computer for architects.
Below are some of the Pros and Cons of the Lenovo ThinkPad P51 that earned it a spot in our list of Best Laptop For Architecture Students to get in 2022.
Pros:-
Efficient processor
Scratch-proof matte finish body
Fast file transfer
Large storage space – 1TB SSD
Cons:-
The keyboard may not be the most adequate
It is a pricey piece of gadget
Check Price on Amazon
5. Apple MacBook Pro 15″
This laptop is a befitting member of this list for a host of reasons.  First is the fact that it dons Apple's technology and its excellent reputation and it most definitely lives up to its company's promise.
Even though for some reason the MacBook's operating system can raise eyebrows for consumers, even architects, no one can deny the extreme value the MacBook Pro gives to its users.
This laptop offers special convenience to its users. Performing tasks with the MacBook Pro will be perfectly seamless thanks to its Intel Core i7 quad-core processor which is clocked at 2.7 GHz.
More notable is the great memory capacity; 16 GB LPDDR3 RAM and 512 GB HD. Obviously, the MacBook Pro comes with MAC OS out of the box.
If you are not an addicted Mac user, you should not allow that totally discourage you as there is a workaround so that you can still use Windows programs on a MacBook. Programs such as Parallel can let you do just that.
It comes with a 15.4-inch screen and an excellent resolution. You are sure to get a display with better color reproduction and high graphics capability.
Just another great feature is its battery life. This can go up to 10 hours on just a single charge. To buy this laptop, one must be will and ready to shell out its high price. This is one of the top expensive laptops on this list.
Below are some of the Pros and Cons of the Apple MacBook Pro 15″ that earned it a spot in our list of Best Laptop For Architecture Students to get in 2022.
Pros:-
Powerful processor
High-resolution display
Great battery life
Cons:-
Quite expensive
Smaller storage
Check Price on Amazon
6. ASUS VivoBook
The pretty looking ASUS VivoBook is an Asus product; a company that is reputed for churning out high-quality products in the market. The ASUS VivoBook has lived up to the billing of the company name.
Other than being great for the architecture student, it must also be considered as an all-around laptop, boasting top-notch specs at a reasonable price.
This light laptop comes with a pretty metallic finish and a definite premium design. its weight is a meager 3.75 lbs, making it one of the lightest in the market and even besting the MacBook.
With its wide touchpad, one is certain to have a more accurate experience. The 8th generation Intel Core i7 processor coupled with the NVIDIA GeForce MX 150 GPU found under its hood makes it such a great bargain. With this set of configurations and specs, architectural tasks become a breeze.
It comes with a wide 14-inch display which may not be the largest of other devices on this list. The audio system is great, with ASUS SonicMaster technology to allow crispier sound and a better auditory experience.
One last feature to note is its backlit keyboard and 8 GB DDR4 onboard RAM. Other than multitasking, working in the dark would not be so hard.
Below are some of the Pros and Cons of the ASUS VivoBook that earned it a spot in our list of Best Laptop For Architecture Students to get in 2022.
Pros:-
Pretty premium design
Great audio – SonicMaster technology for better audio output
Backlit keyboard
Lightweight
Cons:-
Screen size could be larger
The small bezel on the screen
Check Price on Amazon
7. DELL XPS 15
First to grab one's attention is the cost of this machine. It is quite expensive. But a great way to look at it is its portability. It is really indeed sleek and lightweight.
It is definitely topped for architecture students as it should handle virtually any project during architecture school & most projects working architects encounter.
The configuration is just what a workstation near its price can offer. The CPU is a quad-core processor with 3.8GHz for Clock Speed. It comes with 8GB of RAM which is not bad on its own and can still be upgraded to up to 32GB.
For this computer, most of its models also come with the fastest storage device for laptops: PCIe NVMe based SSD.
The storage size may be seen as small but should be adequate enough for the installation of any architect software a student will require.
A workaround if excess storage is required will be to buy an external hard drive. One could do this while keeping the current working files on the PCIe SSD to take full advantage of its tremendous reading/writing speeds.
This great laptop allows one to install a separate HDD on top of the SSD to have the unique combo of SSD and HDD.
About the only factor separating any Dell XPS 15 model from a full-blown workstation, is the graphics cards: they come as either a 1050GTX or its TI counterpart. This, however, should handle all the project files & software used in Architecture school.
With this laptop, one is basically paying for the design is the design. The display is 15" and FHD. There's also a 4k display model however, this may be one thing that could give issues with some of your AutoDesk programs for which you'll have to revert back to Full HD.
Even though this laptop is extremely lightweight, it still has all the essential ports you'll need for any connectivity with external displays, projectors, and other devices too. The only exception will be the old ethernet port. This premium laptop, it's entirely made of aluminum too.
Below are some of the Pros and Cons of the DELL XPS 15 that earned it a spot in our list of Best Laptop For Architecture Students to get in 2022.
Pros:-
It is lightweight
Great processor, good for multitasking
Has NVIDIA GeForce GTX 1050 4GB Graphics
Cons:-
It is on the upper part of a budget
Check Price on Amazon
8.  Acer Aspire E15 E5-576G
Just at the surface, one notices that this could be about the cheapest in the category of best laptop for an architecture student. And at its price, a student can get away with using its configuration for most of the school projects.
With that in mind, this is a great bargain for the chief architect as it will be able to handle any model size since the software itself isn't very demanding on graphics and only requires a GPU with 1GB VRAM which all dGPUs released during the past 3 years have.
This system has the following specs:-
Core i5-8250U 3.4GHz
8GB RAM DDR4
NVIDIA MX150
256GB SSD
15" full HD TN
5.3lb
11 hours of battery power
With these specs, most components are on par with the premium laptops listed.
It comes with an 8th generation CPU with 3.4GHz for Clock Speed + 8GB RAM. The quad-core processor that it comes with is guaranteed to allow one to render just as fast as any of the laptops shown before.
A downside to this computer, however, is the graphics card. It is more of an entry-level release along with the 10th generation cards: MX150. If you are a student, you should be ok with it.
A great selling point about its design is the fact that RAM & Storage can be easily upgraded by simply unscrewing the compartment on the bottom and inserting both another 8GB RAM & an additional 1TB HDD just as easy as inserting a pen drive into a USB port. This means one could always go for better productivity whenever they choose.
The display is great also with full HD, a matte finish, and an IPS screen. The battery life of this system does not falter either. going for as long as about 11 hours on backup.
This may not be exactly the same if one is designing and using viewport most of the time since this will tax the GPU & energy consumption.
Below are some of the Pros and Cons of the Acer Aspire E15 E5-576G that earned it a spot in our list of Best Laptop For Architecture Students to get in 2022.
Pros:-
Fast SSD Storage
Upgradable RAM and Storage
Great Battery
Not very pricey
Cons:-
It could do better with graphics
Check Price on Amazon
Note:-
I have written a post for people looking for the
best laptop for sims 4
To Buy, do read it If you are interested.
9. Acer Predator Helios 300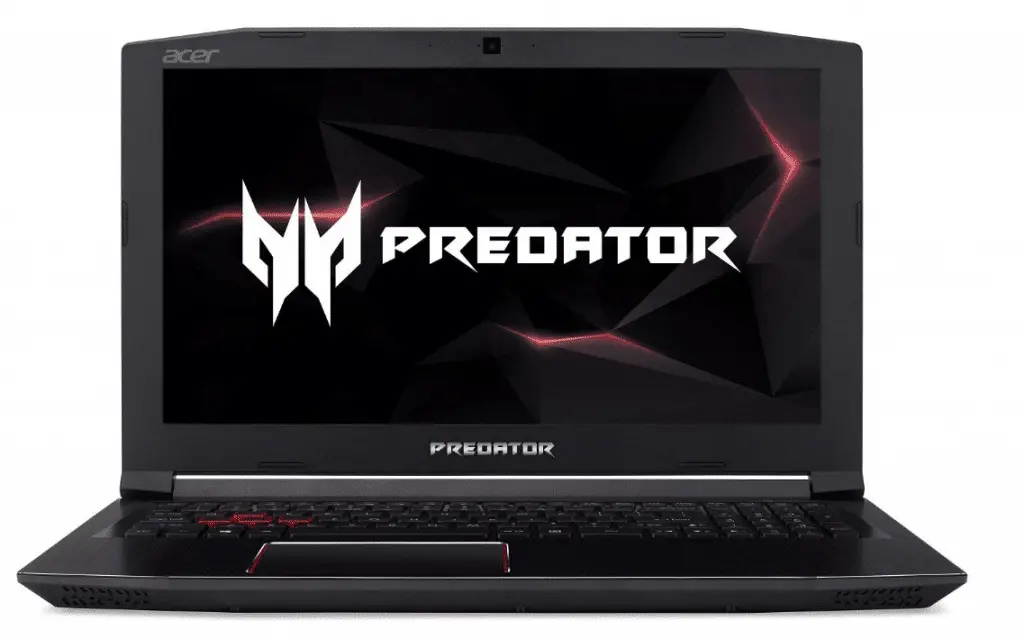 I have considered a number of great laptops on this Best Laptop For Architecture Students list, but this is one deserving to make the cut as well. One thing one is sure of using the beast is that no matter how packed with CAD software the curriculum is, it should handle pretty much any model & software.
It comes with a CPU is of the 7th generation, but a remarkable clock speed (3.8GHz), four cores, and great cache memory thanks to its core i7.
The 10th generation 1050 TI GTX will be a swift pacesetter while drafting complex scenarios both in architecture school and in the workplace.
The graphics card is also impressive. A 1050 "TI" GeForce graphics card, there's a wide gap in performance with its counterparts: which is the 1050 "non TI" GTX. It boasts about the cheapest currently with this option.
The display could have been better. Especially when folks very particular about display come in contact with this. However, one must note that the display should suffice for most operations the student will need. It is full HD and serves just well for 3D modeling software.
I do feel there is a little flaw, in many ways inconsequential, with the design. As it has a huge MSI Dragon logo on the back. It may not be the most appropriate for a work laptop. Obviously with it, one would make a lot of gaming friends.
Below are some of the Pros and Cons of the Acer Predator Helios 300 that earned it a spot in our list of Best Laptop For Architecture Students to get in 2022.
Pros:-
Great processor
Large RAM
Fast storage
Cons:-
The MSI Dragon logo does not just look good, but that's a personal thing
The Display could have some more work done on it
Check Price on Amazon
📗FAQ's on Best Laptop For Architecture Students
Below are a couple of queries that everyone is expecting to answer and I did include the same for my readers.
Which laptop is best for architecture students in India?
1.Acer Aspire E15 E5-576G 2.DELL XPS 15 3.ASUS VivoBook 4.Lenovo ThinkPad P51
Is Macbook good for architecture students?
We didn't recommend Macbooks as the top choice for architecture, as there is not a Mac version of most Autocad products (for example Revit).
How much RAM do I need for architecture?
Minimum is 8 GB but we are recommanding at least 16 GB for better performance.
Do architecture students need laptops?
Most architecture students do need to buy a laptop (or at least a desktop ) on their own anyways.
Is Surface Pro good for architects?
Conclusion
Finding the Best laptop for architecture students has been a hard list to review as there are many great options in the market, but with this educated review, your options should have been narrowed down and your decision much easier.
As an architecture student, you must know your graphics and specs for running your modeling are essential and should not be compromised.
If one decides on a very cheap computer, they may be letting go of the essential specs to carry out the basic work tasks and projects required.
Even if you do not have the money for what you need to enjoy your work, you can either save for a while or simply go for the more affordable ones among these lots.
Rather than go too cheap at the risk of lower specs, one could customize their current systems to fit these needs. This may be a cheaper option for some.
One should have in mind that a laptop must be perfect for the purpose it was bought. If after getting or upgrading a system for your architectural studies, you still have to run up and down to fix issues, the aim has been defeated.
There is no hundred percent perfect laptop, but many of the cons or disadvantages that have been outlined can be overlooked, especially if they do not affect performance.