This is a complete buyer's guide to Best Laptop For Drawing in 2022. 🤴
The best part?
All the laptop mentioned in this buyer's guide is based on the Speed of Hard Drive, Hard Drive Space, RAM, Pen Stylus, Processor, and Monitor.
So without further ado, Let's dive right into this Best Laptop For Drawing buyer's guide. 🎭
For most artists, it is really comfortable to draw on a graphics tablet and much easier when it is plugged into a laptop or PC. While this makes work easier, being able to draw directly on a laptop screen with the help of a digital pen is even much easier.
In addition, having a laptop, you can draw directly on makes drawings far more accurate. To join the innovation and flow with the technological trend, some laptops make this possible and in the most precise way possible.
Best Laptop For Drawing – Our Top Picks
1. Microsoft Surface Pro 6
This particular line of Microsoft Surface has gained some popularity over the years. Its pen being upgraded regularly makes it even more enjoyable and easy to use, especially when a drawing is involved.
Microsoft Surface Pro 6 comes in an Intel i5 processor and a RAM of 8GB, which makes it the perfect fit for carrying out drawings on your favorite software without encountering any glitches whatsoever.
This laptop helps you draw better with its great inking capability and gives your drawings some style, sophistication, and touch of modern-day technology.
It comes with a mouse that fits easily with your hand and allows you to show every single part of your drawings in 3D.
Features:-
Windows 10 OS allows you to do even more and get all sophisticated with your drawings.

Precision ink allows you to carry out drawings on one hand while correcting your mistakes with a rubber eraser on another.

A slim, light mouse that easily conforms to your hand has Bluetooth connectivity and can be easily carried around.

Very light laptop weighing just 1.7 pounds. This makes it easy to carry and draw anywhere you find yourself.

Battery life lasts all day after a full charge and has video playback of up to 13.5 hours.

Intel core processor of the

8th generation

enables more power.
It can be used in three different modes; the laptop model that gives you a complete laptop experience, the tablet mode that allows for an easy and alone tablet experience, and the studio mode that lets you draw from any angle with the stylus pen.
Although the Microsoft Surface Pro comes in only 128GB of storage, it is budget-friendly and can carry out your drawings effectively.
Microsoft Surface Pro 6 Review: Still the best 2-in-1 tablet
2. HP Spectre x360 – Best laptop for drawing and animation
This laptop is an excellent piece of work with a beautiful design. Not only does it come in a very beautiful package, but it also works very well for drawing.
It comes in a convertible notebook with 360 degrees hinges that can be converted into four different modes. To artists, advantage, artists include a tablet mode where drawings can be easily carried out.
It doesn't end there; the HP Spectre x360 also comes with an installed Nvidia GeForce MX150 graphics card. The purpose of this card is to produce excellent effects visually on a 15-inch display. Its HP active pen included in its box also provides a solid user drawing experience. 
The HP Spectre gives users the best drawing performance due to its Intel Core processor. It maintains speed even after extensive use due to the 16GB of DDR4 RAM. 
It offers you the luxury of a full day's work of up to 16 hours of battery life on a single charge.
Features:-
The 1920 x 1080 pixels screen resolution gives more than enough screen space for drawing.

The battery lasts up to sixteen hours after continuous use on a single charge.

Windows 10 Pro OS makes it compatible with various drawing software and provides a great user drawing experience.

It comes with a graphics coprocessor of

Intel UHD Graphics 360

It has a memory speed of 2133 MHz, which makes your work even faster to process.

USB 3.0 port that allows for easy and fast transfer of any type of files and data.
An 8th Generation Intel Core Processor of i7-8550U allows for a smooth working performance every single time, regardless of the nature of the task.
The HP Spectre X360 has weak hinges and a not-so-great keyboard layout.
However, it is fully powered by the Intel Core i7 Processor of the 8th generation and can also be paired with up to 16GB of RAM, providing you with excellent ease of use. 
HP Spectre X360 (2019) Review - The Battery King!
3. Lenovo Flex 5 – Best 2-in-1 laptop for drawing
This is one of the best laptops to use for every budding artist. With a 14-inch display, it possesses great viewing and displays bright colors. A 360-inch hinge allows you to use this laptop in whatever form you desire.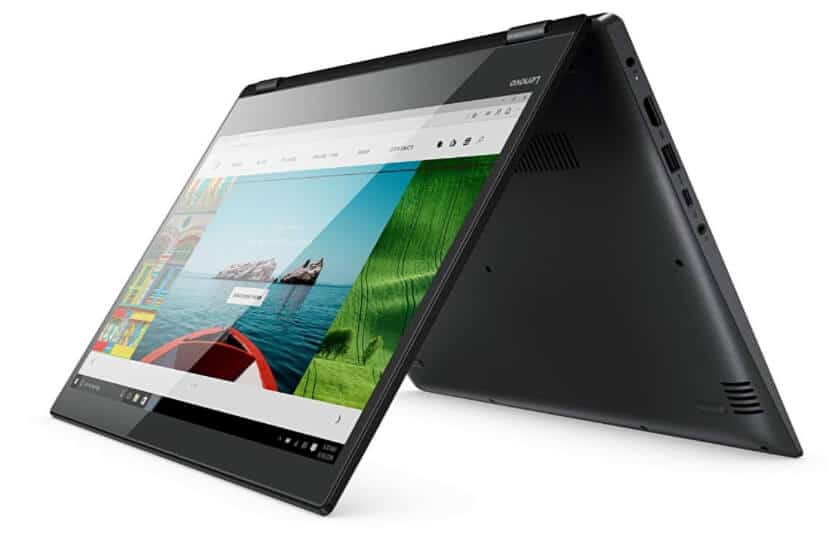 The Lenovo Flex 5 comes with a 128GB SSD with 8GB DDR4 RAM, making it very suitable for everyday use. This laptop allows you to carry out heavy tasks without encountering any glitches.
It also has a fingerprint reader that lets you use the Windows Hello feature to access your laptop easily.
Being a 2-in-1 stylish laptop, it also serves as an entertainment powerhouse, making your drawing time even more fun and one to look forward to constantly. Its processor is very powerful and gives your drawing experience all the boost it requires.
Features:-
A 360-degree hinge that offers you great flexibility. It can be flipped into a tablet mode for easy drawing and surfing the web, a tent mode that allows you to stream TV shows effortlessly, and a laptop mode when the situation arises.

The display screen of HD IPS allows you to work from any angle while providing you with vivid details.

Narrowed bezels on both screen sides help to maximize a viewing experience.

It comes with a touchpad that is updated and, as a result, provides comfort when used.

It has a Lenovo active pen that can be purchased differently and gives life to your ideas with its ink and pen capability.

Windows 10 OS comes with Cortana, which assists in carrying out your tasks in the easiest way possible.

Battery life can last up to 10 hours, depending on the task.
Overall, the Lenovo Flex 5 is quite heavy compared to other drawing laptops but using a laptop bag makes it easier to carry. However, its ability to carry out tasks no matter how heavy they are makes up for its size.
Note:-
I have written a post for people looking for the 
Best Drawing Tablets
To Buy, do read it If you are interested.
4. Microsoft Surface Go – Best touch screen laptop for drawing
This laptop is a cheaper alternative to the Microsoft Surface Pro 6. Weighing just 1.3 lbs., this laptop is one with the lightest and smallest surface yet. As a result of its portability, it fits into your bag perfectly.
The Microsoft Surface Go has an Intel processor that is powerful and offers you a battery life of up to 9 hours. It is not only fast but also very efficient and comes with lots of unplugged power. Its slim design is suitable for everyday use.
It has the latest Windows OS design with Office 365, which offers you a mind-blowing experience.
Features:-
It can be converted into different modes – laptop mode, studio mode, and tablet mode depending on whichever way you want it.

Surface Signature Type Cover offers you a full keyboard experience and provides you with a rich color combination that compliments your style.

Office 365 works well with all of your Microsoft Office applications.

One Drive cloud storage of 1 Terabyte provides

you with more than enough room to store your drawing files.

Its surface pen allows you to draw in the most natural form possible while using precision ink on one end and a rubber eraser on another.

The mobile surface mouse grants you precise control and navigation experience.

10-inch high-resolution display that makes drawing easier. 
Although the Microsoft Surface Go is not as powerful as Microsoft Surface Pro 6, it still offers quite an experience for users with a tight budget.
Microsoft Surface Go review: surprisingly good
5. Microsoft Surface Book 2 – Best touch laptop for drawing
This laptop is one of the best laptop options to go for when drawing for artists who are willing to spend much. It comes with the versatility of four different modes, making it quite different compared to other laptops of its type.
It has a studio mode that makes drawing and painting easy and flexible with its Microsoft Surface Pen features.
In addition, it can handle heavy graphics tasks easily and gives you beautiful results. Its 10-point multi-touch support takes your drawing to a whole different level with beautiful display colors at your disposal.
Its hardware comes in two different varieties for you to choose from: a 7th Generation Intel Core i5 dual-core processor and an 8th Generation Intel Core i5 quad-core processor. Whichever you choose is guaranteed to provide you with the desired result.
Features:-
The surface pen has a pressure sensitivity of 4,096 levels, providing an awesome drawing experience.

Best graphic performance all day with its powerful software.

The versatility adapts to whichever way you decide to create.

A backlit keyboard that allows you to create regardless of the lighting condition.

Provides the best Microsoft innovations, including 3D experiences.

The flexibility allows you to convert it into any mode that works best for you at any given time.

Its studio lets you draw in a very comfortable and natural position.

It lets you use voice commands when interacting with Cortana. 
The Microsoft Surface Book 2 might be quite an expensive laptop, but it gives you a run for your money. It provides you with accuracy, precision, and flawless results that help you take your drawing to the next level.
6. Dell XPS 13 – Best convertible laptop for drawing
Of all 2-in-1 convertible notebooks suitable for drawing, Dell XPS 13 is one of the best. It can be used in multiple modes conveniently in whatever way you choose.
It has an InfinityEdge touchscreen and is known to be the world's smallest 13-inch 2-in-1 notebook of its kind.
With a screen that offers an excellent viewing experience, this laptop is about to blow your mind off with its very detailed QHD resolution. In addition, it comes in a 360-degree hinge that provides flexibility in four different positions – laptop, tent, stand, and tablet position.
Regarding storage, users can always choose between 128GB and 256GB, where SSD storage is concerned. It also comes in Intel Core i5 and Core i7 Processors, offering up to 16GB of RAM.
Below are some of the features of the Dell XPS 13 that earned it a spot in our list of best touchscreen laptop for drawing.
Features:-
InfinityEdge screen is 4mm wide, which provides an excellent user experience.

It has an anti-reflective screen that allows you to enjoy working indoors and outdoors easily.

It can respond to your voice with the help of its built-in microphones from up to 14 feet away.

Its Type-C ports let you charge your laptop while connecting to several devices simultaneously.

It is very portable and can be easily carried anywhere you choose.

it is very durable due to its aluminum body; the presence of a Gorilla Glass 4 makes it twice as resistant to damage as other laptops.
Overall, the stylus pen that comes with Dell XPS 13 is not the best for drawing, but it can always be replaced with another compatible one that allows you to draw in the most comfortable position.
At the time of our research on "Best laptop for note taking and drawing", we found a video about "25 DRAWING TRICKS TO DRAW LIKE A PRO," which is worth watching. 🏆🏆
25 DRAWING TRICKS TO DRAW LIKE A PRO
7. Samsung Chromebook Pro – Best cheap laptop for drawing
When it comes to Chromebooks, they are easily overlooked where a drawing is concerned. However, this laptop comes with a great OS that is lightweight and super-efficient.
This simply implies that it doesn't require being run on top-end hardware. Putting this into consideration can save you a lot of money.
You get to select your preferred drawing applications from its store without worrying about your laptop's ability to handle the pressure.
It also works with very powerful speed and can be easily converted to any form you deem fit. With this laptop, you can always access your applications whether or not you are online.
Features:-
The built-in pen allows you to pen down your ideas, whether you are doodling or sketching in a very detailed manner.

Intel Core m3 works fast and efficiently and runs all your software with the required speed.

It adapts easily to whatever task you are carrying out, whether as a laptop or a tablet, or in whatever mode.

It allows you to keep track of your applications wherever you find yourself, regardless of your internet connection.

It has an average battery life of up to 9 hours after a full charge.

A pen can be used to unlock the device, take a screenshot, and magnify your tasks.
Although the Samsung Chromebook Pro comes in an Intel Core M3 processor with just 4GB RAM, it can still carry out any task on the Chrome OS. Not only that, but it also comes equipped with all the horsepower you need. 
Samsung Chromebook Pro Review
8. Lenovo Yoga 920 – Best laptop for drawing and gaming
This laptop has a 13.9-inch display that takes drawing to a new level. Powered by the 8th generation Intel Core i7 processor, it provides 16GB RAM. In addition, its storage can also be supported with SSD storage of up to 1 Terabyte.
With its active Pen 2, drawing is as comfortable as when using a normal pen as the pen comes with a 4,096 sensitivity level.
It can be switched to different modes while performing tasks effectively according to its user's preference.
The unique aspects of this laptop are its aesthetics and portability. It offers the great sound quality, making listening to music while drawing much fun. With updated windows 10 OS, it provides you with top-notch features that make your drawings more fun.
Below are some of the features of the Lenovo Yoga 920 that earned it a spot in our Best Laptop For Drawing list.
Features:-
Very active Pen 2 that allows for easy navigation on its 13.9-inch screen. Its screen is responsive, which makes navigation even easier.

Windows 10 can be booted easily due to its 512GB solid drive.

You can see more of your videos with its ultra-thin bezels.

It has an integrated graphics solution that can effectively carry out your creative tasks.

Eye-catching hinges allow for easy conversion into any form.
Although Lenovo Yoga 920 is not the most affordable laptop when considered the Best Laptop For Drawing, its price is still fairly decent compared to other laptops. Also, the level of productivity you derive from using it is worth the price.
Best Laptop For Drawing: What To Consider
Drawing comes in various forms, which is why the type of drawing used determines what to look out for in a laptop required for drawing. This will prevent you from spending too much money on a laptop that is not necessarily needed.
Below is a list of a few things to consider when considering the Best Laptop For Drawing.
Speed of Hard Drive:-
The hard drive's speed directly affects your work's speed, so to avoid wasting precious time, it is better to go for a laptop with just the right hard drive speed. It comes in different speeds measured in RPM.
For a laptop meant for drawing, the hard drive speed should be at least 7200RPM. When speed is not listed on the laptop, it is better to make adequate inquiries before purchasing the Best Laptop For Drawing.
Hard Drive Space:-
The size of your work files determines the minimum hard drive space to go for when considering a laptop for drawing. A hard drive space of at least 1Terabite is recommended. This will give more than enough room for your drawing software and files.
RAM:-
RAM is important because it helps you put your artwork on screen before you finally save the end result. The RAM size, therefore, determines how much on-screen art you can have on your laptop.
The higher the RAM, the more artwork you can save. To effectively do this, at least 4GB of RAM is recommended for light drawings. If your drawings will be heavier, then 8GB of RAM is recommended.
Pen Stylus:-
To carry out drawings effectively on a laptop, a stylus pen should be included and a nice one. The pen is what enables you to draw directly on the laptop screen, so it has to be comfortable.
Processor:-
For a drawing laptop, it is recommended to go for at least one with a dual-core processor. However, if you will be doing more such as 3D rendering, then you can opt for a laptop with a higher processor.
Monitor:-
An LCD monitor with a very high resolution and a lot of pixels will do well for a drawing laptop. This is because the amount of pixels determines the amount of work you can have displayed on your laptop's screen.
For drawing, purchasing a laptop with at least 1600 pixels is recommended as it will give you enough work area to carry out your task and display all your palettes and controls. In addition to this, a glossy monitor screen is also recommended.
Conclusion
All the laptops mentioned above in our Best Laptop For Drawing lists have their distinct function when it comes to drawing laptops, and each will provide you with a great user experience.
You can rest assured of getting your money's worth when settling for either of the laptops.