This is the ultimate Buyer's guide to Best Laptop For Medical School in 2022. 🤴
For this buyer's guide, we tested around 15 laptops available in the current market based on Pricing, Laptop Processing Power, Memory and Storage Capacities, and Product Weight and Design.
And, finally, we came up with 7 of the best Laptop For Medical School for our readers.
So without further ado, Let's dive right in. 🎭
Medical school requirements are usually detailed and specific ones, and if you want to make things really convenient for you while you study, then it is just good to go for the best- if you can.
Most of the medical student's study activities are characterized by graphics and plates, while the use of hard-copy textbooks is fast fading from the scene.
It is also now most likely, that the lecturers now prefer to direct their students to online sources or ask them to download course materials from their dedicated study websites.
What this means for you- the medical student is that you need a good device to view those soft copy materials that are full of pictorial representations- here and there.
Asides from that, your researches and downloads are best pulled through when those activities are carried out on a good facilitating tool.
Hence, this is where a laptop becomes a school necessity for a medical student. Note that having a laptop for your medical studies enables you to concentrate more, and eases you of the stress and inconveniences associated with making use of a shared computer.
Although there are several brands and models of laptop devices on the market, the medical student needs to understand which ones are appropriate enough for their type of activities.
The following are some of the best laptops for medical school- based on their specifications and their relevance to medical study activities:
Best Laptop For Medical School: Our Top Picks 👌
1. Apple MacBook Air 13.3″ Laptop Bundle
The sleek Apple™ MacBook Air is definitely one of the best laptop devices on the market- thanks to the Apple company's years of technological expertise and ingenuity.
This product comes with the best features that anyone can wish for, and the medical student can rest assured of the wide range of accessibility and convenience that the device brings.
Its battery life is notably strong, allowing you to use the device for up to 🔋12 hours- after an initial full charge. This means that your activities for the day are well covered, with little or no power failure- for as long as twelve hours last.
You can stay back in classes, go through your lecture notes and slide, and even see some tutorial video contents, without having a need to compulsorily charge the laptop.
Features on the MacBook Air are an Intel Core i5 processor, that facilitates speedy processing of every activity you want to carry out from internet browsing to graphics display, etcetera.
There is an accompanying SSD storage on the device, which together with the 5th Gen Intel processor installation, allows you to do everything fast which makes us put this in our best laptop for medical school list.
Note that the speed of this combination is about 17x faster when compared to a 5400 rpm storage hard drive.
The featuring screen display on a MacBook Air, goes by the dimension of 1400 × 900 pixels- all coming to you on a 0.19 inches thick screen. This definitely facilitates the clarity that you need to see- each time you use the laptop.
Some other features of importance are the multi-touch trackpad, keyboard with backlight features, 8GB 1600MHz RAM facility, etcetera.
Below are some of the Pros and Cons of the Apple MacBook Air 13.3″ that earned it a spot in our list of Best Laptop For Medical School to get in 2022.
Pros:-
The lightweight structure allows easy mobility from place to place, without you feeling like you've carried an excess load.
The internal solid-state (SSD) storage drive, is considered an advantage of the device over what is found in other laptop computer provisions.
The macOS- on which the MacBook Air also operates, is highly protected and less susceptible to damage from viruses and windows-peculiar malware.
The battery life is notably impressive, allowing you to use the device for long hours.
Hardware components are made of the best materials available.
Cons:-
There are limited software applications provided- when compared to the Windows™ operating system.
SSD internal storage is limited, and this is a demerit for large storage activities.
The laptop is expensive; in fact, it still rates as one of the most expensive for medical college students.
Check Price on Amazon
2. ASUS VivoBook S Thin and Light Laptop
This is another top-notch laptop product, with mind-blowing characteristic features. The ASUS VivoBook is one of the highly-rated computers suitable for a medical student.
As a doctor in training, you would find this laptop relevant for virtually all of your digital-facilitated activities.
This is because it has been produced to come with superb hardware setups, that guarantee high output processing abilities overall.
It comes with a thin body, that is also light and easy to carry around. Hence, moving classes to the study hall, and back to the hostel, doesn't seem a big deal when you're carrying the laptop.
Remarkably, the ASUS VivoBook S displays an 8th Gen Intel Core i7 processor, which is an improvement over the MacBook Air. The screen size is placed at 14 inches, with a maximum screen resolution of 1920 × 1080 pixels presentation display.
Other specifications on the ASUS VivoBook S, are a dedicated NVIDIA GeForce 2GB graphics MX150, an 8GB DDR4 random access memory, and a 14 inch HD full nano edge screen display of 1920 × 1080 resolution, amongst others.
Below are some of the Pros and Cons of the ASUS VivoBook S Thin and Light Laptop that earned it a spot in our list of Best Laptop For Medical School to get in 2022.
Pros:-
There is an inbuilt fingerprint reader that allows easy and more secured user login
It processes and stores data fast, allowing users to carry out such activities in the leader possible time.
ASUS VivoBook S, displays a high-tech audio sound system, that you'll definitely enjoy.
Thin and lightweight design allows easy movement around.
The laptop has a colorful and appealing bright display.
Cons:-
The touchpad is rather inconvenient and maybe a little difficult to master from the start.
The USB port provision cannot be used for charging externally attached devices.
Check Price on Amazon
ASUS VivoBook S14 Review - 14" College Laptop with MX150 GPU S410UN
Note:-
I have written a post for people looking for the
best laptops for teens
to buy?, do read it If you are interested.
At the time of our research on "Best Laptop For Medical School", we found a video about "MEDICAL SCHOOL – 4 Years EXPLAINED" which is worth watching. 🏆
MEDICAL SCHOOL - 4 Years EXPLAINED
3. Microsoft Surface Laptop
The Microsoft Surface Laptop with its touchscreen razor-sharp display brings convenience and efficiency for utilizing medical students.
All features on the laptop are top-notch, with every one of them having significance to your everyday activities. From the ambisonic audio system to the slim body that allows you to slip it in between books in your bag, and the Cortana virtual assistance, this device makes everything come easy on you.
The screen output is a 13.5-inch pixel display, having maximum display resolution placed at about 2256 × 1504 pixels. This laptop is designed to have an ultra-slim bezel build, that gives most of the screen, a borderless kind of appearance.
Intending buyers can choose a RAM capacity of either 8 or 16 gigabytes– depending on their budget and system requirements. The storage capacity also comes in variants, allowing intending users to have a number of options to choose from.
Microsoft Surface laptops are manufactured with variant SSD provisions of 128GB, 256GB, 512GB,  and 1 terabyte. On average, battery life for the device is an estimated of a little above 14 hours of video playback, after a full charge.
The operating system is Windows 10 OS, and the laptop has a durable premium build that works wonders.
Below are some of the Pros and Cons of the Microsoft Surface Laptop that earned it a spot in our list of Best Laptop For Medical School to get in 2022.
Pros:-
The Microsoft Surface laptop is especially loved because of its enhanced SSD storage infrastructure. Users are also allowed to choose which storage capacity suits them at the point of sales- which is another plus.
The design is sleek, making it appealing and aptly easy to use/move about.
The device comes with a lovely black color theme, that is endearing and captivating in essence.
The laptop performs well, allowing you to carry out several activities on it, on different tabs- at the same time.
The aesthetic design is top-notch, yet rugged to last for a long time.
Cons:-
There are no USB C slots attached to the computer.
The Microsoft surface laptop does not have an SD card slot, hence removing the possibility of the direct use of a micro SD card with the laptop.
The manufacturer did not include options for 4G LTE communications.
4. Dell XPS 9560 – 7001SLV
If you're looking for that high innovation-inspired laptop with some of the most ingeniously incorporated features, then the Dell XPS9560 7001SLV pus laptop may be your best shot.
As it stands, this computer is one of the most sought after by students of the medical college. The reasons for this include its high performance and specific design patterns.
The laptop comes with an almost borderless bezel display, for a 15.6 inches screen size. Hence, the view is aptly massive to give you that all-rounded visuals on graphic presentations.
The visuals you get on the product are aided by its ultrasharp 4k screen display feature and a maximum of 3840 × 2160 pixels in screen resolution. The laptop gives you a detailed view of your anatomy and physiology pictorial plates, with its 100% Adobe RGB.
This feature together with the laptop's IGZO IPS display helps facilitate the display of images in the clearest imagery representations.
Note that the product's screen is Corning Gorilla Glass, which makes the screen about ten times less likely to have a scratch- when compared to some other materials like the soda-lime glass.
The product comes with 16GB DDR4 RAM and up to 512GB storage capacity, hence guaranteeing top-level processing speeds and adequate storage space, respectively. Its processor is the Intel Core i7 7700HQ, which is still quite recent and valid.
Below are some of the Pros and Cons of the Dell XPS 9560 – 7001SLV that earned it a spot in our list of the Best Laptop For Medical School to get in 2022.
Pros:-
Top-notch technology and high-performance rates. It definitely rates amongst the best in its category.
The laptop function is effective for multitasking; a user can load up several functions running concurrently, and without any hitches whatsoever.
The battery life is superb, allowing users to make use of the device for several hours before a charge is needed.
The screen display and graphic presentations are still some of the best, hence making it a good recommendation for medical students.
Product design is ingenious- ensuring durability and continuous functionality.
Cons:-
Check Price on Amazon
Dell XPS 15 9560 REVIEW - The Best Gets Better! (Kaby Lake + GTX 1050)
5. Samsung Chromebook 3
The Samsung Chromebook 3 tries to carry the touch of quality, which is characterized by the Samsung™ company.
Although the company is well noted for its mobile device manufacturer, it seems to be doing remarkably well with its newfound line of production. Consequently, Samsung Chromebook 3 comes with the required function quality features that are just good for your medical studies.
Firstly, this product is an advantage for students because it is handy, and easy to carry from place to place. It is compact enough to fit into your school bag- together with some of your books, without adding any much weight to it.
Note that this product comes with an installed chrome operating system, hence allowing users to experience the best of study and research work.
Some of the product features and specifications include an 11.6 inches HD WLED screen display, 4GB 1600MHz DDR3 RAM capacity, and Intel dual-core Celeron N3060. The screen resolution is about 1366 × 768, with an anti-reflective framework that helps prevent eyestrain on the user.
This means the student can carry out hours of reading on the laptop, with little or no strain effects felt. Battery life is also pretty impressive, as you can use the laptop for up to 11 hours after initially charging it fully which makes this laptop put in our best laptop for medical school list.
Below are some of the Pros and Cons of the Samsung Chromebook 3 that earned it a spot in our list of Best Laptop For Medical School to get in 2022.
Pros:-
The laptop keyboard comes with a spill-resistant type board that protects you from making repair and replacement expenses over and over again.
Samsung Chromebook 3 uses applications instead of regular system programs.
The anti-reflective display allows you to use the laptop for a long, without a damaging effect on the eye.
The attached wireless AC is connectable to smartphone devices, for data transfer and smartphone charging.
Battery life is quite impressive
A little less expensive, as compared to some other laptops within its category
Cons:-
The laptop may not contain so many spectacular features as compared to other laptops
Space capacity on the device is low
Check Price on Amazon
6. 2018 Newest Acer R11 11.6 inches Convertible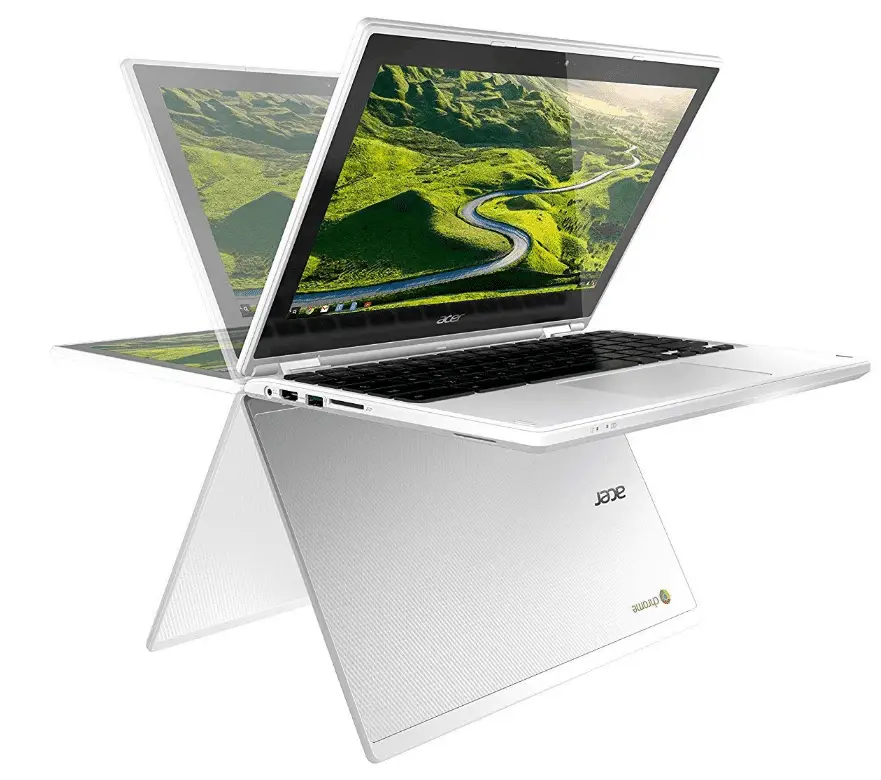 This classy and stylish convertible Acer laptop is fast gaining market popularity. Due to its level of design sophistication, a number of analysts have hinted at the product to possibly rank amongst the most bought laptops for medical school.
The characteristic traits of the laptop, are those favoring detailed internet surfing, as well as study and research work. Since it is a Chromebook, it comes with a pre-installed Chrome OS.
The screen size for the device is about 11.6 inches, with a maximum resolution of 1366 × 768. Although this specification may not be considered too impressive, the laptop is yet functional and able to show high-quality image graphics.
Product specifications for the Acer R11 convertible include a 32GB eMMC storage capacity, 4GB DDR3L RAM, dual inbuilt stereo speakers, and the Intel HD graphics adapter.
There is a 1280 × 720 HD Webcam, 3 Li-ion batteries of 3220 mAh each, one of USB 2.0 and 3.0 port each, as well one HDMI port (HDCP supported).
Lastly, as you would expect with a convertible, a user can switch between using a keyboard for typing, using the touchscreen, or a combination of both.
Below are some of the Pros and Cons of the 2018 Newest Acer R11 that earned it a spot in our list of Best Laptop For Medical School to get in 2022.
Pros:-
A laptop is comparatively inexpensive
The product guarantees high performance for every basic medical student activity.
Stylish design confers products with class and elegance.
There is an attached HD graphics card on every product.
Cons:-
Limited storage space available on the laptop device
Screen resolution is quite poor, compared to those of closest competitors
Check Price on Amazon
7. HP AMD A6- 7310
This is another top-notch product from the stables of the HP computer industry giants. As always, this product also comes with the trademark ruggedness and durability tendencies that are significant features of the company's products.
It is a massive 15.6 inches laptop, with an AMD processor E2-3800. The laptop has a basic 4GB DDR3L RAM and 500GB storage space capacity. Note that the storage is a mechanical hard drive component and not an SSD feature.
There is an SD card slot, thus you can easily copy, transfer, send, or retrieve information and documents from the system to the micro SD, or vice versa. Asides from this, there are 2 USB 2.0 ports, one 3.0 USB port, and an HDMI input port. The installed operating system is Windows 10, and an AMD brand processor.
This is definitely a good laptop beyond the average level score, and it is just perfect for all your study and research activities.
Below are some of the Pros and Cons of the HP AMD A6- 7310 that earned it a spot in our list of Best Laptop For Medical School to get in 2022.
Pros:-
The HP AMD A6 7310 comes with top-notch features and is an improvement over other HP models.
A laptop has high durability tendencies and would average remain intact with good use.
Well designed to facilitate and support user multitasking activities.
There is a background WLED backlight display on the product
Comes with adequate storage space; 500GB storage capacity.
Cons:-
The battery life is not so impressive when compared to those of its competitors; allows only a little over 5 hours of use after being fully charged.
Webcam feature is a low-grade VGA
Check Price on Amazon
Best Laptop For Medical School Students: What To Consider
Choosing the best laptop for medical school is essentially important- so that you don't get frustrated or somewhat electronically incapacitated.
There are a good number of laptop brands and models out there, but sincerely not all of them would serve you well; or in essence, you may find one to be more productive for you, than the other.
Haven listed the best laptops for medical school, it does not necessarily mean they would definitely be suitable for every medical student. Each laptop has its own peculiarities, as well as weak point features.
For instance, while one student would still do well with a laptop having a short battery life, another may not be able to cope with this. This may be because of their difference in availability of free time to plug and charge the device, or a difference in their access to charging power.
This is the reason why you need to understand how to effectively make the choice for your own suitable type of laptop.
What are the things that must guide your decisions eventually? Below is a list of things to look out for, before finally buying a laptop for your medical school:
Pricing:-
Oftentimes, the first thing to consider before deciding on what brand and model to buy is the price tag on each of the options before you.
While most times, it is easier to conclude that only the most expensive products are top-notch, this is not true in many other cases. You can get a reasonably good and highly efficient laptop for medical school, without having to spend so much as you would do for the highest-priced laptops like the MacBook.
Before going on to make a comparison between products, it is important to determine the price range that you've reflected on your budget.
After this is done, begin to list out the products that fall within this price range, begin considering the other factors. This process makes it easier to eventually hitting the right option.
Laptop Processing Power:-
Before you go ahead with your purchase, this is one of the most important factors that should guide your decision.
Usually, newer Intel processors like i9, i7, i5, and i3, as well as some AMD Ryzen versions, are recommended speed facilitating processors.
However, depending on your type of activities, you may not need to necessarily go for the highest power processors- especially since they influence the prices you would be spending on the purchase.
Going for an i5 high power processor may be a good option that is just fine for your reading and research, even though you know that the i7 processor would definitely speed things up more.
Memory and Storage Capacities:-
If you can get that laptop with a large memory, then it's fine. However, the student type of laptop use (except if they also engage in gaming activities), does not require too much of computing memory.
This is because most of the memory features on the best laptops for medical school has enough memory to host the usual activities like typing projects, reading lecture notes, or browsing the internet.
Notwithstanding, you should carefully decide on the type of activities you're going to be carrying out on the device before you finally hit the play button.
Storage on another hand should be determined based on what information you would be saving on the computer, and how large they would be. Although a lower storage tendency is not advisable, you may go for medium-spaced storage- if your demand for space is not high.
Product Weight and Design:-
If your laptop is the heavy type, then you may have issues moving it about. If you know you would be using your laptop at different locations for each day, then you need to go for a laptop that is probably sleek and light-weighted.
This would enable you to move about it in a bag, without adding extra weight load to your already huge medical books and materials. Make sure your choice is that which covers all of these essential features; don't even think of overlooking this one.
How To Ensure Longevity For Your Laptop
After making the purchase, the next important thing is protecting it from damage- which could lead to your spending on a repair or an outright new purchase.
There are a few simple steps to keeping your laptop safe. Irrespective of how delicate or rugged your laptop is, the following protective measures should do:
Never place heavy objects on the laptop:-
This could happen before you know it, so you have to be extra conscious of not letting it happen. Instead of packing up your heavy textbooks together with the laptop, it is better of you could find a separate compartment within the bag- that you'll dedicate for the laptop alone.
Otherwise, you may find a separate bag for the computer. Placing heavy objects on the computer may damage the screen or some other important elements in the laptop.
Try not to expose the laptop to water or intense heat:-
Depending on the type of laptop product and its inbuilt specifications, some laptops may get badly damaged if water or any other fluid gets into them.
Heating up the system too is not ideal for the laptop. Hence, since you may not be able to readily tell if the laptop is affected by water spillage or excess heat, the best thing to do is to save up the laptop away from the elements.
Carry out periodic servicing, as deemed fit:-
Depending on how much you use the laptop, it may be necessary that you carry out periodic checkups and servicing for the system.
This would make you know if there is a damaging component, and if you need to be more careful with the way you use it. Choosing the best laptop for medical school just got better- considering all the listed information.
Remember, every laptop has its own pros and cons, so you just need to weigh the options and settle for the one that suits you more.