There is that one moment in every DJ's life when she or he decides to become one. It requires a great love for music, an ear to catch good music, and some great equipment to get you started on becoming a DJ.
This equipment includes a strong pair of headphones, good speakers, the right software (and we are talking about the Serato DJ software here in particular), and the best laptop for Serato DJ software.
There are a few things we need to look out for when buying a laptop, and there are a few other things that are especially necessary based on the purpose behind buying that laptop.
For a DJ, it is important to have the best laptop for Serato DJ software so that the combination of the two, computer and software, can give the best results.
So, what are some of the things to look out for when buying a laptop for DJing? Before diving into the list of best laptops for Serato DJ software, let's take a look below.
Laptop requirements for DJing:-
We must look at several things when buying a laptop to complement the music we produce with it appropriately, which are listed below.
Processor:- Aim for a quad-core or better processor. This will give you enough power to operate DJ software and any other apps you require.
Memory: A minimum of 8GB of RAM is advised, but 16GB or more is preferable for running several applications simultaneously.
Storage: An SSD is advised for quicker load times and improved overall performance. It's advised to have at least 256GB of storage, but more is always preferable.
Graphics: Although a dedicated graphics card is not required for DJing, it can be useful if you also intend to use the laptop for video editing or gaming.
Portability: You might consider a lighter, more portable choice if you intend to bring your laptop to performances.
Battery life: If you intend to use your laptop for prolonged periods, large battery life may be crucial.
Compatibility:- Check that the laptop you choose is compatible with the DJ software you intend to use. Most DJ software is compatible with Mac and Windows operating systems.
Best Laptop For Serato DJ Software – Our Pick👌
Now that we know what to look for in a laptop to go with the Serato DJ software, let's dive into the details of a few great ones that would be perfect.
1. Dell XPS 9560
The Dell XPS 9560 is one of the best laptops for any DJ because of its processor and various other features.
We know that we need a highly powerful processor and RAM to support all the software and applications a DJ must use simultaneously.
The Serato DJ software is one such DJ software that requires a super strong processor and whatnot.
With an Intel Core i7 HQ with 16GB RAM and 512GB available SSD space, the build of the Dell XPS 9560 is just as attractive as the system which supports it.
This laptop has a sleek look and is also light and portable. It is perfect for carrying around for a DJ, and its battery life is also quite high, above average.
Pros:-
A strong Intel Core i7 processor is one of the most compatible with the Serato DJ software.

A 16GB RAM means great multitasking abilities for the laptop, and a 512GB SSD means that one need not modify the storage space because this is ample.

Higher than average 8-hour battery life.

15.6-inch LED display with brilliant graphics and a backlit keyboard.

The laptop is light and thin, thus, easy to carry around.
Cons:-
For some, this laptop can be large and bulky to carry around because of its size (although it is light).

This laptop is on the expensive side.
Check Price on Amazon
Dell XPS 15 (9560) Unboxing
2. ASUS ZenBook Pro – Best laptop for virtual DJ
The ASUS ZenBook Pro is a brilliant laptop, rather a great choice for those looking for the best laptop for Serato DJ software.
This laptop is one of the coolest-looking laptops you will focus on because of its extended screen, which falls on the lower half of the laptop.
A brilliant laptop for the kinds of people who need to or like to multitask a lot, the ASUS ZenBook Pro even has an amazing system to add to this.
Depending on the model you select, there are a few variations in the RAM and ROM, but it is only upwards of 32GB RAM and 1, 2, and 4TB of space, depending on your budget.
If this laptop with huge RAM is not perfect for a DJ, it would be hard to fathom what it is. Imagine the number of programs you could simultaneously run on your laptop without slowing down.
Think about the ample storage space – no need to buy an external drive for fear of running out of storage space.
The 4K ultra HD screen is yet another pulling factor, and this is also the fact that this laptop is a touch-screen laptop. This opens a new world of avenues to explore with the advent of a touch-screen DJ laptop.
Pros:-
Ultra HD 4K 3840 x 2160 resolution screen 15" screen.

The screen has a touchscreen feature.

The screen extends below the main screen, enabling split screens and multitasking more easily.

32GB RAM to open many applications and software without a single lag.

1/2/4TB ROM, meaning plenty of space to store whatever one wishes.

Intel Core i9 Eight-Core Processor works very well with Serato DJ software.
Cons:-
Very much on the expensive side.

Pretty bulky or heavy, thus not that portable and less easy to carry around.

The battery life of the ASUS ZenBook Pro is 6 to 7 hours, which is about average.
Check Price on Amazon
3. Acer Predator Helios 300
This Acer laptop is a delight to even look at and will probably feel like an awesome buy every time you look at it.
From the multicolor RGB backlit keyboard to the modern, fancy shape of the laptop base, this laptop is incredibly captivating and the absolute best laptop for Serato DJ software.
Although this laptop is primarily a gaming laptop, its uses also extend to the requirements of a DJ. For example, the 16GB to 64GB RAM (depending on which model of this laptop you buy) makes for more than enough space to multitask 10, 20, and 30 applications simultaneously.
The base model begins at 16GB with a 1TB SSD and then moves on to 32GB RAM with a 1TB SSD + 1TB HDD, and so on.
16GB is enough if you are on a budget, but if you have money to spare for an extremely advanced laptop system, you can use the 64GB RAM with a 2TB + 2TB HDD and SSD.
Adding to the incredible multitasking capability of this laptop, there is also the Intel Hexa-Core i7 processor – wow!
A great RAM with a great processor makes for an incredible performance of the laptop. These features make the Acer Predator Helios 300 the best laptop for Serato DJ software.
Pros:-
15.6 inch full HD display with 1920 x 1080 resolution for the best graphics view.

Modifiable RAM begins at 16GB, paired with a great hard disk space of 1TB and more.

4 zone RGB backlit keyboard, and a smooth key feels when typing text or numbers.

Intel Hexa-Core i7, the core processing unit, is one of the most advanced CPUs.

The Acer Predator Helios 300 has great audio quality with a brilliant sound system.
Cons:-
Has an average battery life of only six hours.

The Acer Predator Helios 300 is quite a heavy laptop; thus, it is difficult to carry it around very easily.
Check Price on Amazon
4. Apple MacBook Air
The Apple MacBook Air is one of those style statement laptops that most people want, mostly to flaunt it. Sometimes, this may even diminish the value of the actual quality of this laptop. The MacBook Air does live up to its name and brand value.
The most recent MacBook Air runs on the 10th Generation Intel Core i3 processor, which makes it the best laptop for Serato DJ software.
Aside from this, with quick processing, an incredibly fast system, and a Retina display with True Tone Technology powered by the Intel Iris Plus Graphics processing unit.
In all ways, the MacBook Air is incredibly lightweight and thin; its brilliant sound system and other features seem like a superior option compared to other laptops.
Several laptops have also been shaped according to what the Mac looks like but without its one major downside.
The only problem with the MacBook Air is that while the RAM is a good 8GB and the hard drive is 256GB, only a small proportion of the hard drive can be used for storage.
The problem with Apple is that you will need an external storage device with its laptops, or you'll have to buy cloud space on iCloud. If this can be overlooked, the MacBook Air is the best laptop for Serato DJ software.
Pros:-
10th Generation Intel Core i3 processor for strong processing.

Large force touch trackpad with great mouse mobility.

8 GB RAM with 256 GB hard drive space.

Fast charging also facilitates a longer battery life than average, lasting up to 11 hours.

The MacBook Air has stereo speakers with wide stereo sound and is quite loud.
Cons:-
Storage issues are resolved by buying extra iCloud (Apple Cloud) space or an external hard drive.

The 13.3-inch screen is relatively smaller than other laptops.
Check Price on Amazon
5. HP Spectre X360
Here is a 15.6-inch laptop with an ultra HD 4K resolution with a touch screen! There is so much to love about the HP Spectre X360, and these are just a few things.
With a 10th Gen Intel i7 processor, 16GB RAM, 32GB Optane, and a 512GB SSD, there is enough storage on this laptop to do as you wish, open as many applications simultaneously as you like, and access files on the laptop as fast as you need them.
While the price is the average for such a laptop, it can be a bit on the high side, especially because there are cheaper options.
The battery life of the HP Spectre X360 is much higher than average and can reach about 13 hours, depending on the usage of the laptop.
The most striking feature of the HP Spectre X360 is that it is a hybrid laptop and can be turned into a laptop.
Pros:-
It has an Intel Core i7 processor, which Serato DJ software best suits.

The HP Spectre X360 is a hybrid model and can be turned into a notebook.

Great battery life of up to 13 hours and can be used all day long without interruptions.

A sleek model that is appealing to the eye and also very useful.

Backlit keyboard with a numerical keypad and a fingerprint scanner.
Cons:-
The laptop has quite a dim screen for being a premium system.

This model can be quite expensive.
Check Price on Amazon
6. Acer Spin 5 – Best budget laptop for serato DJ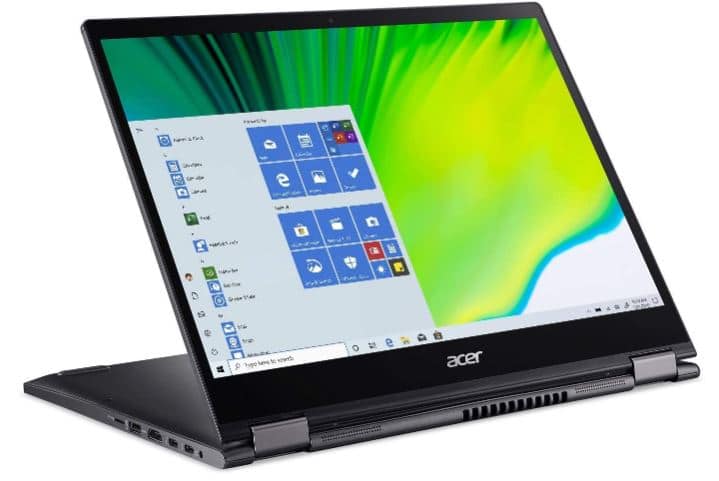 Here is another one of those hybrid laptops brought to you by Acer – the Acer Spin 5. With a fantastic display, a great system, and an average of 7 to 9 hours of battery life, the Acer Spin 5 runs on a 10th Generation Intel Core i7 processor and is one of the best laptops for the Serato DJ software.
Pros:-
A 10th gen Intel Core i7 processor is very strong and a good fit for Serato DJ software.

Super stylish because of its 2-in-1 laptop/notebook hybrid model.

16GB RAM and 512 GB SSD hard drive, so there's a lot of space.

A very bright display, even outdoors.

A highly affordable and budget-friendly laptop.
Cons:-
It can run pretty hot sometimes.

The battery life is below average.
7. ASUS Rog GL552VW
A gaming laptop that alternates perfectly as a DJ laptop, the ASUS Rog has several great features. It is a sleek laptop with a fantastic Intel Skylake Core i7 Quad-Core processor.
The Ram is 16GB, while the hard drive has 128 GB SSD + 1 TB HDD. This is fantastic for any DJ, and this is the best laptop for Serato DJ software in terms of pricing.
Pros:-
It has a very powerful Intel Core i7.

A good 15.6-inch full HD display for the DJ to see properly what she or he's doing.

A slick laptop with a great design, look and feel.

Very comfortable keyboard as well as a touchpad.

A great choice for the price range it is part of.
Cons:-
Slightly thick, thus heavy, so it is difficult to carry easily.
8. ASUS VivoBook S15
The ASUS VivoBook S15 is a sleek, thin, and light laptop with an Intel Core i5 processor to meet all your DJing needs. With 8GB RAM and 512GB SSD hard disk, this laptop is great for those just starting their DJ careers.
With a backlit keyboard and a 10-key number pad on the keyboard, the sleek laptop design with a great sound system will also be perfect for you. 
Pros:-
Extremely light and thin laptop, weighing less than 5 lbs and is only 18 mm thin.

Bright, backlit keyboard with keys not more than 1.7 mm apart.

Despite being light and thin, the build of this laptop is incredibly sturdy.

Highly efficient fingerprint sensor for a quick unlock.

The laptop does not heat up and takes little time for a full charge.

It is priced towards the lower, more budget-friendly side.
Cons:-
The battery life is average, nearing 6 hours and not more.
Check Price on Amazon
9. Acer Aspire E15 – Best DJ laptops under $500
Here's what we can call the best laptop for Serato DJ software because of the one factor or feature which distinguishes it from the rest: a DVD-RW.
It is not something you'd find in a laptop in 2023, but here we have Acer offering the same.
For those DJs that like to keep it old-school using CDs, this is the laptop for you. Putting aside this feature of the Acer Aspire E15, let's look at a few other specs to understand why it's a great laptop for Serato DJ software.
A 6GB RAM and 512GB hard disk is just about enough to run the number of applications that a DJ is required to run at one time.
With a 15.6-inch full HD display and an Intel Dual-Core 8th Gen i3 processor, this laptop is great for working on your music on a large screen.
Furthermore, the Acer Aspire E15 is a budget-friendly DJ laptop with a color graphics display, a brilliant battery life, and plenty of ports in addition to the DVD drive.
Pros:-
Budget-friendly laptop and priced towards the lower side of laptop costs.

Great connectivity with a large number of ports as long as a DVD-RW.

Great RAM and hard disk space for the price it sells.

Intel dual-core 8th Gen i3 processor for the strongest and best functioning.

Battery life is up to 12 hours, but to keep it realistic for DJs and the battery drainage by DJ software such as Serato, it can last up to an above-average amount of 8 hours.
Cons:-
Slightly bulky and heavy, so the portability is pretty low.

The Acer Aspire E15 screen is dim and not suited for use outdoors or around blaring lights.
10. Razer Blade 15
A relatively less heard of computers than those created by huge tech companies, the Razer Blade 15 is a powerful laptop built to handle strong and heavy software.
With the slick design and thin build, you'll find that this laptop is perfect for carrying from one gig to another.
Forgetting about how it looks and feels to the touch, the storage for RAM and ROM is incredibly perfect for using a serato dj pro.
A 16GB RAM with a 1TB + 128GB ROM is as good as what a DJ needs to store all the tracks she's made, all of which are still in the works, and even for the inspo needed from other artists.
Pros:-
Great storage space with a 128GB SSD and 1TB HDD, meaning that software can be stored on one hard disk while other files can be stored on the other.

With a RAM of a whopping 16GB, multiple systems can run efficiently simultaneously.

The Razer Blade 15 has a 9th Gen Intel Core i7 processor, which is among the latest and best for working with the Serato DJ software.

1920 x 1080 resolution screen with an anti-glare finish, perfect for all kinds of gigs.

A large, 15-inch laptop is also portable and light, standing at less than 5 lbs.
Cons:-
The battery life is about 6 hours, which is nearing average.

Despite anti-glare and a great resolution, the screen's brightness is lower than on other laptops, especially under the sun.
11. LG Gram 13 – Best laptop for djing
Another great laptop for Serato DJ software is the LG Gram 13. It works with the Intel 10th Generation i5 core processing unit and is paired with 8GB RAM; one would say that this is a pretty great laptop for multitasking the way DJs must.
This laptop has a 72Wh battery, meaning that it is a heavy-duty and long-lasting battery that can go up to 21 hours, depending on the usage.
With a brilliant battery life and specs that scream out loud about how this laptop has been made for DJs, it is even priced relatively lower than other laptops with similar features.
The LG Gram 13 has a 15.6-inch LED screen with a full HD 1920 x 1080 resolution to be at par with the leading graphic processing units.
Its slick design does not end with how it looks – it is also highly durable, as it has been tested for the same appropriately. 
Pros:-
10th Generation Intel i5 CPU and IPU for strong processing.

A cinematic sound experience with immersive 3D audio rendering gives you the best audio feel.

Highly durable and heavy-duty 72Wh battery, which makes for a higher-than-average laptop battery life of up to 21 hours, depending on the usage.

Available with a touchscreen and without, for those who prefer not to have it.

The laptop has a backlit keyboard.

Impressively lightweight for its durability.
Cons:-
Dim screen, unfit for outdoor use in the daytime or under blaring lights.

Problems with the sensor in the fingerprint scanner.
12. HP Pavilion
With a 9th Gen Intel Core i5 processor and a 15.6-inch LED-backlit screen, the HP Pavilion laptop is one of the best laptops for Serato DJ software.
Since this laptop also alternates as a gaming laptop, it has some incredible features, such as a backlit keyboard and extremely realistic graphics.
With a 12GB RAM and 512GB hard disk, this computer has ample space to run multiple programs at a time and store the various files you work on without worrying about running out of space.
The look and feel of this laptop are rather different from what we might picture a regular laptop – but it is pleasantly surprising in a fresh, modern way.
What's even better is that the laptop keeps updating itself and keeps itself in check in terms of processing or system issues. 
The best part about this laptop, with its great features, is that it is not even that expensive compared to other laptops with similar features. Below are the pros and cons of the HP Pavilion laptop.
Pros:-
Strong 9th Gen Intel Core i5 processor and also a strong GPU.

Great multitasking with 12GB RAM and more storage space with a 512GB hard disk drive.

Very slick, modern design.

The audio is crisp and incredible, which is more than perfect for a DJ.

It has a backlit keyboard with a 10-digit numeric keypad as well.
Cons:-
The display is dim, so not that great for use outdoors or with lots of blaring lights.

The battery life is rather short and lasts about 5-6 hours.
📗FAQ
What laptop do I need to run Serato?
Minimum storage of 4GB is required for Serato DJ Pro. A laptop with a 250GB SSD should serve fine. Many modern laptops have 500GB SSD, but if you are looking for more, 1TB should be sufficient.
How much RAM does Serato DJ use?
The newest version of the software, Serato DJ Pro, is more resource-intensive and may need more RAM to function properly. Serato DJ Pro needs at least 8GB of RAM to function properly, but 16GB or more is suggested for best results.
Which laptop is best for DJ operating?
The MacBook Pro, Dell XPS 15, and Lenovo ThinkPad X1 Extreme are well-liked laptop choices for DJing.
Can you use Serato with just a laptop?
One does not require a controller with Serato. It can be learned using a laptop or a computer. All you need to do is install the software, which is free. It is ideal for beginners who do not have heavy investments.
Is 8GB RAM enough for Serato DJ Pro?
A minimum of 4GB RAM is required to run Serato DJ Software on your laptop. However, it is a minimum requirement; the better the space, the smoother the functioning.
Can I use Serato on an HP laptop?
Yes, it is possible to run Serato. There are two USB ports on each side, and the touch screen is also excellent.
Can I run Serato on iPad?
It is essential to ensure that the iPad has specific requirements to run Serato. An iPad 2 or above, iOS 6 or above, and iPad mini are suggested.
Can you use any laptop to DJ?
Yes, it is possible to DJ with a laptop, and almost all of them. No matter what software you use, one can handle DJing with a laptop or computer and does not require any hardware.
How much GB do I need to DJ?
A 4GB RAM is essential to run most DJ software. However, 8GB RAM is recommended for ideal performance. For the ones creating their music go for 16GB or more.
Best Laptop For Serato DJ
Here are a few laptop choices that might be worthwhile to take into account:
MacBook Pro:- Due to their potent processors, excellent displays, and lengthy battery life, Apple's MacBook Pro laptops are well-liked DJ options. They also have a sleek, portable design that makes carrying them to concerts simple.
Dell XPS 15: Another top-notch DJ laptop is the Dell XPS 15. It's incredibly tiny and light, has a strong processor and high-resolution display, and is both powerful and portable.
Lenovo ThinkPad P1: This robust laptop is ideal for DJs. The Lenovo ThinkPad P1 is a powerful laptop. In addition to having a quick processor, lots of RAM, and a sharp display, it is also strong and portable.
Is MacBook Air good for Serato?
Before choosing, you should think about your unique needs because this solution could not be the most potent one available.
From a dual-core Intel Core i3 to a quad-core Intel Core i7 CPU, the MacBook Air offers a choice of processor options.
A range of storage capacities, from 128GB to 1TB, are also available. Generally speaking, a laptop will work with Serato DJ better if it has a powerful processor and more storage.
The MacBook Air is offered with either 8GB or 16GB of memory (RAM). This should be plenty for most DJing duties, but you might choose the 16GB edition if you want to use a lot of effects or run other resource-intensive programs in addition to Serato DJ.
The MacBook Air can be a fantastic option for Serato DJ if you require a portable, light laptop. Still, if you want the most potent alternative available, you might want to think about a MacBook Pro or another high-end laptop.
Why do DJs use Apple laptops?
Apple laptops are popular among DJs because they are dependable and strong enough to run the required DJ software.
When a DJ performs live and has to mix and scratch records seamlessly, Apple laptops are renowned for their flawless performance.
Furthermore, Apple laptops are sometimes seen as easier to use than competing models, which can be advantageous for DJs setting up and utilizing their equipment for the first time.
The fact that Apple computers are portable and simple to transport to gigs is another reason why they are well-liked among DJs.
Can you use any laptop for DJing?
Theoretically, any laptop may be used for DJing as long as it has the hardware and software required to run DJ software.
To be a DJ, some computers might be more appropriate than others. For instance, laptops with top-notch processors, lots of RAM, and quick hard drives can typically operate DJ software more smoothly than laptops with lower-end specifications.
DJs who need to properly see and hear their tracks might also benefit from computers with high-resolution displays and high-quality sound cards.
It's important to note that certain DJ software may have particular system requirements that must be met to function effectively.
For instance, the software can call for a specific RAM size or processing speed. Before buying a laptop, it's a good idea to be sure it will be compatible by looking at the system requirements of the DJ software you intend to use.
Can you use Serato with just a laptop?
Yes, Serato may be used just on a laptop. Serato is a DJ program that may be used with a laptop, a DJ controller, or a DJ mixer.
Serato can be used with only a laptop and the built-in audio output of your computer, or you can connect the laptop to external speakers or a sound system.
You must download and install the Serato program on your laptop to utilize Serato with only a laptop, after which you must connect your laptop to your audio output device.
You may also need to adjust your Serato audio settings to ensure that the audio comes through properly, depending on your audio output device. Serato's features can mix and scratch records, apply effects, and carry out other DJ duties once everything is set up.
How do I make my Serato run smoother?
There are a few things you can do to improve Serato's performance:-
1. Make sure your laptop complies with Serato's system requirements. The software can operate more slowly if your laptop doesn't have the recommended specs.
2. Any unneeded apps or windows that might be open should be closed. By doing this, system resources can be freed up, and Serato's performance can be improved.
3. Serato and your operating system updates should be checked for and installed. Software updates can enhance performance and address issues.
4. Ensure the DJ controller or mixer you use with Serato is connected and set up correctly.
5. Try lowering the number of effects you're using or turning off any features you're not using if Serato's processing requirements are too high. By doing this, you can lessen the burden on your laptop's processor and improve the performance of the applications.
6. Upgrade your laptop's hardware if you can. Serato's performance may be enhanced by, for instance, installing more RAM or a faster processor.
Can a Chromebook run Serato DJ Pro?
Because the software is made to work with Windows or Mac operating systems, Serato DJ Pro is not natively compatible with Chromebooks.
But you can use a third-party program like Wine or CrossOver to run Serato DJ Pro on a Chromebook.
CrossOver is a paid program that offers comparable functionality, while Wine is a free, open-source program that enables users to execute Windows software on different operating systems.
Is MacBook Pro M1 compatible with Serato?
The operating system that powers the MacBook Pro M1 is called macOS Big Sur, and Serato DJ Pro is compatible.
Furthermore, Serato DJ Pro should function flawlessly on the MacBook Pro M1 because it has more than adequate computing power.
Are Macs better for DJing?
Most professional DJs favor Macs, widely used in the music industry. This is because many well-known DJ software packages, including Serato DJ Pro and Traktor, were created especially for macOS and might provide greater integration and performance on a Mac.
In general, Macs are more dependable and less likely to experience mistakes or crashes, which might be crucial when you're performing live.
How do I optimize my laptop for DJing?
You can follow these recommendations to prepare your laptop for DJing:-
1. Ensure you have a reliable and quick internet connection. This will make it easier to ensure continuous playback and track transitions.
2. Keep your laptop up to date. As well as installing the most recent operating system updates, ensure your DJ software is up to date. This will ensure that your laptop operates as efficiently as possible and is compatible with your software.
3. Make use of a portable hard drive. DJing may be tough on a laptop's hard drive, so it's a smart idea to save your music on an external hard drive to help keep your laptop running longer.
4. Try to keep your laptop cool. Your laptop may become slower due to overheating, which can also harm its components. Make sure your laptop has excellent ventilation around it, and if necessary, think about installing a cooling pad.
5. Improve the audio settings. Ensure you have the appropriate audio settings selected for your setup if you're utilizing external speakers or headphones. You might need to change the DJ software or your operating system's audio output settings.
6. Shut off any extra programs. Your laptop should be operating as effectively as possible when you are DJing. Any superfluous programs or apps that might be consuming resources in the background should be closed.
Is 24 GB RAM good for music production?
For most music production jobs, 24 GB of RAM is usually sufficient. You should be able to run several software instruments and effects with this much RAM without experiencing performance concerns.
However, you might discover that you want additional RAM if you are working with particularly large sample libraries or making extensive use of memory-intensive plugins. 32 GB or even 64 GB of RAM might be preferable in these circumstances.
Conclusion
Buying a laptop is a decision that involves a lot of choices, what with the abundance of products throughout the world – the different brands, the different processors, storage units, and so much more.
It is important that before you begin your DJing, you find the best laptop for Serato DJ software which is also best suited to your needs.
The 12 laptops listed above are highly compatible with the Serato DJ software, owing to their fantastic processors, RAM spaces, audio inputs, displays, etc. What is left is to decide which laptop you want, to decide which one suits you best and suits the music you want to make best.
Hopefully, using the list given above, you'll be able to make the right decision for yourself personally. You don't want to end up with equipment you do not love and then be stuck.
Be sure to research and finally purchase the best laptop for Serato DJ software, AND your comfort and requirements.