Do you have the curiosity to know about the Best Laptop For SolidWorks To Buy in 2020? You can easily Find out now in this definitive list with our detailed review.
Without any further delay let's find out. 🐱‍🏍
The usage of laptops is increasing significantly by the day, and more people are using it as their workstations. Whether it's for your business, design work, education, or even for casual use, the use of laptops always finds their way in almost every sector.
But some models of a computer are higher than some, and they are meant for some particular field of work. For instance, some laptop models have hardware components in them; those kinds of laptops are suitable for businesses and not for students.
Then some laptops are meant for game enthusiasts, and some are intended mainly for designers, engineers, architects, and other professionals who make use of high-end software like Solidworks.
What's the SolidWorks software?
SolidWorks is a software of 3D creation, and it is used by almost every professional. The solidwork software allows you to design a CAD project with ease.
It provides an excellent color balance, and it serves as a perfect tool for young designers. If you want to get the best out of any plan that you have, then SolidWorks will help you get the best out of it.
The SolidWorks software is mostly designed for entrepreneurs who are in the design, engineering, and other professional sectors, and also young enterprises. It's a great way to communicate with your buyers and introduce your products to them.
If you want to learn more about architecture, design, and project development, then the SolidWorks is the perfect tool for you.
However, finding a laptop for SolidWorks can be very challenging because there are lots of laptops in the market. Most designers and engineers use Solidworks, and 90% of companies out there also use it; hence, the demand for high-end laptops for SolidWorks is increasing.
If you want to succeed in your profession, it is crucial to get a laptop that has all the elements that you can use in creating a good job using solid work. But this post will let you in on the kinds of laptops you need for Solidworks, but before going into details, below are the things that make up a laptop fit enough for SolidWorks.
How To Choose a Best Laptop For SolidWorks
Knowing how powerful the SolidWorks is, especially when it comes to design, then you need to consider getting the right laptop. Because the software can only work best with a high-quality, you need to choose wisely when you want to get a laptop.
The things you need to consider are; first, the RAM, you need a laptop that has more RAM like an 8-12GB RAM, is highly recommended. You also need to consider the processor; you need a laptop with a speedy processor for solidwork to operate well in it.
A stronger Graphics card is also needed, and also the hard drive should have enough space to be able to save all of your works and designs.
Now that you are aware of what your laptop needs, below is a guide about the best laptop, there is in the market for SolidWorks.
Here is The List Of Best Laptop For SolidWorks To Buy in 2020
1. Lenovo ThinkPad P50 Laptop
Getting a perfect and high-end laptop for your intensive tasks such as 3D modeling, video editing, graphics, architectural works, and other sophisticated professionals is very crucial for you to succeed.
Hence, you will need a laptop that can serve as a portable workstation that will meet up your expectations in every area, and the Lenovo ThinkPad is highly recommended.
Although the p50 is a powerful machine that can do all of your intensive work, it is still portable enough to be carried about. It might be a bit heavy in your arm, but that doesn't matter compared to the work you can achieve using it.
Its keyboard is of high-class and allows you type swiftly and confidently, its display and visuals surpass all other machines and catch the eyes of anybody that walks by.
The best part of it is that the battery life lasts longer and can carry out any complex task you bring on without any interruption.
Features:-
Its thunderbolt is 3 Type-C

Its battery life lasts up to 13 hours

Its hard drive is 256GB SSD M.2 Opal2

Its Graphic card is NVIDIA Quadro M2000M 4GB GDDR5

Its screen is 15.6 inch which allows you to display your work elegantly and apparent

RAM – 16GB DDR4

CPU- Intel Xeon E3-1505M v5 Quad-core Processor

It has extra security that comes with a fingerprint reader

The best of all is the laptop is super-fast.
With the features listed above, then you should know that the Lenovo P50 is a real machine, and can withstand any amount of complex task using the SolidWorks software.
It makes your complicated chores easy, and you can do it with extra speed. You will impress your customers and yourself.
Most importantly, you don't have to break a bank to purchase this machine. The price might not be too low, but it surely isn't too expensive for the kind of task that awaits the device.
2. Asus VivoBook Laptop
The Asus vivoBook laptop is an innovative and mainstream laptop that is perfect for any intricate designs. And not to forget, it also includes the usage of SolidWorks software.
The laptop is very affordable and has proven to be amongst the high-quality laptops that you can get at a very affordable price.
Its keyboard gives you a very comfortable typing experience; the keys are made in such a way that your typing becomes fast and effortless, especially if you are typing in a hurry.
Features:-
Its keyboard has a backlit

It has a fingerprint sensor

Its designs are excellent

CPU- 4GHz Intel Core i7

RAM- 8GB DDR4

Hard drive – 128GB SSD + 1TB HDD storage combo

It has an integrated graphics card

Its screen is 15.6 inch, and it's color display is vibrant

It's a window 10

Its battery life lasts for about 8 hours
Most people might get a little disappointed due to the battery life, but for the amount, it is being sold, then one needs to be grateful. Its excellent designs and the fact it is swift and powerful has compensated you for the battery life.
With its speed, you can complete whatever task you have very fast, and the battery won't go off on you. If you are looking to buy a powerful laptop that is of great quality and will allow you to do all your complex work with ease at an affordable price, then the vivoBook is ideal for you.
3. Acer Aspire V15 Laptop
Here comes another widescreen, powerful laptop with a great design and could pass off as a business laptop. This laptop can be used by both students and business-minded people with complex projects and tasks.
It can be bought at a very affordable price, and its powerhouse is reliable. It has an Intel Core U hardware, and it is capable of withstanding SolidWorks software.
Features:-
RAM – 8GB

Hard drive – 1TB HDD 5400 RPM

Graphics card – NVIDIA GeForce GTX 860M Graphics card

The screen is 15.6 inch

Windows 8

Its battery life can serve you for 4 hours
Going by the features, you will know that the V15 is capable of carrying out any intricate work and is compatible with any powerful software like the solidwork.
Although it has an impoverished battery life, it is still a powerhouse that can bring out the best of your job, and you can get it at a very affordable price. So if you're looking to get a high-quality laptop at an affordable price, the Acer V15 is your way to go anytime anywhere.
Check Price on Amazon
4.

DELL Precision 15 7530
Dell's product has been in existence for years and is known for its high-quality products. As more powerful and stronger models of laptop emerge, Dell isn't left out in the trend.
They also manufacture a high-end laptop that can be known as a powerful workstation and is capable of taking any complicated chores and heavy software.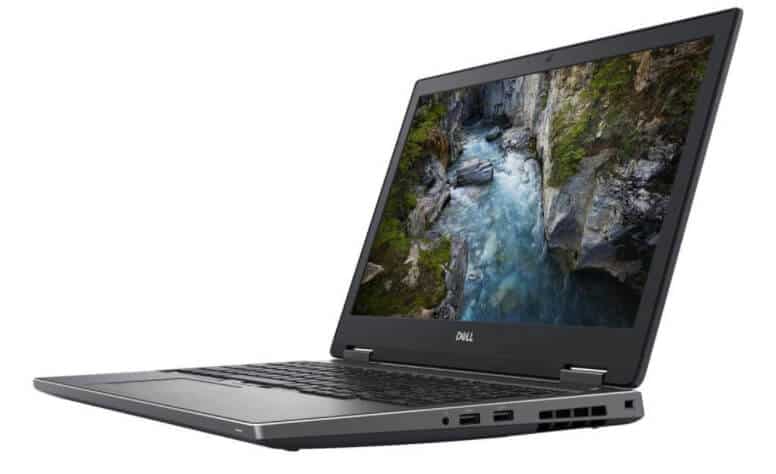 Dell precision has lots of enticing features that attracts designers and professional. Although it's a little on the high side in terms of affordability, it is definitely worth the investment.
It is one of the most sorts after laptops by designers, and the display that emerges from it is of more exceptional quality.
It is a heavy-duty machine with fantastic hardware components, and designers, videographers, engineers, and other professionals benefit a lot from this machine.
The device is made of a dark silver aluminum and weighs about 4.6 pounds, but it is still light enough to be carried around. It has a soft-touch deck that allows you to type with ease, and its touch-pad is coated with a soft material, which makes your typing so magical.
Features:-
CPU – Intel Core i7. It's an 8th gen i7 – 8706g

RAM – 16GB DDR4 SDRAM

Screen – 15.6" LCD 3840 x 2160. The screen is wide and very clear, which makes your job come out perfect.

OS – Windows 10

Its battery life lasts up to 5hours.

It is a stunning 4K Ultra HD

Multiple USB ports

It is swift, efficient, and reliable#

It has a great powerhouse.
Most people might not be comfortable with the battery life, but the laptop has a large memory to save as many designs as you want.
With its speed, you can accomplish as many tasks as you wish within the battery life hours, and it is compatible with the SolidWorks software.
It still offers you an SD card port that you can use with external memory. Ignore the battery life and concentrate on its great features. And if you want your 3D work or any other design of yours to come out right then, the Dell precision is a win-win.
5. HP ZBook 15 G4 Mobile Workstation
HP products are always great, and this is not an exception. The Hp's Zbook is another powerful machine for professionals who require a high-quality performance machine at an affordable price.
But the pricing all depends on the model you want to get, but the device is perfect for multitasking chores. It has a fantastic battery life, it weighs about 5.1 pounds and has lots of customizable features that you will love.
It might not be very portable because it prioritizes power to its portability. But it allows you to carry out any form of complicated work with ease using the solidwork software or any other software you so desire to use.
It is called a workstation because it is well designed to be used in the field for your tasks, and office. It can be carried around and allows you to type with ease using its very comfortable keyboard.
Features:-
Its display is very vibrant and colorful

It has a high-quality speaker for your designs that have some voice or a presentation that requires audio

Its backlit keys allow you to type comfortably and with ease

It has a fast-charge life, under one hour, you must have charged your battery up to 50%

It has two thunderbolts and three ports

Multiple USB ports including HDMI port

It is swift and powerful

It has a 720p IR webcam

CPU – 2.6GHz Intel Core i7-8850H Six-Core

RAM – 16GB DDR4 RAM

Hard drive – 512GB PCle M.2 SSD

Graphics card – NVIDIA Quadro P1000 graphics card (4GB)

Screen – 15.6″ 1920 x 1080

OS – Windows 10 Pro (64-Bit)

Its battery life lasts up to 8 hours
Although people might not be satisfied with the battery life, but with its ability to charge fast and its massive powerhouse that lets you perform any form of complex tasks on it, then it is worth investing in this machine.
In terms of performance, speed, and its various features, then the laptop is capable of delivering whatever designs, or intricate work you do with it.
6. Lenovo ThinkPad P72
Another great product from Lenovo that is compatible with SolidWorks software. When it comes to producing the best laptops for every use, Lenovo falls among the top lists.
The Lenovo ThinkPad p72 is of excellent quality, and highly effective for your complex jobs. The display is of high-quality, and it makes your working experience exceptional.
Since its screen is significant, you don't have to struggle with your task; it allows you to work with ease on a widespread and apparent screen. It allows for multitasking because it has a prodigious memory, and can save as many designs as you want.
Features:-
The screen is 17.3 inches full HD. It's no wonder you can confidently work on it and get a brilliant and exceptional performance.

Graphics card – NVIDIA Quadro P600

Its battery life can last up to 7 hours

It comes with a fingerprint reader

It's the 8th gen Intel Core i7-8750H processor, and it significantly contributes to the high efficiency of the laptop

RAM – 16GB, with this kind of RAM multitasking, will be done with ease

It has a 256GB SSD and 1TB HDD storage
All of its features are what make the laptop great for SolidWorks. It also has an extra fast GPU that allows you to create a 2D and 3D model with ease.
However, the laptop cannot be said to be portable because it has a full screen, and it is cumbersome because of its heavy hardware.
If you are a graphics designer, architect, videographer, or any other business person with a complex profession that requires the use of SolidWorks and other software, then this Lenovo p72 is perfect for you.
7. Asus ROG Strix GL703GM
Here comes another model from Asus, which is also perfect for running SolidWorks software and other software used for running intensive tasks. If you are among those who love to multitask while using your solidwork, then this Asus product is perfect for you.
The Asus ROG has a decent RAM that gives you high performance, and its display is wide enough to provide you with a better view.
It also comes with a customizable keyboard that allows you to work comfortably, and even if you are working under low-light, you don't need to stress your eyes because the keyboard comes with a backlit. Its hybrid drive gives you a lot of storage space that allows you to store a whole lot of designs and documents.
Features:-
The laptop comes with a 6 Core Intel Core i7-8750H processor that allows you to handle any heavy task efficiently

RAM – 16GB DDR4

Its screen is 17.3″ Full HD display that allows for a better viewing experience

It comes with a 256GB PCIe SSD + 1TB hybrid

Graphics card – NVIDIA GeForce GTX 1060
With its amazing features, it is obvious that this is one of the best laptops for Solidworks that you can ever think of purchasing. It has a battery life of about 7 hours, and its speed is great.
It allows you to accomplish your task faster and with ease. This is one laptop that you can never regret buying because it gives you exactly what you need in a laptop.
Check Price on Amazon
8. Razer Blade 15
This is another outstanding laptop for Solidworks, and it is no doubt one of the best in the market. It has all of the features needed to run Solidworks software and any other software that you need.
The laptop might not be well-built and catchy, but it sure has the requirement to meet up any heavy-duty application. It is also suitable for people who love to multitask and want high speed while carrying out their tasks.
It has ample storage, which makes it easy for applications to load without delay, especially the SolidWorks software. The best part of the laptop is that it is affordable and still provides you with a smooth working experience.
Features:-
Intel Core i7-8750H processor which allows for a speedy performance

RAM – 16GB DDR4

Storage – 128GB SSD + 1TB HDD that will enable you to store as many documents as you want and still high speed and excellent performance

Graphics Card – NVIDIA GeForce GTX 1060

Its battery life lasts up to 7 hours
The Razer laptop has not disappointed its users as it has an edge-to-edge display and a widescreen of about 15.6″ Full HD, which satisfies you with eye-soothing working experience.
The color that comes with the screen is very colorful and makes your designs come out looking excellent. It doesn't weigh much and can be carried around; it is quite affordable and deserves your attention.
9. MSI GP73 Leopard – 209
The MSI is a company that is known for producing high-quality laptops used for performing heavy-duty tasks like gaming, video editing, architecture, designing, or working with solidwork and any other software. It has a great hardware combination that makes it great for every professional chore.
Features:-
Graphics Card- NVIDIA GeForce GTX1070 8G GDDR5

Its screen is 17.3″ Full HD that allowed for an excellent display

RAM – 16GB DDR4

Its keyboard has a red-backlit that helps you to work with low-light conveniently.

It has a battery life that can last for about 5-6 hours

Processor – Intel Core i7 – 8750H

Storage – 256GB SSD + 1TB HDD
The MSI GP73 is also great for Solidworks, and it has a high-speed performance that allows you to work with ease and at great speed.
It is a workstation laptop that can be carried around, and it gives you exactly what you want. Its storage is wide enough to accommodate all of your tasks and documents.
Conclusion
Thanks to the various types of laptops in the market, it has made choosing the very best laptop for Solidworks quite a bit of a headache. As lots of things need to be checked and you need to be very sure so you don't buy what you might regret.
However, the list above has helped you solve this issue because the laptops listed above are the go-to machine for SolidWorks and any other software.
Finally, with the above guidelines, you will definitely not make a mistake, and you can get a laptop within your budget without having to break a bank, and it will still give you what you want. Now you can easily select the best laptop for Solidworks with ease.
Most laptops for SolidWorks uses around 16GB RAM because it is enough to accommodate all your complex tasks according to research. And all of the above laptops are 16GB. Hence, they are among the best laptops you can think of purchasing for SolidWorks.