Do you have the curiosity to know about the Best Laptops For Adobe Creative Cloud to buy in 2020? You can easily Find out now in this definitive list with our detailed review.
Without any further delay let's find out. 🐱‍🐉
Being passionate about graphics design, photography, or videography is great, but there's more to it because passion isn't the only thing that you require to succeed.
You will most definitely need to have the best tools that will make your jobs professional and make your talent shine and stay ahead in the industry. And such heights can only be attained using the adobe creative cloud software.
Let's get a little insight into what the adobe creative cloud is all about
What is Adobe Creative Cloud? 🐱‍👓
The adobe creative cloud is applications that give its subscribers unlimited access to lots of software that can be used for graphic designing, web development, photography, video editing, and a lot more.
The creative cloud software can be downloaded from the internet to your laptop, and you can use it for as long as your subscription carries. You can always subscribe to yearly or monthly. Although the subscription might not be cheap, it is worth the investment. 
In recent times, most businesses need graphic designs, and the need for the adobe creative cloud is of the essence. Knowing that the job of graphic designing or video editing requires high-quality graphics, and then you should know that the adobe creative cloud best suits your profession.
However, it is not about downloading the creative cloud alone that makes you succeed in your profession, but also finding the right laptop to meet the demands of the creative cloud is also very crucial.
At the time of our research on "Best Laptops For Adobe Creative Cloud", we found a video about "How To SAVE MONEY On Adobe Software/Creative Cloud" which is worth to watch.
Why is it important to have the best laptop for the adobe creative cloud application?
A tool like the adobe creative cloud that requires over twenty high level applications for photography, graphic designs, video editing and other related application will also require a high-end laptop with excellent and multiple processors, RAM that is high enough to comprehend all of the applications and ensure you have a fast and seamless experience while working.
When your computer slows you down, you might get frustrated, thereby, losing that creative flow of yours to frustration and setback caused by an inferior computer. 
However, for you to have a software tool like this on your system, you need to own the best laptop that is suitable for your profession. So basically, in this post, we want to help you purchase the best laptop that will give you an exceptional result and make you outstanding among others.
Below is a shortlist of a few numbers of laptops that are best for the adobe creative cloud software. But before we go further, you need to know what you need on a laptop before purchasing it.
What You need on the laptop 🐱‍💻
Before you decide to purchase a laptop, you should have an idea of what you need on a high-quality laptop.
First, taking into consideration the type of display the laptop has, you should carefully select the graphics card because it plays a major role.  You need a laptop that also has a higher pixel and resolution. You will also need a matching GPU to go with it.
A laptop with a large screen is important as it will enable you to see what you are doing boldly. As a professional graphic designer or photographer, you will need all this information on your laptop and lots more.
Here is The List Of Best Laptops For Adobe Creative Cloud To Buy in 2020
1. Acer Predator Helios 300
The Acer Predator Helios gaming laptop is the new trend in the graphics world and it happens to be Acer's latest lunch in the market. This laptop isn't powerful alone, but the price is also affordable. The laptop is just what a designer needs and it has some powerful features.
Features:-
The Acer laptop is packed with an 8

th

Gen Intel core i7-875OH 6-core processor.

Its battery is very powerful and long-lasting. This happens to be what creative professional needs.

Its screen is 17.3 inches Hull HD screen which is suitable for adobe creative cloud software application. 

It also has a large display card which was gotten from NVIDIA GTX 1060.

It has a 16gb DDR4 RAM

256gb Solid-state drive, and 

Gigabit Wi-Fi.
The Acer laptop works well with the adobe creative cloud application and it makes working with it a lot easier and smooth. Its display quality is top-notch, and its immerse sounds make listening to voices or if your job requires sound, you are sure to get the perfect sound from this laptop.
Check Price on Amazon
2. Apple MacBook Pro Retina, Touch Bar
This happens to be one of the best laptops for designers and it is the latest model of the Apple MacBook. It is no news that Apple has always had their eyes on good things and they sure know how to leave a lasting impression on the masses.
People are always eager to see what new designs or devices they will come up with. Now it's their latest laptop which they've launched and it is of high-quality. 
Their latest laptop has become the world's best pro notebook which is designed especially for photographers, web developers, filmmakers, designers, scientists, and professionals who rely on the mac product or adobe creative cloud to make their work outstanding. 
If you have always loved to use Apple products, then you won't want to miss this product. With its 2.2GHz 6-core Intel i7, you are sure going to have an exclusive experience using it. Then installing your adobe creative cloud on it, then your jobs will sure come out professional and outstanding.
The Apple MacBook Pro also has a Radeon pro Graphics that gives your designs a better experience. What's so thrilling about the laptop is its touch bar and touch id. The touch bar is a retina display that responds to even the slightest gesture or taps.
It has been able to replace the standard system function and also adapts to any software you use on it, especially the adobe creative cloud software application.
Its security level is really high as it contains a touch ID fingerprint scanner that has been integrated into the power button for safety. 
Features:-
Its battery life stays up to 10hours, which is one very interesting thing about it.

Its memory is 16GB, 2400MHz

It is core i7 and i9 processors

Its screen is 15-inch. It displays more colors with a brightness of 500nits. Try editing photos with it, and you would notice how the colors will pop.

Its trackpad is of standard quality and it works excellently. It makes drawing easier and with a hard press on the trackpad, it can forward a video faster.

Its retina display is very sharp. And whether you're watching Netflix, editing a picture or video, doing designs on the laptop, the display comes out very clear. It has 2880x 1800 pixels and a brightness of 300 nits, and it also supports a standard color representation. This makes the pictures very clear.
Most designers prefer to work with Apple products because they never disappoint and they give their best.
Their feature is what draws the attention of many to the Apple product. And it's speed is also very important as it makes your job faster. It is one of the best laptops for the adobe creative cloud.
Check Price on Amazon
3. Microsoft Surface Pro 6
The Microsoft Surface is one of the best and highly purchased laptops for the Adobe Creative Cloud.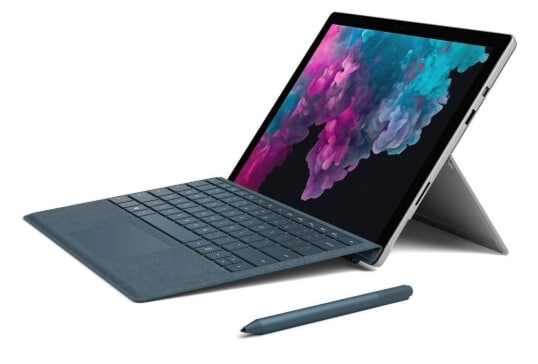 The laptop makes your graphic designing experience a lot easier with its touchscreen, and its tablet cum laptop feature happens to be the best part about the laptop. The Microsoft Pro 6 is faster and the battery life stays longer.
The laptop is detachable and also passes off as a tablet due to its touchscreen interface; it could also be used as a notebook when the keyboard is attached to it.
Most importantly, when the keyboard is attached to it, it could double as a cover or better still a studio mode using the pen and dial surface.  The surface pen is very essential as it gives its users another option for interface.
It allows for sketching, drawing, painting, and note-taking. This feature is particularly important for designers and artists as it allows you to take control over whatever you are doing.
Features:-
It is light weighted

1.3 GHz Intel core 7

1 TB flash_memory_solid_state

It is 16GB RAM
However, to succeed in your business, you need the powerful tool of the Microsoft surface pro for its performance, flexibility, and speed. Its memory is large enough to contain whatever workload you bring along.
And for those who need the adobe software to make their jobs outstanding, this laptop supports the installation of the creative cloud thereby making your job a lot easier and faster. It doesn't stop there, be sure to stand out from the crowd when your job is done.
Check Price on Amazon
4. Asus Rog Strix Scar II
Here comes another exclusive gaming series laptop that has come to take over the designing industry. Mere seeing the laptop, you would know that the Asus product means business this time around.
The beast of a laptop welcomes you with overwhelming lighting that comes out from the keyboard in rainbow colors when you open the laptop. The keyboard is full-sized and it feels just as good as it looks.
It is comfortable and satisfying to use for anything be it typing, or gaming. It also comes with a trackpad that works effectively and can be turned off anytime you feel the need to use an external mouse.
The screen is large enough to enable you to work well with it, although the battery life goes to stay for about four hours, it is still very useful within the period. For those working with it for a longer period, it comes with a cooling fan to help cool off the heat from longer usage. 
Features:-
It has a 16GB DDR4 2666MHz RAM

256GB SSD + 1TG Hybrid HDD 

GTX 1050 with 6GB NVRAM 

The screen is 15.6 inches

Larger and faster disk space with the combination if SSD + HDD

You can store lots of your graphic files on it and also read them or write faster than the usual traditional mechanical hard drive that you are used to.
As a graphic designer, this laptop is one of the best for your profession, its features make it exclusive and it is packed with the new 8th gen i7 processor.  It is a better combination for gaming and also for Adobe creative cloud.
Check Price on Amazon
5. MSI GV62 8RD-200 
Are you in search of an affordable laptop that will suit your Adobe creative cloud? Then you are in the right place because this laptop comes with a reasonable price. It is the most sort after product after Apple and Asus in the designing industry.
Although it has a short battery life, it is reliable and suits the needs of the masses that are in need of a high-quality less expensive laptop.
Its screen is a 15.6 inch full HD, it's color accuracy is impressive, and it is bright enough for you to do whatever you want on the laptop clearly but indoors.
Features:-
It has a well-designed cooling system

It has a powerful set of specs that can get all of your work done in no time.

Its Chiclet keyboard is very comfortable with backlight and number pad

Its design is minimalistic and beautiful too

It is lightweight

It is easy to maintain

And has a wide port selection.

Its screen is 15.6 inches full HD display

It is 8GB RAM

Intel Optane 16GB Memory + 1TB Hard Drive
The MSI GV62 8rd-200 laptop is cost-effective, offers good processor, great graphics capability; it is fast and also includes voluminous storage.
Although a compromise was made on the battery life and case design, it is still a great choice for designers and gamers. The system is strong enough to withstand your computing needs and all the heavy workload you have for it, and this can all be done without breaking a bank.
Check Price on Amazon
6. Dell XPS 9570 Gaming Laptop, 8th gen i7
Dell has always been known for providing its users with the very best powerful and high-quality laptop, and this one is no different.
Currently, it happens to be one of the best laptops for graphic designers and other professionals in the industry. Using this product your search for the best laptop for Adobe creative cloud at a mid-price range has come to an end.
It's not just a gaming laptop; it is also used by designers and creative people to carry out their professional job.
Features:-
It has a stunning display with FHD and a 100% Adobe RGB

It is a window 10 pro

Its power is very effective

16GB RAM and 512 GB PCle SSD

Its battery life lasts longer

Its screen display is very powerful and has a 400 nits
Dell product has always been of high-quality, and even till date their quality never dropped and their prices are affordable.
With lots of people looking for the best laptops to work with and also use their Adobe creative cloud on, Dell has brought this quality product that has got everything you need at a not-so-expensive price. 
Check Price on Amazon
7. HP OMEN 17-AN012DX
This is another great addition to the list of the best laptops for Adobe creative cloud. It is another excellent mobile workstation that is added to the list of workstations.
The laptop is well-known for its great performance and it is affordable. Because of its affordability, most people don't think about the low battery life. The keyboard is swift, its display is bright and it has excellent speed.
Features:-
AMD Radeon RX580 with 8GB VRAM

17.3 inch Full HD Display that makes your work very clear

It has a RAM that is upgradable up to 16GB
For laptop buyers looking to buy a great laptop at an affordable price, the Omen 17 is a great pick for you.
Check Price on Amazon
8. Lenovo ThinkPad P40 Yoga
The Lenovo ThinkPad is another lovable laptop that is loved by every designer. It is light weighted and versatile, with a very strong graphics power. The laptop is effective enough to handle 3D modeling, CAD work, and other demanding professional jobs and graphic design tasks.
It is a mobile workstation that can be carried around easily when it is been bent back at 360 degrees into a tablet. Are you a designer, animator, engineer, or researcher, then this laptop is best for you and you can carry it anywhere you want without feeling the stress. 
The Lenovo ThinkPad consist of a fingerprint reader that you can always swipe for biometric login, its keyboard makes typing very comfortable for you, it has a TrackPoint that can be used in place of a mouse and it is very effective.
When using it as a touchpad, its touchscreen gives you a whole new experience. If you are not comfortable with the touchpad, you can use the pen that comes with it to write, draw, or even paint effortlessly. 
Features:-
Its audio is loud enough and its rich sound can fill a room. The audio is good enough for listening to your favorite music

It has a wide variety of ports

It has a very sharp webcam that captures sharp and colorful images.

Core i7-6600U CPU

16GB RAM

Nvidia Quadro M500M graphics and 512GB SSD

14 inch full HD IPS Anti-glare touchscreen, that makes your workflow better and less stressful

It includes a proactive pen for multi-touch

It has a swipe sensor fingerprint.
The Lenovo ThinkPad is built for professionals who are in need of the best laptops that will allow them to carry out their jobs conveniently. The laptop is capable of multi-tasking which means you can open up about 14 tabs on your Google Chrome browser and it will still work effectively at the same speed.
If you are a graphic designer then this laptop's graphics processor is high enough to accommodate any high-end graphics app including your favorite Adobe creative cloud. The best part is that it doesn't heat up and it has a cooling fan that cools it down.
Check Price on Amazon
9. Apple MacBook Pro 13-inch
Here is another Apple laptop that designers love to use and it is also of a high-quality. No need to say much because you know very well that Apple products are top-notch. And the MacBook Pro 13 inch is no different.
Just like all other Apple laptops, the MacBook Pro 13 inch is lightweight and has a strong battery life that can last long hours and this is an added advantage for professionals.
Although the screen isn't large enough, it doesn't affect its display and the touch bar being introduced makes working with the laptop easy. The laptop is also up-to-date with the 8ty gen quad-core, core i5 processor.
Features:-
The 2.3GHz dual-core Intel core works perfectly well for designers

Though the screen isn't large enough, the 13-inch display with its Intel iris Graphics 640 is perfect

It includes two thunderbolts, 3 (USB-C) ports

It has a retina display that makes the pictures very clear

8GB RAM

Its battery life stays for about 10 hours.
For business-minded people, getting the Apple MacBook Pro is a small price to pay, compared with the many advantages that come with it.
If you need a speedy, mobile workstation that you can always carry around to work with anytime and anywhere, then this is the right laptop for you. It is not really on the high side, but it is worth the investment.
Check Price on Amazon
Conclusion
Knowing how wide the market is, with varieties of laptops on sale, one will get a bit confused as to the best laptop to purchase.
But this post is to help you purchase the best laptop for Adobe creative cloud for the graphic designer, videographers, photographers, and all other top-notch professionals that need a swift, fast and clear laptop to make their jobs stand out in their field.
So you no longer need to worry as you can always purchase the best laptop. However, you also don't need to break a bank before you can purchase a high-quality laptop, rather you can go for the more affordable, yet high-quality laptops listed above.