In this 21st century, there's a new breed of people we call 'enthusiasts.' They love DIY and experimenting with things. Modification is their second nature.
They are always eager to do things their way and want flexibility in their real and virtual lives.
Talking about virtually, if we take their personal computers, they also love to experiment with that. But traditionally, the popular operating systems don't provide enough modification, and sometimes you do not completely control your PC.
The most popular operating systems are Windows and macOS. But to enthusiasts, it is not enough to satisfy them. They need more control and modification over their computers.
To solve this, we use an operating system called Arch Linux. Here in this article, we will discuss the best laptops for Arch Linux.
But before that, let's know about some basics of Arch Linux.
What is Arch Linux?
Arch Linux is a Linux distribution compatible with computers with x86-64 processors. Arch Linux was made solely to provide:-
Versatility

Modernity

Simplicity

User centrality

Pragmatism
They only had one motto of 'keeping things simple. Arch is hugely based on binary packages. It can run on x86-64 microprocessors with modern hardware.
Arch Linux is best known for its simplicity. Arch offers a crazy amount of customization, it is incredibly lightweight, and the user has complete freedom on the device. It uses Pacman as the package manager.
It is used to install, update, and remove software packages. It is like a blank slate, you can do anything you wish, and It helps you understand the Linux configuration.
Arch is by far the best Linux distribution that we've come across. To enjoy Arch to its full extent, you must have a great computer compatible with Arch Linux.
Here in this article, we will discuss the best laptops for Arch Linux.
Best Laptops For Arch Linux – Our Top Pick👌
1. Dell XPS 13 9370
Dell XPS 13 is exceptionally compatible and one of the Best Laptops for Arch Linux. The process of installation is the same it is done on any other PC.
The hardware provided for XPS 13 is very top-notch and extremely reliable. Under the hood, the XPS 13 packs the 8th generation intel core processor providing much-enhanced performance compared to the previous generations.
However, you cannot expect much from intel in the graphics performance. It has Intel UHD 620 integrated graphics, suitable for any essential task other than an extensive graphic. 
This laptop also offers 16 GB LDDR3 RAM, clocked at 2133MHz. The more RAM, the better the performance. And when you pair up this fast 16 GB memory with an already high-performance CPU, the results are exceptional.  
The screen is considerably one of the most critical components of your laptop, as it is the only thing you will look at while working on Arch Linux.
A bad screen can ruin your overall experience of using your laptop, no matter how good the software is. But with XPS 13 9370, you don't have to worry a single bit about screen quality as it packs a 4K Infinity Edge IPS Touch display which can go up to 500 nits in brightness.
Due to its high brightness, the daytime experience of this screen is also outstanding. It has a max resolution of 3840×2160 and a contrast ratio of 1500:1. It also has 100% sRGB color, which is excellent for color accuracy.
Fast storage is a must in laptops as it speeds up all your basic tasks by a vast margin. Programs load faster, and execution is more rapid, which results in an overall good experience.
The XPS 13 has a 500GB SSD, giving you faster performance and ample storage. Simply, the best of both worlds.
This laptop is manufactured with a U-series processor, which means low watt consumes less power and greater efficiency. The XPS 9370 model has three type-C ports, enough for connectivity and support Thunderbolt 3.
Any Type-C port can be used to charge your laptop. But keep in mind that this model does not have any USB-A ports. TDP up is 25W, and TDP down is 15W.
Specifications:-
Intel Core 8th generation i7-8550u processor (quad-core, up to 4.0GHz)

13. 3" 4K Ultra HD (3840 x 2160) Infinity Edge touch Display 

Intel UHD Graphics 620

16GB Memory

512GB PCIe SSD

Widescreen HD (720P) Webcam

An integrated fingerprint reader on the power button

Killer 1435 Wi-Fi 802.

11AC 2×2 with Bluetooth 
Pros:-
Smooth and reliable performance 

Brilliant display

Lightweight

Exceptional trackpad and keyboard

Biometric security 
Cons:-
Expensive 

No USB-A support 

Not suitable for high graphic extensive tasks
2018 Dell XPS 13 9370 Review
2. Asus Zenbook 13 
Asus Zenbook 13 simply checks all the boxes, and it is an ultra machine to use Arch Linux. With outstanding performance, this machine is also beautiful and ultra-lightweight.
Zenbook 13 is the best laptop for Arch Linux that utilizes it to its full potential. 
The Asus Zenbook 13 has some great specifications on paper, like the 10th generation intel core i7 processor, which can be clocked and turbo-boosted up to 4.9 GHz without breaking a sweat and has four cores and eight threads. So no matter how heavy of a task you throw at it, it will get the job done.
The Zenbook 13 doesn't disappoint the graphics department as it has the Nvidia GeForce MX 250, a decent processor for mediocre graphical tasks.
You cannot expect it to perform as you would expect from a 10th series Nvidia graphics card, but it is pretty decent in day-to-day use and can do slight graphics-oriented tasks. 
As mentioned earlier in this article, the display is one of the most important aspects to consider while buying a laptop because it is the only thing you will always look at while working on it.
The Zenbook 13 has a 13.3 Nano Edge display which is just mesmerizing to the eyes. It is an FHD display having a resolution of 1920×1080, which gives sharp color and a premium look to the laptop.
Under the hood, it has 16 Gigs of RAM paired up with 512 GB of PCle NVme SSD, blazing fast. And the 16GB of fast RAM allows you to multitask with utter ease.
Taking a look at the build quality, the Asus Zenbook 13 is made from Aluminum which is highly durable and has a rigid feeling in the hands. It also has MIL-STD-810G grade durability, which offers tremendous confidence to its users while traveling with it.
Zenbook 13 also offers a variety of connectivity options in the form of ports. It has HDMI and USB type-C support with WIFI 6 and a card reader.
Specifications:-
5.65-Inch interactive touchscreen trackpad that is customizable to your needs

App switcher on-screen pad: quickly move docked Windows between your primary display and screen pad Display

13.3-inch wide-view full HD 4-way Display

10th Gen Intel Core i7-10510u Core Processor up to 4.9 GHz

NVIDIA GeForce MX250 graphics

512GB SSD

16GB RAM

Built-in IR camera for facial recognition sign-in with Windows Hello support

Extensive connectivity with HDMI, USB Type C

 Wi-Fi 6 (802.11Ax), Bluetooth 5.0
Pros:-
Outstanding battery backup

Windows Hello support, the IR camera is great and works most of the time.

Premium looks

Unique ScreenPad, which oozes multitasking.

Aluminum build

Ultra-high performance

Dedicated GPU
Cons:-
This laptop doesn't have any specific cons, but the screen pad and other unique facilities specific to this laptop might take some time to get used to.

A 1 TB memory should've been fine.
ASUS ZenBook 13 UX334 Review: a screen inside your touchpad!
3. Lenovo Thinkpad P52s
Lenovo is known for its Thinkpad series, and people have trusted them because they have consistently delivered a great performance at a reasonable price.
The ThinkPad series is a workstation and a productivity-oriented device explicitly made for heavy use. Arch Linux runs smooth as butter on it.
It has a reasonably decent CPU and a good dedicated GPU to back it up. Arch users might find this laptop pretty good.
The ThinkPad P52s works on an 8th generation Kaby Lake R intel core i7-8550u processor, which has four cores and a turbo speed of 4.0 GHz.
This specific processor is reasonably decent in performing day-to-day tasks with some heavy work here and there. It can easily handle big software.
ThinkPad also comes with a dedicated GPU, Nvidia Quadro P500, which is a pretty good GPU in terms of performance. It can easily give you higher frame rates in some games and other graphics-oriented tasks such as editing.
It has 16 Gigs of RAM, which is upgradable up to 32 GB because ThinkPad offers an extra empty RAM slot so that you can upgrade it in the future as per your needs.
But there are no upgradeability options in terms of storage as it has a single slot with the 512GB SSD.
As for the display, it offers an FHD 15.6 inch IPS LED-backlit display. The display is very bright, which makes it easy to use in broad daylight.
The bezels are okayish, and the chin is a bit big, but it's a decent screen overall. The display also has a 117% sRGB color gamut.
The build is made of plastic and aluminum, which has its pros and cons depending on how you look at it. 
As for ports and external support for connectivity, it has USB 3.1 and Type-C Thunderbolt 3 ports. Either of these can be used for charging the device.
Specifications:-
8th Generation Kaby Lake R Intel Core i7-8550U Quad-Cores Processor (1.8 GHz up to 4.0GHz, 8 MB Cache)

NVIDIA Quadro P500 with 2 GB GDDR5 VRAM

15.6″ Full HD (1920 x 1080) IPS LED Backlight Display

16GB DDR4 Memory with 512GB SSD

Built-in HD webcam, Full-Size Backlight Keyboard, Numeric Keypad

1 x Thunderbolt 3, 1 x USB 3.1 Gen 1 Type-C, 2 x USB 3.1 

Windows 10 Professional (Win 10 Pro)

 4 (32Wh) cell Battery
Pros:-
A capable, dedicated GPU

The keyboard and touchpad quality is great

Thin and portable 

Extra RAM slot
Cons:-
The fans can be pretty loud sometimes

Under heavy load, it can get pretty hot

Battery life is underwhelming, and you need to carry a charger wherever you go
4. HP Premium Spectre X360
The HP Premium Spectre is a laptop that falls under the 2 in 1 laptop category. It has a pretty responsive touch screen of 13.3 inches, and the display can rotate 360 degrees, giving its users extreme flexibility and a comfortable experience.
The HP X360 packs an 8th gen intel processor, which is fast and has good benchmark performance. It also consumes very little power from the U-series of Intel processors.
This laptop comes with an 8GB LDDR4X RAM and 256GB PCle SSD storage. This may not be enough for some people, so there is always an option for an upgrade, or you can buy one with 16 gigs of RAM and up to 2TB of storage.
Though this laptop doesn't have a dedicated GPU, you get the intel UHD 620 graphics integrated which may not be enough for heavy graphical tasks.
The battery life of this laptop is phenomenal, it has an average of 16 hours of battery life, but in some cases, it can last up to 22 hours on a single charge depending on the usage.
As mentioned earlier, this is a 2-in-1 laptop. Hence it comes with a stylus that helps you to navigate the touchscreen and acts like a pen. It is an excellent tool from a productivity perspective.
Specifications:-
8th Gen Intel Core i7

Intel UHD Graphics 620 (16 GB)

8 GB LPDDR3-2133 SDRAM, FHD IR Camera

256GB SSD storage

Windows Hello support

Approx. 16 hours of battery life

13.3″ diagonal FHD IPS touchscreen

HP Active Stylus

2 Thunderbolt 3 ports

framework laptop
Let's now take a look at the pros and cons of the HP Premium Spectre X360 that makes it add to our Best Laptops For Arch Linux list.
Pros:-
Phenomenal battery life

Touch screen and stylus support 

Feels durable

Windows Hello support and a fingerprint reader
Cons:-
Overheats quite often

Speakers do not perform well at high volume

Bloatware
Laptop GOALS!!! HP Spectre x360 - Powerful and so pretty!
5. ASUS Zenbook Duo
This particular machine is made for creativity and productivity. It has two separate displays. Primary and secondary provide extra space to extend your work or do the next level of multitasking.
The secondary screen, called Asus ScreenPad Plus, functions with the main display. It comes under the category of ultrabooks which is highly compatible with Arch Linux.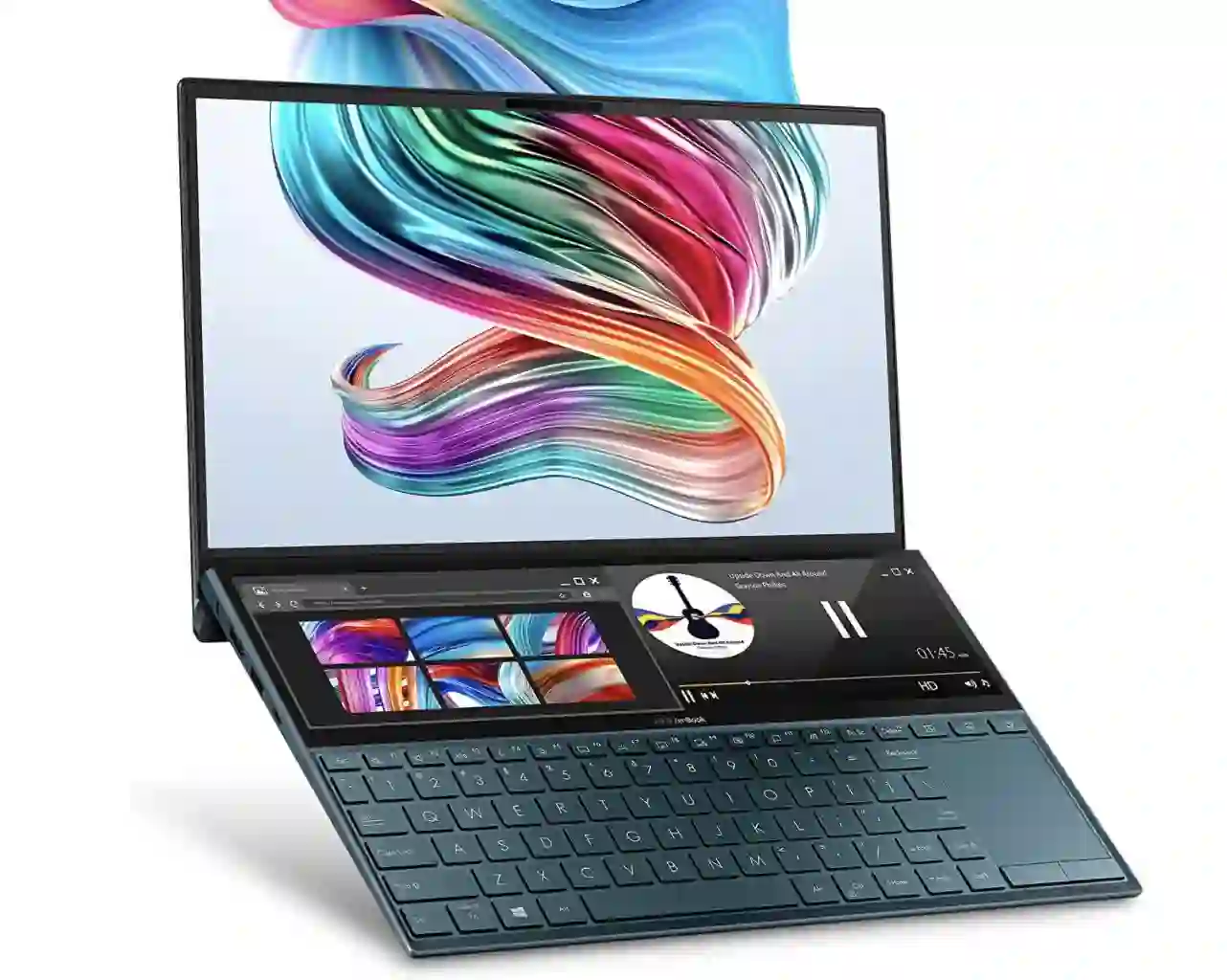 It comes with a 10th gen intel core i7-10510U processor, guaranteeing seamless performance without any issue or lag. The base clock speed of this processor is 1.8GHz which can be boosted up to 4.9 GHz as per the requirement. It is a competent processor.
Zenbook Duo comes with 16GB RAM and 1TB PCle NVMe SSD, which is fast and dramatically compliments the processor's speed. The storage and RAM are plenty, so you might not have to upgrade this laptop in the future.
It also has a dedicated graphics card, the Nvidia MX250, which pairs up the already powerful CPU to make things more smooth and reliable.
It enhances the productivity of the Laptop. The display is impressive on this laptop. It has a 14-inch LED Panel with almost no bezels. The color contrast is perfect, 100% sRGB color gamut and Pantone-validated.
Specifications:-
ScreenPad Plus: 12.6-inch matte touchscreen secondary display 

14-inch Full HD NanoEdge touchscreen glossy main display

10th gen Intel Core i7-10510U Processor 

NVIDIA GeForce MX250 GPU

Detachable palm rest, sleeve

ASUS active stylus pen included

1TB PCIe NVMe SSD 

16GB RAM
Let's now look at the pros and cons of the ASUS Zenbook Duo that makes it add to our Best Laptops For Arch Linux list.
Pros:-
ErgoHinge Lift gives a better typing experience 

Almost perfect for Arch Linux

Build quality is top-notch

Secondary display 

Plenty of storage and RAM
Cons:-
The secondary screen isn't as sharp as the primary one

The laptop is heavy and demands extra care

Fragile
6. Acer Aspire 5
Most of the laptops we've discussed are good, but they are expensive. So here is a laptop considered the best value for money laptop. The Acer Aspire 5 is a budget-friendly option for those who don't want to invest much.
This laptop is paired with a 10th gen intel core i5-1035G1 processor that can be turbo-boosted up to 3.6 GHz. It provides a decent performance considering its price. It also has an integrated GPU which is by all means pretty average.
The Acer Aspire 5 comes with 8GB of RAM and 256GB of SSD storage which is the bare minimum requirement for a decent experience while running a program or doing any tasks. The display is a 1080p FHD IPS panel with 142PPI ( pixel per inch). The display is average, but it will do the job without issues. 
Overall, considering the laptop's price, it has a lot of things to offer at a reasonably reasonable price which can be a good choice for people.
Arch Linux also performs well on this laptop. So you can opt for this one if you're looking for a laptop specifically for Arch Linux and don't want to invest much money.
Specifications:-
10th Gen Intel Core i5-1035G1 Processor

 8GB RAM

 256GB SSD

15.6″ Full HD widescreen LED-backlit IPS Display 

 Intel UHD 620 Graphics

Intel Wireless Wi-Fi 6 

 Backlit Keyboard and Fingerprint Reader 

 Up to 8 Hours of Battery Life
Pros:-
Very affordable

Decent processor 

Good battery life

Easily upgradeable
Cons:-
The Trackpad and keyboard are very average

The display is not good

Overheats sometimes
7. HP Envy 13
HP is a name that has a prestigious reputation in the laptop world. They are known for delivering the best user experience to their customers. HP Envy is a series that is remarkably compatible with Arch Linux.
HP Envy uses a beast of a processor, 10th gen Intel Core i7-10510U which is very fast and responsive. It has four cores and a clock frequency of 1.8, and it can be turbo-boosted up to 4.6 GHz to achieve maximum juice.
You must know that it has 16GB 2400MHz RAM, which is plenty, but it cannot be upgraded any further. It has 512 Gigs of fast storage that provides a high rate of reading and writing operations.
The display is simply brilliant on this Laptop as it has a 4K display which is very vivid and sharp. The 13.3-inch display is color accurate and produces sharp color, suitable for color accuracy tasks. It is also a touch screen; hence, HP has given it a corning gorilla glass to prevent it from scratches.
The battery performance of this laptop is very good, as it can last up to 16 hours on a single charge, and HP also provides a fast charger with this laptop which charges this laptop 0-50% in 45 minutes.
Specification:-
10th Gen Intel Core i7-10510U, Quad-Core

8GB RAM DDR4-2400 SDRAM

256GB SSD NVMe

13.3-Inch diagonal FHD display with multi-touch enabled

Backlit keyboard

Battery 9-15 hours
Let's now look at the pros and cons of the HP Envy that makes it add to our Best Laptops For Arch Linux list.
Pros:-
Performance-oriented machine

The screen quality is brilliant

Battery life is good

Lightweight

Speakers are crystal clear

After-sale service is excellent

Fingerprint support

Webcam kill switch for better privacy
Cons:-
No support for Thunderbolt 3

Slightly thicker bezels
HP Envy 13 2021 Review - Budget Laptop under $1000 Competing with Apple M1 MacBook
8. Asus TUF Gaming FX504GE-ES72
So far, we've discussed several laptops, but none were gaming-oriented. They all had world-class CPUs but were lacking in the graphics department and were not meant for gaming.
But this laptop, the Asus TUF FX504, is a machine that is mainly focused on gaming and high-performance output. This is powered by an 8th gen Intel Core i7-8750H processor, a gaming-centric CPU that consumes much power. And due to this, Arch Linux runs smoothly on this machine without any hiccups.
As more and more games are becoming compatible with Arch Linux, this laptop has become a great option for users who want to game on Arch Linux.
The GPU has Nvidia's GTX 1050Ti, which can perform extensive graphic tasks such as heavy gaming and video editing.
Getting this powerful GPU in this price range is such a steal. It outperforms any laptop in the graphics department mentioned in this list.
Asus FX504 is very heavy and bulky, which is generally a trait of gaming laptops. It also has dual fans that are anti-dust to keep your system cool and clean.
This might be the best laptop if you are on a tight budget but want a laptop with good performance with the ability to play games.
Specifications:-
High-performance 8th gen Intel Core i7-8750H (up to 3.9GHz)

Nvidia GeForce GTX 1050Ti GPU (4GB)

8GB DDR4 RAM high-frequency 2666MHz RAM

256GB M.2 SSD

15.6 FHD display

Dual Fans with Anti-dust technology for better cooling while gaming
Pros:-
Price to performance ratio is excellent

Remarkable performance

Plenty of I/O ports for better connectivity 

Backlit keyboard

Powerful GPU
Cons:-
Heavy and bulky

Battery life is average

You might not like the looks of the laptop
9. HP Probook 450 G6
HP ProBook 450 G6 is yet another affordable option and one of our list's best laptops for Arch Linux. It is one of the cheapest laptops which can run Arch Linux smoothly.
The HP ProBook 450 has an 8th gen intel quad-core processor, performing well daily without hiccups. The processor is decent for its price.
One surprising thing about this laptop is that it offers a plethora of storage. It comes with a 256 SSD paired up with a 1 TB HDD.
The operating will reside inside the SSD, making the system faster, and the 1TB HDD can store plenty of files—giving you the best of both worlds.
The built quality of this laptop is quite nice. As it is made of Aluminum, it is very robust and feels sturdy in the hands.
So far, everything seems too good about this laptop, but it isn't the case. You have to compromise with the display quality as it is only HD resolution. Still, it is not a deal-breaker. It is still offering a lot for its price.
It also has a decent amount of ports available for connectivity, USB Type-C, two USB 3.1, and an ethernet port is well and good.
Specifications:-
8th Generation Intel Quad-Core i5-8265U

Storage: 256GB SSD + 1TB HDD 

16GB DDR4 RAM

15.6″ HD Anti-glare LED-backlit Display 

Integrated Intel UHD Graphics 620

Bluetooth v4.2 | Webcam 

Backlit Keyboard

Up to 8 hours of battery life
Let's now take a look at the pros and cons of the HP ProBook 450 that makes it add to our Best Laptops For Arch Linux list.
Pros:-
Reasonable price-to-performance ratio

Suitable for office work

Fans aren't very loud

Good thermals
Cons:-
Low-resolution screen (HD)

No touchscreen

Sometimes it reboots on its own

No Fingerprint support
10. Asus VivoBook 15 – Best laptop for manjaro
This is the 1st laptop on our list featuring an AMD processor. An AMD processor has various benefits over an Intel one as they are cheaper but provide equivalent performance. AMD processors' integrated graphics card performance is much better than intel's integrated graphics.
In short, AMD provides good value for money and is highly compatible with Arch Linux. That is why the Asus Vivobook is on our list.
The Asus Vivobook 15 features an AMD quad-core Ryzen 7 3700U processor, an excellent processor at this price range. The raw performance of this processor is remarkable. The maximum clock speed of the Ryzen 7 3700U is 4.0 GHz. This makes the Asus Vivobook a compelling laptop.
This processor is perfect for handling Arch Linux and your daily tasks, whether heavy or light.
It also features an AMD Radeon Vega 10 graphics card integrated with the processor. It is a decent and capable graphics card that can handle light gaming and video editing.
The laptop has 8GB of DDR4 RAM, which is pretty decent, and has a 512GB PCle SSD, which is very fast and can store many big files or even games.
This display quality is also very nice, with an 86% scream-body ratio. This machine looks beautiful. The screen is a 15.6 Full HD Display that can go up to 400 nits in brightness.
Specifications:-
AMD Quad-Core Ryzen 7 3700U Processor

AMD Radeon Vega 10 graphic

15.6-inch Full HD Display

8GB DDR4 RAM 

512GB SSD

Fingerprint Sensor

Chiclet Style Keyboard
Pros:-
Very capable CPU

Decent GPU

Attractive pricing

Good keyboard

Fingerprint sensor

Decent screen and overall look of the laptop 
Cons:-
Plastic build 

Only one RAM slot is soldered to the motherboard

Upgrading is difficult
Asus Vivobook 15 with AMD Ryzen 5 Laptop Review - Budget Laptop!
11. MSI GS63 Stealth – Best laptops for architecture students
MSI is a well-known company which is known for its gaming machines. The MSI GS63 is no exception. This is our 2nd gaming-oriented laptop featured on our list. The benefit of a gaming laptop is that they deliver raw performance. 
MSI GS63 is a gaming laptop, but surprisingly, it is also very lightweight and thin, making it unique and rare. You're on the right track if you are searching for a powerful, portable, lightweight gaming machine.
The MSI GS63 comes with an 8th gen Intel Core i7-8750H processor, which is very powerful and capable of performing any task. 
It offers a GTX 1060 GPU (6GB), the most powerful GPU on our list. It is a very high-performance GPU. You can play any game on this GPU in mid to high settings, and they will be butter smooth. Video editing is also a piece of cake for this GPU.
This system also offers a good amount of storage as it is a hybrid system. It has plenty of space to store all your games and files. The notable point is that this is a gaming laptop made for delivering high performance at all times and is very robust.
So you can't expect a very good battery life from them as you would from an Ultrabook. 
Due to its high performance, this laptop is heaven for Arch Linux. Arch Linux might even increase its performance by some margin because Arch Linux is so lightweight.
Specifications:-
8th gen Intel Core i7-8750H (max clock speed 4.10GHz)

Nvidia GeForce GTX 1060 Graphics card (6GB)

16 GB RAM

256GB SSD + 1TB HDD storage capacity

15.6-inch FHD LED (1920*1080)
Pros:-
Outstanding performance

RGB Backlit keyboard

Decent trackpad

Dual fan support for better cooling

Thin and Lightweight 

Decent speakers
Cons:-
Average battery life

No fingerprint sensor

Fans are loud
📗FAQ
Does Arch Linux Works On Laptops?
Yes, Arch Linux works on all laptops that are launched recently. Some tools and programs work on all laptops to take control of your PC.
This feature comes with all the Windows laptops that are launched recently. Not only this, but many Chromebooks also have the option for Linux.  
Which Laptops Are Most Compatible With Arch Linux?
You will find various laptops in 2023 that support Arch Linux. Suppose you are looking for the best laptops that support Arch Linux.
In that case, you can go for Asus Zenbook 13, Asus ZenBook Duo, Dell XPS 15 9370, Acer A515-46-R3UB, Lenovo IdeaPad 3, and Asus Vivobook 15, amongst others.
Laptops from big brands like Asus, Dell, HP, Lenovo, and others support Arch Linux.  
Is Arch Linux Good For Laptops?
Arch Linux lets you handle everything. With Arch Linux, you can select which environment you want to use. Moreover, you can also select which services and components you want to install.
If you want a minimal setup, you can go for it or add elements of your own to make your setup as per your requirements.
It is also lightweight, which makes your laptop smoother than before. For all these reasons, Arch Linux is considered good for laptops.  
Is Arch Linux Better Than Ubuntu? 
The answer to this varies between yes and no. Arch Linux is faster than Ubuntu, especially with a minimal setup. However, Ubuntu is more stable, and you will get better support than Arch Linux. 
Is Arch Linux Good For Old Laptops? 
Old Laptops generally have lesser RAM and CPU. They run on outdated specs and give a slower performance than Windows.
On the other hand, Arch Linux is lightweight and can run fine on your old laptop. This will run smoothly on an old laptop with not-so-good specs.  
Can Beginners Use Arch Linux?
Yes, Arch Linux is considered one of the best Linux Distros for beginners. With an easy learning curve, anyone can quickly learn and use Arch Linux.
Final Verdict on the arch Linux laptops list
There are various pros to using Arch Linux over any traditional operating system, and it is easy to upgrade as it uses the rolling release model. Once Arch Linux is installed on your computer, it will always be at its latest version.
Arch Linux can run on any processor, but to keep things smooth and have a better experience, you should go for a CPU with 3.5GHz of clock speed. The RAM should also lie between 8-16 gigs to offer the best user experience.
Linux can run on any laptop having decent hardware that checks all the boxes of minimum eligibility criteria of supported hardware requirements. The above article is all you need if you want to purchase a Linux Friendly laptop.
Some laptops might run Arch Linux better than others. That solely depends on their hardware capabilities. We've mentioned laptops from all price ranges.
You can choose any of them based on your requirements and budget, from flagships to entry-level laptops, gaming to office workstations, and from ultrabooks to touchscreen.
Here's our list of the best laptops for Arch Linus listed here.
Asus Zenbook 13          

 –     Overall, the best laptop on our list

Dell XPS 13 9370            

–     Best touch-sensitive laptop

HP Premium Spectre    

 –     Best 2 in 1 laptop 

Asus Vivobook 15         

 –    Most trustworthy laptop

Lenovo ThinkPad P52   

 –    Best work-oriented workstation

MSI GS63                        

–    Best Gaming oriented laptop

Asus Zenbook Duo        

–    Best laptop for productivity 

Acer Aspire 5                 

–    Best Affordable laptop 

Asus TUF FX504

           –     Decent gaming laptop for its price

HP Probook G6           

  –     Best entry-level laptop for Arch Linux

HP Envy 13                   

–      Best portable laptop on our list