While most of you are reading this post because you are searching for a laptop for multiple monitors, some are curious about why multiple monitors exist. Why use the best laptops for multiple monitors? Using multiple monitors for your work or gaming has several benefits. 
You would be delighted to know that it helps you become productive. That is right. You could be a stock trader, programmer, gamer, writer, or regular user. There is no harm in having a multiple monitor setup. 
When it brings you something good, we see no reason why you should not try it out. Multiple monitors enable you to set up and make you more productive. The need to flip between your documents, programs, emails, and videos is no longer required in multiple setups. 
You can focus on the work at hand while having your emails or videos open on the second monitor. The third monitor can be used for viewing something else; usually, three monitors, including your laptop, in a multiple monitor setup. 
Significance of choosing the best laptops for multiple monitors
As you can see, your productivity is enhanced by using multiple monitors. Everybody does some kind of multi-tasking, and several monitors can assist you with the work. Additionally, your tablet or smartphone may not be able to provide you with this kind of flexibility. 
You can check your emails, write down your documents, and have a video call with a client or family. We compiled this list's main parameters on the size, monitor quality, smoothness of the keyboard, and performance. 
After all, you must ensure that you have a functional laptop that can help you work efficiently using several monitors. We have given you a sublime balance of laptops on the list. They are exceptional models that are in great demand in the market. 
Our top two best laptops for multiple monitors would be the Dell XPS 13 and the MacBook Pro. We have given you a choice between two phenomenal devices for Windows and Apple users. 
They are an excellent option for enhanced productivity as the models can perform exceptionally well. They do not come with any drawbacks besides the pricing. 
Best Laptops For Multiple Monitors – Our Pick
When choosing laptops for multiple monitors, you have plenty of options. Please do remember that the laptops must mainly have connectivity. Also, as we read in the above paragraphs, they need to be high-performance units. 
Based on our research and consumer reviews, we have listed some of the best laptops suitable for multiple monitors. We can assure you that the below models are top-notch and can help you succeed in your work. 
Let us begin our quest by reading the below line till the end.
1. MSI GL75 Leopard
Now some of you might be wondering, why the MSI GL75 Leopard? As a laptop for multiple monitors, we thought of beginning with a large monitor unit. Besides, this model came with stupendous features infused in it.  
It is a familiar model as the specifications are similar to the GL75 9SEK. The monitor is a 17.3″ FHD screen with a resolution of 1920x1080. It also is embedded with a 144Hz 3ms 100% sRGB display. 
Its viewing angles are pretty good, and there is adequate brightness. You can find that it comes with opulent contrast and outstanding color reproduction. The unit is powered by the Intel 10th Gen Hexa Core i7-10750H processor that offers you stunning pace. 
It is, after all, primarily a gaming device. This was expected from it. You can effortlessly complete all your stock marketing, trading, or programming work. Not to be left out, it also has a dedicated graphics card in the form of an NVIDIA GeForce GTX 1660Ti. 
Gamers, in particular, will be delighted to know that it comes with a memory of 16GB RAM and storage space of 256GB SSD, and a 1TB Hard Drive. You will never find yourself in a spot of trouble for speed and storing your files or games, for that matter. 
It has a barrage of connectivity options in the form of the 3x USB 3.1 Gen 1, 1x USB 3.1 Gen 2 Type-C,1x HDMI-Out, and the 1x Mini-DisplayPort. Many users have felt that the two fans present on the model tend to run quite fast, hence the intense noise. 
However, it works for your good; It does not heat up quickly. You can spend more hours working on your projects or playing games. We also noticed that it does not come with the Thunderbolt 3 port. 
Does this exceptional device come with any flaws? It is not exactly a defect, but it weighs 4 pounds and can be slightly cumbersome for some users. If you are alright with the model's weight, then we see no reason why you must not consider it for regular use. 
Pros:-
The model is robust and comes aggressively designed. 

The laptop has stupendous monitor viewing capabilities. 

It comes with exceptional color reproduction.

It is a phenomenal device with a sublime performance. 

The unit can support three display outputs.
Cons:-
The laptop does not have a Thunderbolt 3 port.
MSI GL75 Leopard is a phenomenal 17.3″ device with all the features you will require for multiple monitors. You will adore the monitor with a responsive Full HD display, stunning memory, NVMe SSD, and a 1 TB HDD.
MSI GL75 Gaming Laptop Review - RTX 2060 Power!
2. Apple MacBook Pro
The Apple MacBook Pro is one of the best laptops for multiple monitors. It has a large monitor on par with the MSI unit we just finished reading. However, the phenom we like to call it comes with the biggest complaints on its pros. 
If you are alright with the pricing of this unit, then there is nothing much to complain about in the Pro. We begin with the laptop's keyboard, which has seen the most changes. Compared to the previous model, the maligned butterfly keyboard, this unit has a better one. 
We noticed that the pressure and the typing speed were very smooth. This is something that you may not find in most laptops. Besides, under $1000 may not have an eloquent keyboard like this. It was also quiet when typing or gaming. 
Another major improvement in this laptop would be the audio speakers. They are simply fantastic to listen to. Apple has managed to infuse two woofers that give it astounding sound quality. 
Besides users needing the best laptops for multiple monitors, programmers, and gamers, we felt this machine is highly suitable for video editors and content designers. Now to the monitor. As we know, the MacBook monitors come with a retina display. 
That means you get to view stunning visuals, and image quality is given a massive shot in the arm. You get a monstrous 16″ with an enormous resolution of 3072x1920 pixels. 
You can just imagine the quality of the pictures you receive. It has to be seen live for you to believe it. The unit is powered with a decent i7-9750H @4.5GHz and monumental graphics of the Radeon Pro 5300M 4GB.
The memory can be upgraded to a colossal 64GB and average storage space of 256GB, which can be upgraded to a herculean 8TB SSD.  All this can be run by battery life for more than 10 hours.  
Did we feel any lag anywhere in this device? Not as such, but if you are looking for a lightweight device, you may consider the 13″ model or the Air or Pro version, as it weighs 4 pounds. Besides, it is priced relatively high at $2300. 
Pros:-
The laptop is infused with top-notch build quality.

The unit has a sublime Retina display for invigorating visuals. 

It comes embedded with 4 Thunderbolt 3 ports.

It has a slick keyboard for typing and gaming purposes.

The product comes with remarkable speakers.
Cons:-
The laptop does not have an SD card slot.
Apple MacBook Pro is truly a beast of the machines available today for any purpose. It could be for multiple monitors, a programmer, a content creator, a video editor, or a gamer. The list could go on. Why not test its powers by ordering one for yourself today?
3. HP Pavilion Gaming

15-Inch Micro-EDGE Laptop
The HP Pavilion Gaming comes screaming with the flashy green keyboard, a sure giveaway that you are dealing with a gaming model. HP has recently delved into the peripheral gaming segment. 
With the success of their Specter x360 15 model, it wasn't long before they decided to release the Pavilion Gaming unit. We liked the black chassis that comes with a bright green colored keyboard, along with a green pinch of HP on it. 
The manufacturer can switch to white keys if you want, but we felt it might not make much difference. We begin with two of the essential features of a typical gaming laptop: its graphics and the thermal system. 
This model comes with the NVIDIA GeForce GTX 1050 (3 GB) graphics card that is relatively standard in most gaming units. However, you will be delighted to know that it offers you intense multi-tasking abilities that can meet your professional and gaming needs. 
The cooling technology infused in it is very advanced. Many users have commended the device for it. The laptop has an optimized thermal design and IR sensor. They efficiently keep the device very cool without affecting your working requirements. 
You will also appreciate that the BIOS recovery and the protection provided on the system are exceptional. This prevents unwanted hands and eyes from accessing your laptop. You know that your data is safe there. 
It is coming to the laptop's processor, memory, and storage space. It has an exceptional processor in the form of the 9th Generation Intel(r) Core(TM) i5-9300H. This unit comes with a turbo boost system. 
You can also make use of virtual reality if you want. The unit comes with a 15.6″ diagonal FHD IPS monitor. It is also infused with an Anti-Glare WLED-backlit display. The laptop's resolution comes at an excellent 1920x1080, offering you stunning image quality.
The memory and storage space in the unit is quite acceptable, coming at 8GB RAM and 256GB SSD. The working battery life of the unit is at 10 hours, which should be sufficient to take you through the day. 
We are talking about a heavy device, just under 5 pounds. Since you will use it for multiple monitor setups, you may not take it around with you often. A notable feature of this product is the pricing. 
It is priced at less than $800. For the specifications that we just read, this is an excellent device. This unit is feature-rich and suitable for office work, gaming, and university students. 
Pros:-
The unit comes with an aggressive design. 

The product has magnificent performance. 

It has memory and storage that can be upgradeable. 

It comes with several choices for connectivity ports.

The laptop is affordably priced under the $1000 price range. 
Cons:-
Sadly, you cannot have too many gaming-related features. 
Overall, the HP Pavilion Gaming is an exceptional device with eloquent specifications. This unit is one of the laptop that supports 3 external monitors as it offers you immense flexibility with chiseled appearances for a budget value. 
HP Pavilion Gaming 15 Review
4. Lenovo ThinkPad E590
Lenovo ThinkPad E590 is the successor of the highly-rated ThinkPad E580 series. It is safe to say that the ThinkPad series was a success among several users, especially students. The unit was a sublime laptop, and we have high expectations from the E590. 
However, you may not want to expect it to be on par with the MacBook Pro or the XPS models. But it does well regarding usability, reliability, and battery life. The unit comes powered by the Whiskey Lake CPU.
You can also choose the GPU you want, including AMD Radeon RX 550X. Instantly, you can notice the relatively smooth keyboard and explain why it is popular in the market. 
This keyboard is on par with the MacBook. It comes with a 15.6″ monitor that is a Full HD IPS screen. The model has a resolution of 1920x1080 with a screen ratio is 16:9. You can choose from Core i5-8265U, Core i3-8145U, and Core i7-8565U. 
Some of its competitors could be the ThinkPad E58 and the HP ProBook 450 G6. It brings us to another point the unit has a backlit keyboard. The unit also has a powerful HD webcam that seamlessly lets you have video conferences with your clients, students, or friends. 
Its battery life is quite good, coming at 12.5 hours, which can take you for more than a day's work. The unit is on the heavier side of things at 4.7 pounds. On the bright side, that makes it a sturdy and robust laptop. 
Pros:-
The design of the unit is supreme.  

The monitor display is quite good. 

It comes with a soft keyboard. 

It has powerful battery life. 

The unit has several connectivity options. 
Cons:-
The unit is priced slightly expensive. 
Lenovo ThinkPad E590 is easy to set up, very ideal for students and working professionals. We suggest you opt for the Radeon RX 550X GPU unit as it is more effective than the other variations. 
5. Acer Predator Triton 500 – Best laptop for 3 monitors
Acer Predator Triton 500 is a good option for setting up multiple monitors at home or the office. Primarily a gaming model, it comes with a decent fan cooling system that does a good job. 
However, when you want a heavy workload, it may get slightly noisy. The laptop comes powered by the 8th Generation Intel Core i7 8750H processor. You are assured of quick power and intense functionality. 
It also comes with a graphics card of Nvidia GeForce RTX 2080. You will also be delighted to know about the display with NVIDIA G SYNC technology. The monitor is a 15.6″ Full HD having a resolution of 1920x1080. 
The visual quality is quite vibrant and stunning. That is due to the LED-backlit IPS 144Hz refresh rate. It has you covered in the visual aspect of things. It is coming to the memory and storage space. 
You won't be disappointed knowing that it has 16GB RAM infused with a monstrous 512GB SSD. Your working abilities and storage issues are instantly solved here. Being a gaming laptop comes with a 3-fan cooling system that enables the unit to remain cool. 
Additionally, five copper heat pipes help you to perform your tasks efficiently. This unit is VR-ready and has a customizable RGB keyboard. Does it have any flaws? Sadly, yes. The battery working life is a mere 3 hours only. 
The makers may want to do something about it. Though Acer has produced a sublime device here, battery life can drain the user's enthusiasm when purchasing it. It is priced at less than $2000.
Pros:-
The design of the laptop is quite aggressive. 

The processor and storage space are very functional. 

It is infused with awesome graphics cards. 

It has a vibrant keyboard ability. 

The unit comes with splendid connectivity ports. 
Cons:-
The battery life is poor. 
Acer Predator Triton 500 is truly one of the best computer for multiple monitors. When you are alright with the battery, then we don't see why you should not consider having this excellent unit on your work table. 
Acer Predator Triton 500 SE Hands-On (2021) | 16-inch gaming laptop!
6. Dell XPS 13

7390
Dell XPS 13 is produced from a single block of aluminum. That means you are receiving an elegantly designed product from an American manufacturer. Besides their professional customer service, we admire their packaging capabilities. 
When you receive their product, you notice how well they have packed it for you. This shows the dedication of a laptop manufacturer. Let us read to find out why the XPS series is such a massive hit among the masses.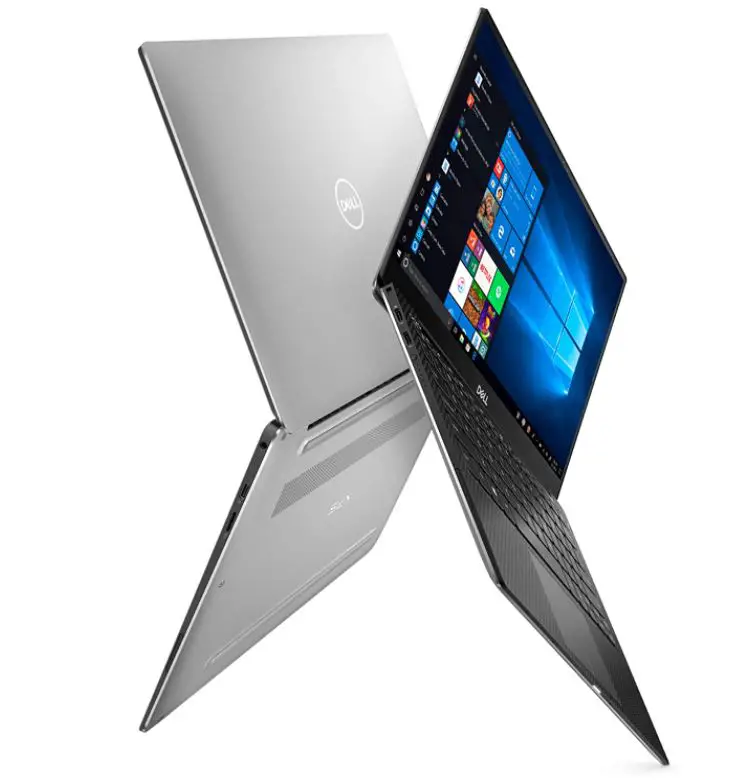 You will be amazed that the XPS is a CES 2019 Innovation Awards Honoree recipient. A distinct feature in the unit is the Infinity edge display. This model has a decent 13.3″ screen that gives you an amazing 80. 7% screen-to-body ratio.
The Infinity Edge display offers razor-sharp images that are on par with the MacBook Pro. It also comes with a powerful HD webcam that you can use for online videos. Users have complimented the unit for the color variation offered in it. 
These best laptops for multiple monitors come with 100% RGB color and 1500: 1 contrast ratio. Every detail is shown clearly, meaning you won't miss even the shadow. Talking about the processor, it comes with the latest 10th Gen Intel Core i7-10710U and UHD Graphics.
You know that you will get unprecedented functional capabilities from the unit. Users can operate with more than 50 tabs open at the same time. The unit also comes with a memory of 16GB RAM and a storage space of 256GB SSD. 
Connectivity is also decent in this unit as you have the 3. 1 Type-C, USB3. 0, Micro SD card reader, and Thunderbolt. A notable feature of this unit is that it comes with an English black keyboard infused with FPR. 
We liked that its touchscreen is responsive and quite sensitive as it should be. The unit does a commendable job for business purposes. The unit can be quite cumbersome at 5.6 pounds. 
However, since we are dealing with a multiple monitor setup, you may not require traveling with it very often. It is priced at less than $1300, making it relatively affordable. On the whole, this unit is pretty amazing. 
Pros:-
The laptop comes with an elegant and robust design. 

The unit is infused with stunning display powers. 

It has a powerful processor. 

It comes with decent battery life. 

The cooling technology is genuinely fabulous. 
Cons:-
Few users felt that the unit could be noisy at times. 
The Dell XPS 13 is an outstanding and modern laptop. This unit is no run-of-the-mill product and comes with opulent features like crisp color and a stunning resolution; besides, it also has the USB-C to USB adapter. 
Dell XPS 13 (7390) Review | The Most Powerful 13 Inch Laptop, Ever
7. 2019 Lenovo Legion Y540
The 2019 Lenovo Legion Y540 can also be known as the 1-pound device. That is because it weighs only 1 pound. It does not get better than that. Anyways, the Legion Y540 belongs to the Legion series from Lenovo. 
Though they could not profoundly impact the market sales, their usage experience among most customers was quite good. It comes with the 9th Generation Intel Hexa-Core i7-9750H processor that is lightning quick. 
You can expect a stunning performance thanks to the six-core and twelve-way processing. You will be delighted to view the 15.6″ FHD screen with an opulent resolution of 1920x1080, providing you with amazing visuals. 
It offers you with IPS anti-glare display. The LED backlight feature also ensures you can operate it outdoors without hassle. As if that wasn't enough, it comes with a great graphics card of NVIDIA GeForce GTX 1650. 
The memory and storage space combined can put a smile on any gamer or user, for that matter. It has a whopping 24GB RAM and a mind-blowing 1TB HDD + 512GB SSD. That is ample for storing your work files and games if you want. 
You know the laptop has your back covered with a barrage of connectivity options with 802. 11 AC (2 x 2), Bluetooth 4. 1, HDMI 2. 0, and 3 USB 3. 1 Gen 1. There is also a Mini DisplayPort 1. 4 and the RJ45 Ethernet.
You will be glad to know that it comes with a Kensington Wedge Lock slot, a 3. 5mm microphone, and 1 USB 3. 1 Gen 2 Type-C with a NOVO hole. It uses the reliable Windows 10 Home operating system. 
The white-backlit keyboard is relatively smooth and responsive, like most of the Lenovo models. Its battery working life is acceptable at 5 hours. It is priced at less than $1600, which we feel is slightly heavier. 
Pros:-
The build quality of the unit is sturdy. 

It comes with a massive processor. 

The memory and storage space is prodigious. 

It has an exceptional keyboard and trackpad. 

The product comes with a barrage of connectivity options. 
Cons:-
The pricing is quite high. 
Though the 2019 Lenovo Legion Y540 is a fantastic product, it can seem expensive for some users. Yes, you have options, but you don't want to miss out on the phenomenal processor, remarkable memory & storage space, and eloquent connectivity ports. The only thing left for you is to place an order for the best laptop for trading with multiple monitors. 
8. Alienware m15 R3
Alienware m15 R3 is perhaps one of the best laptops for multiple monitors. Let us find out why. Today, we can point out very few models in the market that come with the correct elements between gaming and specifications. 
The prodigy from Dell seems to have hit the right spot in that segment. The American manufacturer has always wanted to seep into the peripheral gaming market without much success over the year. 
That can change drastically for others with the entry of this monstrous unit. It is an updated version of the previous model but comes lighter and with higher specifications. The model is designed exceptionally and robustly built. 
The keyboard deck and the casing are produced from magnesium. On the bright side, the entire chassis is resistant to fingerprints. The unit's chances of getting dirty and soiled are high because of the white tone or the Lunar Light.
It features Intel's 10th Gen Comet Lake H-series processors. You can get it in 3 variants. The monitor has 4K resolution and OLED tech providing you with stunning color tones.
You will be delighted to know that the unit is HDR500 certified, meaning it comes with local dimming and a brightness of 400 nits. 
It also comes with Tobii eye-tracking hardware and software. The Alienware Cryo-Tech is there for the cooling system and does a decent job. However, when things get heavy, it heats up quickly. 
It comes with a responsive keyboard with a 1.7mm travel. The keyboard is what impressed most users. This keyboard is a membrane model that offers you smooth and top-notch features. 
A distinct feature in it would be the 4-zone RGB N-Key rollover. The unit also has anti-ghosting technology that is suitable for gaming purposes. It comes at a weight of 4.6 pounds, making it the lightest model in Alienware, even slimmer than the earlier model. 
The battery life was hugely disappointing, with only 90 minutes of action. Besides, it takes close to 2 hours to charge fully. It is priced at less than $1678, which is acceptable for the infused features. 
This mighty laptop compromises on the cooling and battery departments.  We see no reason you should want to deny yourself an opportunity to use a stunning device like the m15 R3. 
Pros:-
The unit is a 3D design that is robust in build. 

The magnesium used provides durability.  

It comes with an outstanding processor. 

It has incredible memory and storage space capabilities.

The keyboard provided is very smooth.  
Cons:-
The battery life is very less. 
Alienware m15 R3 is a fantastic device. It is among the best laptops for multiple monitors and has extraordinary features. Sometimes we are stunned by the performances of some underrated models like the unit. 
FAQs
Which laptop is best for multiple monitors?
There are many laptops that you can use with multiple monitors. Alienware m17 R4, HP Pavilion 15, Dell New XPS 13, LG IPS Laptop, HP Omen 17, Acer Predator Triton 500, and Lenovo Legion Y540 are some of the highly-rated ones according to the users.
Can you use multiple monitors with a laptop?
Yes. You can use multiple monitors connected to a single laptop. A laptop with only one HDMI or USB-C Port can also be connected to dual monitors. You can opt for an HDMI splitter or a USB-C dongle with an HDMI interface to connect multiple monitors to your laptop.
Can laptops handle 3 monitors?
Yes. You can extend the connection of your laptop to 3 monitors. Most laptops come with several ports to allow you to hook them up with 3 or more monitors. Even if you have a single HDMI or USB port, you can extend your laptop to 3 monitors.
Can I have 4 monitors on my laptop?
You can connect your laptop simultaneously to 4 monitors. A graphic card can power several external displays with several ports. You can upgrade your graphics to get multi-monitor support if your graphics card does not support multiple monitors.
How do I know if my laptop supports dual monitors?
You can access the Windows 10 computer settings to check multi-monitor support on your laptop. You just have to go to settings, see the system, and select display. After scrolling down, you will be able to check the availability of the multiple display option.
Can I connect two monitors to my laptop with only one HDMI port?
You can use an HDMI splitter to connect two monitors to your laptop. However, you can only see a similar display on all the connected screens as the HDMI splitter is a mediator device.
Can I use an HDMI splitter to extend not duplicate my laptop screen across two monitors?
You can extend the display over multiple monitors connected to your laptop. However, all the monitors connected to the HDMI splitter will extend the same display as they share the same signal.
Can I connect my current device with dual monitors?
Yes, you should be able to if it comes with two ports. Most models from the past 10 years come with this feature like DVI, USB, HDMI, and VGA ports. It can be a Windows or iOS laptop. It does not matter. 
However, when you search for the best laptops for multiple monitors, we suggest you choose anyone from the above review. They are sublime devices that come with distinctive features infused in them.
Why do I need to use a laptop with a dual monitor connection?
Using that kind of device allows you to do your work opulently. The main benefit here is multitasking. It could be anything. Having a large screen to view your work is not only good for the eyes but the brain too. 
You get more ideas to enhance your work. For example, you could be a programmer or engineer working on a critical project. When you view the project on a large monitor, you can catch the errors and rectify them. This applies to gamers who like gaming on a large monitor.
 Would I require a docking station for attaching dual monitors?
The monitor can be connected using the HDMI or VGA port present on the laptop.
You only require the docking station when attaching several monitors, as in a stock analyst or broker case. We suggest you get yourself a USB port replicator to connect several monitors using a laptop.
(Q) How to set up two monitors on my laptop?
It is not that difficult actually because this is quite a straightforward method. You can set up the monitors using the screen resolution.
However, you also have to use the extended display. Please do not forget to use the apply now feature to modify the setting.
How to Setup Dual Monitors with Laptop or PC
Conclusion
We have ended our review on the best laptops for multiple monitors. We hope that you found it helpful and have made up your mind about a particular model here. If you haven't, we suggest you read it again carefully. 
There is something in it for you. The basic requirement of having several ports is much present in these models. Most of them are high-performance units with unique specifications for great functionalities. 
We highly recommend the MSI GL75 Leopard, Apple MacBook Pro, and the Dell XPS 13 models. They come with breathtaking features and provide you with the ability to perform well. The connectivity options are quite capable of having multiple monitors connected with them. 
Whether you are a stock analyst, programmer, or gamer does not matter. Using dual monitors enables you to achieve your goals quickly. They are also good for your eyes and cause less fatigue to help you be more productive at work. 
Did you like something in the post? Maybe we missed out on a worthy contender in hindsight. Please write to us and tell us about your experience using the best laptops for multiple monitors.