Do you have a Chromebook? We know the struggle if you recently migrated from Windows or macOS systems.
Working on Chrome OS can be a little challenging since the apps and software you can download are limited and not easy to find. But approximately two years ago, Chromebook was given a chance and now supports Linux apps.
So, we finally decided to make a list of the best Linux Apps for Chromebook. Multiple users have used all the apps mentioned below worldwide on their systems.
In fact, for years, Linux has improved a lot, and the apps are of top-notch quality. All the apps listed will be highly beneficial to you for all tasks. Many Android or web apps may not be good enough to work on Chromebook.
Also, before downloading any apps below, you must ensure they match your system requirements. Even though all of them can run on Chromebooks, not all can run if your system requirements are very high compared to the apps we have made a list of.
You can always check out their official site with download links and more information.
Without much ado, let us look at the list of best Linux apps for Chromebook and how they can be useful to you in the long run in your personal as well as professional life.
Best Linux Apps for Chromebook – Our Pick 👌
1. GIMP – Best Linux apps for Chromebook To Do Photo Editing
GIMP is an excellent tool or application for everyone looking for an alternative to Photoshop or anything simpler.
If you are a designer or have just started, you can download this easy-to-learn and execute graphics editor on your Chromebook.
It is a free and open-source platform where you can contribute to the design and coding. This tool is available for Windows, macOS, and Linux Operating systems.
The features you will be specifically working on include the use of all the elements that you will need to create icons, logos, artwork, etc.
GIMP Image Editor Tips & Tricks
As an artist, you can easily create your design into a more unique version using the tools. This Linux App supports multiple languages such as C++, C, Java, Python, Scheme, etc.
Another significant aspect of this app is that you can easily edit, restore, and retouch your images as per your need.
Features:-
Original artwork creation

Graphics Designing Elements

High-Quality Photo Manipulation

Programming Algorithms

Highly Extensible and Flexible
Pros:-
Free of cost

Open-source Platform

Super easy to learn and use

Platform-independent
Cons:-
The interface could have been better

Does not have advanced tools
Installation Guide
To install the app, copy and paste the command below into your terminal.
sudo apt-get install gimp
Press Enter as soon as you enter the command, and the app will be available in your system. You can start using the app on your Chromebook after proper installation.
2. Libre Office – Best Linux apps for Chromebook for Office Work
LibreOffice works as a perfectly free and powerful Best Linux Apps for ChromeBook to anyone looking to download Microsoft office.
Since it is not available on your Chromebook, you can download LibreOffice, which is easy to use and even more comfortable.
A lot of Windows, as well as macOS users have been using this software too on their systems.
LibreOffice 6.4: New Features
As you have read, this is an open-source platform, meaning you can also contribute to its code.
You can use four main tools, i.e., Word, Spreadsheet, PPT, and graphics editor. This is all you need to start and make your professional work count.
Moreover, all the docs here are well structured, such as presentations, documents, pdfs, technical drawings, diagrams, etc. Furthermore, it supports a wide range of formats such as (.doc, .docx), Excel (.xls, .xlsx), PowerPoint (.ppt, .pptx), and Publisher.
Features:-
Compatible with a wide range of document formats

Exceptional-looking and well-structured documents

Multiple templates and Extensions are available

Includes Word processor, Spreadsheet, PPT, and Graphics Editor

Open-source Office Suite
Pros:-
Free and open-source

Less Bulky and easy to navigate

Supports major formats

Command-line automation options are also great

Access to loads of templates available
Cons:-
Sometimes the software may freeze and crash

It can be a little slow
Installation Guide
Use the below command to download the software and start using it with all the features on your Chromebook. Open the terminal and write the code down.
sudo apt install LibreOffice
Once done, press Enter to confirm the command. You may be asked to press Y, to continue with the process and wait for the installation to complete.
3. FileZilla
FileZilla is the home for everyone looking for a free FTP solution. It also provides a platform for FTP over SSL/TLS (FTPS) and SFTP. This, too, is an open-source platform and free of cost.
You can easily connect to a remote server and upload your files to handle them when needed. It is impossible for everyone who is a beginner to handle servers and manage the database.
Furthermore, you can search for any file in the remote file search. To load your files, all you need to do is drag and drop the files from your Chromebook to the server.
Also, you can download it for Linux and on any system. It is fast and highly reliable, especially if you are starting. After you download the software, there are two panels; you can drag and drop the files.
Features:-
Supports IPv6

Runs on Windows, macOS, Linux, and more

Supports FTP, FTP over SSL/TLS (FTPS), and SSH File Transfer Protocol (SFTP)

Can transfer large files greater than 4GB

Excellent site Manager
Pros:-
Easy remote file editing

Cross-platform

Easy to use and learn

Available in multiple languages
Cons:-
A little outdated

Updating large files takes time
Installation Guide
Look at the code below, which you will be using to install the software on your Chromebook. Open the terminal app and paste it here.
sudo apt install Filezilla
Using the command above will help you to complete the installation. After which, you can open the Chromebook app drawer.
4. Master PDF Editor 5 – Best Linux apps for Chromebook For PDF editing
Master PDF Editor is a powerful tool that allows you to perform multiple functions on a PDF file. You may have used many tools online, but downloading Master PDF Editor is an exceptional choice.
It is easy to use and makes navigating very comfortable, especially if you are a beginner. Whether you have office work or personal use, this app makes it easy to merge or split pdfs.
You can take up any pdf file and edit the text within seconds. Also, insert images, move objects, use images from clipboards, etc.
While you are done with everything, creating your digital signature and adding it directly to your doc is now much easier.
There is only one aspect this app is not free, and you can only use the demo version. After which, you may have to buy the subscription.
Features:-
Annotate PDF Documents

Supports Optical Character Recognition

Modify objects or texts on PDF docs directly

Create and add digital Signatures

Merge and Split PDFs
Below is the summary of the main Pros and Cons of the Master PDF Editor 5 that makes it add to the Best Linux Apps for Chromebook list.
Pros:-
 Lightweight and easy to use

UI is great to work on

Perfect for editing PDF files

Easy to add digital signatures

Add bookmark easily
Cons:-
Not free entirely  (only demo)

The free version has a watermark
Installation Guide
Similar to the apps above, this too needs a particular command to put on the terminal app and press Enter. Here is the code is given below.
sudo apt-get install libsane
Before running the above command, you must install the file from their official site. This will install the tool and also run the tool from the file manager.
5. Inkscape
If you are a graphics designer or love to play with colors, Inkscape is one of the best Linux apps for Chromebook. It is an open-source application primarily focusing on editing and drawing vector graphics.
The most used format here is the SVG format, i.e., SScalable Vector Graphics. You can learn a lot from this if you are new to all this and do not know how to use a vector graphics app.
Being a designer, you might know that vector designing is the basics of any logo design, illustration, digital art, etc.
Inkscape Explained in 5 Minutes
Many colleges, institutions, designers, companies, and other individuals use this tool to start and learn web graphics, editing, CAD, and more.
It is also a cross-platform app so that you can download it on your Windows, macOS, Linux, and other operating systems.
Features:-
Supports multiple fonts for texts

Edit notes, including boolean operations, etc

Use tools to fill and stroke

Make use of the drawing and shape tool

Supports multiple file formats such as SVG, PNG, etc
Below is the summary of the main Pros and Cons of Inkscape that makes it add to the Best Linux Apps for Chromebook list.
Pros:-
Super easy to use

Powerful open-source software

Great layout and interface

A perfect tool to edit SVG format

User-friendly and supports cross-platform
Cons:-
A lot of features on the main panel can be confusing

It does not support WebP image import and export
install Linux apps on Chromebook:-
Copy and paste the command below into the terminal app and start using the app as much as you like.
sudo apt-get install Inkscape
You can learn more about its functions from its official site before downloading to use it best.
6. Kdenlive
Kdenlive, or KDE Non-Linear Video Editor, is an open-source video editor. It has been primarily designed for the Linux platform, but you can also download it for BSD and macOS systems.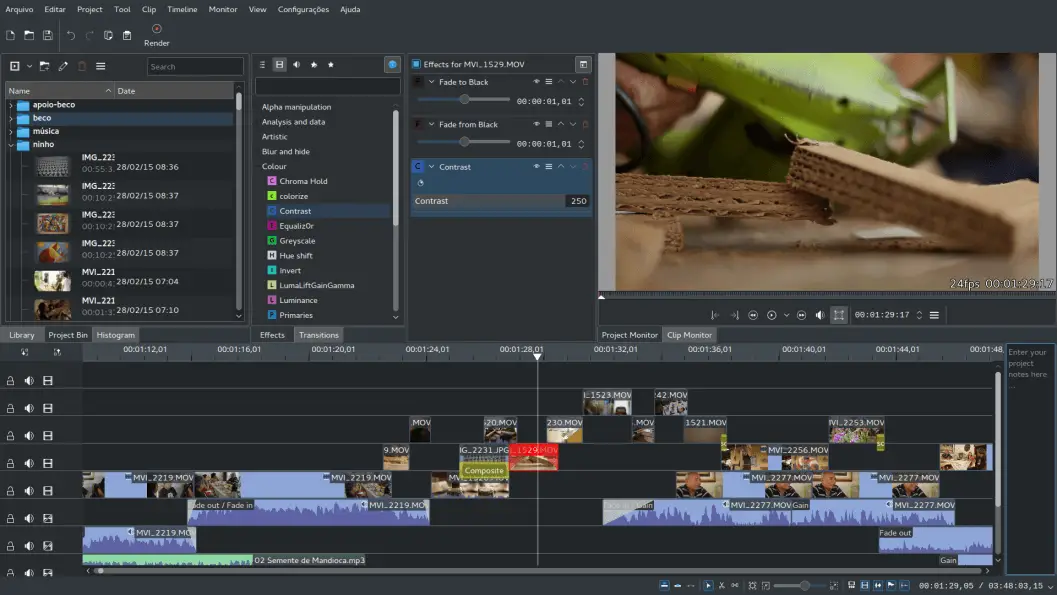 This app has aided all video editors on multiple levels, especially beginners and professionals. Kdenlive can let you arrange and manage multiple videos and audio simultaneously while you create a masterpiece.
You need not worry about the format of your audio or videos. Simply upload them and start editing, merging, etc. Also, the interfaces are super easy to use and navigate.
You can customize it as needed and add or delete the shortcuts so that working on this video editor is even easier.
There are tons of effects available that you can choose from. It has a lot more to offer than these simple basic edits.
Features:-
Supports almost every audio and video editor

Configure the interface and manage shortcuts

Create 2D Titles easily

Create low-resolution copies of source clips

Automatic Backup
Below is the summary of the main Pros and Cons of the Kdenlive that makes it add to the Best Linux Apps for Chromebook list.
Pros:-
Fast rendering

User-friendly app

Easy to configure and modify

Provides automatic backup

Multi-track video editing is possible
Cons:-
Not good for Windows

Issues with Timeline cursor
Installation Guide
Open the terminal and paste the command as shown below. Press enter for installation.
sudo apt-get install kdenlive
7. FocusWriter
You may not have heard of another popular software named FocusWriter. Well, it is very simple and has a basic interface. The most significant aspect of the app is that it provides a distraction-free environment for every user.
Also, moving your cursor to the edge of your Chromebook will allow the program to look similar, and you can get involved in your work. Moreover, you can write down your daily goals and set the alarm.
It supports formats such as TXT, basic RTF, and basic ODT files to make your work much easier.
Furthermore, you can select from multiple available themes to make your interface look even more attractive and fun.
Using the calendar, you can easily track your daily work progress in the best manner.
Features:-
Multiple customizable themes

Set timers and alarms

Supports multiple-document mode

Spell-check available

20+ languages translated
Pros:-
Cross-platform app

Open-source and free of cost

Flexible to use and customizable

Easily set timers and alarms

Provides live statistics
Cons:-
Installation Guide
As mentioned, this also needs a certain command to execute on your Chromebook. Here it is.
sudo apt-get install focuswriter
8. Audacity
Audacity is one of the best Linux apps for Chromebook and is free of cost. Since it is open-source, you can easily contribute to its code and make it worthwhile for all the other users.
It is a digital audio editor and recording software for Linux-based systems and Windows, macOS, and other operating systems. Not only is it easier to use but also very comfortable to use.
This audio editor helps you record live audio, which you can later edit, cut, copy, paste, and even delete elements from. Moreover, you can import audio files to this app and edit them as needed.
You can add multiple files together and export them in multiple file formats by editing. It has a flexible plug-in manager handles plug-in installation and the addition/removal of effects and generators from the menus.
Features:-
Easy Recording live audio

Import, edit, and combine sound files

Supports 16-bit, 24-bit, and 32-bit

Support for LADSPA, LV2, Nyquist, VST, and Audio Unit effect plug-ins

Easy editing the audio files
Below is the summary of Audacity's main Pros and Cons that make it add to the Best Linux Apps for Chromebook list.
Pros:-
Quick and easy to start with

User-friendly platform

Record and clip sound with ease

Add multiple layers to edit in one window

The software interface is very easy to navigate
Cons:-
Visually not that appealing

May crash sometimes
Installation Guide
There is nothing special that you need to do to install the app. Simply have to use the command in the terminal app as given below.
sudo apt-get install audacity
9. Thunderbird – Best Linux apps for Chromebook To Manage Email
While you may have used Gmail, Outlook, Zoho mail, etc., on your systems to manage all your emails. But here we have another excellent app named Thunderbird.
It is free of cost and an open-source app that is easy to optimize and set up very conveniently.

All your emails are private and secure on their server. This app makes it easy for you to set up the SMTP and IMAP email server to deliver all your messages quickly.
Like Firefox and other browsers, you can open multiple tabs of your mail and switch between them conveniently while you work. To keep an account of the tabs you have visited, you can visit the special tab toolbar.
We also have a special search toolbar that helps you find emails much easier and quicker, allowing you to filter out the content.
Furthermore, to speed up transferring large files, you can store them on the cloud and share the link.
Features:-
Quick Filter Toolbar

Share large files with Thunderbird File link

One-click Address Book

Smart Folder available

Provides update automatically
Pros:-
Versatile and reliable

Easy to install

User-interface is friendly

Multiple themes are available

It makes communication more simple easy
Cons:-
Add-ons slow down everything

The design is a little outdated
Installation Guide
For Thunderbird, the installation process is very easy and the same as you have already done for all the other apps above. Here is the command you can use.
sudo apt-get install thunderbird
10. qBittorent
qBittorent is an alternate version of µTorrent. This is an open-source and free app that you can use on your Chromebooks since you cannot possibly download the other version of torrent apps.
We all know torrent apps are illegal, but if you wish to use them, that is up-tp-you. All we can do is provide you with enough information.
You can download many files through this app, i.e., movies, games, music, videos, etc. Unlike other torrent apps, the best part is that no ads exist on this.
Some popular torrent extensions it supports are Magnet-Links, DHT, PEX, LSD, Private torrents, etc. Moreover, you will find the bandwidth scheduler aligned with the capability for IP filtering to keep your connection secure.
Do not worry; it is available in over 70 languages, making it easier for you to use. Furthermore, it is platform-independent and can be used on Windows, macOS, Linux, etc.
Features:-
Well-integrated and extensible Search Engine

Supports multiple BitTorrent extensions

IPv6 compliant

Cross-Platform app

RSS feed support
Pros:-
A free and open-source platform

Ad-free entirely

Sequential downloading

Enables streaming media while it's downloading

Allows in-Program torrent search via various search-engines
Cons:-
It consumes a lot of RAM

Search engine requires installing Python
Installation Guide
You need to follow the instructions to install the file mentioned on all the apps above. After downloading the file, please move to the Terminal app and enter the code below to execute it.
sudo apt-get install qbittorrent
📗FAQ
Can You Use Linux Apps On Chromebook?
If you have a modern Chromebook, you can easily install Linux apps on it. This option is available for developers, but regular users can also download and use Linux apps on Chromebooks.
You must turn on the Linux Development environment from the Developers option on your Chromebook if you want to use Linux apps.  
Is Linux Good On Chromebook?
Chromebooks, when compared to Windows, do the bare minimum. They do not have high-end specs because of their lesser cost, and one cannot run Windows on them.
Chromebooks run on Chrome OS, a browser-based operating system with various web apps from Google.
You can use web apps and Android apps on Chrome OS. However, if you want to do more than that, then Linux is a good option.  
What Can I Install With Linux On Chromebook?
If you want to do programming, then Linux on Chromebook helps you with that. Using Linux, you can code on Chromebooks by installing code editors, IDEs, and command line tools.
If you want to get more out of the browser-based operating system and develop software and programs, then Linux is pretty useful.  
What Are The Best Linux Apps For Chromebooks?
There are various Linux apps that you can get on Chromebooks, like GIMP, Libre Office, Master PDF Editor, Steam, Flatpak, Firefox, Microsoft Edge, uGet, Inkscape, Pinta, Kolourpaint, Pinta, Bluemail, Audacity, and various other.  
Which Linux Is Best For Chromebook?
BunsenLabs is best for users looking for Linux with lesser CPU resource usage and more customizations. You can use other Linux like Arch Linux, Solus, Void Linux, Lubuntu, GalliumOS, etc. 
Can VirtualBox Run On Chromebook?
You will have to install VirtualBox on Chromebook like any other Linux app. You will have to download the VirtualBox on your Chromebook and install it.
Remember that all Chromebooks cannot run VirtualBox because of a lack of proper hardware and software. 
Can Chromebooks run all Linux apps?
Chromebooks can run Linux apps, but not all apps may work on every Chromebook due to differences between Chrome OS and the Linux software stack.
Linux apps can be installed on Chromebooks via "Linux (Beta)" mode. However, this feature may not be supported on all Chromebooks, particularly older models that lack the necessary hardware requirements.
Some Linux apps may require specific hardware drivers or libraries incompatible with Chrome OS and may not function on Chromebooks.
Despite this, Chromebooks have become more compatible with Linux apps, with popular applications such as LibreOffice, GIMP, and VLC successfully ported to Chrome OS.
Always check the compatibility of a specific Linux app before installing it on your Chromebook.
Can Chromebook run APK apps?
Chromebooks can run Android apps, including those in APK format if they support the Google Play Store. Compatibility with Android apps may vary among Chromebooks, particularly older models.
To check if your Chromebook supports the Google Play Store, go to "Settings" > "Google Play Store." If the option is unavailable, your Chromebook may not be compatible with Android apps.
If your Chromebook supports the Google Play Store, you can download and install Android apps similar to a smartphone or tablet.
Some apps may not work seamlessly on Chromebooks due to software and hardware differences, but popular Android apps, such as Instagram, Netflix, and Spotify, can perform well on Chromebooks.
Can I replace Chrome OS with Linux on a Chromebook?
Replacing Chrome OS with Linux on a Chromebook is feasible, although not all Chromebooks support every Linux distribution. The process involves multiple technical steps and may void the Chromebook's warranty.
Before attempting the replacement, research the Linux distributions compatible with your specific Chromebook model. Common options include Ubuntu, GalliumOS, and Arch Linux.
To install Linux, create a bootable USB drive with the installer, enter developer mode on the Chromebook, and install Linux from the USB drive. Follow the instructions carefully, as the installation process varies by distribution.
Replacing Chrome OS with Linux could result in hardware compatibility issues with certain components, such as touchpads or wireless network adapters. Some applications may require additional configuration or may not work correctly on Linux.
In conclusion, replacing Chrome OS with Linux on a Chromebook is possible, but consider the risks and downsides before proceeding.
Can you root a Chromebook?
Enabling root access on Chromebooks is possible, but it's a complex process that may void the device's warranty.
To root a Chromebook, you must enter developer mode, which allows modifying the Chrome OS system files and installing other operating systems, such as Linux.
However, enabling developer mode disables some of Chrome OS's security features, increasing the risk of malware and other security threats.
To enter developer mode and root your Chromebook, follow specific key combinations during the boot process. This permits you to modify Chrome OS's system files and gain root access to install other operating systems or adjust the Chrome OS environment.
Rooting a Chromebook carries risks and may cause hardware or software issues. Moreover, rooting a Chromebook voids its warranty, and Google may not support rooted Chromebooks.
Although rooting a Chromebook is possible, be aware of the potential risks and drawbacks before proceeding.
Final Thoughts
We have no doubts about the list we have mentioned above for the best Linux apps for Chromebook. All of them are free of cost and easy to install.
Furthermore, almost each of them is open-source, making them highly available to general users and developers so that you can contribute and improve the app.
The apps above are highly productive in every field, such as writing, editing audio and videos, graphics editing, etc.
No matter what, we cannot deny that Linux OS has a huge impact on ChromeOS since you can now use many more apps on this laptop than you could.
All these are very secure to use and make it want to gain your trust with the best service. In the coming days, ChromeOS will surely leave a mark in the IT industry, emerging as a huge rival to other OS.