With the current change in technology and the scenario of how we learn, the education system needs a lot to be upgraded. Well, you can take a step further and make way for it.
We assume that you are just a student who does not like math or is simply looking to learn better. We have curated a list of the best maths app to help you learn everything related.
There are thousands of education apps that you will find on the web and in app stores. However, not all of them have good content that can help you learn from the basics.
So, we researched and curated a list of the best apps to learn math. We know that learning maths can be a difficult task for a lot of students no matter what their age is. We have been there too, and these apps were our best companions.
Here is the list of apps to help you learn math. Not only is it perfect for your child, but it can help you learn from the very basics if you are a student. So, simply choose the one you feel best suits you and your purpose, and download it on your smartphone. Let us look at the list now.
Best Maths App To Learn and Grow – Our Pick
1. Brainly – The Homework App
Brainly is an exceptional app for every learner looking for an all-rounder. It is the best math app available anywhere you would find it. It has over 150+ million students connected to this platform and covers 35+ countries worldwide.
Brainly serves as more of a forum where you can get all your questions answered instantly, get help with your homework, and much more. It is run by the students and for the students.
This is a social networking learning app that has been connecting millions of students all over the world. Moreover, it is free of cost, and anyone can join it. All you need to do is post questions based on your curriculum, and within minutes, you will get the answer with a proper explanation.
Apart from maths, some other subjects you can get help with are History, English, Biology, Chemistry, Physics, Social Studies, Advanced Placement AP, Geography, Health, Arts, Business, Computers and Technology, French, German, Spanish, and other world Languages.
Furthermore, this app covers not only the education level of small kids but also elementary, middle, high, and college. No matter what your age is, you can get answers every time, not only for your homework but any queries related to academics.
Also, to ensure that the answers are indeed correct and genuine, there are experts monitoring everything. You must get the premium version if you need verified answers and unlimited access.
Features:-
50M+ answered questions

Free Homework Help

Education levels, such as elementary school, middle school, high school, and college.

Unlimited access, anywhere, anytime

Experts providing explanation
Platform Availability
Android (Download Here) and iOS (Download Here)
Pros:-
A Huge community of students

Worldwide exposure

Get answers within a minute

Cover multiple parts of the education level

Excellent UI and design
Cons:-
People tend to spam the messages and comments

No personal chat was made available to clear doubts
2. Khan Academy:

Editors' Choice

Best Maths App
Khan Academy is the face of the learning app, no matter which subjects you wish to go with. You can easily learn maths not only for your school but for every other course you have been learning and looking forward to solving your queries.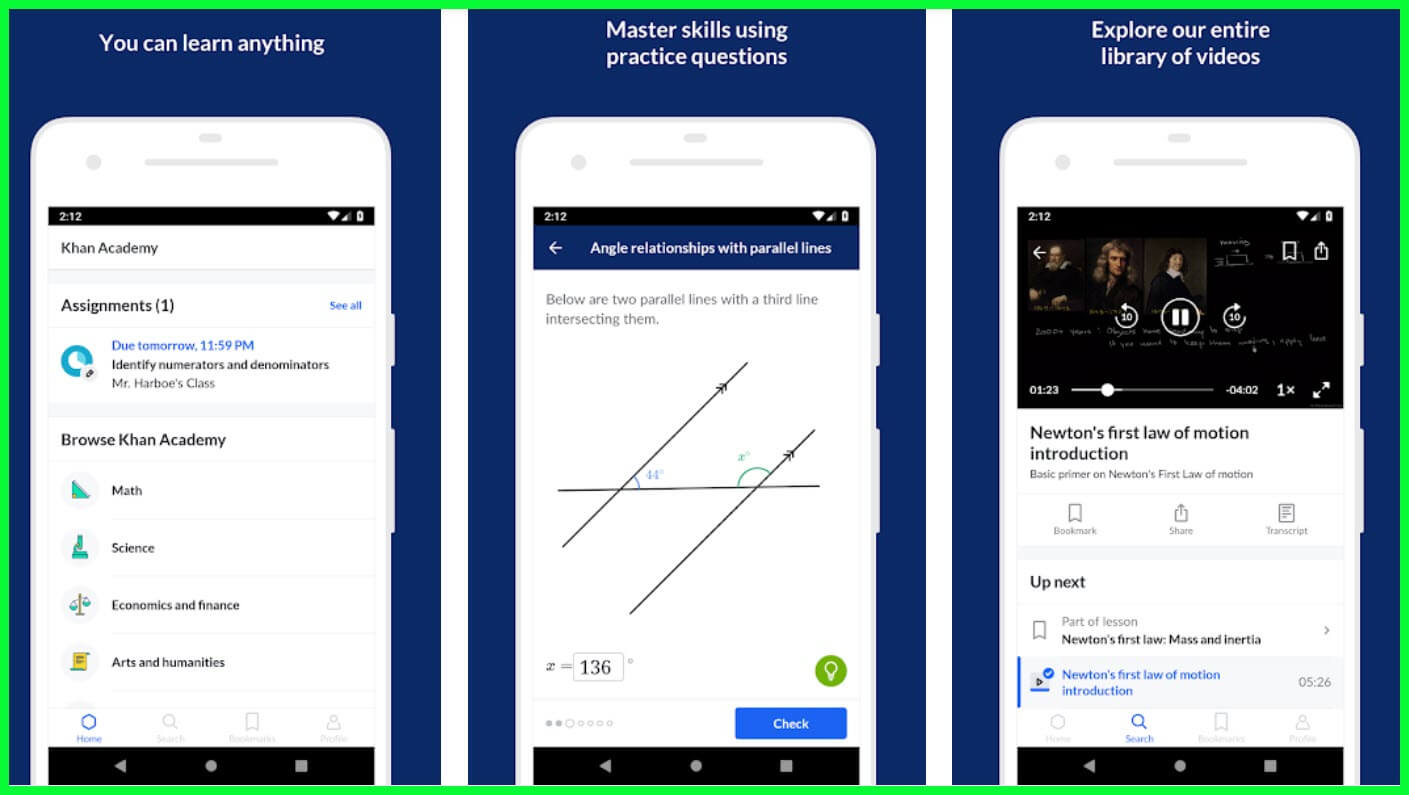 It is a non-profit organization with the sole purpose of helping students more every step. Simply make your account and get started with it.
The sign-up process asks you to select the kind, of course, you are looking for and what class it is from. In fact, not only can you as students access the benefits but there is much to offer to the teachers and the parents.
The best part of this app or platform we love the most is that everything is free of cost. Since it is a non-profit organization, they do not charge anything from its users.
You can find anything from your choice of topic, from interactive videos to articles. It helps you to learn about any topic but also helps to solve your queries from experts all over the world.
To keep everything iterating, the app will give you a point every time you watch any video so that you are motivated until the end.
Apart from the points, as a user, you can even attain badges for multiple occasions, such as answering a query, watching videos, taking quizzes, etc. You need not have the internet at all times so that you can use the app offline as well, and all your progress will be saved so that it can be synced later.
Features:-
Practice exercises, quizzes, and tests

Offline learning mode

Interactive videos, exercises, and articles are available

Free of cost

Compatible with iOS and Android
Platform Availability
Android (Download Here) and iOS (Download Here)
Below is the summary of the main Pros and Cons of the Khan Academy that makes it add to the Best Maths App list.
Pros:-
Free and accessible to everyone

Multiple subjects available to learn

Great for students, parents, and teachers too

Badges and points are provided on competing tasks

Learn at your own pace
Cons:-
Less interactive on a real-time basis

Crashes at times
3. Microsoft Math Solver – Best maths apps for high school
Microsoft Math Solver is one of the best apps to learn maths from anywhere. This is a unique app where you can scan your questions and feed them on the app. Within minutes you will get a solution to the query and a proper explanation.
Instead of clicking an image, you can use the scanner on it and choose the question that it detects itself. An excellent part of the app is that it is available in multiple languages, such as Chinese, French, German, Hindi, Italian, Japanese, Portuguese, Russian, Spanish, and many more.
Once you open its website on your laptop, you can use the math solver too by using its special calculator and clicking on entering. The website will give you your answer within minutes. This intelligent system has accurate answers and makes it much easier to complete homework.
You can even get a deep analysis of the questions and how they were solved so that you can learn too on the way. The app is fully dedicated to only maths on different levels.
Some problems it can solve are arithmetic, algebra, trigonometry, calculus, statistics, and other topics where the advanced AI-powered math solver generates the answers.
Besides this, you get learning material, such as videos, articles, and others, so that you do not stop learning. The app is free, and you can easily get a step-by-step explanation for each of the questions you might have.
You can try out the word problems or simply plot x-y data tables for linear & nonlinear functions.
Features:-
Scan printed or handwritten math problem

Scan and Solve Worksheets with multiple problems

Get Step-by-Step interactive explanations

Type and edit using an advanced scientific calculator

Try word problems
Platform Availability
Android (Download Here) and iOS (Download Here)
Below is the summary of the main Pros and Cons of the Microsoft Math Solver that makes it add to the list of mathematics – apps for students list.
Pros:-
Available in multiple languages

Stable and free of cost

No ads whatsoever

Write an equation or simply scan your problem

Powered by Artificial Intelligence
Cons:-
Have issues with the camera sometimes

No real-time interaction
Best Free App to Solve Math Problems - Microsoft Math Solver
4. Photomath
Well, if you are looking for the best alternative to Microsoft Math Solver, the best one you would find is Photomath. It has every feature you will find as that in the Microsoft app.
You can use the app anytime and probably do not need the internet. All the features can be accessed online. Photomath allows you to capture your maths question from the app itself and gives you an answer within seconds.
Photomath 4.0 for Android
Once you download the app, allow access to your camera and pick up any question from your book or sheet. Click the image or scan it on from the app, and you are here with your answer with a proper explanation. No matter wherever you are in the world, it is super easy to use and requires no internet connection.
You can learn from the app through the explanatory videos, do your homework, and also study for any tests you may have. You can also check out the scientific calculator if you wish to type in your math question.
You are free to choose the method you need to get the answer. Simply capture the question, write it down, and choose the method from the list.
Some of the topics covered by the app are basic arithmetic, algebra, algorithms, geometry, etc. Other than all the methods of explanation, how-to animations help you get a visual idea of the question.
Features:-
Word problem explanations

Exclusive how-to animations

Free to use

Multi-functional scientific calculator

Interactive graphs
Platform Availability
Android (Download Here) and iOS (Download Here)
Below is the summary of the main Pros and Cons of the Photomath that makes it add to the best free math apps list.
Pros:-
Available for parents, teachers, and students

Easy to scan the problem to get solutions

You can easily get a good explanation

Use graphs to visualize math problem

Amazing UI
Cons:-
For explanation, you need to take the paid subscription

The free version has ads sometimes
At the time of our research on the Best Maths App, we found a video about "10 Math Games That'll Boost Your Brain Power By 80%" worth watching. 😎🤴
10 Math Games That'll Boost Your Brain Power By 80%
5. Cymath – Math Problem Solver
Cymath is one of the best maths apps you can use as an alternative to Photomath. The UI of the app is pretty basic but easy to navigate and use.
Millions of users have been effectively using the app on all three platforms, i.e., iOS, Android, and Web. You can simply enter the problem and get answers within seconds. The app was founded in 2013 and since then has been useful for students all over the world.
This math app can be used offline since it does not require any internet connection. It is designed to provide you with a solution to your query by following the step-by-step method.
Some of the topics on the app are equation solving, factoring, logarithms, exponents, complex numbers, quadratic equations, etc.
Cymath uses advanced technology, i.e., AI and heuristics, that give you answers within seconds, and all are correct. You can use the keyboard and type the math problem or the camera to capture it from your book.
As soon as you click on enter or search, the app will immediately provide you with an accurate solution. There are multiple methods on different topics; you can scroll and choose any of the methods you need to solve it with.
You can make good use of the app to solve your homework or for any other purpose. If you do not find the right solution, you can ask for help from experts.
Features:-
Solve maths Step-by-step

Powered by a combination of artificial intelligence and heuristics

Available on iOS, Android, and Web

Wide variety of topics provided

Practice question available
Platform Availability
Android (Download Here), iOS (Download Here), and Web
Below is the summary of the main Pros and Cons of the Cymath that makes it add to the Best free Maths App list.
Pros:-
Super easy to use

Answers are available very quick

Free of cost

Uses advanced technology

Provides a step-by-step solution
Cons:-
Camera hangs sometimes

No live interaction with tutors
6. Mathway
Mathway is yet another app that helps you to get answers to your maths problems within seconds. You can easily get Android, iOS, and web apps.
Simply download the app on your smartphone, and it acts like a chatbot where you can type in your question with their in-built calculator or take a snap and upload it. Within seconds you will have your answer in front of you.
Similar to such a concept, we have Photomath and Cymath. The app is pretty easy to use, and also, if you are on your laptop, you can visit their official site and perform the same actions.
It covers all the basic maths that you have learned all the way through. Some of the topics that you can choose to get the answer to are our basic Math/Pre-Algebra, Trigonometry/Precalculus, Calculus, and Statistics.
The chatbot will guide you on how you can use the app and have a small interaction with it. Thousands of students have used the app and learned a lot from it.
You, too, can since the answers can be provided in proper steps to know how the answer had been derived. Even there are options to craft the answers in a graphic form so that it is clearer.
Mathway is perfect for anyone, whether you are a high school student or an undergraduate. It helps you finish your assignment with perfect answers and can also teach you to solve the questions in the best method you may seem the best. The UI is pretty basic but easy to be navigated around.
Features:-
Easy to use and efficient,

Basic Math/Pre-Algebra, etc

Type in your question

Use a camera to capture the problem

Detailed step-by-step solution
Platform Availability
Android (Download Here), iOS (Download Here), and Web
Below is the summary of the main Pros and Cons of Mathway that makes it add to the list of best math learning apps for adults list.
Pros:-
Easy to use and navigate

UI is clean and very basic

You get the answer within seconds

Solve every level of math queries

In case of any unsolved query, contact the experts
Cons:-
Cannot learn one-on-one

Issues with the camera at times
7. Math Games – Best maths apps for kids
Have you tried out an app that teaches you maths in the most fun way imaginable? Math Games available on your play store has tons of content and games that allow you to learn maths while playing games.
Math Games, Learn Add, Subtract, Multiply & Divide - on Google Play
You can learn from it no matter what your age is. It is free of cost entirely and does not charge even a penny. From multiplication to Division and Addition to Subtraction, you get it all in the most fun manner you would see.
This app is available worldwide in many languages such as English, Spanish, German, Italian, Portuguese, French, Russian, Indonesian, Malay & Vietnamese. It has multiple features that you can look into, such as Quizzes, Practices, tables learning, puzzle, sudoku, etc.
All of this involves simple math problems that you can get by a simple puzzle or anything you choose to go with. Each category you mention has multiple modes you can clear off before getting on with another. 
Not only is it for playing, but you can also challenge your friend in a competition while solving any of the methods mentioned here.
Furthermore, the games are very addictive, and you can spend hours on them without worrying about the time since you are also learning.
Features:-
Free math games and other features

For kids and adults too

Available in multiple languages

Games and learning app

Simple and interactive
Platform Availability
Android (Download Here)
Below is the summary of the main Pros and Cons of the Math Games that makes it add to the Best Maths App list.
Pros:-
Fun and interactive

No age barrier to learning

UI is great

Easy to use and implement

Multiple options to choose from
Cons:-
Not compatible with iOS

No videos or content to learn directly
8. All Math formula
We all know how difficult it is to note down every formula and make notes to remember them. Learning maths can be a little tough for some, so remembering these formulas can be a nightmare, especially for those who have not noted them down.
So, you can use the All Math Formula app, where you will find over 1000 math formulas from hundreds of topics listed on the app. We have also tried this app, and it was super easy to use.
Simply download it on your smartphone, and everything is free of cost. Open the app and choose the category or the formula you need to see. Click on it, and you have every formula under the topic. All are checked multiple times and have been listed with surety.
You need not check it even once since they are all genuine. If you still wish to make notes, you can use the app from your smartphone. Some of the topics covered on the app are Algebra, Geometry, Trigonometry, Integration, etc.
If you do not find the formula you are looking for, simply leave a query to the developer so they can add it later.
You can contact them through the Facebook page itself and leave your query. The app is updated every second with more formulas so that you do not need to search for any place else.
Features:-
1000+ math formula

Get formula pretty easily

Options available are Integration, Trigonometry, etc.

Easy to navigate and use UI

Platform Independent
Platform Availability
Android (Download Here) and iOS (Download Here)
Below is the summary of the main Pros and Cons of the All Math formula that makes it add to the best math apps for college list.
Pros:-
1000+ formulas provided

Graphs and explanations are given

UI is clean and easy to use

Well organized

Easy to find every formula
Cons:-
Ads are annoying

Need to have more formulas for the highest studies
📗FAQ
What is the best free math app? 
Prodigy Game, Math Training for Kids, Khan Academy, Photomath, Buzzmath, etc., are some of the best free mathematics applications and enable you to improve your overall mathematics skills irrespective of your learning ability and level.
Which app is best for learning maths? 
Brainly, Khan Academy, Microsoft Math Solver, Photomath, Mathway, etc. are the most suitable apps for learning maths and offer a wide range of highly useful features like easy-to-use and implemented learning formulas, free maths games, expert discussion, detailed step-by-step solutions, and much more.  
Why is math so hard? 
Because math problems sometimes require several steps to be solved, it is challenging and requires more effort than other courses to master. Some kids might become easily bored when they have to repeat a procedure, which may cause them to lose patience with math. 
Why is my child weak in math? 
Jumping to conclusions, fear, a lack of daily practice, challenges brought on by lack of exposure, language comprehension, critical thinking, text anxiety, etc., are some prominent causes of children's arithmetic weaknesses. However, parents and teachers can make a big difference with little effort. 
Why is math so hard for my child? 
Children that struggle with math do not always indicate a lack of intelligence or diligence. In actuality, many children who struggle in math are doing their best. 
Some children only require more time, practice, or better teaching to develop mathematical skills. Others require more assistance to get there. What generates the problem frequently determines what kind of help children require. 
What math should a 7-year-old know? 
Children as young as 7-8 years old may develop and maintain number patterns and connect them to addition and subtraction up to 20.
Patterns can be connected to techniques like skip counting. Most kids of this age can skip counts up to 100 and recognize the pattern by counting by 2s, 4s, and 5. 
How can I improve my maths at home?

 
You can follow these effective tips to improve your maths at home.  
Become familiar with the ideas.

 

Try learning with games.

 

Include math in daily activities.

 

Put this into everyday practice.

 

Draw word puzzles.

 

Set attainable objectives.

 

Consult a math tutor.

 

Concentrate on one idea at a time.

 

Teach maths skills you have already mastered   
How do I become good at maths?

 
These are some proven tactics if you want to work properly on your maths concepts.  
Finish all of your schoolwork. Never consider doing your schoolwork as an option.

 

Strive to stay in class.

 

Look for a pal to study with.

 

Create a positive rapport with the instructor.

 

Examine and comprehend each error.

 

Get quick assistance when you are confused

 

Avoid swallowing your inquiries.

 

Basic abilities are crucial.

 

Learning algebra is necessary.

 

Recognize what the calculator is performing.

 
How can I be a smart student?

 
Here are six steps for more intelligent study:-
Attend class and pay attention.

 

Make thorough notes.

 

Prepare in advance for projects and examinations.

 

Take it apart. (If there is a lot you need to learn, divide it up into manageable bits.)

 

When you're stuck, ask for assistance.

 

Get some good night's sleep.

 
How can weak students improve in maths?

 
Although there are no strict guidelines, there are techniques that help poor children succeed in mathematics:-
I am fostering optimism and self-assurance.

 

Planning Exercises.

 

Tools for Memory Improvement.

 

Test your understanding by posing questions.

 

Ensure Solid Foundations.

 

concentrating on weaker subjects

 
Final Thoughts on the best maths app
You will find hundreds of such apps if you continue to look further. There is no end to learning, and getting content to learn more is available. You can even try out YouTube as an app to learn maths and much more, no matter your age.
It has all the tutorials that you need. Other than this, some of the educational math apps you can try are edX which has tutors from all over the world. It is known to be the most trusted with its content and also the best maths app.
Similarly, we also have apps such as Udemy, Coursera, etc., where you will easily find many courses that teach, and some are even free of cost for everyone. If you have no issue paying money to learn, you can find some great paid apps with amazing content and experts.
If you are a parent or a teacher, you can also get your hands on other apps that are perfect for learning how to make your class more interactive.
You can learn tricks to teach maths so that students are more interested in learning. Other than all of this, if you have any app issues, you can let us know in the comment section below.