Are You ready to find the best microphone for rapping to buy in 2022? 🤔 
Our Review team manually reviewed the 17 microphones, and we came up with the best five ones for you.
Without any further delay, Let's dive right in. 👓👓
Rapping is difficult, so when you get on stage, you want to make it as easy and smooth as possible. The microphone is one very important gadget that can help you get close to the ease you require in rapping.
No, we are not saying the microphone will take over the rapping and do it for you; Far from that, but certainly, the microphone you use can help to enhance your vocals, clear out the noise and handle a lot of other things that will make you better.
Rap music involves a lot of fast-talking and music, such that if you are not careful, you may get lost in the mix and stutter or even do something worse.
The detailing needs to be captured as well as possible to make sense of the speedy rap and all the forced rhymes. The Microphone is one of the most important gadgets for achieving this.
When you need clarity or a warm rhythm, a good microphone brings them to you just how you want them. Knowing how important owning a good rap microphone is to your career, the next challenge is knowing the product with the right specs for your exact need.
Don't worry; we've researched for you and developed a list of the best microphones for recording rap. Start your rap career today by buying one of these rap microphones.
Best Microphone For Rapping – Our Picks 👌
1. Audio-Technica AT4040 Cardioid Condenser Microphone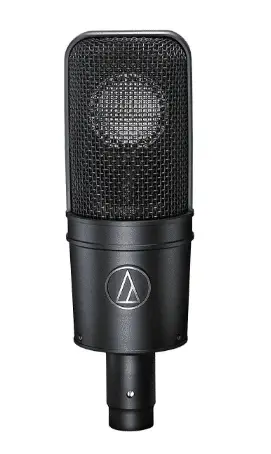 Certainly, when you are talking about companies that should be listed as sound masters, Audio- Technica holds an undisputable reputation.
They've been producing some of the best microphones and headphones in today's market, evident in the popularity their equipment has gained for maintaining excellent audio standards at a relatively good price.
The AT4040 rap microphone is another of their products that boast excellent quality and performance. They are best described for the value they bring at an incredibly affordable price.
The product is a sturdy condenser microphone that takes a swipe away from the traditional, providing a wide range of frequencies. It will take everything you can throw at it like a master because that's what it is.
It features warm, decadent audio that no doubt clinches and puts it on the top of our list of microphones for recording rap music.
The major standout of this microphone lies in its design and quality. The AT4040 rap microphone does not leave you any doubt when looking for quality.
It is best described as a solid mic, especially for its matte black look. Its factory-built carry case is foam-padded for safety and ease of carriage.
The microphone is also custom-made with a velvet cover for an enhanced look. The velvet cover also keeps dust off the mic when it's not being used.
The spidery shock mount is another package worth mentioning for its ability to firmly grip the mic, although fixing it may prove time-consuming. However, the more you get used to it, the easier it becomes.
On its features, the rap microphone falls in the category of the large cardioid condenser. Its wide cardioid pattern helps it easily and more evenly pick frequencies.
The mic has impressive-sounding audio, and you will surely get some real-life sparkle with a little pumping of the high-end.
The mic features a maximum input of 145 dB SPL, but it still has the capacity to increase up to 155dB with its attenuation pad. What's probably the most important feature of this mic is the versatility it brings to the studio.
Its adaptability rate is so high that it will blend well with different instruments. The capability of the mic to handle high pressure makes it easy to combine with snares which all these features make it perfectly fit in our best microphone for rapping list.
Pros:-
It features a wide range of response
Its transient response is impressively fast
Has the capability to handle high SPL with minimal distortion
Cons:-
Without a pop screen, it has noticeable plosives.
Audio-Technica AT4040 Condenser Mic Review / Test
Note:-
I have written a post for people looking for the
Best DJ Headphones
 to buy?, do read it If you are interested.
2. Neumann TLM 102 – Best USB microphone for rapping
This mic may be quite expensive, but certainly, it is worth every cent that will be spent on it. Regarding performance and high-end functionality, only a few rap microphones can boast of being on Neumann's level of the TLM 102 microphone.
If you know the brand or have had any dealings with its products in the past, you'll know that the TLM is certainly a mic to reckon with when recording rap music.
It is a vocal mic by all standards, showing amazing features that are only obtainable in the best. The audio replication is commendable, with impressive clarity and detail.
There is also just the correct presence of frequency combined with a level of vocal transparency that makes rap vocals clear and legible.
It really shouldn't surprise any musician or mic technician that the TLM 102 has found itself in this spot in our list of Best Microphone For Rapping for 2022 because, for real, they are the clear definition of a power horse.
The physical design of the Neumann TLM 120 tells its story completely as a rap microphone. From the packaging up to the attractively small mic, everything speaks of the quality that you expect to get from its performance.
The company doesn't just focus on performance; they want their products to look as good as they sound, which is evidenced in the instant attraction that the TLM 102 draws from people.
Although it is a condenser mic, its smallish size makes it cool to take along during any job; so yes, you can go on to record your rap while on the go.
It is probably one of the complete compact packages in today's market. Its finish is a fine satin black and nickel. It undoubtedly has great build quality, although it is still important to trade with care since it is a condenser mic.
It fits in with an integrated pop filter, although we will still advise you to get an additional pop filter as they will help avoid plosives liable to cause damages on the mic.
Among the amazing features of the TLM 102, it is best described as a bid diaphragm cardioid mic. It has a build capable of enduring a pressure level of up to 144 dB SPL, making it a cool blend with other loud instruments, although it is at its best with vocals.
With a peak of around 6kHz, the clarity and strength it brings to the voice will make it worth the try.
It features a quick transient response rate that makes it easier to capture the rapper's exact words, reducing boredom from it.
The mic brings a great level of clarity to vocals, which is unachievable with smaller mics and peaks that aren't too pronounced; your voice will be opened up, but not in a way to make it sound sibilant.
On its setup, it is mounted on suspension so that it can absorb vibration rather than allowing it to distort your sound's quality.
One great thing about the TLM 102 is that it can still produce usable raw output, even without using an EQ. What does this do? 🤔
It helps to simplify post-production while bringing better quality to the mix. That's the main reason to put this mic in our best microphone for rapping list.
Pros:-
Produces audio quality that rightly qualifies as smooth and clean
It has a very compact look, fit for traveling with.
It helps to smooth the audio's grittiness.
Cons:-
Doesn't come with any shock mount.
Neumann TLM 102 vs Rode NT1a Condenser Mic Comparison
3. AkG P220 Vocal Condenser Microphone
More often than not, budget mics complain about not meeting the standard for rap music, but this one is a big exception.
AKG is a popular brand in producing low-budget mics, and the P220 rap microphone stands out among the numerous high-end products the company has thrown into the market.
The mic will make a perfect choice for beginners still testing the waters with modest budget equipment. Yes, it is a cheap option, but don't be fooled by its price because, certainly, it boasts an amazing performance level that's bound to leave any user dazed.
It is an excellent mic for use by rap and rock vocalists. Do you want to know other reasons why it is a cool choice? Read on! The clear and clean audio produced by the P220 will get you nodding your head with only the slightest EQ touches.
Most basic features like the low-cut filter and the attenuator pad are carefully designed to bring additional value to the mic.
With a track record for a vocal that's almost unbeatable by any similar product, we decided that it deserves a place in our list of best microphones for rap recording.
The unique design of the mic is impressive in every way. It is one of the few mics available in the market with a body build that does not waste time on inexpensive detailing. It is made of thick metal, so you at least expect something solid when you hold it in your hands.
On a downside, though, the mic is heavy than most of its like, so handsy rap vocalists are advised to add a bit of care during handling. The pack features a spider shock mount that's equally reliable.
The mic and shock mount are fitted into a neat case to encourage portability. The buttons controlling the low-cut filter and the attenuator are located at the front of the gadget.
They are hard sliders, so there is no need to fear mistake engagement. The shock mount is designed to be screwed onto the mic and rely on fiction.
This feature makes it possible to use them in different configurations and positions without fearing that they will fall off.
On its other features, the P220 from AKG shows its reliability by offering an entire audio range of 20-20,000 Hz.
It has a predominantly neutral response, and its bass roll-off starts from 100Hz. The mic also features a 78dB signal-to-noise ratio, which is enough for studio works and normal close-mike applications.
The problem with that signal-to-noise ratio often occurs when you're not recording in an enclosed place. The rap vocals will do just fine at a maximum SPL level of 135dB.
Recognized for its warm low-end performance, the mic will still bring some level of upgrade that's worth rapping with to the vocal.
Pros:-
Each pack comes with an additional carry case
It is relatively affordable
Mic and accessories feature a sturdy build
Cons:-
Its boom is without a low-cut filter.
Check Price on Amazon
At the time of our research on "Best Microphone For Rapping", we found a video about "How To Start Rapping (10 Secrets You Have To Know To Begin Rapping)" which is worth watching. 🏆
How To Start Rapping (10 Secrets You Have To Know To Begin Rapping)
4. Pyle 

Classic Retro Dynamic Vocal Microphone
We often want to migrate to fine and trendy equipment and gadgets, but what if you learned of a vintage gadget taking center stage in modern-day music production?
Well, the Pyle microphone is one such, and guess what? Its beauty even lies in its vintage look, the same reason it was supposed to go out of fashion.
Okay, enough of beating around the bush. Let's get right onto it and discuss why with think it merits being on our Best Microphone For Rapping 2022 list.  The Pyle microphone comes built-in with its acoustic pop filter.
It also has a built-in ultra-wide frequency response to give it an increased ability to separate unwanted noise from the real deal.
Apart from the above-listed features, its high signal also helps to increase voice clarity. It is also built to feature steel mesh and sturdy materials to incorporate reduced noise circuitry into the mic.
Its on-and-off switch means that a rapper can easily turn the mic on or off when using it on stage in places that can make noise.
The set is packaged to feature a 16 feet XLR cable which boasts amazing compatibility with different systems. This mic stand adapter is added for stage performance events and karaoke and studio recordings.
It is constructed mostly with plastic, and its pickup is unidirectional, just like polar patterns. The dimension of the product is measured at 2.2″ × 3.1″ × 7.4″ and boasts a frequency response rate of 30Hz-15kHz.
The capability of the mic cannot be overemphasized after the entire brand is already known for producing great recording gadgets.
The dynamic construction of this very mic does well to achieve good sound quality, combined with a performance rate that's impressive in the true sense of it.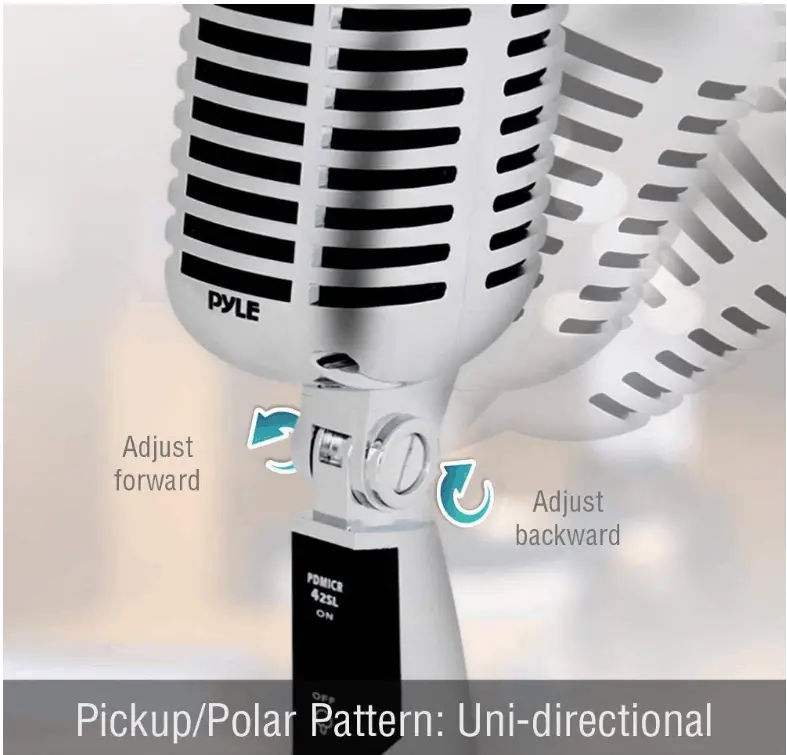 It is a vintage microphone, so you're sure it's the right answer to your questions about old-school mics that fit modern trends. Designed to feature the best audio reproduction, your audience will switch to the dance floor before they know what's happening.
Use this mic to bring the best out of your rap game, with every new vocal becoming better than the previous, as you know. The design is something to turn heads, but that's not all – it also features amazing functionality that fits beginners and older rappers bound.
The physical design of the PDMICR42SL shows that it is just as much a rap microphone. Everything speaks of the quality you expect from its performance, from the packaging to the attractively small mic.
The company doesn't just focus on performance; they want their products to look as good as they sound, evidenced by the instant attraction that the mic draws from people.
Pros:-
The mic boasts a very impressive sound quality
It is relatively affordable
Its aesthetics is very appealing
Cons:-
Being made from plastic, there is a scare that it will not survive wear and tear over a long time.
Check Price on Amazon
Best Microphone For Rapping: What To Consider
Rap Microphones are necessary for any rapper who intends to take their rap game to the next level. Owning one and creating a mini studio for yourself will help your practice and provide a platform for you to handle mini-recordings and other related parts of your rap music.
Having discussed the best brands of rap microphones available in today's market, it will now be easier for you to place an order for your custom choice.
However, because rap mics are high-budget music equipment, it can still pose a problem choosing one that will work perfectly and last as long as possible.
Asides from listing some brands that you'll like above, you may also be willing to get other rap mics that will fit your particular needs, and that's why we've created a section that will help guide you to make the right choice.
Going to buy a rap microphone that will serve? Check out the following before making your financial commitment:
🎶Audio:-
Mics and headphones are audio-enhancing equipment, so if you purchase any of them, audio should be a key factor to look into. It only makes logical sense to look into the audio when purchasing a rap mic.
Of course, the mics we've highlighted above are carefully chosen, partly for their ability to reproduce lyrics and rap songs just the way you want. Additionally, they all maintain the accuracy of the audio to give you a perfect production.
When going to the source for your mic based on your choice, it is also difficult to look at the audio, ensuring that it meets and surpasses your requirements.
Remember that rap mics are bought to be used for a long time, so getting a low audio quality mic from the get-go will affect your productivity in the long run, even though they seem at first like they are meeting up to need.
🛒Budget:-
As a starter in the rap game, you are bound to be limited on cash. Yes, you're still struggling with recording your first few albums, and to be honest, endorsement deals don't come too easy these days unless you are a celebrated artist.
However, every upcoming rapper has to pass through the beginning stage, where they are always running around to get enough money to sustain studio work. It is not a crime to be short of money from time to time, but you must learn to create and maintain a budget for steady growth.
The rap mic is one of the major financial commitments you will be making, but if you are not careful with it, you may pick one that will cost far more than your budget, crippling your ability to handle other aspects.
Check out and compare prices, ensuring you pick the best fit for your budget. To make it easier, we've highlighted products with relatively cheap costs in the list compiled above.
🎏Accessories:-
like most other gadgets, rap mics don't just stand alone. They need other additional accessories to function as perfectly as you want them to.
It is, therefore, important to check out the accessories attached to each of the mics before making your final choice, bearing in mind that the more accessories that come with the mic, the fewer the accessories you will need to buy when you begin the setup process for your mic.
Accessories include, but are not limited to: mic stands, carry cases, pop filters, wires, stand adapters, wire adapters, etc.
Accessories help the performance level of each mic, but apart from performance, they also help with easy transportation, compatibility, ease of setup, and most importantly, ease of usage.
Of course, some accessories are also customized to different mics, so buying an incomplete set for maximum functionality is very important.
How to Properly Maintain a Rap Microphone
Now that you've probably arrived at a choice, what's left is to purchase your choice rap microphone brand and begin dropping the lines and bars. Wait! Not so fast! There's something we're missing, and that's maintenance.
You want your rap mic to last as long as possible; after all, it is a high-budget music production equipment and will leave your mood sour if it gets damaged just a few weeks after purchase.
We understand that this can be a pain, especially when you are still struggling to get on acquainted with your microphone and how it works.
Proper maintenance is the best way to keep your rap microphone working optimally for as long as you want it. Maintaining a rap mic is easy, only if you know the right way to do it.
What's the right way? Don't worry; we've highlighted a few maintenance tips that will help you keep your mic going for a long time.
Proper Storage:-
Hit up a microphone technician today and ask them for the best maintenance idea to preserve your microphone, and they'll first talk about the packaging. Yes, that plastic bag that often comes with the pack is as important as the mic itself.
The gadget is very sensitive and reacts quickly to dust or moisture. Ensure that it is positioned in a part of the studio where water can hardly go and is not prone to too much dust.
When you're not using it, store in a plastic bag or an enclosed space safe from moisture and unnecessary dirt. This way, you're not only saving your rap mic but also making cleaning easier than it would have been.
Proper Cleaning:-
Cleaning is a very important aspect of gadget maintenance, but for very sensitive gadgets like the rap microphone, more has to be done than just ordinary cleaning. Avoid the use of moisture when cleaning. To many people, using a cloth piece soaked with water is the best way to clean it.
Moisture is known to have the power of destroying condenser transistors; hence, by all means, experts believe that you should avoid it. Use dry cotton pieces to clean. Also, create a routine that will help you remember to clean as often as possible.
Properly Turn of Microphone:-
Following the due process in switching your rap mic on or off is another key aspect of maintaining your mic and keeping it working fine for a long time. Most rap mics will have manuals to guide you on this.
Try to read every part of the manufacturer's manual as much as possible to learn new tricks on the best way to operate and store your rap microphone.
In the few cases that you will not be provided with a manual, try to ask the shop attendant questions about the best and simplest ways to hand the microphone, especially regarding on and off.
📗 FAQs on Best Microphone For Rapping
Below are a couple of queries everyone expects to answer, and I did include the same for my readers.
What Microphone do professional rappers use?
1. Audio-Technica AT4040 Cardioid Condenser Microphone 2. Neumann TLM 102 MT Condenser Microphone 3. AkG P220 Vocal Condenser Microphone 4. Pyle Classic Retro Dynamic Vocal Microphone
Is a Blue Yeti mic good for rapping?
I recommend it as the best budget USB microphone for rapping or any other vocal use.
What microphone does Drake use?
Sony C800G as this the mic 40 uses in his vocal booth.
What mics do singers use?
Vocals – Singing or Speaking
How much is a Blue Yeti microphone?
Conclusion on the best microphone for rapping list
There you have it, detailed research on some of the best rap microphones you can buy in 2022. Getting one of these will surely take your rap game to your desired level.
We've also included maintenance tips to make taking care of the rap microphone easier and more efficient. This guide made getting and setting up your rap microphone easier and better.
I hope our guide on the best rapping microphone helps you find your answer. if you have any queries, feel free to pass your comment.