This is my complete guide to Best Monitor For Trading in 2023. 😎
All monitors mentioned in this review are based on the monitor's size, resolution, design, and eye care features that are essential in trading monitors.
Let's get started. 😍
Are you beginning your career in FOREX or stock trading? If so, you might have already started your work or studies using your smartphone or laptop. While it is alright, you may want to upgrade your screen. 
You see, FOREX and the stock market are all above, making the right moves at the right time. A crucial piece of equipment to do that is the monitor. Yes, size does matter immensely as far as the market goes. 
The bigger, larger, and crisp-looking screens provide you with the best results. We are not asking you to get yourself one of the massive screens used in the bus station or the airport, but to use something adequate for your needs. 
Factors to know before choosing the best monitor for trading:-
Screen size: A larger screen may be more practical for simultaneously viewing many windows or charts, but it may also cost more and take up more workspace. When selecting a screen size, consider the size of your desk and the viewing distance from where you would generally be looking at the screen.
Resolution: A higher resolution will enable you to see more detail in graphs and text, but it can also necessitate a more powerful computer to function properly.
Refresh rate: If you plan to stare at the screen for a long time, a greater refresh rate can ease eye strain and enhance viewing quality overall.
Type of panel: Each panel has a unique set of benefits. In contrast to TN panels, IPS panels often have broader viewing angles and better color reproduction but could also have slower refresh rates.
Connecting: Confirm that the monitor has the ports and connectivity choices required for operation with your computer and any additional devices you may choose to connect to it.
Ergonomics:- Consider the monitor's adjustable stand, bezel size, and any additional features like flicker-free technology or blue light filters to ensure a comfortable and healthy viewing experience.
Budget: Decide how much you are willing to spend on a monitor and then search for a model that meets your price range while still fulfilling your requirements and preferences.
Best Monitor For Trading – Our Top Picks👌
Trading using the right monitor enables you to make the right decision at the right time. As said, earning profits and cash on the FOREX or stock market can be tedious as it is. 
As your field and work progress, you can benefit by using the best monitor for trading. Spending prolonged hours in front of the screen or viewing your monitor from a distance is the norm for any trader or stock investor. 
You have invested your hard-earned money; some investors might have trusted you to increase their stock flow. Making timely decisions is critical here. With that in mind, we have researched to come up with some transcend monitors just for you.
These monitors are ideal for trading because we listed them based on the reviews we found on the internet. Consumers are happy and satisfied with all of them, and their configurations implement the ones you need. 
Below are some of the best monitor for trading manufactured by popular brands in the market. 
1. Samsung CHG90 Series 49" – Best ultrawide monitor for trading
Samsung CHG90 is first on our list of the best monitor for stock trading. When you are looking for a colossal screen that comes with outstanding specifications, then this is it. 
As the name goes, this massive 49″ monitor provides you with all the details and information that any trader would want to look at. The screen is curved, offering you an immersive viewing experience.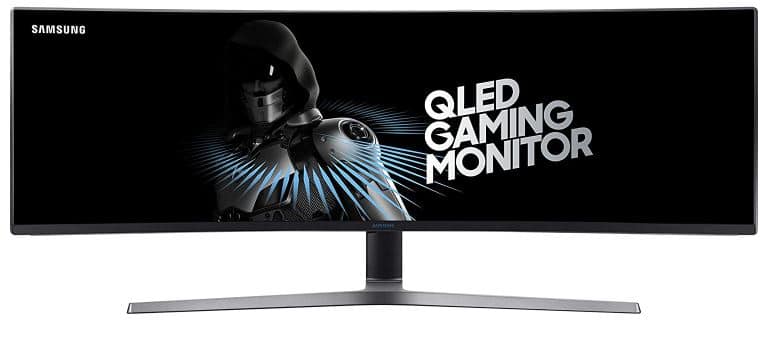 It is infused with Quantum Dot (QLED) Technology for opulent visuals. The refresh rate is peerless as it comes with 144Hz and 1 ms, decreasing the ghosting and input lag. As a trader, you may want to install the apps on your system, which you can do effortlessly. 
We do not think you would need several monitors for your trading deals because this one is quite big enough. A distinct feature in the CHG90 series is the High Dynamic Range (HDR) to ensure you do not miss out on your trading activity. 
The dark areas become slightly dark, and the bright areas get lighter. The details on the monitor have to be seen to be believed.
The intense clarity offered on the monitor is second to none. It is priced at less than $1000, which can be expensive for many users. 
Users are very impressed by having the Samsung monitor in their work area. However, it is this when you want an adequate workspace and a large screen, so you don't want to miss out on anything.  
Pros:-
The design is stunning and curved for immersive trading. 

It is durable and can last 7-8 years if handled carefully.

The monitor has a high dynamic range for eloquent imaging quality.  

The device provides you with ample workspace for trading. 

It is a brand-value product. 
Cons:-
It can be expensive for many users. 
Samsung CHG90 is expensive, but its immersive experience and configuration are unbeatable for the moment. In 2023, you might want to give your FOREX and stock trading career a push using a colossal and mightily opulent monitor. 
Check Price on Amazon
Samsung 49" CHG90 SUPER UltraWide HDR QLED Gaming Monitor | REVIEW
2. VIEWSONIC VX3276-2K-MHD – Best monitor for forex trading
VIEWSONIC VX3276-2K-MHD is up next for review. Let us read and find out what makes the VX3276-2K-MHD unique for trading.
The VIEWSONIC may not be a famous brand in America, but it can make heads turn with this new device. 
It comes with a bit of everything that makes it sublime. The design is a 32″ frameless screen, meaning you can see what you want. Having an excellent resolution of 2560x1440, it provides you with breathtaking images. 
The best monitor for trading is splendid from any angle, enabling you to see stunning pictures and images from your seated position. It also has enhanced viewing comfort for a flicker-free technology embedded in it. 
We loved that it is compatible with any device you want to operate. It could be Windows or Mac. You can also use your laptop seamlessly using the VIEWSONIC VX3276-2K-MHD, and it comes with amazing 3-year coverage.
You will be astounded to know that the monitor uses a 10-bit color to create a color palette of one billion colors. We loved the dual stereo speakers that enable you to animate with the eloquent music throughout your sessions.
It is priced at less than $300, which makes it cheaper and more affordable. We felt that it suits students who aspire to become stock marketers and traders.  
Pros:-
The image quality is stunning. 

It has sublime color quality. 

It has an ultra-slim frameless design with high resolution. 

The unit has eye protection technology.

The product has a 3-year coverage in the US. 
Cons:-
The features could have been richer. 
VIEWSONIC VX3276-2K-MHD is a decent monitor with all the elements you would require through a screen as a trader. It has stunning resolution, immense quality images, eye care technology, and is affordable. 
Check Price on Amazon
Asus DESIGNO MX299Q is a product from Taiwanese manufacturers. Asus has been developing a few exceptional devices for some time now.
The MX299Q is one of them. This screen is 29″, is ultra-wide, and has quad HD infused. 
It comes with a stunning resolution of 2560x1080, offering you eloquent images. As a trader, you would want to see pictures with intense clarity.
You would also be delighted to know that the monitor has an eye care feature for no-stress viewing. 
We liked the AH-IPS display that uses a massive 178-degree viewing angle for exceptional clarity and color distortion. If somebody is looking for a sublime transfer of data, then this is your best option. 
You would be glad to know that it comes with the ASUS Rapid Replacement, a 3-year warranty, and 2-way free shipping. It has amazing sound effects, including SonicMaster sound optimization technology, 3W x 2 stereo, RMS, and the 5Wx2 Amplifier.
You can rest assured about the sound effect on the monitor. It is priced at less than $350. That is affordable and low-priced for a wide range of users.
Does it come with any flaws? Users noted that it comes with no ergonomic design. You may have to look elsewhere if you are particular about the feature. 
Pros:-
It has a sublime audio output. 

It provides you with an excellent viewing angle. 

The design of the monitor is second to none. 

You can make use of the top-notch connection features. 

It is one of those devices that come with a 3-year warranty and 2-way free shipping.
Cons:-
Few users found that the color accuracy was not up to the mark. 
Asus DESIGNO MX299Q is a matchless product that comes from the makers of Asus. The product has exceptional features infused into it.
We recommend it also because it has a 3-year warranty and 2-way free shipping, which is not often given. 
Check Price on Amazon
ASUS Designo Series 29" HDMI Widescreen LED Backlight Cinematic LCD Monitor Interview- Newegg TV
4. DELL P2719H
DELL P2719H could be one of the best monitor for trading as it is priced affordable for many clients. The monitor's thin and sleek design provides more room to work productivity and entertain yourself too. 
P2719H offers excellent color and image quality. You can expand your efficiency thanks to the 3-side ultrathin bezel for intense clarity on the monitor. 
It has a brightness of 300 cd/m² that works sublimely. You will be delighted to know that the product is a TUV-certified monitor with a flicker feature. Besides, it has adjustable settings, including tilt, comfort, and pivot. 
There is also the mount ability. It is highly used by many stock traders and popular business organizations too. Many users have appreciated the fact that it comes with 16.7 million colors. Additionally, the monitor has an anti-glare coating to view all its colors. 
Dell always has a robust design that provides you with a durable unit. The connectivity comes enhanced with several ports on it.
It is priced at less than $300, which makes it quite affordable and cheap for students and traders in FOREX and stock trading. 
Pros:-
The design is good and lasts for several years. 

You can adjust the monitor likewise. 

We found the color quality to be staggering. 

It is bezel-free, offering you stunning image quality. 

The product is affordable and low in price. 
Cons:-
Few users thought that the ports were hard to access. 
DELL P2719H is one of the best monitor for trading as it is not only a budget-friendly option but comes with several outstanding features that make it top-notch. You will be astounded by the reviews given online about it. 
Check Price on Amazon
5. LG 43UD79-B
LG 43UD79-B is a 43″ monitor that comes with outstanding features embedded in it. Users have highly recommended this UHD 4K product.
It is one of the best monitor for trading. The 43UD79-B comes with a resolution of a 3840x2160 IPS monitor.
You can rest assured that the image quality is going to be stupendous. It can be compatible with HDCP 2.2 and connected to USB Type C. The viewing angle is wide, and many traders are satisfied with using it. 
A notable feature of this monitor is the screen split. Traders can now customize their monitors depending on multitasking. You can resize and display several Windows on 14 options for different picture-in-picture PIP choices. 
The inputs can be found on the rear and pointing down. You can effortlessly manage the cables. We felt that the monitor has a mild border and a matte finish. This is an excellent monitor for FOREX and stock trading, but gaming. 
It has a drawback with the deep blacks that can sometimes be annoying. Otherwise, it is an exceptional device you may want to consider for your work. The product is priced reasonably at less than $650. 
Pros:-
This is a large monitor for intense visuals. 

It has astounding visuals for good clarity. 

There is a screen split feature. 

It has great connectivity features on it. 

It comes reasonably priced for users. 
Cons:-
The ergonomic adjustments are low. 
LG 43UD79-B is one of the best trading monitors with sublime features. You have stunning image quality and connectivity and are compatible, and the screen split feature too. The only thing that you need to do now orders it. 
Check Price on Amazon
6. ACER V277U – Best vertical monitor for trading
ACER V277U is a gem in the market. If you are searching for a cheap product with stunning features for trading purposes, then you are in some luck today. This is a WQHD 27″ IPS panel with a resolution of 2560x1440.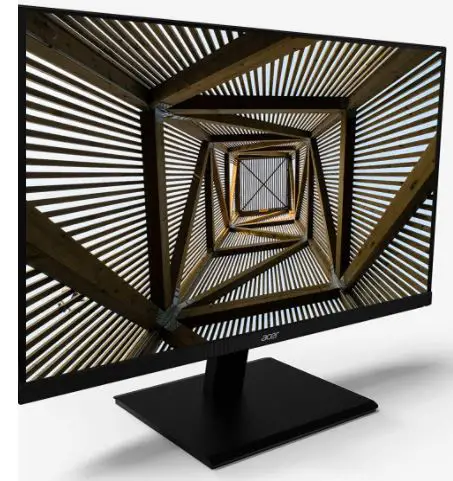 The refresh rate is a staggering 75Hz, and the response time is 4ms. It comes with a magnificent 100% sRGB Wide color gamut. A 350 cd/m2 peak brightness offers you eloquent views. 
You can be a stock trader or professional gamer because you won't be disappointed. The monitor comes with thin bezels that can be noticed from a distance.
It comes designed using plastic that appears good on the device with a matte black finish. 
The unit comes with a VESA mount but lacks most ergonomic design aspects. We found that it comes with several connectivity options for seamless data transfer. ACER V277U is priced at less than $300, making it one of the best monitors for trading. 
A user based in New York who is a FOREX trader and works from home felt that this monitor has impressive image quality.
She owns another monitor for gaming purposes but thinks that this 2K monitor does a sublime job.   
Pros:-
It comes with stunning color quality. 

The brightness levels are stable. 

It has a good refresh rate. 

The resolution on the monitor is one of the best in the market. 

The unit is reasonably priced. 
Cons:-
Users thought it had little backlit bleeding.
ACER V277U could be what you were looking for if you wanted a stunning monitor that is decently built and comes with abundant visual quality, a good refresh rate, and a response time. Besides, it is priced reasonably well at $650, which is quite hard to resist. 
Check Price on Amazon
7. DELL U27117D ULTRASHARP MONITOR
DELL U27117D ULTRASHARP MONITOR is a QHD 27″ monitor with a stunning resolution of 2560x1440, providing you with 1.77 times more detail than the full HD. The ultra-sharp device is calibrated at 99% RGB coverage. 
This gives you an accuracy delta-e of less than 2 for suitable images for viewing. It also comes with Bluetooth 4.0 as a hardware interface. The monitor comes in two right colors, black and white. 
You can select the one that you feel suits your décor. It comes with stunningly thin bezels, providing exceptional visual clarity. The monitor suits traders who want several monitors set up on the workstation. 
The brightness level is 350 cd/m2, and it can connect with 6x compatible RF devices. You can decide to work on radio signals across two devices. We felt that it has the ideal viewing angles that you can adjust depending on the position you want to see it. 
We found that the contrast ratio is not too high, so in a dark-lit room, the monitor shows black color, grey. But you can perform several tasks using it at the same time. The monitor comes with built-in devices. 
It has an acceptable refresh rate of 60Hz that can provide sublime images. The manufacturer has given a 3-year warranty on their product. That is a good sign that the manufacturer is confident about the device. 
It is priced at less than $370, which makes it relatively affordable for traders of all kinds. 
Pros:-
The monitor comes with a robust design.

You can adjust it with large ergonomics.

We found the gradient handling well. 

The viewing angles are wide. 

It is affordable for all kinds of users. 
Cons:-
Sadly, HDR performance is not up to the mark. 
DELL U27117D ULTRASHARP MONITOR could be the best monitor for trading. If you want an affordable, adjustable, and acceptable screen for trading in stock and FOREX, you may wish to place an order for it today. 
Check Price on Amazon
8. HP VH240A
HP VH240A is the cheapest monitor on our list. It is a 24″ full HD monitor with a stunning resolution of 1920x1080 and a 16:9 aspect ratio.
Users have commended the size of the display and feel that it is ideal for trading.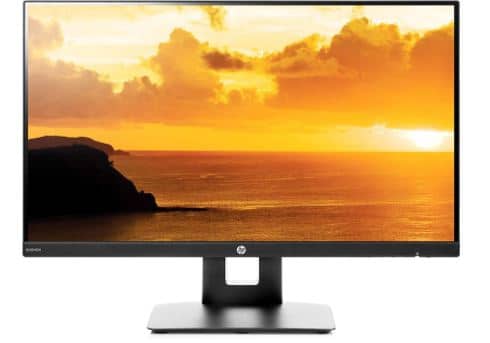 The display comes with a refresh rate of 60Hz, which is magnificent, and has 250 nits of brightness. It also has an ergonomic stand that you can tilt, rotate, and use it according to your comfort. The height of the monitor, too, can be adjusted.
It has a VESA mounting ability to hook it on the wall. We liked the fact that you can make use of VGA and HDMI connections. Yes, the specifications may not be attractive, but it has a mind-blowing price that is too hard to ignore. 
The device comes with a 1-year warranty, seven days of online support, and a user manual. You can easily set up the best monitor for trading in under 5 minutes.
It is priced at less than $125 and is ideal for students and working professionals. 
If you are starting your career in trading or gaming, you might consider this unit for your requirement. 
Pros:-
It comes with an aesthetic design.

The stand can be rotated from landscape to portrait. 

It has tiny bezels and good brightness. 

The monitor comes with simple height adjustments. 

It can be easily set up in your home or office. 
Cons:-
The audio quality could have been bettered. 
HP VH240A is the ultimate monitor that comes with just the right amount of specification on it. The unit has an excellent build, tiny bezels, and a height adjustment facility for a simple installation for your trading utilization. 
Check Price on Amazon
9. Sceptre 20″ Ultra-Thin LED Monitor 
Sceptre Ultra-Thin LED Monitor is our final product on the best monitor for the trading list. We found this product from HP pretty exceptional.
The unit is suitable for using several monitors on your work desk. 
Yes, it may not be substantial, only at 20″, which is sufficient though having a Led HD screen offers you an average resolution of 1600x900. The response time is a magnificent 5ms giving eloquent images for viewing. 
You can also use the VESA wall mount coming along the monitor. It has good connectivity, including 2 x HDMI ports that are convertible to DVI. You can make use of the screen effortlessly on several operating systems too.
It also comes with audible speakers. The LED unit has a vertical frequency range of 75 kHz. However, it comes with a horizontal frequency range of 80 kHz, allowing you to use the monitor over a barrage of frequencies.
The unit is priced at less than $100, making it one of the cheapest in the market. We highly suggest you go for it when you are looking for a budget monitor that comes with acceptable specifications. 
Pros:-
The monitor has a good performance. 

You can use the screen to view two sheets simultaneously. 

The response time is 5ms, which is exceptional. 

It comes with a 0.311mm pixel pitch producing stunning text. 

It has ample connectivity options in the form of VGA and HDMI inputs.
Cons:-
The neck is not removable. 
Sceptre Monitor does not have to be just used for several monitor settings. But you can also use it for other purposes, thanks to its portable feature.
It has decent specifications for the low price, which traders find very hard to ignore. 
Check Price on Amazon
✅FAQs on the best monitor for trading
Which monitor is best for trading?
The ASUS VG279Q, Acer Predator XB271HU, and Dell UltraSharp U2718Q are well-liked trading monitors.
What refresh rate is best for trading?
It is advised to use a refresh rate of at least 60Hz for trading. Doing this guarantees that the data displayed on your screen updates promptly and reliably without any lag or flickering.
When you need to analyze a lot of information rapidly, displays with refresh rates of 75Hz, 120Hz, or even more can be helpful.
Is vertical monitor good for trading?
If you need to examine a lot of data at once, they can be very useful because a vertical monitor can provide you with more screen space and let you read more data without having to scroll.
How can I trade with multiple monitors?
Using multiple monitors can be beneficial when trading because it lets you see more information at once and work more quickly.
Utilize your monitors appropriately by considering the information you need to see when trading. You might use one monitor for your trading platform, one for news and research on the market, and a third for books or other resources.
What is the best monitor for stock trading?
The Dell UltraSharp U2718Q, Acer Predator XB271HU, and ASUS VG279Q are examples of well-liked displays for stock trading.
How do I choose a trading monitor?
Here are some factors to consider when choosing a trading monitor:-
Size: You can choose the monitor's size depending on your preferences and the available desk space. The ability to view more information simultaneously on larger displays makes them generally better for trading, but they can also be more expensive.
Resolution: The monitor's resolution affects how clear and sharp the images on the screen will be; hence it is crucial. You will be able to see more detail and read small writing more clearly if the resolution is greater.
Refresh rate: A monitor's refresh rate controls how rapidly the image on the screen may be updated. A faster refresh rate allows the monitor to display new information, which might be crucial for traders who need to react to quickly changing markets.
Display Type: – The two primary types of screens are LCD (liquid crystal display) and LED (light emitting diode). While LED displays often have a broader viewing angle and better color fidelity, LCD monitors are typically less expensive.
Connectivity: – Make that the display has the appropriate connectivity choices for your computer. Nowadays, most displays include HDMI and DisplayPort ports, but if your computer is older, you might require a monitor with a VGA input.
Price:- Trading monitors can cost anywhere from a few hundred to several thousand dollars. Establish your spending limit and search for a monitor that provides the required capabilities at a cost you can bear.
What size monitor is best for day trading?
The ideal monitor size for day trading is often one with a 27-inch or 32-inch display. These dimensions offer a fair compromise between usability and screen space.
Why do traders use 3 monitors?
Traders can make better decisions by displaying a variety of charts, news feeds, and other data on their desks using numerous monitors.
A trader's configuration can be modified using three monitors to meet their unique demands. They might utilize one monitor to show a charting platform, another to show a news feed, and a third to show a market depth window, for instance.
How much RAM do I need for day trading?
For most day traders, 8GB of RAM is usually enough. This is plenty to enable you to run numerous applications simultaneously and complete difficult activities without encountering latency or other performance difficulties.
More RAM may be required than 8GB if you are utilizing a trading platform that demands a lot of memory, such as one with sophisticated charting capabilities or real-time data feeds.
Do pros use 24 or 27-inch monitors?
Because they offer a decent balance between screen space and usability, 27-inch monitors are typically considered a good size for traders.
Why do traders use vertical monitors?
Large amounts of data may be displayed on vertical monitors since they are higher than they are wide.
A trader might, for instance, use a vertical monitor to show a list of stocks or a spreadsheet with financial information. They could view more rows of data on a vertical monitor, facilitating comparisons and analyses of various objects.
Charts and other data types can be shown on vertical monitors more naturally. For instance, a chart showing the price of a stock over time could be shown vertically on a monitor as the time axis.
This can enable the trader to view more data points concurrently and better understand the general trend.
Is 27 too big for a monitor?
For many tasks, including day trading, professional work, and pleasure, a 27-inch monitor is an excellent size. You can view more information at once without feeling overloaded since it strikes a nice balance between screen space and usability.
If you think a 27-inch monitor might be too big, you might want to think about a 24-inch or 21.5-inch monitor instead.
What is a good trading setup?
Typical components of a trading setup could include:-
1. In general, trading in the direction of the trend is simpler than trying to predict peaks and bottoms.
2. Price levels known as support and resistance are where the market tends to pause or reverse. You can choose where to enter and exit trades by recognizing critical support and resistance levels.
3. Chart patterns: Some chart patterns, such as the head-and-shoulders or the flags-and-pennants, might hint at the trend's direction and tenacity.
4. Technical indicators: These tools can support the trend and give you more information on the market's sturdiness. Moving averages, the relative strength index (RSI), and moving average convergence divergence are popular trading indicators (MACD).
Can we use TV as monitor for trading?
The answer is that a TV can serve as a trading monitor. The HDMI port on many contemporary TVs enables you to hook your computer to the TV via an HDMI cable.
After you have connected your computer to the TV, you can use it as a monitor by setting it as your computer's primary display.
Keeping this in mind, you might not obtain the same clarity and precision as you would with a dedicated computer monitor because TVs are typically bigger and less detailed than computer monitors.
Further, TVs could have a reduced refresh rate, which might be problematic for some trading applications that need quick and precise data display.
How far should I stay from 27-inch monitor?
To lessen eye strain and enhance reading comfort, it is typically advised to sit between 22 and 28 inches (or approximately arm's length) from a 27-inch display.
(Q) What is the best resolution for a monitor to be used in trading?
We suggest you get a powerful resolution when you use a monitor for this purpose. That is because stunning resolution emanated from the best monitor for trading enables you to view exceptional images and picture quality on the screen without causing stress to your eyes. 
(Q) How many screens do a trader need to work productively?
A profitable trader does not need too many large screens. Yes, we can see some traders working from home and using four monitors or more. But a large monitor in the middle and two medium screens on both sides should do. 
That makes it a minimum of 3 monitors. But to work productively and make quick, profitable decisions, you may need at least 4-5 monitors. Please ensure that your table or desk can support all these monitors, including the wiring.
So, all these factors should be kept in mind when they purchase the best monitor for trading. When your budget is low, then you can go for the LG 43UD79-B. It comes with the screen split feature that many market monitors don't have. 
(Q) Why should you make use of a curved monitor? 
A curved monitor gives you what the manufacturers call an immersive viewing experience. If you have sat in front of a curved screen for some time, you will be engrossed in viewing what is on the monitor. 
It comes to your taste. Some viewers like to use the traditional monitor and are satisfied. But some traders want to use the Samsung CHG90 Series 49″ for its immersive viewing. The important thing is that the screen must not cause any strain on your eyes for extended use. 
(Q) Is the $1000 sufficient for 2-3 monitors? 
Yes, you can get 2-3 exceptionally featured monitors for that price range. However, you may also want to consider the best monitor for trading, priced around $600-$800, because they come with sublime configuration. 
If you are new to trading, you may want to begin slowly with budget monitors. As you are developing your trading career, you may want to consider using the unrivaled monitors mentioned on the list. 
Conclusion 
It can be difficult at times to choose the best monitor for trading. Hence, we have provided readers with some of the ultimate in the market as of 2023. These products come from popular brands and have stunning features that compelled us to have them here. 
They are suitable for FOREX as well as stock trading users. A good monitor should help you work productively and make instant decisions as in trading. When you are planning to upgrade your system, then please consider them. 
You won't leave disappointed. We have also ensured they are priced friendly, although a few might be slightly expensive. The one with a massive screen and staggering resolution should sublimely help you with your tasks.
We have also kept several monitors in mind to ensure you do not have to purchase 2-3 of them. Instead, we suggest you get a large one and set it up with your laptop. We also encourage you to spend some lurking around for some products online. 
You never know what your eyes might land upon. Please also remember our buying guide and product suggestions before purchasing. We hope that the review was helpful for your buying the best monitor for trading purposes.