Do you have the curiosity to know about the best multimeter for electronics to buy in 2022? 🤔 You can easily Find out now in this definitive list with our detailed review.
Without any further delay, let's find out. 👓
A multimeter is an essential tool for the electrician who majors in diagnosing and fixing electronic components. They are useful in determining where a fault is coming from and seeing if a repaired model has been returned to pristine.
The regular multimeter has been designed to measure the current, voltage, and resistance passing through an electric area.
So, you can use it to determine if a current is passing through a wire or if the wire is no longer hot. This is a better means of carrying out this electrical activity than using the less safe methods that some electricians have adopted.
Now, using the tool does not require any special technical know-how. Thus, almost anyone can handle it well. Every functioning multimeter has two wired lead points connected to the naked wire.
These lead points signify whatever measurement reading comes up on the multimeter screen. Furthermore, asides from the fact that every ideal electrician or technician needs to have a multimeter device, there are also good reasons why every other person could have one in their home.
Now, a multimeter can be used for several activities in the house- ranging from some DIY on electronics to minor troubleshooting and repair testing. For instance, you can use the multimeter to test whether an old extension box that had been once abandoned is still working or not.
You may even be able to almost accurately determine whether your rechargeable battery cells are due for a recharge. There is also the possibility of getting to know- yourself if a socket or switch is becoming dysfunctional.
Electrical faults and needed adjustments cannot be avoided in a functioning home with an electric power supply, and several electronics and gadgets have been installed.
Sometimes, the sockets or TV sets seem not to work, and the best solution at that time is to get down to figure out where the issue emanates from.
Consequently, I have understood the relevance of the multimeter for various purposes. The next discussions should ideally consider what best multimeter for electronics 2022 is advisable for intending buyers.
There are different multimeter products on the market, each with its function tendencies. Hence, it would be highly un-recommendable that you launch into the electronic store without haven decided which is the best multimeter that suits your individual use tendencies.
Below is a list of some of the best multimeters for electronics, together with some of their characteristic traits. The listings have been made in no particular order of rating or relevance.
Best Multimeter For Electronics – Our Top Picks
1. DT830B LCD Digital Voltmeter Ammeter Multimeter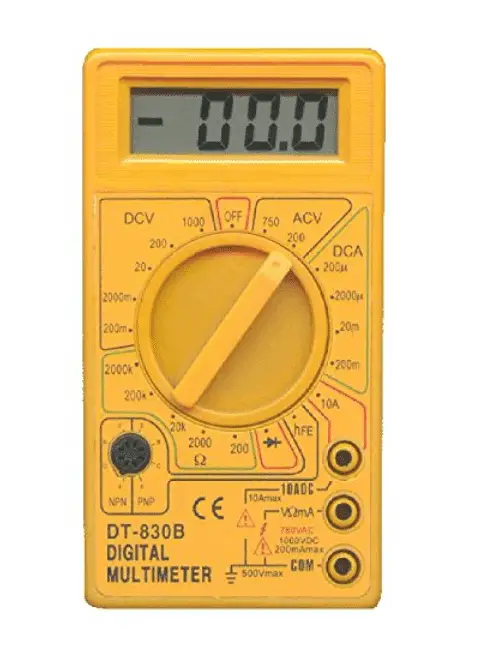 This product is apt in every way because it has a simple design and is easy to plug and use. Even so, its function performance is just okay, and you don't need to doubt the measurements when it takes them. Its simple framework is also well-designed to remove any need for detailed or maintenance requirements.
These features are probably why this multimeter would continue to gain market acceptance, where it competes with other seemingly sophisticated multimeter products.
The DT830B multimeter has a digital interface for conventional AC and DC transistor test functions. This means that it is capable of whatever electronic and electrical testing you wish to carry out within the home.
This multimeter serves well for non-severe DIY electrical installation and testing services. Hence, you can get this product and carry out some of the electrical troubleshooting that needs to be done without calling the electrician or electronic repairer.
The device has a regular screen size of 2 × 0.5 inches, and all its readings are displayed in digital format. Its weight is placed at around 6.4 ounces- a vintage feature that depicts its portability.
Hence, electronics engineers can always go about with the device without feeling any added extra weight to their luggage load. Note that reading on this device is placed at a maximum of 1999 volts- which is a reasonable benchmark for such a device.
Pros:-
It has a top-notch lightweight and compactness that ensures its portability at all times. The device can be fitted into the smallest space- such as the pocket.
Has the ability to carry out AC and DC diode and transistor tests.
The adopted digital reading allows for easy measurement, reducing errors that could arise from the taking of readings by the observer.
A device can indicate instances of overload and low battery on the device.
Procurement costs for the device are reasonably inexpensive at all
Cons:-
The device may be considered fragile and should be used with precautionary care
The design is rather too simple, and there are almost no sophisticated inputs on the device.
2. TRMS Digital eM860T Multimeter
Considering this multimeter's features and function tendencies, it is easy to conclude that it works well for regular professional functions. Previous users have commended the product's ability to carry out accurate readings that the user can trust.
Several other ingeniously incorporated features contribute to the high rating that is being enjoyed by the product. For instance, the TRMS digital eM860T has a backlight LCD Display feature that can measure/count readings of up to 6000 volts.
Again, all the product measuring functions take seconds to show up, and you don't need much time checking and waiting for the multimeter reading to turn up.
Note that this device can measure current, voltage, and resistance and has been built to take readings for other conditions like temperature, non-contact voltage detection, capacitance, frequency, diode testing, and continuity checking.
If you're looking for a multimeter product that provides various functions asides from the regular, then the TRMS eM860T is a valid option in that category.
Its reading capacity for the other components that it tests for is also high. Hence, signifying the high function performance of this device.
For instance, its temperature measurement ranges from -200 centigrade to about 1200 degrees centigrade, while the linear frequency measurement ranges from about 6 hertz to approximately 10 kilohertz.
There are other reading ranges for the other components it measures- which you'll find most useful. The millivolt accuracy range is impressive, with an rdg of 0.5%. Regarding the best multimeter for electronics in 2022, you cannot possibly dust this product aside.
Pros:-
The 6000-count LCD Display makes it easy to take the readings, irrespective of how large the measurements may be. This is a good feature that qualifies it as a professional multimeter.
The power-up and the fast response rate are fair enough, and you can rely on the device- no matter how urgent the readings must be.
Displays audible continuity checks, as well as the diode function tests.
It works well for heavy voltage and has been stated to comply with the IEC 61010-1: 2001 technical standards.
Remarkably provides the true root mean value for its executed AC readings.
It has a fair enough accuracy level, with a millivolt accuracy of 0.5%
Cons:-
It uses an alkaline battery which may drain fast and which may be unsafe for use
The device is relatively heavy- especially when compared with other multimeter devices.
Check Price on Amazon
How to Use a Multimeter for Beginners - How to Measure Voltage, Resistance, Continuity and Amps
Note:-
I have written a post for people looking for the
Best Golf Travel Bag
to buy?, do read it If you are interested.
3. Amprobe AM- 500 Multimeter
This is another product that has risen in popularity over the past few months. The Amprobe AM-500 is not bad in any way, considering its significance in-home small-scale electrical works use and its aptness for use on a commercial basis.
Another good thing about the Amprobe multimeter is that it had been made to undergo a series of function testing before the release, making the tool very reliable for running electronic tests.
Amphobe AM-500 can measure alternating and direct currents of up to 10 amperes and AC and DC voltages of up to 600 volts. Its duty cycle measurement is 99%, while resistance measuring capacity is about 40 megs ohms.
This device is the best shot for carrying out a range of measuring activities, and it can be used both inside the home and in other workplaces like auto electricians. It can be used to check battery charge voltages, alternator outputs, etc.
To provide safety for users who would be taking electric measurements, the device comes with an insulated probe holder, which helps facilitate easy use and measurement procedures.
The product has an average weight of approximately 13 ounces and a regular dimension of 11.8 ×7.6 × 2.4 inches. Its rugged build help enhances its durability. Thus, you can use this product for many years.
Below are some of the Pros and Cons of The Amprobe AM- 500 that earned it a spot in our best multimeter for electronics repair list.
Pros:-
It has all the required qualifications that make it apt for professional use.
The multimeter comes with a support infrastructure at the back, which can hold the meter to stand; it's one sort of free-hands mode.
The auto power-off feature on the device ensures its effectiveness for many years since its recommended average use time decreases for every minute it is left on and unused.
Even after being disconnected, the reading is retained courtesy of the hold function on the meter back.
The Amprobe multimeter comes with detachable test leads.
The device has a pretty rugged build that ensures its durability for a long time.
Cons:-
The battery backup needs to be improved, as it is not so impressive.
A device is comparatively heavy, which is a minus on its portability
4. Innova 3320 Auto-Ranging Digital Multimeter
This review wouldn't be complete without a mention of the Innova 3320 auto-ranging multimeter. The device is noted for effective and fast troubleshooting in home electrical and workshop electrical scenarios.
This device does not need an auto-dial function; it provides auto-scaling and is in the appropriate range. The design and size presentations are compact, signifying a reasonable portability trait for your use everywhere.
Although the product is still considered an entry-level model, it has shown high market adoption prospects, with more customers indicating a preference for the product.
With a maximum measurement capacity of 10 megohms, you can safely use the device for household wiring and electrical installations resting and for auto-electronic purposes.
In battery charge measurements, the device has a color-coded input that indicates different color outputs to indicate different conditions. The test leads are detachable and replaceable, while there are rubber paddings at the edges to ensure the device's safety against damage during falls.
Note that the device provides a single-setting resistance check for AC and DC voltage measurements. Its weight does not exceed 5 ounces on the maximum, and it has a dimension of about 2 × 5 × 10 inches.
Below are some of the Pros and Cons of The Innova 3320 that earned it a spot in our best multimeter for electronics technicians list.
Pros:-
Measurement readings are almost always accurate, reducing the chances of error readings.
It has a single range resistance setting for both AC and DC voltage readings.
The rubber edge casing protects the device from getting damaged when it falls.
Large color LED display is a plus for the product
Cons:-
The device requires real careful handling during use
Check Price on Amazon
5. Extech EX330 Autoranging Mini Multimeter
The Extech EX330 auto-ranging multimeter comes with a few more peculiar features than many other multimeters in its category.
The device's AC and DC voltage measurement capacity is capped at about 600 volts, while its accuracy has a percentage of 0.5. The LED display is a maximum 4000 volts count, while the product comes with an inbuilt type probe thermometer.
Other features of the product are an impressive non-contact voltage detector, which works with an audible motivation beeper and an LED light signal. All these come on when the multimeter is brought close to a hot wire or other connected electric source sockets and outlets.
The device's auto-ranging feature is another trait of interest. It allows the user to select the right measurement ranges- when carrying out measurement activities on specific electrical components.
Aside from taking immediate readings, the device also allows you to compare the immediate readings with another reading stored on the multimeter memory.
Again, the device is an essential tool that should be added to your home's DIY electric box. You can use it to carry out simple checks on faulty appliances like the refrigerator, TV set, etcetera.
This dev8ce would also carry out frequency, capacitance, and duty cycle measurements. The type K probe thermometer measures temperature- which can be displayed in Celsius or Fahrenheit measures. The product weighs a little above one pound and utilizes two AAA batteries.
Pros:-
The built-in non-contact AC voltage detector function is impressive, together with the LED light and audible beeper signaling infrastructures.
The auto-ranging function allows users to select the right measurements on certain electrical devices.
The one inches large digital display makes it easy to take the readings
The product's inbuilt thermometer is an attractive feature of the multimeter
The auto power-off function puts off the multimeter after fifteen minutes of inactivity. This action saves battery life.
Cons:-
The fact that the device uses a battery limits its usefulness- since the user would not be able to use it once the battery drains off.
Introducing the Extech EX330: Mini MultiMeter + Non-Contact Voltage Detector
6. Topone LCD Digital Multimeter
This device is built to serve both individuals with a low-use tendency and the commercial end-user. It has a top-notch design with accompanying high-performance functionality.
The device would carry out all the AC and DC resistance, voltage, current, frequency, and capacitance measures. Although it does not carry much sophistication overall, it is powerful enough to execute the everyday measures of the components it supports.
The device can measure a maximum of 600 volts for both alternating and direct currents, with a maximum range resolution accuracy of 10A.
The product is quite light-weighted and compact enough, allowing you to carry it about whenever you feel you may need it.
This device is easy to use and has an accuracy tendency of up to 0.5%. This means you can make use of the device without doubting if the measurement values are correct or not.
The multimeter also has a good LED display and an average dimension of about 5.9 × 2 × 2.1 inches. This is the device for you if you want a multimeter that is not complicated yet highly functional.
Below are some of the Pros and Cons of The Topone that earned it a spot in our list of best budget multimeter for electronics.
Pros:-
Has an impressively accurate measure of all voltage, resistance, current, and capacitance.
The product has a memory function for temporarily holding measurement values.
It is portable and can fit into the smallest space, making it a good travel companion.
Does not go on auto-sleep mode when the user is busy trying to sort other things
Cons:-
It utilizes a battery for its function, and the battery life support is just too minimal
Lack of auto-sleep function can lead to battery drainage. Hence there is no power-saving infrastructure on the device.
Check Price on Amazon
At the time of our research on the "best multimeter for electronics engineer", we found a video about "How Does a Multimeter Work?" worth watching. 🔎
How Does a Multimeter Work? Kipkay Tips
7. Etekcity MSR U1000 Autoranging Digital Multimeter
The Etekcity MSR U1000 multimeter is another product with proven functionality. The device comes with top-notch features that qualify it for all-purpose electronics and electrical troubleshooting purposes.
It can be used within the home garage and workshop or on a commercial professional basis. Its output capacity is not listed only to current, voltage, and resistance measurements.
The device is also designed to carry out diode and triode testing, EF probe, and frequency response.
A data hold feature allows you to record and compare measurement readings and the presence of the maximum and minimum reading functions.
The device's auto-ranging scale facilitates easier measurement takings. At the same time, the backlit feature allows you to use the multimeter even in low visibility light, making it perfectly fit in our best multimeter for electronics 2022 list.
The product is 1.2 × 49.2 ×3.3 inches in dimension and does require a battery cell input for its function.
Pros:-
It has a lot of functions that it can carry out, which is an advantage for the user.
The advantages of relative measurement, data holding, and the minimum Abe maximum readings.
The auto-ranging function increases the ease of executing measurements, with a tendency to obtain more accurate results.
The LCD Display is useful for helping the user take readings at night.
Saves power via the sleep and energy-saving modes.
Cons:-
Relatively heavier than some other multimeter options on the market.
The battery drains off quickly upon the use of the device.
Check Price on Amazon
Best Multimeter For Electronics: What To Consider
Because there are numerous multimeter options in the market, it becomes a little tasking to decide which product to choose.
While many options may seem just fine for your type of activities, there would always be that one option that is the most appropriate and fits all aspects.
This is why it is important to consider some factors before setting off to the market. The following are some of the factors that should help you in your decisions on what model or brand to buy.
🎭Multimeter Pricing:-
Since many products and brands exist in the multimeter distribution market, you can only expect the products to have different proving. This may not be easy if you're not carefully deciding the price.
Before you begin to weigh the options in detail, it is ideal that you determine what price range you want to spend on a multimeter for electronics.
After you've done this, select the products that fall into this category, and that's a good way to streamline the options until you have the best that suits you.
🎏Measurement Capacity:-
Not all multimeter devices can measure up to 6000 or 7000 volts. What this means, in essence, is that you need to find the multimeter with the measurement capacities that suit your activities.
If you buy a 600 volts maximum voltage measuring multimeter when you need a 4000 Volts measuring device, you won't enjoy its use until you have to buy another one. This factor is one factor that you mustn't fail to consider.
It would be best if you ideally went for a multimeter with the main voltage higher than those of the electrical appliances for which you would be using it. Ensure that the indicated values for each electronic are at least slightly lesser than that of the multimeter.
Suppose you need to take other measurements like frequency, temperature, and capacitance.
In that case, you should make sure that the multimeter devices can take the readings and that it has a measurement range that is high enough for any possible readings that you may have.
🔎The accuracy of the Multimeter:-
Accuracy is very important in a measuring device like this, and if you buy a non-accurate device, you may have wasted your money.
This is one of the most important factors that should determine your ultimate buy, and you may even compromise on some little other features to get the device with optimum accuracy.
It doesn't have to be high-priced products before you're guaranteed measurement accuracy. Some low-priced digital multimeter has also shown high accuracy traits, which you may want to consider.
🔋Battery life and support:-
The battery life support of your digital multimeter would determine how long you would be able to make use of the device. If you're going to be carrying out a substantial amount of testing and troubleshooting, then your adopted multimeter device must be that which has substantial battery support.
On the other hand, using an auto-sleep device would help save battery life and power wastage. However, this may not be a very important factor for some home users who only have to do very little testing and repairs- from time to time.
📗 FAQs on the Best multimeter for electronics work
Below are a few queries on the best multimeter for DIY electronics that everyone expects to answer, and I did include the same for my readers.
What type of multimeter is used for electronics?
A digital multimeter with a ceiling test voltage of 4V is sufficient for most electronics. You can opt for a multimeter with a higher maximum test voltage if required.
Which type of multimeter is more accurate?
Digital multimeters are more accurate and provide more precise readings than analog multimeters. Moreover, they are easier to use and read.
What is the easiest multimeter to use?
The Fluke 107 AC/DC Current Handheld Digital Multimeter is considered one of the best multimeters in the market. It is easy to use and offers diverse functionality making it suitable for DIY-ers and professionals.
What is the use of a digital multimeter?
Digital multimeters measure the electronics' voltage, current flow, and resistance. The readings obtained are then displayed digitally, making them easy to read and understand.
What multimeter can measure?
A digital multimeter is a diagnostic tool used to check crucial electrical measurements such as voltage (in Volts), current (in Amperes), and resistance (in Ohms).
What type of error is present in the multimeter?
Errors in multimeters arise when the device LO terminal is driven by an AC voltage relative to the ground.
Which multimeter is better, digital or analog?
Digital multimeters are better than analog multimeters. Digital multimeters measure electrical quantities with an ± ​​0.5% accuracy. Standard analog multimeters can result in inaccurate pointer readings and measure with ± 3% accuracy.
What is the speed of a digital multimeter?
Resolution levels of 16 bits are mostly used in digital multimeters featuring speeds of around 100k samples per second.
What does true RMS mean on a multimeter?
A true-RMS device (RMS = root mean square) is one of three tools that can measure alternating current (ac) or ac voltage: True-RMS digital multimeters (or clamp meter), Average-responding digital multimeter (or clamp meter)
What do 6000 counts mean on a multimeter?
Digit display means the digits of a measuring result that a multimeter can display. … For instance, the reading of a 3.5-digit multimeter is 1999 counts, and a 4-digit multimeter is 9999 counts. Besides, 4000 counts, 6000 counts, and 20000 counts multimeters are also common in the market.
How many types of multimeters are there?
Digital multimeters can be categorized into three basic types: auto-ranging, clamp digital, and fluke digital multimeters.
Conclusion
Multimeters for electronics are easy to use, and nowadays, they don't seem to be tools for engineers and electricians alone. Everyone who uses electronic and electrical devices and installations may have one.
They require very little maintenance, and once you don't subject them to conditions beyond their capacity, they will likely last for as long as possible. Another good thing about them is that you always find a product that suits your requirements.