This is the ultimate buyer's guide to Best Outdoor Watches in 2022. 😎
And let me be clear about something:
In picking these Outdoor Watches, we have considered many factors like GPS Technology, ABC System, User-friendly, Waterproof and Dustproof, Battery Life, and Budget.
Let's get started.📗
Adventure enthusiasts know it's essential to gear up with everything to have an ideal and safe outdoor experience.
Also, these days it is not just what you carry but to be equipped smartly too. One thing that veteran adventurers will admit is that buying the best outdoor watches is a must.
Wearing adventure-centric outdoor watches on your wrist will pump up your experience. However, as no size fits all, you will discover an assortment of outdoor watches serving various purposes.
From trekking and swimming to skiing and forest hiking, outdoor watches have functionalities outfitting every specific activity you enjoy indulging in.
So, why do you need such an exclusive sports watch? What are your options out there? We will sort it out for you here.
What Makes Outdoor Watches Unique?
The work of outdoor watches is far more than telling you the right time. Constructed of sturdy materials and long-lasting battery life, one can depend on these timepieces to satisfy the adventurous soul without risking lives. 
These are feature-specific watches designed to meet a particular sport's needs. However, today some outdoor watch collections are sufficiently versatile in managing diverse activities.
The outdoor watches are durable and lightweight with the integration of innovative tools and features. These wristwatches include altimeters, barometers, GPS, compass countdown timers, stopwatches, and heart rate monitors.
Thus, they can accommodate your various outdoor activities, ranging from running, trekking, diving, fishing, and biking.
Best Outdoor Watches To Own – Our Pick 👌
If you are thinking of indulging in any adventure sport, make sure to buy an outdoor watch.
Here is the list of best outdoor watches by some of the premium brands in this category.
1.

SHEARWATER RESEARCH Teric Wrist Dive Computer
If you are an avid diver, don't look beyond this outdoor watch. The Shearwater Teric revolutionized the industry of diving watches ever since it came into the market!
The watch has an elegant look with its chunky stainless bezel, sizable AMOLED screen, and sapphire lens. Also, you can choose from an assortment of distinct strap colors to select a watch per your preference. 
While using it underwater, a configurable display, the wireless tank pressure integration, full trimix, air, nitrox, and gauge settings will make the experience perfect. 
Hence, this outdoor watch is a compelling dive processor. However, you can also use it as a daily watch due to its classic features and looks. Also, this exclusive diving watch is very short in supply, so you have to be fortunate enough to grab one!
Pros:-
The watch boasts switchable audible and vibration motor alerts.

It has wireless and Bluetooth charging convenience.

This watch has an interactive user interface with an amazing display.

It has a water resistance of up to 200 m in depth.
Cons:-
Audio and haptic alerts both are somewhat weak.

The watch has no GPS.
Check Price on Amazon
Shearwater Teric dive watch / computer Unboxing video
2. Suunto Traverse Alpha Watch
Suunto Traverse Alpha will serve both, whether you are a fisherman or a hunter. The watch has rugged looks, excellent build quality, and is fully functional.
The highlights of this outdoor watch are its two distinct kinds of satellite navigation, i.e., GLONASS and GPS. The watch can make a path map that you can use to track your way back.
Along the way, one can also set points of interest that are especially valuable for hiking, fishing, and hunting activities.
Other key features of this outdoor watch are a red backlight for nighttime use and shot detection. Hence, it is an ideal choice for hunting lovers. 
Furthermore, it counts your calories and steps taken daily, weekly, monthly, and yearly. Also, it is compatible with some heart rate monitors. People who like to stay fit and healthy can also purchase this wristwatch.
In terms of looks, the Suunto Traverse Alpha watch has premium sapphire crystal glass and a water-repellent nylon strap. It has a composite case with stainless steel bezel and textile strap.
Pros:-
This watch allows distance, speed, and altitude tracking.

It is water-resistant to reach up to 100 m depth.

This Suunto wristwatch is compatible with the night vision goggle.

You can pair it with Bluetooth to get regular text and call updates.

The watch is available in four colors – foliage, concrete, black, and woodland.
Cons:-
This outdoor watch is unable to auto-update the time zones.

The temperature sensor is at the rear side, which makes readings dubious.
Check Price on Amazon
Suunto Traverse Alpha Review | Team Backcountry
3. Seiko Marinemaster Professional Diver's Watch
One more fantastic watch for divers out there. As the name indicates, this professional diver's watch can withstand the rigidity of undersea adventures. 
Also known as Tuna Can, the watch has a sporty look because of its quirky design. Thanks to its anti-glare treated sapphire glass and high-intensity shrouded titanium case that encloses the watch from inside and outside. Also, it is lightweight, which makes it comfortable on the hands.
Furthermore, a robust, reliable Spring Drive movement will make your diving worth the experience. A high-torque quartz caliber is used in this watch. It is an ideal driver's watch, though not easy on pockets.
Pros:-
This outdoor watch has anti-corrosive and anti-magnetic properties. 

It is an analog watch with a 5.1 m case diameter.

The watch has around five years of life.
Cons:-
The price of this watch is on the higher end.

You'll not find GPS in this outdoor watch.
4. Garmin Fenix 5X – Best outdoor smart watches
It is an advanced Garmin outdoor watch model that utilizes a digital display. A stainless steel bezel and an interchangeable silicone band give it an attractive, rugged look. However, it may look bulky on some wrists.
The watch boasts a compass, altimeter, barometric, GPS, and gyroscope. It can monitor your heart rate and training performance to keep your health in check. You will find an online fitness community to connect with and discuss your regimen.
Further, the watch offers auto climb data, full-color maps, storm alerts, and points of interest data. Its back-to-start navigation system works amazingly. Hence, it is suitable for trekking and hiking.
You can update this watch using Garmin's Connect IQ store with many apps. Thus, it is a fabulous sports watch and worth the investment. The wristwatch automatically upgrades TOPO maps so that users do not get lost on the trails and enjoy them to the fullest. 
Those who are eyeing Garmin's Fenix line but don't want to spend a lot can go for this standard model. But, mind it, this variant will lack the ultra-edged tech found in its 5X Plus model. Still, you won't complain about opting for this standard model.
Pros:-
Garmin Fenix 5X has multi-sport support, including swimming, running, cycling track, stand-up paddle-boarding, golfing, and yoga functions.

The watch has a top-notch GPS and activity-tracking interface.

You will find frequent new watch updates on Garmin's app store.
Cons:-
Garmin Fenix 5X has poor battery life.

The altimeter in this outdoor watch lacks accuracy.
Check Price on Amazon
5. Casio Men's Pro Trek – Best outdoor watches for hiking
Casio is an old and prominent name in the watch world. Their entry into the GPS-enabled smartwatches is also a game-changer. 
This outdoor navigation tool got a myriad of worth-discussing features. 
Casio Pro Trek outdoor watch has a flexible operating system that one can personalize as per the requirement. The watch will directly interface with your mobile as it supports Android Wear 2.0.
Also, the watch has an Android nOS that allows the user to tweak the programs and apps.  Thus, it is a versatile option that will function with almost any device.
Besides, with its offline data option, you can store the data on the device that you can use when you are in no network coverage area. Thus, it is a handy feature that also saves the watch's battery life.
Apart from that, the outdoor watch by Casio has integrated GPS, barometer, and altimeter. You will always have access to proper locations, routes, navigation, and POIs. Hence, you are never lost!
Do not go on its name, as it is more than satisfying trekking demands. It is one of the best outdoor watches with golf, fishing, color maps, navigation, and much more! No doubt, it is a multi-functional watch to own. 
Pros:-
This watch is suitable for a wide range of outdoor activities.

The watch has an onboard GPS.

It has a full-color map display for better clarity.

Casio men's trek outdoor watch comes with Barometer, Altimeter, and Compass.

It has a water resistance of about 50 m in depth.

The smart and highly functional watch is reasonable too.
Cons:-
This outdoor watch model has no heart rate monitor.

It is slow and cumbersome to utilize.
At the time of our research on Best Outdoor Watches, we found a video about "8 Places You Should Never Swim In (Even If You Want To)" which is worth watching. 😎
8 Places You Should Never Swim In (Even If You Want To)
6. Casio Men's Pathfinder Multi-Function Watch
Another amazing watch entry by the Casio brand is feature-packed. It offers the majority of the measurement tools that other outdoor fanatics need. Yet it's relatively low-priced.
The watch has a high-quality stainless steel case to give it sturdiness, though it looks somewhat gaudy to the eyes due to its 51 mm size.
However, Casino did a good job of placing big buttons on it so that a user can quickly switch through different modes if he or she is driving or wearing gloves. Further, the window on the case is of mineral glass, and the resin band has a buckle-style clasp. 
This watch works on a quartz-based movement system. Other commendable features found in Casino Men's Pathfinder are the altimeter, barometer, thermometer, city code display, stopwatch, countdown timer, and pre-programmed calendar. There is no reason you can say no to this watch. 
The watch's multiple time formats allow users to adjust time according to convenience. The wristwatch is solar-powered; however, you don't need to panic that it will stop functioning after daylight. 
Hence, the watch has everything you could ever need when you are out and about, thanks to its many features.
Pros:-
The Pathfinder boasts power-saving modes, a compass, and a backlight. 

It can handle time measurement remarkably well. 

This wristwatch has a digital display and a solar-powered battery. 

The battery of this digital watch can last for about six months without sunlight.
Cons:-
There is no GPS in this watch model.

The side buttons are difficult to use if you are wearing gloves.
7. Timex Expedition Gallatin
Timex Expedition Gallatin is your one-stop solution if you want a watch that fits your budget with much-needed outdoor functionalities. 
Timex, as usual, manufactured a decently built watch. It has a resin case and a grippy and large bezel that gives the watch a durable look and feel. Also, the watch has a sapphire crystal and titanium case. This outdoor watch works on a standard replaceable lithium metal battery.
With internal technology, its Memory-in-Pixel (MIP) screen is based on the Garmin Fenix 5. 
Expedition uses a quartz movement system for delivering precise measurements. Further, the highlight of this watch is its Indiglo night light that offers proper visibility. So, ideal for camping, trekking, and jungle safari.
Lastly, the watch has a 100 m water resistance. However, this watch model will not find navigation and temperature features.
Pros:-
The Indiglo night light of the watch activates with a button.

The life expectancy of this watch is up to 10 years.

Timex Expedition Gallatin watch comes with various band options you can choose from as per your liking.

The watch boasts standard time measurements and a chronograph pattern. 
Cons:-
The bezel ring of this outdoor watch does not rotate.

The face numbers are not easy to read.
8.

G-Shock Mudman Compass G9300
When it is to outdoor watches, talking about the G-Shock line of watches is certainly not to give a miss. This deserves G-Shock model to be listed in the best rugged outdoor watches.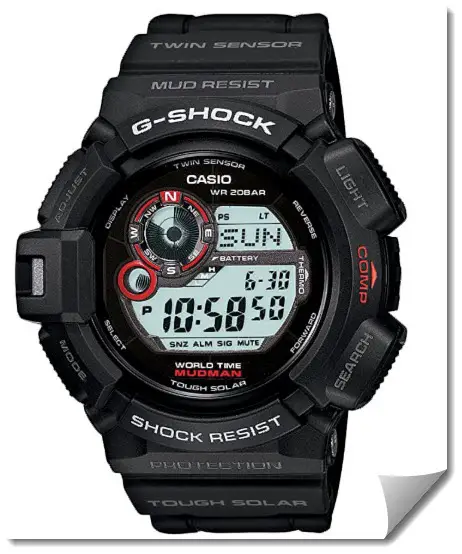 The Mudman is the latest addition to Casio's watch collection. It exhibits excellent strength, efficiency, and rugged looks that will allure any outdoor lover. Furthermore, frequent battery replacement is not a nuisance since it is a solar-powered watch. 
The molded resin is used to make the case of this outdoor watch. On the other hand, the band is molded urethane, polished and long-lasting. Moreover, it is lightweight yet possesses a related level of durability. 
A standard LCD screen isn't fancy but complements the basic dial features of the watch. The Mudman allows keeping track of time through a processor and radio waves system.
Hence, the watch can automatically change the time presented on its screen, which is generally much more accurate than a quartz-based wristwatch.
You will also find a thermometer, compass, and moon graph in the Mudman watch. 
Many users have praised the wristwatch for its long-lasting battery. Even if you wear it all day, the watch will not drain anytime soon. To sum up, Mudman is a great man's accessory to get a functional outdoor tool.
Pros:-
This Casio Mudman G-Shock is a reasonable outdoor watch choice.

No need to change the battery again and again.

It is a sturdy, long-lasting, and affordable outdoor watch.

The watch has a water resistance of up to 100 m in depth.
Cons:-
Thermometer readings can sometimes be vague.

The backlight turns off whenever you change any mode in the watch.
9. Garmin Instinct
The Garmin Instinct is a beefcake with many features that make it among the best outdoor watches. 
The watch has functionalities like GPX routes, course navigation, storm alerts, and elevation information. The TrackBack feature allows the user to trail waypoints to return to their starting location.
The Garmin Instinct will display all your smartphone notifications. Users will also get onboard heart rate monitor access to enjoy strenuous treks without worries.
However, the watch does not have a built-in music player or contactless payment features.
One more feature of this outdoor watch is that it has a battery life of up to 14 days in smartwatch mode, about 40 hours in UltraTrac battery saver mode, and 16 hours in GPS mode.
You can integrate a military black ops kit if you also get a Garmin Instinct Tactical option. The kit includes night vision goggles and offers extra privacy to stop leaking the training spots for military persons, yet get workouts information.
Pros:-
The outdoor watch is shock-resistant and water-resistant for up to 100 meters in depth.

The watch has a good battery life in different modes.

There are a built-in barometric altimeter and a triple-axis compass.

It can monitor your stress level as well as your heart rate.
Cons:-
This watch doesn't allow music storage.

The battery drains faster when GPS is on.
10. Alpina AlpinerX – Best outdoor analog watches
If you want a sporty look, consider this Swiss-made smartwatch called Alpina AlpinerX. A black fiberglass case ornamented with a rubber strap gives it bold enough looks to show your adventurous side.
Further, its brushed steel bezel displays compass points that can easily twist 360 degrees with a high-quality click. You can activate the backlight for more unobstructed visibility in sunlight.
This outdoor watch boasts a variety of sensors and functionalities like a compass, altitude, temperature reading, UV light, and air pressure monitor. It lacks a heart rate sensor, but you can integrate it with a standalone one.
Also, you will get notifications from all the communication mediums, such as Facebook, Whatsapp, Twitter, and SMS service. You will get a beep sound, but it has no vibration facility.
Thus, the watch is perfect if you desire to wear a genuine Swiss-connected watch; however, it lacks specific outdoor watch functionalities.
Pros:-
Alpina AlpinerX is an amalgamation of analog dial and quartz movement.

There is a digital display for GPS, ABCs, thermometers, magnetometers, sleep tracking, etc. 

The watch is compatible with both iOS and Android devices.

Its battery life is expected to last for up to 2 years.
Cons:-
The watch has a connectivity issue.

The number of markers and hands of the watch do not light up for long.
11. Suunto Spartan Sport Wrist HR Baro
This outdoor watch model by Suunto boasts a big, vivid touchscreen and impressive one-second GPS tracking.
The app menu of the watch is super intuitive as you can quickly figure out touch options to perform various tasks, such as dropping a waypoint, leaving a breadcrumb trail, and tracking elevation. This watch can do all this and a lot more within seconds. 
Three buttons are also highly functional, just like its touchscreen. It means you don't need to remove gloves while mountaineering or skiing in the frigid zone.
The outdoor watch can track your elevation to within a foot when you connect its GPS with a barometer. These readings can help you in determining your time on trailless routes. 
Pros:-
The Suunto's FusedAlti technology used in The Spartan Sport Baro offers unparalleled altitude accuracy. 

This outdoor watch is water-resistant to up to 100 m deep. 

It has a battery life of about 10 hours.
Cons:-
There is no map function in this outdoor watch.

A battery can drain faster when you activate its HR monitor.
12. SUUNTO Core All Black Military Men's Outdoor Sports Watch
Here's one more by Suunto; we can't get enough of this brand as it emerged as one of the best outdoor watchmakers. This Suunto outdoor watch incorporates almost every bare basic. 
To start with, the watch has a high-quality bezel aluminum casing with mineral glass for the display. These materials make it one of best outdoor watches, durable enough to withstand wear and tear. 
The wristwatch consists of a barometer and an altimeter. The barometric pressure reading will be useful for snorkeling lovers. On the other hand, the altimeter will be a savior for trekkers when ascending trails. It will even switch on automatically when you are on higher tracks.
Further, the built-in compass in the Suunto Core watch can show you the direction after setting your location to follow the trail conveniently. It also enables you to scale your heading and track in degrees.
Lastly, if we talk about its ABC route setting function, there is no need to fret about charging your watch frequently. This watch accompanies a CR2032 internal battery with a life expectancy of a minimum of 12 months!
However, its straps aren't as durable as compared to its case. You may notice certain cracks and tears after wearing it only for some months. There is also no GPS installation in this Suunto watch. These are the only downsides of this watch.
So, if you are least bothered about these two drawbacks, you can still look forward to owning this watch. The brand is true to its promise of providing basic build yet essential functions to meet the demands of thrill-seekers. 
Pros:-
The sturdy materials make it a long-lasting watch.

Suunto watch has a weather and sun tracking system.

Its intelligent storm alarm senses can efficiently warn you of approaching storms.

The watch is water-resistant and to reach up to 100 meters deep.

Altimeter displays ascent and descent sessions
Cons:-
This watch may fail to provide the right attitude if you don't have access to accurate air pressure.

The case can get scratched within a year.
13. TomTom Adventurer Watch
The Adventurer boasts an all-around functionality with features like a compass, GPS, route planner, altimeter, and barometer. The updated data this watch provides ensures that the user always knows about his or her whereabouts.
The watch also has a calorie counter, a heart rate tracker, and a speedometer. Hence, this is a perfect option for trekkers and runners alike.
Furthermore, there is a music player in which you can save about 500 songs. Thus, enjoy a good time at the gym or while hiking. 
The TomTom Adventurer watch model has started making a mark in the outdoor watch world. If you are new to outdoor sports or activities, this new brand is perfect to begin your adventure as it's a budget-friendly yet power-packed TomTom watch.
Pros:-
It boasts GPS hiking, a barometer, and a 3GB storage space.

The watch also has a heart rate monitor system.

The battery life of this watch is 20 hours.
Cons:-
The overall watch is somewhat bland.

The setting in TomTom Adventurer is complicated and hard to understand.
14. Breitling Emergency II
It is a high-end, luxury outdoor watch. This luxury tool watch is 51 mm in size and is perhaps the most expensive Breitling model. Hence, it is a utility cum luxury tool suitable for aviation, exploration, and even workout sessions. Thus, save your life with style.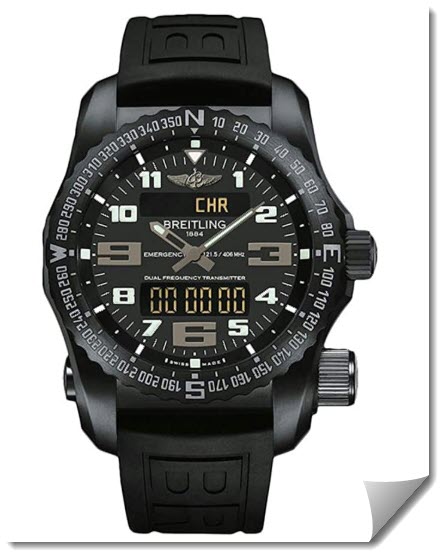 The Emergency II has a titanium case and satin-brushed bezel engraved with a compass scale. Besides, it has an anti-reflective sapphire crystal, luminescent numerals, and hands that ensure optimal readability to the wearer.
The wristwatch has movement ten times more detailed than standard quartz, thanks to thermocompensated SuperQuartz.
This outdoor watch is outfitted with a built-in personal locator beacon (PLB) and a dual-frequency transmitter that works on the International satellite alert system. Hence, the user will receive proper alerts for search and rescue missions.
Further, this watch will have a micro transmitter-fitted emergency system that runs on the 406 MHz frequency and the 121.5 MHz frequency. Just deploy the antenna, and it will activate the transmitter automatically. 
The watch dial is available in black, yellow, and orange colors so you can choose as per your taste. Also, the Breitling Emergency II comes with a titanium bracelet or rubber strap version.
Below are some of the Pros and Cons of The Breitling Emergency II that earned it a spot on our Best Outdoor Watches list.
Pros:-
Breitling Emergency is a lightweight and durable watch.

It boasts a Personal Locator Beacon and an Emergency system to help people involved in high-risk activities.

The watch works on a brand-new rechargeable battery innovation that delivers more power than a conventional battery. 

This outdoor watch's chronometer is certified by the highest industry benchmark – COSC (Swiss Official Chronometer Testing Institute).
Cons:-
It is a highly expensive outdoor watch.

The watch lacks sophistication and glamour factors.
Factors to Consider When Buying Outdoor Watch
To invest in a reliable outdoor watch, you must consider some vital factors. Follow this guideline to identify the right watch for you from an array of collections available in the store.
GPS Technology
GPS tracking is reasonably significant for anyone who admires thrills in life and is always out and about. The GPS-enabled watch utilizes satellite systems to offer real-time location data.
Thus, when trailing on off-beat mountains, going on a forest hike, or fishing, you must buy a watch with this feature.
ABC System
ABC is another crucial factor when you plan to buy an outdoor watch. ABC stands for altimeter, barometer, and compass. It is a life-saving trio on the majority of outdoor watches. Thus, a must for any adventurer, irrespective of their outdoor interests. 
Also, some ABC watches are equipped with digital smart watch interfaces.
User-friendly
It is another vital aspect to consider for picking an excellent outdoor watch. Always look out for the variant that is not complex and offers intuitive and comfortable access to the functions you require most during the adventures. 
Waterproof and Dustproof
Since you are buying the watch for outdoor sports, it implies you will be navigating through rain, dust storms, wind changes, rivers, etc. Thus, to survive these natural elements, you must purchase a watch that can withstand such exposure.
According to the International Protection Scale, dust protection needs a minimum rating of 5, and water resistance needs a minimum rating of 7.
Battery Life
A drained-out battery in the middle of your adventure while on an offbeat road is a disastrous thing, even to think. It's the time when you depend completely on a navigation system and weather alarms.
Hence, you need to purchase a watch with an excellent battery life that will last a lot longer than any standard watch model to prevent yourself from disaster. You will save yourself from unprecedented situations.
Budget
Last but not least. Everyone has a specific budget when investing in a reliable outdoor watch. There are a plethora of best outdoor watches, but you have to purchase one with all the required features covered under your budget. 
Of course, when money is not a concern, you can buy whatever you eye from the luxury range.
📗 FAQs on Best Outdoor Watches
Below are a few queries on Best Outdoor Watches that everyone expects to answer, and I did include the same for my readers.
What is the best outdoor watch?
The Garmin Instinct 2 Solar is considered the best outdoor GPS watch.
Which Garmin watch is best for the outdoors?
If you're looking for an outdoor watch for running or adventures, the Garmin Instinct 2 Solar is a learning market choice.
What is the best watch for camping?
The Garmin Instinct GPS Watch is the best all-around outdoor watch. The Garmin Fenix 6x Pro is a leading GPS watch suitable for hiking. The Suunto 7 GPS Fitness Watch is rated the best outdoor fitness watch.
Which smartwatch is best for hiking?
The Garmin Instinct Solar is a leading hiking GPS watch suitable for outdoor activities. It features an altimeter, a barometer, an ABC compass, GPS functionality, and excellent battery life.
What should I look for in an outdoor watch?
Key features to look for in an outdoor watch include durability, water resistance, battery life, and GPS tracking.
Why is Garmin watches so expensive?
Garmin watches are manufactured using high-quality fiber-reinforced polymer and have extensive feature sets such as accurate sensors, multi-GNSS GPS tracking, and activity tracking.
What is the best Garmin watch for walking?
The 2nd generation Garmin Epix is the best sports watch suitable for walking.
Which Garmin is best for hiking?
The Garmin Fenix 7X Sapphire Solar is a leading choice for a hiking watch with accurate GPS tracking.
Are GPS watches worth it for hiking?
Yes, GPS watches can supplement hiking. GPS is designed to provide detailed metrics for exercise and activity levels. Further, they offer tracking features suitable for navigating different terrains like extensive wilderness.
Which brands offer the best GPS-powered outdoor watches?
If you are looking for a GPS-powered outdoor watch, you can choose from the Garmin, the Suunto, and the TomTom watches.
Which material to go for when buying outdoor watches?
Stainless steel, corundum, and polymers are the best material. These are highly resistant to impacts and are long-lasting too.
Which is better – an Analog or Digital outdoor watch?
Digital watches considerably have more features and are highly versatile. However, nowadays, some analog watches also integrate such functionalities. So, make sure to choose the one that best fits the bill.
Conclusion
I hope this guide has solved all our queries and worries! These are the ultimate outdoor watches that any beginner can purchase. However, those planning to upgrade their existing sports watch collection can also select one from the above list.