Different video games have different art styles. One art style used in games is pixel art, reminiscent of old games.
Before HD graphics in games, older consoles such as the Super Nintendo Entertainment System had an abundance of pixel art games due to the system's relatively weak processing power compared to current consoles.
As a result, pixel art has always been popular amongst gamers and holds a very fond place in many of their hearts due to its nostalgic appeal. Many of their childhood games use pixel art graphics, bringing back fond memories.
Recently, the pixel art style has seen a renaissance within games. Certain games, such as Shovel Knight and even the Pokémon games of recent times, have used Pixel art graphics. Many games use this kind of art style.
This article will outline the 13 best pixel art games, highlighting why some of the latest games are also the best in pixel art graphics. 
Best Pixel Art Games: Our Top Pick👌👌
Fez

Shovel Knight

The Pokémon Series 

Towerfall

Enter The Gungeon

Cyber Shadow

Terraria

Minecraft

Octopath Traveller

Celeste

The Messenger 

Sonic Mania
1. Fez
Fez is an interesting 2D puzzle platformer that uses its pixel art design to improve game environments and puzzles. The game involves classic Mario-style platforming combined with often challenging 2D puzzles.
Some of these challenges offer considerable difficulty and add great depth to the game. Likewise, the game also features an excellent level design alongside beautiful background vistas such as rainforests.
As mentioned, the game features puzzles and many secrets to uncover; it does this by mixing 2D gameplay with 3D, making it the perfect environment for puzzle-solving, with the mechanics even contributing to its gameplay.
Fez was released in 2012 for the PS4 and PC and was well-received by critics, scoring 88 and a decent user score.
2. Shovel Knight
Shovel Knight is one of the most popular pixel art games and one of the more famous indie games.
Shovel Knight has first released on the Nintendo 3DS and later on the Nintendo Switch and follows a brave Knight who goes on a journey to save his Kingdom from evil.
The game consists of 2D platforming and side-scrolling gameplay across multiple levels. The game takes inspiration from Mega Man, featuring several bosses spread out across the world's 2D environment.
Shovel Knight is a brilliant game with perfectly executed gameplay, great combat, and music. The game has an 8-bit and 16-bit soundtrack, and it is outstanding, making you feel like you are part of the action.
Likewise, it also gives you all the nostalgic feels you expect from a game of this calibre, taking you back to simpler times.
Furthermore, Shovel Knight is one of the best pixel art games, having top-notch pixel art graphics, especially on the Nintendo 3DS, which encompasses 3D graphics and retro pixel art gameplay.
Overall, Shovel Knight is a fantastic game and reviewed well on Metacritic, with scores in the 90s from critics. Later the game got DLC installments, released on other consoles like the PlayStation 4.
3. The Pokémon Series 
Although the Pokémon series in recent years focuses more on 3D graphics and open-world gameplay, other titles released previously featured pixel art graphics.
The games featured pixel art graphics from the first Pokémon Red and Green until Pokémon Black and White 2. Throughout each Pokémon generation, the games have improved in terms of pixel art quality.
Pokémon Red and Green was the first game in the series to use pixel art graphics, with the art style becoming iconic.
Gold and Silver, other game boy games and games later released on the Nintendo DS, improved these graphics, adding greater fidelity.
It is a shame that the series has started to move away from pixel art with more powerful consoles and increased demand for Pokémon games with HD graphics.
Nevertheless, with the release of the Diamond and Pearl remakes, Brilliant Diamond and Shining Pearl, the series may return to its pixel art style roots with chibi graphics. Thus, the franchise is starting to appeal to its pixel art roots.
The main series of Pokémon games were not the only ones to have pixel art, with spin-off titles such as Pokémon Mystery Dungeon and even some Pokémon Ranger games with pixel graphics. Thus, pixel art is deep in Pokémons DNA.
4. Towerfall 
Tower fall is a 2D pixel art party game that features up to a four-player coop. The game involves a multiplayer showdown between up to four players using bows and arrows.
The game pits you against your competitors, with the last person as the winner. At your disposal, you have a vast range of arrows and items available to take out players.
The game features multiple maps, various playable characters, and fantastic music. The game also has great pixel art graphics, with a 2D pixel art style that shines.
Tower fall is a great party game to play with friends and a fantastic way to annoy and antagonize your buddies.
Towerfall is a relatively older game but still a great pixel art game and one of the top pixel art games on the market.
You can play Towerfall on many platforms, such as the PlayStation 4. The game also features a single-player campaign that improves the game if you want to play independently.
When released in 2013, the game was reviewed well, scoring a strong 87 from critics. Towerfall was later released on other consoles, such as the Nintendo Switch.
5. Enter The Gungeon
Enter The Gungeon is one of the best pixel art games. The game is a hacker/slasher game that involves you going down a dungeon to find a gun that can destroy everything in the past.
The game is a roguelike, much like the famed Hades, and has you hack and slash your way through enemies and bosses to reach the bottom of the Gungeon.
After the game's release, Enter The Gungeon later got a sequel in the form of Exit the Gungeon, which again had players take control of the characters to help them escape the Gungeon. Both games are great and worth a pickup.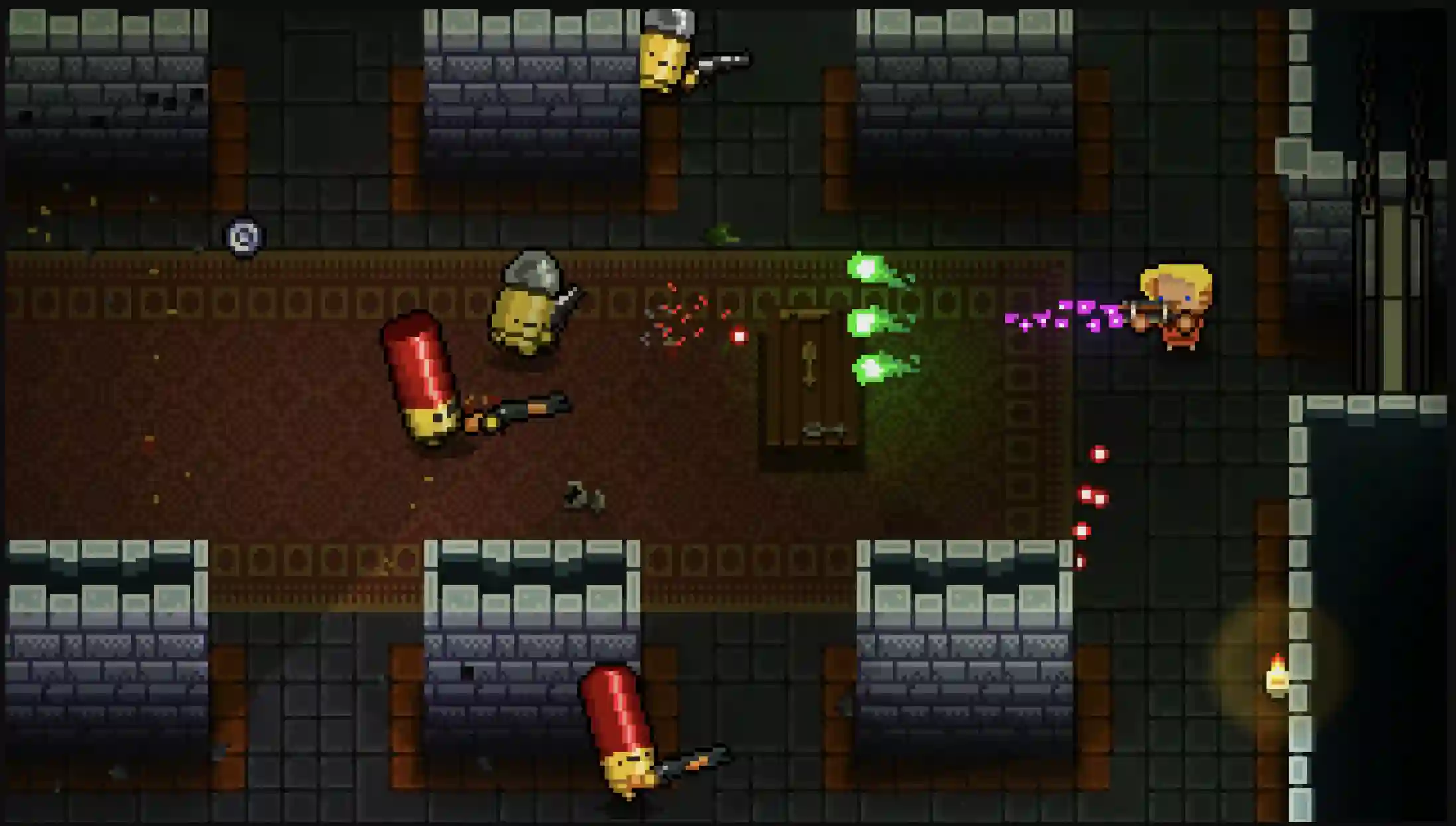 Suppose you are a fan of roguelike hack-and-slash games or games such as Hades. Enter the Gungeon is a great series to get stuck into and one of the great pixel art games out there.
The game featured great music and even better graphics with beautiful pixel art gameplay that made it shine due to its polished look.
Although Enter the Gungeon or the Gungeon franchise is not a household name, the games are great additions to the roguelike genre. When released, the game scored 89, and a user scored in the 8s.
6. Cyber Shadow
Cyber Shadow is a side-scrolling platformer that takes players to the world of the Ninja. The game's main protagonist wakes to find one day that everything he loves, including his Ninja clan, has been wiped out by evil robot-like creatures.
The game's story takes players on a journey of epic proportions, with you trying to discover what happened and how to save humanity. The game is fairly new and is a great platformer similar to the old platforming games.
The game plays exactly how a game of the genre should, with the game being particularly difficult to master due to tricky control schemes and fast-paced action.
Thus, the game is very difficult and not for the faint-hearted; some levels are near impossible to complete, but this makes the game so great.
It is not afraid to be hard or push you to your limits. The consequence?  A hard but rewarding game that makes you proud to have beaten it after the credits roll.
Similarly, the game is one of the top pixel art games. Although pixel art is not as prominent as in other games, its artwork is still great, with the game's artwork adapting to its fast-paced environment.
In many ways, the game is similar to Metroid and offers a considerable challenge, much like its inspiration; when released in 2022, the game scored in the low 80's with critics loving it. 
Cyber Shadow - Announcement Trailer - Nintendo Switch
7. Terraria
When you think of the pixel art games, few can compete with Terraria. Originally released in 2011, the game found a huge following due to being a reasonable 2D alternative to Minecraft's 3D.
The game-like Minecraft is a 2D survival open-world game that has you build craft and survive through the world of Terraria.
The sky is the limit with Terraria's crafting, with hundreds of unique options to craft and build. Similarly, the game features various dynamic landscapes alongside epic vistas.
Terraria is a great game and just as good as Minecraft. You can also play Terraria with friends, allowing you to work with teammates to survive the dangerous world of Terraria.
Although Terraria is not as popular as Minecraft, the game is just as good and features greater survival and customization.
Similarly, the game looks great, with an outstanding musical score and pixel art graphics. The pixel art style of Terraria is full of nostalgia and makes the game stand out.
Similarly, the gameplay isn't the easiest, with the game being very tricky due to enemies and challenging NPC's. When the game was released in 2011, Terraria received a score in the low 80's on Metacritic and a user score near the 8's.
If you love survival games like Minecraft, this game is for you, with excellent survival gameplay alongside crisp graphics. Give Terraria a shot. It is more than worth your time.
Terraria 1.2 Gameplay Trailer
8. Minecraft
Minecraft is one of the most popular pixel art games and survival games. Minecraft has to be on this list as one of the best pixel art games.
Minecraft took the world by storm when it was released all those years ago. The blocky survival nature of the game captured the hearts and minds of gamers across the globe due to its simple, calming, but often complex and elaborate gameplay.
At the time, there was simply nothing like it. The game had you use blocks to craft and survive in a world filled with enemies such as creepers and skeletons.
Minecraft opened up a new world of gameplay and helped make gaming popular on Youtube through lets Play. Thus, Minecraft is not just a gaming phenom but a cultural phenomenon.
Minecraft is also one of the best-selling games ever, selling millions of copies worldwide and reaching a huge global audience.
The game was first released on PC and later released on consoles, including the Nintendo Switch, with each version having unique skins and craftable items.
Similarly, the game also got a mobile port with Minecraft Pocket Edition, which consists of much of the same contents as its PC and console equivalents.
Likewise, the game has been adapted into different mediums and other games, such as Minecraft Dungeons, a top-down roguelike action game focusing on dungeon crawling.
Although not as popular and critically acclaimed as the Minecraft-based game, it is still a great Minecraft game and one of the best roguelike games.
Conclusively, Minecraft is one of the all-time great games and perhaps the best survival game ever.
Official Minecraft Trailer
9. Octopath Traveller 
The award for the weirdest video game name goes to the Octopath Traveller. Octopath Traveller is a roleplaying action-adventure game that takes players across eight characters' journeys.
Each character has a unique story allowing you to develop each character and build their strength which you can use out of battle.
The game is amazing in using turn-based action gameplay and looks uniquely different from any other game.
Octopath Traveller has a distinct art style, mixing pixel art graphics with a 3D-style background. It is a truly breathtaking game and one of the best-looking games currently on the Nintendo Switch.
Octopath Traveller features finely tuned turn-based gameplay and a brilliant musical score. Developers Square Enix tried to push themselves with Octopath Traveller, making for an excellent roleplaying game.
Overall, Octopath Traveller is a great game and, from a graphical standpoint, is one of the best pixel art games to switch. It will be interesting to see whether the game's visual fidelity will be copied with other games, both in and outside the series.
Octopath Traveller was reviewed well in 2018, with an average critic score of 83 and a high user score.
If you like quirky games or want to try something new, this game is for you. It is a brilliant little game and one of the best pixel art roleplaying games.
Octopath Traveler - Overview Launch Trailer - Nintendo Switch
10. Celeste
Celeste is one of the most critically acclaimed games ever. Celeste is a platformer action game that follows Madeline as she seeks to reach the top of Celeste Mountain.
As she climbs, she faces her demons and many unique trials and challenges. The game has a fantastic story, over 700 challenges, and an increased difficulty mode.
Similarly, the game has great audio with a uniquely crafted soundtrack—all coming together to create a challenging but beautiful game.
Likewise, alongside these features, the game also has simple and easy controls and instant respawns.
From top to bottom, the game is an absolute delight to play. Celeste blends the perfect mix of challenging gameplay and nostalgic retro appeal in a challenging package that doesn't make you pull your hair out.
Instead, Celeste is a relaxing game that is a masterclass in how to develop a platforming game.
Thus, it is not surprising that Celeste reviewed very well on Metacritic, with a low 90s from critics and a high user score.
Celeste releasing January 2018
11. The Messenger 
The Messenger is one of the best 2D platforming games ever. The Messenger is a unique side-scrolling action game that follows the journey of a ninja who must save the world from demons; to do so, they must deliver a message to save the world from disaster.
Today, the game is one of the best platforming games, taking players across different unique environments and defeating countless enemies.
The story of The Messenger is outstanding and one of the best in 2D platforming. Likewise, the music is mesmerizing, with a fantastic game score that makes you feel like you are saving the world.
Similarly, the game has great pixel art graphics and is stunning. From a graphical point of view, The Messenger is one of the best pixel art games due to the sheer quality of pixel art. It is truly a beautiful game.
On the flip side, The Messenger is also brutally difficult and one of the hardest platforming games in gaming. The Messenger does not hold anything back and throws you straight into the deep end with fast-paced gameplay and razor-sharp platforming mechanics.
As a result, from a gameplay perspective, The Messenger is also one of the greatest platforming games.
All in all, The Messenger was loved by critics, with scores ranging in the '80s.
The Messenger - Gameplay Trailer
12. Sonic Mania
The Sonic franchise is one of the most popular video game series ever. Throughout the years, the series has shifted away from its 2D sidescrolling roots towards 3D.
With the release of many titles, such as Sonic Forces in full 3D. However, in 2017, SEGA released Sonic Mania, an original 2D sidescrolling Sonic game similar to the first games in the series.
Sonic Mania celebrates past and future Sonic games, taking the series back to where it all began. The game features brand-new sidescrolling 2D levels, new bosses, and familiar faces.
Sonic Mania keeps the same retro style feel of the original games and takes it up a notch with beautiful classic pixel art and crisp gameplay running at sixty frames per second.
Sonic Mania is the swan song to the original Sonic games and is just as good as them. The game looks stunning and is one of the best pixel art games on Android. Sonic Mania is a great game, with critic scores around the high 80's to low 90's.
Not only making it one of the best platformers but one of the best Sonic games of all time. Once again, proving that Sega has not lost its touch when it comes down to platforming.
Sonic Mania - Launch Trailer (Official)
📗FAQ
Best Pixel Art Games
There are many great pixel art games out there, each with their unique style and gameplay. Some of the best pixel art games include "Cave Story," "Superbrothers: Sword & Sworcery EP," "Hyper Light Drifter," and "Undertale." These games have won critical acclaim for their beautiful pixel art design and engaging gameplay.
What is the best pixel RPG game?
There are many great pixel RPG games, but "Chrono Trigger" is considered one of the best. It features beautiful pixel art graphics, an engaging storyline, and a memorable cast of characters. Other great pixel RPG games include "Final Fantasy VI," "Secret of Mana," and "EarthBound."
What are pixel art games called?
Pixel art games are often called "retro" or "8-bit" due to their pixelated graphics reminiscent of early video games from the 1980s and 1990s.
Best Pixel Art Games on iOS
"Stardew Valley" is an award-winning farming simulator with charming pixel art graphics and addictive gameplay.
"Monument Valley" is a puzzle game with breathtaking visuals and unique perspective-bending gameplay.
"Downwell" is a roguelike vertical shooter with retro-inspired visuals and intense gameplay.
Best Pixel Art Games on PC
"Undertale" is a critically acclaimed RPG with a charmingly retro art style and memorable characters.
"Hollow Knight" is a challenging Metroidvania with gorgeous hand-drawn visuals and atmospheric music.
"Cuphead" is a run-and-gun platformer with stunning 1930s cartoon-style animation and challenging boss battles.
Best Pixel Art Games on Android
"Pascal's Wager" is a dark fantasy action RPG with stunningly detailed pixel art graphics and immersive gameplay.
"Superbrothers: Sword & Sworcery" is a unique adventure game with dreamlike pixel art visuals and an enchanting soundtrack.
"Reigns" is a clever card game with minimalist pixel art graphics and addictive decision-making gameplay.
Best Pixel Art Games on Switch
"Celeste" is a challenging platformer with beautiful pixel art graphics and a touching story about mental health.
"Katana ZERO" is a stylish action game with fluid pixel art animations and a gripping narrative.
"Streets of Rage 4" is a modern take on the classic beat-'em-up genre with gorgeous hand-drawn pixel art graphics and addictive gameplay.
What is the game like Skyrim pixel art?
There are many games that share similarities with "Skyrim" in terms of gameplay, but one example of a game with pixel art graphics that shares some of the same RPG elements is "Terraria."
It features a large open world to explore, a variety of enemies to fight, and a crafting system to create new items and weapons.
Is Moon RPG worth playing?
"Moon RPG" is a well-regarded game with an engaging story and beautiful pixel art graphics. If you enjoy RPG games with a unique storyline, then "Moon RPG" is definitely worth playing.
What is the oldest pixel art?
The earliest examples of pixel art can be traced back to the early 1970s with the development of the first video games. One of the earliest examples of pixel art is the classic game "Spacewar!" released in 1962.
What is 3D pixel art called?
3D pixel art is often referred to as "voxel art," which stands for "volumetric pixel art." It involves creating 3D objects or environments using small cubes, similar to the blocks used in games like "Minecraft."
What is the closest game to Skyrim?
Many games share similarities with "Skyrim," including "The Witcher 3," "Dragon Age: Inquisition," and "Dark Souls." Each game features an expansive open world to explore, a variety of enemies to fight, and a deep, engaging storyline.
Is pixel art old?
Pixel art has been around since the early days of video games in the 1970s and 1980s. However, it has experienced a resurgence in popularity in recent years due to the rise of indie games and the growing appreciation for retro-style graphics.
Is pixel art underrated?
Despite its unique challenges and beauty, pixel art is often underappreciated as an art form. However, it has gained more recognition in recent years due to the popularity of indie games and the increased demand for retro-style graphics.
What is the longest RPG gameplay?
The longest RPG gameplay depends on the specific game and the player's playstyle. Some of the longest RPG games include "Final Fantasy XI," "World of Warcraft," and "The Elder Scrolls Online."
Why is RPG so addictive?
RPGs can be addictive due to their immersive worlds, engaging storylines, and the feeling of progression as the player character gains new abilities and items. They offer a sense of accomplishment and reward for the player's efforts.
What is the most successful RPG game of all time?
The most successful RPG game of all time is "World of Warcraft," with over 100 million registered accounts and over $9 billion in revenue as of 2021. Other successful RPG games include "Final Fantasy VII," "Skyrim," and "The Witcher 3."
What is Minecraft pixel art?
Minecraft pixel art involves creating pixelated images within the game of Minecraft using blocks. Using this technique, players can create anything from simple pixel art designs to entire landscapes and buildings.
What is the pixel aesthetic called?
The pixel aesthetic is often called "8-bit" or "retro" due to its resemblance to early video game graphics from the 1980s and 1990s.
What is the longest Skyrim game?
The length of a Skyrim game can vary widely depending on the player's playstyle and the amount of side content they complete. However, it can take anywhere from 50-150 hours to complete the main questline, and much longer to fully explore the game's open world.
What games are bigger than Skyrim?
Some games that offer a similarly large open world and hours of gameplay include "The Witcher 3," "Red Dead Redemption 2," and "Assassin's Creed Odyssey."
Is Skyrim an endless game?
While Skyrim does have a large open world and a significant amount of content, it is not technically an endless game. Eventually, the player will complete all available quests and explore all locations, although this can take time.
Is pixel art for kids?
Pixel art is not just for kids – it is a legitimate art form that requires skill and creativity. Many pixel artists create works that are not necessarily geared towards children, and there is a growing appreciation for pixel art among adult audiences.
Who is the father of pixel art?
The father of pixel art is often considered to be Alvy Ray Smith, who co-founded Pixar and worked on some of the earliest computer graphics in the 1970s and 1980s.
Why do I love pixel art so much?
Many people love pixel art for its unique aesthetic, nostalgia factor, and technical skill required to create it. It can also offer a sense of simplicity and minimalism compared to more complex art styles.
What genre is pixel art?
Pixel art is not a genre in and of itself but rather an art style that can be used in various genres such as platformers, RPGs, puzzle games, and more.
What is the most addictive game genre?
There is no definitive answer to what the most addictive game genre is, as different players can be drawn to different types of games. However, some genres that are often considered highly addictive include MMOs, battle royale games, and strategy games.
What are the signs of gaming addiction?
Signs of gaming addiction can include spending excessive amounts of time playing games, neglecting responsibilities such as work or school, losing interest in other hobbies, and experiencing withdrawal symptoms when unable to play.
What is the longest running RPG game?
"Dungeons & Dragons" is considered to be the longest-running RPG game, having been in continuous publication and active play since 1974.
Is Minecraft a 3D pixel game?
Minecraft is a 3D game that uses pixelated graphics to create its world and characters. The game has gained popularity for its unique aesthetic and its ability for players to create their structures and environments.
What is the world's biggest pixel art in Minecraft?
The largest Minecraft pixel art creation on record is a 1:1 scale model of the Earth's surface, created by a team of over 20 players using satellite imagery and Minecraft's block-building tools. The project took over two years to complete.
Final Thoughts
Overall, this article has highlighted the 12 best pixel art games. As shown in the article, the art style is present within classic games and much newer games, which indicates that pixel art is timeless and can improve the visual quality of games.
In a world where the video game industry is so concerned with updated graphics and high-end framerates, many forget that games started with their pixel art roots and are now—seeing a renaissance.
This article has also shown that many pixel art games are some of the best games of all time, meaning that even now, pixel art's nostalgia and genuine beauty tap into our feelings of nostalgia.
Thus, we should embrace pixel art in our games; it is a unique art style and the best in the medium. Conclusively, pixel art makes most gamers feel at home; it is a comforting art style that adds a sense of familiarity to games.
It is likely in the future; we will get games that utilize pixel art in a whole new way, much like Octopath Traveller, due to the development of more powerful consoles and hardware.