ProtonMail is a globally acclaimed and used email and data security service provider. This platform offers end-to-end encryption mailing and communication to all of its users.
This platform uses client-side encryption to protect all of its emails. This feature of ProtonMail does not even allow the platform to access, save or use all its users' emails.
It was founded by a group of scientists who worked at the CERN research facility. Proton Technologies AG currently owns protonmail. This platform is available in more than 15 languages for all of its users across the globe.
It is available as an application on Android and iOS platforms through a webmail client and the Tor network.
ProtonMail requires all users to register with the platform before using it. The registration process is entirely cost-free.
Although some additional features can only be accessed after having paid for them, they are optional and in no way or form affect the optimal functioning and working of this data security platform.
This email security service platform is proclaimed to be counted as one of the best of its kind. When it was founded, the platform worked on an invitation-only basis.
Today, ProtonMail happens to have an ever-increasing number of users. By 2020, more than 50 million users were registered with ProtonMail.
Even though this platform has several practical and highly effective services and options, some people might want to look for something else.
Several different ProtonMail Alternatives provide similar and related services to people worldwide.
Here are 9 of the best ProtonMail alternatives.
Best ProtonMail Alternatives – Our Top Pick👌
1. Disroot
Disroot is one of the highly impressive ProtonMail Alternatives and an email security service provider. But email security is one of this beautiful platform's many functions and features.
Disroot is a decentralized cloud-based service. It allows all of its users to not only communicate with each other but also store their data and files safely and securely.
This platform has placed a lot of emphasis on the security and privacy provided by its email services.
Disroot was created and launched in 2015 in Amsterdam, the Netherlands, to provide the people with a platform that, with its liberal approach, would allow all of its users to safely, securely, and privately carry out their communications and save their data.
It claims to provide online services based on "freedom, privacy, federation, and decentralization", which is available by removing any types of advertisements, tracking, data mining, etc., from the accounts of the users.
This platform is entirely free for people to register. It also comes with 1 GB of data in the mailbox, which can be expanded.
To do so, the user must fill out a request form for additional data storage capacity that can be expanded to about 10 GB. But a minimal payment is also required to avail of the extra storage.
Disroot offers several varied features to its users. It provides extra cloud storage that can be expanded per the user's requirements. It supports email attachments of up to 50 MB in size. It offers end-to-end encryption along with OpenPGP.
It also has a handy feature as a filter that can identify spam and viruses. The filters for email addresses are also quite impressive and customizable.
This platform gives enormous attention to and emphasizes the privacy of all its users' data. It is known for complying with all the rules, regulations, terms, and conditions that help secure and protect the stored data and communication details of the users.
2. Mailfence – Protonmail alternatives that give you control
Mailfence is also one of the impressive ProtonMail alternatives that provide email security services to its users.
It is dedicated to creating and providing all possible conditions and requirements for secure communications and data transfers.
This includes no spam, advertisements, trackers, or backdoors in the services. This platform avails all possible ways to secure any transactions or communications.
New versions of this platform with different services are updated quite timely. A beta version of this platform with end-to-end encryption and digital signatures for emails was launched in March 2016.
In January 2021, a progressive web application was launched that was created especially for mobile phones.
Mailfence takes all the security and privacy features and services very seriously. Security and privacy of the users' information, data, and communication are essential for Mailfence.
It provides end-to-end encryption with OpenPGP keypair and OpenPGP signatures. It also offers transport security and integrated keystones, along with traditional security measures, including spam protection, two-factor authentication, blacklisting and whitelisting options, etc. 
Along with email security, Mailfence provides several different services to all of its services. The Contacts feature allows users to create, import, export, and save their contacts on this platform.
It also offers other features and services like Calendar, access to all documents, creating groups, and many more.
Anyone in the world can use this platform. For the convenience of all its users, this platform is available in 8 different languages: English, Spanish, French, German, Dutch, Italian, Portuguese, and Russian.
The servers of this webmail service are situated in Belgium. 
3. Vivaldi WebMail – Protonmail alternatives built right into your browser
Vivaldi WebMail is another top-rated email security service providing a platform mainly known for its heavy emphasis and importance on the security, privacy, and protection of the stored data and the communications of all its users.
It is solely dedicated to protecting and securing all the user accounts registered with this platform and all the data and information stored and associated with them.
The founder and current CEO of this web and email security-providing platform are Jon von Tetzchner. Vivaldi Mail was created as a safe, secure, effective, and efficient web browser and all the rest of its facilities and features were soon after its initial launch.
The team of Vivaldi truly believes that any web browser or webmail service should be able to adapt to the needs and requirements of its users, and not the other way around. This platform was created for the sake of this principle only.
Vivaldi WebMail currently has over 2 million active users and accounts, with the count continuously increasing.
It has over a million community members engaged with the platform and others.
There are no external investors involved with Vivaldi WebMail. All the finances are managed through donations and grants. Its reliability and performance are highly acclaimed and recommended.
This platform also offers several other services and features that are useful and interesting to all its users. This platform allows users to solve the problem of having and managing multiple email accounts and web browsers.
All the emails and messages can be saved, managed, and handled through a single platform. Vivaldi WebMail supports IMAP and POP3, allowing users to integrate their email providers.
Its database allows users to search, filter, label, and find emails in their accounts. This platform also allows using its web browsers simultaneously while accessing and creating emails.
Its Vivaldi Calendar feature is another helpful tool enabling users to manage and maintain essential dates and events.
4. Barracuda Email Protection
Barracuda provides the best security, privacy, networking, and storage services to all its users through network appliances and cloud services.
The security features of this platform seek to protect and secure their users' data, storage, communications, and information by protecting against unwanted emails, web hackers, web surfers, spam, viruses, trojan, spyware, and other similar harms.
This company has launched many products and services to make online communications, transactions, and data storage safe, secure, and private.
Its significant services and features include web filters, spam firewalls, website firewalls, load balancers, email archivers, VPNs, NG firewalls, backup software, and backup appliances for all its users.
Barracuda Email Security Solutions
Barracuda has launched many products for secure online communications since it was launched. A handful of them is Email Security Gateway (October 2003), Web Security Gateway (April 2005), Load balancer ADC (November 2006), Message Archiver (July 2007), SSL, VPN and Remote Access (November 2008), Web Application Firewall (February 2008) and many other products for securing and protecting the privacy of its users.
Barracuda requires all its users to register with the platform before they are allowed to use it. This is mainly done for security purposes and reasons.
It has millions of individual persons as well as hundreds and thousands of businesses as its users and clients. It has excellent customer support service that is available 24/7 for its users.
A free trial is available, after which the user will have to subscribe to the premium version of the platform. 
5. Tutanota
Tutanota is another of the most widely used ProtonMail Alternatives, with highly reviewed and trendy email security service platforms.
Its motto is 'einfach.sicher.mailen' in German, which translates to 'easy.secure.mailing'. Tutanota is devoted to securing mailing facilities for all the people who use this platform for communicating and mailing.
This platform is also straightforward, with a user-friendly interface, layout, and design.
This email security platform requires all users to register themselves with the platform before being allowed to use it. There is a premium account service, but it is optional, and the free version already provides more than sufficient services.
While it is a commercial platform, Tutanota ensures no advertisements, spam, trackers, or the like for commercial purposes. It only depends on donations and premium subscriptions for its finances.
Tutanota offers end-to-end encryption to all its users who use their Tutanota account to send emails to another Tutanota account.
It encrypts all the emails and contacts stored in its servers, except for some information like the date of sending and receiving an email and the email addresses of both the sender and the receiver of any particular email.
Those emails that are sent unencrypted are sent to unencrypted destination users and are encrypted only between the Tutanota servers and the Tutanota users' accounts.
This platform also hosts other exciting and useful features such as Contact lists, Calendars, compatibility with any operating systems, filtering wanted and unwanted emails, securing and encrypting communications, and many more.
6. Posteo
Posteo is a handy, efficient, and effective email security service-providing platform. It has a significant focus on the privacy and security of the data and the communications of all its users and their accounts.
The high quality and high standard security settings and features of this platform and its ability to maintain the anonymity of all its users make it a tremendously popular, highly used, and broadly recommended email security provider.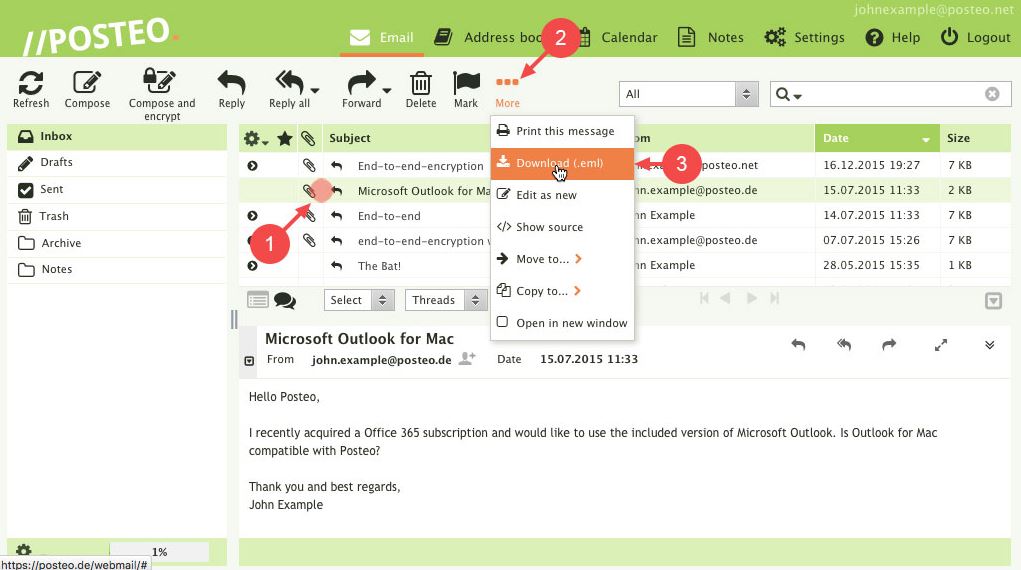 Posteo offers paid email accounts for both businesses as well as private individuals. It gained major popularity after the 2013 global surveillance disclosures due to privacy and security services.
This platform provides support for DNSSEC/DANE and PGP. It also offers other security services like two-factor authentication through TOTP and uses Extended Validation certificates and HPKP for any HTTPS connections.
This platform also offers multitudes of other features and services to all its users. It provides 2 GB of email account storage that can be expanded per the user's request. It also supports email attachments of about 50 MB in size.
Its encryption services and features are amongst the most effective and efficient ones available on the internet. The user can sign up and register with the pattern without giving any of their details.
This platform is also completely ad-free as well as spam-free. Other valuable features include a Calendar, Address Book, Contacts, etc.
7. Fastmail – Protonmail alternatives To Get the email features you need
Fastmail is another of the best email security service-providing platforms available on the internet. It provides a safe, secure, private, and encrypted mode of communicating with others, storing data, and accessing the internet.
It also maximizes the user experience of individuals by providing them with a user-friendly interface, efficient design and layout, quick messaging and responding, and convenient and easy communications.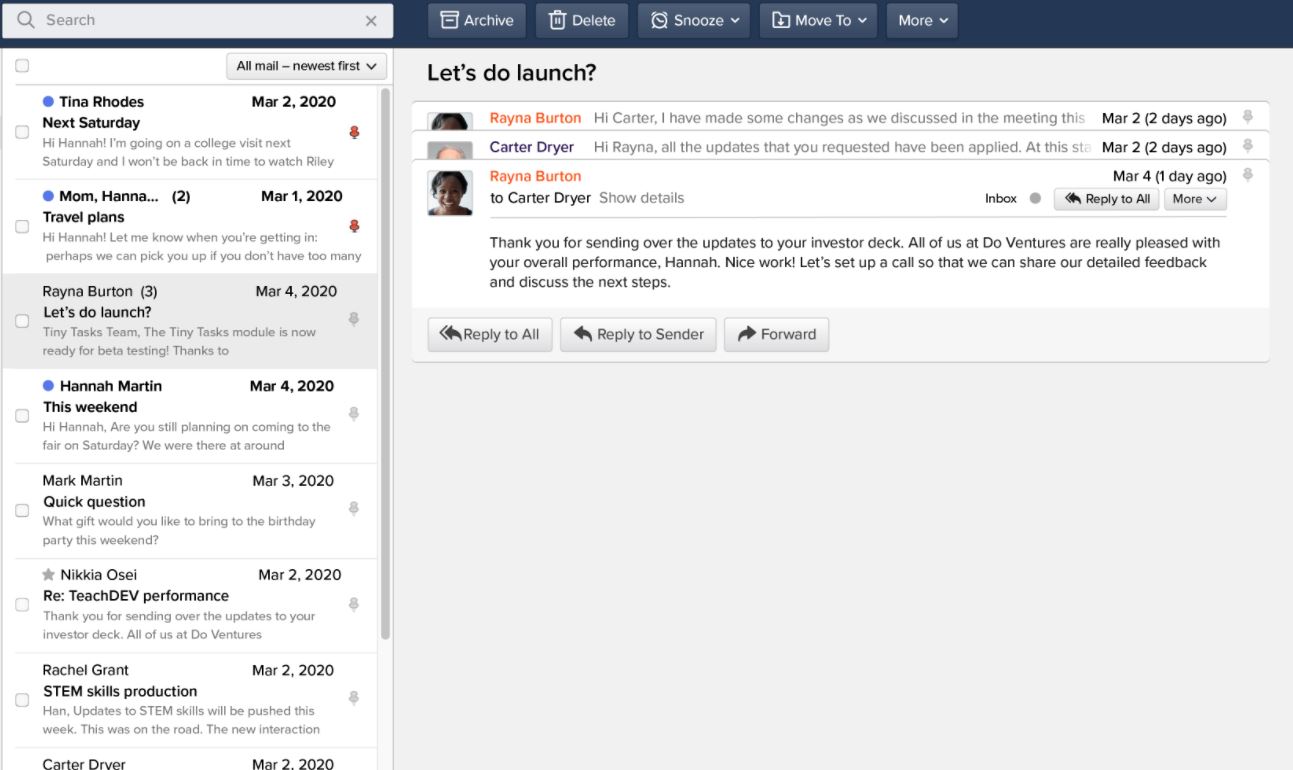 This email security platform is available in around 36 languages for all its users worldwide. It offers more than 113 domains, from which the users can choose to create and have their domain.
This service-providing platform offers an advertisement-free and spam-free service to all its users. All the data and information regarding the users and their email accounts are kept completely private and confidential.
Nothing is, in any case, ever made available or visible to other users of third-party organizations.
Fastmail also offers several tools and features to all its users that site them to customize, enhance, improve and maximize their mailing experience.
It also has excellent and advanced spamming and blocking options. It also has a fully-featured calendar feature that allows them to save, manage, and handle important events and meetings.
Fastmail is one of the only online platforms that does not have a free version. Instead, it offers a free trial period of 30 days, after which the user will have to pay to use all the features and services of this platform.
But the subscription option, provided monthly, is relatively inexpensive and convenient.
8. Mailpile
Mailpile is an open-source email client and one of the beneficial ProtonMail Alternatives, which is entirely free to use. This platform emphasizes the security, privacy, and confidentiality of its clients, their data, and their details.
This platform is a webmail client, a downloaded program launched as a local website initially. It aims to protect and secure all its clients' communications and personal information.
Mailpile was originally only a web browser that was launched in 2011. Slowly but gradually, more features and innovative tools were added to this online platform, evolving into the email security service-providing platform it is today.
The first version of this platform with features and services for security and privacy was launched on 13 September 2014, and the finalized version was launched on 4 September 2019. 
The original creators of this platform are Bjarni Rúnar Einarsson, Brennan Novak, and Smári McCarthy. The Mailpile Team developed it. Mailpile is available to all of its users in 14 different languages.
Arabic, Danish, German, Greek, Spanish, French, Croatian, Icelandic, Japanese, Lithuanian, Norwegian Bokmål, Dutch, Polish, Portuguese, Russian, Albanian, Swedish, Ukrainian, and Chinese.
Mailpile does not have any external investors. This platform is entirely supported and funded by its users and community.
This platform has no advertisements, spam emails, hosted funding, or similar problems. It still retains its web browsing functions and works with optimum efficiency and effectiveness.
This email security platform also has several varied features to facilitate and simplify the user experience of all the individuals who use it.
It allows all its users to search, select, find, delete, label, and mark their emails on whichever basis they want.
It is also known for its excellent and effective speed of functioning. It works perfectly even with a slow internet connection. Its encryption facilities are also one of the best available on the internet.
📗FAQ
What Is Similar To ProtonMail?
There are various alternatives to ProtonMail. You can go for Tutanota, Hushmail, Zoho Mail, Mailfence, or Mailbox.org.
These are some of the best alternatives to ProtonMail that allow you to send anonymous emails without much hassle.  
What Is More Secure Than ProtonMail? 
Tutanota is more secure than ProtonMail. It is because Tutanota offers end-to-end encryption on the emails you send.
Moreover, you also get 1GB storage on the free storage, which is relatively more than the 500MB storage that you get on the ProtonMai.
Tutanota encrypts more sections of your email and inbox when compared to ProtonMail. Moreover, it also makes it impossible to trace messages back to the user. 
What Are The Disadvantages Of ProtonMail?
Like every other mail client out there, there are some disadvantages of ProtonMail as well. Some limitations will feel like drawbacks while using the ProtonMail.
For instance, you can only send 150 Emails per day using ProtonMail. Also, you are only provided with 500MB of cloud storage.
What Are Some Top Secure Email Providers In 2023? 
Security and privacy of the data being sent have become crucial, and if you are looking for the best and most secure email providers, you will find plenty of them.
For our recommendations, you can go for ProtonMail, Mailbox.org, HubSpot, Zoho Mail, Tutanota, Posteo, Thexyz, and PrivateMail.  
Is ProtonMail More Secure Than Gmail?
Yes, ProtonMail is more secure than Gmail. There are several reasons to back this answer. The emails on ProtonMails are encrypted so that only you can read your emails, not even ProtonMail, whereas Google has access to all of the communication that takes place over Gmail. 
 
ProtonMail uses zero-access encryption, which makes it impossible for anyone to decrypt messages. Google tracks every action you do, even your IP address, and the mail you open is being tacked.
ProtonMail does not track your activity. Other factors make ProtonMail more secure, like solid authentication and better security. 
Which is better ProtonMail vs Tutanota?
Popular email providers with features like end-to-end encryption and a focus on privacy include ProtonMail and Tutanota.
Which of the two services is preferable will likely depend on your requirements and tastes. Both services have benefits and disadvantages.
To find the best service for you, it is a good idea to evaluate the features and costs of each.
What is better than ProtonMail?
Popular email provider ProtonMail has privacy-focused features and delivers end-to-end encryption.
Numerous other email providers have comparable capabilities, which is preferable for you will depend on your requirements and preferences.
Consider Tutanota, Hushmail, and Mailfence as some further well-liked email providers.
To decide which email service is right for you, it is a good idea to evaluate the features and costs of these and other options.
Some Final Thoughts on the protonmail alternatives
With the numerous options and services for email security and privacy available on the internet, it can be quite a task to choose, use and stick to any of them.
And that is completely fine as well. Updates and revisions are made to online platforms and applications almost every day. Such platforms constantly compete to provide excellent facilities and features to their users at the minimum possible cost.
Often, a person grows tired or unsatisfied with the service they might have been using for a long time and wishes to switch to a new platform.
In such cases, it is best to look for the best possible alternatives to the email security system that the individual had been using, gather all the relevant information about them and thus, make an informed decision.
In this list, 8 of the best alternatives to ProtonMail and their features, costs, and histories have been described briefly. There are many other such platforms available on the internet as well.
It is up to the user to find the one or multiple platforms that would best fulfill all their needs and requirements in the best possible way.