It is safe to say that the PS4 or console from the makers of Sony, is not just a gaming console. Those of you familiar with the console, know that it can come in handy for other purposes. You can stream movies, watch TV shows, and also find an abundance of apps in the PlayStation Store. 
These apps can be used for enhancing your PS4 experience. After all, you purchased the device shelling out close to $400. You may not find yourself in the same environment as seen on Android and iOS, but it is noteworthy.
When you are particular that you want to use your PS4 as your entertainment device, then you have come to the right place. We have collected some top-notch apps, just for you. We have rummaged through some of the best PS4 apps on the internet for your cause. 
For those of you planning to buy the new PS4, then you are headed in the right direction. To begin this guide, we will first take a look at the benefits of having a gaming console. Perhaps, that might help you place your order today. 
Benefits of having PS gaming console 
Sony hopes to correct the errors that they did with the PS3 and hope to enhance the device. The electronic giant has been able to do it spot on. Experts have called the PS4 as one of the best consoles in this decade. 
From the design, the specifications, and the software, the 64-bit x86 architecture, it is indeed a fantastic device. The maker has listened to its customers and only focused on the gaming sequence in this console. 
As if that did not suffice, they priced it lower than its nearest rival, the Xbox One. 
It is the most powerful gaming console.
Despite the Xbox One coming fully loaded with a high-powered PCU and smashing GPU, there is no denying that the PS4 is miles ahead in terms of speed and performance. Professionals have vouched that the PS4 is quicker than the Xbox One by more than 40%.
Why not? With an 8 core x86-64 AMD Jaguar CPU, DDR5 memory, a Radeon GPU, and 500 GB of hard drive, it does not get any better than this. For example, Call of Duty or CoD plays powerfully on PS4 and runs exceptionally well.
It is the best gaming machine.
Unlike the PS3, Sony has decided to focus only on the gaming aspect. They have nailed it. Undeterred by all the noise the Xbox One was able to create in the market, the matchless 1080p coming at 30fps, gives you a remarkable experience playing games like Assassin's Creed IV: Black Flag.
Gamers can share seamlessly.
It comes with sharing features that are top-notch. The gaming console has the DualShock 4 controller that offers you an excellent design and feels. You can also instantly share your videos on social media platforms effortlessly. 
It is a value for money console. 
The PS4 comes priced at less than $350 in America, which is quite reasonable. The gaming console is affordable and cheaper than the Xbox One and has terrific features. Most of its accessories are priced reasonably. 
Since you have now made up your mind to purchase this terrific gaming console, you might as well know the PS4 apps for android and iOS, that is available for you. 
The Best PS4 Apps to Install on Your Console 
For the sake of our readers, we have downloaded and tested these PS4 apps on our console before writing the review. To make the deal sweeter, we have given you two bonus apps at the end. 
It is going to be a surprise. You can be assured of what you read. 
Without wasting any time, let us explore some of the best PS4 apps in 2022, that you should have on your new console.
1. SHAREfactory
SHAREfactory (Download Here) is the best PS4 apps among the rest. We wanted to ensure that it gets the attention that it deserves. It gives gamers the ability to edit and trim clips before they want to share them online. 
Probably, you want to show your friends or other gamers, how much fun and excitement you are having with the game. You can use time-lapse, slow motion, and speed up to the right parts only. 
We also liked the number of clips you can share, 50 videos to be precise, and more than 12 music tracks. Barring that, you can make use of the eight options for transitioning, more than two filters, and layer text and stickers. 
The systematic manner in which the features are organized impressed us. You can find several basic options to edit the documents that you want and work with them. Not to mention, you can create hitting clips within minutes.
Does it come with any flaws? We felt that there is no fading of the music feature. It would have a worthy option. If you are a video editor or work as a graphic designer, then this tool is one of the most useful software. 
You will find it seamlessly working on social media tools like YouTube and others. Till now, it has been downloaded more than 5 million times and used in more than 19 million projects globally. 
We were impressed with the performance of the app. It is easy to use and can easily serve your needs as well as enhance your gaming experience. It may not be on par with other high professional video editors, but good enough, that stands to get better with time. 
2. PlayStation Music
PlayStation Music (Download Here) was introduced way back in 2015. It has been going strong since then. We thought that our readers needed to know a lot about this amazing app. We were stunned by the amount of detail we were able to find about these peerless PS4 apps. 
The app is supported by Spotify. Hence, to make use of this app, you need to have a Spotify account. As a PS4 owner, you can listen to music and play your favorite game. 
Isn't that exciting? 
Of course, you can use this app for free. However, it comes with annoying advertisements and low functionality. But you can make use of their premium account at $9.99/month and have seamless performance. 
We were astounded because you do not need another device to hear your favorite tracks. You can do that using your gaming console. Sadly, it does not work on the PS3, so you need to use the PS4 gaming console. 
Some readers might be wondering why it is known as PlayStation Music. If you have not yet tried Spotify, then you do not have to worry. Its features are slick and easy to use. Thanks to the sublime GPU, the imaging appears remarkable on your large screen. 
You need to sign in, once you finish downloading it. If you have a Spotify account, then you log indirectly. But, we were not able to find the starred playlist of Spotify on PlayStation Music.
If you have spent significant time designing your playlist, then you may feel annoyed with yourself. However, you can control what you want to hear and listen to. You can also change track and alter the playlist as and when you want. 
We found the process to be effortless and quick. It is a jukebox-style experience, providing unlimited music, exceptional quality of audio, for you to take your playlists offline and download them on your device.
Some readers may want to know the usage of PlayStation Plus. Well, for now, you do not have to use a subscription to access it. The PlayStation Plus is needed when you are playing with several gamers and want to use cloud storage features. 
We hope we were able to provide you with what you were looking for in this phenomenal app. Just to remind you, it is a free app, that contains no advertisements. However, you also have a premium membership that is available at $ 9.99/month.
3. Plex
Next up on our list of PS4 apps, we have Plex (Download Here). Why this app? This is a powerful app that is ideal for organizing your media files and being able to access them on your gaming console. The setup can be slightly tedious, where you need to place all your media files on your PC or laptop. 
Plex Media Server: Quick Start here!
After you have done that, you can stream audio and video content, including your console with the help of the app. There is a free version available. However, you can access content from the Plex Media Server, using your subscription. 
The subscription begins at $4.99/month. Just like all streaming services, you need to pay a small amount every month. Is it worth the cause? There is a catch in this app. When you have already paid for the streaming service, then you can use Plex. 
Using the app, you can share audio and video content to all the devices present in your property. That includes your PS4. Your PC or laptop is used as a server, and you can access anything you want around it. 
When you use the paid service, you can make use of the additional services. We highly recommend you do that. We were also astounded by the fact you could work on a wide range of devices in one area. 
A noteworthy function in this app is the ability to enable you to watch where you left from. When you watch a movie for 30 minutes, 24 seconds, you can begin from where you left using another device. 
Though we were not happy with the amount of data used by the app. The remote feature on the app works flawlessly. It organizes movies and shows easily and brings them back to life. The VR was also good on the app. 
It works seamlessly on Samsung Gear, Google Daydream, and Oculus Go. In the end, if you are looking for an app that generates a backup, then it is the best option. The setup is smooth and fine for experts but can be tedious for novice gamers. 
However, when you are loaded and ready for playing, then this is one of the best options you have. Coming with a monthly plan of $4.99, this app is one of the best PS4 apps. You can always decide to deactivate if you are not happy using the subscription. 
4. Twitch
Twitch (Download Here) is fourth on our list of PS4 apps. When Amazon owns you, you know that you are worth something in the market. It is a product of Twitch Interactive, which is part of the online retail giant, Amazon.
If you have heard about it or used it, then you would agree on the fact that it is one of the most popular videos streaming platforms. Professional gamers can be found scavenging for games. You would be heartened to know that it is used more often than YouTube. 
Gamers feel that the broadcast experience is excellent. The figures cannot lie with more than 10 million users on a daily basis; this app is one of the highest watch lists of gamers.
We like the fact that you can watch live videos of games going on and even chat with others. 
This is strictly meant for gamers who want to up their game. It gives gamers a new dimension in gaming on their PS4. This makes your time worthwhile on the console. We felt that this is a cool feature, as you get to watch professionals go about their thing. 
It helps you with your gaming and achieving your goals. Not to mention, you get to interact with some of the best in the industry. When you are not a professional gamer, then you can grasp a few ideas by watching them play. 
You can easily play popular games like Minecraft, Call of Duty, and Fortnite. The need to roam around all over America to watch top gamers play is not there. We also liked the diversity of the games that are available. 
It does come with a few drawbacks that we have mentioned here. You need to make use of the paid version to use some features. At times, you can face errors in the connection. In the unpaid mode, you get a barrage of advertisements.  
You can either use Twitch for fun and enjoyment or learn a thing or two. It does not matter because all you need to do is download the app on your gaming console. The need to be famous for others to know your gaming skills is no longer there. 
When you use the app, others will come to you if your gaming abilities are truly exceptional. All you need to do is download the app, sign in, and begin your new journey. You can install the app for free, which is the icing of the game. 
5. Netflix
Netflix (Download Here) really needs no introduction. Assuming that you have never used it, we will briefly discuss it in the review. Frankly speaking, this should be the first app you must consider downloading on your PS4. 
Without a shadow of a doubt, it is one of the best streaming media apps that you can find in the market. You can see in there a treasure trove of movies, and TV shows that you can watch during your free time. 
Today, you can find more than 170 million users globally. You can watch a wide range of TV shows, documentaries, and films. The number of options available is mind-boggling on Netflix. Most of the video content is released only on Netflix.
A few of them include Stranger Things, Narcos, and others. You will also like The Irishman, Marriage Story, and other award-winning series that give this app a run for the money. With its unrivaled platform of collection, you can download and watch your favorite programs offline. 
When you want to see that kind of quality content, then you may wish to download it. It is safe to say that Netflix has the lead for now from its worthy competitors. The app can be downloaded for free. You can also make use of the subscription at $8/month. 
Depending on the resolution and content, you may have to pay more than that. But, if you are satisfied with what you get for $8, then it is okay.  We were amazed at the games present on it. Of course, there is talk of more features of the app embedded on the PS5. 
That is not for now. The app is affordable; it comes with secure wireless control and supports all the video streaming services. Sadly, it does not come with 4K support, that was a huge disappointment. 
6. YouTube
YouTube is another famous name in the segment. Since its introduction, it has completely changed the horizon of video sharing. The platform has made the lives of several millionaires, including musicians, singers, artists, and others. 
You can easily access the app on several devices effortlessly. The same can be said about the PS4. Users can consider using it as they want to. The user interface is good enough for downloading and using. 
If you want to use YouTube Red, then it is a paid subscription for $9.99 a month. We were surprised to find that it comes with more than 70 channels that include broadcast networks, which usually depend on the locality. 
You will like its interface that is easy to use and accessible on all platforms. We preferred the feature where you can store your DVR. Some of the originals are also extremely popular among several users. 
The only category that it lags is premium channels. Hulu seems to have the better of this app, which is otherwise untouchable at the moment. Having said that, it is safe to say that the app is a must-have on your gaming console.
When you want to replace the conventional mode of watching cable TV and opt for a reasonable subscription method, it is this. What you get is a fabulous lineup, an easy-to-use app, and unlimited DVR that can be used on all major platforms. 
7. PlayStation Now
PlayStation Now (Download Here) is another phenomenal PS4 apps for your gaming console. The list would have been incomplete if we did not mention it. This is a streaming service of games provided to you by the parent company, Sony. 
They allow you to play some of the most popular games without having to download them. Doesn't that sound exciting? It is the Phoenix of gaming for your console. What better way to play games than this app?
PlayStation Now | Hundreds of incredible games on demand
As of now, you can find more than 500 games on PlayStation Now. For playing them, you need to pay only $19.99/month. It should not be expensive when you consider yourself to be a professional gamer. 
When you are hesitant to use it on your PlayStation, then you can make use of the 7-day free trial to use. If you are happy with what you see and feel that it is worth your money and time, then you may want to go ahead.
You can install the app for free. When you want to experience the true potential of the app, then you might want to opt for the premium method. It comes with a slightly higher subscription fee of $19.99/month. 
8. Crunchyroll
Crunchyroll (Download Here) found its way here because of the fact that this is useful for anime games. Those of you who love to play anime or watch might be interested in this app. You can find a plethora of anime like Attack on Titan, Naruto Shippuden, Bleach, Sword Art Online, and many others.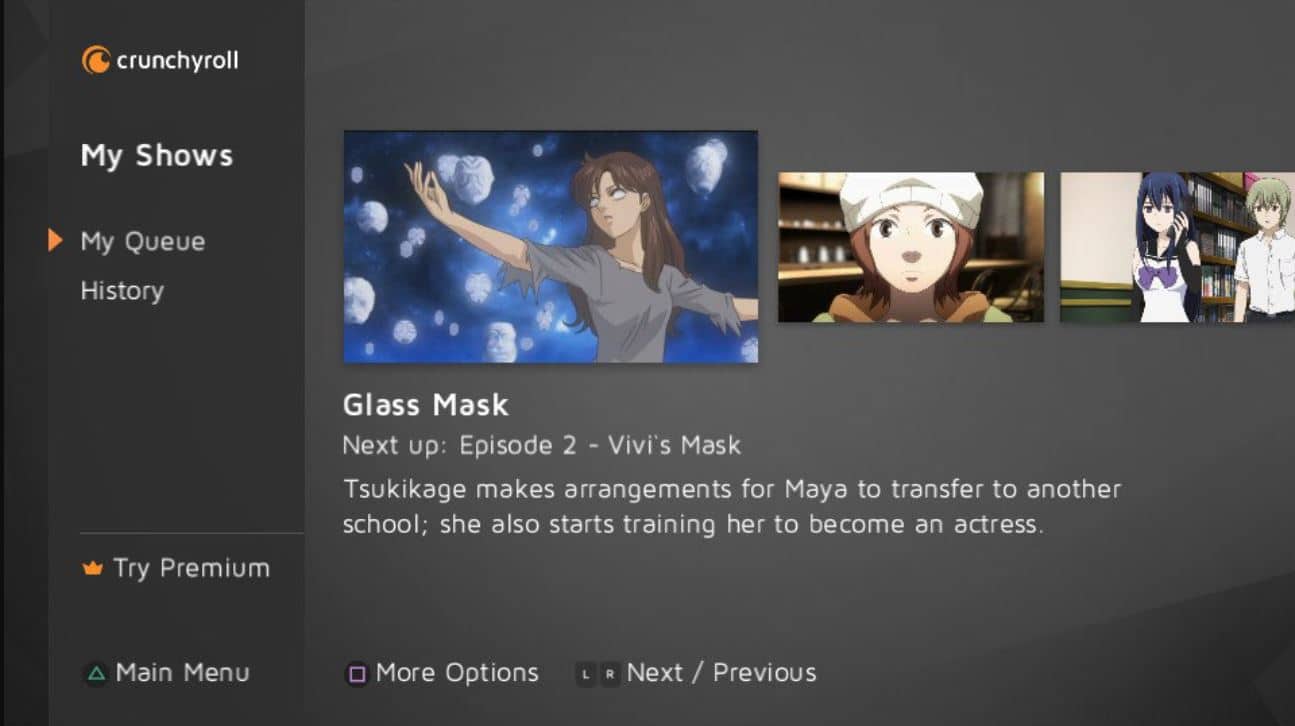 We tried the app and liked the interface and visuals. They were crisp and beautiful on the monitor, connected via the gaming console. In America, you can view the latest episodes only an hour after it gets aired in Japan. 
You can stream the video content at a viewable resolution of 720p. Users can download the app for free but have to pay for using the service. The need to be an anime fan is not necessary for using the app. 
You can view the content by paying a subscription of $6.95/month. There is a free trial of 14 days that you can make use of. When you feel that it is related to your liking, then you can download it on your console. 
9. GoPro Channel
GoPro Channel (Download Here) is also part of our discussion of PS4 apps. If you hike or are an adventurous person, then you might have already used GoPro earlier. The flexibility and sheer performance of the device are out of the world. 
The videos can give you thrills. Now, you can get the adrenaline rush from the comfort of your living room. We are sure that you will love the app and enjoy it. We liked the categories offered on the app.
You have surfing, motorsports, and music. Additionally, it also comes with different feature playlists. The app is free, and there is no reason why you should not download GoPro Channel on your console, today. 
Here is the best part; you do not have to own the device this time. 
10. WWE network
WWE Network (Download Here) is a getaway to your favorite WWE wrestlers. You do not have to be a huge WWE fan. So, why download the app on your PS4? If you want to access a profusion of quality content, the scheduled programming, and the library, then this is your best bet. 
You can watch WWE on your cable TV. But, when you do not have cable service options and are residing in a remote area with a weak signal. The app is a streaming service that is brought to you by the makers themselves.
You can watch hours of video content. Aside from that, you can access the content anywhere you want. Perhaps, you might be lying idle on an island, wanting to see something exciting. We also liked the fact that you can see more of the WWE pay-per-view events.
It also comes with some reality shows, original series, and a few documentaries. To view all of these, you have to make a payment of $9.99/month. They provide you with a 1-month free trial so that you can learn more about the features of the app.
Bonus PS4 apps
As we promised in the beginning, we have listed two splendid PS4 apps, just for you. They both deserve mention because of their noteworthy performance. 
11. Amazon Video
Amazon Video (Download Here) is the ideal competitor for Netflix. Amazon seems to have bludgeoned the market in all segments. They have an affinity to come up with top-notch products. The Amazon Video is no different.
The designers have done a terrific job in producing a smashing app that is on par with some of the best streaming services available today. You have access to an abundance of movies and TV shows. 
Users can rent or buy the movies or series that they want to, at reasonable prices. Most of the video content comes at a high-quality resolution of 1080p. We were blown away by that. Users might also want to consider using the Amazon Prime subscription coming at just $ 10.99/month or $99 annually. 
Also, you get the first three months of free usage when opting for annual payment. You might want to think about that strongly. As a Prime user, you have other advantages like immediate shipping of products and other items available on their portal. 
As you can see, you stand to benefit from the service immensely. The service can be used for free too. But, when you want to see its true capabilities, then you must opt to subscribe to it at $10.99 for a month. 
12. HBO Max
If you are a huge fan of HBO and the movies that appear on it, then you might want to consider installing this app on your console. The app is a streaming service that provides almost everything that you want. 
When you like to watch the series Game of Thrones. Apart from that, HBO max (Download Here) provides you with ample content on documentaries, blockbusters, and sports.
We would like to mention; the content is not present on Amazon Video or Netflix. Hence, we had this app on our list. 
The subscription can be high when compared to other streaming services, for $14.99/month. You do not have to like HBO to use the app. It comes with some excellent and quality content that is mostly not found elsewhere. 
If you appreciate first-rate video content, during your free time, then this app is a must on your console. When you are not happy with what you see, you can always cancel the subscription. Did we forget to mention that it comes with a free trial too? 
Conclusion
We have ended our discussion and sincerely hope that you liked what you read. If you haven't made up your mind about the best apps for your PS4 yet, then you might consider glancing through our review again. 
As you can see, you have a profusion of apps available for your PS4. These can be downloaded on the PlayStation Store too. The apps can be installed on your gaming console. They enable you to bring out the best in your new device. 
The PS4 is not any ordinary device; it is the God of gaming consoles. We liked the fact that these apps can work efficiently on the PS4, the PS4 Slim, and also the PS4 Pro. It doesn't really matter which device you own in your home. 
Did we like something or found a truly exceptional app? As far as apps go, they are all good and come with their own features. Based on your preference and requirements, you will want to download them. 
While some PS4 apps for PC are free to use, some apps can cost you money. But they are affordable and priced low. So, you could be a student or working professional, installing them on your PS4 should not be an issue. 
Did you like any of the PS4 apps for streaming, we have mentioned above? 
If you have not downloaded them yet, then please try them today on your PS4.