There are clothes in our wardrobe that we don't wear anymore. These clothes keep lying in one corner because of various reasons like they don't fit us anymore, they are outdated or, we simply don't like them. These clothes acquire a lot of space in our wardrobe, and mostly, we ignore them as if they don't exist.
Mostly, we are tired of ignoring these clothes and want to get rid of them anyhow. Dumping is one way to put the extra clothes away from the wardrobe but, that's probably not the best way.
One may also donate their clothes to make some room in their wardrobe.
The idea of donating clothes to those who are in need looks pretty good but, not with expensive clothing. Often, we feel a connection with our clothes and simply hesitate from giving them away to strangers. So, what do you do about the expensive dresses that don't fit you anymore? 
Well, you can't keep them forever. Moreover, to help you get rid of the extra clothes, you wore ages ago, sites and apps like Poshmark have become important. These sites and apps enable users to sell their used clothes from various brands at a reasonable price. 
The app markets are flooded with apps where users can sell their clothing and make some real money.
Best Sites & Apps Like Poshmark: Our Top  Pick 👌
1. ThreadUP
ThreadUP allows users to sell and buy pre-used fashion apparel. The app has listed products from about twenty-five thousand brands for women. The majority of these brands also offer clothing and accessories for children at a huge discounted price.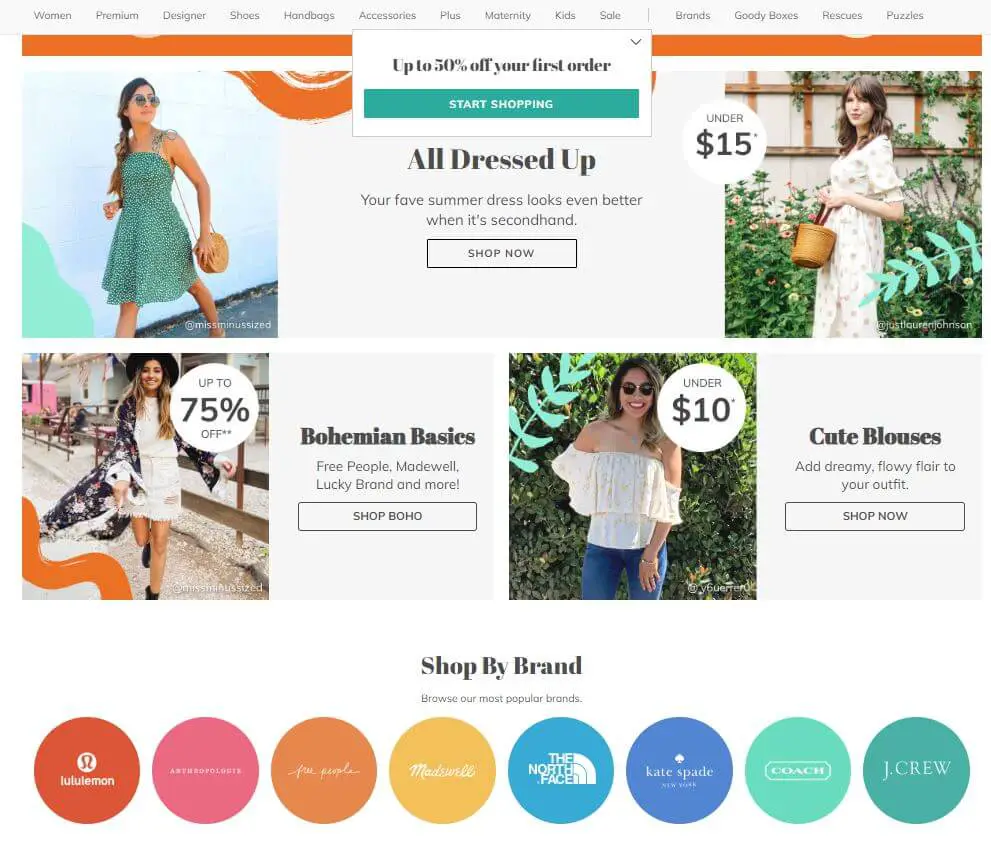 One may find clothing and accessories for summers, winters, and autumn. The app is loaded with a variety of styles for everyone. The app's sales offer a discount of up to 90% on clothing and fashion accessories for women and kids.
ThreadUP makes the entire process of buying and selling clothes and apparel much comfortable and convenient. The app offers customer-friendly features that make it very promising to use.
For the fashion enthusiasts on a tight budget, ThreadUP makes for a great alternate site and apps like Poshmark.
Pros of using ThreadUP:-
A user doesn't have to pay for the cleanout kit sent by ThreadUP to collect the listed clothes.

The app lists about five thousand new designs every day.

If listed items by a user remain unsold, the user can ask the ThreadUP team to return them. 

A user may also ask the ThreadUP team to recycle their unsold clothes and accessories.

The app features accessories and clothing from big brands like Zara, Nike, and many more. 

The customers buying through the app also get free delivery on most of the items listed on the app.

An item bought through the app can be returned within fourteen days of delivery. Easy returns make the app trustworthy and compel the user to give it a shot.
Cons of using ThreadUP:-
One has to give ThreadUP their email address to make an account on the app to buy or sell goodies. For the people concerned with their privacy, this could be a matter of suspicion.

If you're looking to sell, your margins could be less due to various services offered by the app.

Finding apparel for men could be tricky.

Outdated clothes won't bring a lot of money to the seller.
2. Asos
Tailored for young adults, Asos is well known for bringing stylish fashion apparel at affordable prices. The app features products from as many as eight hundred brands that range from accessories to clothing. Trusted by millions, Asos serves users from two hundred and forty countries across the globe.
The app features a wide range of clothing and has retro styles as well. The app is user friendly as it makes the shopping process easy and convenient. The users don't have to pay any subscription fee to get access to the app.
Asos has been around for about a decade now, and it has grown bigger and bigger over the years. Today, Asos also features over eight hundred boutiques from around the world.
Various small brands also offer their clothing and accessories on ASOS, and these brands make the app stand out from others.
Pros of using ASOS:-
A user can easily find vintage clothing on ASOS.

ASOS app is available to use in most countries across the globe.

The search bar feature of ASOS is beneficial for users as they can put plenty of search terms in the search bar.

A new user can avail of huge discounts just by signing up on the app. 

ASOS has clothing and accessories for men, women, and kids. The availability of apparel and accessories for everyone makes it a go-to platform for many users.

The app continues to receive frequent updates to make the user experience even better.

One can save a lot of money with the sales of the ASOS app.
Cons of using ASOS:-
If a user is trying to sell their accessories or clothing, ASOS charges a commission.

The commission could go up to 10 percent on the cost of selling.
Some users face issues with returns due to unknown reasons.
As per some users, one cannot change their language preference.
The minimum order value for free deliveries is getting higher and higher on the app.
3. TheRealReal

 
Founded in 2011, TheRealReal is one of the many sites and apps like Poshmark that users are using. The app features unique home decor items and clothing for men, women, and children. Currently, the people at TheRealReal operate from ten offices located across the USA.
The app is pretty famous for jewelry and other fashion accessories. One of the positives of using the TheRealReal app for selling apparel is, useful quality items are sold quickly. One may expect something exceptional and unique to be sold within 72hrs of listing on the portal.
The theRealReal app is trying to change the dynamics of resale with its customer-oriented features and sustainable policies for products.
The app values people who buy through them and ensures that everything they sell is genuine and authentic.
Over the years, the founder and the team working on TheRealReal have ensured that users get the best experience. The founder takes the concept of customer satisfaction seriously. Moreover, customer-focused intent makes the platform a dependable, trustable source of shopping online.
Pros of using TheRealReal:-
Standard delivery from the app is speedy and doesn't take much time. For quicker services, they also offer overnight shipping at a minimal charge for the same.

TheRealReal is well-known and famous for selling authentic luxurious jewelry and clothing.

The app is continuously making efforts to make fashion sustainable. Many products sold on the app are recyclable. 

For last-minute shoppers in the USA, TheRealReal can be a lifesaver. The retail stores of the app make for better convenience and user experience.

The customer service of the app is dedicated to helping resolve issues rather quickly.

The interface of the app is user-friendly, making it easier to search for the product one is looking to buy.
Cons of using TheRealReal:-
For some sellers, free pick-up service for their listed products might not work. 

The free pickup of listed items by a seller is available in selected zip codes only.

Like other portals, TheRealReal doesn't support bidding for the listed products. 
You may like to read our guide on 11 Best
Garage Sale Apps
To Find and Post Your Sale.
4. Grailed
Grailed is one of the many platforms where one may find quality apparel for men at chopped-off prices. Grailed features some of the big brands like Gucci, and Jordan for the brand enthusiastic fashion lovers. The feed of the app is highly curated so that the users get to see freshly listed items. 
G-Eazy for Grailed: "No Limit" Rapper Talks Style and Giving Back to the Bay Area
The altered feed makes it easier for buyers to choose what to buy and what not to buy. The Grailed team is dedicated to ensuring that customers receive high-quality products.
Being a dedicated marketplace for menswear, Grailed has a lot to offer for fashion-loving men. 
The categories in the marketplace make it easier to search and select the latest apparel. If someone is looking for a particular product, filters make the process convenient and quick.
Pros of using Grailed:-
Grailed is a marketplace that is known for delivering quality products, no matter what. 

The platform is free to buy, browse, and scroll for the buyers. There's no subscription fee or access fee for using the marketplace.

The listed items on the Grailed marketplace won't make a hole in the pocket of the shopper.

Returns are simple and hassle-free for the buyers. 

Time taken for delivering the products is less than other platforms. One may also opt for quicker delivery options with a nominal fee.
Cons of using Grailed:-
Grailed marketplace makes for great alternative sites and apps like Poshmark for buyers. If someone is looking to sell on Grailed, they'll have to pay a fee for using the portal once the goods are sold.

One cannot find anything for women or children in the Grailed Marketplace.

The app of Grailed Marketplace requires some updates to resolve some bugs which create issues for some users.
5. Etsy: Buy Custom, Handmade, and Unique Goods
Etsy is the place where a shopper should go for buying handmade, antique apparel and accessories. One may find jewelry, clothing, kitchenware, and much more on Etsy. The platform enables users to scroll and find antique handmade products from across the globe.
Buy on Etsy App Promotional Video for the Google Play Store
The marketplace is enormous with global clients that are actively looking for handmade items daily. If we look at numbers, the client count of Etsy goes beyond 20million. 
The platform is full of opportunities for fashion lovers with interactive features that enable users to talk directly to a seller. One may also save the items listed on the portal for buying them later. These features make Etsy quite different from other sites and apps like Poshmark.
So, what all can be sold on Etsy? A seller can sell handmade antiques ranging from jewelry to clothing and kitchenware with an age of 20years. Moreover, Etsy is a hub of more than a 1.5million global sellers. 
Everyone can find something unique for themselves on the platform and wear it to the next big event. The policies of Etsy are quite straightforward.
Pros of using Etsy:-
Etsy allows users to find products based on upcoming events. This feature makes it easier for shoppers to plan their outfits for important forthcoming festivals.

Etsy has a mobile app for both android and iOS users.

A buyer doesn't have to pay any fee for making a purchase. However, quicker delivery options could be charged by the buyer if they have opted.

From fashion to kitchenware, handmade items and antiques from around the globe can be found easily.

Users also get customized recommendations based on their browsing patterns. 

The categories on Etsy make it easier to filter the products one is actively searching for buying.

The search bar of Etsy is also handy and works without giving any trouble to the user.
Cons of using Etsy:-
A seller is charged a fee on every item they sell on the platform. 

The fee on sold items could go up to 6.5 percent.

It could be hard to find luxury machine-made clothing on the portal.

Etsy app requires some updates to fix some bugs.
6. Depop
Depop is pretty famous among millennials for luxury products that the app has to offer at reasonable prices. Over the years, the Depop platform has grown into a huge community of buyers and sellers from across the globe. Today, the Depop platform has more than 15million users globally. 
One may find a wide range of products on the platform. Depop has books, jewelry, arts, and much more for its varied customer base. The platform is much more than just clothing and fashion apparel. 
Depop features some of the best designs and styles in jewelry and arts. These designs find their new owner without hassles, thanks to the vast community of Depop users. A user can sell pretty easily and quickly on the app. 
One significant feature of Depop is that they take user data protection very seriously and are dedicated to keeping it safe. All the transactions a user does are protected, and no details of the user are shared with third parties.
Therefore, one can use the platform without being worried about losing their privacy or delicate information.
Pros of using Depop:-
A user gets to scroll through a wide range of products under every category mentioned on the platform.

The search feature of Depop is compelling and easy to use. The search feature makes the platform even more compelling to use.

While many other sites and apps like Poshmark only provide clothing and fashion apparel, Depop takes it to the next level. 

User privacy and data is protected at all costs.

The products offered are affordable and make for amazing deals with discounts on most items.

Depop has an app for iOS and Android users, which ensures users can browse their favorite marketplace without hassles. 
Cons of using Depop:-
Depop could become overwhelming and confusing for some users because the app has a lot to offer. Choosing the right products could be a task for many users, especially when they have so many options.

Refunds could be tricky and annoying at times. 

The selling fee on Depop is 10 percent on the selling price of a product. Moreover, the seller also has to pay for shipping.
7. Tradesy
Tradesy is an app that makes selling outfits pretty easy and hassle-free. One may find unique designer dresses and fashion apparel without much trouble. The app is updated regularly with new designs and trendy fashion apparel.
Tradesy follows a stringent procedure before shipping items to buyers. An expert checks every shipped product for quality testing and authenticity. The vast customer and seller base of Trendesy, across the globe, ensure that quality products are sold quickly.
Currently, Tradesy offers a mobile app for Android and iOS, enabling users to scroll the marketplace effortlessly.
The app provides a variety of products for buyers and enormous opportunities for sellers. One may find clothing, shoes, fashion apparel, and wedding outfits on Tradesy.
Pros of using Tradesy:-
The search bar or Tradesy is very powerful.

Tradesy platform is neatly designed for a better user experience. The platform runs smoothly for both buyers and sellers.

Tradesy ensures quality for every product that they ship for the buyers. 

The payment structure of Tradesy is quick and much more efficient than other sites and apps like Poshmark. 

Quick payment transactions are available with Tradesy Cash, which can be sent to PayPal or the bank account of the seller at a nominal fee.

A seller can send the listed product in the free kit that is sent by Tradesy for shipping the products. This kit ensures that the seller spends nothing on the packaging of the product.

Tradesy also has a policy under which they promise to ship 100% authentic products. Otherwise, the buyer gets his entire money back.
Cons of using Tradesy:-
The sellers are charged hefty amounts in the name of the commission fee. 

The money is paid quickly to the seller. However, sellers need to spend about 3 percent on converting the money into real cash through PayPal or their bank account.

The shipping fees of quicker delivery options for buyers might seem costly to some users.

For some locations, returns might take longer than usual for settlement.
8. Luxury Garage Sale

  
Brought to life in 2011, Luxury Garage Sale has evolved as a hub of the most adored fashion brands across the globe.
Shoppers may find bags, shoes, clothing, and fashion accessories on the LGS platform. The platform is famous amongst millennials as it offers substantial discounts on some of the most appreciated brands.
The Luxury Garage Sale is a reliable platform for sellers because it ensures that sellers get maximum payout on their sold items. The LGS platform's unique collection makes it quite appealing to other sites and apps like Poshmark.
There's a scope of huge savings for buyers. The LGS platform offers genuine luxury products at a price that won't bite the buyers' purses. 
Moreover, the payout for sellers is quick and hassle-free. 
Unique designs listed on the LGS platform make for a vast collection of buyers. One may easily update their wardrobe with their range of premium products at a discounted price.
Pros of Luxury Garage Sale:-
Luxury Garage Sale ensures that their customers receive quality tested products at a lower price.

LGS offers a wide range of luxury products. Moreover, the vast range ensures that shoppers don't have to browse multiple apps.

The returns are seamless and straightforward with the Luxury Garage Sale.

LGS takes user privacy protection seriously and has strict norms to protect its sellers and customers' data. 

The sales on the LGS ensure that buyers end up saving more than what they would save usually.

Sellers can earn more on LGS through store credit. However, the catch is that store credit cannot be converted into real cash. 
Cons of using Luxury Garage Sale:-
Returns can be placed within 72hrs of delivery of a product. No return requests post 72 hrs will be entertained. 

The commission on each product sold on LGS is pretty high as compared to other sites and apps like Poshmark.

If a customer is placing a return, they'll have to pay for the shipping fees. Placing a return means additional expenses for the buyer.
Conclusion
There are many sites and apps like Poshmark that users may try to upgrade their wardrobe. All these apps offer varied features and advantages for the users.
One has to filter through the best app or website of their choice based on factors like features and products listed on the platform. Some of these sites and apps also feature local boutiques, which is equally great for a vibrant wardrobe.