Are you curious about the Best Ski Goggles For Flat light to buy in 2022? 🤔 You can easily Find out now in this definitive list with our detailed review.
Without any further delay, let's find out. 🔎🔎
Nothing is more annoying than when you take that last bend on the mountain, slide through the snow suddenly lose complete visibility.
The weather conditions in the mountains are very unpredictable – one time, you can see, and the next, you are in darkness.
When skiing, it is important to have basic accessories, especially when skiing or snowboarding at high altitudes. Your eyes are the number one organs to be protected.
Snow can be dumped all of a sudden, or intense light from the reflection of the snow by the snow can hamper your vision causing major problems.
However, when the weather is cold, foggy, and snowy, wearing ordinary glasses might protect your eyes but will not assist you in skiing effectively or navigating the snowy terrains.
A good skiing goggle is the only thing that will protect your eyes but also stop the snow from getting to your eye and control bright ultraviolet light from penetrating your glasses, damaging the eyes.
Despite all the ski and snowboard goggles on the market, they are getting the right one that will not fog up or make your eyes water can be very confusing. However, thank technology and innovation, ski goggles are designed to protect the eyes and improve visibility.
In this article, we have sampled several ski goggles to come up with the following, and we hope it helps you pick out your next goggle.
Flat light is a nightmare for skiers, snowboarders, or any other snow sports as it only takes seconds for your vision to be compromised, and skiing in such a condition is dangerous and life-threatening.
Best Ski Goggles For Flat light – Our Top Picks👌
1. Smith Optics I/OX Ski Goggle
These are perhaps the best ski goggle you must have if you are keen on skiing. Smith Optics uses a technology that prevents fog and peripheral vision; its I/OX is the all-around skiing solution for flat light skiing.
Features:-
There are many reasons why we love the Smith I/OX goggle is the chrome pop lens is synonymous with most Smith goggles. The lens filters the various wavelengths as you ski to give a clear path without confusion.
The goggle has 16 times lens options with different hue, tints, and VLT rating turning from blue to black. This color change allows you to ski in all conditions as the tint either brightens flat light increasing visibility or darkens the light when conditions are too bright, as in the case of sunlight rays reflecting off the snow.
The Visible Light Transmission is 12 percent for the sun and 50 percent for stormy days.
Pros:-
It has a self-shaping frame that responds to fit the shape of the face for complete protection
Great for a medium and large ski helmet
The chrome pop technology makes these goggles gives them a great contrast to adapt to light changes automatically.
It comes with 2 lenses for low light and bright light
Wide spherical lens for all-around vision during skiing or snowboarding
It uses DriWix technology to provide three layers form for comfort around the eyes but also to prevent the accumulation of moisture gathering on the inside of the lens to hamper your vision
Lenses are interchangeable
To keep your vision clear, the Smith I/OX use a Pores Filter mechanism to reduce air pressure in the lens.
Strong, durable, and best anti-fog skiing goggles yet
Cons:-
It is very expensive
Changing lenses is difficult
Final Word:-
The Smith I/OX is the best ski goggle to make skiing or snowboarding a fun sport for both professionals and certainly for newbies.
Note:-
I have written a post for people looking for the 
best smartwatch under 50
$ to buy?, do read it If you are interested.
2. Oakley Canopy Ski Goggles with Prizm Rose
This is a solid skiing goggles by Oakley. The revolutionary goggle is another excellent buy for flat light skiing that uses advanced innovation – the Prizm technology to catch flat light conditions to create a clearer and finer visual effect when skiing.
Features:-
The Prizm technology enhances your ski performance by allowing you to ski in various lighting conditions, enabling you to ride confidently. One extra feature we love about the Oakley goggle is that one lens works in all lighting.
So you don't need to change the lens when the conditions change. Visible light transmission is about 21 percent.
Pros:-
To add dimensionality and increase visual area, Oakley goggle has a canopy that enlarges the size of the frame but still protects your eyes.
Employs Plutonite lens materials that block 100 percent UV rays and a low profile frame for peripheral and down vision
Dual ventilation lens to increase airflow and prevent fog from coating your goggles when skiing
It has three layers of fleece material to make your goggle comfortable around your face
A great goggle for people with large head sizes but has a flexible frame to fit other size heads.
It has a curve nose shape to avoid the frame pinching tightly on your nose
The Prizm lens allows for the right amount of light to reach the eyes for smooth skiing, always
Cons:-
It is expensive
It has only one lens
Final Word:-
Overall this is another fine product in our best ski goggles for flat light 2022 lists for skiers and snowboarders; with its 16 color tints, you can be sure that your goggles will have you covered in all light conditions.
2018 Oakley Canopy Goggles - Review - TheHouse.com
Note:-
I have written a post for people looking for the
Best Travel Watch
 to buy?, do read it If you are interested.
3. Outdoor Master Unisex Frameless Pro Ski Goggle
Outdoor Master might not employ the technology and innovation of Smith and Oakley. Still, this ski goggle has some excellent features to sweep you down the slope confidently in any light condition.
Furthermore, with over 20 colors to choose from, and compatibility with any helmet, Outdoor Master came prepared for the ski slopes.
The VLT on this green lens is 18 percent, but the light green has a VLT of 80 percent, amazing for a goggle that doesn't use Prizm or chrome pop technology. This allows skiers to enjoy night skiing but also manage exceptionally well in flat light.
Features:-
These goggles are frameless but have excellent coverage to protect your eye with their 8.27 by 3.74 inches large spherical frames to give you a clear and unobstructed view down the slope.
A magnetic interchangeable lens system ensures that your lenses are always in the right spot.
The goggles have an over-the-glasses design, so you can wear your glasses underneath the goggles when skiing.
Pros:-
Lenses are anti-fog with an injection-molded polycarbonate lens that offers 100 percent Ultraviolent 400 protection.
It comes with long adjustable straps for any kind and size of the helmet
Great goggles for men and women skiers with an array of colored lenses to choose from
Easy to clean and maintain, no hassle
They are inexpensive
Pretty designs, colors, and very sturdy
It comes with a one-year warranty
Cons:-
No Prizm or chromaPop technology
The lens can fall out when removing the goggles
Final Word:-
Overall, Outdoor Masters may not employ the technology that other big brands use; their design, variation on the lens, and ease of replacing them make them worthwhile when skiing.
Introducing OutdoorMaster Ski Goggles PRO
4. Smith Squad XL ChromaPop
Squad XL is a new addition to the Smith line of skiing and snowboarding goggles with a larger lens and wider peripheral slope vision.
Other than the above, the Smith Squad XL has all the features and distinctions that make Smith ski goggle the best on the market.
Features:-
The goggles are interchangeable with two lenses of visible light transmission of 13 percent for sunny and bright days and 69 percent for low or flat light conditions.
The lens is 20 percent big, wider, and clearer to give you a better vision of the slope and around you when skiing.
The cylindrical lens shape has the signature Smith anti-fog technology of three layers of foam to create a solid seal to prevent snow from entering your eyes or moisture from clouding your vision when skiing.
Pros:-
Flexible and morph frame that embraces your face for a comfortable fit
It comes with two lenses to choose from for the lighting conditions suitable to you when skiing
Cheaper than the Smith I/OX goggles
It uses chrome pop technology for clarity and increased visibility on the slope
Cons:-
The lenses are difficult to swap
Final Word:-
Overall the smith squad XL is cheap and a solid goggle to take out to the ski slope for a fun time. People who have used the Squad XL have acknowledged satisfaction with how the goggles fit and how easy it is to defog during skiing.
The Squad XL Goggles by Smith [Review]
5. Oakley Line Miner Ski Goggle with Prizm Inferno Lenses
Oakley is a brand that good skiers associate with; not only are the designs top-notch, they deliver excellence whether you are snowboarding, skiing, or performing other snow sports where your eyes need protection, but you need visibility.
Well, don't get baffled by the name. To ensure that your goggles stay fog-free during skiing, Oakley has added a little button that allows you clear fog using heat in seconds, no harm done.
Features:-
The frames are the low frame, meaning it stays close to your face, offering you create peripheral vision. The best thing about these goggles is the little button at the side of the strap that clears the goggle of fog.
The inferno is turned on automatically to clear the fog, so you don't have to worry about stopping to switch on the button. The goggle gives a little vibration when it's done.
The technology runs on a rechargeable battery that lasts up to 6 hours even in the coldest of winter or when the snow is pouring, making it put in our best ski goggles for flat light 2022 lists.
Pros:-
Compatible with all helmet sizes
The Prizm technology allows the unwanted light frequency to be removed, creating a clear path during skiing.
The de-fog time takes about 2 minutes
Has a VTL of 11 to 21 percent
Triple foam layer for moisture absorption and improved clarity
Lenses are interchangeable, allowing you to choose the colors you want
Cons:-
Final Word:-
Oakley is a product that aims to change the situation around ski slopes, and the inferno technology certainly knocks this one out of the pack.
If you want to invest in a ski glass, this might be the one to beat.
At the time of our research on "Best Ski Goggles For Flat light", we found a video about "11 Tricks for Those Who Wear Glasses (FUNNY BONUS)" which is worth watching.
11 Tricks for Those Who Wear Glasses (FUNNY BONUS)
6. Bolle Nova II Unisex Ski Goggle
Whether you are looking for professional ski goggles or one to make a day out skiing fun, you can't miss out on these goggles. Not only are they excellent ski glasses, but they are also affordable and won't break the bank.
Features:-
The Bolle Nova II has an excellent anti-fogging and good ventilation system to ensure that fogging never is an issue while on the slopes. Furthermore, the double thermal barrier lens is surrounded by a firm frame that guards the face.
The lens width on the Bolle goggle is not as wide or big as other goggles described here, but it doesn't stop it from giving your a crystal clear view of what you are supposed to see on the slope without squinting on sunny days or in flat light days.
The lightweight and flexible frame helps with your viewing, but the Bolle Nova is a soft cushion material that allows the goggles to comfortably sit on your face without pressing too hard on your skin. The strap is adjustable to fit on most helmets too.
Pros:-
The goggle has an excellent fit
It comes in a variety of colors to match your outfit
Great ski goggles for men and women alike
Will fit a medium to large head size, but not great for small head sizes
Excellent ventilation system sited at the top of the goggle to prevent moisture gathering on the viewing glass
Scratch-proof goggles with carbo-glass protective armor
Cons:-
A bit pricey for some people
Final Word:-
Even though the Bolle Nova II has only one lens, its many features like weight, comfort, fit, low profile, and impressive design, are some of the features that put the goggle on put list.
Furthermore, the clarity, improved visibility, wide peripheral vision, and years of thoughtfulness make the Bolle Nova II good snowsports goggle for you.
Bolle Nova II Goggle Review
7. POC Sport Orb Clarity Ski Goggles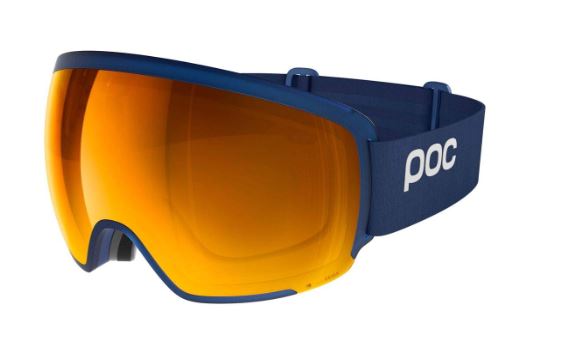 In collaboration with ZEISS optics, POC developed a skiing goggle that enveloped high-tech and thoughtful innovations to produce a masterpiece that works in the main conditions of skiing.
The goggle was designed to work in cloudy, sunny, and partly cloudy conditions to give you super clarity and separate light frequency on the slope so you can comfortably doge tree and cross finish lines on time.
Features:-
The orange color reviewed here is called specters orange and works well, as mentioned above. The clarity of the POC sports lens makes the slope the right color so you can ski flawlessly.
The spherical lens improves your peripheral vision giving you an all-around view when skiing but also keeping the fog from coating the goggles and blocking your view.
Pros:-
Easy and fast lens swap
Dual compound frame, tough and flexible for durability
Made for medium to large head sizes
It has a 13 percent visible light transmission
The straps are made of silicone material and are very firm
Great goggles for all types of snow sports
It comes with a warranty of one year
Cons:-
Final words:-
Despite the few words said here about the POC sports ski goggle, we love them for their design and performance on the slope.
They are beautiful, clear and the wide frame allows you to see everything, including your jacket zipper, without stress.
When you try out the POC google, you will know why clarity is important on the slopes.
8. Hongdak Ultraviolent Ski Goggle
Skidding down the slope is fun only with the right gears, including a beautiful ski goggle from Hongdak. Hongdak is sky-diving and any sport that involves cold, wind, or debris entering your eyes.
Below are some of the features of the Hongdak Ultraviolent Ski Goggle that earned it a spot in our list of Best Ski Goggles For Flat light to get in 2022.
Features:-
The removable lens has a panoramic design that offers a clear vision in any condition with a large width to see an almost 180-degree view. It also comes with 2-way ventilation that increases air flow to prevent fog build-up in your lens.
The goggles are great for both young skiers and adults and with a pair of extra lenses, you can boost your clarity with the 100 percent UV protection anti-scratch lens
The over-the-glass shape of the lens allows you to wear the goggle over your specs and what more it fits over any helmet.
Below are some of the Pros and Cons of the Hongdak Ultraviolent Ski Goggle that earned it a spot in our list of Best Ski Goggles For Flat light to get in 2022.
Pros:-
The visible light transmission is 18.5 percent
Great anti-fog property
Magnetic and removable lens
The lens comes in different colors
Adjustable strap that fits the shape of the face and helmet
Wide frame and lens for an all-round view
Cons:-
Final Word:-
The Hongdak ski goggle is not your regular skiing companion, because this one delivers on all the promises of making every ski day fun.
The best part is that the anti-fog property also works on your own glasses, keeping them clear so you can see the slope and you go down.
9. Zionor X Ski Snow Goggle
Another one from the staple of Zionor brand, makers of beautiful snow goggles with excellent clarity and design. Though they look like most goggles, they offer excellent protection for your eyes and clarity as you go through the slopes flawlessly.
Below are some of the features of the Zionor X Ski Snow Goggle that earned it a spot in our list of Best Ski Goggles For Flat light to get in 2022.
Features:-
The over-the-glass lens is curved and wide-framed for optimal visual when on the slope. It further helps the goggle stay in place and can accommodate a 5.5 inches high glass under the goggle
Goggles are designed for both female and male skiers with a comfortable fit that protects the eyes when skiing
To enhance the superior clarity and durability of the Zionor lens, the product was ruggedized with the Enhanced Durability Technology to protect the goggles from damage on impact.