This is our buyer's guide to Best Soundbars under 300 $ in 2022. 🤴
And let me be clear about something:
All Soundbars mentioned in our buyer's guide are based on Brand, Connections, Front Display Panel, Aesthetic Arrangement, Soundbar Control, Sound Quality, Frequency Response, and Built-in EQ.
So without further ado, Let's dive right in. 🎭
The audio quality of our TVs and home theatre systems is getting more important by the day. Back in the day, many people relied solely on the built-in individual sounds of their TV systems, which of course, had its limits.
Many television systems have very high-performing sound systems, but they can always improve. Soundbars are the solution to getting the highest quality of sound to match the already high-performing TV and Home theater systems.
A soundbar is a sleek sound system that is used to amplify the audio performance of a Television system. Compared to a full home theater system, it is a small rectangular device placed in front of or around the Television.
It is extremely useful for small to medium-sized rooms. Soundbars may feature single to multiple speakers depending on your specifications.
When choosing the perfect soundbar that suits your home, it is best to consider the following things: Brand, pricing, audio quality, connectivity methods, and ease of setup and use.
If you do not choose an appropriate soundbar for your home and current set-up, you might end up barely up to par with your TV's built-in speakers, which would be a waste of important resources.
Soundbars come in different shapes and sizes and range from less than $100 to over $1500. Yes, they can be really expensive.
As with most devices, the higher you go, the more premium service(s) you get. Regardless of whether you are on a budget, you can get quality soundbars for under $300.
Below is a list of some of the best soundbars in the market for $300 or less, with a detailed description of each soundbar for easy selection.
Best Soundbars Under 300 $ – Our Top Pick👌👌
1. Yamaha YAS-107 – Best budget soundbar
Yamaha is well known for its soundbar systems, and this soundbar is no exception. Looking at the physical specs of the Yamaha YAS-107 Soundbar, it is ultra-slim, so it doesn't take up a lot of space, making it a great match for smaller rooms or TV systems.
It has multiple keyholes and can be placed in front of the TV or hung on the wall. On top of the speaker, it also has indicators of lights and controls to get the right listening modes and control the changes in volume so you can easily control them as you please.
This soundbar has built-in Bluetooth technology, which means you can connect it to your phone and move around freely, controlling the audio from a distance. This is a very important feature.
It is equipped with HDMI in and out. It supports a third remote control option called the CEC (Consumer Electronics Control), which enables you to use a single remote to control multiple devices connected via HDMI.
The speaker supports digital copy protection and 4k/60p video, which means it is compatible with the latest Television systems.
Listening to music using this soundbar shows that the YAS-106 delivers a relatively balanced reproducer that produces clear sounds without appearing fatigued. Movies are a whole other experience on their own.
Other features include a Clear Voice button to boost dialogue in the sound and a Bass Extension button that cranks the upper bass.
In conclusion, the Yamaha YAS-106 Soundbar is a great choice for a soundbar because of the high-quality audio and sleek design, which makes it perfectly fit in our best soundbars under 300 $ list.
Pros:-
It is easily mountable thanks to the multiple keyhole designs behind it
The ultra-sleek design is a plus any day.
It comes with a remote control.
It's clear, engaging audio is a lot better than what similarly priced soundbars deliver
HDMI in/out with 4K UHD HDR passthrough
Cons:-
Very basic feature set (apart from HDMI in/out)
The slim design is easily breakable if it is not carefully looked after.
When using Bluetooth mode, you must be in the connection range
Check Price on Amazon
Yamaha YAS-107 vs YAS-105 (unboxing & sound comparison)
2. Sony HT-CT370 – best soundbar 2022
The Sony HT-CT370 2.1 soundbar is another amazing speaker that retails below $300. It is a sleek diamond-shaped device with a central LED text display that is bold and easily readable.
As with the Yamaha YAS-106 soundbar, it can either be placed in front of the TV or mounted to a wall using the mounting brackets included. It has an internal gyro-sensor that detects positioning to optimize the sound depending on its orientation.
This Sony speaker is easy to set up as it has three HDMI inputs for high-resolution audio and video connections. It also features an HDMI output that supports 1080p, 3D, and 4K video pass-through.
you can connect its Bluetooth technology with Near-field connectivity (NFC) which is onboard for pairing wirelessly and audio streaming when connected to other Bluetooth-enabled devices, such as smartphones, tablets, and computers.
Built-in SBC and AAC codec support also improve audio signal quality when streaming music wirelessly. The wireless connection with this speaker is pretty seamless.
The 300W S-Master amplifier brings clarity and power to your music and movies, creating a virtual front surround experience. Additional features include a Sound field link lock, advanced auto volume, auto standby, and speaker level control.
Pros:-
It is easily mountable
This soundbar comes with an external subwoofer
300 Watts of power
Cons:-
The NFC pairing does not always work, unfortunately
The sound from the speaker can be a bit hard
Check Price on Amazon
At the time of our research on Best Soundbars Under 300 $, we found a video about "12 Strange Sounds on Earth Science Can't Explain," which is worth watching. 🤴🏆
12 Strange Sounds on Earth Science Can't Explain
3. Polk Audio 2.1-Channel Soundbar System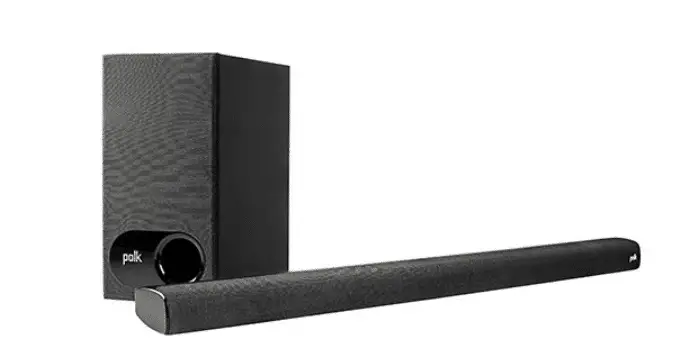 The Polk Audio, 2.1 channel soundbar system, is also known as the Polk Signa S1. It has a very simple design at a little over 2 inches tall, so it can easily be placed in front of the TV without taking up too much space and can be mounted.
It features one optical input, providing a digital connection for high-resolution video and audio components. The HDMI connections also support HDR UHD video. The Command Bar includes an HDMI cable and an optical cable for instant connectivity.
The Command bar also includes an infrared (IR) remote control with an integrated Alexa action button. Hence, you press the action button, and the Command Bar will decrease in volume to ensure your voice commands are heard, whether you are listening at a high volume or not.
You can easily connect and stream music directly from your smartphone, tablet, or other compatible device using Bluetooth. The wireless subwoofer allows the speaker to deliver great sound quality regardless of the price.
It also comes with a night mode feature that calibrates the soundbar and subwoofer for quiet nighttime viewing, making it perfectly fit in our best soundbars under 300 $ list.
Pros:-
Its design is very simple and has a smaller footprint.
Music streaming from any compatible device is made possible with built-in Bluetooth technology.
Setup is quick and easy
The night mode is extremely useful.
Cons:-
No HDMI inputs
Less clarity in movie performance
Check Price on Amazon
Note:-
I have written a post for people looking for the
Best DJ Headphones
to buy?, do read it If you are interested.
4. Wohome TV Sound Bar – best dolby atmos soundbar under $300
The Wohome TV Soundbar costs a little over $100 but is still rated highly as it delivers a decent amount of good quality and power output.
This speaker is a little heavier than the regular one but is still relatively easy to set up. It is compact enough to mount on the wall as well.
It is a 3D surround sound system, which means the design is suited to deliver a dynamic audio experience at home, which is exactly what a soundbar should do.
This Wohome speaker delivers 80 Watts of power which is a decent amount of power as most soundbars of this size and price range produce between 40 Watts to 60 Watts of power.
It offers a variety of connectivity options, including Bluetooth, USB, optical, and coaxial. Again, no HDMI, unfortunately.
The soundbar device Bluetooth system can be controlled with a remote control which does everything a regular TV remote control does with controlling sound. It is also compatible with the Amazon Echo for streaming music and TV, and interacting with Alexa.
Below are some of the Pros and Cons of the Wohome TV Sound Bar that earned it a spot in our list of Best Soundbars Under 300 $.
Pros:-
At a little over $100, it is highly affordable
Excellent sound quality for the price
Attractive design
Easy to set up and use, either mounted or in front of the TV.
Cons:-
While the device works well for mid and high-sound ranges, it lacks clarity in lower frequencies.
Relatively heavy compared to other speakers
Check Price on Amazon
Wohome S11 2.1 Channel Sound Bar with Built-in Subwoofer Review
5. VIZIO SB3821-C6 Soundbar
The VIZIO SB3821-C6 soundbar is unarguably one of the best picks if you want to upgrade your TV's audio to optimal quality on a budget.
The Vizio SB3821-C6 Soundbar gives an amazing and crisp sound in the mid or low ranges.
The combination of powerful speakers alongside the wireless subwoofer for low bass impact is amazing. Being wireless, you can easily place the subwoofer anywhere you want without worrying about wires hanging around the room.
The DTS TruSurround activates a detailed and virtual surround sound effect. At the same time, the DTS TruVolume consistently keeps the volume to a comfortable level. At the same time, the built-in Dolby Digital decoder provides an engaging listening experience by improving the audio of the contents.
Simply set the volume once. It is also equipped with DTS TruVolume technology designed to normalize the volume output and keep it consistent regardless of the audio sources.
You also get a variety of connectivity options with the Vizio soundbar, including optical and coaxial digital inputs, along with one 3.5mm jack, one USB port, and an RCA cable.
The built-in Bluetooth feature also allows you to listen to music from anywhere the speaker is placed.
Below are some of the Pros and Cons of the VIZIO SB3821-C6 Soundbar that earned it a spot in our list of Best Soundbars Under 300 $.
Pros:-
Produces an impressive surround sound effect
Performs well on all volume range
Wireless subwoofer
Wireless Bluetooth streaming
Inexpensive
Cons:-
It would be best if you used a subwoofer to produce heavy bass or create a theater-like sound
The front panel's LED lights are quite difficult to read
Check Price on Amazon
6. ZVOX SoundBase 570 30″Soundbar
The ZVOX Soundbase 570 is right on the $300 mark. It is not as sleek and light as other soundbars we discussed, but the quality is amazing.
The entire soundbar system includes five full-range speakers, an amplifier, virtual surround technology, and a powered subwoofer.
It features a display to show the volume, current input, or surround-sound mode, which goes off whenever you are not adjusting its settings.
The speaker has a three-dimensional sound featuring the PhaseCue virtual surround sound technology.
Cool right? It also includes the ZVOX AccuVoice feature, which uses the technology of hearing aids to create crisp voice reproduction so literally everyone can hear the sound very clearly.
The SoundBase 570 has a suite of audio inputs, including coaxial, optical, and double sets of stereo RCA inputs, along with its stereo outputs and subwoofer. There is no HDMI port.
Connection-wise, you can connect to the speaker using its inbuilt Bluetooth technology, which gives you the option to use your smartphone wirelessly; it also uses aptX technology to stay connected at up to 40 feet away so being too far from the speaker is not a problem, in this case.
Unlike the other speakers, this one cannot be mounted on the wall, but it is an amazing speaker with more advanced surround technology than we have seen.
It's a steal for this price. That's the main reason to put this product in our best soundbars under 300 $ list.
Below are some of the Pros and Cons of the ZVOX SoundBase 570 that earned it a spot in our list of Best Soundbars Under 300 $.
Pros:-
Robust bass
Clear dialogue and vocals with the voice reproduction technology
Extensive connectivity options, including Bluetooth, which spans as far as 40 feet
Cons:-
Bulkier than most speaker slabs
No HDMI port
Only high-quality AUX cables can be used else. Audio quality will be lower than usual
Check Price on Amazon
Note:-
I have written a post for people looking for the
Best Soundbar Under 150
$ To Buy, do read it If you are interested.
7. Samsung HW-F450 – best soundbars under $300
The Samsung HW-F450 is another great soundbar system. The design is sleek and small, so it can easily be mounted on the wall. It comes with an external subwoofer that delivers excellent bass.
Samsung is a well-known electronics brand, so that should already give this speaker some bonus marks. The setup is as quick and easy as plug-and-play.
The soundbar has an HDMI port that can be used to connect if the TV does not have built-in Bluetooth. It comes with a remote control that can adjust the audio at any time, although it is more convenient to use Bluetooth for control as you can skip songs or adjust the volume from a distance.
It is best to stay as close as possible to the speaker, as it does not span as wide as 40 feet as the Zvox Soundbase 570.
When you make use of HD drivers, it would be a lot easier for the soundbar to produce vibrating beats, which sound you can easily pinpoint regardless of the activity that you are engaged in (movies, audiobooks, or music)
Also, the external subwoofer uses Bluetooth technology, which also takes up a lot of space and power. The Samsung HW-F450 Soundbar is an excellent choice.
Below are some of the Pros and Cons of the Samsung HW-F450 2.1 Channel 280-Watt Soundbar that earned it a spot in our list of Best Soundbars Under 300 $ to get in 2022.
Pros:-
The speaker comes with an external subwoofer.
Can be mounted on the wall with attached mounting brackets
Slim and light design
Cons:-
The Bluetooth device must always remain close to the soundbar to avoid sound disruption.
External subwoofer takes up a lot of space and power.
Check Price on Amazon
8. Bose Solo 5 TV Sound System

The Bose Solo 5 is easily described as a simple device that helps amplify the sound of a TV with an already substandard sound system.
It is very compact and would easily fit into a small room space. It is probably the most compact soundbar on this list.
It is easy to set up as you connect the Bose Solo 5 to your TV using one audio cable, and it's up and running.
It comes with optical, coaxial, or analog inputs and automatically detects when either is used, adjusting itself accordingly for optimal results. As expected, there is no HDMI port on this speaker.
It has in-built Bluetooth connectivity which allows you to seamlessly play music from your smartphone, tablet, or any other Bluetooth-enabled device.
The sound can be controlled using its remote, which is quite handy as it has enough buttons to change the volume levels and adjust other settings.
The soundbar's universal remote is so useful it allows you to control other compatible devices connected to your TV, including gaming consoles and Blu-ray players.
The sound this speaker produces is adequate. Nothing overboard or extra. The smaller the TV, the better the sound. It struggles to optimize the sound if the audio being played is heavily compressed.
Below are some of the Pros and Cons of the Bose Solo 5 TV Sound System that earned it a spot in our list of Best Soundbars Under 300 $.
Pros:-
The speaker is very compact and can be easily mounted on the wall.
The setup is very straightforward, plug and play.
The sound is relatively loud and clear as it serves small spaces better
This speaker comes with a universal remote that controls compatible devices connected to the TV.
Cons:-
No HDMI audio input option
This speaker cannot optimize a low-bit audio stream
Its sound lacks bass
Check Price on Amazon
Best Soundbars under 300 $: What To Consider
The foremost reason why choosing a soundbar as carefully as possible is important is because it is a huge determinant in the quality of sound your TV system will produce.
If you are a music, football, or movie fan, you already know how much different crisp, clear, and undiluted sound makes to your audio source. A TV with great audio could always do with the boost.
Different soundbars come with slight or huge differences between models and brands, so it is advisable to find out all the best soundbars using the list above as a guide and then decide which one has features that suit you best. Be it one that suits your space or your TV size and spec.
This would ultimately help you streamline your options from the pool of soundbars available. This step is very important as it helps you make the right decision in picking the appropriate soundbar.
The next thing is to filter the options you initially set aside. You would have to decide on what features are most important to you in case you do not find the one that checks all your requirement boxes.
So, the checkboxes to look out for in determining the best soundbar for you include the following:
 🎎Brand:-
The brand is the first thing to look out for when choosing a soundbar. Like it or not, many people tend to go for known brand names before anything else when purchasing an electronic device, so this is one to consider.
🎭Connections:-
To connect a DVD, check that the soundbar has at least one digital audio connection and stereo inputs. HDMI input, though not always available, is ideal as well.
This connection will pass the video signal through the soundbar to the TV with just one cable. A Bluetooth connection will also make connecting your phone or tablet easier.
😎Front Display Panel:-
A front display panel is very useful when listening to music without turning on the TV. There are a lot of soundbars that automatically dim the light of the display panel when it is not in use.
🧩Aesthetic Arrangement:-
Can the soundbar be mounted on the wall or not? Consider where you want to place your soundbar. Are you hanging it on a wall or laying it on a table in front of the TV? This highly depends on how much space you have and the current setup of your TV.
🍀Soundbar Control:-
You need to consider how you would control the speaker. Would you need a new remote control, or does it come independently? Programming your TV remote to work with the speaker is a huge plus.
Some soundbars also have a free mobile app to operate your device via your phone or tablet.
📯Subwoofer:-
A subwoofer is always a good idea. A soundbar with an external subwoofer will almost always sound better than one without one.
This takes a lot more space, so if you want some bass and do not have enough room to accommodate the subwoofer, a sound base is an alternative as it includes a built-in subwoofer.
🌳Sound Quality:-
A soundbar speaker can enhance the overall quality when listening to music or watching movies as they make the audio sound lifelike.
The feature that supports this is surround sound technology, which some soundbars feature. It is an advantage as it saves you the cost of buying extra external sound speakers for the 360 degrees surround audio.
🎍Frequency Response:-
The sound's frequency range is another good indicator of how well the audio will sound. The wider the range, the more notes the soundbar can play, producing better-sounding beats.
This feature should not be overlooked as it is a major determinant of how well the audio sources sound.
🎪Built-in EQ:-
A soundbar speaker with an in-built EQ is another great feature, as this makes room for customization of the bass or treble to individual preferences. So if boosted bass beats are more your stead, look out for this feature in sounders to purchase.
🎭Technologies Used:-
This is one of the most important factors as it determines the audio's quality and how good it will sound. When you use Bluetooth, the soundbar uses aptX technology, which enhances the beat to make it sound better.
Also, some soundbars use technologies that make it easier to hear what the characters are saying in movies, which helps people with difficulty hearing.
🧧Dolby Atmos and Channels:-
When shopping for soundbars, you likely see numbers in the speaker's description. Labels like "2.0" are there to show you how many channels the soundbar in question has and whether or not it has a subwoofer.
The first number is the number of drivers, and the number after the period tells you whether there's a subwoofer. Two channels allow room for two drivers on both sides
🎏Soundbases
Having gone through this list and you have doubts about whether a soundbar suits you, it would be better to look into the sound bases instead. A sound base is pretty much the same although it looks way bigger, it has more room for big drivers and built-in amplification.
Conclusion
If you want bass without the hassle of a stand-alone subwoofer, a high-quality sound base is a perfect choice as it is a package deal with a built-in subwoofer.
If you decide on a sound base, the soundbar checkpoints are still valid as you should take note of its measurements to make sure the TV will either fit on the surface of the sound base, or whether the soundbase will slide under the TV instead.