Spelling is a talent that can be honed via practice and formal/informal instruction. Depending on one's cognitive aptitude, linguistic environment, and level of commitment and desire, the vocal component of a target language may be straightforward to learn.
However, learning to spell, read, and write demands more effort and focus from an individual. Spelling is a vital skill for youngsters, yet it may be difficult for many. It is an area of literacy that lends itself well to apps.
Many educational applications increase a student's spelling experience by making spelling practice more entertaining, engaging, and memorable.
Spelling problems are a reality that even some grownups confront regularly. People are perplexed by letters' design, sounds, silent letters, etc. When one faces reading issues, learning the fundamentals of spelling becomes much more difficult.
We have found the best spelling apps to help kids become excellent spellers in no time and some of the greatest spelling apps and games for adults to help them improve their actual writing and reading abilities.
Best Spelling Apps – Our Top Pick👌👌
1. Reading Eggs
Reading Eggs is an entertaining spelling game that teaches children how to spell. The youngsters may select from ten interactive spelling games, reinforcing different literacy skills (proofreading, word endings, plurals, complex words, syllables), and much more.
The App is a multi-award-winning reading software for kids that works on PC, iOS, and Android devices. Based on scientific studies, literacy specialists created the application.
It demonstrates children's better phonics and reading skills through interactive games, guided reading sessions, exciting activities, and over 2,000 digital storybooks.
Reading Eggs spelling applications for children aged 6 to 12 is a fun and motivating approach to teaching them how to spell.
As they go through an enormous variety of challenging words, spelling games, and situations, the Reading Eggs spelling applications will enhance their child's confidence with spelling.
Learn To Read App - How Reading Eggs Works (UK)
It will also extend their vocabulary and build their core literacy skills. The program is free to download, but there are in-app purchases available.
New clients may sign up for a Reading Eggs account and obtain a FREE TRIAL that provides them access to all aspects of the software.
Download the App on Google Play Store
Download the App on Apple App Store
2. Doodle Spell: KS1 and KS2 Primary Spelling
This well-designed software is an excellent tool for helping children practice their spelling skills through entertaining interactive mini-games.
DoodleSpell boosts 5-11 years old spelling confidence with a work program suited to their skills and limitations. ProximaTM, the award-winning technology that drives DoodleMaths and DoodleEnglish, ensures spelling development.
The software will provide a customized spelling program for each child in their class, depending on their abilities and limits. Suppose one wishes to build customized word lists.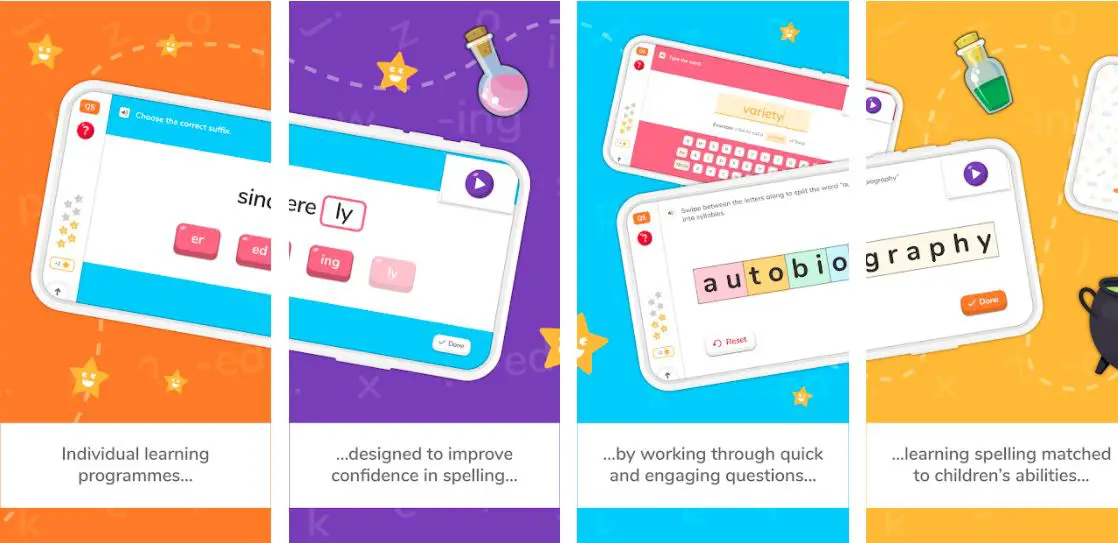 In that case, one may do so through the teacher dashboard. They will show in the App, allowing students to immerse themselves in learning them through various inquiry forms.
DoodleSpell covers all UK English curriculum standards for KS1 and KS2 spelling, from fundamental digraphs to tricky homophones.
To use the Premium edition of DoodleSpell, home users must pay a monthly or annual membership. Unless auto-renew is turned off at least 24 hours before the end of the current payment term, monthly memberships will automatically renew.
Unless one modifies their subscription selections in their iTunes account settings, it will automatically be charged at the same amount for renewal during the 24hr period preceding the end of the current payment month.
When one cancels a membership, their access to Premium features will expire at the end of the current payment month. 
The App is free and accessible on devices such as the iPhone, iPad, and Android via Google Play and the App Store.
Download the App on Google Play Store
Download the App on Apple App Store
3. Phonics Spelling Dictionary
Phonics Spelling Dictionary is more than just a dictionary of words; it also allows users to test their spellings, build separate spelling lists, and assist young children in continuing to learn to read using synthetic phonics.
With the spelling test tool, kids may test their phonics skills and raise the difficulty as they go. When the App is used, the user is given three choices: Dictionary, Spelling Tests, and My Words.
The program organizes words by sound and divides them into colored chunks. It includes colorful graphics and interactive auditory feedback to help the user engage while learning. Overall, this software does an excellent job of assisting young kids in developing their reading skills using synthetic phonics.
Suppose you are looking for a particular word. In that case, you may search the dictionary by phoneme (letter sound) using colorful tabs or use the unique children's speech recognition tool to search for words in the dictionary, even if you are unsure how to spell them.
Biff, Chip and Kipper Phonics Spelling Dictionary tablet
Our spelling test function allows one to put their phonics skills to the test. There are three degrees of difficulty, so one may keep challenging themselves as one learns more.
When one uses the App, they will earn stickers, which will be instantly put in the App's sticker book area. Track your progress and get prizes for your accomplishments! If one collects all of the stickers in the App, they will earn a unique extra sticker.
Download the App on Google Play Store
Download the App on Apple App Store
4. Spelling Shed
Spelling Shed is a fun spelling game for kids aged 5 to 11, providing early spelling practice at various spelling skill levels. A team of primary school teachers created this nicely designed software.
Designed with kids, instructors, and parents in mind to make spelling fun for students while also making it simple for adults to handle.
The software helps students spell terms that are part of the National Curriculum. Spelling Shed used the 'Open Dyslexic' typeface to make their games dyslexic-friendly.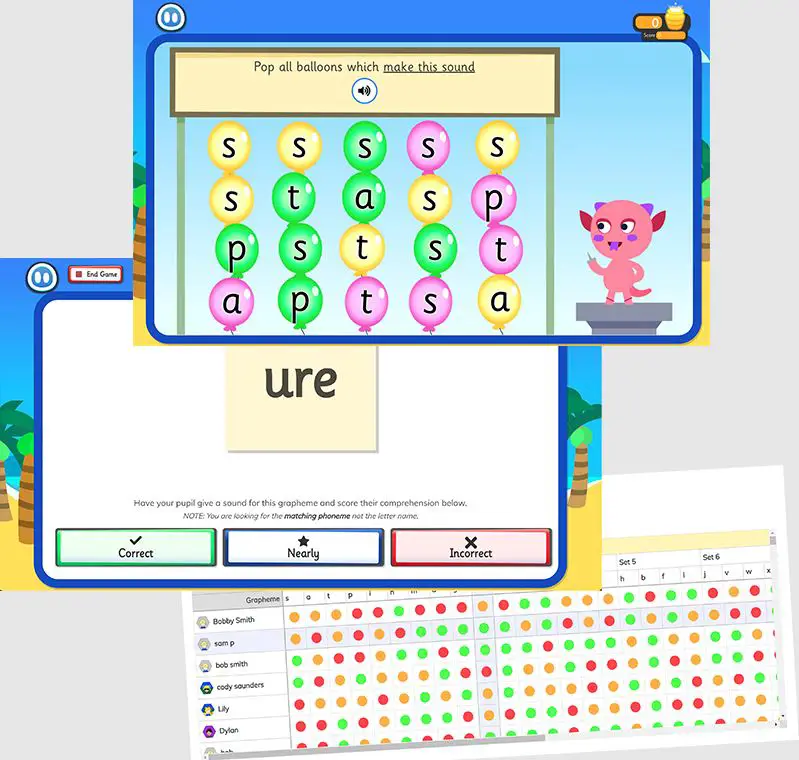 Children can select from three stages or reading levels. They can work on their spelling skills or play the Bee Keeper game. The practice rounds get divided into four tiers.
Children hear the word and see it on the screen at the most basic level. They are then given all the letters and instructed to tap them to spell the word.
The levels become progressively more challenging as the game progresses. In the end, youngsters only hear the word before spelling it. Children will begin to utilize dictionaries and spell more complicated word forms. Individuals do not have access to leaderboards, but schools do.
You can select one of three difficulty levels within each category: easy, medium, or hard. The medium contains just letters that are part of the word; easy has only the most basic letters, while medium contains a few additional letters as decoys. More letters are available with complex characteristics.
Download the App on Google Play Store
Download the App on Apple App Store
5. Scrabble GO – Spelling apps To Learn New Word Game
Scrabble Go, one of the most excellent spelling apps for adults to play with their family and friends, provides a realistic crossword gaming experience. It has long been a fantastic practice tool for adults as a board game.
When done with pen and paper practice and looking for a fun approach to improve one's spelling, this game allows practice spelling while scoring many points.
Scrabble provides recommendations that are similar to the word. Only the words fit in when constructed correctly. This game also provides alternatives such as leagues, different settings, and tournaments so players may become confident spelling experts by completing various tasks.
Furthermore, characteristics such as the longest word made and the best plays give a conscious record of improving spelling ability.
The App gets even more enjoyable with a new snap function, which allows one to send chat emoticons and sentences while playing. The game includes tiles, aboard, and Scrabble word dictionaries, and the experience comes customized with unique tiles.
The App pushes one to put their talents to the test with four new and exciting word games: Duels, Word Drop, Tumbler, and Rush. The App also has a leaderboard to achieve high rankings while competing in tournaments.
The application is free; however, in-app purchases, such as 550 gems pack for $16.99, a 265 gems pack, and a scrabble club for $8.99.
Available on Google Play Store and the App Store, the App is functional on iOS and Android devices.
Download the App on Google Play Store
Download the App on Apple App Store
6. Ultimate English Spelling Quiz – Best spelling apps for middle school
One of the most beneficial free spelling apps for adults is assisting in the understanding of commonly misspelled words. This game is akin to a dictionary of IMP-selected spellings.
It includes distinct everyday language, American vs. British spellings, acronyms, and other characteristics.
Fill-in-the-blanks, 500 odd-one-out questions, and a 2500 English spelling quiz will help one improve their English grammar. This program can improve their vocabulary, phrases, spelling, spoken English, and other skills. Also, one may take fun quizzes with others and compete to get up the leaderboard.
This spelling game app provides a large assortment of over 800 misspelled words that individuals are most likely to type incorrectly. Spelling tests, fill-in-the-blank exercises, and spelling facts help learn how to pronounce the words' usage, origin, and other fascinating information.
As a result, the spelling quiz app is more than simply a learning resource for improving spelling abilities; it also aids vocabulary development.
The program also provides a methodical approach to English self-coaching for competitive examinations, including brain-teasing spelling exercises, crossword puzzles, and multiple-choice questions.
If one is not a good English speaker, daily spelling practice may help them develop skills at a similar level.
Download the App on Google Play Store
7. Advanced English Dictionary & Thesaurus
Haven't we all imagined having a Thesaurus with us at all times? This program comes off as a secret request and does it in a big way!
This software has several user-friendly features that make learning spellings a breeze for adults. It has features like autocomplete, camera search lookup, keyword lookup, and voice search. That way, it allows individuals to learn words in any method they want.
This program provides a fantastic user experience by offering comprehensive learning, clever search options, cross-curriculum terms, and a large word list with notes.
In addition to word meanings, the dictionary demonstrates how one term relates to its synonyms and acronyms. More than 140,000 specific definitions, 2,50,000 connections, and 1.4 million terms are available.
The software teaches the complexities of the English language and includes the Talk and Translate function. Various study and search tools can help one improve their vocabulary and language.
The Advanced English Dictionary and Thesaurus represent the authority of dictionary applications, having been completely rewritten and updated to give the most comprehensive and accurate image of the English language today.
Download the App on Google Play Store
Download the App on Apple App Store
8. Spelling Master – Apps to improve spelling and grammar
Spelling Master is one of the most outstanding free spelling apps for adults since it helps them spell and improves their vocabulary.
It is a visual learning tool that allows one to study using visuals, making it more enjoyable and straightforward. A good option also allows you to listen and learn to pronounce words.
This software is a fantastic blend of fun and education since it is challenging and exciting. The App's many categories are animals, alphabets, colors, birds, etc. Spelling suggestions are always accessible; if one gets stuck, one may use the help symbol.
The App has over 1,000 pre-built spelling lists organized by grade level and expertise. It offers over 10,000 practice words with pre-recorded audios organized by grade and difficulty level.
There are over 200 spelling lists with high-quality photographs and drawings—beautiful photographs aid in strengthening memory and keep children interested. You can quickly access all pre-built premium spelling lists with a single in-app payment.
To keep youngsters interested, the App provides a variety of engaging spelling exercises and games. The App is simple and easy to use; each game could easily be customized for any student.
One can even design spelling lists with photographs, which is terrific for early learners because visuals help them recall the correct spelling of words faster and simpler.
Spelling lists may be created, downloaded, and shared for free. Track your child's development and observe how they are doing with each spelling.
Download the App on Google Play Store
Download the App on Apple App Store
9. Spelling Notebook – Spelling apps free for adults To Learn and Test
Keeping a journal is old-school, but this software offers a modern update. When one sees that they are still lacking in word spelling, one may improve their situation by using this spelling lesson software for children and adults.
The software provides a convenient way to learn how to spell words. It also allows one to gain plenty of experience in spelling skill development by taking numerous exams.
The App is handy for practicing terms that one comes across frequently but does not know the spelling or meaning. You may improve your spelling by retesting the word spelling option.
They are one of the most effective adult spelling applications, allowing one to learn and practice English spellings independently and construct a personalized list of terms to return to later. One can practice and give a retest to ensure they understand the language.
This App's spelling dictionary has 100,000 words, making practicing enjoyable. The program allows one to update word lists, create numerous lists, and rename them; it is simple. You get one star for each accurate word, which motivates you to keep going.
Download the App on Apple App Store
10. Spell Hero Game

– Best spelling apps for middle school
This is one of the best spelling apps to help your youngster remember how to spell specific words. The Spelling Hero app allows children to spell words using different words, pictures, audio, and phonic combinations. Kids will defeat their enemies by accurately spelling words. 
The software teaches youngsters how to spell and teaches them about word definitions, history, and proper pronunciation by using recorded audio files.
It is a step-by-step process that progresses from sounds to single words and sentences. Students make daily strides toward mastering reading and spelling.
Spelling Hero allows children struggling with reading and spelling to catch up faster than any other software of its kind.
It boosts reading confidence and improves spelling. Teachers can utilize the Spelling Hero Game in English classrooms and spelling competitions since it contains challenging words.
Their word lists are constantly updated and comprehensive, making them suitable for most spelling bees, including the National Spelling Bee, the North-South Foundation Spelling Competition, the UIL Spelling Competition, and a variety of school bees, county bees, regional bees, state bees, and hometown spelling competitions.
Since the 1970s, the Spelling Hero word list has included challenging words from Paideia, the Consolidated Word List (CWL), and regional and national bees, with the majority of the more difficult words coming from Scripps' Consolidated Word List (CWL), which includes all of the words' pronunciations, definitions, and etymology!
Download the App on Google Play Store
11. Word Of The Day 
Word of the Day makes it exceedingly easy to learn and recall new words while simultaneously finding explanations of terms one may be unfamiliar with. Helping with the pronunciation of various words makes learning more effective and adaptable because the notifications may customize according to your schedule. 
One may use the word search challenge to put themselves to the test and exchange new terms with others, making learning more enjoyable and engaging.
This software keeps one up to date on new terms, the most popular words, the most commonly used words, and the most commonly misspelled words.
As a result, if one wants to practice spelling and word construction with this multipurpose tool, they may vastly improve their understanding of word spelling.
This software gives access to a massive word bank of 20,000 words and counting. Additionally, features such as video explanations of words, guess the meaning exercise, and many others help improve spelling and vocabulary abilities.
Download the App on Google Play Store
12. Battle Text – Chat Battles
An addicting free word game that will challenge your vocabulary, develop your brain, and boost the speed with which you communicate.
The idea is straightforward. It is one of the most refined spelling apps and free to download and play games, which means hours of free entertainment! One must think of longer words and write them faster than your opponent.
BattleText App - Texting Battle Game - Outsmart Friends & Enemies in this Unique Word Game
It appears to be a basic and straightforward word game when you start, but that does not last long. Every round of this brain game has a different set of rules.
Every word you use must typically begin with the same letter your opponent's previous word concluded with. Certain letters must be utilized or deleted from the keyboard on several levels!
If you cannot think of a term that meets your set parameters, utilize the AutoComplete tool to get some ideas. If one runs out of AutoCompletes, they buy more from the in-app store.
The finest learn-to-spell App for adults is this challenging and engaging puzzle game. The software is addicting and ideal for putting one's vocabulary to the test. This word-building game is entertaining and prepares your brain for crossword puzzle problems.
With over 55+ categories accessible in the App, the program challenges you and your memory as you progress through the stages.
The game is also accessible in various languages, such as Spanish, English, German, Portuguese, French, and Italian. One can use suggestions to help them pass the level and receive daily rewards to stay on top.
Download the App on Google Play Store
Download the App on Apple App Store
✅FAQ
What is the best app to improve your spelling? 
Reading Eggs, Doodle Spell, Spelling Shed, Scrabble GO, Spell Hero Game, etc. are some of the best apps to improve your spelling and offer a wide range of features like interactive spelling games, word endings, complex words, syllables, literacy skill enhancement tools and much more.  
Is there an app to help you learn spelling words? 
Yes, some amazing apps help you learn and improve your spelling skills. You can try out apps like Ultimate English Spelling Quiz, Spelling Shed, Reading Apps, Doodle Spell, etc.  
Why do I struggle with spelling? 
Spelling issues are often caused by one or more processing regions that aren't operating as effectively as they could, should, and can. Visual and auditory systems impact your ability to spell words. 
Why does my child struggle with spelling? 
Dyslexia, ADHD, Dysgraphia, Dyspraxia, hearing loss, English as a second language, etc., are some major spelling problems. 
How can I help my 10-year-old with spelling?

 
These are the tips you can follow to help your 10-year-old improve their spelling.  
Help them focus on improving their speaking and hearing abilities. In general, strong readers and speakers also tend to be good spellers.

 

Experience-based tales. Allow your youngster to write about his favorite subjects.

 

Send letters.

 

Word tracing.

 

Although messy, finger paints are quite useful.

 
How can I improve my spelling problems?

 
Recall the sight words. Common words that can't always be heard out are known as sight words.

 

More book reading.

 

Learn the Regular Suffixes and Prefixes.

 
Keep a record of difficult words.

 

Employ mnemonics.

 

Be Alert to Spelling Errors.

 

Assess Yourself.

 

Every day, improve your spelling abilities.

 
How can adults improve their spelling skills?

 
Understand the regulations. Even if they are inconsistent and there are many exceptions, it is nonetheless beneficial to master certain English spelling rules.

 

Learn the Dolch words.

 

Know what prefixes and suffixes mean.

 
As frequently as you can, read.

 

Analyze patterns.

 

Employ mnemonics.

 

Out loud spell.

 

Look up the history of words.
Conclusion
Several spelling applications and games benefit children and adults, from the iPhone to the iPad and Android tablets, and from preschool to middle school and high school.
These enjoyable and straightforward spelling apps and games assist you in teaching your child spelling terms and building their confidence.
As a result, the above applications are ideal for quickly learning spellings and expanding your vocabulary without attending conventional sessions. These applications are entertaining and make studying dynamic and pleasurable, preventing boredom.