Do you have the curiosity to know about the Best Stapler For Home and Office To Buy? 🤔 You can easily Find out now in this definitive list with our detailed review.
Without any further delay, let's find out. 👓
Staplers are materials used for joining sheets of paper to keep them tidy. The best staplers today are made based on the quality of the stapler, its longevity, how convenient it is, and its appreciation level in mind for an excellent job to be delivered.
This instrument benefits the working environment, our homes, or business centers. There are many designs of staplers out there in case you need them for any documentation.
Business Centre:-
When you want to arrange the documentation of a deal in a business center, and it requires different sizes of paper, there are different designs of staplers that can handle small or large paper, depending on the size and quantity.
For moving around, you carry a mini stapler, while for stapling a large amount of paper at once, you go with a heavy-duty stapler.
Office Building:-
A stapler is a standard instrument for the office individual that can be used for fastening documents, pamphlets, and different publications together.
Because of the different types of work done in the office, there are particular types of staplers used in binding heaps of paper together.
One of them is the desktop stapler, mostly used in the office because of its convenience, weight, and sensibility. These reasons are put into consideration when purchasing an office stapler.
How Does a Stapler Work?
A simple stapler works by applying force on the staple for it to go through a paper and tie them together. A Stapler is used to bind pages of documents together or to take things to a level when the stapler is opened up.
The mechanism of a stapler works by the movement of 8 parts, which are the head and the base; these are the central part of the mechanism. Then there is the magazine where all the staples are held; a hanger connects the head and the base.
The pin behind the stapler is used for loading staples or for opening the staple to tack in some models, a spring that helps reload the stapler by pushing the staples down the magazine and returning the stapler head to the normal position after stapling, and an anvil which is a mechanism that causes the staple to bind the papers together.
The stapler works when the staples piled into the magazine are pushed toward the front by the spring.
When force is applied to the head of the stapler, the magazine goes down to the paper. A metal plate in the stapler's head shoves the staple down the magazine into the inhibited paper piercing the paper till they are pressed against the anvil, which has an imprinted curve that twists the end of the staple to secure the paper.
While for tacking, a button at the base of the stapler is pushed for the magazine to discharge a staple that goes straight into the paper, pierces both the paper and the level surface, and holds them together just like a thumbtack.
Best Stapler For Home and Office – Our Picks👌
1. Swingline Standard Stapler
This stapler was made with high-quality standards and a handy style that makes it easy to use. They usually come in black and can be used for stapling and tacking.
The anvil, which is reversed, can be used to make a temporary staple of excellent assistance and help tidy up your job.
This stapler is built to be jam-free and can hold up to 210 staples. Its spring allows fast and straightforward reloading and can secure up to 15 sheets. This stapler is quality made and can be reliable for a long time, bringing this to our The Best stapler List.
Pros:-
Easy to use, can be used to staple upwards or backward
Lightweight design
Easy access staple chamber
High-quality production and a smooth edge
Cons:-
Can't bend stapler easily, require strength
can't be used on flat surfaces at a 45-degree angle
folding back into its original shape may see one waste a staple
Check Price on Amazon
2. Swingline 74736 – best stapler for upholstery
This stapler has both its top and sides smooth, while it has a rubber base preventing it from slipping around your workstation. It has a perfect weight and size, which are peculiar to the product. It offers safe stapling and a steady staple placement which prevents jamming.
As much as it is stylish and fanciful, so is it operative and functional. You are guaranteed durability with its die-cast metal constructed body.
It can stay for years and can staple 25 sheets at once. It offers steady control, precision, and stability.  It is built tough to prevent the staples from jamming, and its flexibility makes it easy to tack.
Pros:-
Easy to use and also have a longevity period
It is rigid and can handle large capacity
It has a strong staple power
Cons:-
Check Price on Amazon
3. Swingline Stapler 3-in-1 set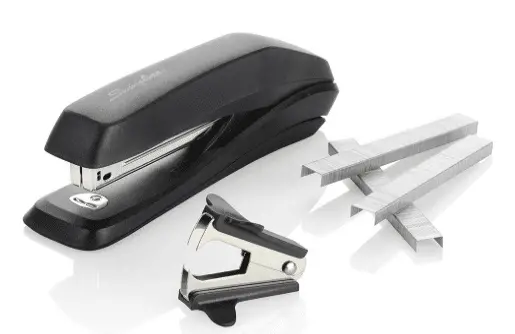 this 3-in-1 stapler is the real deal in the market. The stapler is made to last long and can handle many papers, such as 15-20 pieces of paper at one go.
This stapler is flexible and can be used for tacking operations. There's also a reversible anvil which makes it possible for temporary pin staples to be carried out. It was designed for desktop use only with a stack of 210 staples; its spring loader makes it easy for it to be reloaded by pulling the spring back and filling the staple.
It is preloaded with a staple indicator, a stapler, 5000 pieces of a staple, and a staple remover.
Pros:-
Medium-sized stapler with a rubber base that prevents it from slipping
It comes with special anti-microbial protection to curb the spread of germs
Can secure 15 or more papers together
Cons:-
It does not open up for tacking papers easily
It can only be used on small and medium-sized paper
Check Price on Amazon
4. Ex-25 heavy-duty electric stapler
It's a well-designed stapler that offers its users easy handling and a long-lasting, durable device. This is one of the best commercial staplers out there because of its attributes, such as being heavy-duty, cheap, making less noise, and dependable.
This stapler's efficiency and style make it a reliable machine that doesn't break or jam within a few months of use; It was designed to give an ideal performance that would not experience any jam or breakdown.
This machine is known to take a full row of standard staples when filling the staple, saving time, especially when there's a significant amount of work to staple.
It can bind up to 25 sheets of paper at speed four times faster than your average stapler and has an adjustable stapling depth which can be altered from 0.25" to 1.5" by 1/10" break.
This is an ideal stapler for office use because of its size, which won't take up much office desk space, and its portability; it is secure and easy to handle. Made to be durable and with eco-friendly procedures, this stapler is the right tool for anyone with many papers to staple.
Pros:-
It is a powerful, well-designed stapler that is easy to handle and can bind up to 25 sheets of paper.
It has a large capacity staple system that can hold a full row of the staple, which prevents steady refill.
It comes with an adjustable depth making it easy to staple large volumes at the right spot.
This product offers a lifetime warranty.
There are options of it to be plugged in for use or for it to be powered by batteries.
Cons:-
It's a heavy-duty machine making it liable to be knocked over very easily
It's not a quiet machine as against its advertisements
It's quite expensive considering that there are other good options at half the price
Check Price on Amazon
Note:-
I have written a post for people looking for the
Best electric planer
For You To Buy, do read it If you are interested.
5. Rapid HD220 heavy-duty stapler – Best heavy duty stapler
Rapid HD220 heavy-duty stapler, known as the big mama of all staplers, is a bold, heavy-duty stapler designed for large capacity; this machine can secure up to 220 sheets in one swift move.
The stapler is designed in such a way that it can be adjustable at the throat with a throat depth of 1.8" to 2.5" to accommodate the different stapling sizes of ¼", 3/8", ½", 5/8", ¾", and 15/16".
The design of this stapler includes an easy front loading, an indicator for the low staple, a good lever system for stapling, a broad base, a precise anvil for an improved stapling experience of all numbers of sheets, adjustable metal; guide, and strong metal construction.
The plastic parts of this heavy-duty mechanism are made using a high percentage of recyclable material.
Pros:-
It is massive and powerful and can serve a large capacity of work
There are markings on the body that indicate the appropriate stapling size and number of pages.
There's a compartment for measuring the size of the staples already done
It has a full metal base which keeps our documents stable for stapling
There is a low staple indicator
Cons:-
It takes up a lot of space on the office desk due to its size
It is usually confusing how to load it at first but it won't be a problem once it's figured out.
The measurement compartment is in mm instead of Inches. It would be of great help if it were calibrated in both
Check Price on Amazon
6. 

Onotio Heavy Duty 100 Sheet High Capacity Office Desk Stapler
This is a heavy-duty stapler with the ability to staple a large number of sheets. With its ability to staple 100 sheets at a go, your documents can be fastened without using any special equipment.
This design is a piece of heavy-duty equipment with a weight of approximately two pounds and width measurement of 11*3.*3".
This is a strong stapler that is made of pure metal materials. It has a front-end jam-clearing mechanism for clearing the jammed papers. It is easy to use and is reloaded using an SF 13 staple wire. To maximize the use of this equipment, you need to have full control over the machine.
Pros:-
This model has a durable body construction made of metal
There is an option of a front-end clearing mechanism
It can take up to 100 sheets which can be safely fastened to the stapler
This is precise equipment for heavy-duty work
Cons:-
You're not guaranteed accurate stapling operations.
It occupies a lot of space and has weight
Check Price on Amazon
7. Swingline Stapler Optima 40 compact – best automatic stapler
This is another model of product from the Swingline staple line with which you can fasten 40 sheets of paper. This heavy stapler measures 5.1 * 1.6 * 3.2" with a weight of 1.6 ounces.
The stapler contains a half clip of staple pins due to its size and includes a top-loading mechanism.
The body of this stapler is made of strong metal, which makes it very strong. This stapling device uses a low force mechanism; therefore, when stapling, press twice to ensure that the stapling pin hooked all the attachments properly. This stapler is easily carried about because of its size and weight.
Pros:-
This stapler is strong and lightweight
Can staple up to 40 sheets at a go
It is easy to use and easy to reload because of its mechanism
It has a rugged body and does not jam paperwork
Cons:-
Due to its mechanism pressure, some of the papers may not be attached
It makes use of only half a clip or staple wire
Check Price on Amazon
8. Swingline High Capacity desk stapler
This is a high-capacity model from Swingline stapler with a stapling capacity of 60 sheets of paper at once. This stapler comes with a pack of 500 optima top capacity staples.
It has the right staple wire to use when it comes to the demands of substantial capacity work. This is a slightly bulky stapler with a measurement of 2.2 * 9.4 * 3.1"; it also weighs 1 pound, making it weighty.
Since this stapler uses reduced effort, there is no need to struggle to get those papers stapled, but you'll need to put in the effort to staple thick paper leaves together. This stapler is easy to use and refill.
Pros:-
This stapler uses minimal effort to staple documents easily
This stapling machine is easy to use and reload
This machine is reliable when it comes to securing papers
Cons:-
This is a heavy stapling equipment
The device has weight and uses its stapling wire
Check Price on Amazon
9. Swingline Commercial desk stapler
This stapler model was designed and given a different style from other Swingline products. It was built with the capacity for stapling 20 sheets together, which is suitable for office use or any place else.
This stapler was created to offer an extended service period because of the material it was made of and a specialized inner rail that aids a jam-free accurate stapling service. This stapler was created for use on the desktop only.
The low staple indicator helps us to know when it's time for a refill. The commercial desk stapler is also used for tacking papers on billboards and flat surfaces.
This can be made possible by pressing a release button at the base of the stapler. It can be used for temporary pinning by returning the anvil by pushing and turning the turntable knob at the bottom and push. There is a lifetime warranty on this product.
Pros:-
This machine offers excellent value for the money it was purchased
It has an inner rail that aids jam resistance and the long-term stapling virtue.
Such a tool as this is very strong and versatile
Cons:-
Check Price on Amazon
10. Bostitch Ergonomic desktop stapler
Are you searching for a great, important, and reliable stapler for your work? Your search is now over. Introducing the Bostitch Ergonomic desktop stapler is made of the utmost quality available.
It is designed to offer comfort while in use and be efficient. This stapling machine has two effects: the standard stapling or the temporary stapling, and they can be used by adjusting the clamp accordingly.
It was under the base, a rubber bottom which keeps it from sliding around easily; its sturdy design makes it long-lasting and can perform continuously without any chance of complaint.
It can be used for premium standard stapling and tacking papers to boards or vertical-level surfaces. It is best recommended for the onerous duty task, and there has been little or no complaint about paper jamming.
Pros:-
It's comfortable to use, and you can staple it effortlessly
There is provision for a rubber base to avoid it failing or slipping off easily
Its design enables the stapler to develop any issue and last longer
There is a rare chance of paper jamming
Cons:-
Check Price on Amazon
11. B

ostitch Office B210R-PINK Bostitch Ascend 3 in 1 Stapler
This is a specially designed tool to help one get more work done. The Ascend stapler was carefully designed to be lightweight to aid continuous use and can fit restfully in the hand so one can get tired of holding the stapler.
Efficiently designed to offer exceptional performance, this stapler has a whimsical look and an incredible finish.
This fancy-looking stapler is coated with antimicrobial protection to rescind bacteria. There is a staple remover behind the stapler, which lets one quickly and easily remove the staple.
A hidden staple storage compartment under the stapler holds extra staples. Its comfortable design makes it lightweight, enabling a smooth stapling experience without giving you a sore hand.
Its staples are premium standard and can hold up to 20 sheets. It can open up to 180 degrees, allowing tacking paper to smooth surfaces.
This stapler can be used for simple craftwork or serious office work; it serves diligently.  It has different types of colors to choose from if you're not comfortable with pink.
Pros:-
This piece of art is known not to jam. Make your working experience smooth
It is reliable and fancifully designed
This machine is easily used and can take up a large amount of work, up to 20 sheets of paper.
The stapler has an antimicrobial coating, a staple remover, and a staple storage compartment.
Check Price on Amazon
12. 

PaperPro inPOWER+28 Executive Stapler – 3 in 1 Stapler
it's made to look interestingly stylish and has decent quality; the PaperPro power is widely regarded because of its advantage and style.
The stapler comes with a one-stapling finger technology innovation that allows one to staple as many as 28 sheets with one finger.
The PaperPro inPOWER stapler is an interesting stapler that is easy to use; it comes in a robust and long-lasting die-cast metal body designed not to slip and a base to balance the stapler.
The body build of this stapler makes it easy to hold and press with an awkward feeling. There is a rubber piece on the back and top to make it easier to use. This machine uses a full clip of staple wire and can open up very well for tacking.
Pros:-
This is a much easier model of stapler than any other model because of its one-finger technology
No matter how long it takes to use, there'll be no discomfort or feeling of awkwardness
There is staple storage and an inbuilt remover found at the back of the machine.
Check Price on Amazon
13. PaperPro Desktop Ecostapler
This is another model of the PaperPro brand that can get up to 20 sheets stapled by pressing one finger. It has a lightweight design and is very easy to use.
This Ecostapler model works with one-finger technology and produces a jam-free result. There is a staple remover that fixes the stuck staple in the machine. One or two extra staple strips can be stored in the storage compartment.
It opens up easily to handle the tacking of papers on our bulletins. This stapler is not heavy; it allows for long-term use without stress.
Pros:-
Can staple without much effort using the none finger technology innovation
This stapler offers a jam-free operation, rarely before it jams
The stapler is lightweight and has a user-friendly design for its user's comfort
It staples up to 20 sheets in one finger motion and has a built-in staple remover and a hidden storage compartment.
Check Price on Amazon
14. Rapesco heavy-duty stapler and staples 923/10 mm
This is a heavy-duty stapling machine that was made out of a high level of recycled plastic material. With a 100 sheets per staple capacity, this machine makes demanding stapling jobs easy and without much effort.
This stapler has a paper guide locking system to keep your sheets in place while the device works; the handle is also made of rubber for a secure grip and comfort.
This stapling set comprises the HD-100 stapler and two boxes of 1000 * 923/10 mm staples.
The stapler has a rugged all-metal chassis with an ABS top cap and a flat base to accommodate our job. The staples use a 923/6-13mm, 24/8mm, and a 24/6mm st to deliver a standard stapling job.
Below are some of the Pros and Cons of The Rapesco heavy-duty stapler that earned it a spot on our best stapler list.
Pros:-
The stapler comes with a unique paper guide lock system
It has a secure top loading
There is also a staple-type chart on the machine's base, which states the necessary staple type for the number of papers it binds.
Check Price on Amazon
Buyers guide:-
Considering the task you want to undertake before getting a befitting stapler is critical because all staplers are not built for the same purpose.
When thinking of the type of stapler to purchase, consider components like the thickness of the job, the volume, and the paper style.  There are two types of staplers: electric/manual and heavy-duty.
Electric/Manual
The electric staplers are not complicated to use and can deal with a large quantity of work.  The good news is the electric staplers come in smaller sizes for individual use, which is a great thing and a space saver.
Manual staplers these days are designed to be comfortable to hold while working, thus making them easy to use for the individual. They are made to be lightweight and versatile. With how they are produced recently, they could serve anyone who moves around with their office work.
Heavy Duty
Heavy-duty staplers can come in manual and electric forms; the only difference is the speed to deliver a job. The electrical, heavy-duty stapler is much faster, but they possess the same binding force. The heavy-duty stapler is best used for tying a high volume of paper.
What To Consider
The design and durability where the stapler should be well-designed and strong enough to last long if it's going to be used daily. It should also be able to withstand pressure and an accidental fall. It should also be ergonomic for easier handling and usage.
The right staples should also be considered. That's why companies specify the right kind of staples to use, except companies that make staples for all sorts of machines. If you use the wrong staple, this may cause your stapler to jam frequently or considerably.
📗FAQ
What is the best brand of staplers?
The best stapler brands are Bostitch Office Heavy Duty 40-Sheet Stapler, EcoElectronix EX-25 Automatic Stapler, Plus PAPER CLINCH, Swingline 747 Business Stapler, Swingline Tot Mini Stapler, Rapesco ECO 790 Long-Arm Stapler, etc.
Which staple is the best?
If you are looking for the best staple gun, pick anything from Dewalt DWHTTR350 Heavy Duty Aluminum Stapler, BOSTITCH T6-8 Staple Gun, Stanley TR110 Heavy Duty Steel Stapler, Stanley TR45K Light Duty Staple Gun, Rapid 20511550 R34 Stapling Gun, Arrow Fastener T50 Heavy Duty Staple Gun, etc.
Which is the best heavy-duty electric stapler?
The list of best staplers is EcoElectronix EX-25 Automatic Heavy Duty Electric Stapler, Bostitch Impulse 30 Electric Stapler, Rapid 5080e Professional Electric Stapler, AFMAT Desktop Electric Stapler, CNASA Heavy Duty Electric Stapler, etc.
Is Swingline a good stapler?
Swingline is considered as of the top stapler brands in the market. It offers a 100% performance guarantee and a limited lifetime warranty.
Is an electric staple gun worth it?
They are excellent in terms of preciseness and efficiency. They are way more efficient compared to several counterparts. Opt for an electric staple gun if you are working on a large-scale project requiring speed and quality.
best staple free stapler
A stapler without staples, also known as a "paper clinch" or "clipless stapler," binds pages together by creating a small fold in their corners.
Top staple-free staplers include Kokuyo Harinacs Press Staple-free Stapler, Plus Paper Clinch Compact Staple-Free Stapler, and PraxxisPro Premium 26/6 Jam-Free Staple-Free Stapler. Kokuyo Harinacs is popular for its compact size and user-friendliness.
Plus Paper Clinch can bind up to five pages and has a sturdy, ergonomic design. PraxxisPro Premium utilizes a special clip, eliminating the need for staples, and is a modern, eco-friendly option.
the best stapler for bulletin boards
When choosing a stapler for bulletin boards, consider factors such as board thickness, staple size, and materials. Here are some recommended staplers:
Heavy-Duty Stapler:- A long-reach, the heavy-duty stapler is suitable for thicker bulletin boards. Bostitch Impulse 45 Sheet Electric Stapler is a reliable option capable of stapling up to 45 sheets at once.
Tacking Stapler:- For stapling without damaging bulletin board items, a tacking stapler is ideal. Swingline Light Duty Tacker Stapler is lightweight and handheld, useful for tacking up papers and posters.
Flat-Clinch Stapler:– Max Flat-Clinch Stapler staples up to 30 sheets at once, with staples that lie flat against the bulletin board, making them less noticeable.
Mini Stapler:– Compact and convenient for storage and transportation, a mini stapler is a great option. Bostitch Mini Stapler can staple up to 10 sheets.
the best stapler for teachers
When it comes to teachers' staplers, durability, ease of use, and the ability to staple multiple pages are essential. Here are some recommended options:
Electric Stapler:- An electric stapler saves time and effort, especially when dealing with numerous papers. Swingline Electric Stapler staples up to 20 sheets at once.
Long Reach Stapler:- Bostitch Long Reach Stapler is perfect for larger documents such as booklets or packets. It can staple up to 20 pages of paper and has an adjustable paper stop for precise stapling.
Mini Stapler:- Portable and compact, a mini stapler is ideal for teachers on the move. Bostitch Mini Stapler can staple up to 10 pages of paper and can fit into a pocket or purse.
Heavy-Duty Stapler:- For larger stacks of paper, a heavy-duty stapler is necessary. Swingline Heavy-Duty Stapler can staple up to 160 sheets of paper and has an adjustable paper guide for accurate stapling.
Conclusion on a best staple-free stapler
When picking a stapler, it is vital to know precisely why they're needed. This would save you money, stress, and time. Make sure to spend money on a long-lasting piece that can cover most of your stapling needs.