Imagine you're watching a show on television or a movie in a movie theatre, but you're unable to understand what's happening.
Maybe it's because the audio is moving too fast for you to comprehend it, you do not understand the language in which the sound is, or maybe you have a hearing disability – it can be any of these things.
Of course, subtitles are the most helpful aids in situations like these. Not only do subtitles help you understand what's happening in a show or movie, but they are also extremely useful tools for learning a new language.
People say that the best way to learn a language is by diving right into it, and what better way to do that than to watch movies in that language with subtitles?
It is quite annoying when you watch movies online and there are no subtitles available. Even watching motion pictures in theatres can sometimes be quite frustrating without subtitles. What if we told you that this could be made a lot easier by the simple use of subtitle apps?
There are tonnes of apps that one can use to add subtitles to videos. Many of these apps even have subtitles already available for movies or TV series you'd like to watch; thus, you only need to sign on to the app and allow it to work its magic for you.
Best Subtitle Apps For Android and iOS 👌👌
Here are some of the best subtitle apps available for download on your device's applications markets, i.e., the Google Play Store and iTunes App Store.
Read on to find this list, which lists all the features of these apps, which will hopefully help you decide if you'd like to use them.
Although there are many apps for subtitles, we must note that most of them are exclusive to either the iOS market or the Android market, i.e., the Play Store or App Store, respectively. We have listed some of the best subtitle apps for both online app stores.
Subtitle Apps for iOS:-
We will first look at apps we can use for subtitles on iOS devices. These are the best subtitles apps available on the iTunes App Store, so stay put!
1. Subtitles Viewer!
Subtitles Viewer is an app designed to view subtitles synchronized with any video you watch and whenever!
Whether at home, out at a movie theatre, or with some friends, this app helps you find the subtitles for whatever you wish to watch. This app is available primarily for iOS. 
Here are some of the features of the Subtitles Viewer app:-
This subtitles app synchronizes directly with what you are watching as you are viewing it. It provides subtitles for a film or shows that you are watching simultaneously.

The app uses an online database of subtitles, that is,

opensubtitles.org

,

to provide its users with the subtitles they wish to see. On this website, people upload subtitles as volunteers.

You can download up to three sets of subtitles for free on the app, after which in-app purchases are available.
Subtitles on the app are available in over 20 languages, including English, Spanish, French, Dutch, Russian, Thai, Bengali, Hindi, and many more.

In-app purchases include $6.99 for unlimited subtitle downloads, $4.99 for subtitle uploads, and varying prices for different numbers of credits.
2. MixCaptions: Video Subtitles
MixCaptions is a subtitle app that primarily focuses on helping users create subtitles for the videos they'd like to post on their social media.
Today, we find a new world of social media influencers who even have global audiences, all of whom may not understand the same language as the influencer uses.
The MixCaptions app aims to help people on forums like Instagram make their videos and content more accessible.
The app developers say that it's a "must" to have this app if you aim to reach out to people worldwide because videos are becoming the most popular form of sharing nowadays. Developed by Mixcord Inc., it is a fantastic app for adding subtitles.
Here are some features of MixCaptions:-
The app can detect speech-to-text and make them into subtitles. Of course, these must be edited a little by you for precision, but the speech recognition feature enhances the app experience.

Supports 20+ languages, including Finnish, French, German, English, Hebrew, Croatian, and many others.

You can customize your subtitles to the fullest, meaning you can choose different fonts, background colors, and font colors to suit your choices.
MixCaptions supports all major video ratios used on popular social media sites, including the 16:9 ratio, which is excellent for IGTV, Instagram/Facebook/Snapchat stories, and Twitter.
The app also offers an annual in-app purchase service. Depending on which subscription plan you select, you may unlock several other features, including the feature to watermark subtitles and several others.
3. SubReader
This app is the best subtitle app for you if you are watching a show or a movie that is in a language different from the one which is your native language.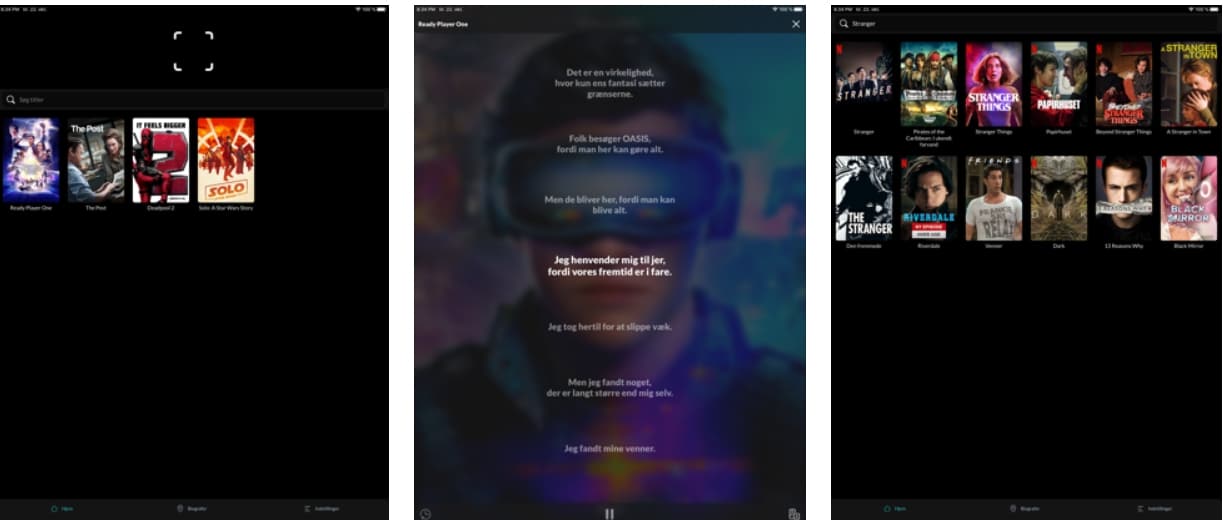 Sometimes, we may have trouble catching up with what's happening in a video in a different language, even when there are subtitles. Well, SubReader is the app that completely solves this problem.
SubReader not only provides you subtitles for shows but also has a read-aloud feature that differentiates it from most other apps.
This way, you can listen to the audio part of a video in your language without mixing up because you cannot read and understand the subtitles fast enough.
Here are the features of SubReader, the subtitle-reading-aloud app:-
As mentioned before, the primary function of this app is differentiating between SubReader and other subtitle apps – it reads subtitles out loud for a better understanding of the shows and movies you wish to watch.

The app uses artificial intelligence to read out subtitles. The AI voice on the app is super smooth and human-like due to fantastic tech on the part of SubReader's developers.

To use SubReader in itself is entirely free. You can take it with you to the movies or use it when you're watching one at home or when you go to a friend's place for a movie night.

SubReader Plus, the paid version of the app, has developed subtitles for shows you can watch on popular streaming websites such as Netflix, HBO Nordic, and Viaplay. 
The payment for SubReader Plus goes through your iTunes account. Although the SubReader app is entirely free to download, the payment through iTunes for Plus goes via in-app purchases.
Click here to download SubReader for your iOS device so you can enjoy read-aloud subtitles with your movies as fast as NOW!
4. Veme.ly
Veme.ly is an app that helps you create social videos in your own words. All you have to do on this app is "select, customize, export, and save" to create a fantastic social video.
Subtitling your videos on this app comes as part of the customizing.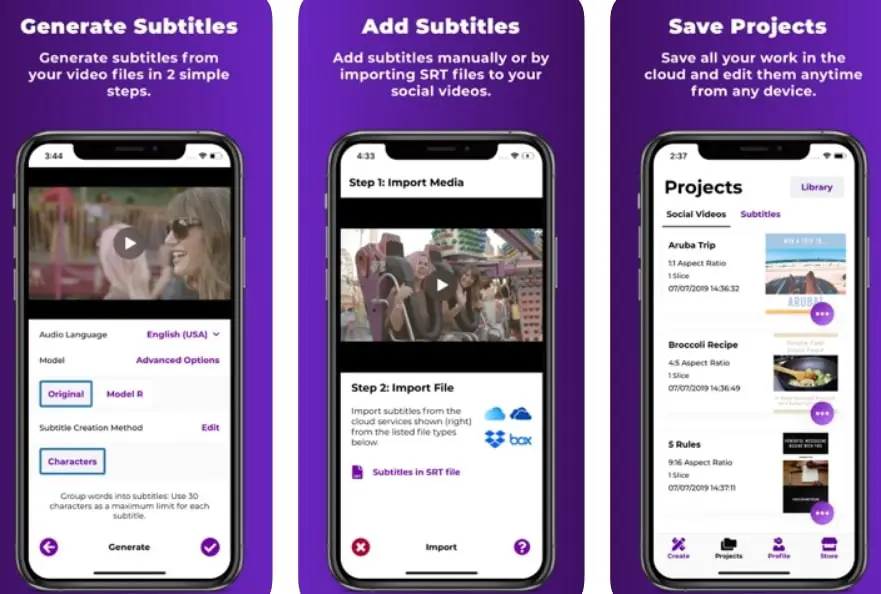 This app provides you with all the apparatus you need to add subtitles to a video and create that perfect video to which you will add those subtitles.
Here are some of the features of Veme.ly for you:-
You can import videos to this app from either your camera roll on your device or even from clouds where you have media files saved or third-party apps. Aside from this, you can also record your video directly through Veme.ly.

You can select one of the various crop ratios for your video, making it a truly social video that is the right 'fit' for any social media channel.

There are 100+ fonts for text in the video, and also many, many other customizations available to make to your videos.

You can watermark your videos using this app.

You can export subtitles you create for the videos in ST or WebVTT format to your device or directly to cloud services.

There is also a paid version of the app, which provides a lot more customizable features for subtitles, such as:

You can generate captions from the video for up to 15 minutes.

You can import captions in SRT or WebVTT mode to edit them generally or in the video.
Click here to download Veme.ly for your iOS device.
Subtitle Apps for Android
Now that we are done with the apps for iOS let's look at some of the best apps for subtitles on the Google Play Store. You'll find some quirky apps here that are quite useful, so read on, Android users.
1. Subcake
Subcake is a quirky app that allows you to add subtitles to any video you choose. It offers a variety of delightful features to facilitate the process of adding subtitles to your videos and make the process a lot more appealing and accessible.
This app, Subcake, is slightly different from the other apps. This is because most other apps focus on providing user subtitles for various films and TV series. Subcake, however, allows you to add captions to your videos.
Here are a few features of Subcake:-
You can add and edit subtitles to videos in real time, meaning that you can edit your subtitles in the video as and when it continues to play. This makes it much easier to edit them rather than static editors.

You can either create your own subtitles from scratch or load previously used subtitle files – the choice is yours.

The app supports various subtitle files, including SST (the YouTube subtitle or closed subtitle format), ASS (which is directly playable by most players), SSA, and translated text files.

You can save the video file with the subtitles embedded, and you can also save the subtitles separately if you wish so.

This app makes it very easy to time the video's subtitles. The app also has a feature with which you can timestamp subtitles.

The app's interface is friendly, inviting, and comfortable to use.
Click here to download Subcake for your Android device.
2. SubDown: Best app for downloading subtitles
With the SubDown App, we are back to the subtitle apps that focus on providing its users with the facility to avail subtitles for films and TV series that do not have subtitles. The app's name, SubDown, is shortened from Subtitle Downloader.
Here are some of the features of this app for subtitles:-
SubDown app offers downloading subtitles for various videos, including television series, movies, and anime. Anime is where most of us non-Japanese speakers require subtitles the most in "subbed" videos, and SubDown is the place to get your subtitles for the same.

The app also allows you to upload videos that don't have subtitles to get subtitles put on them.

You can find subtitles for whichever video you want using the search bar option.

This app provides you a description and the like of any show, movie, or anime you wish to download when you download the subtitles of the same.

SubDown allows you to download various subtitles as a zip file, so it's easier to download multiple files simultaneously.
Click here to download SubDown for all your subtitle needs on your Android device.
3. Subbr Free: Subtitle Editor
Sometimes you may find that a video you are watching has subtitles, but they are not always synchronized.
This may be quite annoying for perfectionists, and even in general – when subtitles don't match the video! Subbr is a helpful app when it comes to fixing the same.
Subbr is a free app that is fantastic for your subtitle needs and necessities. Using this app, you can edit and convert movie subtitles free!
This is not to say that Subbr, developed by Lukasz Majda, also has a paid version app called Subbr Pro, which you can pay for and download if you like Subbr Free enough.
Here are some of the features of Subbr Free:-
The app supports the reading and writing several subtitle formats, including SubViewer 1.0 & 2.0, SubRip, TMPlayer, MPL, and MicroDVD.

There is a built-in file manager on the app so you need not always scroll back to your phone file manager to figure out which subs you have and don't.

Using a single click, the app can detect and correct errors in movie subtitles, which is an extremely useful feature for people who just cannot do with the wrong subtitles. It fixes the synchronization problem that many movies may face with their subtitles.

You can customize the subtitles, meaning you can change the font and colors of your subtitle text to your liking.

You can edit subtitle text using HTML.

The reading frames can be saved in various video file formats, such as MP4, AVI, or MKV.
If you like the features of Subbr Free, you can get the Subbr Pro app for $2.94 to give you the app's full functionality without any ads.
Click here to download Subbr Free for your Android device and here to download Subbr Pro.
4. FoxSub
Here's another great Android app to create subtitles for your videos. This app takes us away from the kinds of subtitle apps we have been looking at to the kind where we can create subtitles for our videos.
Best android app, Foxsub: How to hardcode subtitle to your video in android, full process.
Imagine that you make a video you'd like to share on social media, but the voice in the video may not be all that clear.
It could even be that part of the audience you want to reach out to on social media does not speak the same language as you.
In these cases, your best option is to use subtitles in the videos so that the audio is much clearer and the person watching the video can enjoy it.
The FoxSub app has several enjoyable features, including the following:-
The app is extremely flexible in the files that it supports. We mean that it supports all video and audio formats.

You can upload SubStationAlpha, SRT, and VTT files to edit them, or you can even create these types of files from scratch.

You can use several different fonts for subtitles on the app, which you can download easily from the Google Play Store without a problem and for free.

The app can attract wav files from videos and draw waveforms quickly. You may drag on waveforms to create regions.

Subtitle regions:

You can easily slide created timing regions and change its width by dragging the handles on either side.

Regions change color when the subtitle is either less than 1 second or more than 5 seconds.

Regions are also easily deletable.

Your saved projects go straight to your download folder on your phone. While the video file is saving, you can minimize the app, and it will notify you when it's done saving, rather than having to waste time on the app waiting for it to save.
Click here to download FoxSub for your Android device.
Get Netflix subtitles on all your devices.
Netflix's subtitles are significantly more accurate than YouTube's Al-generated efforts, and you can enable them on downloads and on-demand streams by clicking or tapping the subtitles icon.
You may also see language and audio-description options depending on the film or show.
To customize the subtitles to suit your preferences, go to www.netflix.com/your account, click your profile if applicable, then click Change next to 'Subtitle appearance'. 
Click the Font and Shadow drop-down menus to see previews. The 'Window' option lets you add a box behind the text for easier reading. Netflix will remember your preference for next time, whatever device you're watching on.
If you're happy to watch in your browser, you can use an extension for further customization. Netflix Subtitle Options (Download Here) automatically integrates with Netflix as soon as you install it, then lets you configure the text size, color, style and
Watch classic TV with subtitles via BritBox.
When BritBox launched in the UK last winter, barely any of its shows came with optional subtitles. We found this maddening, given that BritBox specializes in vintage British TV shows that often have low-quality audio. 
But the streaming service has caught up, and you'll now see a CC icon on nearly every film or show, which lets you toggle captions on and off. BritBox remembers your preference next time.
TV also offers subtitles for most shows and films, but you have to enable them every time you watch. Disney+ and Apple TV+ have both offered subtitles since their launch.
Amazon tends to rely on filmmakers to provide captions rather than creating them in-house, so many films don't have them. 
To check before playing, hover over a film's thumbnail and look for the speech-bubble icon (or, in the mobile app, tap the thumbnail and look for "Languages: Audio, Subtitles'). 
You can then enable and disable subtitles during playback by hitting Pause, clicking the subtitles icon, and choosing "English CC' (or your preferred language, if available). Customization options are available under Subtitles Settings.
The steps differ slightly on smart TVs and TV sticks, where you may have to enable subtitles or closed-captioning in the device Settings before looking for the speech-bubble icon in the Amazon app. Unlike Netflix, Amazon doesn't sync your preferences across devices.
Skype's mobile app (www.skype.com/get-skype) can now display Al- generated subtitles while you're in a video or audio call. 
Tap the three-dot menu and select 'Turn subtitles on during a call or, to keep them on by default, go to Settings, Calling. "Call subtitles', 'Show subtitles for all calls'. Tap 'Only show subtitles for other participants' to avoid seeing your own words spelled out.
Google Meet (meet.google.com) also provides real-time captioning and transcription in your browser, phone, and tablet. 
Zoom (zoom.us/ download) is a few steps ahead and has just added the option to keep a sign-language interpreter's window in view for all participants, a feature that Google Meet users have requested.
Zoom lets you enable live subtitles in its desktop and mobile app, and saves a downloadable transcript. The PC version also lets you (and other participants) add your own subtitles and use Al-generated captions. 
Frequently Asked Questions
What is the best app for adding subtitles? 
Subtitles Viewer, MixCaptions, SubReader, SubDown, Subcake, etc., are among the best apps you can use to effortlessly add subtitles to your videos using a wide range of stylish fonts in multiple languages.  
How can I add subtitles to the video? 
You can use apps like FoxSub, Subcake, SubReader, MixCaptions, SubReader, etc., to effortlessly add subtitles to your videos thanks to a massive range of provided fonts, styles, tools etc.
How can I watch a movie with subtitles on Android? 
You can use apps like MX Player, VLC for Mobile, Netflix, Amazon Prime, Disney+ Hotstar, etc., to enjoy watching movies with subtitles on your Android device. 
What is the need for subtitles?
There may have been a time when you started watching a movie in your language and realized that the audio is too fast for you to understand. Or, there may have been a time when you wanted to watch a movie, but it was in another language.
This is where subtitles come in – to enable you to consume content in different languages or more comfortably in your original language. Aside from this, they are also helpful for people who have hearing disabilities and cannot hear dialogues – here, and textual subtitles come of great use.
Where can I get subtitles for the movies I want to watch?
A2. Sometimes, you may find that a movie does not have subtitles, but you want them. In this case, you can go through the list we have provided above to see the best subtitle apps for Android and iOS users.
You can get movie captions from Subtitles Viewer! and SubReader on iOS and from Subbr and SubDown on Android.
How can I put subtitles for my videos?
A3. Subtitle apps are such that many are suitable for accessing subtitles for movies and television shows, and some are good for uploading subtitles to your videos.
The apps you can create your subtitles in the list above are MixCaptions and Veme.ly for iOS and Subcake and FoxSub for Android.
In Conclusion.
In conclusion, there are quite a few apps that you can use if you are looking for subtitles. This applies to whether you wish to add subtitles to your videos or find subtitles to various movies and TV shows.
These are all mentioned above and have great features for you to check out and use.
Hopefully, this list has been of some help to you to direct you to the best subtitle app for you, whether the same is available for you on iOS or Android. Both operating systems have apps that are equally suited to each of them, all with some fantastic features.
With these apps, you will not face any more trouble when trying to adjust to life without subtitles because all these options are now available to you!