If you've ever been involved in the world of bars and flats for a while, you may have already observed the growing infusion of technology in it.
With the ever-evolving trends in smart tools and gadgets, nearly every aspect of our life has changed, and the music industry is no exception.
Moreover, while the old-school manual approach is still perpetual, the technologically advanced mode of producing, composing, and reading music will only help you make the most out of your creative nerves, which is something every dedicated musician aims for.
Keeping that in mind, it's certainly a blessing to have all your recordings and musical notes at your fingertips and be able to access them as per your preferences anytime, anywhere. A tablet allows you to connect with musicians across the globe.
Whether you're just getting started or leveling up your skills, a tablet is an indispensable part of every musician out there. With uttermost love for music and a snort of talent, who knows, these devices might become your way to the big break.
The market is filled with many options, making it quite daunting to choose a tablet that complements your requirements.
To help you make an informed purchase decision, we've compared several top tablet brands with ranging features and specifications.
How To Choose the Best Tablet for Musicians? 
1. Durability
While purchasing a tablet, you must ensure that you're putting your money on something that lasts, regardless of whether you're on a budget. Consider looking for devices that use high-quality components and sturdy frames.
If you try saving pennies in return for cheap and flimsy materials, you'll likely spend more on repair and maintenance costs. Therefore, make sure you choose a device with good durability to make the most out of it.
2. Storage
The storage specifications of your device can completely make or break your purchase. It's as important to musicians as to any other user out there. Determine your storage requirements to safely store all your recordings, contracts, music sheets, chord charts, etc.
If you consider purchasing a device with limited storage, like 16 Gigabytes, you'll likely run out of space and have to go through the hassle of transferring your files from one device to another.
That said, you can choose an expandable or more inbuilt storage device. Keep in mind that there's no such thing as an excess of storage. However, if you're tight on budget, a tablet with at least 32 gigabytes of memory will be an adequate option.
3. Screen
While choosing a tablet, you must also ensure that the screen size is large enough to help you read music off digital sheets comfortably. As a general rule of thumb, make sure that you choose a screen size of no less than 10 inches.
However, make sure that you don't compromise on the weightlessness of your device in return for large screen size. The resolution also plays a major role in determining the clarity and details of visuals and colors.
Choosing a tablet with a good resolution and screen size will allow you to view the musical notes and chord charts and reduce the strain on your eyes that prevent you from squinting again and again.
4. Speed
Although you're not looking to purchase a tablet for heavy browsing or gaming sessions, adequate processing power is still required to access tools and data efficiently and quickly to gain a satisfying user experience.
The speed of your tablet may depend on various parameters such as the processor used, available RAM, internal storage, and a lot more. Depending on your requirements, you should choose a performance-rich tablet to make your tasks more lenient.
5. Style
The style of your desired tablet is something completely about personal preferences. Being an artist, you must express yourself in the best possible manner.
Fortunately, tablets are available in myriad colors and designs, which surely consist of something that resonates with your personality.
6. Price
Knowing how much capital you're willing to invest in a tablet can better understand what fits the bill for you.
While it's clear that high-end devices with a hefty price tag provide a par-level performance, various budget-friendly picks are offering decent performance as well.
Best Tablet For Musicians – Our Top Pick👌
1. Apple iPad Pro – The Best Overall
If you're looking for the best tablet for musicians that money can buy, the Apple iPad Pro will likely be your perfect purchase.
With a screen size of 12.9 inches, it's an incredibly large device that allows you to achieve almost everything that a standard computer offers.
For those comfortable with this device's price tag and physical size, it's an outstanding gadget that offers exceptional power and an unparalleled display experience. The brand-new XDR liquid retina display looks gorgeous.
The most recent version of Apple iPad Pro packs a unique own-brand silicon chipset, offering impressive power levels that blow away every competitor. It's a great match for multitasking and using power-hogging apps such as instrument tuners.
There's even a variant with a higher storage capacity of 2TB and support for Thunderbolt 4 in the USB type C slot, allowing you to transfer your musical notes and recordings in a snap. Even the battery life is exceptional, with a usage time of nearly 10 hours.
This phenomenal device is a must-have for musicians with no monetary objections, especially if you're a hardcore Apple evangelist. Talking about the design, it hasn't changed much compared to the earlier iterations.
The device still features a sleek design with a premium and durable feel. If design and functionality are your main constraints, you'll certainly be pleased to explore the various possibilities the Apple iPad Pro offers.
Its frame is glossy aluminum, and the front glass boasts a scratch-resistant coating. However, if you want to protect the device against scrapes and knocks, you'll still have to purchase a protective case.
Four speakers are located at both the top and bottom edge of the device, with impressive sound clarity. This will surely make your recordings and composing music much crisper and clearer.
Furthermore, as you may already know, the display is an aspect where Apple noticeably upbeats its game compared to other alternatives. The 12.9 Inch display highlights a new Mini LED technology that offers improved brightness with crisp image clarity.
It's especially effective when you're trying to read off musical notes through various feeds or using a companion application that needs the interface on the screen to stay in pace with your actions, such as using metronomes for calculating beats per minute on your instrument.
Below is a summary of the Pros and cons of the Apple iPad Pro that makes it to add to our Best Tablet For Musicians List.
Pros:-
Exceptionally fast processor 

Crisp and clear display 

Durable and attractive design
Cons:-
Overall, the Apple iPad Pro is the best tablet for musicians available in the market. With a par-level performance and build quality, you'll never feel short of features to make your music composition much more convenient.
Check Price on Amazon
iPad Pro M1 Review: The Ultimate Spec Bump!
2. Samsung Galaxy Tab S6 – Best for Portability
While Apple still dominates the high-end tablet market, challengers like Samsung come along like a breath of fresh air. The Samsung Galaxy Tab S6 is based on android with an incredibly portable and lightweight design.
It features a 10.5-inch super AMOLED display with a screen resolution of 2560 x 1600 that helps you gain vibrant visuals and color quality.
It also includes a connector on one of its edges that can be used to attach a lightweight keyboard case offered as an add-on by Samsung.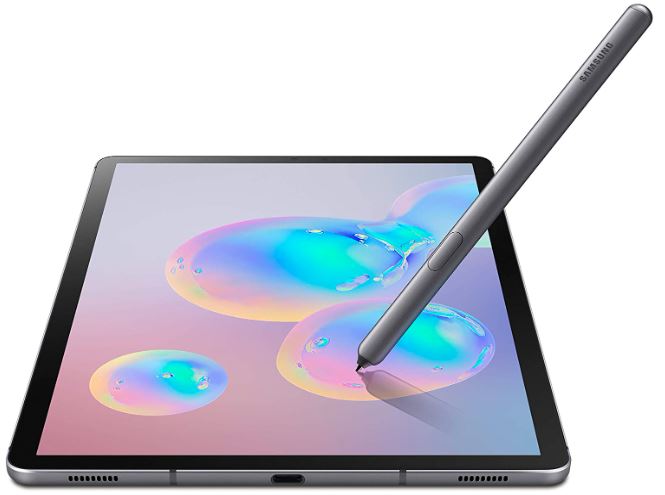 With an amazingly slim design of 5.7 mm, the device surprisingly weighs lesser than Apple's iPad Pro without compromising even a little bit on the features.
One of the most noteworthy features of this tablet is the availability of a microSD card slot for expanding your storage.
There's even a dual camera located at the rear part of the device that offers standard angle 13-megapixel and 5-megapixel ultrawide lenses. The front part is accompanied by an 8-megapixel webcam unit as well.
As you might have already guessed, the slim nature of this tablet limits its physical features to only a USB Type-C slot. However, this flexibility simplifies connecting peripherals such as keyboards, mice, monitors, or even hard drives.
The only thing we didn't like about the design is that there's no dedicated slot for charging or storing the stylus. Although there's a magnetic depression at the rear body, the attachment is somewhat flimsy and doesn't appear particularly strong.
The Galaxy Tab S6 is designed specifically for maximizing your productivity by adopting a DeX environment, which Samsung Galaxy S10 users are already aware of. The DeX environment features a taskbar at the bottom of the display, which can also be relocated or resized per your needs.
Again, one small drawback is that sometimes the DeX environment doesn't work as intended. For example, it's fiddly to select text in Google Docs and edit the text within chrome because it requires you to double-click and drags for selection, which would be more convenient on a smartphone.
Furthermore, while Apple utilizes IPS panels for their tablets, Samsung prefers AMOLED screens that provide vivid colors with adequate contrast for beautifully sharp visuals.
Its image quality is exceptional, and like most Android devices, it allows you to choose from various color profiles.
The Samsung Galaxy S6 Tab is powered by an octa-core Qualcomm Snapdragon 855 2.84GHz processor, along with 6GB of RAM that allows you to attain excellent levels of performance with the device. 
Below is a summary of the Pros and cons of the Samsung Galaxy Tab S6 that makes it to add to our Best Tablet For Musicians List.
Pros:-
Highly portable and easy to carry 

AMOLED display for sharp visuals 

MicroSD card support for expandable storage
Cons:-
No storage area for the stylus 

Buggy Text Selection in DeX mode 
All in all, the Samsung Galaxy Tab S6 is a very powerful yet lightweight and portable tablet with great battery life. Moreover, the DeX environment allows you to do many more productive tasks with apps like Garage Band and Wave Machine Labs for music production.
Check Price on Amazon
Galaxy Tab S6 Honest Review - Only one issue..
3. Huawei MediaPad M5 Tablet – Best Under Budget
Huawei's MediaPad M5 offers a well-balanced combination of performance and design. The display of this tablet is a real bliss, which offers an amazing 2K resolution.
While it still doesn't match the competency of Samsung's AMOLED display, it's good for IPS devices.
When you turn on this device, you'll observe an incredible number of details with natural hues and amazing viewing angles. However, using it outdoors may trigger slight color desaturation and reflection, but the device remains completely usable.
A noteworthy thing in this tablet is its double bezel, which remains invisible on the black-colored variant, but is accompanied by an additional border in the white color unit. While this is not a deal-breaker, that's still a drawback from a design standpoint.
Not to mention, the patented ClairVU technology by Huawei improves the contrast of images using artificial intelligence, which is not seen in even the most feature-rich alternatives. It also works well in smoothing out video frames.
Furthermore, the device also boasts a minimal and sleek design with an external body made out of a single piece of metal. The tablet feels premium in your hands, and there's no sign of central flex, even when you exert pressure on the center of the screen, which talks about its amazing build quality.
Following Apple's design trends, Huawei has also ditched the 3.5mm audio jack but provides a USB Type-C to 3.5 mm jack adapter in the package instead. Talking about sound preferences, the device features speakers at both ends.
It includes professionally tuned Harman Kardon speakers that provide amazing audio clarity, which can be very useful for music production.
Compared to the 10-inch version of the device, it has gradually improved in terms of audio clarity.
Furthermore, the Huawei MediaPad M5 is powered by Kirin 960 octa-core processor, making it a breeze to switch between multiple apps. With its customized EMUI 8.0 skin, Huawei implemented various excellent optimization features. 
Speaking of memory, this tablet offers 4 GB of RAM and 32 GB of internal storage, which is quite fair for such an affordable price point. There's even an additional microSD card slot to help you extend the memory of this device as per your requirements.
However, the camera quality is not much pleasing as both the front and rear lenses perform pathetically in low-light environments. Remember that tablets aren't intended for photography anyways; the camera is good enough for general uses like video calls.
Below is a summary of the Pros and cons of the Huawei MediaPad M5 Tablet that makes it to add to our Best Tablet For Musicians List.
Pros:-
Long battery life

Amazing sound quality

Sturdy and sleek design
Cons:-
The camera doesn't work well in a low-light environment
In a nutshell, the Huawei MediaPad M5 is yet another of the best tablets for musicians. It is affordable too, with myriad features to help you with all your music production needs.
If you're tight on budget but aren't willing to compromise on performance, this is certainly a perfect match for you.
Check Price on Amazon
4. Fire HD 10 Tablet – Best for Reading Notes
It's been a while since Amazon entered the tablet market, and they've often been the first call for many people looking for an affordable tablet. The most recent iteration, i.e., The Fire HD 10 tablet, has taken things up a notch.
The first impression of this device doesn't feel changed with the most recent generation of Fire HD 10.
However, upon looking closely, you'll notice a slight change in dimensions, but the size and construction are kept similar to other models.
The narrow bezels at the bottom make it look more uniform and attractive. With soft curves around the edges and a plastic back body, the design aspects of the device haven't changed lately, but the company has certainly strived to improve its durability.
Its overall finish appears premium, unlike the previous iterations. This version offers a softer touch with glossy buttons on the body. Moreover, the Fire HD 10 has the largest display of the various tablets offered by Amazon.
With a screen size of 10.1 inches and an aspect ratio of 16:10, the device provides you with a completely high-definition experience. It's also not far from the Apple iPad in terms of pixel density as well as the resolution of the screen. 
Although it's not the most capable display on the list, the specs certainly fit the price point. The device is perfectly adequate for reading musical notes, and the only time you might struggle with the display is while using it outdoors.
Furthermore, the Fire HD 10 model is powered with new hardware iterations, with both standard and advanced models having the same core.
However, the latter offers additional RAM, which slightly affects the performance.
A supplied charger of 9 Watts claims to charge the device completely in four hours. However, we observed that the optional charging dock allows you to gain a charging capacity of 15 Watts, which requires purchasing separately.
The device also provides a battery life of 12 hours, allowing you to get through the day without having to charge your gadget repeatedly.
Moreover, while Apple is constantly transitioning their iPad from entertainment devices to productivity companions, the Fire HD 10 does the same at a fraction of the price.
Talking about the audio quality, it also feels great, but it is still distant from the experience of Huawei. We believe that's something Amazon could work on and improve to make their devices more promising for musicians.
Below is a summary of the Pros and cons of the Fire HD 10 Tablet that makes it to add to our Best Tablet For Musicians List.
Pros:-
Premium look and feel 

Long-lasting battery life 

Intuitive user experience
Cons:-
Audio quality can be improved
In conclusion, the Fire HD 10 is a great choice for an affordable productivity tablet with the benefits of inbuilt Alexa voice commands.
It offers good value for money and doesn't compromise on functionality in return for its refreshing design.
Check Price on Amazon
5. Microsoft Surface Pro 7 – Best for Professionals
The Microsoft Surface Pro 7 is one of the most prominent 2-in-1 tablets with a completely new processor and long-awaited USB Type-C port.
Although the design hasn't changed since the last release, the uniqueness of its appearance still makes it stand out from the rest of the variations.
It is highly equivalent to an iPhone with improvements like a removable SSD, a more powerful processor, and support for 4G – all of which make it a promising device for artists and enterprises looking for a professional-grade device.
The chassis of Surface Pro 7 is nearly identical to its previous iterations, and the device still maintains the same thickness of 8.5 mm. Even the ports are the same; the only difference lies in the hatch that provides access to the removable SSD (More on it later).
Additionally, the Surface range of tablets has made display quality one of their top priorities, and the legacy continues to be carried away by the Surface Pro 7. With a 12.3-inch display and a resolution of 2736 x 1824, the device offers a coverage rating of 92% in the sRGB color gamut.
Talking about the panel, we noticed it to be very accurate, making it a breeze for creative work. The sterling display of this gadget manages to provide a maximum luminous brightness of 412cd/m2, allowing you to use it outdoors without any issues.
Along with the device, you can also choose a type cover keyboard that offers a highly responsive and crisp action in addition to a smooth trackpad. However, even when it's an intrinsic part of the tablet, the company demands additional money for the TypeCover.
So far, you may have observed not many visual changes in the new iteration. That's because the majority of changes have been made under the hood. The Surface Pro 7 operates on Intel's most recent Tiger Lake Processor.
It's available in various core options, such as i3, i5, and i7, with an impressive 16GB of RAM. One thing to note is the rear part of the tablet, which usually acts toasty when put under load.
The CPU temperature can go as high as 50 degrees when the device is pushed beyond its limits. Furthermore, while the fan's noise is noticeable, it's not as loud as on other devices.
However, the performance isn't that bad, and you surely won't struggle with your day-to-day activities. It also handles tasks like audio manipulation and video editing well, unlike other variants that usually give up in such instances.
Below is a summary of the Pros and cons of the Microsoft Surface Pro 7 that makes it to add to our Best Tablet For Musicians List.
Pros:-
Butter smooth performance 

Full-day battery life with 13 hours of video playback 

Sizeable 12.3-inch display
Cons:-
It could include more connection ports
The Surface Pro 7 is a phenomenal iteration of Microsoft's flagship Windows tablets. Additionally, with worthy upgrades like USB Type-C port and 4G support, this device is worth the investment. 
Check Price on Amazon
Microsoft Surface Pro 7 Review
📗FAQ
What Are The Uses Of Tablets  For A Musician?
Musicians need tablets for various purposes. You can read sheet music on your tablet, which makes it easier to manage all your sheets without having a pile of physical sheets lying around you.
There are various tools available on tablets, like timers, digital music, and multi-track recording app that you, as a musician, will be using daily.
You can watch YouTube tutorials on instruments and record music using the tablet.  
What Tablets Do Musicians Use For Sheet Music?
iPad Pro is the go-to tablet for many musicians. The big screen on this tablet makes it easy for anyone to read the sheet music.
Moreover, it is lightweight, making it easy to carry everywhere. The powerful hardware on this tablet makes most of the apps compatible with it.  
What Are Some Of The Best Tablets For Musicians?
There are various tablets that you will find in your budget. If you are looking for the best tablet to carry on with your journey as a musician, then you can go for Apple iPad Pro, Apple iPad Mini, Apple iPad Air, Surface Pro 7, and Samsung Tab S8 series, amongst others.
Well, it completely depends on your requirements and your budget for the tablet. Depending on your budget, you will find various options in the market.  
What To Look For In A Tablet When Buying?
There are various things to look for when buying a tablet, like the display size, performance, and quality. When buying a tablet, ensure it has sufficient RAM and storage to continue your task. 
 
Also, the processor should be powerful enough to handle all the tasks. Get a tablet that has a screen size of more than 10-inches. Furthermore, price is an important factor when choosing a tablet.
You can go for the iPads or the latest Samsung Tab S8 series if you have an overkill budget. If you are tight on budget, you can go for Fire HD 10. 
Can You Record Music On a Tablet?
Yes, you can record music on a tablet. Tablets can do most of the work a laptop does. In the end, the sound on your mic and the software.
However, you need a tablet with an audio jack if you want to record music on it.  
Our Verdict on the best tablet for musicians list
It's a no-brainer that the tablet is an essential device for both experienced musicians and aspiring artists. Whether you're on a budget or not, the various options above fit most users' bill.
Make sure you review the buyer's guide before purchasing for satisfactory results.