Finding the perfect interface to control your drone effectively can be a struggle in the ever-evolving drone technology landscape.
You need a device that provides crystal-clear imagery, seamless connectivity, and intuitive controls.
Without the right tablet, you may face frustrating lags, low-resolution images, and limited control options that can hinder your drone flying experience.
Imagine sending your expensive, high-tech drone skywards, only to lose connection because your tablet couldn't handle the range.
Picture the disappointment when you capture what you think is a breathtaking aerial shot, only to find the resolution on your tablet didn't do it justice.
These issues can limit your creative or professional potential and put your valuable drone at risk. But fear not!🧐 With the right tablet as your command center, these issues become a thing of the past.
This article will guide you through the best tablets for drones available in the market today.
From high-resolution displays to unparalleled connectivity features, these tablets will ensure you unlock the full potential of your drone, whether you're a seasoned pilot or a budding drone enthusiast.
Let's delve into the world of enhanced drone technology and discover how the right tablet can elevate your aerial adventures to new heights.
Best Tablets For Drones – Fly Smarter, Capture Better
1.

Apple iPad Mini (Wi-Fi, 64GB) – Space Gray
Looking for the ultimate drone tablet? Look no further than Apple's iPad Mini. This sleek device, now available in space gray with 64GB storage and Wi-Fi, is the perfect tool for aerial adventures.
Powered by a high-performance A15 Bionic chip and neural engine, the iPad Mini can handle even the most demanding drone apps and flight controls. Its 8.3-inch Liquid Retina display delivers crystal-clear visuals, helping you to track your drone's movements and capture amazing aerial footage.
The iPad Mini offers up to 10 hours of battery life, allowing you to fly your drone and review your footage without any interruptions. It's also ultra-portable, making it easy to bring along on all your drone expeditions.
Not only is the iPad Mini the best tablet for drone enthusiasts, but it's also a versatile device that's great for browsing the web, streaming movies, and playing games. Plus, its Wi-Fi connectivity makes it easy to download new drone apps and software updates while on the move.
Overall, Apple's iPad Mini is the ultimate drone tablet, with exceptional performance, a stunning display, and unbeatable portability. Don't wait any longer to take your drone flying to new heights – get the iPad Mini today!
Pros:-
Powerful performance: Apple's iPad Mini packs an A15 Bionic chip and neural engine, enabling it to easily handle demanding drone apps and flight control systems.
Stunning display: The 8.3-inch Liquid Retina display delivers clear, crisp visuals, making it effortless to track your drone's movements and capture high-quality aerial footage.
Portable design: The iPad Mini's lightweight build makes it perfect for drone pilots who need to carry their tablets with them on the go.
Long battery life: With up to 10 hours of battery life, the iPad Mini can power most drone flights without interruption.
Versatility: Beyond being an excellent tablet for drone pilots, the iPad Mini is a versatile device ideal for various tasks such as browsing, streaming movies, and playing games.
Wi-Fi connectivity: The iPad Mini's Wi-Fi connectivity enables you to download drone apps and software updates easily.
Cons:-
Price: Apple's iPad Mini is not the most economical option in the market, making it not the best pick for budget-conscious drone pilots.
Limited storage: With 64GB storage capacity, the iPad Mini might not be enough for pilots who capture a large amount of drone footage.
No cellular connectivity: The iPad Mini only comes with Wi-Fi connectivity, making it challenging for pilots who wish to control their drones remotely without a separate cellular hotspot.
Fragile design: The iPad Mini's slim build means that it may be more susceptible to damage than more rugged tablets available.
Check Price on Amazon
2. Samsung Galaxy Tab A SM-T858 10.1 Inch Tablet
So far, the Samsung Galaxy Tab A device is still one of the best tablets for controlling and operating your DIY drone.
The tablet comes with a beautiful solid design characteristic of the Samsung company smartphone products while having a significantly sufficient screen size view.
The tablet has a 10.1-inch screen display with a maximum resolution of 1920 × 1200 pixels. With this device, you wouldn't need to struggle with controlling your drone machine- even if it is moving through a longer distance range.
Although the pixel resolution is not maximum for full HD, its output is still not bad and would do just fine for drone movement displays.
Considering several ingenious features and additions you wouldn't find on other smartphone tablets, the galaxy tab A remains one of the best options for operating drones.
Some other notable features that qualify it as a good option in this category include its appropriate RAM specification.
Your activities have sufficient processing speed with a 2GB random access memory and an Exynos 7870 (1.6 GHz) octa-core processor. Thus you don't have to worry about lagging functions- especially at those crucial periods when you need to issue out commands for the working drone.
This processing capacity gives this device an advantage over some 1GB devices- that may be reasonable in other specifications except the RAM. On the other hand, the memory space is put at 16GB, although buyers may indicate their interest in higher memory space.
The Samsung Galaxy Tab A SM-T858 comes with a 7,300 mAh battery, which can run for up to 13 hours on standby. This ensures you have enough battery life to run your drone's planned and emergency functions.
The tablet is Wi-Fi and LTE enabled, which means you can conveniently connect the tablet with useful software applications that make you obtain more use for your drone.
Pros:-
The product has a large enough screen size for optimized visuals of your drone activities.
Produces clear, detailed image quality, with the right color separation and sharpness.
Reasonable processing speed performance- thanks to the product's 2GBRAM provision and the Exynos octa-core processor.
Adequate storage memory space, which is yet expandable by over 150GB
The tablet has great battery life at 7,300 mAh, lasting up to 13 hours.
Provides you with real value for the money spent.
Cons:-
The tablet is a bit heavier and does not look too portable.
The marshmallow 6.0 android operating system is relatively older.
Check Price on Amazon
Note:-
I have written a post for people looking for the 
Best Drawing Tablets
to buy?, do read it If you are interested.
3. Apple iPad (Wi-Fi and Cellular, 128GB ROM)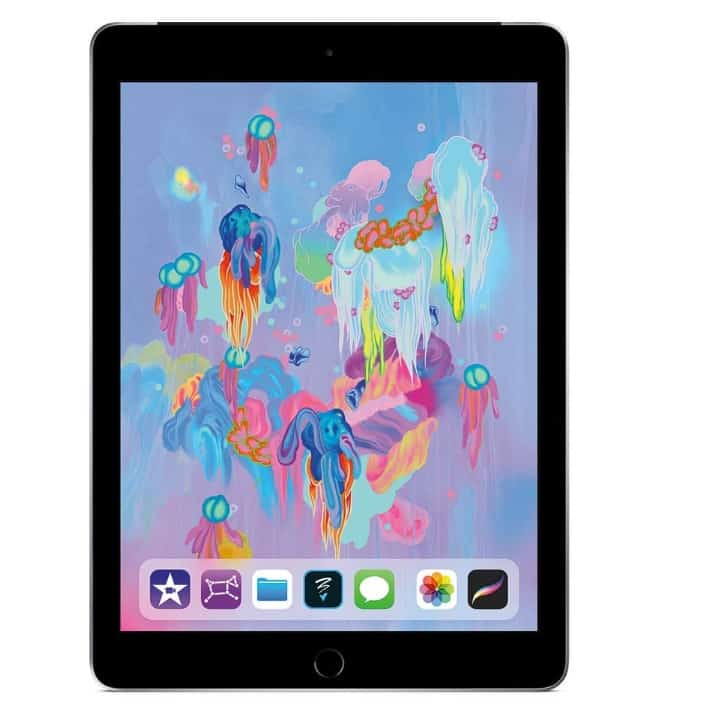 Undoubtedly, the Apple iPad is one of the best tablets for drones. The tablet has obvious peculiar features that distinguish it significantly from many other products.
Although the Apple iPad has several product matches that you may also wish to consider, it has distinct features and functions- the very reasons they are the most preferred for many drone users.
Some of the features to expect from the Apple iPad are its 9.7-inch retina screen display, with a maximum resolution of 2048 × 1536 pixels.
With this specification, all visuals are made clear enough, and viewing your drone location and movements on this device would make the experience more pleasurable.
The visuals and overall product performance are also aided by the newly added A10 Fusion chip on the device. Asides from the operation of the drone while at work, your Apple iPad would also be useful for other purposes like video editing- so you can edit the captured views on the same device.
This device has 2GB RAM and an impressive 128GB memory space. Note that the memory space is strict as provided and cannot be expanded by a memory card option. However, this shouldn't be an issue because the provided space is sufficient.
Other advantages to leveraging for your drone flying are the tablet's Wi-Fi and LTE enablement. It would be best if you didn't hold back on getting your drone connected to function apps, which can give you more control and access to the benefits of the flying machine.
The Apple iPad has a fair battery life of up to 10 hours 🔋, with several feature applications that would benefit your drone use experience.
The product has a dimension of 9.8 × 7 ×2 inches and a fair weight of almost 2 pounds. Apple iPad is the best tablet for DJI drones.
Pros:-
The product guarantees optimum performance and high user satisfaction
Great specifications; much better than several other market products of a similar price range.
Adequate memory storage space, with good processing memory and speed power- thanks to its A10 fusion chip component.
Very impressive resolution display, facilitated by the high-level visual output of the retina display.
The product comes with updated Wi-Fi and LTE connection modules
Battery life of up to 10 hours.
Cons:-
It may be considered lacking in terms of portability.
4. NVIDIA Shield K1 – Best tablet to use with DJI drone
The NVIDIA Shield K1 smartphone tablet is another tablet suitable for flying your drone. It has gotten more users over the last few months, which suggests its aptness and functionality for this purpose.
High-level gamers primarily adopted its ability to hold and process supposed tedious assignments. Now, its ability to hold well for drone flying and operation has been significantly noticed by existing users.
This tablet comes with an NVIDIA Tegra K1 processor, which has proven to be very reasonable for the demanding activities carried out on the tablet.
You'll be impressed by the function output of the processor's 192-core Kepler GPU and its 2.2 GHz quad-core CPU provision. Just as these specifications are important to gamers, so also would you find them relevant for your captured video viewing and some editing.
One of the most important specifications on the NVIDIA shield- which gives it an edge over other products, is its HDMI port infrastructure. With this provision, users can connect their drone's controller to the tablet- which is why the tablet is hinted to be one of the most suitable for the DJI Mavic Pro drone.
The NVIDIA Shield K1 tablet provides 1080 pixels full HD resolution, although the screen size is just 8 inches. Users of this product can choose between connecting the device using the 2.4 GHz or the 5.0 GHz 802.11n MIMO Wi-Fi.
Pros:-
The tablet performs optimally with the ability to carry out supposed tedious functions.
The tablet's 192-core Kepler GPU and the 2.2 GHz CPU have great processing power and speed.
Possession of an HDMI port for connectivity.
The tablet outputs full HD resolution displays for images and other visual inputs.
Cons:-
The tablet has a relatively smaller screen size of 8 inches.
The Android operating system is not the latest up-to-date version
Check Price on Amazon
NVIDIA Shield Tablet Review!
Note:-
I have written a post for people looking for the 
Best tablets for seniors
to buy?, do read it If you are interested.
5. Lenovo Tab 4 Plus bright tablet for drone
If you're particular about enjoying your drone flying experience- as affected by your choice of control tablet, then the Lenovo Tab 4 plus could be the best choice for you.
This tablet has an impressive physical appeal and quality build with a correspondingly impressive performance.
With this tablet, you can confidently say that you've invested in a nice tablet that is guaranteed to work well with your drone. This is one of the most recent products of the Lenovo company, and there are several observable improvements that you would love.
Firstly, the tablet comes with a 10-inch screen size and a 1920 × 1200 resolution display. This gives you enough view area for checking out the positions and movements of your flying device.
You would noticeably observe that the Lenovo Tab plus provides useful features that are just adequate and which have not hindered the essential portability that many users want to have.
This is one of the tablet products that rightly proves that you can have a complete function tablet that is not necessarily too heavy.
The Lenovo Tab 4 Plus comes with the Android 7.1 Nougat operating system and a quad-core 625 processor. These specifications are appropriate for drone use operations, and you're not likely to complain about the processing outputs.
To aid the efficiency of this function is the tablet's 4GB RAM and inbuilt memory capacity of up to 64GB. Hence, processing output is presented in real-time, and you have a lot of space to save up captured photographs and video files.
Other important features of this device include its long-lasting battery life. Note that the tablet's battery can last for up 20 hours on standby after a previous charge. This battery life tendency is one of the best you can currently find on the market.
Below are some of the Pros and Cons of The Lenovo Tab 4 Plus that earned it a spot on our Best Tablets For Drones list.
Pros:-
The large screen size of 10 inches, with a reasonable maximum resolution display
The tablet's Snapdragon processor type, 4GB RAM, and sufficient storage space facilitate impressive data processing speeds.
Tablet features and functions provide great value for your money
Combination of both Wi-Fi and cellular connections for your drone
Remarkable battery life of 20 hours
The price is just great, especially considering its features
Cons:-
Some users have mentioned that they found bloatware IB the tablet, although it didn't significantly affect its overall functions.
6. Dragon Touch X10 10.6" HDMI Tablet
This is another tablet for drones that you should also consider investing in. This is especially if you're after a product that works well and does not require you to break the bank.
The Dragon Touch X10 may not be the topmost best in all specifications, but there is no way you wouldn't still find it to be of much use. So this tablet delivers quality performance and outputs, whether you're using a phantom 4, a DJI Mavic Pro, or any of the common private-use drones.
The screen specification is a 10.6 inches IPS display with a maximum resolution put at 1366 × 768 pixels. This combination provides a wide view range of up to 178 degrees while bringing out complete and detailed colors- as observed from the input images.
This device gives you ample viewing pleasure, which makes it impressive for a device in its price category.
The tablet operates on a 1GB RAM provision, while the inbuilt memory is placed at 16GB. However, the memory space can be expanded using a memory card of up to 64GB.
Furthermore, the Dragon Touch X10 tablet ranks amongst the best for drone flying, because of its processor power- which allows you to multitask simultaneously and in the most convenient way.
Note that the tablet comes with a 32 bits octa-core processor and a processing speed of up to 2.0 GHz. Other essential features on this tablet that should interest you are its HDMI connection port and a 7,200 mAh battery.
Below are some of the Pros and Cons of The Dragon Touch X10 10.6" HDMI Tablet that earned it a spot in our Best Tablets For Drones list.
Pros:-
The 10.6-inch screen size provides wider view access for the user
The product comes at a reasonable price, which is impressive compared to other products with similar features and functions.
Operates on a 32-bit quad-core processor and a recent Android operating system.
The tablet has an HDMI port provision, which is not common with tablets in this category.
The 7,200 mAh battery is a plus to the function and value of this product.
Cons:-
The RAM capacity is relatively low at 1GB
Connectivity is only via Wi-Fi, as there is no cellular connectivity support.
7. Google Nexus 9 Tablet – Best tablet for dji air 2s
Google Nexus 9 is one great tablet that cannot but find its way onto our list of the best tablets for drones.
The tablet seems apt in every way, and there's no doubt that it is one of the greatest tablet solutions that also works well for the purpose under concern.
Although there is room for improvement here and there, it is not improper to say that this tablet rates way beyond average. There is a whole lineup of exciting features that you'll find useful as you embark on your drone flying experience.
Although the device cannot be said to be perfect in itself, it reasonably improves on the inadequacies of some other products on the market- and has gained some popularity because of this.
The processor for the device is a 64-bit 2.3 GHz NVIDIA Tegra K1, which provides good enough speed for video and most of the other common transmissions involved when a drone is involved.
The product has an 8.9-inch screen size, 2048 × 1536 pixel resolution, with a 4:3 aspect IPS display. Note, however, that the 8.9-inch screen size consists of a thin bezel on the top and bottom sides, leaving more space for the screen view.
Google Nexus 9 comes with a Kepler graphics processor, 2GB RAM, and a hard drive storage capacity of 32 GB. Now, this is one product that is definitely worth the hype.
Below are some of the Pros and Cons of The Google Nexus 9 Tablet that earned it a spot in our list of Best Tablets For Drones in 2023.
Pros:-
The screen display is remarkably impressive.
It has a great design and is made of quality materials, improving its durability.
The processor function is still one of the best you can find for a device of its class.
Good screen resolution pixel display
The product offers great value for your money
Cons:-
The tablet has a smaller screen size
The operating system version is no more recent
Check Price on Amazon
8. LG G Pad V520 Android drone tablet
The LG G pad V520 is a low-priced tablet that remarkably combines as many ingenious features as possible to provide users with satisfaction that is above average.
Asides from the fact that the drive seems to be a delight for low-budget people, its performance does not fall below standard.
The LG company had considered the market's most pressing needs before finalizing what this product should look like. This is why we also think most users would largely enjoy using this product with their drones.
The tablet is an 8-inch device with a 1920 × 1200 IPS screen display. One of the things you'll enjoy with this tablet is its detailed image color presentation. This combination makes drone control and monitoring easy, as it comes with both LTE and Wi-Fi installations.
When using this tablet, you need not worry about processing speed and the outputs, as the tablet makes use of one of the most effective.
The device is pre-installed with a Qualcomm MSM8952 Snapdragon processor, which works well with a 2GB RAM  provision to deliver optimum function with good speed.
Below are some of the Pros and Cons of The LG G Pad V520 Android Tablet that earned it a spot in our Best Tablets For Drones list.
Pros:-
The product comes at a good budget-friendly price.
The display resolution is impressive and appropriate for your drone operations.
Great processing power, courtesy of the processor type and the RAM provision
The tablet shows good durability
Cons:-
The battery life is relatively not so impressive.
9. ASUS ZenPad S8 Z580C-81-Bk8 Tablet
The ASUS ZenPad is also just rising the ladder in terms of popularity for drone flying. However, the tablet has not failed to impress existing users with its top-notch tendencies, especially its seamless processing power.
Considering how much use the user stands to derive from this tablet, we can conveniently conclude that this is still one of the cheapest in the market.
The ZenPad S8 Z580C-81-Bk8 comes with an attractive 8-inch design that has been perfected at all the edges to produce a physically clean product.
The tablet carries that aesthetic appeal characteristic of the ASUS company products, while it does not fall short of performance standards.
Its processor is a 64-bit 1.3 GHz Intel Atom super quad-core processor, while the random access memory is at 2GB. The inbuilt memory is 32GB, which is expandable to a maximum of 128GB. You'll enjoy the product's clear imagery and remarkable multitasking capacities.
Below are some of the Pros and Cons of The ASUS ZenPad S8 Z580C-81-Bk8 Tablet that earned it a spot in our Best Tablets For Drones list.
Pros:-
The tablet has an attractive design.
Its processing power and output response are apt enough to ensure a pleasant drone flying experience.
The resolution is a high 2k IPS display
It is a relatively cheaper product
Cons:-
The battery life is not so good
Now, aside from knowing the best tablet drones on the market, it is also important that the intending buyer knows which one suits them exactly.
To know this, you may necessarily need to consider the following factors:-
Size and resolution of the tablet:-
Although size may not be considered a very serious factor to consider by some people, it shouldn't be neglected- when you're trying to choose.
The small screen size would not give you the required display and resolution you need, and you may not derive the satisfaction you desire for your drone flying experience.
Usually, a screen size from 8 inches upwards would do, but note that the bigger the screen size, the higher the resolution you're likely to have. A higher resolution guarantees better image output, which is definitely what you want.
The processing speed and response outputs:-
All tablets do not respond the same way, and while it takes one tablet a few seconds to complete a task, it could take another tablet much longer before it performs the same task.
One salient reason for this is the different processors they operate on. You would need to find a tablet with a reasonably good processor so that your activities on the tablet don't have to lag while you use it.
There are several good processors on the market, but when considering which one to buy, you may also need to consider your drone's overall power and function tendencies.
Is the tablet Wi-Fi only, or it has an LTE addition:-
Usually, it would be best if you went for a tablet device with Wi-Fi and LTE enablement. However, this does not mean that you wouldn't still find some tablets with great performance.
Your decision regarding this should be based on your use tendencies and preferences. If you're buying a Wi-Fi-only device, then usually, some functions would not be accessible to you.
For instance, maps and location settings wouldn't work, but this may not be a basic requirement for some users.
📗 FAQs on Best Tablets For Drones
Below are a few queries on Best Tablets For Drones that everyone is expecting to answer, and I did include the same for my readers.
What is the best tablet for drones?
The Vankyo MatrixPad S8 is one of the best budget android tablets, ideal for controlling drones.
Can a drone be controlled with a tablet?
Yes, you can control most DJI drones with your phone or tablet without their controllers.
What is a drone tablet?
The Drone DS Tablet relieves spasms, manages menstrual pain, and treats abdominal pain.
Can you control a drone with an iPad?
Yes, you can easily control a drone with an iPad using flight control apps via a WiFi signal.
Is there a better app than DJI Fly?
The litchi app is a great app for controlling DJI drones. It has a steeper learning curve but offers more functionality than the DJI Go 4 or DJI Fly.
How do I connect my drone to my tablet?
Start by turning on your drone and connecting to its in-built WiFi network with your tablet. Then, download the required flight control app and launch it. Finish configuration and connect your drone to your tablet.
the best tablet for Mavic 3
Some popular options for tablets to use with drones like the Mavic series include the Apple iPad Air, iPad Pro, and Samsung Galaxy Tab S7+.
Can I use a tablet to fly a drone?
Using a tablet for drone flight is possible. Tablet compatibility with drones depends on the specific drone and remote control system being used. Companion apps can be downloaded onto the tablet from drone manufacturers to control and monitor the flight.
Checking the manufacturer's website for compatibility information and downloading the necessary software ensures your tablet is compatible with the drone. Additionally, checking the tablet's performance and battery life before the flight is a good idea.
Can you control a drone with an iPad?
It is possible to fly a drone using an iPad, provided the device meets the drone's remote control system requirements. Most drone manufacturers offer companion apps that enable control and monitoring of the drone's flight using an iPad.
It's important to note that not all iPads are compatible with all drones. Compatibility depends on the specific drone and remote control system. Some drones require the latest iOS version, while others support both Android and iOS.
Is DJI Fly compatible with iPad?
The DJI Fly app can be used on an iPad. This app is used to control DJI drones, such as the Mavic Air 2, Mavic Mini, and Mini 2. The app is available for download on the App Store and is compatible with iOS 11.0 or later.
For an iPad to be used with DJI Fly, it must meet the app's screen size requirement of at least 7.9 inches.
Additionally, the iPad's processor and graphics chip must be compatible with the app to ensure smooth operation.
What device is compatible with DJI Fly app?
The DJI Fly app is compatible with a broad range of mobile devices. The minimum requirements for running the DJI Fly app are:
iOS devices:- Running iOS 11.0 or later, the device must be an iPhone 7 or newer, or an iPad (2015 or newer) with a minimum of 2GB RAM.
Android devices:- Running Android 6.0 or later, the device must have a 64-bit CPU with a minimum of 4 cores, 3GB RAM, and support for OpenGL ES 3.0 or later.
Which iPad is best for drone pilots?
The iPad Pro and iPad Air are generally considered the most suitable for drone pilots due to their larger screens, faster processors, and superior graphics capabilities.
Popular iPad models for drone pilots include:-
iPad Pro (11-inch or 12.9-inch): Features a fast A-series processor, high-quality display, and lightweight design.
iPad Air (10.5-inch or 10.9-inch): Offers a powerful A-series processor, long battery life, and lightweight design.
iPad (9.7-inch or 10.2-inch): Provides a budget-friendly option for drone pilots. Although not as powerful as the iPad Pro or Air, it's still a solid choice for drone control.
Is an iPad good for drones?
Using an iPad for drone control can offer an excellent experience. The device's large screen provides an immersive and detailed view of the drone's camera feed, which makes it easier to view the drone's flight path and surroundings.
Additionally, the iPad's powerful processor and graphics capabilities can provide a smooth and responsive control experience.
How do I connect my DJI drone to my tablet?
Here are the steps to connect your DJI drone to your tablet:-
Step 1:– Download and install the DJI Fly or DJI GO 4 app on your tablet from the App Store or Google Play Store.
Step 2:– Turn on your drone and remote controller. Ensure that the remote controller is in pairing mode.
Step 3:– Connect your tablet to the remote controller using the appropriate cable, such as a USB-C cable or Lightning cable.
Step 4:– Launch the DJI Fly or DJI GO 4 app on your tablet.
Step 5:- Wait for the app to detect the drone and establish a connection. Once connected, a live video feed from the drone's camera should display on your tablet.
Step 6:– Calibrate the drone's compass and GPS if necessary. Follow the instructions provided in the app to complete the calibration process.
Step 7:– You can now control your drone using your tablet. Use the controls in the app to navigate the drone, adjust camera settings, and capture photos and videos.
Can you fly without DJI app?
While technically possible, flying a DJI drone without the DJI app is not recommended. The DJI app provides crucial features and functionality for safe and efficient flight, including a live video feed from the drone's camera, flight telemetry data, and access to advanced flight features like autonomous flight modes and geofencing.
Without the app, it would not be possible to access these essential features, which would make it unsafe and inefficient to fly the drone. In addition, the app provides software updates, flight records, and other critical features that ensure the drone is functioning correctly and is in compliance with local regulations.
Therefore, it's advisable to use the DJI app when flying a DJI drone. It's an essential part of the overall flight system and is designed to ensure safe and efficient flight.
Conclusion
Finding the right tablet for your drone can be a challenging task. There are countless options on the market, making it difficult to determine which ones offer the perfect blend of functionality, reliability, and value for your money.
This confusion can prevent you from maximizing your drone experience, leading to subpar flight control, weak live video feedback, and overall dissatisfaction.
This problem is further amplified when your drone's performance suffers due to a poorly chosen tablet.
Imagine the frustration of losing your drone's signal during a crucial moment or struggling with a lagging live feed.
You may miss out on capturing an awe-inspiring sunset, a stunning aerial shot, or crucial data for your project. The consequences could range from minor disappointments to major financial losses.
Fortunately, this doesn't have to be your story. After extensive research and testing, we've narrowed down the options to a list of the best tablets for drones.
We've considered every crucial aspect, from screen resolution and brightness for crisp, clear images, to processing power for seamless control, and battery life for prolonged flight times.
So whether you are a hobbyist, a professional photographer, or a surveyor, we have the perfect tablet for your needs.
In conclusion, investing in the right tablet can significantly enhance your drone flying experience.
By selecting from our list of the best tablets for drones, you can enjoy superior control, stunning live video feedback, and the peace of mind that comes with a reliable setup.
Why settle for less when the best is at your fingertips? Your journey towards a better drone experience starts with the right tablet.
Choose wisely, and the sky's the limit!