If you are looking for the Best Torrent App For Android, this particular guide will be more than helpful to you. 😎 We reviewed 11 of the best app for you in this post.
let's get right to it!
These days smartphones come with a wide range of features that enable you to do more than just calling, messaging, and browsing. You can download files, listen to your favorite tracks, watch your all-time movie, and do many other activities. 
Not to mention, the quality of the track, movies, and files are not distorted a bit. That just shows the strides that have been made in the development of technology. You can relate to the golden era when you had to download files to your PC and then your smartphone. 
Luckily for you, with the help of torrent apps, you can do so at high speeds. There are several torrent apps available in the market that come with similar features. Downloading the files are almost the same in the torrent apps. 
As you can see, these apps play a crucial role in the sharing and downloading of data. In this post, we will briefly discuss some of the best torrent apps for android devices. If you own and operate android devices, then this might be useful for your cause. 
These apps can download quicker, safer, and efficiently. This makes downloading large movie files a breeze. You do not have to sit for hours or, in some cases, the whole day for a single movie to download. 
Even if your internet connection is not very fast, large files get downloaded quickly. Not to mention, you can also download your favorite music tracks, TV shows, and even movies on your smartphones. 
There has been a lot of debate on whether torrent apps are legal to use. Well, we can assure you that they are legitimate and secure. You need to make sure that you are not breaking any rules in your country. 
You see, it depends on the laws placed in your country. In some countries, few torrent apps are legal, while some are not. When you are not very sure about using torrent apps, you can consult a friend or look it up online.
The websites that we have listed below are legal, secure, and, more importantly, they work. However, we do want to warn you that some torrent files do contain malware that can cause harm to your devices like PC or smartphones. 
But, let us face the truth. When you can just about download anything for free, from the internet, at high speeds, then the invitation is too inviting for you to ignore. 
Best Torrent App For Android: Our Top Picks 👌
Here are some of the best torrent apps for android devices. 
1. aTorrent – torrent downloader
We have ranked aTorrent first on our list of the best torrent apps for android because of its simplicity of usage. Not to mention, the app comes with some exceptional features. The torrent app can support a wide range of protocols.
This is a free app, but it also comes with a premium mode. The free version comes with hoards of advertisements. That should not prevent you from accessing the millions of files that you can. 
aTorrent - BitTorrent software for Android
You would be amazed that more than 100 million downloads are happening regularly through this torrent app. Apart from that, you can find crucial features like Wi-Fi downloading, storage locations, external SD card support, and others. 
You can also make use of their premium version that costs less than $2. It comes with some additional features that make your downloading experience pleasant. You can also download a folder and have several others taking place simultaneously. 
We found a useful feature in this torrent app that allows you to pause downloads when you feel that your internet speed is reduced. 
Overall, we found that this is one of the best torrent apps that are available for your android devices. We found no reason to complain when using this app.
2. Flud – Torrent Downloader
Next on our list of the best torrent app for android is Flud. As the name goes, this is also a popular app used on android devices. Probably the reason for that is it is very user-friendly and makes managing huge files, simple.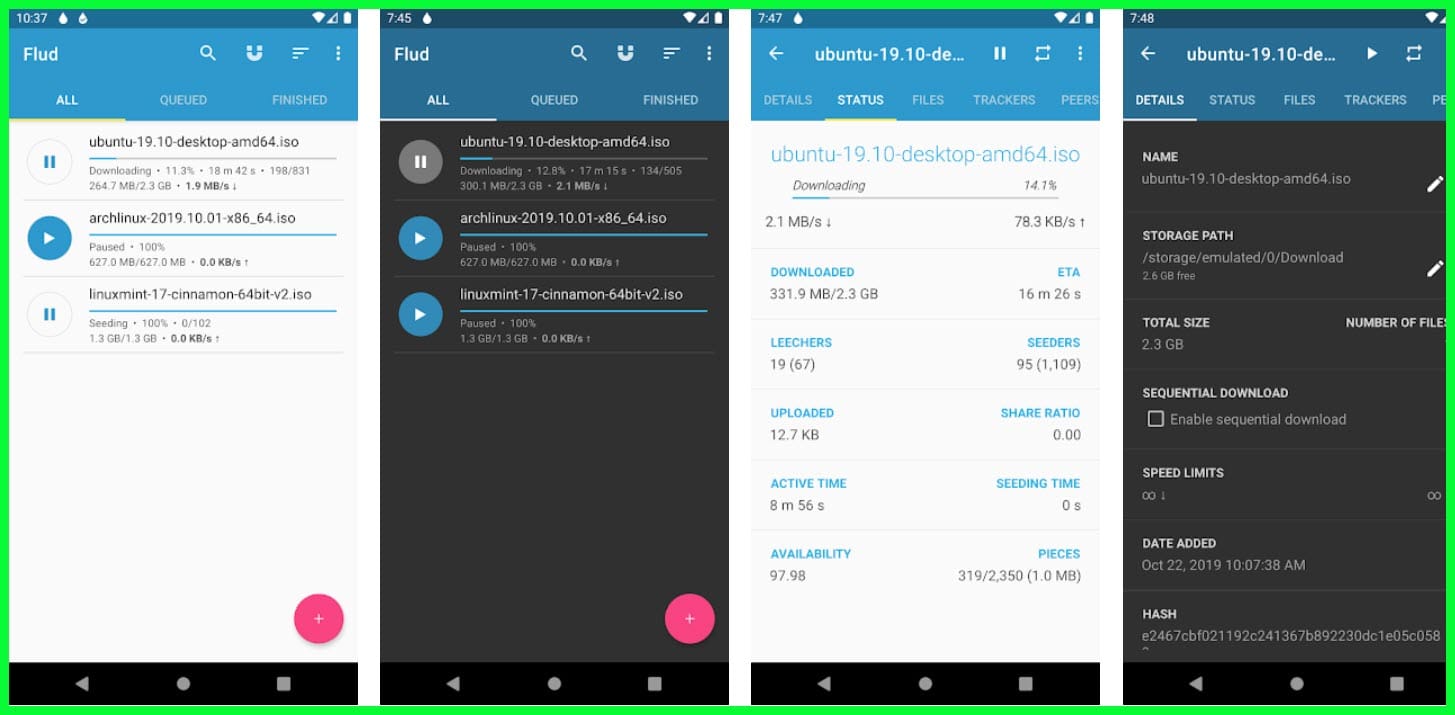 Unlike most torrent apps, this app does not come with a limit for downloads and uploads. You will be delighted to use vital features like choosing your files, magnet link support, sequential downloading, and so on. 
The free version comes with ample features that should satisfy your download needs. At the same time, you can also make use of the paid version to help you browse without those meddling advertisements. 
Overall, the torrent app can hold its own. Though it is a classic and may find itself in a corner when you compare it with Vuze or µTorrent, the clean interface and unlimited download speed are exceptional.
3. µTorrent – Torrent Downloader
uTorrent is perhaps one of the best torrent apps for android without a doubt. Similar to aTorrent, this app comes with million downloads. You can easily use this file without having to set a maximum number of torrents that are active and open a torrent screen. 
The features also monitor and administer to the uTorrent client. You can also use the pause, add, and delete option in the browser. It comes with an integrated media library for video and music files. 
The uTorrent automatically downloads new items if you subscribe to their feed. You would find the features quite efficient. For example, the download speeds are unlimited with a configurable upload and support for magnet links too. 
This is a Wi-Fi app that means you do not burn your mobile data very fast. You can find updates on features that keep working better each time; it happens. You can play downloads right from the app, a media library, and a dark mode. 
µTorrent comes with a good android clientele. It is safe to say, it is one of the best apps around now. 
4. BitTorrent®- Torrent Downloads
Fourth on our list of the best torrent app for android is BitTorrent. It is almost similar to another popular torrent app, the uTorrent app. Just for information sake, μTorrent is a property of BitTorrent. 
BitTorrent is a popular client for downloading files of a vast nature on the internet. Probably, that is because you can download large files quickly. 
Of course, you can find a few differences like BitTorrent provides you with the option for reviewing, commenting, and seeding. That should not make much of a difference in the downloading speeds or quality of the files. 
This is a comfortable and clean torrent that comes fully loaded. Another feature that impressed us was the fact that you could download files using the operating systems present on the PC and smartphone. 
You can work using Windows, macOS, OS/2, Linux, Android, and iOS. Though we are discussing torrent apps on android devices, this one can be used on several OS. As if that were not sufficient, it supports more than 70 languages. 
For the convenience of users, the torrent app comes with 3 versions. Each of them comes with its pros and cons. 
It is a great choice when you are looking for a feature-rich, clean, and powerful torrent app for your smartphone. You can be bombarded with advertisements; if that does not bother you, you would like to use the torrent app. 
Not to mention, it does come with a few security issues like all torrent apps, which can be well-covered with VPNs.
5. TorrDroid – Android Torrent Downloader
TorrDroid torrent app is next on our list. This app is another popular method to download files from a wide range of categories. The web crawler comes with a simple user interface that is the ideal alternative for downloading torrent files without having to peruse them.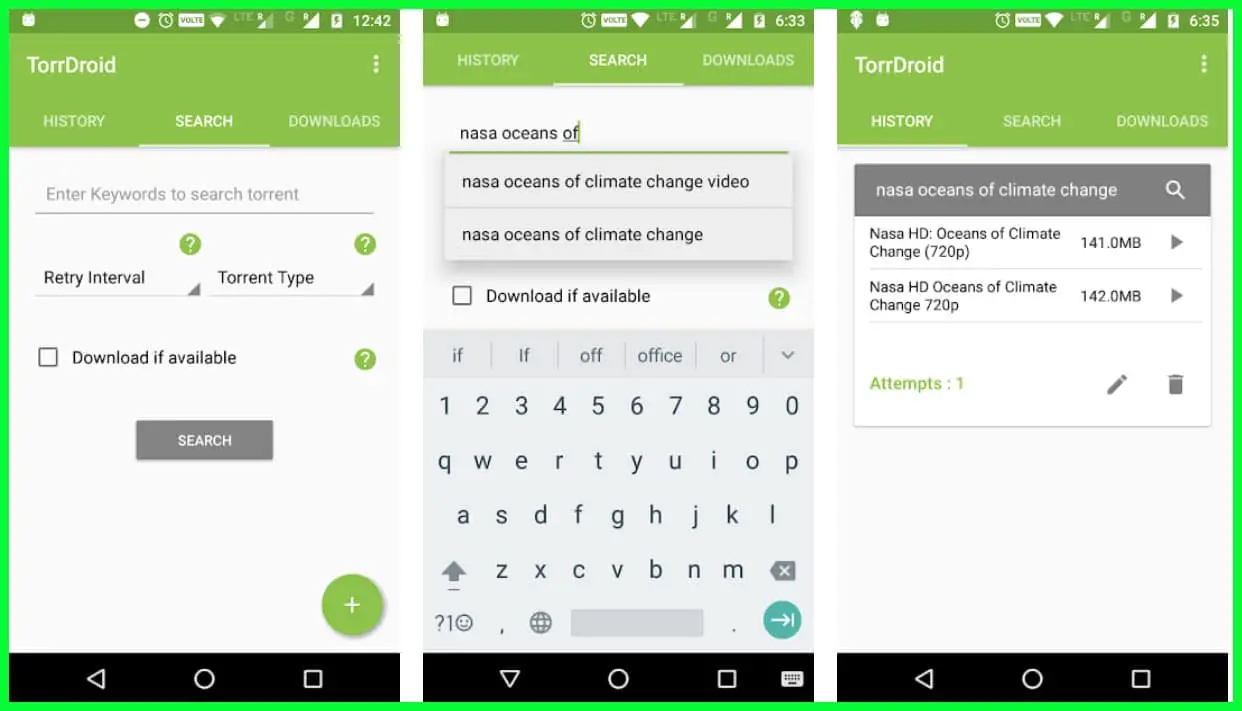 Apart from that, it also comes with support for magnet link, a built-in torrent search engine, support for an individual file. You can also upload and download your limit through the Wi-Fi. This ensures that you do not exhaust your mobile data. 
Though it is free, you can also make use of the paid version for less than $2. Using the premium method, you are free from annoying advertisements. Unlike other torrent apps, this is a new entry and has been around for some time. 
Should you use TorrDroid for your download requirements? Yes, you should. The torrent app comes with several decent features. When you do not mind the countless advertisements that appear on the free version. 
Of course, you can make use of a subscription that is not expensive for getting rid of ads.  
6. FrostWire: Torrent Downloader & Music Player
If you are looking for a simple designed but elegant torrent app, then we present you to FrostWire. This is a popular torrent app that comes with some decent features that can support magnet links, torrent search, and .torrent files.
For those of you who like to chat with other users during the downloads, to pass your time, then you would consider this app. It also comes with proxy support, a library for you to have your files in an organized manner, and the ability to integrate along with iTunes.
You can make use of this tool to search for videos, books, music, and others. You can also make use of the feature where you can listen to the radio through the streaming system. Yes, there is also a sharing of files. 
But, you cannot sync the accounts and the user. FrostWire started out as an essential tool with minimal features. Today, you can find more than just the basic features. You can make use of the torrent search function, supporting the stream play. 
It is an excellent choice for those searching for a torrent app that can play, manage, and eventually find media and torrent downloads.
Do you want to use FrostWire? If you're going to miss out on the features mentioned above, then it is okay. Otherwise, you should seriously consider using this amazing, feature-rich, and safe torrent app.
7. ZetaTorrent – Android Torrent App
Our list of the best torrent app for android would have been incomplete without the mention of ZetaTorrent. We felt that it is quite unique and feature-wise as it comes with a wide range of capabilities. 
Some of them include an ad-blocker browser so that you can peacefully browse and get your downloads done. You also can bookmark your file and the history options.
It can recognize torrent files, which are available for download. The data can be saved using a particular folder; you can set the upload and download speed. Of course, there are also restrictions on the connections. 
This helps you to decide the connection you plan on using for downloading files. If you are using a smartphone that comes with Android Lollipop, then you can download files using an SD card. 
It is convenient and easy. You can also save your files safely using the SD card. The torrent app comes with a feature that allows you to manage your data systematically. 
We recommend that you use the pro version for only $3. That is because it comes with superior features like proxy support, there are no limits for RSS feeds, and IP filtering.
We highly recommend the use of ZetaTorrent when you are in search of a torrent app that is reliable, powerful, and stable.  
8. Vuze Torrent Downloader
The Vuze is probably the best torrent app for android because of its ease of use. This torrent app provides you with ample freedom and is very straightforward. 
It comes with a barrage of features like a search mode, where you can find thousands of files literally. You can be sure to find what you are looking for. This enables you to increase search results. 
There are also other essential features like IP filtering, bandwidth limiting, and other elements that are usually present from a stable torrent app. You could call this a workhorse. You will be content using the free version of this torrent app. 
Of course, when you want more features, then you might use the premium version. It is free from those annoying advertisements. With the Wi-Fi-only mode, you can limit your downloads too. 
Their premium service costs only $4 per month. It comes with DVD burning and, more importantly, better safety. Vuze is a fantastic torrent app, and we are highly impressed with it. 
You will love to use their vast network and community. There are chat rooms and built-in forum access where you can remain anonymous.  
9. WeTorrent – Torrent Downloader
WeTorrent is an app that is based on one of our favorite, BitTorrent. So, you have an idea of the speed of the downloads that you can get on your android device. Just with a click, you can now download files on your tablet or smartphone.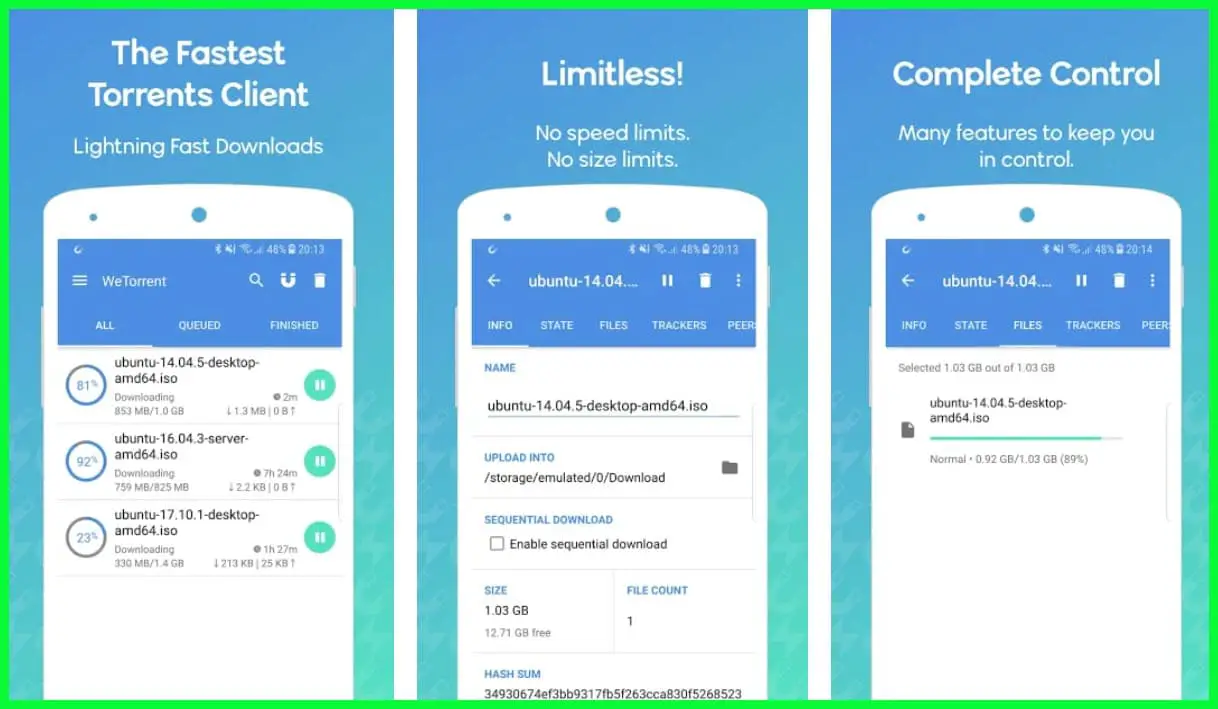 Not to mention, you can download torrents on your Wi-Fi too. Probably, that would make the process faster and smoother. You can easily manage files that have been downloaded through the app.
However, when you are not satisfied with that, then we suggest you use their premium method. 
Some users have faced a nagging issue where they are in the process of downloading files, and then suddenly, everything stops. At times, the torrent app closes when you have downloaded files or hangs. 
The only solution to this problem is to make sure that your internet connection is excellent and reliable. Perhaps, at times your file would not have actually completely downloaded, hence this issue. 
They have provided users with a $2 upgrade that helps you to view the homepage without the pop-ups and advertisements. We highly recommend that you make use of this upgrade for a peaceful downloading session.
10. Transdrone
Finally, we have another fantastic torrent app that is known as Transdrone. This app can help you manage your torrents on your home server from a remote location. In a sense, you can work from any place you want to use this torrent app.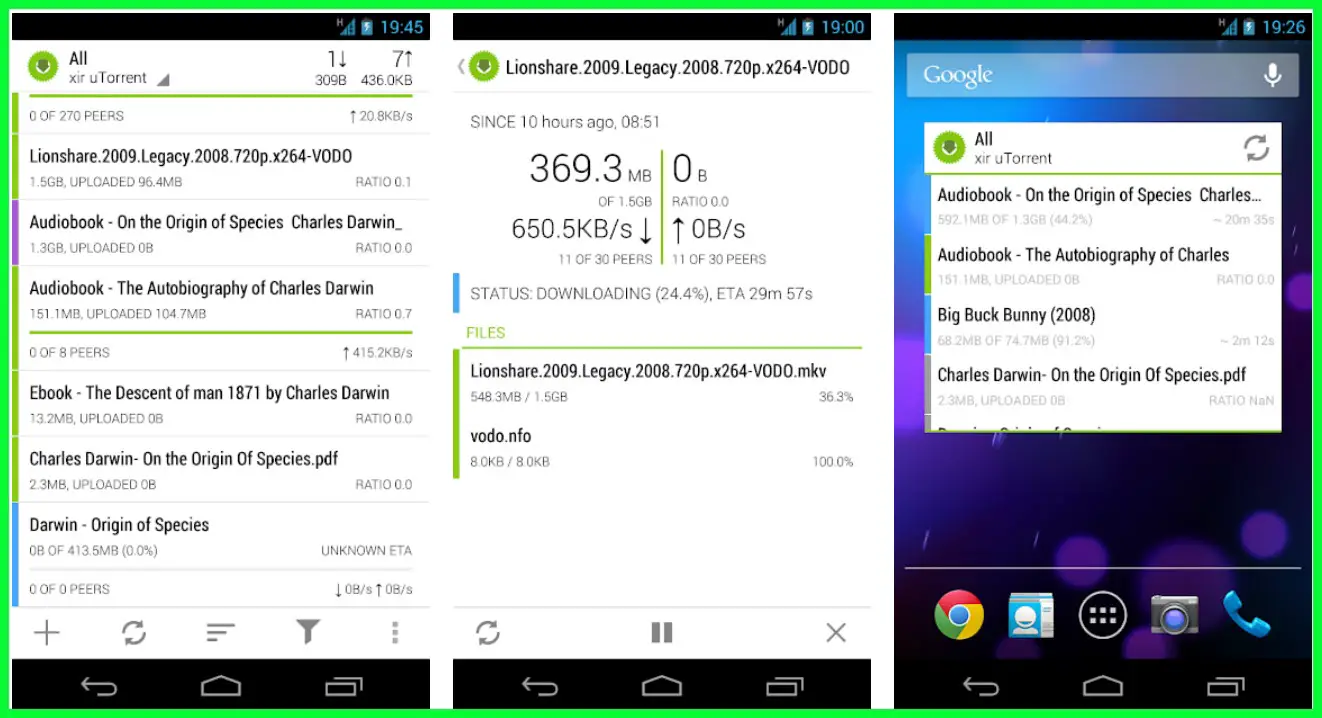 It enables you to add the files, assign new labels, be able to view trackers, start and stop the data, and view the individual files. You can attach files as and when you want on your device. 
Not to mention, you can start and stop the file if you want to discontinue downloading. Likewise, you can view the files individually. You can also see the trackers as and when they are downloading. 
We also want to mention here about Transdroid. It is the elder brother of Transdrone. You can use that through a third-party download. This is good enough to meet your needs. 
When you are looking for an integrated torrent search, then you can also make use of the Transdroid version at https://www.transdroid.org. 
Both torrents apps are similar and can perform large tasks. 
Overall, Transdrone works more like Torrnado, where you can manage your PC or smartphone. We felt that the interface of the app was slightly obsolete. This very functional and stable app can offer you efficient services. 
Some of the most popular clients that are supported by this torrent app are Transmission, BitTorrent 6, uTorrent, BitComet, and Buffalo NAS clients.  
📗FAQ's on Best Torrent App For Android
Below are a couple of queries on Best Torrent App For Android that everyone is expecting to answer and I did include the same for my readers.
(Q) Which is the quicker option, downloading, or Torrenting? 
Both are quick. It is just that Torrenting has the capability to get your files from several sources for downloading. You can download tons of files and then place them in a single place. 
It is easier to place them together as a huge file using a single server. When you download a file, you have to download the entire file. Your download depends on your device, the size of the file, and the speed of the internet. 
(Q) Why is uTorrent very slow on your smartphone? 
It is slow at times when downloading on your smartphone. You can make it slightly quicker by changing your incoming port. You can do that by opening your uTorrent app, and you can find an icon of green color. 
It has a "u" that is white in color on it. Even then, if you get slow speeds, then you can change the incoming port. You can improve it to one port less; this helps in increasing the speed. 
(Q) Can we use BitTorrent?
In other words, is BitTorrent legal to use in your country. To be honest with you, it is not illegal or insecure. It is safe, and you can make use of this protocol. You can share different kinds of files that come with legal Torrenting. 
You have some trackers like KickassTorrents and ThePirateBay. These work in the legal framework, and you can gain free access to the content that you want. The content is a copyrighted part. 
(Q) Should you have to use a VPN?
Yes. That is because the VPN offers you several advantages. Firstly, you can securely download your file without hassle from viruses and malware. Using a VPN encrypts internet traffic before you decide to download the file. 
It means that your location and the IP address is not accessible. No ISP can pinpoint your exact location when you make use of a VPN.
Conclusion 
This is it. We have ended our discussion on the best torrent app for android. If you own an android device, then you might want to consider using these torrent apps for downloading files.
You can use them to download your favorite music or movie files. The best part about these torrent apps is that you can instantly download the massive files without wasting time. 
We saw a wide range of torrent apps that you can use depending on your needs and requirements. Most of them are free of cost. Few of them are premium or paid versions. 
Users are welcome to make their choice likewise. 
If you are a heavy user, then we might recommend using torrent apps like aTorrent, Flud, and uTorrent. They are power horses and can get work done in a hurry. 
At the same time, when you are looking for decent performers, then Transdrone and WeTorrent can meet your needs. 
Please make use of VPNs. They ensure that your downloading process from the best torrent app for android is a pleasant experience. 
You can go about your own business, downloading movies, music files, books, and the like, with nobody knowing your activities or whereabouts. 
As you can see, this is an efficient way to download files using the best torrent app for android. 
Happy downloading!