When you have many audio and video files stored on your hard drive, it becomes hard for you to open each of them and listen to convert them into a text file.
In addition to this, transcription becomes more difficult when you have to deal with different languages and dialects, along with noisy data.
If you are the one who's suffering from all these problems, then we have the right solution for you; with our list of the top 9 best transcription software for Mac, you can get rid of manually writing up the text for your documents.
You can get several benefits when you convert your video's audio into text. It holds lots of information inside, which can be used for further projects for taking references. 
How Does Transcription Software Work? 🤔
Transcription is now higher in demand; whether you are a student from a university or a video editor, you need to convert audio and video into text that will enter your workflow at some point in time.
The easiest way to define transcription is by saying it is a process of converting recorded speech into text.
Here's a thing, have you ever read the words of an actor during his dialogue or speech of a politician? Then there's a high chance of you reading the transcript. 
There are mainly two methods by which one can convert the audio into a text file. The first one is the manual transcript, the old-school method of doing the transcription work.
It was when copywriters used to tap on the typewriter and do their magic to create breaking news that came on TV and radio. From there, we have journeyed a long way and now have come to the modern era of transcription, which is done on computers. 
For many, transcriptions were a mundane task in the newsroom production process, but still, back then, there were no computers people used to record the interviews on their recorder once the meeting got over.
They replay the interview to copy it into text so it could be printed in a newspaper. 
AI streamlines your workflow, making extracting text from your video files easier in just a few minutes. With AI now, you have a better range of languages that can be converted into text.
It is estimated that by 2020 90% of the content consumed on the internet will be in video format, but still, Google's bots cannot crawl those videos and know what they are all about.
So for information and to get better traffic on your website, you need to have content in text format. 
Best Transcription Software For Mac 👌
1. Express Scribe Pro
When you are looking for software that takes the full potential of the Mac machines, you need to check out the Express Scribe (Download Here); this software can also be used as an audio player for your mp3 files if you are looking for something which can do both of these works.
Foot-pedal support is necessary for a high-volume transcription, and this software gives you foot-pedal for audio playback; thus, it makes the software record and transcript the data into text more accurately.
Also, it supports standard audio formats such as WAV, MP3, WMA, and DCT. You can use it for both your windows and Mac systems, and the software cost only $39, and then you get a lifetime license with regular updates from the company.
Pros:- 
First, it is easy to operate this software, and if you need training, you can attend their webinars and take help from the documentation that they provide with the software.

It has many features, such as abbreviation expansion, audio file management, audio transmission, voice capture, and many more.

There's a common problem with several transcription software that they crash during usage, but that's no problem you are going to face.

Even if you upload several files simultaneously in this software, it won't freeze and will perform its task without showing you any performance issues.

The added features help you in completing your work much faster and in a short time. 

With less than 1MB of space, it is the smallest and the most versatile transcription software that is out there in the market for you to purchase.
Cons:-
You need to buy a new software key if you install it on another device; it can only work on a single computer with an individual key.
Express Scribe Transcription Software Tutorial | Overview
2. Transcribe
With this software (Download Here), you can play the video side by side while transcribing it on your computer. Moreover, it lets you use timecodes anywhere in your transcript to make things easy.
As a result, you can jump to that particular point in your video where you have put the timecode. Its simple interface steals second place in our list; even a student from high school can use this software to write a play for his upcoming annual function.
When using it, you can choose from a wide range of keyboard shortcuts that you can customize according to your requirements and comfort. 
Furthermore, the software allows you to create snippets of your videos, thus giving you the power to insert any frequently used expressions into your transcript with just a push of a button on your keyboard.
Likewise, you can play video and audio directly from a URL you copied from the internet. 
Below is the summary of the main Pros and Cons of the Transcribe that makes it add to the Best Transcription Software For Mac list.
Pros:-
The company pays a lot of attention to students and teachers; as a result, you can get this software at almost $60 off if you come under these two categories.

Secondly, the one-time cost of the software is $99.

It comes with mouse-free media controls, so you don't have to take your hands away from the keyboard and type efficiently.

You can use a USB foot pedal to control the media playback while converting the video into a transcription. 

Lastly, it allows you to export your file in formats compatible with Final Cut Pro, DVD Studio Pro, etc.
Cons:-
UI is too simple and looks a bit old compared to other software in the same niche.

There are not so many features, and sometimes it can be a problem if you are transcribing massive editing files.
My favorite transcribing software: Transcribe!
3. Transcriva 
You do the typing, and Transcriva (Download Here) will do the rest of the work for you. It's that simple.
With this software. You can use it to transcribe lectures, movies, speeches, etc., on your mac either after you record it or live, it depends on you.
When transcribing, nothing comes first for this software; it offers foot pedal support, which you only get in premium software.
But this software is to makes transcribing easy for the owner. If you are new to transcription, this is the best software to try your hands on and get familiar with the basic features you need.
In addition, it is the best software for people who take regular interviews, as unique features make their work easy.
It's easy to keep track of your progress and how much of the video is left to be transcribed. With customization, you can blend the software tools according to your need and create keyboard shortcuts. 
Below is the summary of the main Pros and Cons of Transcriva that makes it add to the Best Transcription Software For Mac list.
Pros:-
First, it has follow-along features, which could be a deal-breaker if you know how to use it to your advantage.

The UI made us fall in love with this software; the clean white background pops everything to make it easier for you to distinguish.

Several professional features are added even in the trial version. 

You can decide the speed at which the audio and the video play so you can convert them into text accordingly.

To buy this software with all its added features, you need to make a one-time payment of $29.99. 
Cons:- 
The audio playback is not good enough, and the audio breaks; sometimes, we hope the company finds a way to improve it. 
4. Dragon – music transcription software mac
Please don't go by the name of the software and think some rookie coder made it. Dragon (Download Here) is a natural-speaking software that has been helping doctors, lawyers, and other professionals for more than 30 years regarding dictation and transcribing a document.
The software runs on both Mac and Windows platforms.
Dragon for Mac Feature Demo: Feature Overview
It can capture the audio and automatically uses its AI technology to transcribe it, so you don't have to do a massive task.
That's why doctors and scientists keep this software handy when giving a lecture or a speech. Like any other transcription software, you can still add audio and video files to it to convert it into text. 
Below is the summary of the main Pros and Cons of the Dragon that makes it add to the Best Transcription Software For Mac list.
Pros:-
First, it comes with the best audio setting, meaning it captures each word that is spoken by your alphabet to the alphabet and uses it to make a text a document.

The accuracy of getting the right word from speech recognition is above 90%, provided right from the box. 

Furthermore, its AI learns from you and how you speak; with your usage, it will start making fewer mistakes. 

You can create special macros if you often use a particular word or phrase in your speech.

In addition, you can add acronyms that are not present in the software's data, and it will recognize them when you speak.

Voice commands such as 'next line' can also be added, and the software will stop and move to the next line. 

With this software, you don't have to repeat your lines, as it is useful in capturing every little detail of your speech in one go. 
Cons:-
It's a great product, but if you are using it for hours and hours of dictation, you need to give it a rest. Or the software will slow or could lead to a crash.
5. Transcription Panda
The software (Visit Here) offers various related services to complement and surpass your transcription needs. The Transcription Panda provides you with a standard transcription service.
All you need to do is record the audio and video and upload it on Transcription Panda; you will get your text file in 2-3 days.
You don't have to do anything at all; everything will be done by the company's people, who will generate a text copy for you.
The process of uploading your file in the software is easy; you can upload it straight from your hard drive or use a link and paste it there.
The signup process is the same as any other website, and you need to add your first name, last name, and password along with your E-mail. This software doesn't give you any free trials or services. You need to pay a per-minute price for transcribing your audio. 
Below is the summary of the main Pros and Cons of the Transcription Panda that makes it add to the Best Transcription Software For Mac list.
Pros:-
As humans are working behind the software, you can be sure that the accuracy of the text document which you are going to receive will be top-notch.

The dashboard is quite attractive and makes it easy for newcomers to navigate without a problem.

You can choose several options on how you want your transcription to be written; the company is quite generous. 

The error rate of transcription is less than 5%; this is the result taken from Panda's quick draft service; thus, it clears out the doubt about the quality of the text documents.
Cons:-
Even though it is quite reliable, it would still be great if the company had developed its mobile app. In addition, there needs to be a web editor for such software.
6. Temi – dictation software for mac
Temi is the software that allows you to transcribe your video and audio files in less than 5 minutes. The pay-per-minute charge is $0.25, which is relatively lower than other software in this lineup.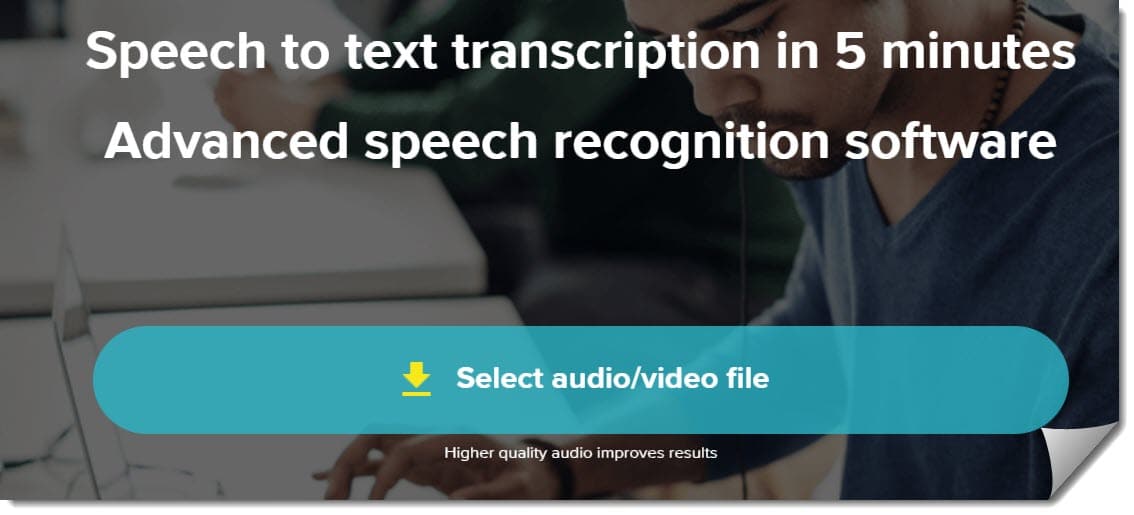 In addition, it comes with a trial option for new users. The software adds a timestamp every time a speaker is changed in the audio file and separates it into another paragraph.
You cannot customize the order, so you must be careful with the audio files when uploading them. Also, you can upload almost any kind of audio and video format on this software without worrying about compatibility issues. 
If you share something confidential and don't want it to be given to a third party, you can trust Temi. The company uses TLS 1.2 encryption system with the help of a secure Amazon server to send you files.
Likewise, once the data is transferred to you, the company doesn't index the transcript link they generate for you. 
Below is the summary of the main Pros and Cons of the Temi that makes it add to the Best Transcription Software For Mac list.
Pros:-
The web interface offers easy navigation with simple steps to upload your file to their database. 

It is one of its kind of software where you get the transcript in just five minutes after uploading it. 

If you compare it to human-based transcription services, you will find that it provides high accuracy while still giving your text document at the speed of automated transcriptions.

In addition, you are getting a mobile app for both your Android and ios devices, these apps let you record the audio, and then you can upload it on the software and get the text document.

On the other hand, the software lets you edit the transcripts on your phone. Thus, giving you the power to edit your docs on the go. 
Cons:-
We recommend this software if the audio and video file is not complicated to the transcript. Otherwise, be ready to make mistakes in your text document for complex data. 
7. Descript
The main advantage of this software (Visit Here) is how easily it extracts the dialogue from your audio files and turns them into an editable word document.
The cut-and-paste way of doing the transcriptions is what makes it different from other software in this list. The accuracy is nearly 95% for all documents we have used to convert them into transcriptions.
Once you upload the audio file, it will generate an electronic transcript file you can go through and edit if you want. Thus, saving a lot of your time in doing it independently.
Below is the summary of the main Pros and Cons of the Descript that makes it add to the Best Transcription Software For Mac list.
Pros:-
Its minimalist design is made so you can easily find the add-ons and features you are trying to search for in the software.

Several useful features and options will help you edit and make your transcript if you use them properly. 

The software comes with Google speech integration. Thus, you get high accuracy when you are transcribing your media files.

Moreover, you can customize the skin of the software and make it look as good as you want.
Cons:-
Descript makes two audio files from your single audio files separating the speech track from the background. 

It would be great if the software provided you with the raw media to connect it with your transcripted file. 
8. VoxSigma Speech to Text 
If you are the one who uses lots of jargon in your speech even though you should not be doing it, then VoxSigma (Download Here) is the software that will convert all your hard-to-speak lingo into text.
It can also find out the slightest of your pause and cuts with slight clamors. Converting your file can separate different sound fragments and voices, even if background noise is playing in the audio. 
Below is the summary of the main Pros and Cons of the VoxSigma that makes it add to the Best Transcription Software For Mac list.
Pros:-
VoxSigma's XML record files can easily handle your comments' discourse and non-discourse sections.

It converts your audio files into text documents in three easy steps without hassle.

You can transcribe the big audio and video files live in real-time or use a batch mode to convert them one by one.

You can provide labels for speech and non-speech segments of your audio files. 
Cons:-
The software's command-line tool is still in the C++ library, a computing language that is too old to be used in 2020.
9. F5 Transcription PRO
Last on our list, we have F5 Transcription Pro (Download Here). Many people use this software exclusively on Mac systems as it ticks marks on all the checkboxes required to perfect the transcription needs of every person.
It was free to use for some time, but now you have to pay the minimum to buy its license. The free version, which you can still get, allows you to convert the audio file into a transcription, but the audio length can't exceed 10 minutes. 
Below is the summary of the main Pros and Cons of the F5 Transcription Pro that makes it add to the Best Transcription Software For Mac list.
Pros:- 
You can insert timestamps with as little a gap as 30 seconds.

In addition to this, you can use coding to add automatic timestamps in your audio conversion.

It works perfectly with your media clips, which are present on Mac. 

Also, the software maintains the structure of your transcriptions and makes them easy to understand.
Cons:-
The UI is a bit clunky, and you will find yourself stuck when finding a tool in the software.
📚FAQ
Does Mac Have transcription software? 
If you want to index your audio recordings or need a transcript for another reason, you may use the built-in Dictation feature on your Mac. In my experience, this feature has been 98–99% accurate, saving you a lot of time. 
Open System Preferences, select Keyboard, and then select the "Dictation" tab: 
Activate dictation and agree to the conditions of Apple's Dictation service when prompted. Keep in mind the "Shortcut" as well, such as "press the dictation key" or "push the control key twice." Later, you'll need that to turn on dictation. 
Make sure the microphone on your Mac is chosen, then launch TextEdit and start a new document: 
Playback your audio file through your Mac's speakers after using the dictation shortcut (by pressing the dictation key, for example). The microphone should detect the audio and begin live transcription into the open document. 
Can Mac transcribe audio to text? 
The Mac does indeed convert audio to text. This is how 
Select Apple menu > System Preferences, click Keyboard, then select Dictation on your Mac. Select the microphone you want to use for keyboard dictation by clicking the pop-up menu next to the microphone icon.
If you select Automatic, your Mac will listen to the keyboard dictation device you're most likely to use. 
What is the best software for transcribing? 
Express Scribe Pro, Transcribe, Transcriva, Dragon, Transcript Panda etc., are among the best software for transcribing and offer a wide range of features like excellent accuracy, attractive dashboards, minor error, excellent draft services and much more.  
How do I transcribe audio to text in Word for Mac? 
Note in Word 
Ensure that you are logged into Microsoft 365 with the latest version of Edge or Chrome. 
Navigate to Home> Dictate dropdown > Transcribing. 
Select Start recording in the Transcribe window. 
To know that the recording has started, watch for the timestamp to increase and the pause icon to become outlined in blue. 
How long does it take to transcribe 30 minutes of audio? 
It varies. How long it takes depends on several factors. However, many transcribers agree that, as a general guideline, four hours are needed for every audio hour. 
If you're wondering how long it will take to transcribe 30 minutes of audio, the answer is roughly two hours. 
However, the four-hour time frame could also be entirely incorrect due to the numerous elements involved. For example, in many instances, recording an hour of audio can take up to 10 hours. 
Conclusion
There you have it, the best transcription software for your Mac system; now go and complete your assignment, which has been pending for a long time and get your grades.