Travel means a lot of pre-planning, preparations, excitement, and much more. However, it is never an easy task to plan a worry-free trip. To make our traveling convenient and hassle-free, there are many travel apps that one may consider for planning his next journey. 
Here are some of the best travel apps in India that one may install on his phone and do the planning of their next trip abroad. A travel app can be useful in many ways.
Some of these apps can help the user save some bucks while some provide tips and tricks for the user based on their destination. 
Anyone who travels a lot knows how helpful these travel apps can be for travelers. In case of emergency, these travel apps prove to be a genie. These apps can help you experience a faraway land like the locals from places to explore in a locality to food suggestions. 
The catch is that not every app in the market will help you enjoy your trip without any trouble. To help you pick the best travel apps in India for your next trip, we have made a list of apps you wouldn't want to miss.
Best Travel Apps in India: Our Top Pick 👌
1. AirHelp
Launched in 2013 as a start-up, AirHelp has been helping passengers with their air travel issues. The app allows users to file claims of compensation against delayed flights, overbooking, their rights, and much more.
The app is highly useful for people who are traveling for the first time or people who are on a tight schedule.
The platform takes justice for passengers as their priority and does the needful to help its users get compensated. Over the years, AirHelp has helped about a 16million people get their claims.
They have helped national governments alter laws to be more transparent and just for the air passengers. 
AirHelp has been very useful for passengers who have no time to deal with airbus operators. For years, the process of filing compensation for delayed flights has been complex. However, AirHelp has made the entire process very simple.
To make claims, one has to visit the AirHelp website or mobile application, enter a few details, and it is all done.
Once the details are filled in, it becomes the work of the application to do the rest of the work. 
Pros of using AirHelp:-
The application operates in about 16 languages. Whatever language you speak, AirHelp will be there to help you through your air travel compensations.

AirHelp operates in over 30 countries across the globe. Some of the most active countries in terms of air travel find AirHelp working for air passengers.

The application has served over 16million passengers. The vast experience of AirHelp ensures that new users are protected.

Justice is the priority for AirHelp. It was never easy to drag huge companies to court, but AirHelp has made the entire process feasible.

A user doesn't have to pay Airhelp anything if the application fails to serve justice to the user.
Cons of using AirHelp:-
The app might not be operational in some small countries. That's where you might need to be extra careful while planning your trip.

The service charge on a successful claim is about 25% for the users. For some, a 25% commission to pay could be too much.

The app might not be of any use in case of lost luggage.
2. LoungeBuddy
Traveling via air can be very hectic, especially when one has to wait for long hours for their connecting flight.
The pain gets worse when one has no place to go and have some rest in the airport. For people with low-budget tickets and connecting flights, the journey could be very irritating. 
To help all such travelers get a place to freshen up on the airport premises, LoungeBuddy has taken the matter in its own hands. The app promises convenient stays at airport lounges. And, the services can be availed even without a costly ticket of the airbus.
LoungeBuddy can help the user to search for available lounges in an airport. Any traveler can book a lounge of their choice based on availability. The entire travel experience gets much better with access to a lounge.
The lounges enable the traveler to freshen up after hours of travel. However, looking for a quality lounge could be a headache, but no more.
Over the years, LoungeBuddy has helped millions to make their lounge and travel experience better.
LoungeBuddy is one of the best travel apps in India because it operates with thousands of lounges. LoungeBuddy is dedicated to making your Airport experience better and more convenient. 
Pros of using LoungeBuddy:-
LoungeBuddy gives the user details about the airport lounges they have access to based on the user's booking.

It allows the users to book lounge access even at the last minute.

The membership of LoungeBuddy can help a user save some bucks.

The user can get access to about 1000 airport lounges using LoungeBuddy.

The app charges a nominal fee for membership for lounge access.
Cons of using LoungeBuddy:-
Not every time it can be relied upon. You might not be allowed inside the lounge in cases where you don't have a credit card or a membership of LoungeBuddy.

The lounges might have limited access, so LoungeBuddy might not be able to help the user.
3. OYO Rooms
For pocket-friendly stays, OYO Rooms can be your staying companion. The rooms are comfortable, clean, and well-maintained. One may find a handful of services with their room booked through OYO Rooms.
Over the years, OYO Rooms has emerged as the staying buddy for many young travelers across India. The popularity of OYO rooms, along with its quality services, has made OYO Rooms one of the best travel apps in India. The app offers interactive discounts to new and existing customers. 
One may also use the app's wizard feature to avail of better deals and services from the OYO Rooms. They are always trying to make stays more comfortable, better, and budget-friendly.
The rooms provided to guests are usually sanitized to ensure proper hygiene.
The best part about OYO is, that one can see what kind of room they'll be getting for their stay and at what price. The images posted by hotels make it easier for the guest to make a final call. The app ensures that the booking process is hassle-free for the guests.
Pros of using OYO Rooms:-
Pocket-friendly stays anytime, anywhere. OYO is widely operational across India. The full availability of OYO Rooms ensures rooms are available for everyone.

OYO takes hygiene very seriously. When a guest books a room with OYO, they get clean rooms for their stay.

The people at OYO hotels will not disturb the guest. OYO understands private space and abides by it throughout the stay of the guest.

There's a wide range of OYO rooms to choose from. Based on the budget, the guest may pick any place that they might like. 

The process of booking a room is very simple and quick.
Cons of using OYO Rooms:-
Sometimes a guest might face booking cancellation from the host hotel.

Customer support could be annoying at times.
4. SkyScanner

 
Started in 2003, SkyScanner has been keen to travel simply. Over the years, the priority of SkyScanner has been to ease the pain of booking a traveler. Today, SkyScanner helps millions with their travel planning.
The specialty of SkyScanner is that they provide booking solutions for hotels, flights, and cars. Many travelers rely on SkyScanner for booking their flight tickets. The app searches over one thousand sources to provide the best deals of flights and hotels.
The application works in a customer-centric manner, which enables it to alter results based on a customer. If you're trying to save some bucks from your next flight, you might want to consider SkyScanner. The application can provide flight details of flights operating globally.
For hotel room bookings, the app also offers some discounts and takes you to the best hotels. Whatever your budget, SkyScanner has something in store for almost everyone.
The application is known for providing the best rates for flights, hotels, and car rentals.
Pros of using SkyScanner:-
The application is free to use. A user does not have to pay anything for using the app for searching flights or hotels. The company operates on referrals and charges a fee from the flight company or hotel for every successful booking.

The deals offered by SkyScanner are mostly the best, and the price is unbeatable.

SkyScanner emphasis more on customer satisfaction.

SkyScanner takes user privacy concerns seriously and protects user data.
Cons of using SkyScanner:-
SkyScanner might not be operational in some countries.

The pricing keeps on fluctuating on the SkyScanner app.
5. TripAdvisor
For your hunt for the best travel apps in India, TripAdvisor could be your best bet. The app allows users to search hotels, flights, and much more on the go. The app can make travel much more comfortable and convenient. 
Every month, millions visit the TripAdvisor app and website for reviews, bookings, and planning purposes. One may find some of the best deals on the app. TripAdvisor has reviews, photos, suggestions, tips, and much more for its users. 
TripAdvisor is committed to making the entire traveling process more thrilling and fun. With TripAdvisor, the users may sit back and enjoy their trip. The users may post their travel queries on the app's forum and get them answered by experts or fellow members.
Another great thing about TripAdvisor is it's Near Me option. This option can unveil a whole new world of food, party places, bars, and many more exciting things. One may also use the app to get new travel ideas. The perfect blend of features makes TripAdvisor user-centric. 
Pros of using TripAdvisor:-
The application is operational in most countries. The wide availability of the app makes it highly dependable for travelers.

The app can be accessed in about 49 languages. Whatever your language is, you can always use TripAdvisor for your travel needs.

Through the application, one may get his travel-related questions answered by industry experts.

The reviews on the app include photos that make the review more trusted and reliable. 

The near me option of the app suggests things quickly, and it's very efficient.
Cons of Using TripAdvisor:-
The suggestions on the app could be overwhelming for some users and might confuse them. More and more ideas make decision-making tough.

One may find hotels mentioned on TripAdvisor involved in malpractices like bribing customers in exchange for positive reviews.
At the time of our research on the top 10 travel apps in india, we found a video about "9 Awesome Facts About India Tourists Can't Believe" which is worth watching. 🤴😎
9 Awesome Facts About India Tourists Can't Believe
6. Packpoint
While the excitement of traveling and exploring new places makes you dance, packing makes a dent in the bucket of excitement. Yes, we understand your plight. Packing for your trip is a lot of work, and it requires a lot of effort.
Packing for a trip requires the traveler to make a list. A list is useful because using a list ensures travelers do not miss out on an essential item.
Repurchasing the same product in a faraway land could be costly. Moreover, you cannot repurchase your passport or ticket. So, an app like Packpoint becomes a game-changer.
It is one of those best travel apps that make travel much more comfortable. The Packpoint app checks the weather of the user's destination and alters the list based on the weather reports.
Apart from this, the app takes information about the destination into account and makes a custom list for the user. 
Packpoint app can also make a list based on the activities one might indulge on their trip. And, that makes the Packpoint app an absolute must.
Pros of using Packpoint:-
The app ensures you don't miss out on any essential item while packing for your trip. 

Packpoint users can have a customized list made for their journey using the app's premium service.

The app can make packing simple and quick.

The users can share their packing list with other people traveling to the same destination.

The application also enables the users to reorder the list.
Cons of using Packpoint:-
To unlock all the features of Packpoint, one has to pay a subscription fee.

The app might not be useful for road trips. 

A user of Packpoint cannot add custom items to the list made by the application.
7. Airbnb – Best travel apps in the world
Airbnb is another best travel app that can help a traveler save money on his trip. The app enables travelers to book a stay at the place of a local. This interactive booking idea makes the trip adventurous for first-time travelers. 
The unique idea of making travelers stay with locals also helps people to come close to each other. Moreover, it provides more opportunities for the traveler to explore the land in a way that of locals.
Airbnb is continually working with locals to make the experience of hosting and staying better. One doesn't have to worry about his budget when going with Airbnb as the accommodation partner.
The stays are pocket-friendly, and the customer support is very helpful. The app is dedicated to cutting travel costs, and Airbnb has done the job well over the years.
Airbnb stands firmly with no discrimination policy and ensures both the parties involved a safe stay.
The amazing part of using Airbnb comes with the feature called 'trips.' With trips, one may plan their day based on the activities suggested by the app. 
The trip feature gives ideas for exploring a local's place with the local guide itself. Moreover, one may also book cars using the app.
Pros of using Airbnb:-
The hosts at Airbnb are welcoming, and they'll walk the extra mile for you to make your experience better.

One may directly connect with their hosts over text messages and ask any queries that they might be having related to staying.

Value for money. The cost of hotels and the expense of staying with an Airbnb host has a massive gap for a night's stay. Using Airbnb is always economical.

The stay also includes access to a kitchen. So, if a traveler feels like cooking something on the trip, they can be the chef with Airbnb kitchens.
Cons of using Airbnb:-
Airbnb stays often come with minimum stays. Some of the hosts set a limit on the number of minimum nights the guest has to stay in the accommodation. 

Lack of Privacy. Airbnb runs on the concept of finding accommodation in the house of the host. This way, the guest gets little or no privacy at all.
8. Uber – Easy affordable trips
Uber can be your travel buddy on vacation. The app kills the process of looking for taxi stands and getting a ride to the next destination. The task of booking a cab becomes much more comfortable with Uber.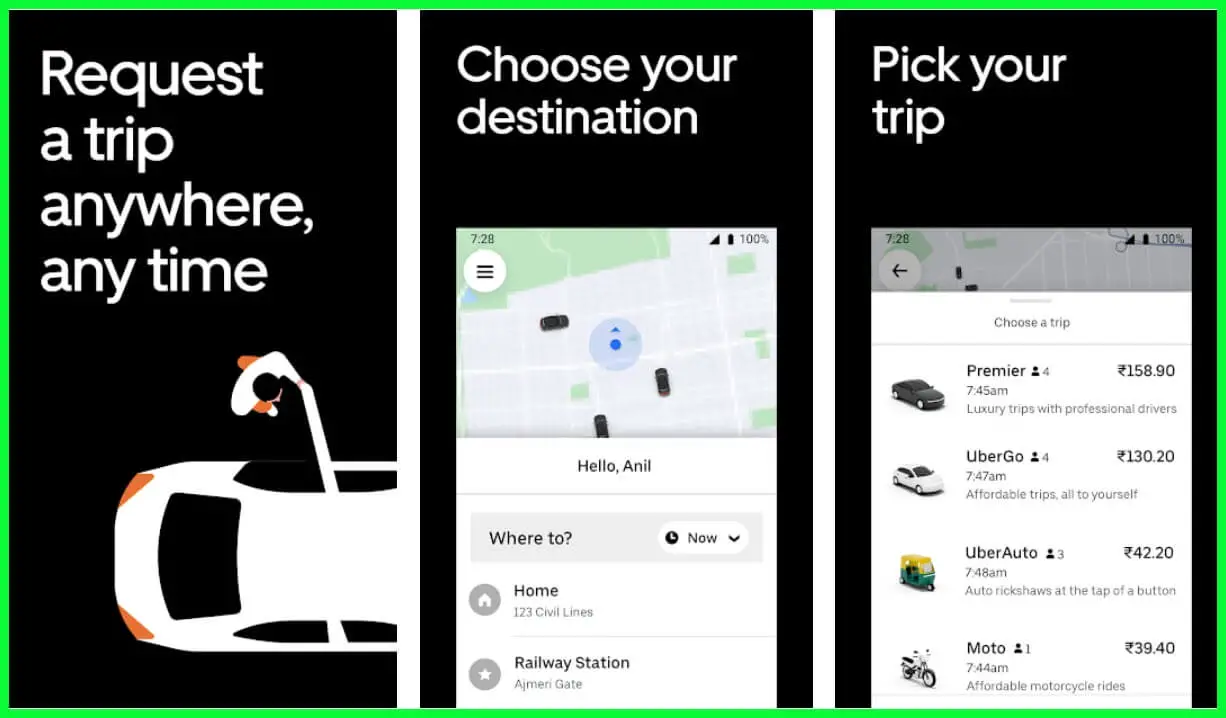 Uber is one of the best travel apps in India because it makes the journey from one destination to another hassle-free. Uber saves time and money for the users. A user also gets discount codes from time to time for using the services of uber.
If a user is unable to interact with locals in their language, uber can be a lifesaver. One may choose to share his ride or might opt for a private cab as per his convenience. The trips are pocket, friendly, and quick.
When a user books a cab with Uber, the driver cannot cancel the ride. This mandate for drivers ensures seamless service for the passengers. Uber is concerned about customer satisfaction.
Uber has taken various steps to ensure the best services. Uber has made it clear to its drivers that a streak of low ratings could result in their exit. This mandate, along with several other steps, has helped Uber grow as an industry leader.
Pros of using Uber:-
The services of uber are highly professional. The drivers do their potential best to make the experience of the rider hassle-free.

Pocket friendly. The app offers rides at very affordable prices. Uber strives to provide quality services without upsetting the rider's pocket.

The company takes online payments in most of locations. E payments for services provided make the collection process less risky for drivers.

Uber is operational in as many as 173 countries across the globe. If Uber is operational in the country you're visiting, you can rely on Uber for your cab transportation.
Cons of using Uber:-
Uber is known to surge the prices during peak times. The surge gets Uber a no from many passengers. However, many people still opt to use Uber because it is more convenient.

In some locations, drivers are allowed to cancel trips. These cancellations from a driver's end could prove very costly for some passengers. Imagine yourself rushing to the airport at the last moment and the driver cancels your ride.

Safety is a big issue with Uber in some of areas. There have been cases where criminals misused the company's name for their foul purposes.
9. MakeMyTrip
MakeMyTrip app brings power to the hands of a traveler. With MakeMyTrip, one may book tickets for flights, buses, trains, and much more. The users can also book hotels using the book a hotel option on the app.
The app also gives interactive discount codes to the users. Discounts offered by MakeMyTrip can help users save some money. Apart from discounts, in some instances, users may also get cashback for booking via the app.
MakeMyTrip is one of the best travel apps in India and also suggests things to do in a location. These suggestions are based on the location of a user. Moreover, most of the suggestions made by the app are nearby to the user.
A user's ticket or hotel booking experience gets better with the app because MakeMyTrip has made the process smooth and straightforward. The MakeMyTrip app could also be used as a tool to plan future travels. There's something for everyone on MakeMyTrip.
For people who are tired of staying in hotels and want to try staying in a villa, MakeMyTrip brings them the best villas to choose from.
Pros of using MakeMyTrip:-
MakeMyTrip makes booking hassle-free. One may book tickets with a few clicks. 

One may see suggestions aka experiences from the app to indulge in during their trip. These experiences could make a user's journey engaging and fun.

One may also use referral codes to earn money and cut costs for their next trip. Referral codes are a great way to avail some discounts.

One may also shortlist a hotel, flight, or bus. This option could come in handy when comparing flights or different modes of travel. 
Cons of using MakeMyTrip:-
The customer care service of the app could be annoying at times. 

Refunds could be slow through MakeMyTrip.
📗FAQ on The best travel apps in India
Which is the best trip app in India?
The best trip app in India would be TripIt, PackPoint, IRCTC Rail Connect, and FabHotels. You can use them when you are traveling in India. It can help you find the apt food, accommodation, and travel mode.
Which travel booking app is best?
The travel booking app that can help move around India and the world would include Skyscanner, Airbnb, HotelTonight, and TripIt. These apps are free to use and do not occupy a lot of space on your smartphone.
What is the #1 travel app?
The number one travel app would be Google Maps. It works anywhere in the world, and most of the data provided on it are reliable. It shows you how you can get from one spot quickly to the other. You can travel by walk, cycle, or vehicle.
Which app is used for Travelling?
When you constantly travel around the world, you might consider using an app called Waze. It works on both iOS and Android devices. You can download it and make use of the features provided, like accidents, speed traps, and other hazards.
Which app is best for holiday packages?
The best app for holiday packages is Hopper, Skyscanner, Airfarewatchdog, and Jetradar. You can use any of them incredibly well if you want. They work quite well on both your Android and iOS devices as well.
Which is the cheapest flight booking app in India?
When traveling to India, then you can make use of the cheapest flight booking app like MakeMyTrip, EaseMyTrip, Goibibo, and Cleartrip. These apps make your flight booking pretty easy and offer you the most affordable rates that are currently available.
Which travel app has the best prices?
A travel app that can point out the best prices and fares would be Hopper. You can easily find out when the low fares show up and purchase your tickets during that period. It also comes with a price-monitoring feature for particular flights, where you can get alerts.
Is there an app for Google travel?
Google Trips, as it was formerly called, helps you to plan trips through Google. You can effortlessly decide where you want to go and plan other things as well. It was launched on September 19, 2016.
Why is Skyscanner so cheap?
Yes, those of you who have made use of Skyscanner might know about its stunning features. Using the app, you can find all the details about purchasing tickets for the flights. Besides, you can find out the cheapest rates, multi-city searches, and secret everywhere features.
What is the cost of the whole India tour?
A proper vacation to India for a week or 10 days per person might cost you around less than INR 50,000 or $600 per week. Of course, you can make use of the apps and find out which of those point to the cheapest hotels, food facilities, and transport.
Conclusion
A person needs to have some of these best travel apps in India installed on their electronic devices if a person travels frequently. These apps can make travel fun, exciting, and worry-free.
For new or experienced travelers alike, these applications could be of great assistance. All these applications seem to make the experience of a traveler better with their unbeatable services.