We all know how difficult it is to organize your work or simply manage your projects. There are loads of tools and software currently on the web that help sort it out for you. Well, in such a case, you might have used Trello before, which is one of the most popular project management tools.
There are millions of Trello users out there since it is super easy to use and is free of cost. You can keep track of all your projects, every task assigned, etc. Not only can you use it to organize your work but also for your life.
Simply list down your daily tasks and keep track of it through a simple mobile app. However, there are certain aspects that users find absent in the software and have been searching for something better or an alternative to using other than this. Hence we did our part of the research and reviewed several Trello alternatives.
You can check out the list below and switch to something much better and more useful to keep up with your projects. Here we go.
Best Trello Alternatives: Our Top Pick 👌👌
1. Asana
Asana is one of the best Trello alternatives currently on the web. It is simpler, better, and has tons of integrations you can apply for project management. This tool allows team collaboration and managing tasks given to each user a lot easier.
Simply create a project and list down multiple sections of each project. In each section, you can then have multiple tasks assigned to every member of the team.
Apart from the board projects, you can create a timeline to update yourself on how the project pieces fit together and then make further decisions.
To keep your project in a systematic order, Asana offers the process of automation in multiple steps. You can easily set a due date, assign a task, change priority, add followers, etc.
Simply create some rules for everyone and allow the tool to keep things in check. One of the biggest takeaways from this tool is the use of a Portfolio that allows you to monitor all the initiatives of the project in real-time.
You can monitor all the projects of your team, keep track of the progress & loopholes, and keep the team updated likewise. Well, another brilliant aspect is the use of app integrations.
From setting up Asana as your Google Chrome extension to keeping track of all the progress through the mobile application, you can get it all. Also, this platform is free of cost for limited members but is worth spending money on for a long time.
Pricing:-
Basic- Free (up to 15 teammates)
Premium- US$ 10.99 per user per month
Business- US$ 24.99 per user, per month
Enterprise- Customizable
Pros:-
User-Friendly

Multiple app integrations are available

Exceptional UX

Very flexible interface

Free trial (no credit card required)
Cons:-
Long learning curve

No two-factor authentication is available
Note:-
I have written a post for people looking for the 7 Of The
Best Asana Alternatives
For Project Managers, do read it If you are interested.
5 Keys to Mastering Asana for Team Tasks and Projects
2. ProofHub
ProofHub is an all-in-one tool that covers all the aspects of project management you need for your team, such as planning, collaboration, organization, etc. One of its key features is the user interface.
It is super simple and easy to understand, especially for anyone who might have found the Trello interface to be a little complicated. It has everything under a single platform, and you may not need multiple integrations to fill your need to scale your businesses.
Apart from viewing all the tasks on the task board, there are multiple other ways to keep track of the tasks too. Well, you can view the timeline of the tasks assigned to the team member through Gantt Charts.
It helps teams to easily plan the projects, modify schedules, and visualize tasks in a timeline view. If you have specific dates for certain tasks, you can keep track of them using a calendar and view all of them collectively.
Another important feature of this tool is that you can assign specific roles to each team member and provide them limited access to the resources as you find fit.
Unlike Trello, you do not need a separate chat app here to get connected with other members. Simply use the built-in chat room similar to any messenger you may have used and get instant replies. It does not slow down and works flawlessly with no delays.
As the name itself says, the main aspect is proofing, where you can give feedback quickly by using markup tools. Furthermore, it even helps to provide an end report so you can know where you are heading.
ProofHub - How ProofHub Works
Pricing:-
14-day Free Trial
Essential- $45 /month ( 40 projects )
Ultimate Control- $89 /month (Unlimited)
Pros:-
Simple user interface

User-friendly mobile apps

Multiple customizable options

Good security applications

Allows native time tracking
Cons:-
Only a short duration of free plan

I cannot tag people in the comments
3. ClickUp
If you want something fresh and user-friendly to make your transition easy from Trello, ClickUp is the one you need to go for. It has a brilliant design and an easy-to-learn user interface.
This tool picks up everything you have been missing on Trello and adds a lot more to give you a superb experience. It features multiple views that might have been missing from the former tool. 
You can choose a board view, list view, box view, more comprehensive calendar view, etc. It even has a Me Mode where you can only focus on the tasks assigned. You can easily manage your tasks board simpler by following a hierarchy.
Simply create a workspace, store folders, create lists and spaces for different genres, assign tasks and subtasks, and add a checklist. ClickUp is more organized than what you might find in Trello.
Another superb aspect is that as soon as you tag and comment on a person, it will instantly notify the concerned person so that it can be taken into consideration quickly.
If you have a task that needs teamwork, you can add more than one person to that task to get the job done much more efficiently.
Like other tools mentioned above, this too features the Gantt Charts that have become an important aspect of any project management tool. You can instantly keep track of the progress and view multiple aspects of each task assigned.
When it comes to automation, it has multiple processes that readjust based on what you have set up initially. From providing reports to calculating your loopholes, it provides all. Also, the mobile version is amazing and makes it easy to handle everything.
Pricing:-
Free- 100MB Storage
Unlimited- $5 User per month (Unlimited Storage)
Business- $9 User per month
Pros:-
Intuitive user interface

Customized access rights

Multiple viewing options

Supports multiple platforms

Excellent customers support
Cons:-
No native language translations
4. Workzone
Workzone is another project management software similar to Trello but much better and more efficient. Well, it is very simple to use but has multiple features to help maximize the potential of your teamwork and schedule your tasks better.
You can access the project dashboard, where all the projects are monitored in real time so that everyone stays on the same page as the manager.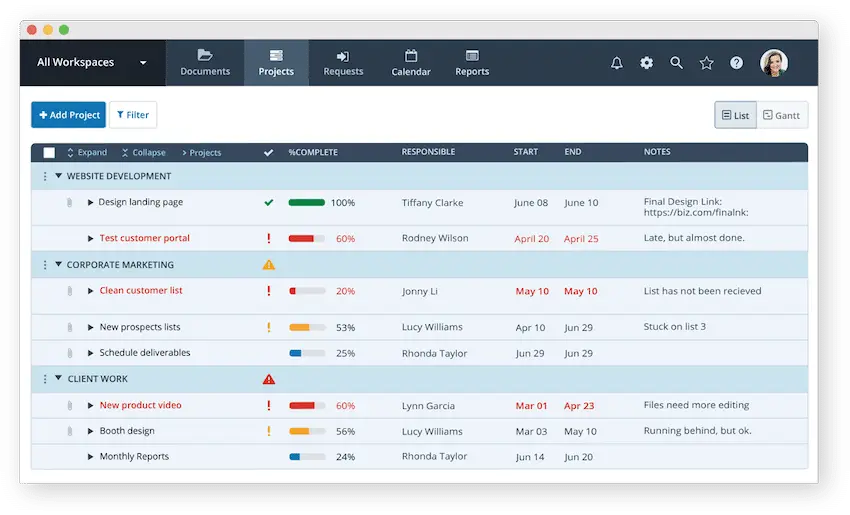 Like the other tools mentioned above, each team member will be assigned particular tasks and to-do lists. The plan is updated automatically so that any manager does not have to do it manually every time. A Gantt chart is a useful tool where all your project schedules are projected in a timeline manner. 
It is useful since it provides you with detailed info about all your projects in a graphic manner so you can track all the tasks in a single view. Also, this tool provides you with necessary alerts in the areas that need your attention.
If any task is not submitted on time, it will send you alerts via mail so that you can then take action.
You can make your work easier by using the in-built project templates to schedule your tasks. The cloud allows you to share your files securely.
To ensure that each team member follows as needed, you can use the comment section allotted for each task or section and provide notes for further actions.
Pricing:-
Team- $24/user per month
Professional- $34/user per month
Enterprise- $43/user per month
Pros:-
Supports email alerts

Simple User Interface

Multiple customizations available

Best real-time collaboration

Good customer support
Cons:-
No free trial or plan is available

Multiple project views are unavailable
5. Podio
Podio is just another amazing Trello alternatives that not only serves as a tool to organize your projects but also a platform where you can sort your work too using the dashboard.
It is much simpler with minimal usage, but you can use tons of integrations with this tool and make your work easier. The UI is rather very simple and nothing too exciting at the very first look. If you are just starting up, Podio can help you with it. 
You can choose a simple tabular form or complex project management with multiple hierarchies. It depends on the work you have and how you wish to proceed.
Once you have started your project, you can also create an overview or reports to keep yourself updated on the activities. This tool supports multiple app integrations that help to keep you attached to a single platform.
You can use Evernote, Gmail, Dropbox, Drive, etc. Also, it has a mobile app that is very flexible and keeps you updated about the tasks assigned.
It even has a built-in chat messenger through which you can have a chat with your team member and make work a lot quicker. You may not need to comment and wait for another person to reply after hours.
This is convenient and saves time on a large level. Similarly, you can also view all the tasks and dates related to it on the calendar to get pepper alerts if the tasks go beyond the deadline.
Pricing:-
Free- For Five employees only. Basic- $7.20 per user
Plus- $11.20 per user
Premium- $19.20 per user
Pros:-
Simple to understand UI

Multiple add-ons available

Built-in chat messenger

Flexible apps

Customizable site
Cons:-
UI is not very presentable
6. Airtable
Just another tool that you can use instead of Trello that is efficient and has loads of features that will help you switch from one tool to another very smoothly.
One of the most important aspects of this tool is that it can help you choose the right view for your project so that you can understand it better. As of now, Airtable has about four types of views that you can choose to see that are Grid view, Calendar view, Gallery view, and Kanban View.
Well, another feature you will find here is to create the project dashboard based on multiple database options or templates best suited for it.
You can add attachments, checkboxes, lists, etc., and sum up the data that is needed the best for managing your project and get rid of any unnecessary clutter. 
Like other tools, Airtable also allows you to use integrations from other apps. There are over 50+ prebuilt apps that you can add to your project and make the process much easier. With Gantt charts, you can keep a timeline of your work.
Also, there are multiple other apps for different purposes depending on what you desire. To make your work more efficient, you can use the process of automation that will automate any task scheduled manually.
From sending notifications to integrating tools, all can be done by itself with just a few manual processes. Airtable has a new feature that has been added recently where you can sync the data or share it from TEAM A to TEAM B.
Pricing:-
Free- 1,200 records per base
Plus- $10 user / month (5,000 records per base)
Pro- $20 user / month (50,000 records per base)
Enterprise- Customizable
Pros:-
Superb User Interface

Multiple project templates are available

Various types of views are available

50 prebuilt apps

Great use of automation
Cons:-
The free version is limited

Mobile application not very smooth
7. Avaza
Avaza is one of the best Trello alternatives that we found to be quite useful and intuitive that you can choose to go for. This is an all-in-one project management software that gives you a free pass from using hundreds of apps to manage your business and spending money on tens of subscriptions.
Avaza not only saves time but also a lot of time. All you need to do is simply pay for one tool and get multiple benefits. Like other tools above, here you can create tasks, assign work, and keep track of them.
You can look over everyone and monitor them using multiple view options that do suit you well. There are mainly three types of views that are Gantt, KanBan, and List.
These keep you organized by listing your tasks, team members, and other aspects. You can keep everyone in the loop about the progress and add comments to the tasks, so everyone is updated on the scenario.
Moreover, any feedback sent over email can be assigned as a task directly whenever needed. All your files shared with the team can be stored in one place, so anyone can access them when required for evaluation.
Other than a team member, you can invite customers too for collaboration and feedback. Also, it allows you to assign tasks and roles to your team and grant them specific access to the data individually, making it easier to focus on other tasks.
What could be better than automating tasks that are meant to save time? Using Aavaza, you create recurring tasks to automate your workflow.
Pricing:-
Free- 5 Active Projects
Plus- $9.95 USD / month (20 Active Projects)
Pro- $19.95 USD / month (50 Active Projects)
Enterprise- $39.95 USD/month (Unlimited)
Pros:-
Easy to use and understand

Flexible

Multiple customization options

Affordable subscription

Well-integrated timesheets
Cons:-
Complex reporting process
At the time of our research on Best Trello Alternatives, we found a video about the "5-Hour Rule Most Successful People Started Following," which is worth watching.
5-Hour Rule Most Successful People Started Following
✅FAQ
Is there a better alternative to Trello? 
Yes, there are some great alternatives to Trello you can try to easily manage all types of projects, workflows, as well as task tracking. Some of the best options to have a look at are Asana, ClickUp, ProofHub, Workzone, Podio, etc.  
Does Google have a Trello alternative? 
No, there isn't any similar application or platform like Trello. However, Google workspace is powerful enough to manage all project management tasks, including work assignments, emailing, note-taking, drawing, event planning, remote meeting, etc.  
Which is better, Asana or Trello? 
Trello is an excellent option if you search for a visual project management tool and don't have to divide subtasks quite often.
On the other hand, Asana is powerful enough to manage lengthy projects for more than two people and is very suitable, especially if you manage a smaller group of people. 
Is there a Microsoft equivalent to Trello? 
Microsoft Planner can be the most suitable answer for Trello by Microsoft. It is very similar to Trello in terms of feel and looks, as well as setting up tasks for different individuals.
And the best part is Planner comes with Office 365 Enterprise Subscription. So, you get many apps to perfectly streamline various aspects of your business.  
Is Trello better than MS planner? 
MS Planner is known to have a progress field, while Trello only adds configurable labels. It depends on your business requirements and preferences.
Configurable labels of Trello are sometimes very suitable for small projects, and progressive field by MS planner suits large enterprises the most. Both platforms offer attachments even within the card, and Trello allows individual comments.
And both are very helpful for sharing multiple documents at a time. So, all you come down to your business model, requirements, and other preferences.  
Is Microsoft Planner free? 
Microsoft Planner is available with various paid MS Office 365 plans and is technically not available free of cost. 
What is the difference between Trello and Jira? 
Trello is one of the most simple, customizable, easy-to-use Kanban boards for teams that prefer to work agile without observing much about the liturgy of agile development.
On the other hand, JIRA is a full-fledged project management tool for typical agile teams that are releasing, fixing, and building software. 
Is Trello an agile tool? 
Because of its simplicity and ease of use, Trello is a wonderful agile solution. It works perfectly like a traditional whiteboard but in an exciting digital form.
The overall flexibility of Trello boards is excellently aligned with the scrum framework and offers you full visibility not only in project stages but in roles and deadlines as well.  
What is the difference between slack and Trello? 
Both Trello and Slack are two completely different types of platforms. At the same time, Trello is a full-fledged project management tool and is used to manage different types of project activities.
On the other hand, Slack is one of the most preferred communication chat platforms used by organizations to establish healthy and effective communication. 
What are the disadvantages of Trello?

 
There are some major disadvantages of Trello, and you should be very sure whether you need it or not before finally investing in it. 
Trello is not designed for everyone. 
It offers limited views. 
Suitable only for general project management 
It is not the best agile business tool 
It doesn't offer task dependencies

 

It is not a fully featured project management tool 
Limited integrations

 

Communication is not the major aspect
Conclusion on Trello alternative
You saw the list of the best Trello alternatives and the number of features you may not find missing from it. Well, switching from your former tool can be a big risk at first since you might be used to it.
But these tools mentioned above have a lot to give, and most of them are identical to the user interface Trello uses. So, it might be as difficult as you would think. It all comes down to whether you are ready to spend a small amount of money to receive the best service.
The tools here have many options that help you keep updated on the projects you have been working on. It is superbly easy to assign tasks to your team members, and using other tools that can be integrated here makes it worthwhile.
All of the above are all-in-one tools so that you can save a lot of money and time as well with the help of the automation process found in almost all the project management software.
You can also let us know your review of the Trello alternatives if you have used them before. So that others can benefit from it and help them decide which one to invest their money on.