Do you have the curiosity to know about the Best Tripod for Vlogging to buy in 2022? 🤔 You can easily Find out now in this definitive list with our detailed review.
Without any further delay, let's find out. 👓
If you are planning to take on vlogging, then there's no doubt you already know about some of the necessary tools and accessories to shoot the videos for your vlog.
A camera is the most basic thing as you can't shoot any videos without one. However, the quality of the videos you shoot is also very important; that is where the tripod comes in.
There is perhaps a no better way to keep your camera stable than with a tripod. It helps you avoid bringing unwanted vibrations into your camera that could cause video blurring.
Not to mention that with a tripod, you can shoot for as long as you like, as the equipment takes away the stress and corresponding fatigue of holding the camera for an extended period.
Tripods also allow for flexibility in recording positions. You can do anything while recording if the camera is set facing you.
From vlogging to photography, every artist has much to gain from having a good-quality tripod.
So whether you have been stacking up books to serve as a tripod or are just looking to buy a new one for whatever reason, it is recommended that you research the best tripods in the market to have an idea of what to buy.
However, hundreds of options are available, and picking out the best of the lot can be one overwhelming task. Luckily for you, we are here to make things easier.
In this article, we have reviewed the seven best tripods for vlogging currently available. So let's get to it. In no particular order, here is the list;
Best Tripod for Vlogging – Our Top Picks 👌👌
1. Joby GorillaPod
The Joby GorillaPod is undoubtedly one of the best and most flexible vlogging tripods in the present market. The tripod is designed with articulated legs, allowing for flexibility in the positioning of the tripod.
You can either stand it or wrap it around any nearby object. Essentially, you can place it on any surface or platform in even the most unusual locations without worrying about harming your camera.
While still on flexibility, this tripod can also be folded into a selfie stick. So you are getting a tripod cum selfie stick. Nothing can beat that versatility.
When it comes to stability, you can be guaranteed that with this tripod. The legs have several joints with rubberized rings and grips, enabling you to bend the camera to any degree you want to put it.
In other words, no matter the angle you want to shoot your video, the tripod is stable and adjustable enough to get the job done. Many people also look out for durability in their products, and the Joby GorillaPod is a product you can trust to last for a very long time.
The body has an anodized aluminum make that offers exceptional durability to the tripod. If your camera matters to you, you would not want to put it on a low-quality tripod. Thankfully, with this product, you don't have to worry about that.
The tripod is also designed with the Arca-swiss system computability, which allows for easy setup and provides a quick-release mechanism that stays connected to the recording device. Because the tripod is so awesome, Joby offers it in several models, including – the 325, 500, 5K kit, 3Kkit, and 1K kit.
These models are designed to hold cameras of different weights, so before you settle on one, ensure that it is the ideal tripod for the weight of your camera.
The only downside to the Gorillapod is that its usability is dependent on a locking switch, and in the event, the switch develops a fault, you could be left with a limp and useless tripod.
All in all, regardless of how unique your needs for a tripod may be, this is an excellent product and you will find something that meets your requirement from the variants, which make it put in our best tripod for vlogging 2022 list.
Below are some of the Pros and Cons of Joby GorillaPod that earned it a spot in our list of Best Tripod for Vlogging to get in 2022.
Pros:-
It can support heavy cameras.
Easy to setup
Features a quick-release clip
Made with premium quality and highly durable materials
It comes with rubberized foot grips for extra grip
Designed with flexible legs to allow for versatility in positioning
It is lightweight
best iPhone tripod for vlogging
Cons:-
It is slightly expensive
It relies on a locking switch
2. Manfrotto MTPIXI-B PIXI Mini
The Manfrotto MTPIXI-B PIXI is truly an exceptional invention. It is versatile and useful, and every vlogger should consider getting one.
If you tend to record most of your videos from your home or in a space where you are pretty comfortable, chances are you may not be interested in a full-size tripod.
A compact one will do just fine, and this tripod might be exactly what you need. It has a versatile yet simple design and can be used by anyone, not just vloggers alone.
It is also very durable, thanks to the superior build quality of the tripod. It offers good value for the money so if you want something that will last longer, look no further than this.
The PIXI can also serve as a tripod or hand grip. To turn it into an ergonomic hand grip, basically a monopod, you have to fold up the legs, and you are good to go.
The tripod's functionality is based on a push-button system. You can adjust the ball mount and release the button locks in the head when the button is pushed in.
This system allows for exceptional stability, and once your camera is in place, it is locked in.
Even at the most extreme angles, the camera will stay secured and steady. It is also impressively lightweight and compact, so whether you are using it as a handgrip or a tripod, portability is something you never have to be bothered about.
The PIXI can support a maximum device weight of 2.2 pounds meaning that it is compatible with several smaller cameras. Due to its low weight capacity, this might not be the best option for you if your camera is on the heavier side.
Also, if you are into products with a lot of nifty features you might be disappointed with this one as the PIXI is very straightforward in its design.
Nevertheless, this is one of Manfrotto's best products,s and with its excellent body construction, size and functionality; they sure did a great job with it.
Below are some of the Pros and Cons of Manfrotto MTPIXI-B PIXI Mini that earned it a spot in our list of Best Tripod for Vlogging to get in 2022.
Pros:-
It is very versatile and can be used either as a tripod or a hand grip
It comes with an easy-to-use and reliable push-button lock
It is very lightweight and compact
best tripod for youtube vlogging
Cons:-
Not suitable for heavier cameras
A limited number of extra features
Check Price on Amazon
Manfrotto PIXI - Mini Compact Table Top Tripod - Review
3. Magnus VT-4000 Fluid Head Tripod
If you are a professional vlogger and need a tripod to help you shoot stunning and steady professional videos for your blog, the VT-4000 Fluid Head Tripod from Magnus is your surest bet.
It is incredibly easy to work with, and you can set it up in just about a minute with the camera and everything in place.
Like the name gives away, the tripod comes with a fluid head that allows for tilt shots and smooth pans. It also takes out the jerking and vibrations from videos to improve the quality of your vlog.
The tripod is also designed with a quick-release sliding plate, enabling you to slide the camera in and out as quickly as possible so you can record your videos.
Additionally, the tripod comes with a mid-level spreader which allows for the legs of the tripod to be extended to attain more stability.
While still on the legs of the tripod, the feet have ground spikes for stability on soft grounds when shooting outdoors and rubberized footpaths for balance on smooth and polished floors indoors.
In essence, whether you are shooting outdoors or indoors, you have nothing to worry about, as the tripod will work fine on any platform.
The VT-4000 Fluid Head Tripod has a very lightweight structure, but do not let its weight deceive you; this tripod can support cameras up to 4kg or 8.8 lbs in weight, thanks to a durable aluminum body build.
The tripod is also fitted with a 3.3 lbs counterbalance spring which enables smooth and effortless movement when tilting angles. Apart from the fact that the legs are not flexible and it is not compact, you should not have any problem with this tripod.
Overall, this is an exceptional product, and Magnus once again does not disappoint, which makes it put in our best tripod for vlogging 2022 list. Magnus VT-4000 Fluid Head Tripod is the best tripod for travel vlogging.
Below are some of the Pros and Cons of the Magnus VT-4000 Fluid Head Tripod that earned it a spot in our list of Best Tripod for Vlogging.
Pros:-
A smooth, fluid head is great for pan shots.
Durable and lightweight structure
It has a high-weight capacity.
It comes with ground spikes and rubberized feet for balance on all surfaces.
best camera tripod for vlogging
Cons:-
The build quality could be better
It does not have flexible legs
Not compact.
Check Price on Amazon
At the time of our research on "Best Tripod For Vlogging", we found a video about "How To Make a TRAVEL VIDEO – 10 Tips you need to know," which is worth watching. 🏆
How To Make a TRAVEL VIDEO - 10 Tips you need to know
4. CamRah Smartphone Tripod:- Best Tripod For iPhone vlogging
Most smartphones today have very good quality cameras, and if you own one of those, you may not need to buy a pro camera to shoot your vlog. Now, if you shoot your videos with a smartphone, the regular tripod may not be ideal.
Fortunately, CamRah has a smartphone tripod you will love. From iPhones to Android devices, the tripod has a wide range of device compatibility and provided your smartphone has a camera; it should work just fine.
This tripod is equipped with a mount for your smartphone, featured on top of the device. It has a grip-tight "JAWS" technology that grips and secures the smartphone, so you don't have to worry about it falling off while recording.
It also enables a relatively wide range of motion such that you can rotate, tilt or pan the phone and still record efficiently.
This tripod could not be more useful if you are also into photography. It comes with a Bluetooth wireless remote, which you can use to get the perfect snapshot without touching the camera.
Regarding the build quality, the tripod is designed with long flexible legs enclosed within a high-density foam to enable you to place and balance the tripod on any surface.
The feet are made of rubber so the grip is pretty strong, and you won't have the tripod sliding around even on the smoothest and most polished of surfaces.
As someone who films with their smartphone, you may film on the go more often than not. Luckily for you, the tripod is also as portable as it is stable, so you can throw it into your bag and pop it out whenever and wherever you want to record a video.
The tripod can handle phones as heavy as 11 lbs or 5kg, which is pretty generous as most phones do not even weigh up to that.
In summary, the CamRah Smartphone Tripod is a pretty reliable and durable product. It is praiseworthy of CamRah to manufacture a product targeted at a much-overlooked part of the vlogging world.
Below are some of the Pros and Cons of the CamRah Smartphone Tripod that earned it a spot in our list of Best Tripod for Vlogging.
Pros:-
It can be used for a wide variety of smartphones.
Equipped with a grip-tight technology to hold onto phones
It comes with flexible legs to allow for versatility in the positioning of the tripod
Features rubberized footpads for balance
It has a compact and portable design
High weight capacity
It comes with a Bluetooth remote shutter
best mini tripod for vlogging
Cons:-
Only suitable for smartphone users
The durability could be improved on
The setup process is slightly complex
Check Price on Amazon
5.

Manfrotto MVKBFR-LIVEUS Lightweight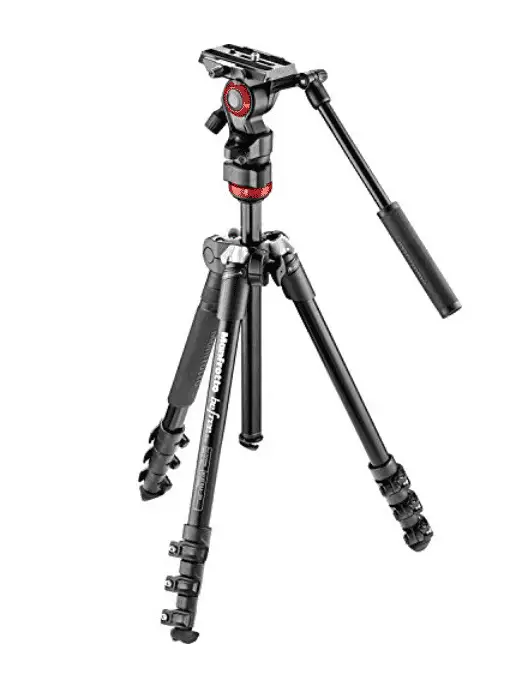 Manfrotto is a popular brand amongst vloggers and photographers so it's no surprise that another product made a list. This time, it's the Manfrotto Mini Travel Tripod.
If you are a travel vlogger or you tend to move around a lot and you need a tripod you can easily carry it around with you without it being an inconvenience for you. This Mini Travel Tripod by Manfrotto would make a great option.
As a travel-ready tripod, it is lightweight and compact and will easily fit inside any suitcase without drastically increasing the weight.
It is also quite durable, so you don't have to worry about wrecking your tripod with all the moving about that you do.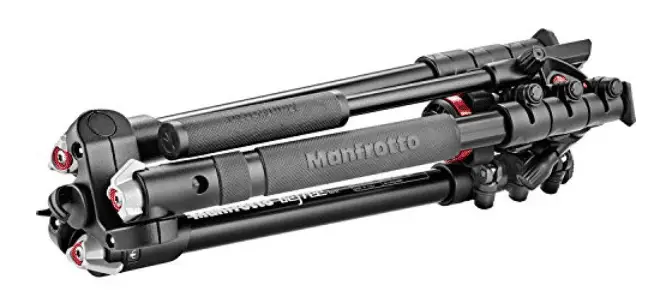 The handgrip is pretty comfortable. That way, you can easily hold the tripod if you want to record from the first person. The tripod is also designed with a push-button mechanism that allows for easy attachment of the camera to the tripod.
The only shortcoming of Manfrotto with this product is that its weight capacity is quite low and if your camera weighs more than 2.2lbs or 1kg, you should consider getting another product. The tripod is also not the most flexible so you should consider that.
However, that aside, the Manfrotto Mini Travel Tripod is incredible. With it, you can travel to wherever you want to go and make amazing videos as you go, which makes it to put in our best tripod for vlogging 2022 list. Manfrotto MVKBFR-LIVEUS Lightweight is the best handheld tripod for vlogging.
Below are some of the Pros and Cons of Manfrotto MVKBFR-LIVEUS Lightweight that earned it a spot in our list of Best Tripod for Vlogging to get in 2022.
Pros:-
It is pretty easy to use and setup.
It has a solid body construction and is highly durable
Compact and lightweight design, which makes it easy to carry around
Features a rapid push-button lock system for head adjustment
best tripod for vlogging camera
Cons:-
It is not flexible
Can only hold cameras under 2.2lbs
Check Price on Amazon
Manfrotto BeFree Live Tripod Hands-On Field Review
6. Sirui ET-35K:- Best Handheld Tripod For Vlogging
If you are looking for a tripod that will do everything with your camera, you might want to check out the Sirui ET-35K. The tripod's unique design makes it one of the best products currently available in the market.
The ET-35K is shrinkable, meaning it can go from a tripod to a handheld device in seconds.
If you need to increase the height, you can also do that, taking it to a maximum of 13.4 inches. The tripod is very flexible for recording videos at any height you want.
The standard length of the tripod without any adjustment is a mere 8.8 inches long. Thanks to its compact design, it can fit into a small bag and easily be carried around. It can also double as a selfie stick should you want to use it as a handheld device.
Build-wise, the Sirui ET-35Kis made of anodized aluminum, which is great for stability and durability.
It has a locking system allows you to tilt the camera as far as 180 degrees. Overall, it is very easy to set up, and you should not have any problem setting up your camera.
Another great thing about this tripod is its weight capacity as it can support cameras as heavy as 4kg or 8.8lbs. On the other hand, it is very lightweight, coming in at just 250g.
The tripod is pretty versatile as well and although it is designed to hold cameras, it is also compatible with a wide range of other recording devices, including smartphones and webcams.
The only disadvantage is that it lacks flexibility and is only useful on flat surfaces. However, it comes with rubberized feet which is great for balance on smooth surfaces.
In summary, the Sirui ET-35K is probably one of the most convenient tripods you could get, especially based on its flexibility in height.
Below are some of the Pros and Cons of Sirui ET-35K that earned it a spot in our list of Best Tripod for Vlogging to get in 2022.
Pros:-
It offers durability and stability.
It is compatible with a wide range of devices
It is very lightweight
Features a high-quality aluminum construction
It can also double as a selfie stick
best vlogging tripod for iphone
Cons:-
It does not have flexible legs
Check Price on Amazon
Sirui 3T-35K Table Top Tripod REVIEW (Best Vlogging Tripod For 2018)
Note:
– I have written a post for people looking for the
Best Lenses for Vlogging
To Buy, do read it If you are interested.
7. Fotopro UFO2 Set Tripod
If you need a versatile and affordable tripod for blogging then the UF02 Set Tripod by Fotopro is something you may want to check out. The amazing thing about this tripod is that it is quite versatile in that it can be used for both smartphones and cameras, although it is targeted at phone users.
That said, if you are filming your videos with your smartphone, then you should get this. Additionally, people just getting into vlogging will find it quite useful as it is easy to set up and even easier to use.
Perhaps the best things about this camera are that it is fitted with flexible legs, which work quite well to ensure that you can place it on any surface, whether on the table in your room or on a tree outside.
It also features many creative tools that you will find very helpful when making your vlogs. Fotopro put a lot of work into this and it's quite evident in the build quality.
The legs are made of premium quality material with high-density rubberized feet designed to withstand all sorts of filming conditions and environments. They are also waterproof if you are planning to film in wet conditions.
On the downside, it has a low weight capacity at just 800g. But on the good side, it is equipped with a pan head and a phone clip that are universal and are compatible with a broad range of devices.
However, it can be quite challenging trying to film with a phone in portrait mode, but once you have that sorted out, you shouldn't have a problem.
Despite the drawbacks, this is one of the best tripods for vloggers needing an affordable smartphone tripod.
Below are some of the Pros and Cons of Fotopro UFO2 Set Tripod that earned it a spot in our list of Best Tripod for Vlogging to get in 2022.
Pros:-
It comes with flexible legs, which allow for versatile positioning
It is compatible with both cameras and smartphones
The legs are waterproof and can be used in all environments
It is highly durable
best phone tripod for vlogging
Cons:-
It is not so convenient to record with smartphones using portrait mode
It has a low-weight capacity
Check Price on Amazon
Best Tripod for Vlogging: What To Consider
It is imperative to understand that every vlogger is different concerning her vlogging style. As vlog formats differ, so do tripods that would be ideal for each type of vlogging style.
With that said, when looking around for a tripod, you must consider what you want from your vlog and how your tripod can help you achieve that.
The tripod that will fulfill your needs depends on how it excels in the aspects you deem important. Below, we will briefly go over the features in a tripod that are major determinants of how well a tripod will serve you.
Stability:-
Stability is perhaps the most critical factor when choosing a tripod for vlogging. You will need a stable tripod when you are sitting or standing while recording your videos.
The last thing you want is a tripod that will begin to sag and become unsteady after a while. Always ensure that the product you are going with is stable; otherwise, you might find yourself back in the market in no time.
Size:-
The size of your tripod is another equally important feature to consider when buying a tripod for vlogging. To illustrate, if you tend to film a lot indoors, especially if your setup is always on a tabletop, you may not need a full-size tripod. Smaller tripods are better indoors as they allow you to film more conveniently.
The smaller ones are also usually more versatile and flexible, so that's a bonus. Larger ones are better for the outdoors; you will need something sturdy and bigger to withstand the external conditions and prevent the setup from toppling over.
However, beyond the size, you also have to consider the tripod's weight. The bigger the tripod, the heavier it will likely be, so if you do not want an unnecessarily bulky product that will tire you out easily, then you should stick to a smaller one.
Mounting Plate:-
The mounting mechanism of a tripod is a critical factor to consider when tripod shopping. Some tripods use quick-change chips designed like detachable plates with a mounting point that locks in the device when it is in place.
This mechanism is easy as you can slide your camera in or out, unlike the screw mechanism, where a screw is used to directly attach the tripod's head to the camera. While this is fairly common, mounting and dismounting your camera or recording device could be difficult.
Customizability:-
Before you choose a tripod, make sure it can be customized to meet your needs. Customizability here is dependent on the design of the legs. The type of legs a tripod is constructed with will determine the type of surfaces it can be placed on and the angles you can film from.
A tripod can either have flexible legs that are often wrappable around surfaces or stiff legs that are only collapsible and height-adjustable.
Depending on how versatile you are as a vlogger, you could either go for flexible legs or rigid ones, ensuring that your choice will be convenient for your filming style.
Phone Compatibility:-
Just-starting bloggers usually use their smartphones to record their videos. If this is your case, you must ensure that your tripod is a smartphone tripod or, at least compatible with phones.
Most tripods with phone compatibility are equipped with clamps to securely hold the phone and prevent it from falling over.
However, these clamps can be purchased separately if your tripod does not have one. Thread them on the screw on the mounting plate, and you are good to go.
FAQ's on

Best Tripod For Vlogging
What tripod do Vloggers generally use?
The best tripods for vlogging are Joby GorillaPod Tripod with a ball head, Manfrotto compact action tripod, Manfrotto Tripod Kit MHXPRO-2W Fluid Head, Manfrotto MTPIXI-BMini tripod and the Manfrotto 504HD,546 BK video tripod kit.
Which tripod does the Ace family use for their vlogs?
The Ace family uses the Joby Gorilla Pad for their work.
What are the features that you should look for on a vlogging tripod?
Look for a tripod that is stable, strong, flexible, and has good quality. It should be compact and easy to carry too. The height should be adjustable and the middle spreader should be able to balance the structure.
What is the Quick Release Plate feature on the vlogging tripod?
This feature is becoming very popular. It literally means that the feature releases the camera very quickly if you want to hold it in your hand.
Do you get tripods for mobile phone cameras too?
Yes, in an inch you can use the mobile phone camera to vlog. It should be sturdy and have a good reach. Some brands that are readily available are XuBa, US 1984 56 inch portable tripod, Osaka-3 Axis handheld mobile grip and many more.
Conclusion
Tripods are one of the essential vlogging tools, and it would be in your best interest to ensure that you get the best equipment to support your camera for high-quality and stable videos.
The products listed above should provide insight into the best tripod type for your vlog. However, don't forget to consider the factors above to ensure that you choose the product most suitable for your vlogging style.