Many consumers are trying their hands at video editing for the first time because of the democratization of smartphones, particularly Android devices. People may now edit and render videos on the fly, thanks to the advancements in smartphone technology.
The main problem is that the Play Store has many apps, making it difficult for consumers to choose the proper one. Some apps charge a lot of money for premium services, and others place a watermark on videos.
However, you can always get the best video editing app for Android without a watermark for the best video-making and editing experience for any purpose. So, if you are looking for a free and best video editor for Android that doesn't have a watermark, keep reading to get the list.
Best Video Editing App For Android Without Watermark
If you wish to find the best video editing app for Android without a watermark, this is the right resource. These apps are available on Google and Apple play stores without any fee and ensure that you can create or edit the best video without any watermark to be posted or used anywhere and for any purpose.
Additionally, this list contains the best video editing apps made from all across the world, including Chinese apps. You may also try and test these applications and make the most appropriate site of the right application solution to be used.
These applications are top-rated, most preferred, and highly recommended to serve the purpose.
1. VN Video Editor
VN Video Editor is without a doubt a free and best video editing app for Android without watermark. Furthermore, no video or banner ads will appear while editing or exporting video, ensuring that you can have an uninterrupted experience.
It is exactly like the cherry over a cake, with a few more sprinkles around the edges, as it is precisely a straightforward video editor with a user interface that is similarly feature-rich.
VN Video Editor is easy and free to use without watermarks丨VN Video Editor
The UI is straightforward with complex editing features such as curve shifting, multi-track editing, BG for background improvement, FX for video effects, filters, freeze, and more.
Furthermore, a fascinating fact is that you can make films in various sizes and aspect ratios with only a few touches. You also have access to all of the basic video editing options, such as split, trim, speed, and so on.
Aside from that, individuals looking for a music library with various sound effects would enjoy VN Video Editor, which has a comprehensive collection of sounds.
VN Video Editor is a great video editor for Android that doesn't provide a watermark. You should try it if you're seeking a powerful and free video editor.
Download App on Google Play Store
2. GoPro Quik: Video Editor & Maker
Quik is another great free Android video editor that doesn't add a watermark to exported videos. GoPro, a well-known action-camera manufacturer, created the Quik video editing app.
Many people consider the program to be barebones with good reason, but this is a great place to start your smartphone video editing journey if you're a newbie. Select your videos, and Quik will use its presets to make your video look professional and suitable for social networking or any other purpose.
Of course, you can change the background music, adjust the effects, add text, trim, highlight, change the palette, and perform other editing actions on it. With Quik, you have access to all of the standard tools of video editing.
The most excellent aspect about Quik is that it comes with many video and transition effects that may elevate your videos to new heights. To summarise, Quik is a good alternative if you want a simple video editor on Android that is free and does not include a watermark.
Download App on Google Play Store
3. ActionDirector – Video Editor, Video Editing Tool
ActionDirector is a popular Android video editing app that has been named Editor's Choice in the Play Store. Most of us are familiar with ActionDirector as a high-end video editor, but there's more to it.
ActionDirector Video Editor - Edit Videos Fast
ActionDirector is free to use and the best video editing app for Android without watermark. When you tap on "cross" to erase the watermark while editing, it invites you to upgrade to the premium plan.
If you close the dialogue, it will ask you to watch an advertisement to remove the watermark. Tap the box and see an ad for a few seconds, and that's a Win-Win for you.
After that, you'll be able to make a video without a watermark. Isn't that fantastic? When it comes to functionality, you will indeed find a vast range of options, including action effects, speed, audio editing, video smoothing, color customization, and so on.
You may also get to use it to sharpen fuzzy videos and improve the video output to some extent. Said, if you're happy to watch ads, ActionDirector may be the best and preferable watermark-free video editor for your Instagram Reels or YouTube films.
Download App on Google Play Store
4. Adobe Premiere Rush
Adobe Premiere Rush is the new name for what was formerly known as Adobe Premiere Clip. Adobe provides superior video-editing capabilities to the masses for the first time, with no watermark or payment.
Furthermore, you will not be exposed to any banner or video advertisements. Isn't that a little too wonderful to be true? While this is entirely correct, there is a catch.
Adobe Premiere Rush only allows you to export three videos for free. And keep in mind that this is a total amount for a registered account, not a monthly restriction. After that, you will have to upgrade to a paying plan.
Even though the number is a bit small, if you want to make a quality video with your Android smartphone, you can use this software. You would indeed have access to Premiere Pro features that you would not find anywhere else.
You may also get to make a new account and use Rush for as long as you like if you want additional access. To summarise, Adobe Premiere Rush is a premium Android video editing program with no watermark, to begin with.
Download App on Google Play Store
5. YouCut – Video Editor & Video Maker, No Watermark
YouCut is a popular free and best video editing app for Android without a watermark. Furthermore, the app is jam-packed with full video editing capabilities and is ad-free, making it an excellent choice for editing all sorts of videos for all purposes.
However, InShot Inc, the creator of YouCut, has extensive ties to China, namely Hangzhou Inshot Tech Co LTD. So, if you're apprehensive about using a Chinese app, this is a highly recommended application. The app is fantastic in terms of features and usefulness, including all of the essentials and some more complex options.
Video backgrounds can be changed, and colors can be adjusted, videos can be trimmed, cropped, and joined, text can be added, and so much more can be done using this fantastic video editing application.
Aside from that, the program contains an extensive library of royalty-free music, which is amazing. Not to mention that you may alter the motion of your films and apply various filter effects via this application.
Overall, YouCut is a great video editor for Android that doesn't add a watermark, but you should look at the other apps on this list if you care about your privacy.
Download App on Google Play Store
6. VLLO – Video Editor & Maker
VLLO is a popular program for making live vlogs, but it can also be used to edit other types of videos. The video editor is free, and the exported videos do not have a watermark, which is fantastic. Not to mention that VLLO is entirely free of advertisements.
VLLO, a new video editor for you
The app's capabilities include preconfigured proportions for a variety of social media platforms. You may pick one and begin editing videos right away without having to worry about aspect ratios or other technical issues.
You also have a multi-track interface that allows you to interact with other media elements in one location. VLLO also includes a text editor, sound effects, filters, voice-over, and more.
VLLO's most prominent feature is its "Motion Sticker" function, which allows you to add beautiful templates, animation, transition effects, and more.
In case you were wondering, yes, motion modification is possible. To summarise, VLLO is a free, watermark-free video editor available on Android that is just as capable as the more expensive ones.
Download App on Google Play Store
7. Kruso – Video Editor & Story Maker
Kruso is a new Android video editor that has swiftly garnered popularity due to its free offering and no watermark policy. Furthermore, the software does not display any advertisements when editing, making the experience even better.
However, keep in mind that you will need to view a short video ad to erase the watermark, which I suppose is quite acceptable. Apart from that, Kruso offers a wide range of excellent tools for video editing. You have a full-featured video editor, for example, where you can merge, clip, and crop videos.
You may also get to customize the background and color reproduction to your liking. Then there's the text tool and a music library with a variety of sound categories.
You have the option of adding your music as well with this best video editing app for Android without a watermark. Given all of the factors, Kruso is believed to be proving to be a free and the best video editor for Android, especially since it allows you to erase watermarks for free.
Download App on Google Play Store
8. PixArt Photo Editor: Photo Collage, Neon Effects
PixArt Video is another free Android video editor that produces watermark-free videos. However, always keep in mind that the app is based in China, so only use it if you're not afraid of Chinese apps.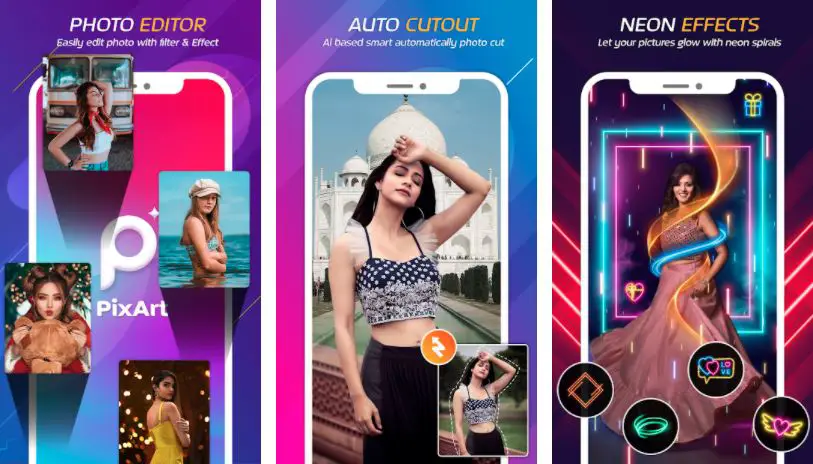 PixArt Video includes conventional tools of video editing like trim, crop, and join when it comes to functions. Aside from that, you have access to a decent music library and can even alter the video's overall volume.
You may also get to control the video speed, adjust the background of videos, add text in various style fonts, and do much more, just like the other video editors on this list.
PixArt Movie also includes a feature called "Embellish," which allows you to embellish your video with mosaics, filters, and stickers. However, remember that the free plan only allows you to save videos up to 720p.
Simply put, PixArt Video is a straightforward and best video editing app for Android without watermark and gives the majority of its functions for free.
Download App on Google Play Store
9. Super Studio
Super Studio, the next video editor for Android devices on this list, is one of the best ones available in the market. Its published films do not have a watermark, similar to PixArt Video, and the service is absolutely and completely free.
However, the app does provide advertisements, and you may see some video commercials here and there. However, keep in mind that HappyBees, a Beijing-based corporation, created Super Studio, so proceed only if you fully comprehend the ramifications.
Anyway, going on to the program's features, the app is well-designed, with clear and orderly menus.
You may add music, merge and trim videos, rewind the tape, and modify the speed, among other things. Best of all, you can use clipping to select a specific region from a movie.
Furthermore, while transcoding the video, you can choose the bit rate and resolution. Super Studio, in essence, contains all of the standard tools of video editing, and you must try out this best video editing app for Android without watermark.
Download App on Google Play Store
10. Inshot 
Finally, there's Inshot, a video editor that can handle most of your needs. For all of your smartphone video editing requirements, Inshot provides a wealth of video editing options.
Inshot provides an easy-to-understand timeline with numerous editable tracks. You can add text, divide video footage and stickers, and do various other editing actions.
Inshot also allows you to integrate videos for free effortlessly. You may use Inshot to edit Instagram Reels or as your go-to TikTok video editor because it will enable you to determine the scale of your project.
If that's all you need, it's also a pretty feature-rich video editing program for YouTube. This is an app that you should check out.
Download App on Google Play Store
11. BeeCut
On this list, BeeCut refers to Android's most basic and free video editor available in the market. It is primarily designed for video editing requirements at the beginner level, with only the most basic editing features.
To your clip, you can add music, text, and a filter. If you're working with several video clips or photographs, it also supports several video transitions.
Within BeeCut, you can edit video by frames and can also eliminate unwanted parts of the video. BeeCut allows you to select the aspect ratio even before editing your films, making it simple to frame many hooks in the same ratio.
Within the BeeCut app, a template section is also available where you may find several templates for suitable videos. However, you will need to download any of the 'Light MV' for this functionality for work.
You may also freely and without a watermark export your altered video to 270p, 480p, and 1080p resolutions. BeeCut hits all the boxes as a simple video editor for Android.
Download App on Google Play Store
12. Vlogit – free video editor for Vlogger
Vlogit is a video editing app that is among the most promising ones on the Play Store. It is designed specifically for YouTubers and Vloggers.
This app's feature set appears to be quite profitable. This app offers practically all of the basic video editing capabilities and professional features, including preset text transitions, PIP mode, color profile altering, and clip reversal.
Vlogit also offers free of royalty music which you can download using this app, as well as the ability to do a voice-over right from the app.
Because this app caters to Youtubers and Vloggers, it allows you to create a thumbnail for the video. You may either upload your image or utilize a video frame as any thumbnail and modify it.
Would you please keep in mind that watermark-free exports and 1080p are only available once you've logged in using your Wondershare account? The Vlogit app was created with YouTubers and Vloggers in mind.
If you enjoy YouTubing and Vlogging, Vlogit is the best video editing app for Android without watermark. It also offers several features that will help you edit the videos. This video editor tool also includes the ability to create thumbnails within the program.
Download App on Google Play Store
13. VITA
It is an Android application for video editing that is simple to use. It provides several pre-made video templates from which to choose. Import the desired video into the program, choose a video template, and then let VITA do the rest, including the transitions and filters.
If you are looking for any video editing application to use with social media applications, VITA is the software for you. Without a watermark, you can also export video in complete HD resolution.
It is the best video editing app for Android without watermarks. The VITA application is free and ad-free, much like the VN video editor.
It does, however, include several editing tools as well as pre-made templates for editing and creating video. There will not be any watermark available on the exported video, just as every other app on our list.
Download App on Google Play Store
14. Video Guru
The Video Guru video editor tool was created with YouTube in mind. It has several functions, including combine, cut, trim, music, speed adjustment, etc.
It features over 30 video transitions which you can utilize to give your videos a professional look. It is the best video editing app for Android without watermark.
Video Guru also has a free video collection that you may utilize in your videos. You may also get to use the Video Guru app's easy-to-use music video maker to create your music videos.
If you're seeking a simple way to make videos, Music Guru will come in helpful for creating watermark-free YouTube videos. Keep in mind, however, that Video Guru is ad-supported.
Download App on Google Play Store
15. Alight Motion Pro
Alight Motion Pro is a video editing program that allows you to quickly and easily create motion graphics. You may use it on your smartphone or tablet, whichever you prefer.
Colors can be changed, photos and audio can be added, and the project can be exported to MP4 or GIF.
Alight Motion Pro is a premium app. As a result, the features it offers are significantly more extensive than those of the free edition. The parts are comprehensive, making video editing a breeze. Thus, this is one of the most recommended and excellent video editing applications.
Download App on Google Play Store
16. KineMaster
KineMaster, a professional Android video editing program that is now popular among mobile device users appears in the following sequence.
You can obtain other tools like the chroma key, which is popular among gaming YouTubers, in addition to regular capabilities like cut and paste. KineMaster offers both free and premium versions of the app.
Download KineMaster 5.0 - Your Ultimate Video Editor
The features available in paid packages will be more comprehensive, and you will be able to remove the KineMaster watermark.
The app's appearance is similar to that of professional video editing software. It offers an exclusive chroma key that can be used to enable the green screen feature in video games.
Download App on Google Play Store
Conclusion
So there you have it: the top selections for the best video editing app for Android without watermark. In the list, some apps provide absolutely no watermarks.
However, some apps need you to watch advertisements before you remove the watermark. As a result, you can choose a video editor based on your feature requirements and the purpose of your videos.