Do you own a website or a blog and have been thinking of adding videos to it? Well, the entire internet is filled up with videos from every platform.
In fact, it is estimated that over 80% of all Internet traffic has been just the videos you watch every day on the web either be it Facebook, YouTube, etc.
Adding a video to your blog can be the best part since everyone loves to have a visual idea about the entire story rather than just the words.
But you already know that any video takes up much more space or data than any other media file. Adding up directly on the blog or website can eat up your bandwidth of the disk space and slow your website.
We all know this is something we do not want under any circumstances. Hence we have to head to video hosting and make things easier. The biggest platform, as well as the most popular of them all, will be YouTube.
You can upload your video on it and then embed them in your blog, It will simply act as a link and eat up hardly any space. However, there is a lot of such video hosting sites that will help you do the same and serve the purpose well.
Let us straight get on with the list.
Best Video Hosting Sites in 2022 – Our Pick 👌👌
1. YouTube
YouTube is the best free unlimited video hosting and one of the most popular among all you would ever come across in the Internet world. It is free of cost to use and has no hidden charges whatsoever.
Over 300 hours of videos are uploaded on the platform every minute. In fact, there are over 1.3 Billion users on YouTube and this has been increasing with every passing day. Not only is it perfect for everyone who is looking to host their videos for free.
This website can be the perfect platform where people can earn money by uploading their videos. Once you create your videos, you can create your own channel and upload them here. After enough content has been posted, you can even start getting money from the platform. 
However, no matter whether you are monetized or not, the company will still run ads in between videos and may simply lose some audience. There are multiple ways you can use the hosting platform, use the link to embed it and make it useful for your blog topic.
YouTube has no limit to the number of videos you can upload; simply keep each video up to 128GB only. Other than this, as a hosting platform, you will never suffer from any lags or servers crashing down since it is under the biggest tech giant Google.
People worldwide have been using YouTube for their business, education, tutorials, music, or simply any videos and then uploading them on their own websites through it. Not only is it beneficial for their blogs but also can earn money through YouTube as well.
Requirements for Uploading a Video to YouTube
Supported Formats

– MOV, MPEG4, MP4, AVI, WMV, MPEG-PS, FLV, 3GPP, and WebM.

Aspect Ratio– 4:3 or 16:9
Video Frame Rate

– 24, 25, 30, 48, 50, 60 frames a second

Max Video Size-

128GB each

Metadata requirements

– Title, description, tags, and annotations

Max video length

– 12 hours

Minimum Resolution

– 240p: 426×240

Minimum Resolution-

2160p: 3840×2160
Pros:-
Everything is free of cost

Unlimited cloud storage is available

Easy to upload and use on websites

Supports almost every format

Lists billions of people as users with huge exposure
Cons:-
Has way too many rules unlike other hosting platforms

Any advertiser can put an ad on your video.

Can have copyright infringement issues on songs or clips if used any
2. Vimeo
Vimeo is one of our favorite choices as well on the list. It is a bit different yet the idea behind is brilliant. This hosting platform is perfect for more professional services than open to all and everyone like YouTube.
If you are an artist, advertiser, or simply anyone who loves to create something meaningful this could be the one you are looking for.
Some categories you will find here are animations, short films, journalism, informative pieces, and a lot more similar to this.
However, this isn't free to use like YouTube or other platforms. You can try out the packages for free but you have to pay for them no matter what ultimately.
Well, if you believe in personalized content and quality output, here need not worry about any random content but a meaningful environment. You can choose a basic plan that is free of cost and gives you an upload limit of up to 500MB of data per week.
There are loads of other plans as well which are paid but give a lot more space and many other facilities too.
If at all you are confident that the videos you want to upload are worth putting it on, then without a second doubt you can get the subscription. Like we spoke about how Vimeo is perfect for all your professional videos and work all over.
Hence, there are no ads, and would not cause any issues while anyone is watching the videos. Also, it supports some of the major formats, however, does not support audio files, video files, etc.
Requirements for Uploading a Video to Vimeo
Supported Formats

– MP4, MOV, WMV, AVI, and FLV

Aspect Ratio

– From 4:3 to 4K Stereoscopic 360

Video Frame Rate

– 24, 25, or 30 (or 29.97) frames per second

Max Video Size-

Depends on the package

Metadata requirements

– Title, description, tags, and annotations

Minimum Resolution

– Standard Definition (SD): 640 × 480

Minimum Resolution-

8K UHD: 8192 × 4320
Pros:-
Multiple plans are available to choose from

User-friendly interface

Seamless sharing and embedding across many platforms

Video Configuration is brilliant in every aspect

Full-featured analytics suite

Ease of use and organizational capabilities for the videos
Cons:-
Free trial available only after which you have to choose the paid plans

Customer support is poor

Streaming is slow and unreliable
3. Dailymotion
Dailymotion is known to be one of the video hosting sites like youtube when it comes to selecting the hosting sites one can think of. You will find over 3.5 Billion videos to watch on the site and have over 300 million users on it.
Yes, it isn't as much as the other platform sitting on the top, but surely has a massive library and reach. This platform is free of cost and focuses on monetizing its content through ads.
You must have noticed that Vimeo has no ads on its videos which makes it preferred more than other sites. It is available worldwide in about 25 languages and 43 localized versions.
It is super easy to upload and optimize your videos on the site. With only simple steps, you can get it on the platform. 
It is better to create your channel or account and make it your own. Similar to YouTube this too can help you earn money by ads. However, you can make only 96 posts per day with a limited number of hours as well.
Dailymotion does support almost every video format making it easy for you in every manner to upload.
Not only are websites platform-independent as well which means you can download the app on your devices and continue to upload videos comfortably. It even features live streaming and also you can make Multi-platform publishing.
Requirements for Uploading a Video to DailyMotion
Supported Formats

– MP4, MOV, WMV, AVI, FLV, MPEG4, etc

Aspect Ratio

– 4:3 or 16:9

Video Frame Rate

– 24, 25, 30, 50, or 60 frames per second

Max Video Size-

2GB per video

Metadata requirements

– Title, description, tags, and annotations

Minimum Resolution

– Standard Definition (SD)

Maximum Resolution-

3840 x 2160 (4K)
Pros:-
Unlimited Storage and bandwidth

Free to use

Fewer restrictions as compared to other sites

Higher frame rate available

Adaptive HLS streaming

Cross-device compatible
Cons:-
Video size is limited to only 2GB per video

Duration is only limited to 60 minutes

Limited analytics provided
4. JetPack
Have you used jetpack yet on your WordPress platform? Well, Jetpack is a plugin used by users worldwide for multiple purposes as it helps to customize the sites fully, helps to increase traffic or keep things in check, and provides complete security.
You can easily host all your videos directly on your WordPress sites using Jetpack as a plugin.
With jetpack and wordpress.com you can easily host your videos ad-free which is the best solution rather than using other third-party platforms such as Dailymotion and YouTube.
All the videos are stored officially on the WordPress servers and your cloud storage will have no pressure whatsoever. This feature is available for all users who have taken up the Jetpack Premium and Professional plans.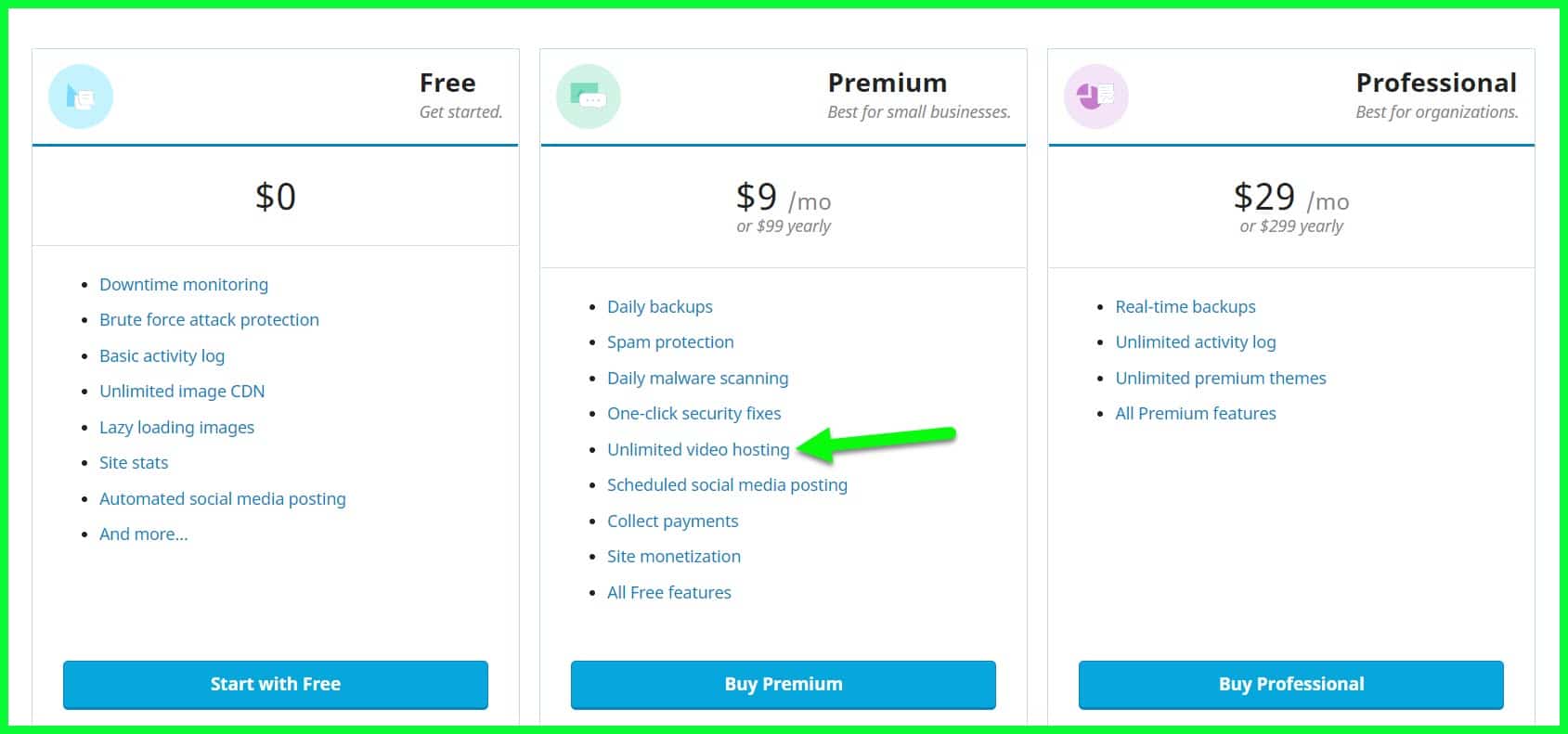 As of now, there are basically two ways to upload videos. Either go by using the Add New option and selecting a file from your computer directly. Or else you can do the very general way by adding video files to the library from your system and then your blog.
You can upload any video with a maximum size of 2GB. However, anything up to 1GB works best so that the site does not slow down.
Requirements for Uploading a Video to JetPack
Supported Formats– MP4, QuickTime movies, Windows Media Video, Audio Video Interleave, MPEG, Ogg, 3GPP, and 3GPP2.
Aspect Ratio

– 4:3 or 16:9

Max Video Size-

2GB per video

Metadata requirements

– Title, description, tags, and annotations

Minimum Resolution

– Standard Definition (SD)
Pros:-
No ads or promotions on the videos

Unlimited Hosting

Works a lot better than third-party platforms

Accepts a huge number of formats

Video stats available for better analysis

Integrated directly with media library

Easy to upload videos

Does not slow down the site
Cons:-
Limited video size available

Only for professional premium users
5. Wistia
Wistia is an exceptionally unique and of the secure video hosting services we have mentioned in our list. Unlike other platforms, these are more of a premium subscription and only have a free allowance for a few days as a trial.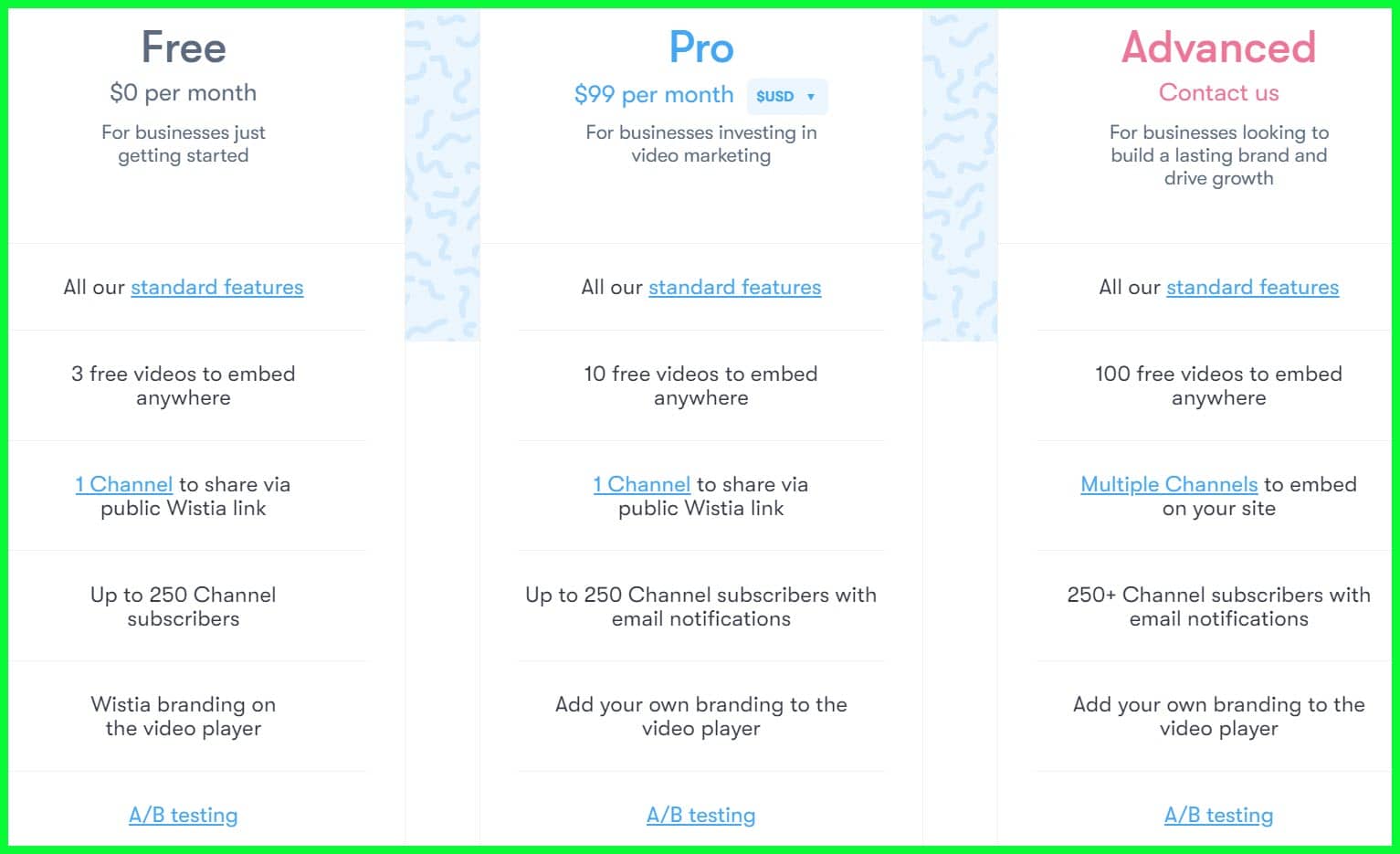 Using this platform you have entire control of the video you upload. It is perfect for professionals and artists as well to showcase their work and reach more people. This platform is free from any ads or promotions from third-party providers so that you get proper streaming.
There are tons of servers all around the world used by the platform. You can select from among which one you would wish to host your videos and get the best service altogether.
Wistia uses some of the top-tier global video CDNs that give quality content to the entire world. Similar to what you must have seen that the videos automatically adjusted their resolution based on your network.
With the best quality resolution, you can expect the greatest of all picture quality even on your mobile phones. Coming over to using the videos on your site, you can simply use the embedded code and add the video to your blog.
It is that simple and does not take up any space on the server as well. Furthermore, you have entire control of the management system of Wistia. There are no lags whatsoever and it is completely safe to use the platform.
Requirements for Uploading a Video to Wistia
Supported Formats

– MP4, MOV, WMV, AVI, FLV, MPEG4, etc

Aspect Ratio

– 4:3 or 16:9

Metadata requirements

– Title, description, tags, and annotations

Minimum Resolution

– Standard Definition (SD)

Maximum Resolution-

4K (3840×2160 px)
Pros:-
Provides detailed analytics for every video

Lets you match your brand colors via HTML hex code

Create small pop-up calls to action super easily

 SEO is superb

Ad and promotion free

Videos are optimized to fit any screen size

Excellent customer service
Cons:-
 A bit costly

Customization options are minimal

Analytics is not available on all plans
6. SproutVideo
SproutVideo is one of a kind platform for every business that is looking for a safer and secure platform where they can upload their videos with proper management.
You will get a 30-day free trial only so that you can get acquainted with every aspect and feature. In the end, if everything works out for the best, you can buy their plan based on your requirement and use it for your benefit. 
The platform has a stunning video player that is customizable in every sense. You can make changes to it based on your business such as the colors, create video-on-demand playlists, choose to hide or display controls, autoplay or loop options, player presets and defaults, etc.
If you are looking to embed the video on your site they can experience the best service of all. With the use of AES 128 encryption, you get secure video delivery. Users can change the resolution and choose the playback speed as well.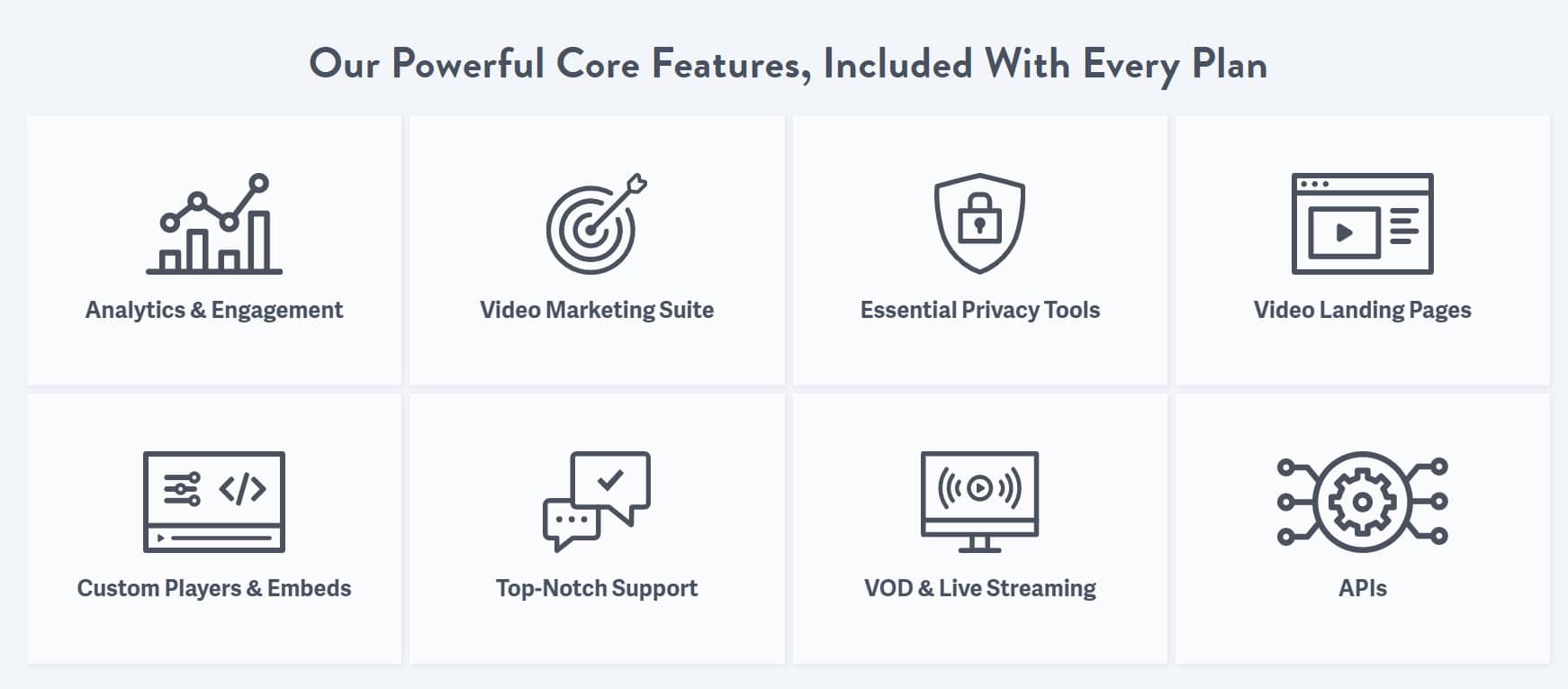 If you wish to use the video on your sites or any other platform, you can copy & paste the embed code and put it on the site. It works smoothly on multiple platforms such as WordPress, Shopify, and a lot of more such as this.
In fact, you can also get the embed code for your email campaign as well so that the video can serve the purposes well and reach more and more people.
Besides this, the platform supports the highest video resolution up to 4K and 8K. There are servers all across the globe and you can choose the nearest one so that the speed is incredibly good no matter what.
Also, to make sure the video is protected you can password protect it as well along with proper authentication.
Requirements for Uploading a Video to Sproutvideo
Supported Formats

– MP4, MOV, WMV, AVI, FLV, MPEG4, etc

Max Video Size-

Up to 100GB

Minimum Resolution

– Standard Definition (SD)

Maximum Resolution-

4K and 8K
Pros:-
Multiple ways to keep your content safe and secure

Ads and promotions free

Set an expiration date or time for your embed code easily

Highly customizable video player

Get proper analysis and insights on your videos

See live stream viewer engagement in real-time

Use the best account management tool
Cons:-
Playback caching is slow sometimes

Price is higher than anticipated

The free plan is only for 30 days as trial

Limited storage based on plans
7. Brightcove
Brightcove is one of the finest private video hosting platforms there is that serves perfectly well for small as well as large-scale enterprises. It has the complete package for anyone who has been looking for a secure and safe site where they can upload their videos much faster.
This platform is compatible with every kind of platform i.e it is platform-independent. Either be it your desktop or your mobile phone, each of them gets the best video quality.
With the use of Brightcove player, you get over 70% faster quality than any other you would come across. It does support almost every format making it easier for you to upload your videos smoothly rather than wasting time on converting your videos.
Unlike platforms such as Vimeo or SproutVideo, this does allow ads or promotions to the videos so that one can promote their business activity or products.
You can try out the live stream service similar to YouTube and even Facebook. Furthermore, since these support ads integration, you can also generate revenue by monetizing your videos through these adverts.
Brightcove gives detailed insights into the data on your video and how it has been performing with the audience. With the help of this analysis, you can make better marketing decisions, and sales pitches, and even have better communication with your audience.
Furthermore, as we said this platform is secure and safe from attacks. All your data and videos are protected with proper authentication and password.
Requirements for Uploading a Video to Brightcove
Supported Formats

– MP4, MOV, WMV, AVI, FLV, MPEG4, etc

Minimum Resolution

– Standard Definition (SD)

Maximum Resolution-

4K

Max Video Size-

Up to 100GB
Pros:-
Live streaming is available for multiple events

You can make changes and customize the player as per your wish

Excellent support from the customer service team

Easy to upload the videos

Adding or removing videos is super easy

Add subtitles for multilingual delivery 

Detail analytics and insights are available
Cons:-
Difficult to navigate user interface

You have to pay for 24/7 support

Write API documentation could be better
8. VdoCipher – Best Platform for e-learning
Next on our list is VdoCipher; this one is a very secure video platform. Once your video is hosted here and embedded on your website, no one is able to download your video. There is nothing that can download your video other than a screen recorder. 
This service is very very fast and perfect for your online classes where you want to give your audience a fast video experience along with your wants to secure your content from copying. Vdocipher is using Google Wideline DRM for best security with AES-256 Encryption.
Vdocipher is also providing a Dynamic Watermarking feature that will help you to control IP-address, user-id, email, etc.
VdoCipher has four pricing plans as mentioned below; for your online course "Value" plan is more than enough as this one is providing 1.5TB bandwidth along with 200GB of storage.
Let's have a look at their dashboard, On the main dashboard, you are able to upload your video by just clicking on the "Upload" video.
It's taking some time to make your video ready to embed as this one is setting the encryption for your uploaded video.
Click on the "Embed" option here you have WordPress, Custom backend, and Quick Embed options. if you are using a WordPress website then use the WordPress plugin otherwise use the 'Quick Embed" option to embed your video.
Click on the "Quick Embed" option here you are able to Control "Add URL, IP or Country Restrictions" and 'Add watermark to video" here.
Enter the URL that you want to whitelist and also your watermark test.
and click on the generate embed code option to generate your code. Click on the "Make the Player responsive" option to generate a responsive video code.
If you look carefully at the code it's completely encrypted which makes your video more secure compared to other hosting platforms.
With the "Analytics" tab you are able to view the analytics of your video.
9. Ezoic – Best Solution For Website Owners
Ezoic is not a common name in the video hosting industry but they have features. Ezoic is mainly a google certified publishing partner means website owners can generate revenue with this. Ezoic is also providing options for Website hosting along with hosting.
Currently, we are also using Ezoic for our website monetization. So if you are a website owner with enough traffic to get Google Adsense approval on their website and want to host on video and monetize it then Ezoic is the best platform for you.
By default, the Video option is not enabled for every publisher, you need to email support or your account manager to enable it.
Once Ezoic enables the video option for you, you are able to see the "Video" tab under your Ezoic dashboard. Here you are able to upload your video new video and embed your video on your website.
The best thing about hosting your video with Ezoic is that you are able to monetize your video also if you want.
10. Amazon S3 Bucket
If you are looking for a cheap and fast hosting option then Amazon S3 (Scalable storage in the cloud) will be your best option. With Amazon S3, you can host your video files along with any other files and share URLs with other people.
With Amazon S3, you can also use amazon cloud-front CDN services which will deliver your video to your viewer at the fastest speed due to the large number of their datacentre across the globe.
Amazon S3 Pricing is also too affordable; for the first First 50 TB / Month they are charging $0.023 per GB.
To host your videos with amazon first you need an AWS account which you can signup for free from here.
After signup login to your AWS console and search for S3 in the search bar and click on it.
and here click on the "Create Bucket" option to create a bucket for your video files.
give a descriptive name to your S3 bucket and choose your AWS region ( In which AWS datacentre you want to host your file)
Pro Tip:- Always choose your AWS region close to a location where most of the visitors are coming from which will help you give fast video delivery.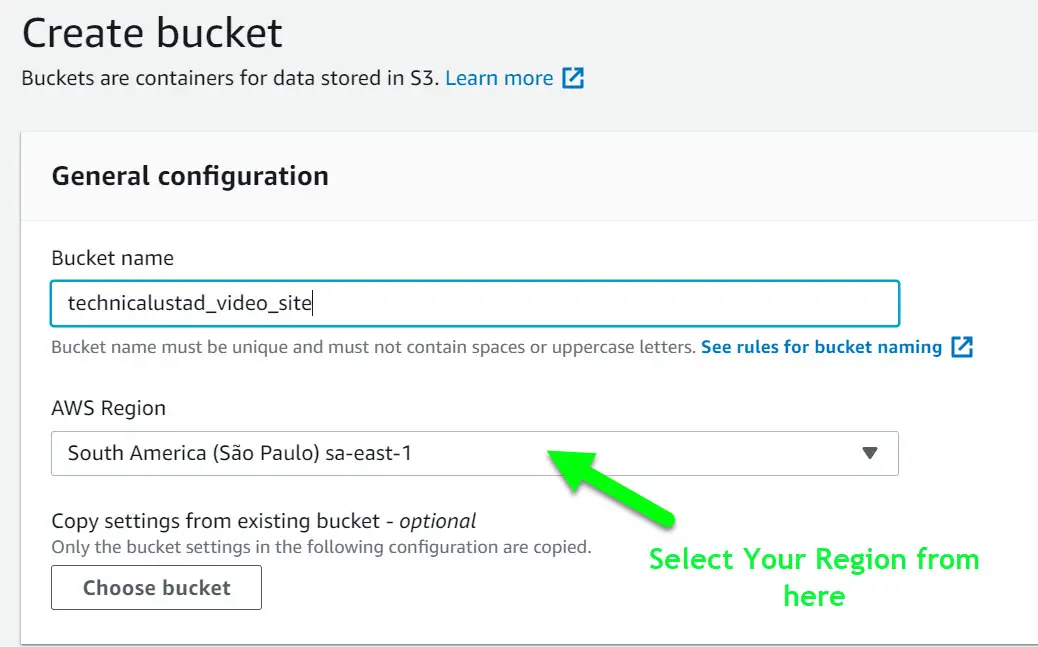 Under "Block Public Access Settings for this bucket" uncheck the "Block all public access" option if you want to give this folder public access.
Here you have another option to control the access but in my case, I want to give access to all so I unchecked the block all public access option.
and finally, click on the "Create Bucket" option to create your bucket. it will create your bucket and now click on your bucket.
Here you can create your folder or directly upload your file. Click on the upload option and upload your video file here.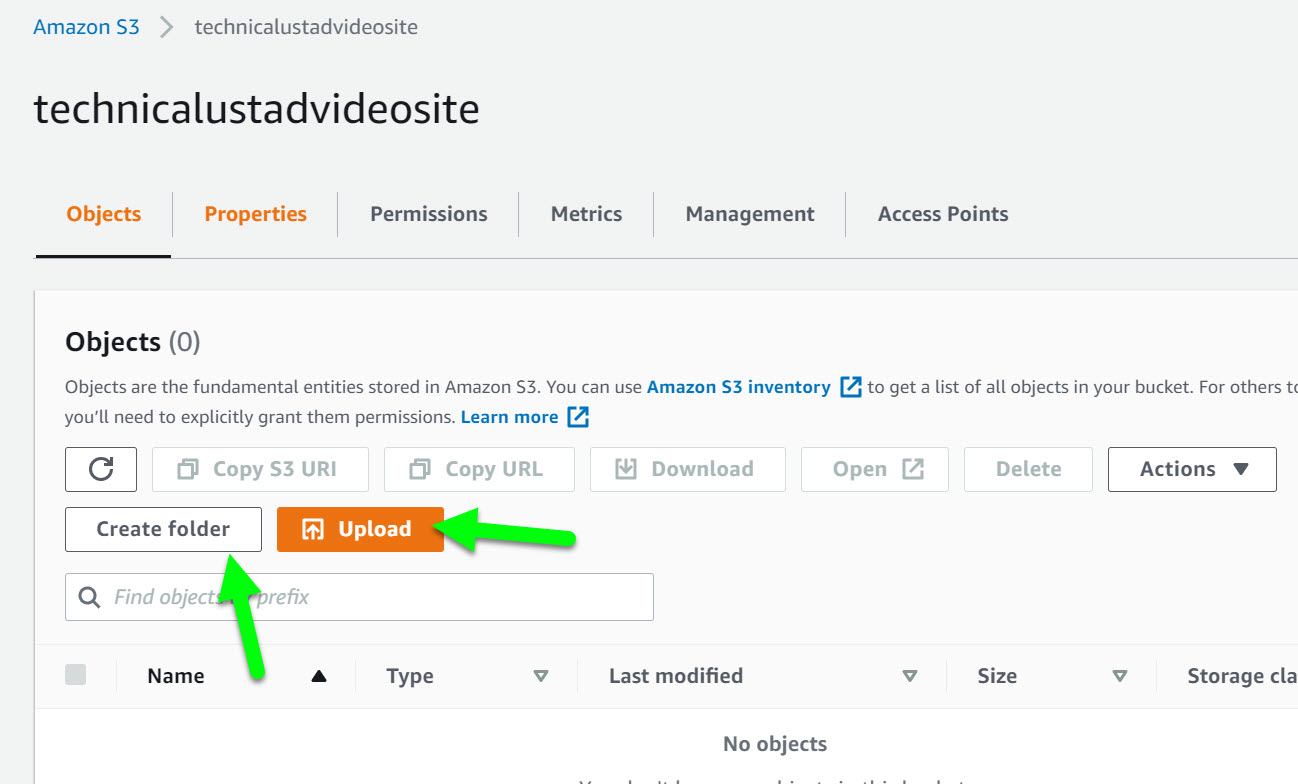 and after upload click on your object and click on the permissions tab.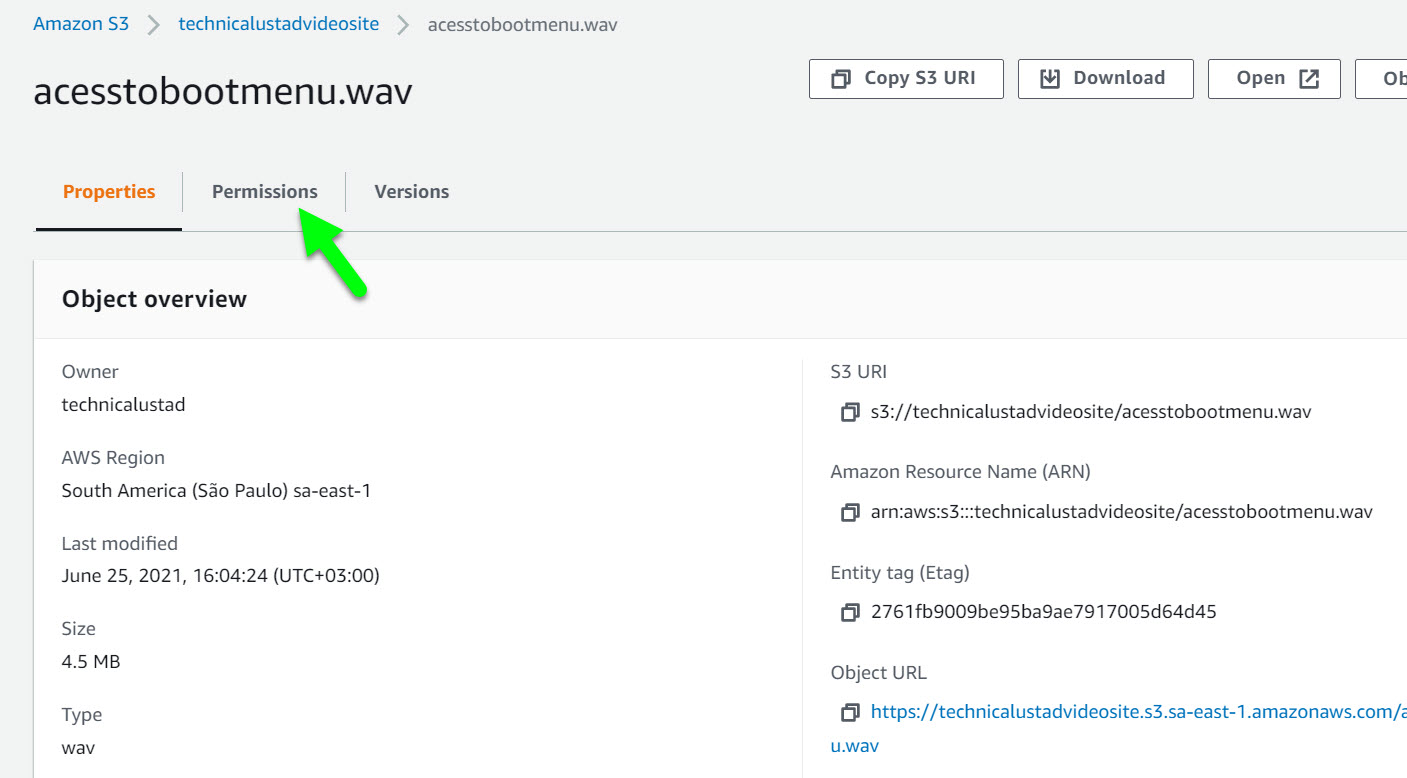 Click on the Edit option and give Read access to everyone that will give access to your video files to everyone.
To get your video URL, click on the Object URL under the properties and open it in your browser.
As you see below screenshot my video file is opened in the browser tab with my bucket name.
If you want to use your own domain, you can use Amazon Route S3 (Read More in details) to configure your domain name.
The best thing with AWS S3 is you can easily integrate AWS CloudFront (CDN) for fast delivery of your content.
The below video will help you to understand the basics of S3.
Getting started with Amazon S3 - Demo
11. Bunny Stream – Best Reliable video hosting solutions
Bunny is known for its CDN services and on technicalustad we are also using bunny CDN for fast content delivery to our visitors.
Apart from CDN services, bunny is also providing a video delivery service named "Bunny Stream" which is really affordable in comparison to many cloud video delivery providers.
The best part with bunny is it came with 14 days trial (No credit card required) which is more than enough to test your need. just signup with Bunny and use the Steam option to upload your video.
Then bunny will transcode your video in multiple resolutions for you for free. after transcoding, it will replicate the files around their network for fast delivery. You just need to embed these iframes in your website where you want to serve your visitors.
I will recommend you to watch mentioned video to understand this product in detail.
Bunny Stream Video Hosting Best Setup & 22 Ways To Make It More Powerful
📗FAQ
What is the best video hosting site?
According to user reviews, some of the best video hosting sites are YouTube, Vimeo, Dailymotion, Wistia, and Sproutvideo. YouTube remains one of the top video hosting sites as it receives millions of users daily.
Where can I host my video for free?
Most of the top video hosting sites are free to use. You can host your videos for free on YouTube, Vimeo, Google Drive, Facebook, Dailymotion, Wistia, and Sproutvideo.
How do I host my own video?
You must first select your video hosting site and upload your selected video.
Next, embed the video to your page or a WordPress account by copying and pasting the uploaded link. After your video is uploaded to the site, you can host it on your page.
Where can I post my videos?
Several video hosting sites receive millions of visitors daily. Therefore, posting your videos on these sites can get you significant traffic and views. For example, Vimeo receives 130,000,000 visitors monthly, Dailymotion receives 100,000,000 visitors monthly, and Twitch receives 100,000,000 monthly audiences.
Is Vimeo hosting free?
You can easily host your videos on Vimeo for free. Vimeo also offers free storage and no pop-up ads, along with a customizable player for their users. You can also control your privacy settings to enable the right users to access your content.
Can I host videos on my own website?
You can host your videos on your website; however, it is easier and cheaper to upload them on free sites like YouTube, Vimeo, and Twitch.
You can open a free account to upload unlimited videos and use the code to embed the video on your website.
Final thoughts
Well, here we are with the best video hosting free as well as paid websites that you can choose to upload your videos. If you are someone like us who is tired of uploading it directly to your blogs since it eats up the entire storage, this site is for you and perfectly curated.
There are multiple other sites as well similar to this such as Facebook, but the above major in this category and it is always better to go for the best in the field.
So, we all know about YouTube and DailyMotion to an extent, however, if you are new all the others must be new to you. Some of them are free while most of them you will have to pay to upload videos. Since there are tons of features given by them it does have a small price to pay.
Furthermore, these are more of a private platform rather than YouTube where you will find content from every aspect which can be really disturbing and take you out from your target. Hence all these personalized business-oriented platforms have many more educational videos than the free platforms.
However, Youtube has the biggest user base than any other and this is why it is still preferred the most since reaching the audience matters a lot more than anything.
Hence, make sure you go through each of these above properly and make your choice whichever you would go for. If you are looking for something more personal you can pay a small amount since all of the above are worth each penny spent.