Cameras for both amateurs and professional video bloggers. You would agree that most laptops and devices have built-in webcams. On some high-end models, like the Dell XPS or Apple MacBook, these webcams are good enough to get the job done. 
They offer you with top-notch videos for conference calls and video calls with a client or loved one. When it can get the job done for you, what is the need for you to purchase an additional product, in the form, of a webcam?
What good does it do for you personally or professionally? Without knowing the answer to this question, you might not want to delve into our list of the best webcam for YouTube that we have compiled just for you. 
The answer is simple; they are unsuitable for designing videos and streaming. Hence, you require something else that can get your job done flawlessly. Now, you must have flawless equipment when you are a blogger, video editor, or graphic designer. 
Of course, they do not have to be expensive, burning a hole in your pocket. You need to do the same when your job deals with designing videos on YouTube or Twitch gaming. A webcam is a device that helps you to create your video or take pictures. 
You can take high-quality videos for your YouTube channels or social media tools. The webcam is mostly in-built but does not give you the flexibility to make videos as and when you want. 
Instead, you can purchase an inexpensive webcam that can help you take high-quality videos and conference calls. The kind of videos you upload on your YouTube channel or blog matters to viewers. 
How do you choose the best webcam for YouTube? 
Do you want to make YouTube videos for your channel?

Do you want to have conference calls with clients or loved ones?

Do you want to have top-notch videos on your blogs?

Lastly, do you just want a webcam to FaceTime with your family and friends? 
In this review, you will find out webcams that we have researched and ensured that they come with high ratings on Amazon.
What to look for when buying a webcam for YouTube?
The webcam lenses are the first thing you need to look at on the webcam. Unless the lenses are of high quality, you will not be able to view good videos. Your YouTube channel may not get the number of visitors you were looking for. 
Visitors are particular about the quality of the videos. Any experienced professional photographer will tell you that. Based on our research, we found that glass lenses provide you with useful videos. 
Secondly, you need to look for the auto-focus feature on the webcam. It enables you to remain in focus when taking a video, having a conference call and streaming. It automatically can detect the face or objects and focus on it entirely during the shoot.
Light correction is another crucial aspect to cover in a webcam. This helps you remain visible even when shooting in dim lighting conditions. The lighting and shadows are removed easily. 
Finally, the quality of the videos. As we said, when your videos are magnificent, your visitors will flock to your blog often. We recommend you choose webcams with a minimum of 1080p 60 fps or higher. 
What are webcams meant for? 
You can still take pictures and images using a webcam. You must activate the webcam on your PC or laptop and take pictures. You can either use the keyboard or directly click using the monitor. 
The pictures are saved on your PC and laptop. You can create videos using the webcam on your PC. You need to use the red color button on the screen. When you want to stop recording, you can click the same red button again. 
The video created on the PC is saved automatically. You can then watch it whenever you want. You can also do conference calls using the webcam. Using tools like Skype and Zoom, you can make conference calls with the webcam and answer the calls. 
The other individual can see the video even though they do not have a webcam. A significant feature of the webcam is that you can upload videos on it easily. You can use social media tools when you do not want to spend a lot of time uploading videos. 
Best Webcam For YouTube Videos: Our Pick 👌
Let us look at the list of the best webcam for YouTube that we have compiled for you. Brands like Logitech dominate the webcam market, but you also have other models worth checking out. 
1. Logitech C922x Pro Stream Webcam 
Logitech C922x Pro Stream is our top pick for the best YouTube and Twitch streaming webcam. According to experts, this webcam is suitable for vlogging, taking videos, and uploading them on social media tools. 
This webcam comes affordable too. The C922x Pro is an excellent choice for your video-making professional. It has an HD 1080p at 30fps streaming, offering matchless video quality with no lag. 
This is something that we found top-notch on this webcam. Even a few top-end webcams come with a slight lag. But this one is just flawless. The lighting features allow the webcam to adjust according to the light conditions. 
You can take photos and videos, even in deplorable lighting conditions. There is nothing to fret about when you do not have a microphone because you can record sound effortlessly. This is suitable for game streaming and videos. 
It also works effortlessly on several PCs and laptops, as you can operate on any operating system, including Windows 10, macOS, and Xbox One. The autofocus is sharp, has a glass lens with high-definition videos, and two microphones built-in for capturing stereo-quality sound. 
The cable length is 5 feet sufficient for you to sit comfortably and fix the webcam accordingly. 
Pros:-
It comes with a powerful light correction feature. 

The video quality is peerless at 1080p/720p HD.

The fields of view are at 78 degrees for enhanced images. 

There is an autofocus feature that helps you take videos or pictures depending on the usage. 

The microphone is built-in that captures stereo-quality sound. 
Cons:-
Few users felt that some drivers could be updated. 
Logitech C922x is a simple webcam that offers outstanding videos, even in low-lighting situations. The autofocus helps you take quality images, and the sound quality is excellent. It comes at a reasonable price that does not break your bank balance. 
Check Price on Amazon
Logitech C922 Pro Stream Webcam Review
2. Spedal Full HD – Best webcam for youtube recording
Spedal Full HD is the best budget webcam for Twitch streaming. If you are looking for a camera for gaming and vlogging, this 7-layer lens camera offers you splendid video quality. 
This webcam has a 100-degree wide-angle view that allows you to make video calls easily. You can also live to stream your conference calls without hassle. They fit in focus on your monitor seamlessly. 
We found our faces looking natural and beautiful, even in low light. You can use the manual focus when you are not particular about the automatic focus on the webcam. This can be adjusted by yourself.
Finally, it comes with a background replacement feature for making your videos engaging. If you want better quality, then you can use a green screen. The gimbal base of 720 degrees can capture outdoor pictures efficiently. 
We liked the zoom levels on the webcam, offering a clear image of the object. The microphone on the device has resistance to noise. It provides you with a pristine studio-quality sound effect. 
If you are a professional gamer, you will like the clip base that adjusts on any laptop monitor easily. It works on all operating systems like Windows and macOS, and you can use it on social media tools. 
A user from California, a vlogger, had to say this about the Spedal Full HD. He wanted to upgrade from an Xbox 360 webcam. He was instantly surprised at the quality of the videos he received from it. 
Twisting the lens, the focus became comfortable, and the mount setup was useful for his purpose. He feels that the pricing is also excellent and finds this one of the best webcams in the market for YouTube videos and professional bloggers. 
Pros:-
It comes with a beautiful effect on videos and images. 

There is a 100-degree viewing angle for sufficient clarity and clear images. 

The light correction is effective and comes with immediate changes. 

It also has a manual focus so that you can adjust likewise. 

The software provided is excellent. 

It has a full HD 1080p at 30 fps providing clear videos. 

The sound effects are mind-blowing with DVD natural sound. 

The webcam is suitable for PC and laptops with a microphone. 
Cons:-
There are some issues connecting with Skype. If you constantly use Skype, then you can change to Zoom. 
Spedal full HD is a must-have if you are a YouTube vlogger or artist. The device's price is affordable; it comes with a barrage of features and is suitable for gaming. It is perfect for your needs when you want to start a video session. 
Check Price on Amazon
3.

Vitade 682H Pro

–

Best webcam for youtube gaming
Vitade Webcam is one of the best webcams for YouTube videos and vlogging. This product is meant for you if you are a professional blogger or seasoned photographer using a MacBook. 
This webcam comes with several features on it and is priced reasonably well. It comes with a BSI back-illuminated sensor ensuring superb quality videos in low-light areas. The webcam comes with an autofocus function that can immediately capture the object. 
It comes with a built-in microphone having noise cancellation, reducing the sounds. This offers you a pristine sound. You can set it up using a tripod and use it on a PC or laptop. The webcam is ideal for use on OBS software for first-rate video. 
This webcam has a 100degree ultra-wide-angle lens for image and video at 1080p/60fps. It immensely reduces background noise for clear sound. We liked the innovative design and had a 682H webcam plate.
The setup is quite fast and works on all OS, Xbox, and social media sites. A user is satisfied with this webcam for the image and video quality. There is also no installation needed. He used a MacBook Pro and was highly impressed with its functioning. 
Pros:-
The webcam comes with night vision enabling you to work with it in low-light conditions. 

It also comes with a light correction feature that offers you quality videos. 

There is an admirable autofocus feature. 

The background replacement feature is sublime. 

It also has an HDR dynamic range.

The microphone has a noise-cancellation feature. 
Cons:-
The software is not good; the video quality can be below.
Vitade Webcam is the ideal alternative priced at less than $100 for MacBook users. Of course, you can work on Windows OS. The installation and setup are a breeze, and you get high-quality videos—this fantastic option for streaming, vlogging, and conference calls with your clients. 
Check Price on Amazon
4. Logitech C920S

HD Pro Webcam with Privacy Shutter 
Logitech C920S is the best webcam priced at less than $70. It offers you full HD audio and video for streaming and video footage. This webcam comes with a powerful built-in microphone and software for high-quality videos. 
It also has a glass lens that gives you bright and vibrant colors in your images and videos. The light correction feature ensures that you appear without even proper lighting.
This webcam has a privacy shutter popular for streaming, giving you adequate control of what you want on your video. 
You can capture sound on your calls with the dual microphone and stereo. It works fantastic on most platforms like Google Hangouts, Skype, and FaceTime. We liked the privacy shutter that enables you to protect your lens and privacy. 
The length of the cable is 5 feet. According to a user, who runs a YouTube channel, he has been using this webcam for quite some time. He is happy about the capture during low light. The autofocus is also marvelous. 
Pros:-
The resolution of the videos is 1080p HD offering you exceptional images. 

The performance during the low lighting is excellent. 

Its autofocus is excellent, and it can capture objects intensely. 

The glass lens is top-notch, offering you high-quality videos. 

It comes with 78 degrees fields of view for quality images. 

The microphone offers you stereo quality. 

With the privacy shutter, your privacy is protected along with the lens. 
Cons:-
Users can update or reinstall drivers on the webcam. 
Logitech C920S is an excellent webcam for taking HD videos. If you want to control what you show and what you do not wish to, then this is the ideal option. It is not surprising that most customers are vloggers and YouTube channel owners. 
Check Price on Amazon
5.

Razer Kiyo Streaming Webcam
Razer Kiyo Streaming Webcam is one of the best webcam for YouTube vloggers. You might read this review carefully if you are a blogger or vlogger. This device has an adjustable ring light, letting the complete eliminate shadows that appear on the object. 
We found this feature good because not many top-end models have this ability. However, you should not forget the separate ring light for additional quality. The autofocus is excellent and captures images crisply. 
If you are a makeup vlogger, then you would prefer this webcam. The HD quality of the ring light makes your videos better than others. It is compatible, easy to set up, and does not occupy too much space.  
You will be delighted to know that this webcam is the best-selling gaming device in America. We liked the bezel that rotates on the device that controls the lighting level. The details during the dark light bring out the best in the objects. 
Thanks to the compact design, it is suitable for vloggers who travel often. 
Pros:-
The quality of video is high-quality. 

The ring light is adjustable and suitable for images. 

Its videos are FPS HD videos that are suitable for makeup vloggers. 

You can find it compatible with different platforms. 

The autofocus features work fantastically, bringing out the best in a dark environment. 

It is portable and compact. 
Cons:-
Some customers felt that the quality of the videos is not up to the mark. 
The Razer Kiy webcam is ideal for makeup bloggers because small details during low-light environments are captured well. This portable and small device works well using its ring light to make excellent videos. 
Check Price on Amazon
For Streamers On The Go - Razer KIYO Review
6. AUKEY FHD Youtube Webcam
Aukey FHD webcam is a decent webcam that comes at an affordable rate. Like we said at the beginning of the review, we will discuss webcams on different price ranges. It is an excellent webcam suitable for video recording and live streaming. 
Though the brand is not famous in the blogging world, it is bound to gain prominence. You will be interested in trying it out once you know its features. This is an HD 1080p 2-megapixel webcam that offers excellent video quality. 
The focus is decent, and you can capture pictures that are 5 meters distance. The webcam offers a stable audio quality audible for more than 10 meters. We liked the webcam setup, as you do not need software. 
The stream and the capture of the videos are excellent. Users were also impressed with the installation speed. You can clip the webcam on the monitor, desks, and flat surfaces without fuss. 
It is priced at less than $60. We have included a review from a user who felt this is suitable for gaming, videos, and conference calls. She used a Windows 10 PC and bought this webcam. The installation was smooth, and there is also a 24-month warranty on the product. 
Pros:-
The quality of the video is splendid with a 1080p 2-megapixel webcam.

The setup is fast and quick, without any need for you to install the software. 

Its sound is excellent, with stereo quality and instant. 

The focus lens is exceptional and offers you clear images within 5 meters distance. 

Its design is foldable, and you can take it with you if you want to quickly. 
Cons:-
At times, the webcam can be out of focus. 
On the whole, Aukey FHD is one of the best webcam for YouTube as it is easy to set up, provides outstanding videos, and is foldable. You can carry it with you as it is lightweight and portable. 
Check Price on Amazon
7.

Logitech 1080p Pro Stream Webcam
Logitech 1080p Pro Stream is one of the best webcam for YouTube and works exceptionally well with the macOS. This webcam has a glass lens, offering full HD videos and realistic images. 
This is most suitable for Twitch streamers. It also comes with a built-in stereo microphone that captures audio effortlessly. The webcam makes sure that you hear the sound clearly and softly. We liked the light correction feature on it. 
This helps take videos even in dim light conditions without compromising the video. It is suitable for taking high-quality images for your vlogs. It works with the most popular operating systems like Windows 7, 10, and macOS. 
Some users find it suitable for professional video editors and graphic designers. You are provided videos that come to you at 30 frames per second. Even students might be attracted thanks to its pricing at only $140. 
Pros:-
This is a full HD glass lens providing you with matchless videos. 

The light correction feature is suitable for low-light conditions. 

The microphones are built-in and dual. 

You can take images at 30 frames per second. 

It is priced reasonably at less than $140. 

It works fine with operating systems like Windows and macOS. 
Cons:-
Few users found it difficult to install using the software. 
Logitech 1080p is a necessary but excellent webcam suitable for blogging, YouTube vlogging, and game streaming. You can make exceptional videos using the light correction feature, glass lens, and built-in microphone. 
Check Price on Amazon
8. Dericam Full HD: Best Budget webcam for Youtube
Dericam Full HD is the last product we will see on the list. It is not the best webcam for YouTube, but it has excellent features and low cost. You will be delighted to know that this is the cheapest of the lot.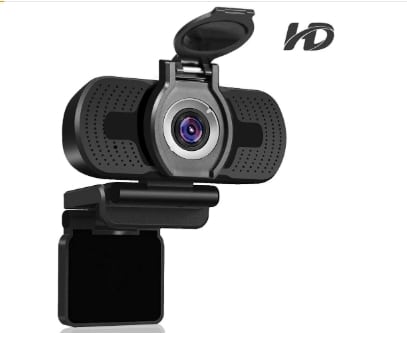 This full HD live-streaming device comes at less than $25. It was designed for live-streaming videos in high quality, and the 75-degree angle offers you magnificent images. Using this cheap but useful device, you can have chats with your loved one, meetings with clients, and conference calls flawlessly. 
Users were delighted with the setup. You do not need to install drivers because you must plug in your PC or laptop to begin audio and video calling. Using the built-in microphone, you can have noise-cancellation effects. 
Of course, your voice can be heard more than 25 feet on the other side. The webcam provides you with quality low-light correction and removes the shadows. Here is what a user based in New Mexico had to say about the Dericam Full HD. 
He was very skeptical about the device because he was unsure about the brand. He was surprised pleasantly because of its high performance, even in the low-light area. The audio quality was lagging, but he used another microphone. 
The user recommends this camera and brand for others to try out. 
Pros:-
This is a high-definition 1080p webcam that offers realistic images and quality videos for your blog. 

The microphone is excellent and comes with noise-reducing capability. 

It has a glass lens that enables it to offer interesting details. 

The setup is quite simple and easy. 

This is one of the cheapest devices at less than $30. 

The webcam can connect several devices like a notebook lid, LED monitor, etc. 

Its design quality is robust and durable. 
Cons:-
Sadly, it is not compatible with the MacBook. 

A few customers said that turning it on can be a hassle. 
Our readers might not be impressed that Dericam Full HD is placed at the end of the discussion. Not to mention, it is a cheap device at less than $30. When you search for a reliable, decent, and affordable webcam, there is no harm in trying out this option.
Check Price on Amazon
Additional uses of a webcam
From the above review, you most likely know that a webcam can be used for creating videos. But did you know that the webcam has numerous uses apart from making videos? That is right. 
When you are outside your home or property, you can keep an eye on the happenings back home. Yes, it is possible with the help of a webcam. You may have young kids, older adults, or pets at home. 
With the help of this device, you can easily track them, even when you are not in the region. If there is a theft or intrusion in your home, reviewing videos on the webcam helps you catch the thieves. 
Few high-end models come with motion sensors. These motion sensors help to capture images of people on your property at night. You can easily find out if somebody else is in your apartment or home. 
Few devices also come with sound sensors and integrate motion technology embedded in them. When your webcam does not come with this feature, you can use a different program to understand its working. 
They also come with speakers and a microphone to hear what is said and done on your property. This feature is useful as you know if your kid, elderly parent, or pet is okay. 
Though it may not appeal to everybody, in America, almost every home has this feature. When there is technology, you might as well use it for your good. Apart from that, these cameras capture some unexpected moments on your property. 
It could be a funny incident, a hilarious spill, or something ordinary. These videos can do well if you are a vlogger or professional blogger. As you can see, the best webcam for YouTube comes with additional uses and a barrage of features. 
At the time of our research on Best Webcam For YouTube, we found a video about "5 Tips to Look Better on a Webcam," which is worth watching. 🤴
5 Tips to look Better on a Webcam
✅FAQ
What webcam do most Youtubers use?
The top webcams used for vlogging and streaming include Logitech C922x Pro Stream, Razer Kiyo, Logitech BRIO Ultra HD, Elgato Facecam, Logitech C270 HD, Logitech StreamCam, Razer Kiyo Pro, etc.
What camera is best for YouTube videos?
The Fujifilm X-S10 is the best 4K camera for YouTube. It is packed with features and offers a reasonable price.
Can I use webcam for YouTube videos?
You can use Youtube's webcam capture option to record videos to YouTube directly. Locate and click on the upload button at the top-right corner of any YouTube page. Now start recording after locating the webcam capture.
What kind of camera do I need for a YouTube channel?
Anything that records at least 1080p quality video can work for your YouTube channel. A webcam or quality camcorder sounds nice if you are starting.
Which camera is best for YouTube beginners?
The best cameras for YouTube beginners are Sony ZV-E10, Canon EOS R5, Sony A6000, Nikon Z30, Canon EOS 90D, Blackmagic Pocket Cinema Camera 6K, GoPro Hero10 Black, DJI Action 2, etc.
Is GoPro good enough for YouTube?
GoPro Hero 10 Black is one of the versatile cameras you can get for YouTube. The video quality is excellent and has incredible image stabilization and a waterproof design.
Conclusion 
Our list of the best webcam for YouTube consists of unique products. Each device mentioned in the directory has its feature, abilities, and price list. These webcams are compatible with most of the PC or laptops in the market today. 
Nevertheless, before taking the plunge, you want to check the webcam's features and capabilities. You should know if it works on your PC or laptop. You can find that out by going through the system requirements. 
If you use a Windows-based operating system, verify if the webcam is suitable. Likewise, you must check it out when working on the Apple environment. Also, you must ensure that the webcam does not require additional software to work. 
Finally, you need to decide why you want to purchase the webcam. Do you want to use it for live-streaming, vlogging, creating videos, and calling conferences? We have ensured that something is in the above list for your requirement. 
Most of the webcams are suitable for live stream purposes and taking videos. These days, most of the webcams for YouTube are feature-rich and inexpensive. There is no reason why you must not consider having one for your property. 
We have covered everything that you need to know. Please let us know if we have missed out on any product, feature, or use by mistake. You can communicate with us through our comment area, and we will immediately get back to you. 
Happy memories with your webcam!