Do you have the curiosity to know about the Best Wireless Subwoofer to buy in 2019? You can easily Find out now in this definitive list with our detailed review.
Without any further delay let's find out. 
A great percentage of homes have one kind of speaker or the other, specifically to suit their amplification needs. However, not all these speakers have amazing features like subwoofers.
Most of us like that rumbling yet intense bass sounds. The ones that hit your very core. Sadly, not all speakers can depict this sound beautifully, hence the need for one that can arise.
Incase you're wondering, a subwoofer is only a loudspeaker which is complete in every way. Its sole purpose is to reproduce the bass as well as sub-bass audio frequencies even if they are low pitched. These devices are found in homes, cars or music studios as well.
They are best connected to your home theatres as separate units or used as your car speakers so you can really feel that reggae beat when you're cruising on the fast lane.
The best subwoofers are wireless. Not just because they are more convenient as they prevent you from tripping over the wires, but because wireless connectivity offers a wider dimension of frequency for reproduction. They are equally proprietary and very flexible.
Now that you have an understanding of the traits to look out for in a wireless subwoofer, we can go ahead to highlight the best ones in the market today.
The listing of these subwoofers is based on pricing, functionality, customer review and general effectiveness. Let's take a look. In no particular order we have:
Here is The List of The Best Wireless Subwoofer To Buy in 2019
1. Sonos Sub
This beautifully shaped wireless subwoofer has a futuristic design to it. Available in black and white, it is sure to not only take your music over the edge but your décor as well.
Unlike other bulky subwoofers, the Sonos Sub requires very little from you. You get to place it wherever you want without altering its amplification amongst other things.
It's important to note that this $628.99 wireless subwoofer has managed to maintain a 5-star rating despite its other counterparts. Want to know what makes it so special?
Here are a few of its features.
Features:-
This piece of beauty adds a more dramatic base to any Sonos wireless speaker nearby. You'll get to hear parts of songs you had never heard before.
It can wirelessly connect to Playbar, Beam, One, Plabase, Play:1, Play:3 and Play:5. It can also be connected to Connect: Amp which makes it highly flexible which makes it to perfectly fit in our best wireless subwoofer 2019 list.
At 35.3 pounds, it has two force-canceling speaker drivers which are positioned face to face. It is resistant to humidity. One of its most impressive features is its ability to connect to Amazon's Alexa device.
Below is the summary of the main Pros and Cons of The Sonos Sub.
Its design is very sleek and even futuristic.
With the Sonos Sub, you'll get to hear every part of a song, even basses you didn't know existed.
It can connect to multiple music platforms.
Its two force-canceling drivers offer an intense deep sound which is free from cabinet buzz sounds or rattle.
It can be set up easily with its simple one button.
It doesn't conform to the advantages of the right placement. Put it under a couch if you so wish, it'll sound as good as if on the floor or a table. It doesn't matter.
With its waterproof nature, you can place it in bathrooms or by the pool without fear of damage.
With the Alexa device (at $628.99), you can play music and enjoy every base through voice control.
It is powered with a minimum of 150 watts.
Its warranty period is just 1 year.
Check Price on Amazon
Note:- I have written a post for people looking for the
Best Soundbars under 300
$ to buy?, do read it If you are interested.
2. Klipsch R-10SWi
This is a less expensive alternative to the former. This wireless subwoofer doesn't require any type of adapter kit unlike some within its family brand. It also doesn't conform to placement.
Simply keep it anywhere in the room irrespective of its layout and it resonates deeply. At $279.95, you too can get this beauty. Here are some of its key features:
Features:-
The Klipsch R-10SWi has 10" drivers at its front firing. The driver is made of copper imp. This wireless subwoofer has an amplifier that is all-digital. It requires a low pass crossover.
It has a beautiful polymer veneer finish which accentuates your room décor. Its power indicator is LED and is front mounted. Its grille is removable. It weighs an average of 25.5 pounds. A 2GHz wireless Hi-Fi transmitter which is also pre-paired is also present.
Below is the summary of the main Pros and Cons of The Klipsch R-10SWi.
It has a low phase control which allows you to blend the low-frequency tones of the subwoofer together with other Klipsch speakers for the optimum bass effect.
Its all-digital amplifier functions by delivering an ample supply of power at high efficiency, while it's bass reproduction is true to the source.
It is strong and flexible.
It allows Line and LFE inputs.
Its design integrates into your décor.
It has a warranty of 2 years and is rated 4.5 out of 5 stars.
It produces a premium, high-quality sound.
It is not waterproof and can damage if in a humid environment.
Check Price on Amazon
Note:- I have written a post for people looking for the
Best Soundbar Under 150
 $ to buy?, do read it If you are interested.
3. MartinLogan Dynamo
This 700W wireless subwoofer can be connected to your home theater devices or any audio device of your preference. This subwoofer has a more compact design than others, but this doesn't affect its sound quality, which is outstanding by the way. It offers an RMS power value of 300W and a peak amplifier powered by 600W. For more of its features keep reading.
Features:-
This wireless subwoofer has a sleek design as you can see. It's poly cone woofer or driver is 10" and it has both front firing and backfiring options for its configuration. This subwoofer runs on 600W.
It makes use of SWT-2 connection for its wireless ability. Its cabinet is sealed and nothing can get into it. Coming in at 26.5 pounds, you could get this at $399.98.
Below is the summary of the main Pros and Cons of The MartinLogan Dynamo.
It reproduces a very high bass quality which is exceptional and synonymous with the MartinLogan brand once connected to a home theater or audio device.
You get to choose with this particular wireless subwoofer in the sense that if you prefer a camouflage or hidden installation, all you need to do is configure the down firing system into front firing.
This switch in a system is done very easily.
It has a wireless transmitter and receiver and can access up to 5 channels.
It has a warranty period of 3 years.
It is not humidity proof and can damage when exposed to wetness.
Check Price on Amazon
4. Polk DSWPRO 550wi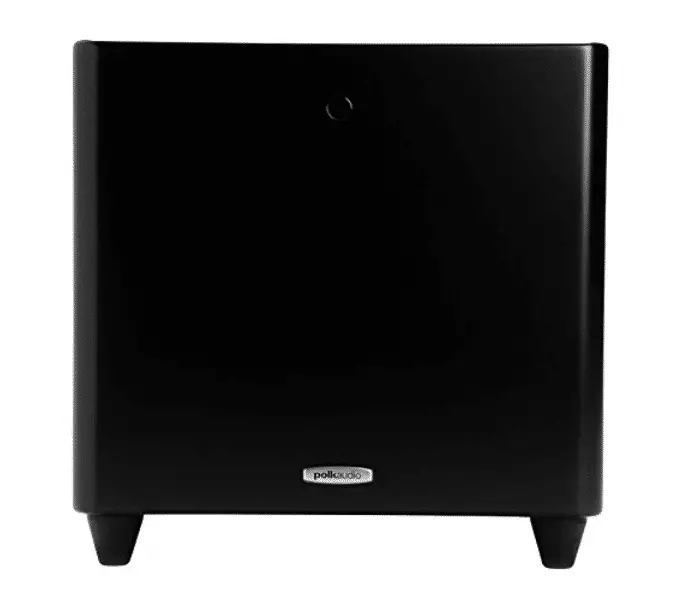 If you're a fan of product durability and longevity, you're going to love this wireless subwoofer. Not only is its design sleek, but it also serves its purpose without a doubt and gives you that low bass whenever you need it.
Its manufacture was equally one in a way to prevent easy damage and this is why it is equally rated high. Here are some key features of it.
Features:-
The DSWPRO series from Polk is designed to achieve perfect volumes at zero distortion low frequencies. It is made up of Polk intelligent amplifiers which require a less amount of power to sound flawless. It has a technology which suppresses distortion, this is called Feed Forward.
It can be arranged either with its feet forward or down. It has the sole ability to change or adapt its sound based on the acoustics of a room. Its price is fair. At $414.21 you can have access to this range of features. It weighs 41pounds.
Below is the summary of the main Pros and Cons of The Polk DSWPRO 550wi.
It has adaptive abilities (room optimizers) and reproduces bass based on the type of room it is placed in.
It is engineered to eliminate the internal standing waves as well as other resonances that reduces the performance of an audio device.
It requires less power, 400W to be precise.
This subwoofer has power detective abilities and knows when to stand down which usually happens at low volume or when placed on its standby mode.
Its distortion suppression technology allows exceptional performance and increases its limit without risking damage or distortion.
Its speaker is completely wireless.
For an audio device, it has a long warranty period.
It is very durable.
It has a consumer rating of 3.3 out of 5.
Check Price on Amazon
5. Bose Acoustimass 300 Wireless Bass Module
This wireless subwoofer is known to depict the same sound quality and dramatic intensity as that in the cinema theaters. It gives you the full bass effect of whatever movie you're watching or whichever song you're listening to.
If you love Bose audio equipment or even if you're fascinated about feeling every beat you listen to, this is the wireless subwoofer for you. Its features are coming right up.
Features:-
This wireless subwoofer, for optimum sound experience, is designed to be paired with the Sound Touch 300 to get hat dramatic bass. It has a quiet port technology and delivers a wide range of bass. All you need to do is to plug it in and enjoy that deep bass. It is very lightweight at only 2 pounds and you can get it for $699 which makes it to perfectly fit in our best wireless subwoofer 2019 list.
This wireless subwoofer connects the dots between hearing the bass and feeling its thunder.
Its quiet port technology helps in bringing the deep and clean base to you in a compact form.
It can deliver a very dynamic bass range. This is done through its powerful driver and a large-sized port. It is with this Quietport technology that eliminates frequency distortion.
It is light and compact, hence it doesn't take up too much space.
It is rated 4.3 out of 5.
It has a sophisticated design and its tempered glass gives it a sleek finish.
You'll get to feel the intensity of whatever you're watching.
It comes in either black or white colors.
For easier placement, you'll need to connect this subwoofer to Sound Touch 300.
It is not waterproof.
Check Price on Amazon
6. Klipsch R-110SW Subwoofer
This is one subwoofer that is versatile enough to be used as a wireless subwoofer and a wired subwoofer. It presents the best of both worlds directly to your audio requirements.
Not only will this audio equipment give you a bass quality that is supreme, it also uses a very little amount of power to do so, 300W to be precise. Here are more reasons why you should purchase this subwoofer.
Features:-
It has a 10" spun-copper woofer which has both ceramic and metallic properties. This subwoofer delivers 450W of power. It has a technology system to curb internal flares in its front-firing slot port. Its design is modest enough to blend in with your room décor. At $349 and coming in at 47.3 pounds it is one of the best subwoofers in its price slot.
Below is the summary of the main Pros and Cons of The Klipsch R-110SW Subwoofer.
It is compatible with most receivers.
You can easily switch from its wireless connection to its corded connection.
Its cabinet is designed with polymer veneer with a bit of satin painted on its plinth.
Its cerametallic woofers are very light and rigid as it provides a very low-frequency response armed with little or no distortion and cone breakup.
It has an all-digital amplifier which is very accurate in reproduction.
Position placement is flexible due to its front firing design.
It has a warranty period of 5 years, hence it is highly durable.
It has a customer review of 4.6 out of 5.
It needs its WA-2 wireless subwoofer kit in order to access its wireless function.
Check Price on Amazon
7. Definitive Technology SC6000 Subwoofer
You should know that in this context the 'SC' is an abbreviation for SuperCube. Well, from its appearance you can admit that it does look like some kind of super box but we'll back this up with its features.
This wireless subwoofer is significantly expensive and it has the character traits to match this price. You can see that it is compact and portable, but what of the features you can't see.
Features:-
It has a SuperCube technology woofer which is pressure coupled to 2, 10 inches ultralow bass radiator. It is wireless and accessible by remote control.
It has a performance optimizer control through which you can tweak its precision system. It also has an alphanumeric display which tends to disappear on its LED screen.
This subwoofer has a 2" thick front and rear panels and is enclosed with a bass reflex passive radiator. It weighs 43.6 pounds, has a built-in amplifier of 1500W, phase dial, and it costs $974.77. It is highly durable with a 5-year warranty which makes it to perfectly fit in our best wireless subwoofer 2019 list.
Below is the summary of the main Pros and Cons of The Definitive Technology SC6000 Subwoofer.
It has an elegant design which makes it compact and portable.
The 2" thick back and front panels it possesses internal bracing abilities and prevents rattle or buzz on surfaces.
Its performance is, therefore, vibration free.
Its remote control access allows you to set adjustments from anywhere within the room, and its LED screen allows you to view the settings without having to go to the Subwoofer whenever you want to make changes.
This wireless subwoofer propels you into the futuristic expectations of sound reproduction and music.
It is expensive
It has a 3.5/5 review.
Check Price on Amazon
8. Polk DSWPRO 660wi
The Polk DSWPRO 660wi is significantly different from its former series member, the 550. It possesses a fine communion of futuristic design, efficiency and price modesty. It is the go-to subwoofer for excellent bass reproduction in this price range.
For optimum sound efficiency, it has some key features including its technology for distortion suppression. Here are more of its key features.
Features:-
With its Feed Forward DST (distortion suppression technology), the risk or damage or distortion is gravely limited. It has four preset room optimizer options and is driven by 400W of steady power.
It has a night mode setting, makes use of the Klippel analyzer for distortion and weighs 45 pounds. Its driver is 12" and it goes for $649.
Below is the summary of the main Pros and Cons of The Polk DSWPRO 660wi.
Its technology completely reduces the risk or occurrence of damage or distortion.
Its four preset room optimizer options as well as its PRO technology which is only exclusive to Polk devices, programs and adjusts the bass blending settings according to the type of room.
Even at the most extreme levels of listening, its Klippel distortion resets and optimizes some of its functionality like that of its motor structure, suspension as well as its voice coil alignment, just to promote and ensure its supreme performance.
You can simply activate the night mode option from the remote and the performance intensity of the subwoofer reduces.
It doesn't consume so much power.
Foot extensions can be weak.
Check Price on Amazon
9. Velodyne Wi-Q Subwoofer
This wireless subwoofer is very versatile in its settings and configurations. Its price is a little on the high side but with the uniqueness of its output design, we can only expect great things from this subwoofer.
With a weight of 46 pounds and a price tag of $899, this subwoofer has certain features which are synonymous to itself alone. They include:
Features:-
It has a front subwoofer with a rear-firing ported cabinet which serves authoritative and high-intensity bass sounds for high-level audio impact for home theaters.
It has digital amplifiers which deliver 450W peak power (with a standby wattage of 0.5), at 225W RMS to get that minimally distorted peak volume. You can notice the four One-Touch presets for listening.
Its design is wireless and it has Bass correction abilities. It also has extended excursion drivers, remote control accessibility, flexible low-pass corrector and a host of other features.
Below is the summary of the main Pros and Cons of The Velodyne Wi-Q Subwoofer.
The Velodyne Wi-Q subwoofer possesses over 3 decades of experience in sound and bass technology.
For its vast features, we can say it's affordable.
The Velodyne Wi-Q can easily and very effectively be integrated and connected to any entertainment or home theater system devoid the use of cables.
Once you push the 'EQ' button on the remote controller, the subwoofer's built-in processor produces a high-quality optimal base in that room irrespective of the source.
It delivers output at its maximum impact.
Its operation is simple and easy.
Check Price on Amazon
10. Vizio Wireless Subwoofer
This 2 in 1 package offers an exceptional value for your money. The Vizio Channel soundbar together with its wireless subwoofer is both portable and lightweight.
They give you access to an intense volume alongside a thumping base. Its use is very versatile, from upgrading your TV, you can update your music creating techniques and even improve your gaming experience using this wireless subwoofer with its soundbar.
Here are some of its features.
Features:-
It has Bluetooth connectivity, a remote for volume control, produces 100db of crystal clear and intense room filling bass with not so much as 1% harmonic distortion.
At 5.8pounds this duet is perfect for anyone with an appreciation for the difference in bass frequencies as it hits every bass. It is pretty affordable and is tagged at $149.99.
Below is the summary of the main Pros and Cons of The Vizio Wireless Subwoofer.
It creates an environment for audio expansion.
Harmonic distortion is completely prevented.
This combination brings a cinematic world-class experience straight to your homes.
This duet is susceptible to troubleshooting.
Check Price on Amazon
Wireless Subwoofer Characteristics To Note:-
Just like every other gadget, a wireless subwoofer has certain features and terminologies that new buyers may not be familiar with. Which is where we come in.
Before buying a subwoofer, there are a few things and characteristics you need to know so that you have a clearer idea of its performance. This includes its wattage (power), size, placement location, and lots more.
Let's look at these features.
[su_icon_text icon="icon: power-off" icon_color="#5ed62d" icon_size="25″]Power (wattage)[/su_icon_text]
Most people like to think the higher the wattage of the wireless subwoofer, the louder the sound it produces. It is safe to say that this is only but a myth. Matter of fact a wireless subwoofer of let's say 1000 watts doesn't necessarily possess any volume edge than one which is powered by 100 watts.
This power guide is only to lay emphasis on the volume limit of the wireless subwoofer, it could go higher, it could go lower, it all depends on which volume you're comfortable with as only you have access to control it.
In the same vein, it's no surprise that a wireless subwoofer powered by a thousand watts may sound clearer or possess less interference, generally making the sound quality better than that of a 100-watt wireless subwoofer. This isn't the only determinant of the performance rating of a wireless subwoofer, moving on to the next one.
[su_icon_text icon="icon: fast-forward" icon_color="#5ed62d" icon_size="25″]Subwoofer Size[/su_icon_text]
The size of a wireless subwoofer varies based on the diameter of its cone or driver. It is this driver that produces the noise and could be 6.5inches, 8", 10", 12" or 15" just so it has enough room. But nevertheless, most subwoofers can fit under a table.
This size difference constitutes the difference in its acoustic properties and ultimately affects its sound. This is because, as you probably know the waves of a bass or sub-bass sounds are very long and this driver works overtime in reproducing its wavelengths and frequencies to the point which it can be heard and felt.
To really let the bass sound engulf you, you're going to need a driver with a bigger diameter, either 12" or 15", or you could make use of a smaller driver but compensate it with more power. An 8" driver could sound like that of a 12" if it is connected to lots of power.
[su_icon_text icon="icon: location-arrow" icon_color="#5ed62d" icon_size="25″]Placement Location[/su_icon_text]
This is a sound reproduction device and where you decide to keep it matters a lot. One wireless subwoofer hack is placing it next to the wall or in a corner. The wall acts as a barrier and amplifies the sound further but will favor certain frequencies over others.
Nevertheless, if you're looking to increase the volume of the sound produced, placing it next to a wall is the easiest way to achieve just that.
However, most subwoofers in studios and homes are placed above ground level as this also increases the intensity of the bass you hear. You can move it strategically till when you feel it resonates equally.
[su_icon_text icon="icon: cloud" icon_color="#5ed62d" icon_size="25″]EQ Processing[/su_icon_text]
The job of the EQ processor in a subwoofer is to generate an equalizer setting that is room specific by testing out tones through the speaker.
It helps in leveling the peaks in notes which are overly favored or accentuated. However, this feature doesn't guarantee that your cheaper wireless subwoofer which may also be underpowered will sound like a high-quality subwoofer.
Neither does it have counter effect properties to annul the negative effects of a poorly positioned wireless subwoofer. Nevertheless, they are pretty functional and are worth looking out for in a subwoofer.
Getting a wireless subwoofer isn't as complex as it seems, all you need to do is quality research, which we have provided for you.
Whatever type of subwoofer you choose to purchase, whether powered (for larger rooms, cinemas, stores) or passive (for small rooms and cars), having this information on the characteristics, prices, advantages, and limitations of the best wireless subwoofers in today's market will help you in your purchase.
Once you have chosen one which suits your needs and resonates with your position placement and room acoustics, you can sit back, relax and enjoy high definition bass like never before.