Are you a scriptwriter, playwriter, novelist, story writer, content creator, or into any other creative field that requires you to create your different scenarios and plots?🤔
Do you want to get into it? Do you fantasize about the fantasy worlds created in books and movies like Harry Potter, Game of Thrones, The Vampire Diaries, etc., and fancy creating one of your own for your novel, play, video game, etc.?
Worldbuilding is a powerful tool to hook your audiences up with what you create. When you create a new fantasy world, your audience moves into it, lives it, and connects better with what you've put before them.
When you look at a series like Harry Potter, it's only the beautiful and charming magical world that kept every reader and every watcher hooked to the story and created a whole new community of Potterheads.
Even if you look at a game like PubG, it's a different world that attracts every gamer to itself.
However, when creating this whole new world for a story, you need to add a lot of wings to your creativity, which would probably require help. Well, you can get this help with a tool like World Anvil.
World Anvil is one of the most popular and feature-rich world-building tools that you can find.
From getting an initial motivation for the kind of world you seek to build to taking notes and having character motivation and development throughout your story, World Anvil helps you with everything.
However, creativity has no bounds, and World Anvil is not the only tool available. While it is the best, it wouldn't be a bad idea to try some more tools.
So, here are some of the best World Anvil Alternatives you can try to unleash your creativity and writing skills.
Best World Anvil Alternatives – Our Pick👌
World Anvil is one of the best world-building tools to help you step into a creative zone and build the perfect base for your novels, games, and stories.
However, a good thing about creativity is that there's no end to it, and there are many tools other than World Anvil that you can use for creating your fantasy and fiction worlds.
Now, you would surely want to explore these other tools. Who knows if you could mix up some things from different tools and get a unique story?
So, let's check out some of the best World Anvil Alternatives you can try to have your next novels, video game, or series created with a well-designed, well-connecting, and highly relatable world of fantasy and fiction backing the characters and their steps as your story unfold.
1. Kanka – World anvil alternatives With Powerful features
Kanka is among our list of most feature-rich worldbuilding tools and the best World Anvil Alternatives.
The tool offers you almost every feature you need for creating the perfect stories for your novels and games with as robust and vast a fantasy world as you like.
You can easily create maps, timelines, characters, relations, and a lot more, along with easily organizing and tracking them as the story builds further.
You can keep track of the eras you're creating within your world and have calendars, histories, objectives, quests, or whatever you like to have in your story world.
Additionally, if you need help creating and building your world, the application allows you to invite a friend to work together with you.
And you get to keep all of this in one place, including the notes you create for your world to unveil further. This makes it easier for you to track the progress of your work.
Also, if you are missing out on anything on the application, you can request the same, and the application will incorporate the requested feature based on community votes.
But to be a part of these community requests and votes, you will have to upgrade to the paid plans that are quite affordable, and you get many more additional features too.
Nonetheless, even in the free plan, you will have access to the new and upgraded features and functionalities, except that there shall always be restrictions on using them to their fullest abilities.
When you talk about that, the free plans in World Anvil pose much fewer restrictions and constraints.
What is Kanka and what can it do?
However, if you are a beginner and want to try something new, Kanka is worth a try, and you will love the worlds you build over it.
kanka vs world anvil:-
Both platforms enable users to add and arrange data on the characters, settings, and tales in their fictional works. But they each have unique features and are made for various kinds of artistic work.
2. Campfire
Another great World Anvil Alternatives to help you give a new edge to your creativity is Campfire.
The tool is great for helping you put your imagination to words while supporting the same with more creative ideas, storylines, and plots.
You can use the tool to create an initial plot for your story, develop characters, manage timelines, have location maps, and have many other story writing and worldbuilding features and functionalities.
Moreover, the application even helps promote your stories and novels on its social media channels, and you can stay more motivated towards working on your plots and storylines.
Furthermore, the application has several essays, videos, and plots that add to your creativity and imagination and help you craft better ideas and stories.
However, one issue with Campfire is that there's no free application version either. You can get a ten-day free trial to enjoy all the Pro plan features; however, after ten days, you will have to purchase the plan, which comes at $49. This is a one-time payment you have to make.
Also, the Pro plan doesn't come with advanced world-building features. You need to go to the Pro plus Worldbuilding plan, which comes at a one-time payment of $75.
Now, this looks costly on the face. Still, at these prices, you get a lifetime license of the application, which is an amazing deal, something that will be worth investing in, especially if you're passionate about writing and would like to pen down excellently imaginative, engaging, and relatable stories.
Videos for Writers and Worldbuilders - Campfire Technology
World anvil vs campfire:-
To keep track of many facts and ideas as they build their stories, writers, game designers, and other creative professionals may find both World Anvil and Campfire helpful.
But they each have unique features and are made for various kinds of artistic work.
3. Scrivener
If you are working on long-form writing projects, then Scrivener is the tool you need.
This tool is designed for all kinds of writers, be it novelists, story writers, playwrights, journalists, non-fiction writers, lawyers, and a lot more. Anything associated with writing can be done on Scrivener.
You can use the tool to pen down your ideas, thoughts, and imaginations on the go and then later combine them with a drag-and-drop feature to prepare an interesting manuscript for the novel.
Getting Started - Finding Your Way Around
With this ability in the tool, you shall never feel stuck about your writing and will always know that you can put up your thoughts at some point.
Moreover, the tool also helps create characters and develop them throughout your story. Besides that, the tool supports simultaneous research work as well.
Furthermore, the tool has other advanced features and functionalities, such as a text editor, project planner, and an outliner.
With these features, it becomes easier for you to plan your entire drafts and manuscripts. You can create end-to-end outlines for your drafts and plan the content to be put in them accordingly.
Later on, once you are done with your content, you can directly make edits and have a final copy.
Also, sharing your projects and stories once they're done is easier as the application allows you to share them directly in PDF, documents, and text forms. You can print the stories directly from the application if you like.
The only issue is that the application is not free except for the 30 days free trial period. Once your free trial is finished, you must purchase a license for the application. However, it's not very costly.
The license comes at $49 for Windows and macOS devices. For iPhone devices, the price is even lesser, and you can get it at just $20. However, for iOS, the cost has to be borne upfront since there's no free trial in this case.
All these prices don't seem a lot, and considering the features and functionalities of the application, they are highly worth your time and value.
With that said, Scrivener is a tool you must try as a writer, especially if you have diverse thoughts and imaginations.
It isn't easy to figure out where to put them in your manuscript immediately.
You may like to read our guide on the 11 Best
Poem Writing Apps
To Express Yourself Through Poetry.
4. One Stop for Writers – Worldbuilding Surveys
If you need both inspiration and information for writing your stories and creating beautiful and interesting worlds in them, then this tool is made just for you.
The tool is loaded with all kinds of reference material, including stories, character planning, building, and development ideas, story outline, and much more to help you get on with your stories.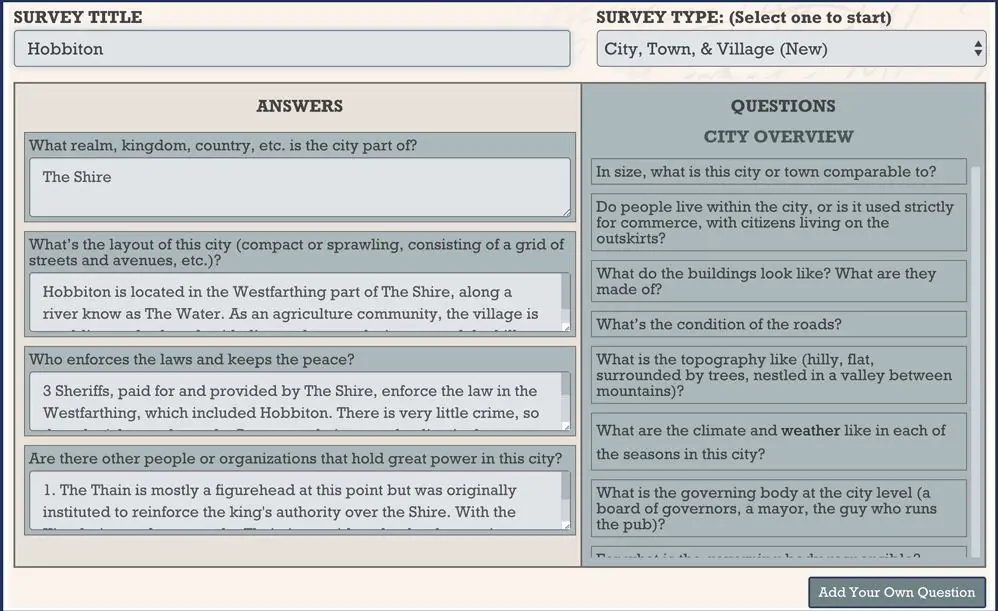 Moreover, as you create different timelines in your story world, you need to start keeping track of these timelines so that nothing looks out of the picture or comes as a plot hole.
This application helps track the timelines through various surveys wherein you have to answer some questions that will help you plan and design your fantasy and fiction world with everything in the right timelines and locations.
Moreover, there are features for creating story maps and characters that will help you keep your storyline and plot interesting and the characters relatable at every step.
Furthermore, adding many elements to your story with in-built Thesauruses is possible. As such, you can add several emotions and personality traits.
Also, you can create different sites in your world with several physical features, altering weather and climates, adding shapes and textures, etc.
Also, if you ever run out of ideas and imagination, the idea generator in this application will come as a savior for you. With this feature, it's easier for you to give newer edges, twists, and turns to your story.
Moreover, you can make the story more interesting through the tips and checklists that the tool creates to understand how to move further and ensure you're not missing out on anything in writing your story.
With all these features and functionalities, this tool is a one-stop for writers, offering them everything that anyone will ever need to create compelling stories with the most interesting worlds.
Moreover, the tool is free to use, at least for the basic features. You will have to subscribe to the paid plans for the advanced features. But they don't cost a lot either.
The paid plans are much more affordable in comparison with World Anvil. The paid plans for the One Stop for Writers Worldbuilding Surveys start at just $9 a month.
So you can easily get them and have the best support for writing your stories with relatable and interesting plotlines.
5. World Scribe
It would be best to consider many things when trying to create a fictional or fantasy world for your novel, play, or any other creative task.
You must pay keen attention to details and have everything micromanaged and highly organized to ensure that every timeline, every event, every character introduction and development, and everything in and around the story connects. There is no scope for plot holes.
This can become overwhelming unless you have a tool like World Scribe.
World Scribe understands the challenges of story writing, world-building, and the desperate need for organization. With that understanding, it comes with just the solution you need.
World Scribe is a perfect tool and among the best World Anvil Alternatives to help you organize your story and create the world of your imagination without any plot holes or room for confusion.
You can easily track the elements and events in your story and ensure that everything is in proper flow and connecting well with each other. 
You can create characters and add different personality traits to them. Moreover, you can easily create different connections between and among your characters and make your story interesting.
With all these features, it becomes extremely easy to follow through with your story, and you can finish up your novels and plays in almost no time.
The best part of this tool is that it's free to use. You can download it on your Android device and start creating your stories over it without ever having to worry about paying up even a single dime.
Considering all these factors, the tool is definitely worth your time. It saves you a lot of money, in fact, all of your money, and yet gives you a way to make some money as you finish up and publish your novels, plays, or whatever you write with the help of the tool.
So, it's a pretty good World Anvil alternative, something you must download, explore and try out.
6. Now Novel
Suppose you are an aspiring writer, trying to write a novel for a long time, but are stuck for some reason, for instance.
In that case, you are unable to get the right start, you are stuck at a certain point in your story and unable to understand how to take it further, you are not able to be consistent, and the list of these reasons can be endless, the Now Novel is the tool that you must try out.
Just like World Anvil, Now Novel also helps you create your novel's worlds, storylines, and plots in the most interesting and engaging ways that your readers shall relate with. So, it's the perfect alternative to World Anvil.
The application has a story dashboard wherein you can create the content plan and outline for your story and progress from there.
Once you have created a plan, you can move on to the Scene Builder feature of the tool to write up drafts for different scenarios in your story and simultaneously save them on your dashboard.
5 effective ways to start your story with bold beginnings
With these drafts and summaries for your scenes, you'll get a base you can further compile to create episodes and chapters for your novel.
Additionally, you can keep penning down random ideas that come to your mind and then sequence and order them later in the storyline.
This way, you don't have to keep yourself stuck to something. You can let your thoughts wander and have them organized for your story later.
Additionally, the application has a character builder that will help you create your characters for the story and guide you on how they develop and appear throughout the storyline.
With all these features, Now Novel is the perfect guide you need to write up and finish up your stories and novels. However, this guide comes at a cost. There's no free version of this tool, and the most basic plan comes at $15 monthly.
So, while the tool is extremely feature-rich and poses as a great alternative to World Anvil, it's costly. So, if you subscribe, you need to be sure and serious about writing to have the most value from the tool. 
7. Notebook.ai
With intuitive features to create a world of your choice with all physical and emotional settings, Notebook.ai is another tool that poses great World Anvil alternatives.
This tool helps you explore your inner mate's creativity and easily build up a wonderful storyline and plot.
Whatever elements you want to put in your story for the worldbuilding for your novels and plays, Notebook.ai will help you add them.
Be it locations, climates, landmarks, scenes, characters, or anything at all, this application will help you add them to your fantasy world in the best possible ways.
Moreover, you can create and save your characters and plots by answering simple questions the application asks.
Additionally, you can keep track of all these characters and plots to see their progress, growth, and development and assure yourself that everything is going in the planned direction.
You can easily differentiate between locations, places, and landmarks in your novel and story by assigning different and customized pages for every location.
With all of this, it becomes extremely easy for you to create your stories and novels. Moreover, you can ensure there is no clutter within the application.
While the application allows you to save lots of storylines, plots, and ideas at once, you can separate them all from one another through filters and ensure that you take one thing at a time and there's no mix-up.
Another major advantage and a highlight of Notebook.ai is the in-built artificial intelligence in the tool. This is not something that you get with World Anvil. This artificial intelligence feature enables this application to understand human emotions, sentiments, and feelings.
So, the application's artificial intelligence feature shall go through whatever you write and score it for its readability, emotions, feelings, connectivity, and many other things. With that score, you can understand the quality of your writing and make continual improvements to it.
Additionally, you can enhance the pace of your writing too. Also, if you need to make any changes to the writing, you can do the same in the application itself with its in-built document and text editor. 
With all of this, Notebook.ai is a tool you can use as an effective World Anvil alternative, even for its pricing.
Like World Anvil, Notebook.ai has a free version with only some basic and limited features. If your writing needs and requirements are limited, you can do well with the free version.
If you want to upgrade, it wouldn't cost you too much. The plan for Notebook.ai starts at just $9 a month. That's easily affordable, and with the unlimited capabilities you'll get on subscribing to this plan, you'll not regret putting your money into it.
📗FAQ
What are the best World Anvil Alternatives?
World anvil is a renowned world-building tool for novelists and makers; with this tool, you can make your work easy by making your tools. Some of the software that can be its alternatives are:- 
 
Kanka- The program allows game masters and worldbuilders to develop and arrange their worlds and campaigns utilizing various features, making it ideal for them.
Organizations, interactive maps, families, histories, and an abundance of characters you can create are just a few of these features. 
Scrivener- Screenwriters, authors, students, non-fiction writers, lawyers, translators, journalists, and other writers use the worldbuilding tool, Scrivener.
The software, specially designed for lengthy writing projects, supports these authors in growing their writings uniquely. 
Notebook.ai- The intelligent worldbuilding notebook Notebook.ai works with you and develops with you and your projects. 
Can you use World Anvil for free?
Yes, you can use World Anvil for free. The basic features and functions of World Anvil are free for its users.
However, one can also go for its premium version, which has better world-building functions and options to make your work easier and more presentable.  
What is the best map-making software for worldbuilding?
Worldbuilders need maps, and by using map-making software, they can make their maps. The three best map-making software, according to the World Anvil blog, are: 
 
Project Deios-  This is the most advanced software created by the phenomenal map illustrator Caeora. It allows a lot of distinctive features that make your work detailed. 
Inkarnate- is a browser-based software that works according to your internet connectivity; its full version is pretty attractive.  
Wonderdraft – runs on Windows 10, Linux, and Mac OS X. You can use it to swiftly generate maps, just like all the other map-making programs on this list. 
Does World Anvil own your work?
No, World Anvil doesn't own your work or any content you upload. It is purely your work, and you own one hundred percent rights to your content.
Against this privacy policy, a user is also not allowed to disseminate any part of the service other than their own. 
Is World Anvil or Campfire better?
Campfire is a better option if you're looking to buy a tool for its plotting or writing capabilities because World Anvil focuses more on world-building.
But World Anvil is unquestionably the way to go if you enjoy playing role-playing games. 
Can we sell our Worldbuilding content?
Yes, you can sell your world-building content. Furthermore, you may write something or create something in your world, and if it's impressive enough to be monetized, sell the same and earn money through your world-building content.  
What is better than World Anvil?
Myth-Weavers, Obsidian Portal, and Roll20 are examples of systems frequently used for world-building and narrative.
Is the free version of World Anvil worth it?
Some fundamental elements of World Anvil are available in the free version and may be helpful to many users.
With World Anvil's free edition, you can:-
1. Create and arrange the different components of your made-up universe, such as the characters, settings, and events.
2. Use the platform's default templates and features to aid your first setup.
3. Join forces with other users and let them into your realm.
4. You can only use a few of World Anvil's features and tools.
Can you use World Anvil offline?
World Anvil is an online platform; therefore, using and accessing it requires an internet connection.
On the other hand, you can utilize the platform on a device with a reliable internet connection and afterward make and save backups of your content on your computer or storage device to use offline. By doing this, you will be able to view and use your stuff even without an internet connection.
Remember that while you are offline, you won't be able to make any edits to your World Anvil material; instead, you'll need to re-upload any modifications or additions after you get back online.
Is World Anvil the best?
World Anvil is a complete platform with many features and tools for worldbuilding and narrative, and many users have given it favorable ratings.
Does World Anvil own your work?
No, if you use World Anvil's platform, World Anvil has no ownership rights to your work.
The World Anvil terms of service state that you own all intellectual property rights in your work and grant World Anvil a restricted license so that it may display and distribute it on its platform.
This implies that you can use your content however you see fit and remove it from the World Anvil platform anytime.
Can I make a world on World anvil private?
It is possible to make a planet on World Anvil private so that only you and any other people you invite can access it.
To achieve this, go to the account settings for World Anvil and create a private world. Private worlds are not accessible through the platform's search or discovery tools and are not available to the general public.
By adding them as collaborators or by sending them a link to the world, you can invite other people to join your private network.
Can you import character sheets into World Anvil?
World Anvil allows you to import character sheets. To save time and ensure that your character information is structured and consistent, you can import data from other character sheets or templates into Universe Anvil while creating and managing character profiles for your story or world.
The first step in importing a character sheet is to create a new character profile in World Anvil and then choose the "import" option from the menu.
By doing so, a window will open in which you can paste the content from your character sheet or upload a file containing that information. The information will then be parsed by World Anvil, filling in the necessary fields in the character profile.
It's important to keep in mind that the formatting of your character sheet may impact the import's correctness, so you might need to make some changes to the imported data to make sure that it appears as intended in World Anvil.
Is World Anvil like Roll20?
Some significant variations exist between them:-
With tools for developing and managing characters, settings, narratives, and other components of an RPG world, World Anvil focuses primarily on worldbuilding and campaign administration. Calendars and timelines are among the campaign management tools it contains, but its main objective is worldbuilding.
With tools like virtual dice rolling, character sheets, and a map builder, Roll20 is largely focused on aiding online tabletop gaming sessions. Although it contains some campaign management tools, such as a character creation wizard and a distribution system, its main objective is to facilitate online gaming sessions.
As a result, even though the toolsets offered by World Anvil and Roll20 have certain similarities, they are focused on various facets of tabletop RPG gameplay and campaign administration.
Can you draw a map on World Anvil?
World Anvil has a map editor that users can use to make and alter their campaigns.
You may add place names and markers for locations and sites of interest, as well as geographic elements like mountains, rivers, and forests, to your map using the map editor.
The colors and symbols used to indicate various things can all be changed, as well as the overall appearance of the map.
You can import existing maps and draw new ones from scratches, such as those made with graphic editors like Photoshop or GIMP. This can be helpful if you have a particular feel or appearance in mind for your map that you want to accomplish.
The World Anvil map builder is a helpful tool for making and customizing maps for your tabletop RPG sessions.
Can you print World Anvil maps?
You can print the maps you've produced on World Anvil; thus, the answer is yes. Before proceeding, you'll need to select the map you wish to print from the map editor.
When the map is open in the editor, select "Print" by clicking the button in the top right corner of the screen, this will open a print preview of your map, which you can print using your printer's print software or the browser's print feature.
It should be noted that the print feature on World Anvil is intended to print maps at a somewhat tiny size, so if you wish to print a larger map, you might need to change the printer's settings or use a graphics editor like Photoshop or GIMP to resize and print the map.
For making physical copies of your maps to use in tabletop RPG games or for reference while working on your campaigns, World Anvil's print feature might be a handy tool.
Is World Anvil good for writers?
Writers may find World Anvil helpful, especially if they're developing a world or setting for a tale.
The platform has several features that can assist authors in planning and organizing the specifics of their world, including instruments for developing and maintaining characters, settings, narratives, and other setting-related factors.
World Anvil can be a helpful tool for composing and releasing content and aiding authors with organization and world-building planning.
A built-in text editor, the possibility to integrate photographs and other media in your articles, and the choice to publish your content openly or privately are just a few of the capabilities offered by the platform.
World Anvil can be a helpful tool for authors trying to build a rich and intricate world for their works.
It offers a platform for creating and posting content, as well as a way for people to keep track of all the components of their settings and organize their thoughts.
Can World Anvil be used on mobile?
It is possible to use and browse World Anvil on portable devices like smartphones and tablets.
As a result of the platform's responsive design, you can use it on a mobile device exactly like you would on a desktop computer.
You may easily access World Anvil on a mobile device by going to the website using a web browser like Chrome or Safari. Once logged in, you can use the platform like a desktop computer.
While World Anvil can be accessible on mobile devices, it's important to remember that some of the platform's features and capabilities might be more challenging to utilize on a smaller screen.
For instance, the map editor and other tools that require a lot of clicking and dragging might be simpler to use on a larger screen.
Does World Anvil have sci-fi?
For building and administering a science fiction setting, the platform has several features and tools that can be helpful, including:
1. A character maker that enables creating and customizing characters with a wide range of diverse features, such as species, skills, and gear.
2. A tool for creating and modifying locations, such as planets, space stations, and other places, in your scenario.
3. A world-building tool that enables the creation and management of all the components of your science fiction setting, such as people, settings, plots, and other specifics.
World Anvil can be a helpful tool for developing and maintaining a science fiction setting for a tabletop RPG or another form of a story.
Final Words
Being a writer is not an easy job at all. You constantly need to move the chords and strings in your brain to generate ideas and then put them into words.
Add to that the need for writing a novel or play; your challenge grows significantly; it multiplies by many times. In that case, having a friendly companion or guide to help you out every step of the way is all you need.
World Anvil is one such tool for this purpose. It's one of the best tools for any writer to unleash his or her creativity and come up with the most amazing ideas and stories that every reader will love.
However, World Anvil is not the only tool available. There are many more options you can try out. Here, in this article, we have mentioned seven of the best World Anvil alternatives to help you as the guiding light for completing your novels and stories.
You can try one or all of them. Who knows, you'll combine ideas from different tools and come up with something more unique and new than ever.
Creativity is all about exploring and moving past your boundaries. The more you do that, the better you become.
We hope that you found this article helpful, have come to start using a tool, and are all set to finish up your novel, play, story, drama, or whatever it is that you have been trying to write.
Happy Writing!