When you have 2 great password management services like Bitwarden and LastPass, doing a Bitwarden vs LastPass piece becomes inevitable.
Most of the world's proceedings today have become digital and a whole lot of data and information are stored in virtual spaces.
Of course, there are certain things not everyone should have access to. To ensure that only certain people have access to some of these data and information that are sensitive, these items are protected with passwords.
Hackers are always snooping around the internet trying to hack databases to steal these passwords. If they successfully steal the passwords and other information of the users, things could go wrong quickly especially if the users use the same password on different platforms or if the users' passwords on multiple platforms are not markedly distinct.
It certainly is not easy to create a distinct password for each platform you use neither is it easy to keep a record of these passwords. But it is much worse to lose data, information or money to a hacker.
To this end, password managers were created to assist people with their password needs. Password managers are applications that can help generate, manage, and store passwords securely for your accounts on multiple platforms.
So we have Bitwarden vs LastPass, which of them does password management the way you want it to be done? Which of them ticks most of the boxes for you?
Bitwarden vs LastPass: Overview 
Compared to LastPass, Bitwarden is a relatively new password manager. It was first released for use in August 2016, on mobile platforms (Android and iOS) as applications and for browsers as extensions.
Ever since the initial release, there have been modifications and improvements to the applications and extensions. The service has been extended to more platforms ever since then and it is currently available on 5 operating systems and at least 5 web browsers.
LastPass is far older than Bitwarden and has been in existence since August 2008. It was developed by Marvasol Inc. but was later acquired by LogMeIn, a software provider with headquarters in Boston, Massachusetts, USA. LastPass is currently available on different operating systems including Windows, macOS, iOS, and Android.
LastPass | 10 Years of Security
It is also available on at least 4 web browsers including Chrome, Firefox, and Opera. LastPass has had its fair share of plaudits and criticism over the years but they have managed to retain a good reputation.
LastPass currently has a customer base consisting of over at least 61 thousand businesses and over 17 million individuals.
Bitwarden vs LastPass: Security Type
Surely, if you are going to store all your passwords in one place, your utmost concern would be how secure that place is. It is not hard to imagine that if this storage gets breached, one is in a hot mess.
If all your passwords are revealed, you would be exposed to data theft, data loss, and blackmail. While these 2 password managers are highly secured, we would not have done justice if we do not do a Bitwarden vs LastPass security comparison.
Bitwarden Security:-
Bitwarden uses cryptographic hashing (also known as salted hashing), a password-based key derivation function 2 (PBKDF2), and AES-256 end-to-end encryption to ensure that whatever you send from your device is not accessible in a format that can be read by anyone else.
With these features, no one is meant to be able to read your password and sensitive information asides from you.
Bitwarden also uses a 2-factor authentication to ensure that no one else tries to log into your Bitwarden account.
It works like this: you have a master password you use to log into your Bitwarden password vault, if the system notices that an unusual login attempt is made on your account, it tries to verify whether you are the one making the attempt or not.
An email containing a code will be sent to your registered email address and with this code, you can confirm it is you and gain access.
However, if you receive such code when you did not attempt to log in, you become aware that someone may know your master password and you have to change it.
There is an extra security option available on Bitwarden. This option is available to people who subscribed to the premium plan. It gives them the option to use applications like Yubico and Duo to generate an authentication code they can use to log into their account during a 2-factor authentication.
These applications generate a code that changes after a very short period, the code is synced with Bitwarden and they can enter this code to confirm their login.
Bitwarden gives you access to your password vault using Docker. Docker is a way to gain access to your passwords and transmit them securely to where they are needed.
The password or sensitive information is encrypted while you access them and while you transmit them ensuring that nothing gets out.
LastPass Security:-
Like Bitwarden, LastPass uses salted hashing, AES-256 end-to-end encryption, and a password-based key derivation function 2 (PBKDF2) to ensure that everything that leaves your end (client-side) to another end remains encrypted. In other words, no one else can read what you send because it has been modified.
LastPass also ensures that not only the data leaving your side is encrypted but that data stored on your app or browser extension remains encrypted too. No one knows what you have and no one can decode it.
Also, present in LastPass is the 2-factor authentication option. Here, you also have a master password for logging into your LastPass vault, however, when there is a suspicious attempt to log into your account with your master password, the 2-factor authentication comes into play.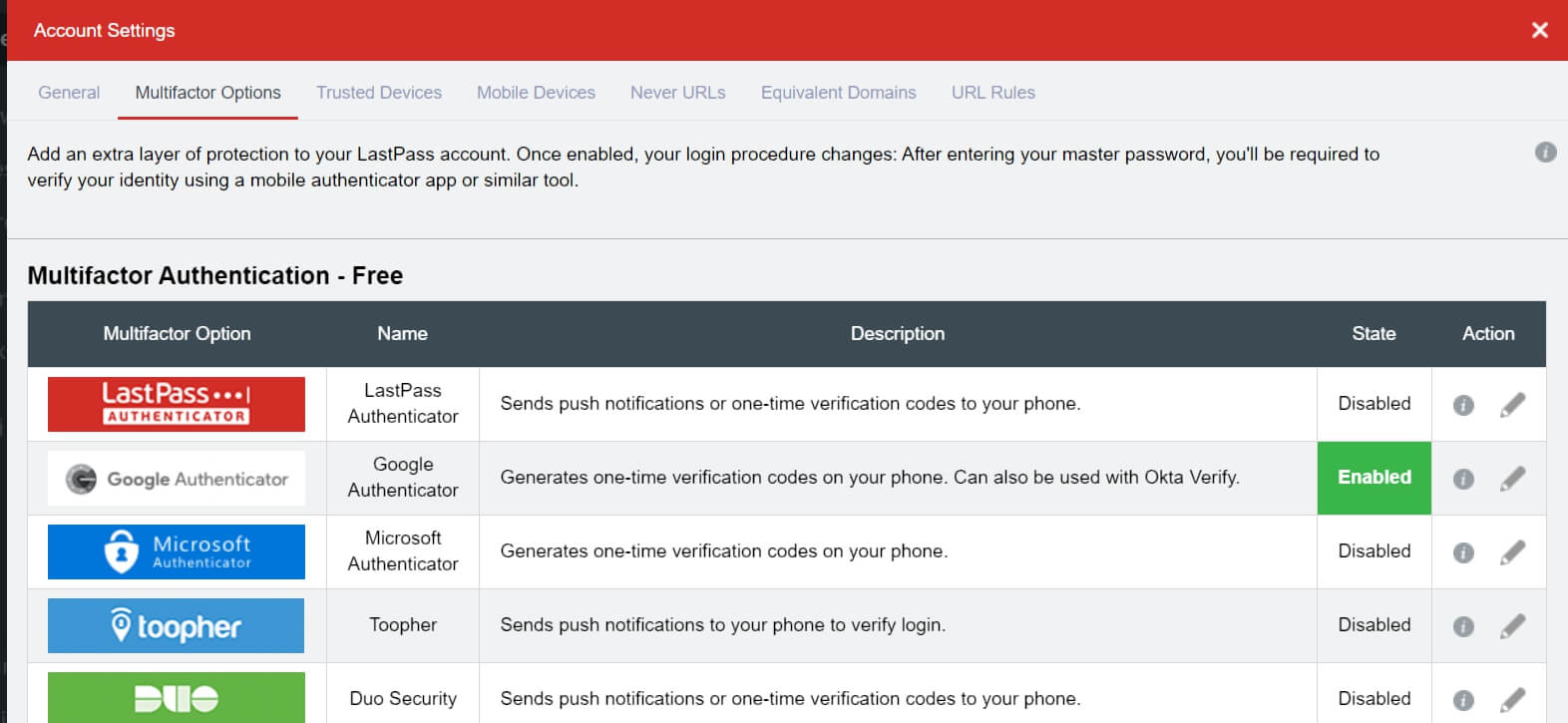 One difference between the 2-factor authentication of LastPass and Bitwarden is the use of biometric data to verify identity. LastPass uses biometric data available on your device (phone or computer) to verify login attempts made on your account.
LastPass has its authenticator application, LastPass Authenticator, Duo, Twilio Authy, and Google Authenticator. These apps generate a one-time code that can be used for your 2-factor authentication login after entering your password.
The Rundown
LastPass and Bitwarden have very similar end-to-end encryption systems and 2-factor authentication. However, LastPass has more options for 2-factor authentication when compared to Bitwarden. The authenticator apps available on the LastPass platform is more than those offered by Bitwarden.
But Bitwarden offers Docker for extra security. Docker is a means to access and transmit your sensitive information from your vault. The information is transmitted to a destination chosen by you and they remain encrypted all through the transmission.
Bitwarden vs LastPass: Platforms and Devices
Finding a password manager that works well on your devices is just as important as finding the right password manager for you.
What would be the point of choosing to use a password manager if it will not even work on your devices or if you will only have limited access to its features on your devices? What devices and platforms are supported by these password managers?
Bitwarden platforms and devices:-
Bitwarden works on mobile platforms and desktops/laptops. There are mobile applications for Android and iOS devices and these applications are available on the respective app store.
The most recent version of the applications was released in October 2019. Bitwarden can also be used on desktops through the Bitwarden desktop application available on Linux, macOS, Windows 7, 8, and 10.
The range of support does not end there as you can also access Bitwarden through web browsers. For the web browsers, you need to install the Bitwarden extension for that browser before you can use the service. Browsers currently supported are Chrome, Opera, Microsoft Edge, Firefox, Safari, Tor, Vivaldi, and Brave.
Asides from using mobile applications, desktop applications, and web browsers, you can also access your Bitwarden vault using the Command-Line Interface (CLI) tool.
The CLI tool allows users to create custom applications that can access their vault using command lines. The CLI tool is available on desktop platforms including Windows, macOS, and Linux (all 64 bits).
LastPass platforms and devices:-
LastPass also supports mobile platforms and desktop platforms. LastPass mobile app is available on Google Play Store for mobile devices running the Android OS and on Apple App Store for mobile devices running on iOS. Additionally, LastPass works on Windows phones too.
Installers for the desktop application on Windows, Linux, and macOS are available on the official LastPass website. It also supports many browsers including Safari, Opera, Microsoft Edge, Firefox, Chrome, Maxthon, and Internet Explorer. Unlike Bitwarden, LastPass does not have a Command-Line Interface (CLI) tool.
The Rundown
Bitwarden has a broader range of support for web browsers while LastPass supports more mobile operating systems. They both work on the same desktop operating systems but LastPass does not have a CLI tool like Bitwarden. In general, Bitwarden has a more diverse range of supported platforms and applications.
Bitwarden vs LastPass: Subscription Plans
Highlighting the payment plan of each platform is essential to the Bitwarden vs LastPass discussion. It is a given that in many cases, you have to pay to get something.
But then you do not just pay without verifying the details of the deal first. You check the price, the offer that comes with the price, and in some cases, you compare with similar deals before choosing to pay.
You can use Bitwarden and LastPass without paying but not all features will be available to you. The good thing is that they have different payment plans with different features and this gives you more options to choose from if you ever intend to pay for their services. 
Bitwarden subscription plans:-
Bitwarden offers a total of 6 plans for its users. Of these 6 plans, 4 are for organization accounts and 2 are for personal accounts.
If you own a personal account, you can either use the service free of charge or you can subscribe to the premium plan. The free plan gives you access to all Bitwarden applications and there is no limit to the devices you can synchronize.
It also comes with 2-factor authentication, self-hosting, unlimited storage (non-encrypted), and a password generator.
The premium plan provides you with the features of the free plan and it also provides extra features. Some of these features are 2-factor authentication with authenticator apps (Yubikey, U2F, and Duo), password health reports, 1GB storage space for encrypted files, and you are given preferential customer support. The premium plan goes for 10 dollars per year.
There are 2 classes of plans for the organization accounts. These are:
Personal use

Business use
There are 2 personal use plans offered by Bitwarden. One of these plans is free and the other is the family's plan.
The free plan allows 2 users to share an account and this account can be shared with friends or spouses. The plan puts no limits on the number of items shared but puts a limit on the number of collections.
The family plan costs 1 dollar per month and the account can be shared by 5 users – family and friends. This plan allows unlimited collections, unlimited item sharing, self-hosting, password health reports, and 1 GB storage space for encrypted files.
The business use plans are the team's plan and the Enterprise plan. The team's plan costs 5 dollars per month and can be used by 5 people at this price.
There is no limit to the number of users that can be on this plan, however, adding more users will attract 2 dollars per extra user every month. This plan offers unlimited shared items, 1 GB for storing encrypted files, preferential tech support, password health reports, and unlimited collections.
The enterprise plan costs 3 dollars for each user enrolled and it offers all the features of the team's plan and more. There is multi-factor authentication through Duo, the users get premium access, user groups are available, there is directory sync, and much more.
LastPass subscription plans:-
LastPass offers 2 types of plans, Personal plans, and Business plans. The personal plans are Free, Premium and Families while the business plans are Teams, Enterprise, MFA, and Identity.
The free plan allows 1 user access on multiple devices and comes with the password generator. This plan also features 2-factor authentication (2FA), the security challenge, the LastPass Authenticator app, one-to-one sharing, password storage, and password filling. This plan is offered at no cost to the user.
The premium plan offers all the features of the free plan and more. It offers the emergency access option, preferential tech support, 1 GB space for storing encrypted files, and one-to-many sharing. This plan is for 1 user and it costs 3 dollars per month.
The families plan is for 6 users and it offers features similar to those offered by the premium plan. Asides from the features of the premium plan, there are unlimited shared folders, the 6 users have premium access, and there is a family dashboard. This plan goes for 4 dollars per month.
The team's plan comes with 2FA, an admin dashboard, password management, and a top security model. This plan is for between 5 and 50 users and it costs 4 dollars per user per month. Reporting and policies are standard under the team's plan.
The reporting and policies under the enterprise plan are advanced. The plan is for at least 5 users and it costs 6 dollars per user per month. It offers similar features to the team's plan and it also comes with directory integration and single sign-on.
The MFA plan is for at least 5 users, it features a zero-knowledge security model, adaptive multi-factor authentication, directory integration, and admin dashboard. Policies and reporting under this plan are advanced. It costs 3 dollars per user per month. 
The Identity plan is a combination of all the features of the 3 business plans. It is a plan for at least 5 users and it costs 8 dollars per month per user.
The Rundown
There is not much to be said about the subscription plans because the figures are obvious. These 2 services offer similar services but Bitwarden does it at a cheaper rate. The LastPass plans are at least 2 times more expensive than their corresponding Bitwarden plans.
Bitwarden vs LastPass: Storage
If it is a password manager, it would store your passwords in a space only you can access them. But you may want to find out if it stores only passwords or if there is extra space in there for other sensitive information.
Bitwarden storage:-
Bitwarden comes with an option called Secure Notes that allows you to store sensitive information. This option differs from the password storage option. Asides from these, some options allow you to store card details such as your credit card details, debit card details, and even your identity card details.
Also, on the premium plan, families plan, teams plan, and enterprise plan, you get a virtual storage space where you store up to 1 GB of files. The files are stored in an encrypted form in this storage.
LastPass Storage:-
LastPass does more than just storing passwords, it stores other vital information such as credit cards, debit cards, addresses, insurance details, banking details, passports, driver's licenses, software licenses, and a couple of other similar details.
Asides from the option of storing the aforementioned details, you can also write notes containing sensitive information and store them in your LastPass vault.
LastPass also offers file storage but the storage space differs for free users and premium users and the files are encrypted in both cases. The free users get 50 MB of storage space while the premium users get 1 GB of storage space for files.
The Rundown
LastPass surpasses Bitwarden here. It offers more options when it comes to storing sensitive information and it also extends the file storage option to the users of the free plan. The storage space may not be much but it is a free plan so the users cannot complain.
Bitwarden vs LastPass: Password Audit
There is perhaps no way to keep hackers off the websites you use. Once in a while, there would be security breaches on these websites and your passwords may be compromised.
You may not know that such a thing happened and that leaves you exposed to data theft, data breach, data loss, or blackmail.
But with a password manager, you can review your passwords on each website to ensure that they are uncompromised. So Bitwarden vs LastPass, how do their password audits compare?
Bitwarden password audit:-
Bitwarden's password audit offers different details for users of the free plan and users of the premium plans. Password auditing can be done through web browsers or applications.
When on the free plan, you get to know how many times your password has been compromised in data breaches and that you should adjust it.
The premium plan offers more details. It tells you if a password is weak and when you have used a password before. It also lets you know when a 2-factor authentication is not active, if a website is not secure, and it gives you a report on data breaches and exposed passwords.
It would give details such as the data compromised by a password breach, the websites affected, the number of users affected, when the breach happened, and when it was reported. By entering your email address or username in the designated field under the "Data Breach Report" menu, these details will be revealed to you.
LastPass password audit:-
LastPass' password audit is called "Security Challenge" and unlike Bitwarden, extensive audit details are available to users of the free plan.
LastPass checks for and offers details that inform you that your password is weak, your password is being reused or your password has been exposed. After checking for these details, it gives you a security score that is a marker of your password strength.
It also comes with an option that allows you to adjust your password with one click. This feature can only be used if the website supports it.
The Rundown
They both offer the same password auditing services but LastPass has an extra option of changing compromised passwords for you with one click. Also, while Bitwarden's full password audit service is only available to premium subscribers LastPass' password audit service is available to all subscribers even those on the free plan.
Conclusion
If you are considering an option between these two, this is what you should know: LastPass offers more when it comes to storing sensitive information and password auditing. On the other hand, Bitwarden offers cheaper subscription plans, has more security features, is available on more platforms, and has more applications.